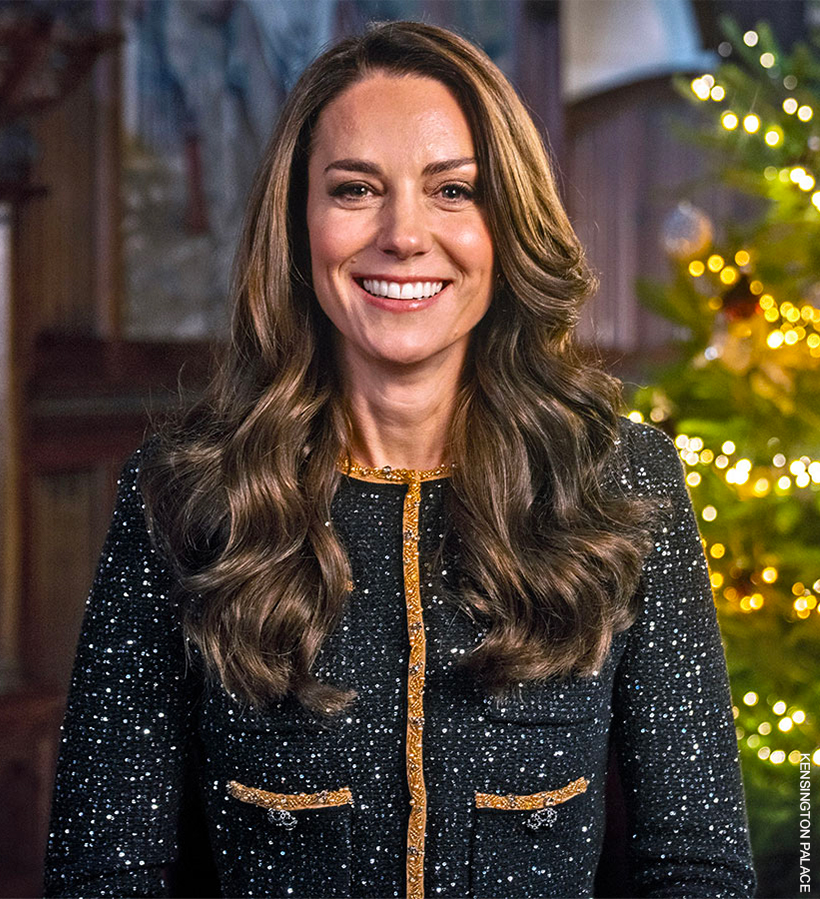 A video released by Kensington Palace shows Kate Middleton wearing a black sequin-covered cardigan by London brand Self-Portrait. The short clip is taken from Royal Carols: Together At Christmas—the televised carol service organised by The Princess of Wales and The Royal Foundation.
The video opens with the Princess talking about the "inspiring individuals" she's invited to the service: "those who showcase the power of connectedness and community values". She also speaks about the late Queen Elizabeth and carrying on the monarch's tradition of "recognising and thanking those who have gone above and beyond to support others."
The clip also shows footage of guests walking into Westminster Abbey through a winter wonderland set-up with fake snow, glittering lights, lanterns and Christmas trees.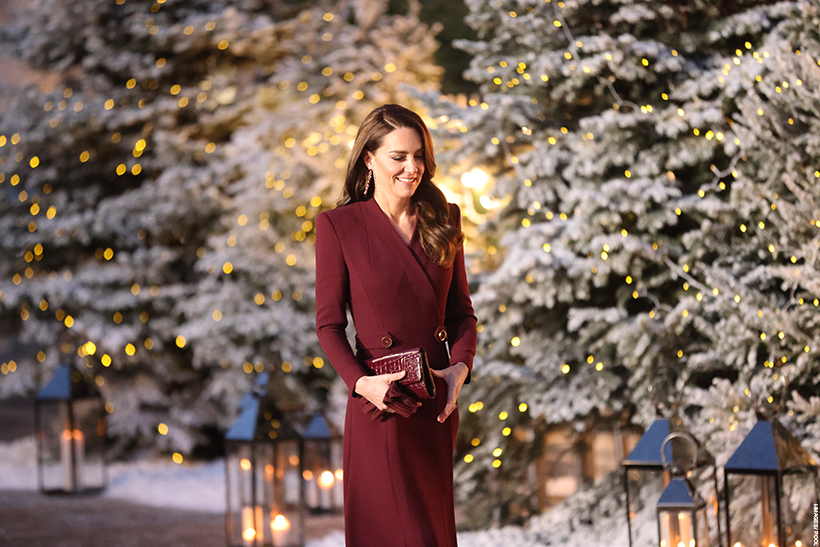 The carol service was filmed last Thursday and will air on ITV on Christmas Eve. It is dedicated to the late Queen Elizabeth II and to all of those who are sadly no longer with us. A good turn out of Royals attended, as did Kate's parents, siblings and their spouses.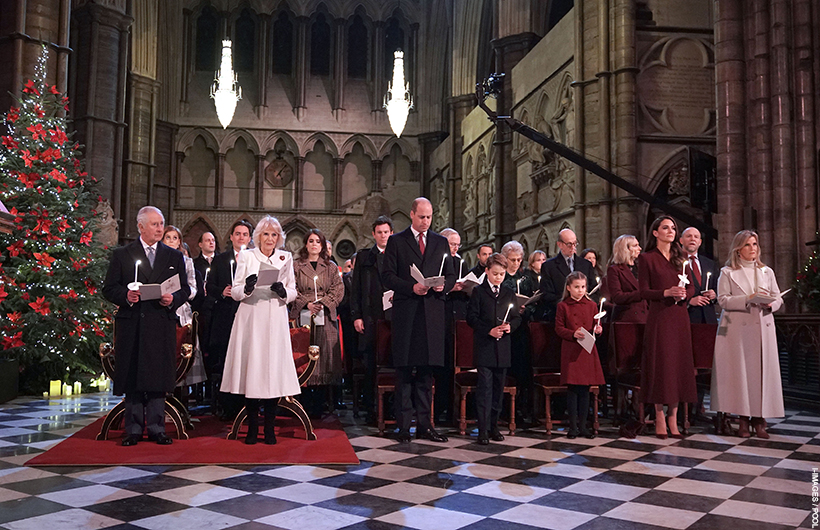 The service included performances by the Westminster Abbey choir and guests such as Craig David, Alexis Ffrench, Samantha Barks, and a duet by Alfie Boe and Melanie C.
There were also readings by the Prince of Wales, Dame Kristin Scott Thomas, Hugh Bonneville, and Kadeena Cox. Plus, tributes were paid to Queen Elizabeth II.
Kate spearheaded the concert with The Royal Foundation and invited guests from across the UK to attend—some nominated by Lieutenancies, others from community networks and charities associated with members of the royal family.
Let's take a look at (what we can see of) Kate's outfit next.
Kate's outfit:
As I said in the opening paragraph, Kate dazzled in a black sequin cropped cardigan from Self-Portrait. The garment is trimmed with gold and finished with beads and gems, and features diamanté buttons on the pocket flaps. It is crafted from a wool-mix fabric.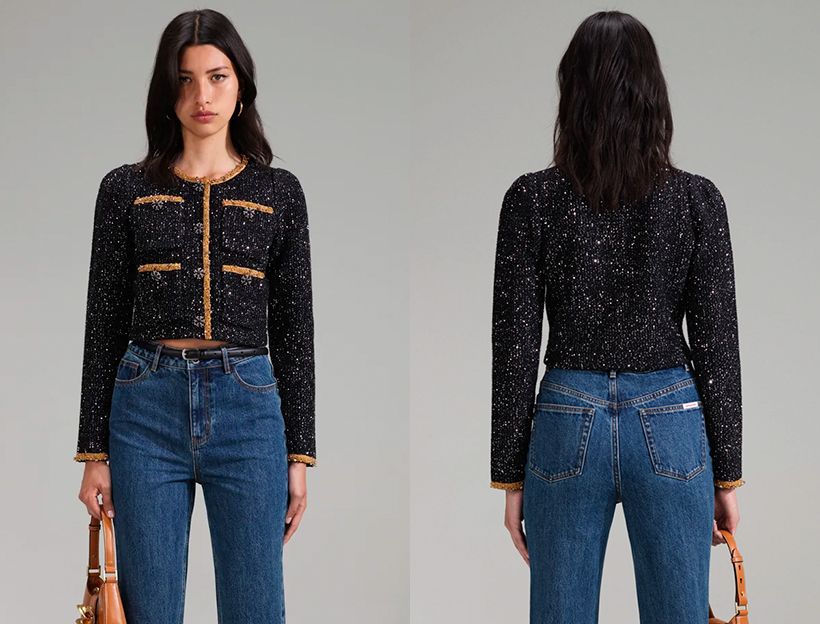 Self-Portrait call the high-shine sequin cardigan a "party-ready spin on a timeless design".
They recommend styling with jeans and flats for "a look that'll take you from the desk to the cocktails effortlessly.". I have no idea what Kate wore on her bottom half, but I'd expect she opted for something a little more formal—perhaps a black dress and heels?
I suspect Kate chose the black sequin cardigan because she needed something that married festive cheer with with a touch of reverence as she paid tribute to the beloved late Queen.
The black sequin cardigan RRPs for £400 GBP / $ 585 USD. It's available from several retailers including Neiman Marcus, Minox and the brand's own website.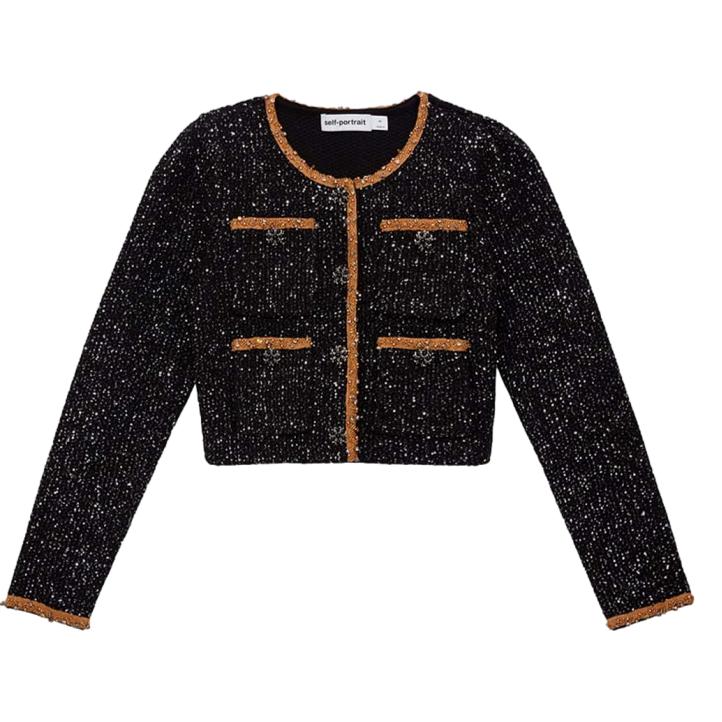 SELF PORTRAIT BLACK SEQUIN KNIT CROP CARDIGAN
EXACT MATCH! Add a little festive cheer to your wardrobe with this shimmering cardigan from Self-Portrait.
To date, we've seen Kate wear six different items from Self-Portrait. She owns this cardigan and five dresses.
Self-Portrait was founded in 2013 by Han Chong, who had a vision to make beautiful design accessible to all women. The brand is known for its refined aesthetic and understanding of structure and materials, creating feminine yet functional pieces that empower the women who wear them. Kate is not the only royal who wears Self-Portrait, as Meghan Markle and Princess Beatrice have also been spotted in the brand's designs.
Ashley from Middleton Maven confirmed that Kate wore a pair of Shyla London's Chunky Knot Soft Citrine Earrings with the cardigan. Shyla confirmed the ID on their Instagram stories. It's hard to see the earrings in the still—you might be better watching the video and enlarging/pinching the screen to zoom.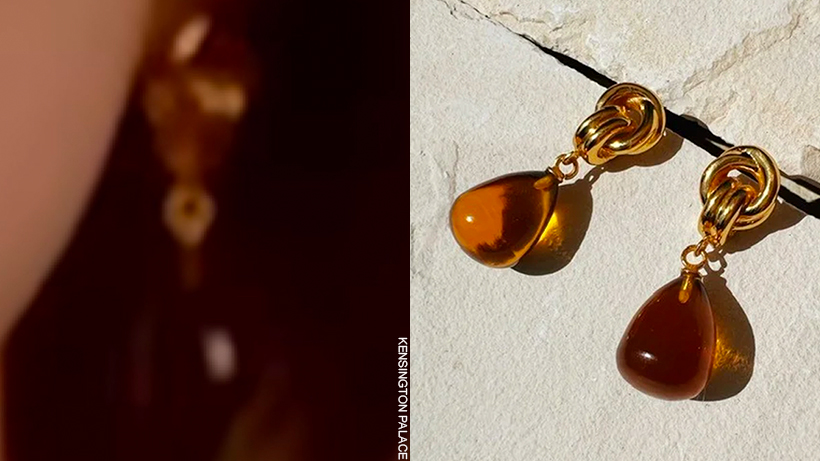 The earrings feature a chunky knot design in a high shine gold finish. They are made with 22 carat gold on silver and are hypoallergenic, making them suitable for those with sensitive skin. The RRP for these earrings is £72.
Shyla London is a relatively new brand for the Princess—she debuted two pairs of their earrings last month in Boston.
Shyla London is a morally motivated and eco-conscious company that offers timeless, wearable and thoughtfully designed jewellery to suit women of all ages. Their clean, minimalist, and contemporary designs allow each item to flow comfortably from day to evening. All stones are natural, and the metals are ethically sourced or recycled.
Shyla London work with small charities in India to teach some of the poorest women in the country a new craft that they can use to support and sustain their families.
Additionally, they use recycled materials and packaging. By wearing Shyla London, Kate is not only wearing beautiful jewellery, she is supporting a brand with a strong commitment to sustainability and women's empowerment.