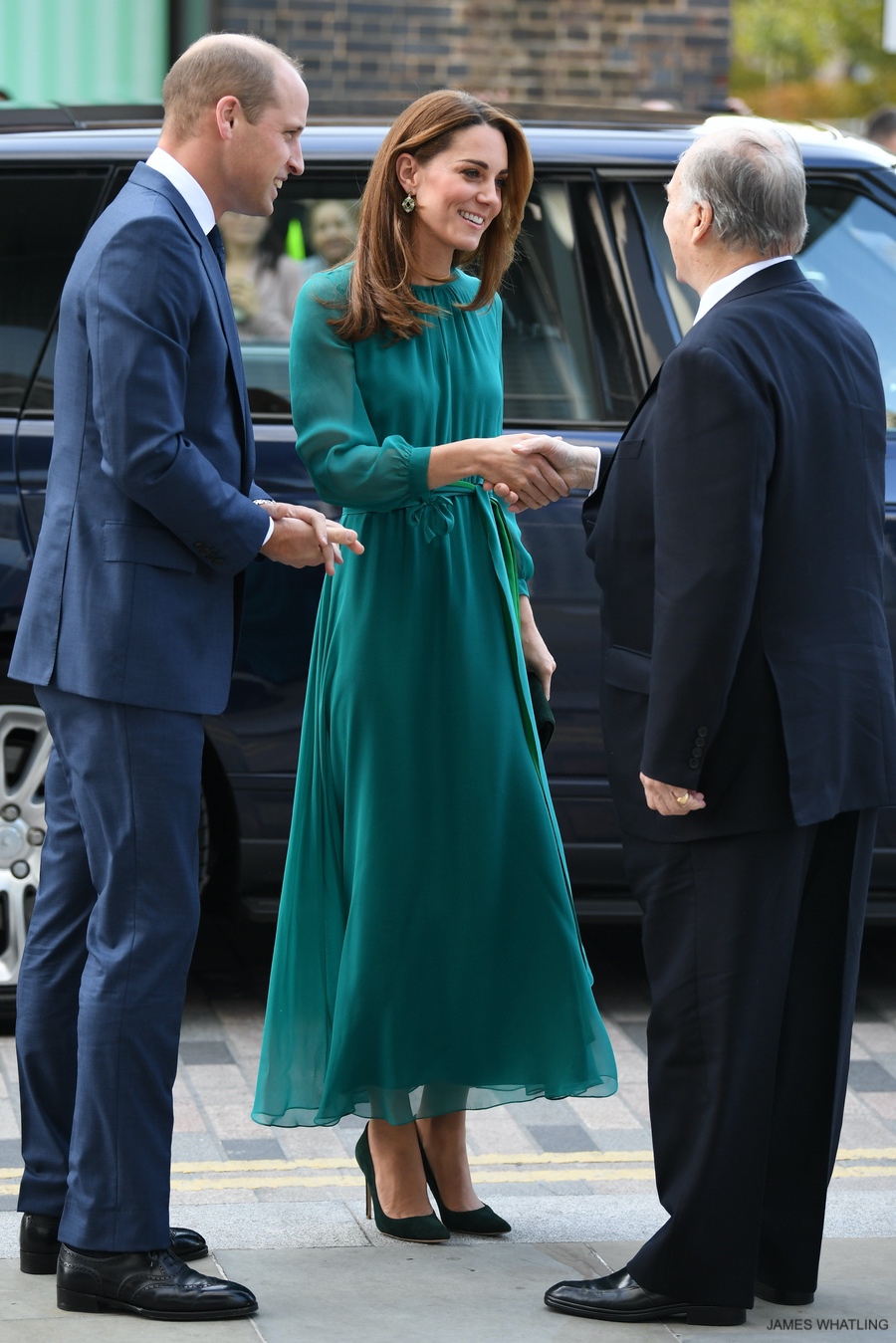 Kate Middleton chose an elegant teal maxi dress to visit the Aga Khan Centre in London in October 2019. 
The-then Duchess joined her husband for a special event hosted by His Royal Highness the Aga Khan ahead of their official visit to Pakistan. The royal visit took place between the 14th and 18th of October 2019.
The Aga Khan is a spiritual leader and the Imam to Shia Ismaili Muslims.  He has around 15 million followers from more than 25 countries around the world, including Pakistan.  Many people believe the Aga Khan is a direct descendant of the Islamic Prophet Muhammad.
He is also the head of the Aga Khan Development Network, a charitable organisation that sends aid to neglected parts of the world.
The Aga Khan hosted the event to showcase modern Pakistani culture.  Inside the centre, the couple mingled with guests, including Pakistani and British community leaders, businessmen, musicians, chefs and artists.
Kate's teal outfit:
Kate wore a teal dress by ARoss Girl x Soler, a collaboration between two brands: ARoss Girl and Soler London.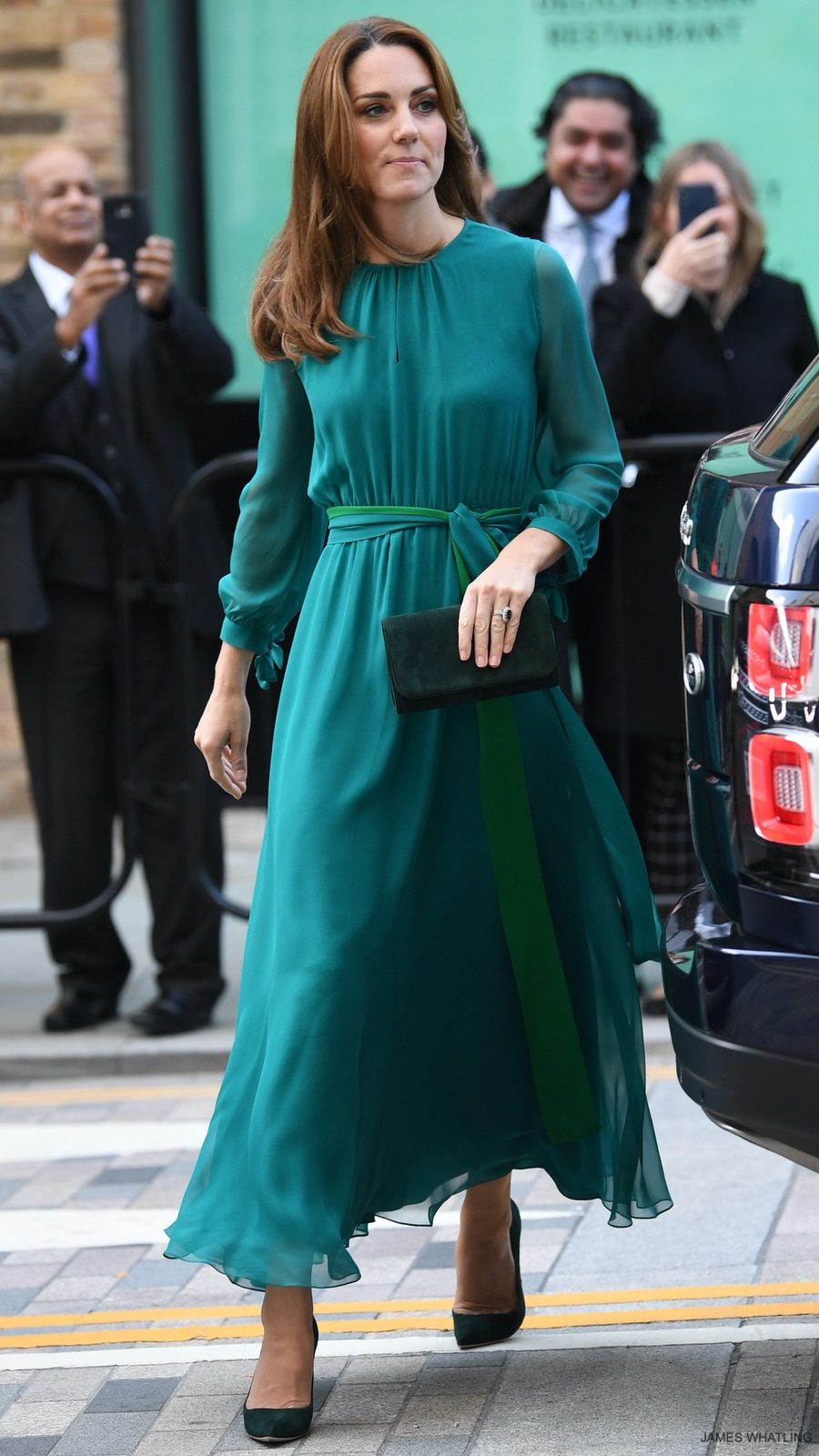 I'll admit this was the first I'd heard of either company, so I conducted a little research. ARoss Girl is a project by Amanda Ross, started after a rich and varied career in the fashion world. She held the positions of Market Director at Harper's Bazaar and Fashion Director at Departures Magazine. She also turned her hand to red-carpet styling and jewellery design in more recent years. Soler London is a fashion boutique in Notting Hill, London with a celebrity following. It's owned by designer Alex Al-Bader.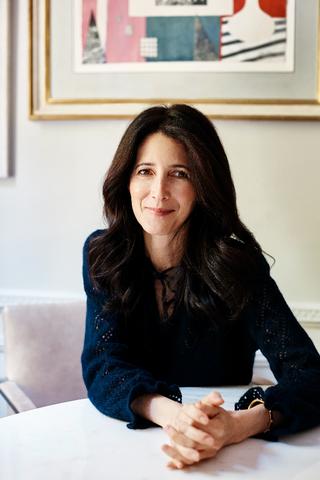 After Amanda Ross fell in love with the craftsmanship and bohemian spirit at Soler London, she and Alex Al-Bader decided to collaborate on a capsule collection of clothing sold exclusively at Net-A-Porter. Pieces include silk dresses, corduroy skirts and cotton tops.
Kate wore their Amanda silk-georgette maxi dress. It features long blouson sleeves with tie-fastening cuffs, an elasticated waist and a maxi-length skirt. The elegant look is finished with an emerald green belt.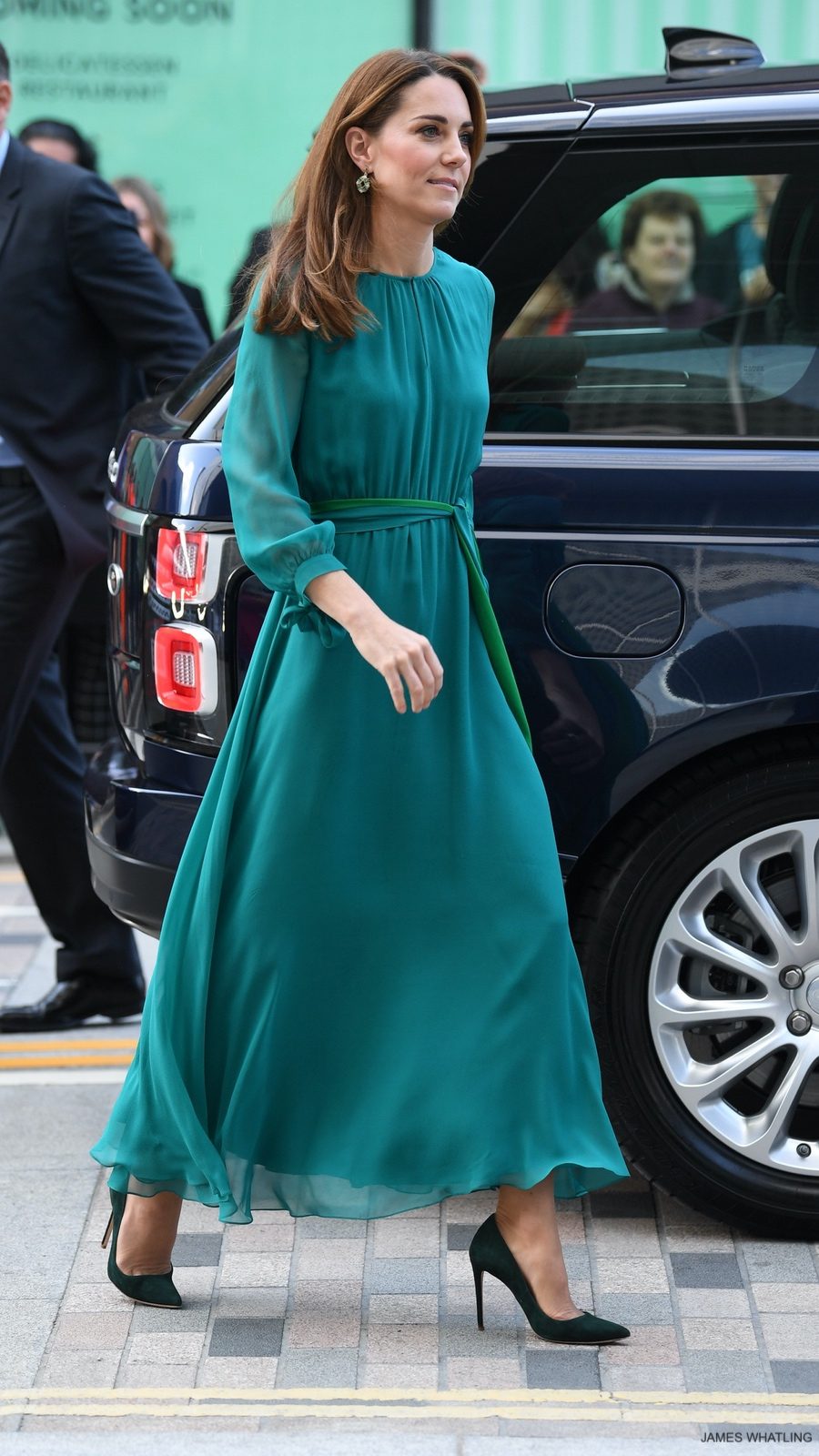 The dress retailed on Net-A-Porter for £825. Sadly, it's now sold out in teal but Net-A-Porter often re-stock the dress in other colour and print options. Here we show it in magenta pink and blue print.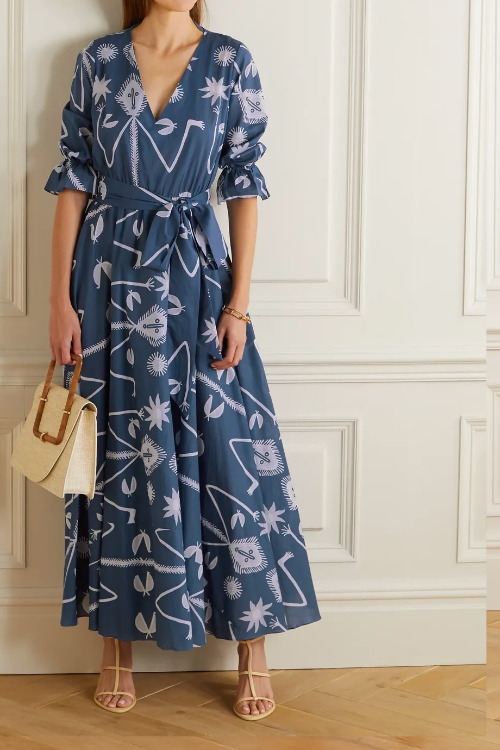 Of course, it's likely that the colour choice is a nod to Pakistan's flag, which is largely green in colour: 🇵🇰
I'd also guess that she chose the long-sleeved, modest dress with her Muslim hosts in mind, though the look wasn't a huge departure from her usual demure style. The Duchess has favoured midi and maxi-length dresses for a while now.
Kate's coordinating earrings are from Zeen, a women's clothing and accessories line by Pakistani company CAMBRIDGE. They're known as the 'Dazzling Ceramic Drops' and cost just $8 (around £5!)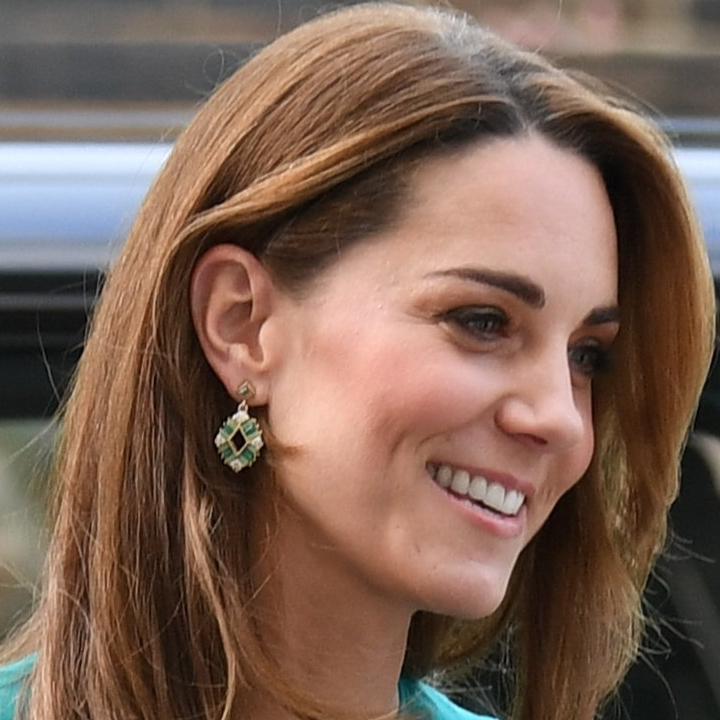 Kate's bag and shoes might feel familiar. They're by Emmy London. The Duchess is wearing the designer's Natasha clutch and Rebecca court shoes in the colour 'Greenery'. She owns both pieces in many colours.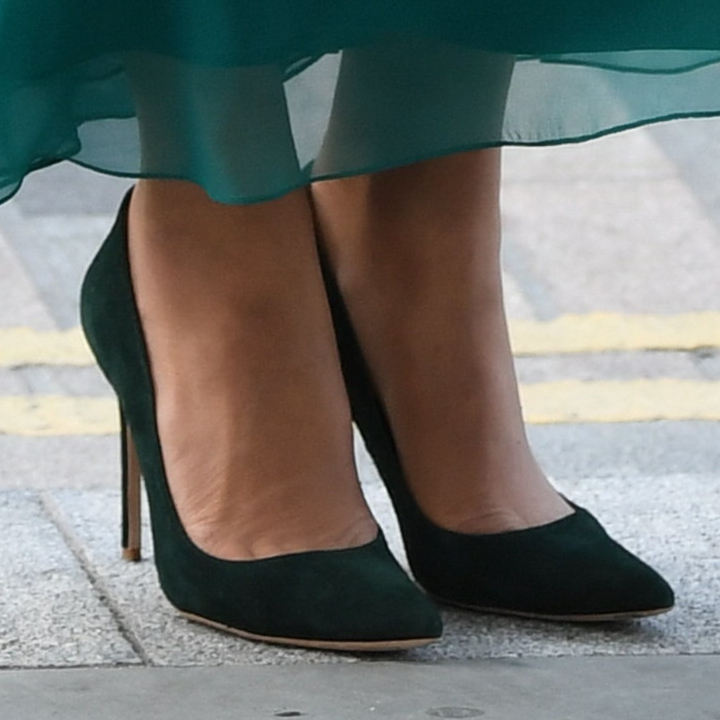 The Rebecca court shoes retail for £395. They feature a stylish pointed toe and a 4.5″ heel. Kate's carrying the older self-piped version of the Natasha clutch (the newer version features contrasting gold detailing). The bag currently retails for £350. Both are handmade and hand-finished from suede fabric.
We've seen her wear the pieces before. She first debuted the pumps to the St. Patrick's Day Parade in 2017.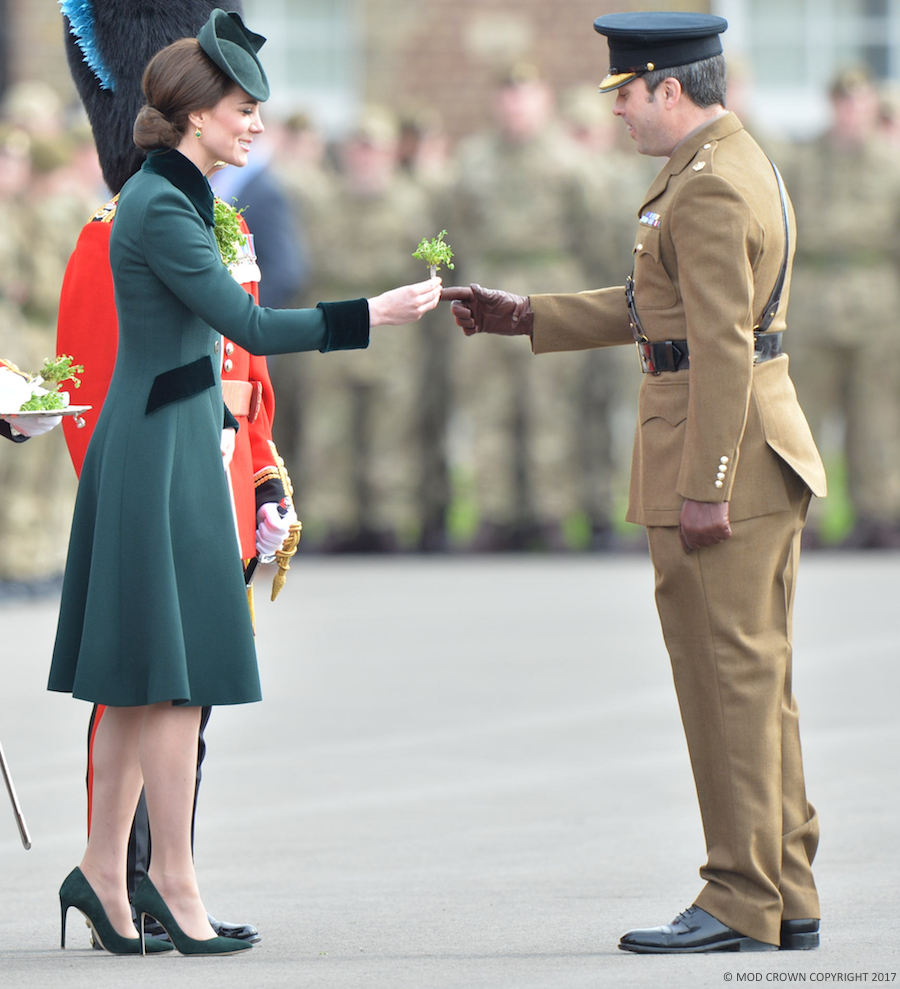 Your verdict:
As always, there was plenty of opinions on Kate's outfit for this event. The dress received mixed reviews on our Facebook and Twitter pages. Most were positive, as lots of you loved the jewel tone colour and the elegant silhouette of the dress, but others found it plain and a little matronly.
Do share your thoughts on Kate's outfit in our comment section below. I love reading everybody's different opinions!