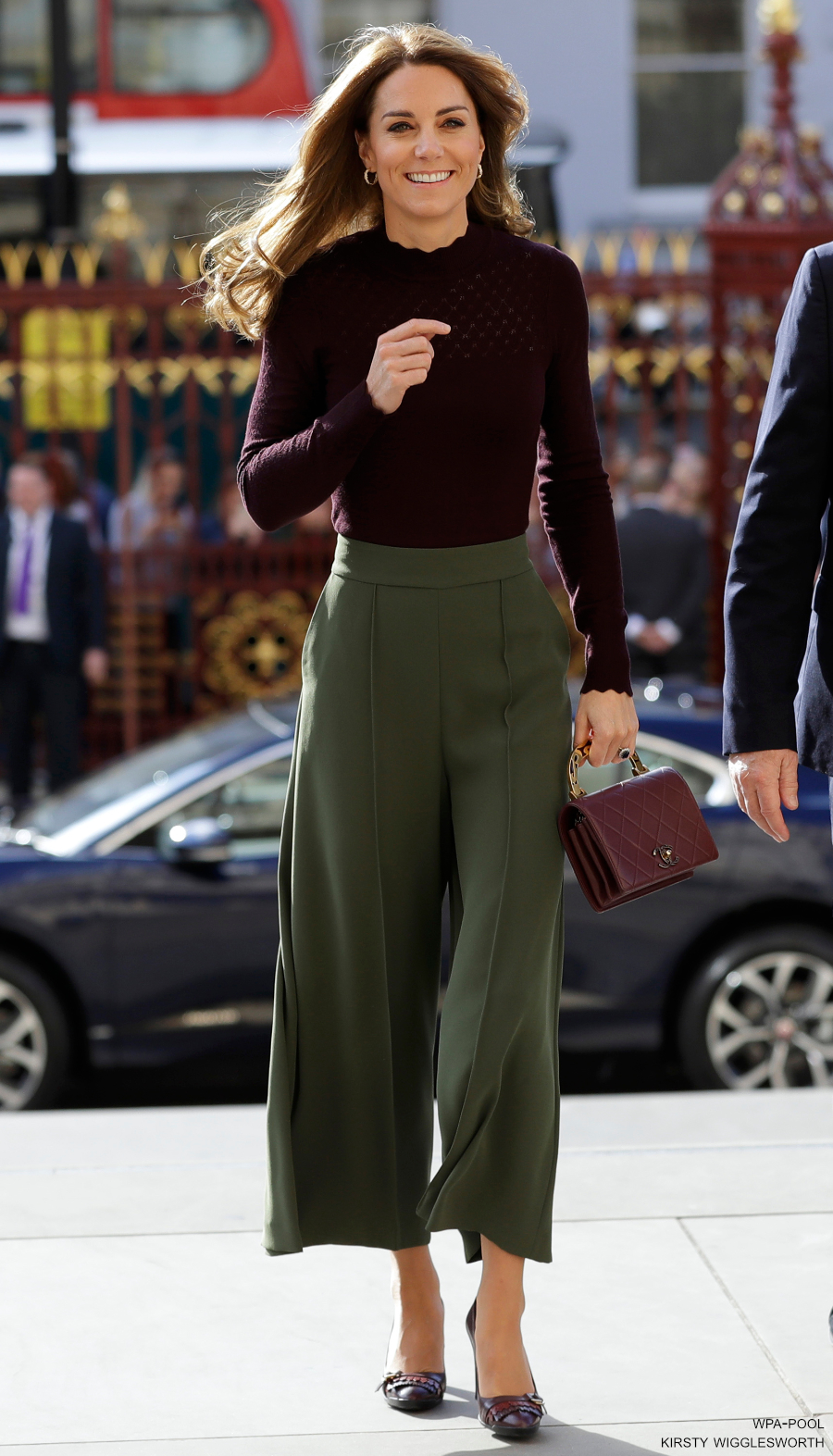 Wednesday, 9th October 2019 — The Duchess of Cambridge (Kate Middleton) visited the Angela Marmont Centre (AMC) for UK Biodiversity at the Natural History Museum in London.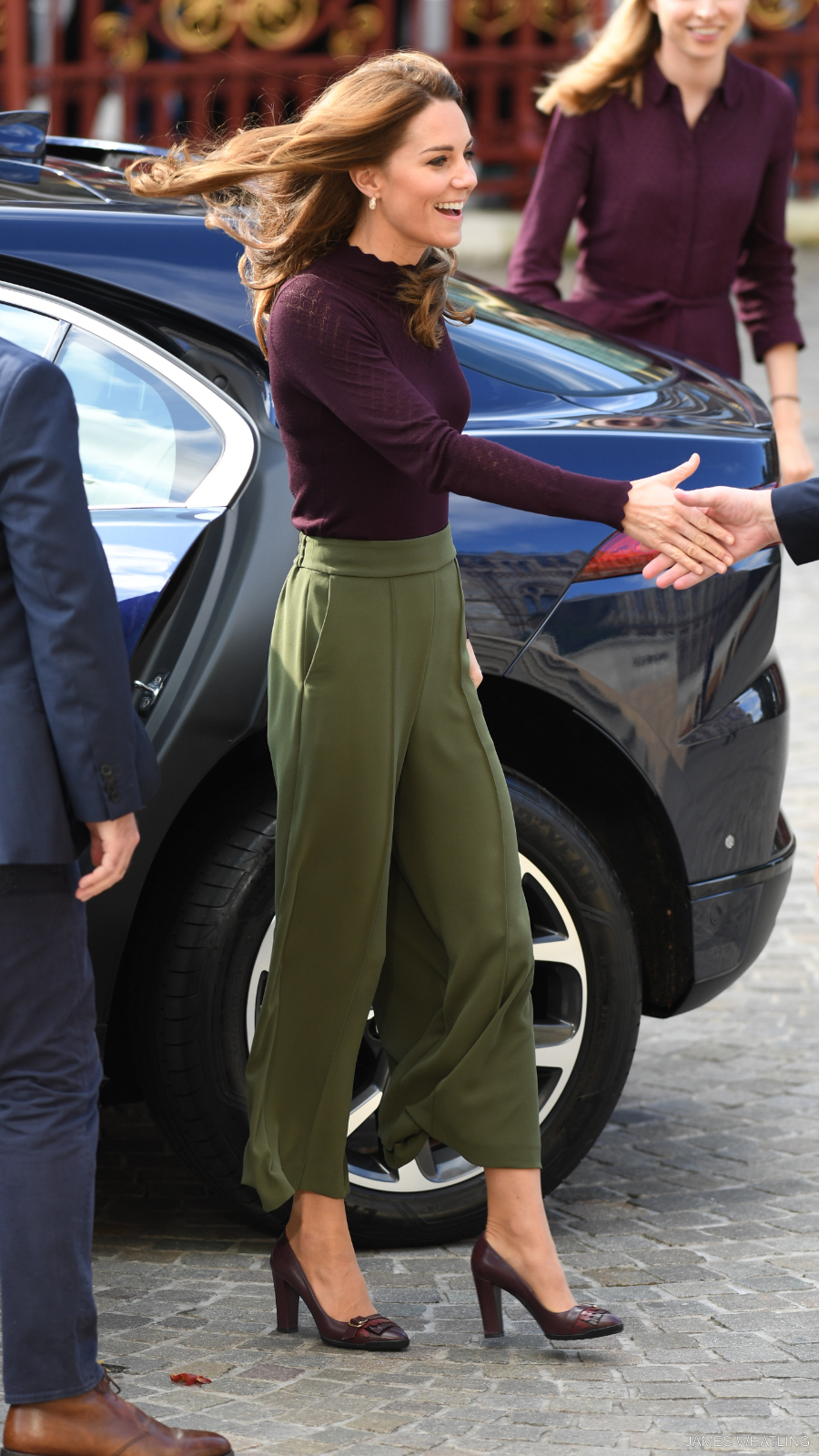 The Angela Marmont Centre (AMC) is a unique scientific hub dedicated to the study of the UK's natural world. It helps public visitors identify their finds, provides vital training in wildlife identification and leads research and citizen science projects that are helping to transform our understanding of the more than 80,000 species of wildlife known to exist in the UK today.

NHM.AC.UK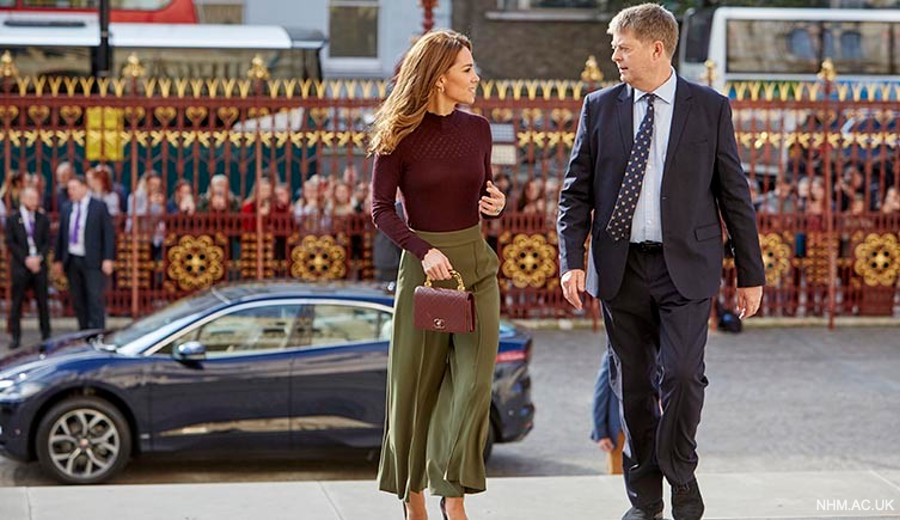 Kate, who is Patron of the Museum, learned how the centre helps to protect UK wildlife at a time when it is under a great threat than ever before.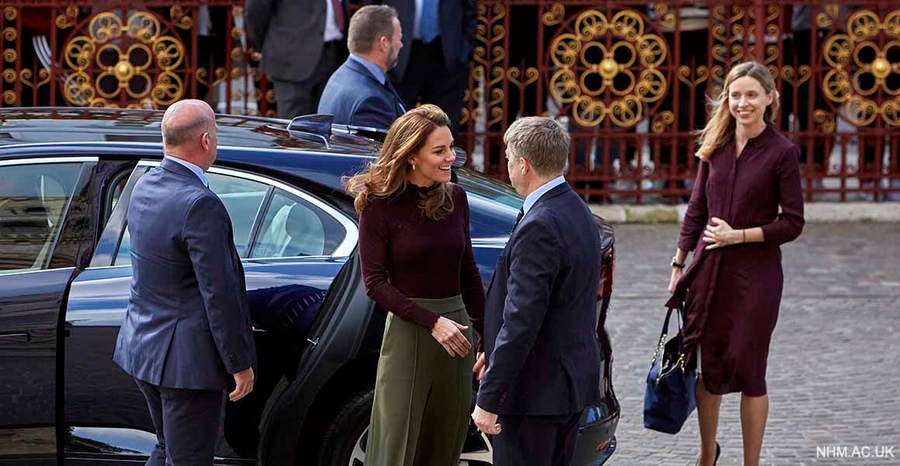 During the visit, Kate spoke with museum staff, toured the AMC and got to watch DNA sequencing in action.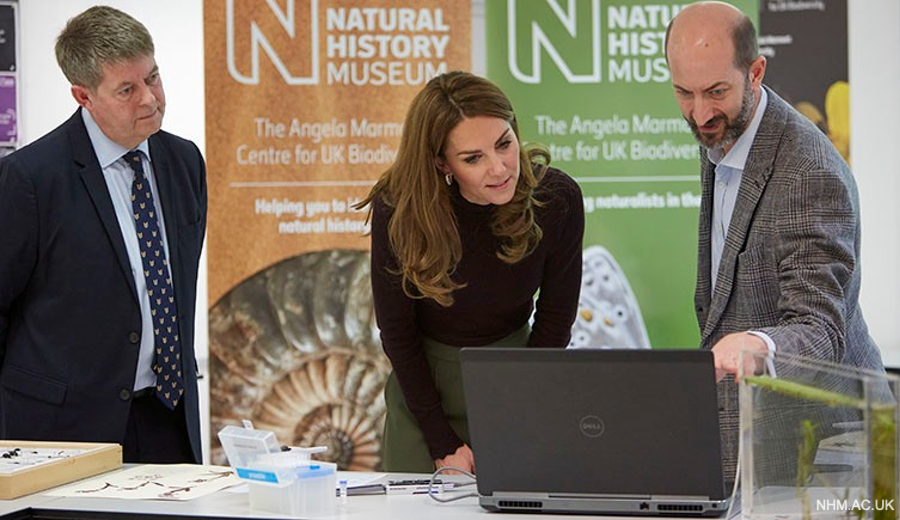 She also looked at British plant and insect specimens, including an exhibit of British butterflies.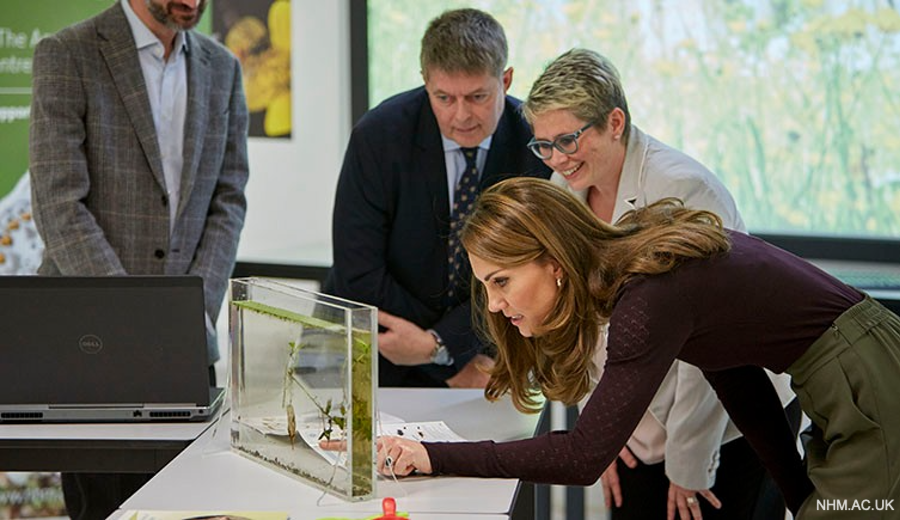 Kate also heard that the likelihood of a child visiting a green space has halved within a generation. The Natural History Museum and Angela Marmont Centre hope to change this by exciting young people about wildlife.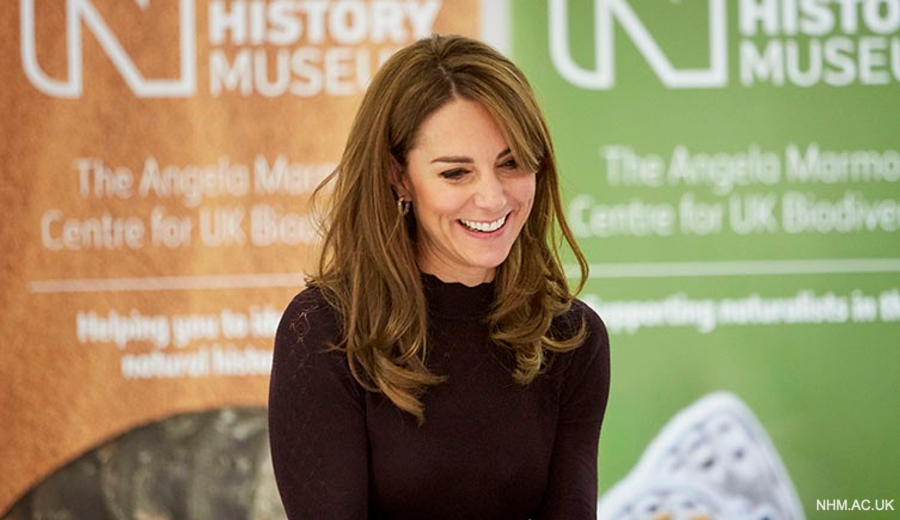 A lot of Kate's recent work has focussed on young people, nature and green spaces.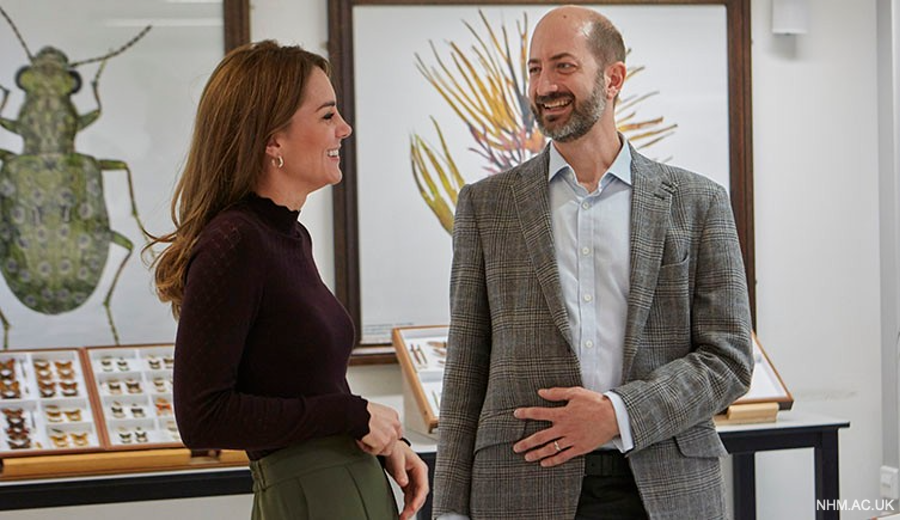 She recently collaborated with the Royal Horticultural Society and NHS England to design a nature garden. The project aims to promote the benefits of green spaces and gardening both physical and mental health.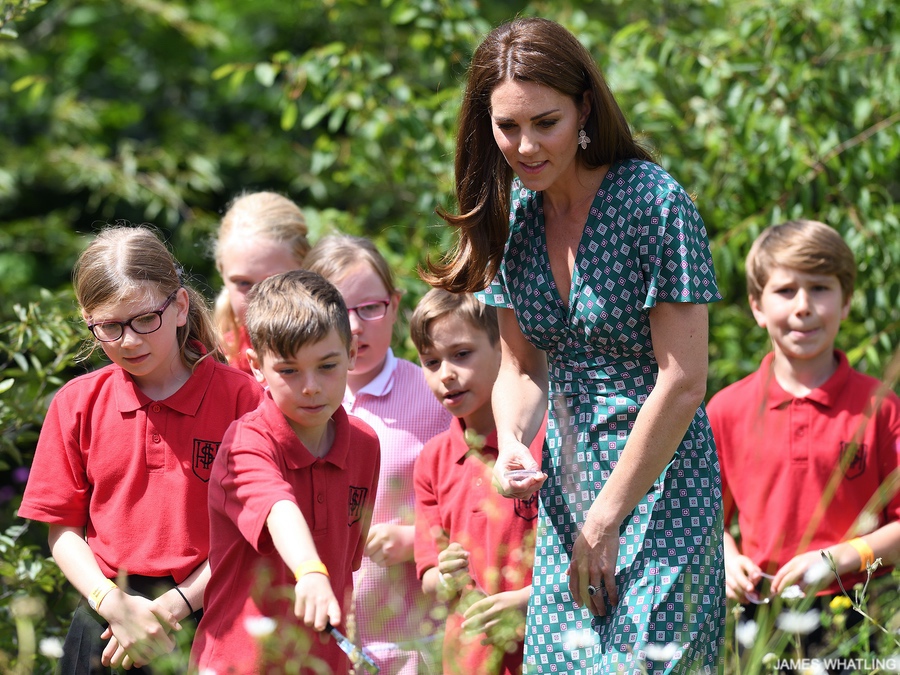 Kate's outfit:
Kate dressed for the season in autumnal colours, a deep berry purple and khaki green. She chose two items from British high street brands, a top by Warehouse and culottes from Jigsaw.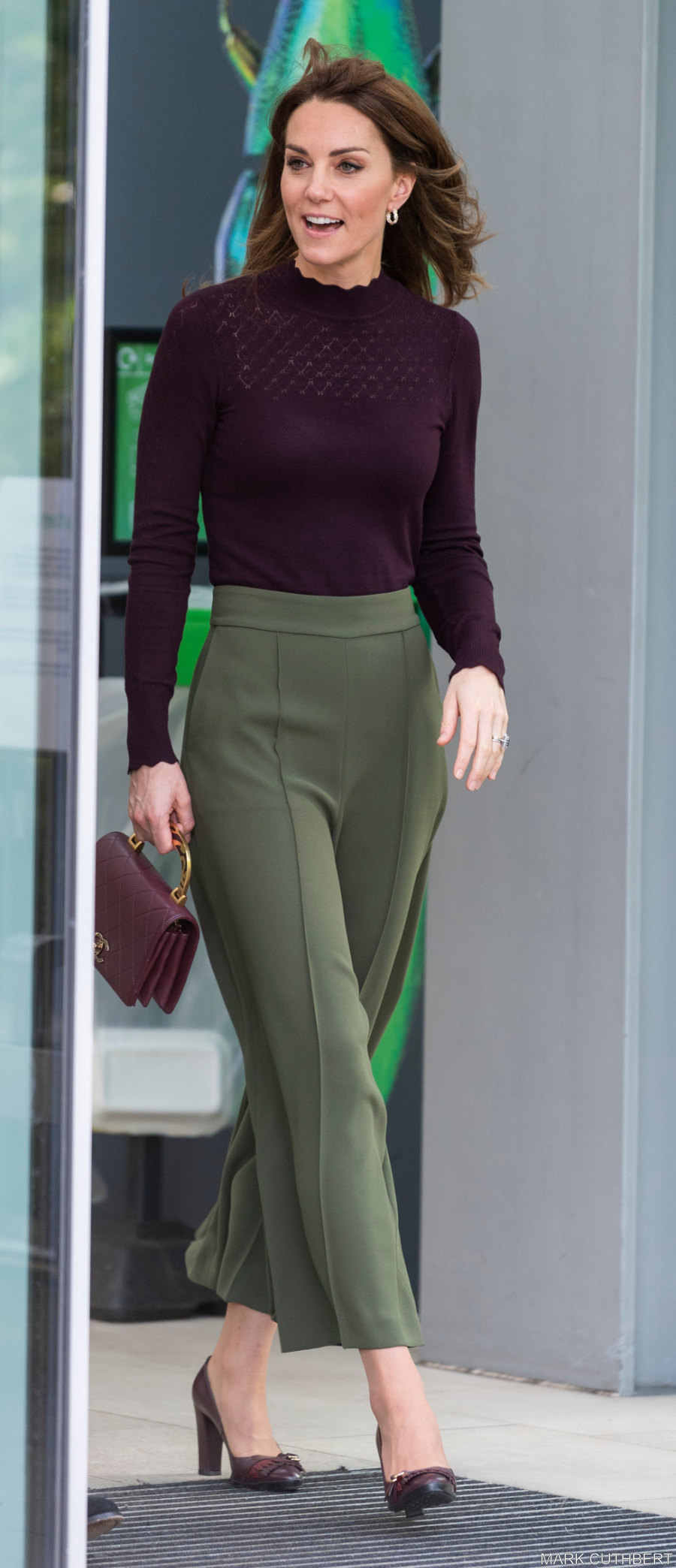 The Warehouse sweater features a pointelle texture at the yoke, a scalloped high neckline, scalloped cuffs and long sleeves. It retailed for a very affordable £39 (around $48 at today's exchange rate). Kate wore the Berry colour. The company also sold the piece in Black, Dark Green and Bronze Sparkle.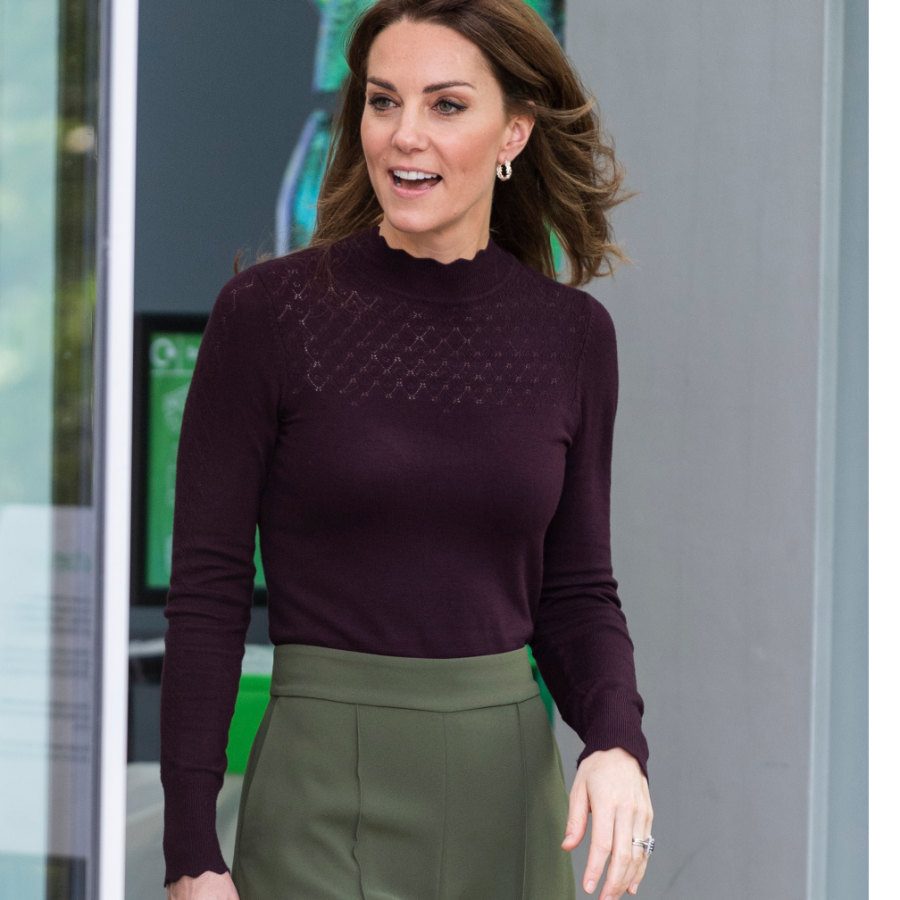 If you'd like to buy the exact sweater worn by Kate, you'll find it on eBay. Otherwise, Warehouse sells a near-identical sweater in Berry purple if you'd like to get the look. It features the same high neckline and wave pattern. But it is missing the scalloped detailing and has additional buttons on the cuff. Here's a closer look: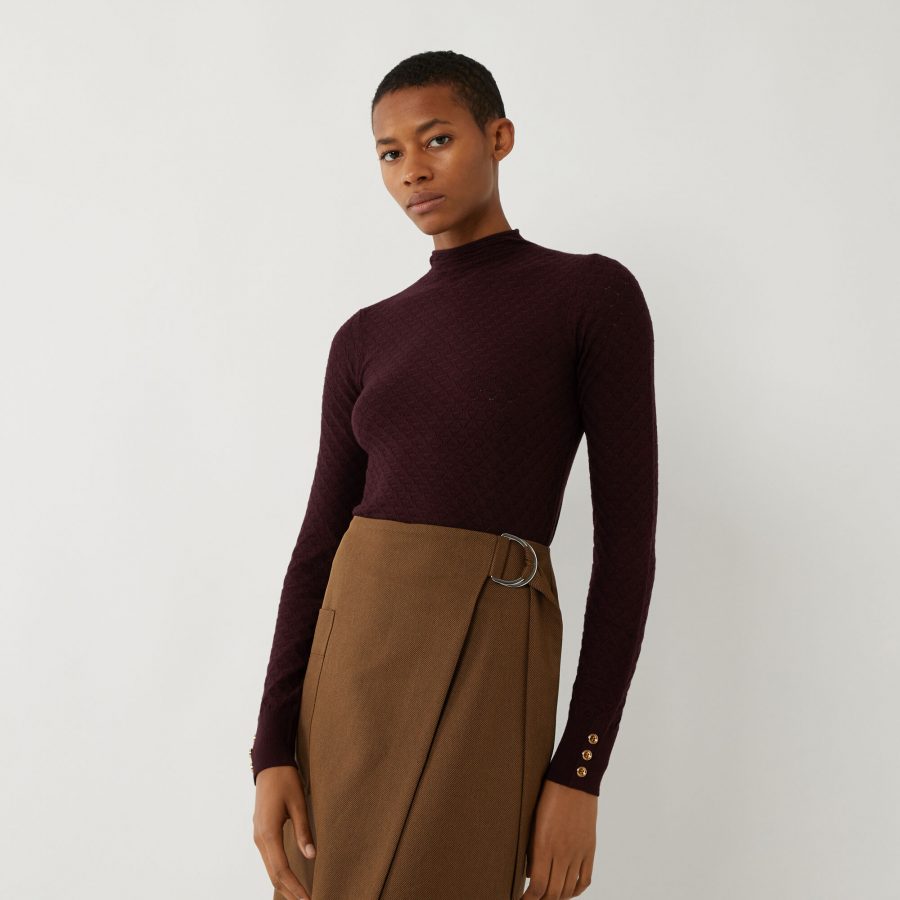 Now let's look at Kate's Jigsaw culottes. The khaki green trousers offer a relaxed fit with a wide leg. They feature an elasticated waist, front slanted pockets and ruching from the waistband to the hem.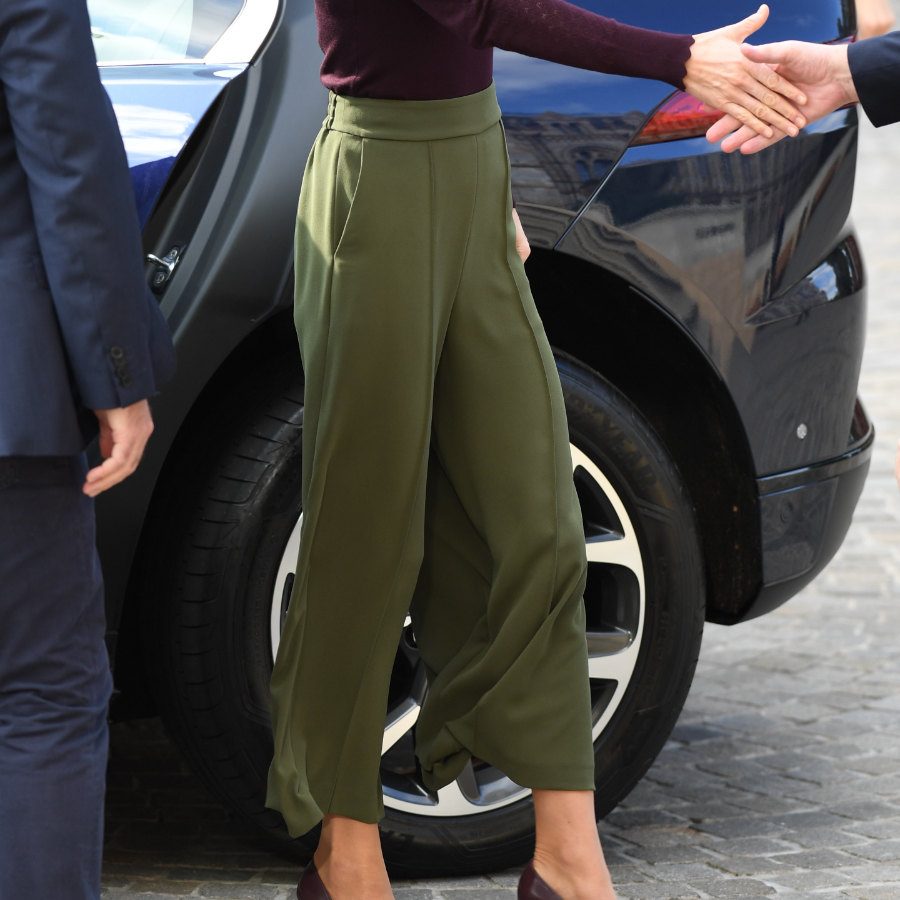 When Kate wore the culottes, they were reduced from £130 to £89. Sadly, they are now sold out. (Try eBay if you want to own this colour.)
However, the 'Natural' colour is still available in all sizes. They currently retail for £70: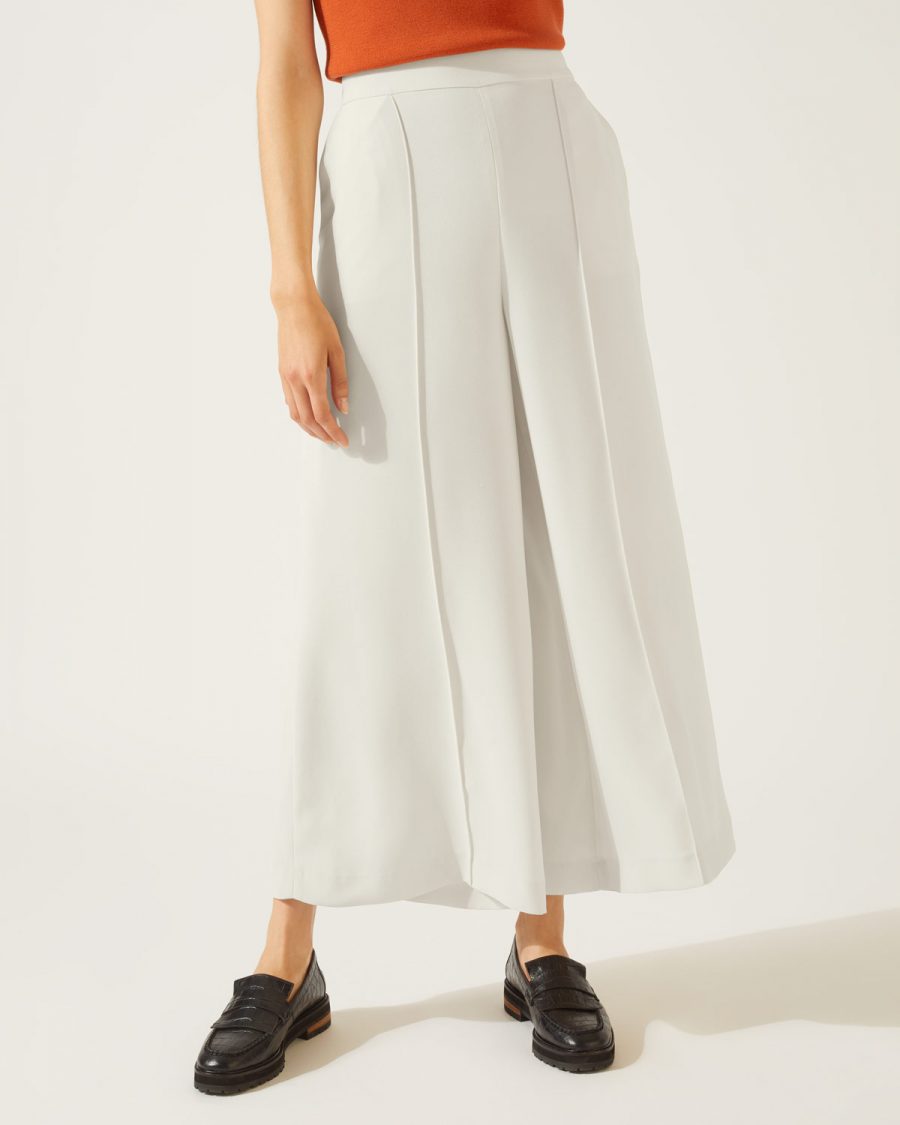 Kate's accessories should feel familiar to anybody who regularly follows Kate's style. She's worn the shoes, handbag and earrings in the past. The shoes are by Tod's.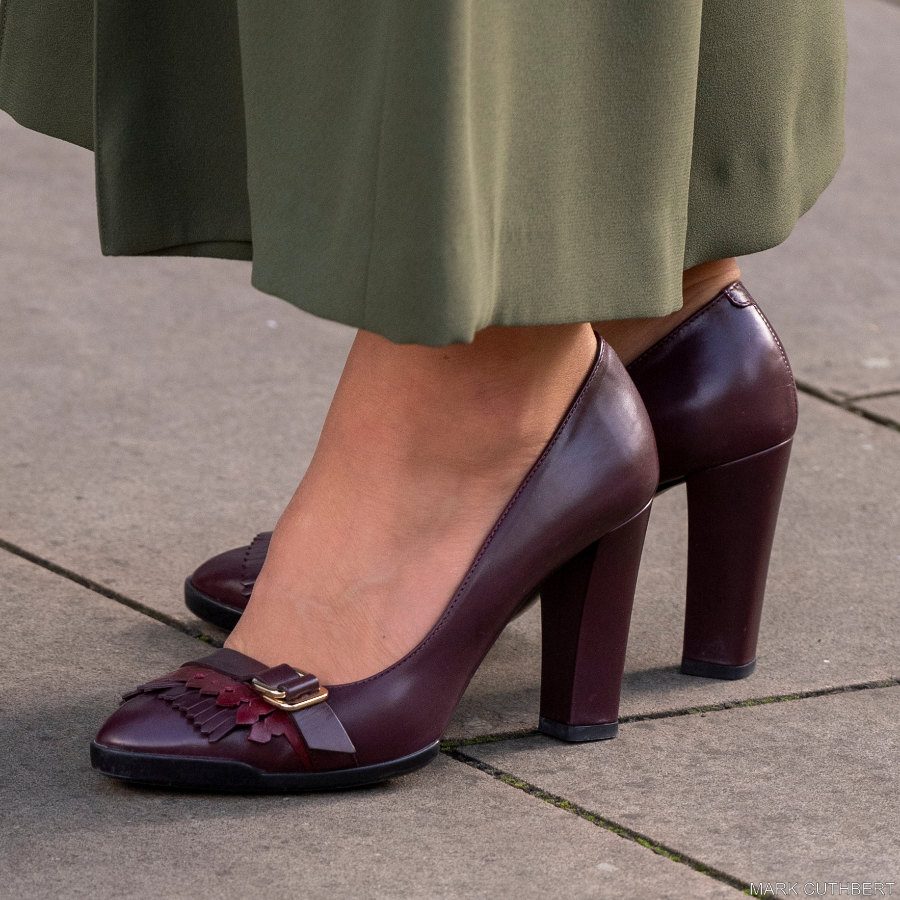 The Italian-made pumps feature a high block heel, fringe detailing and a gold buckle. The official colour name is 'Eggplant/Cherry.' Unfortunately, they were from Tod's 2015 collection, so no longer available for purchase. However, you can find some similar styles at Yoox.com (Net-A-Porter and The Outnet's sister site).
Kate first debuted the fringed pumps during the Canada Tour in 2016.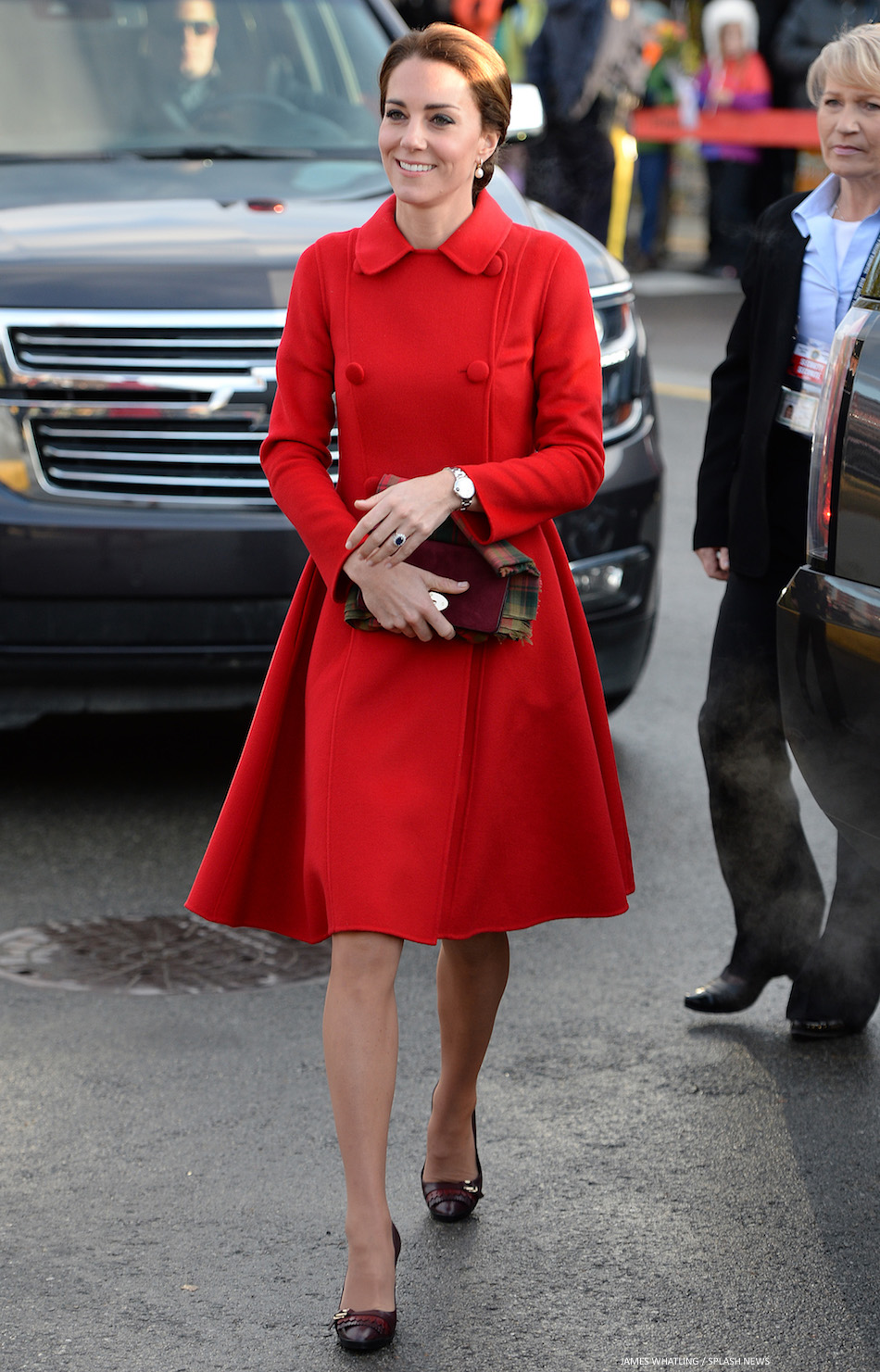 Kate's quilted bag is from Chanel's fall-winter 2016/17 collection. It has a patterned handle made from enamel and brass, plus it features the company's iconic logo on the front.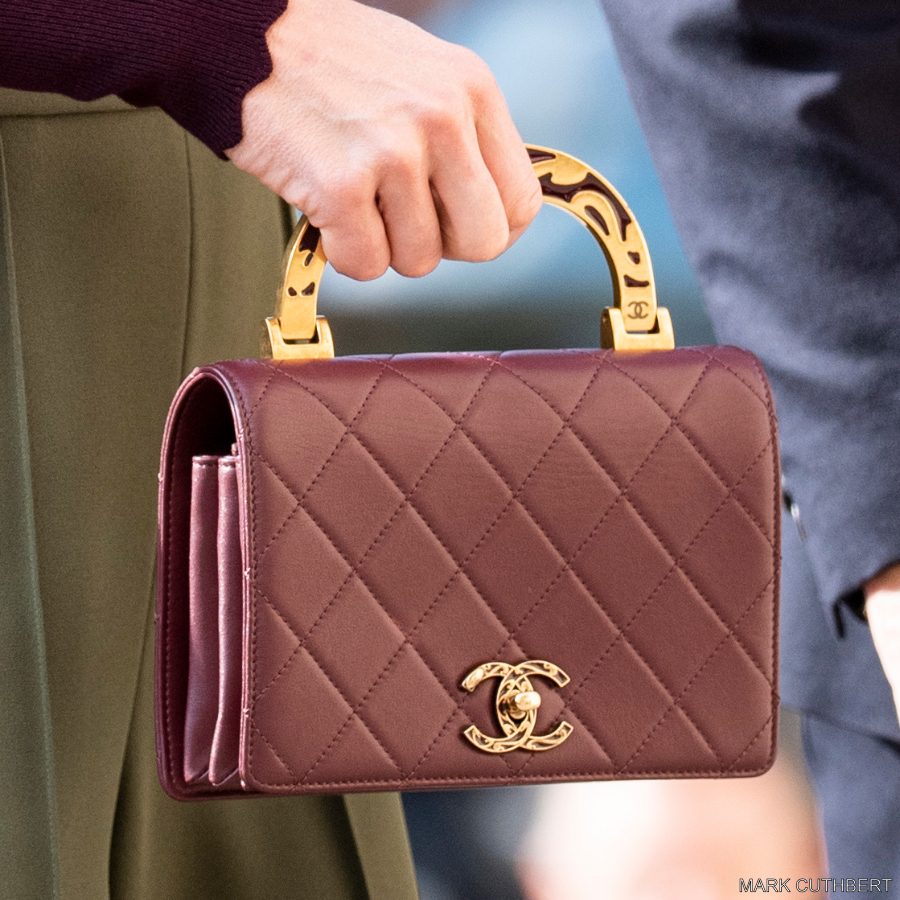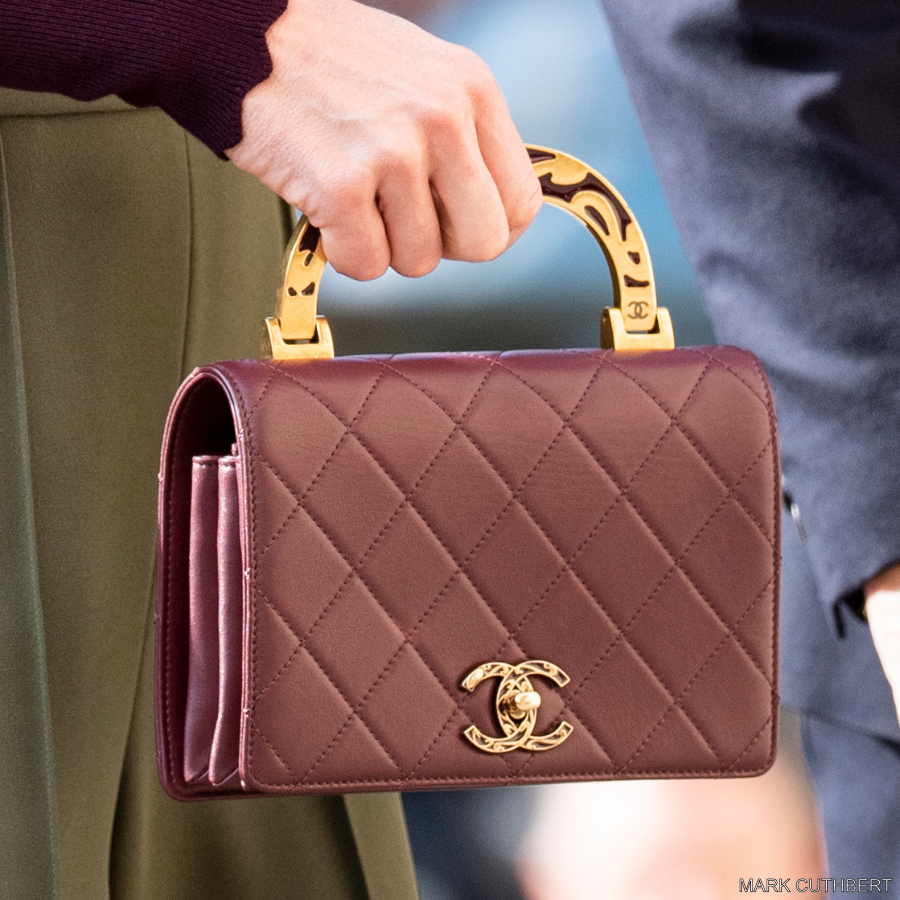 Kate first debuted the burgundy bag during a visit to Paris in 2017.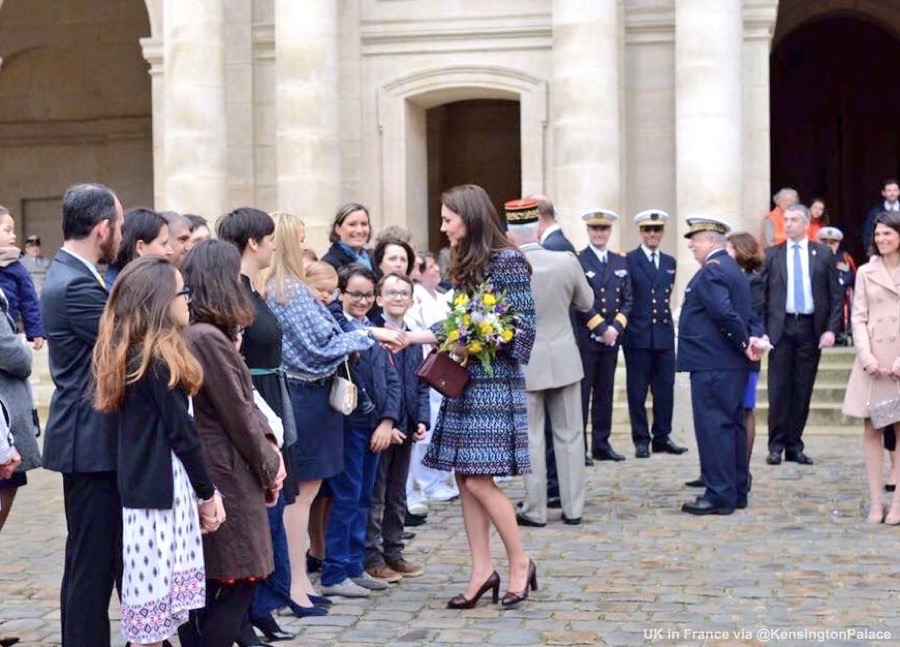 Kate wore her Asprey London earrings. The 18ct gold hoops are designed to look like intertwining oak leaves. They're from the company's 'Woodland' collection and feature pavé diamonds.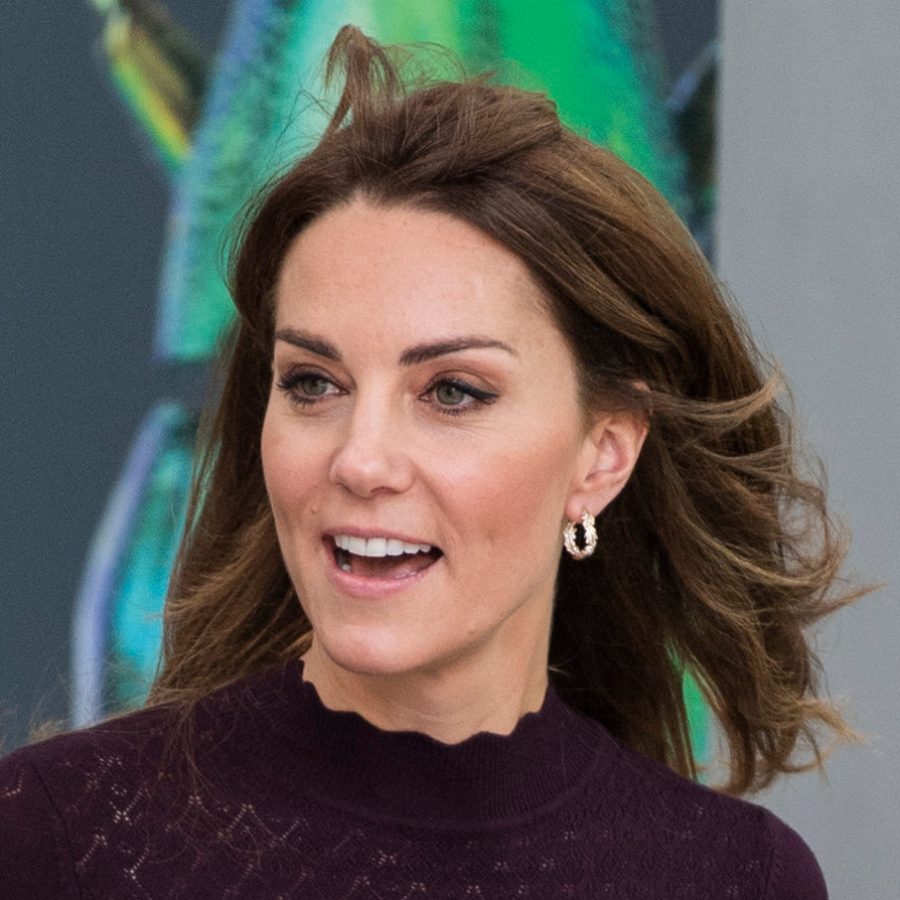 At present, you cannot buy the earrings from Asprey's website. You have to contact them directly to place an order.
Your verdict:
When I saw Kate arrive at the Natural History Museum, I said wow. I immediately thought her top and culottes were a stylish choice. I REALLY love the autumnal colours of dark berry and khaki green, very appropriate for an October engagement.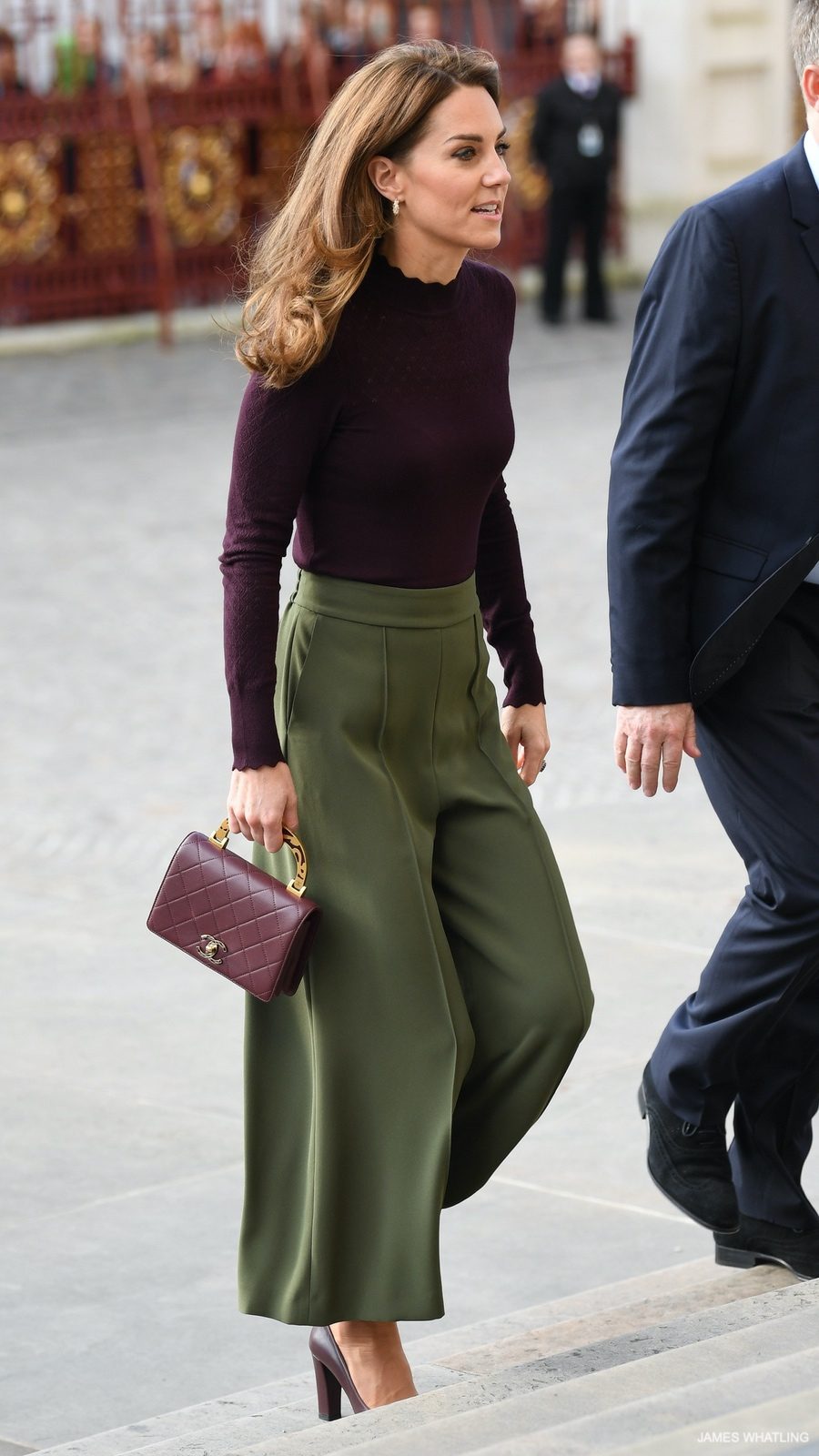 Once I learned from the royal press pack that she'd chosen to mix high street with high end, I felt like we'd returned to the 'glory days', where Kate used to wear affordable brands like Topshop with aspirational labels like Goat and luxury designers like Mulberry.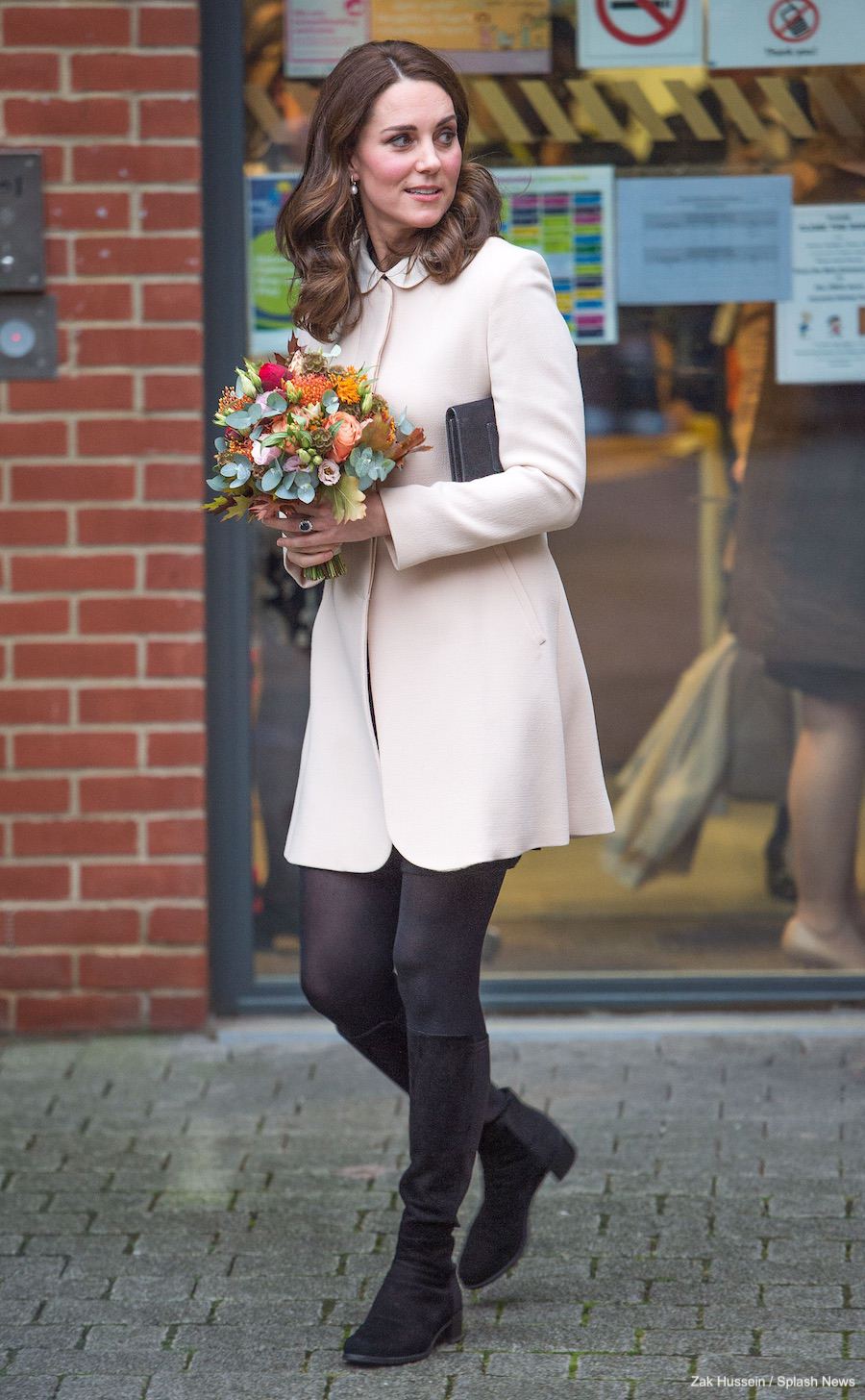 Culottes are fast becoming Kate's signature trouser. She has worn them frequently over the last year, most recently while visiting the Family Nurse Partnership last month.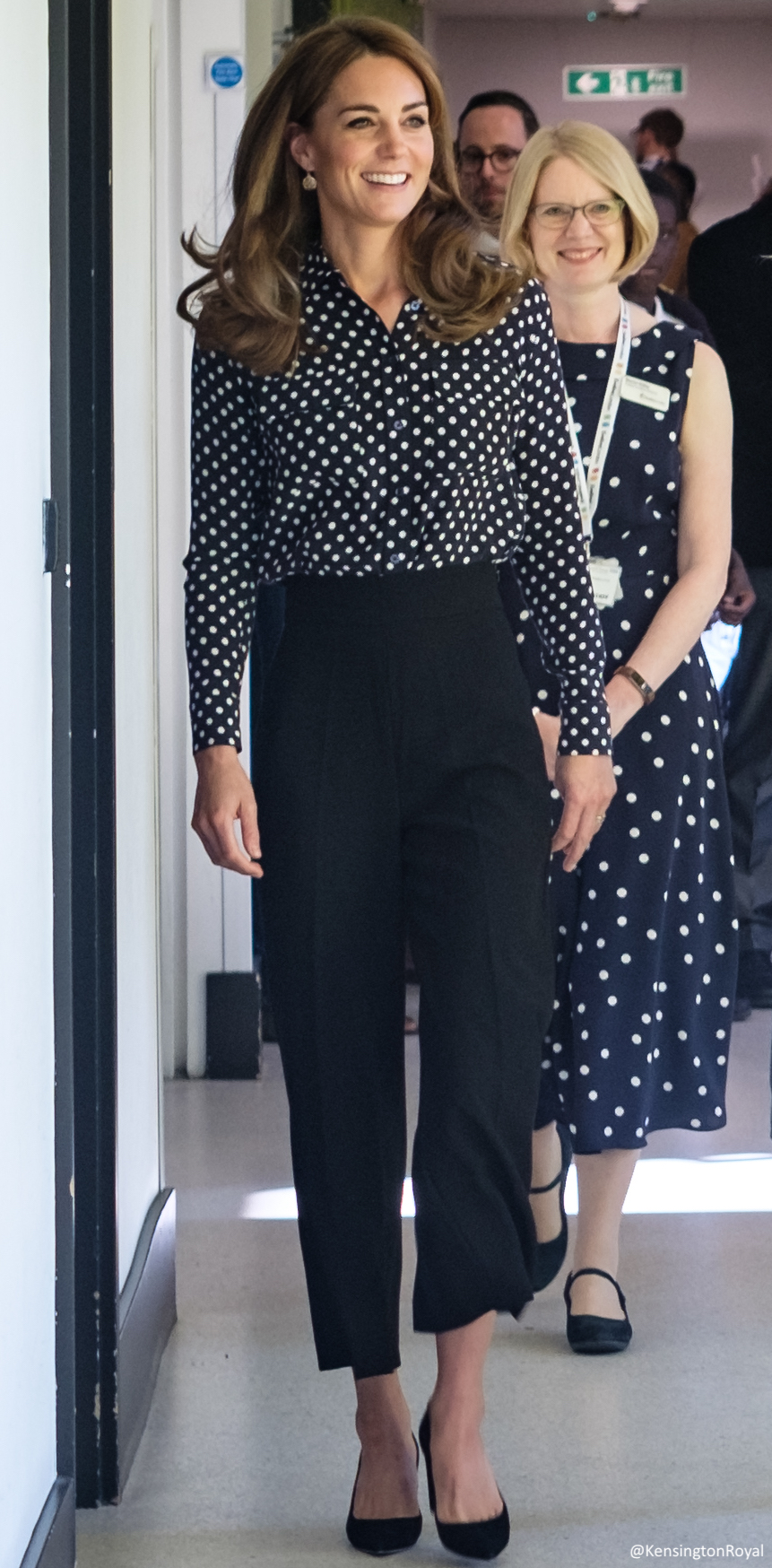 My only complaint about today's ensemble is the Chanel handbag – sorry! I've never been a fan of the accessory. There's nothing wrong with it per se, it's just not to my taste. I know this will outrage lots of you who love the piece!
What are your thoughts? Give us your fashion verdict in the comments section below.
Or, come and have a chat on Facebook. There are nearly 100,000 Kate fans on the Page! Why not join us?
Watch more from Kate's visit in this video: