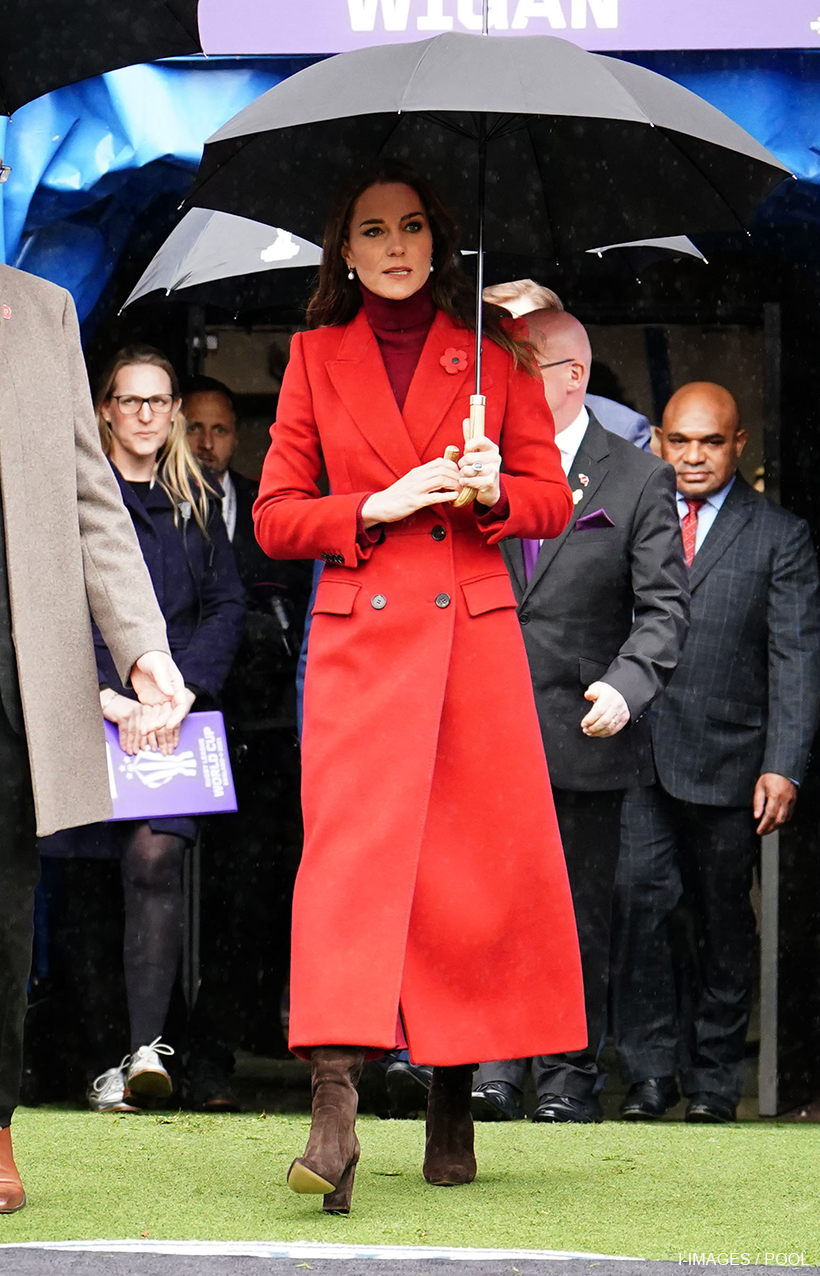 Kate brought back her red Alexander McQueen coat for the England vs Papua New Guinea rugby match on Saturday afternoon (5th November 2022). The Princess layered the long coat over wine-coloured separates (a skirt and roll neck top), which she wore with a pair of brown suede heeled boots.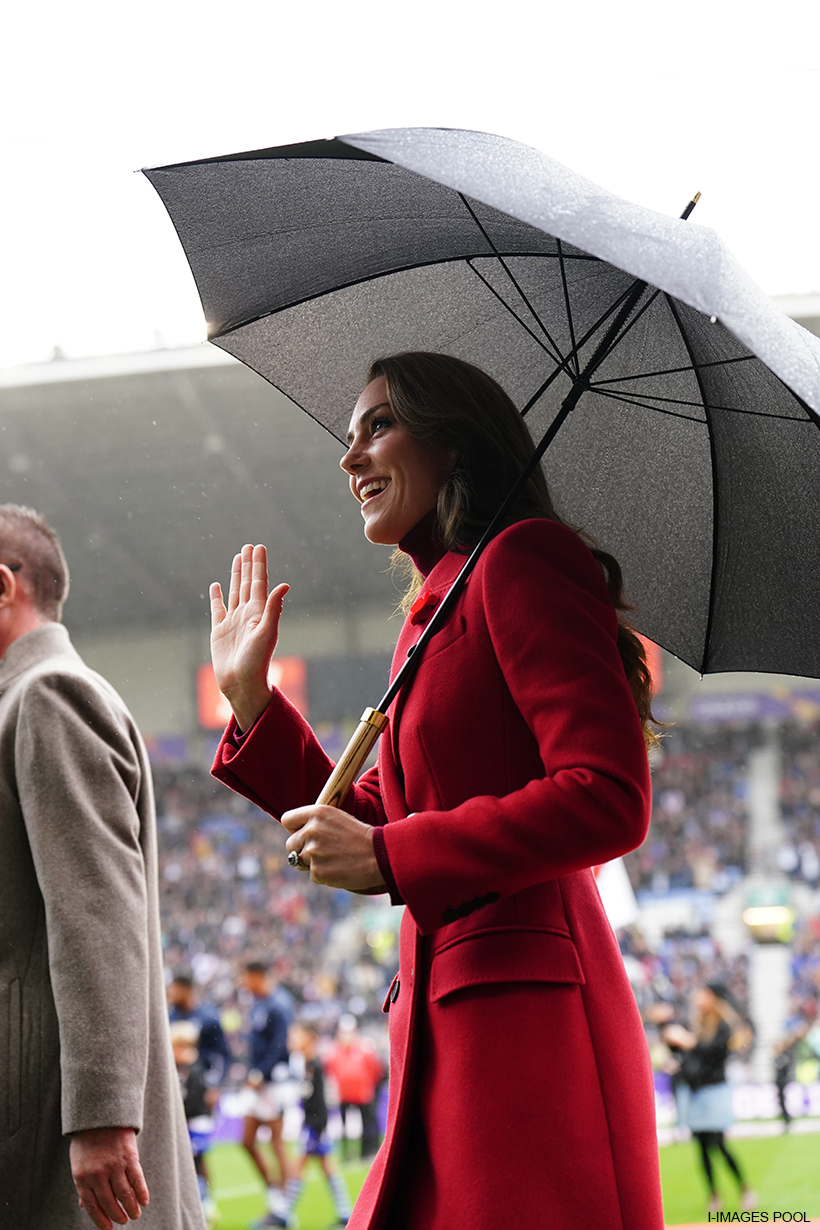 Kate wore the stylish outfit to support England in the Rugby League World Cup Quarter-final. The Princess grabbed an umbrella and braved the rain as she set foot onto the pitch to meet players.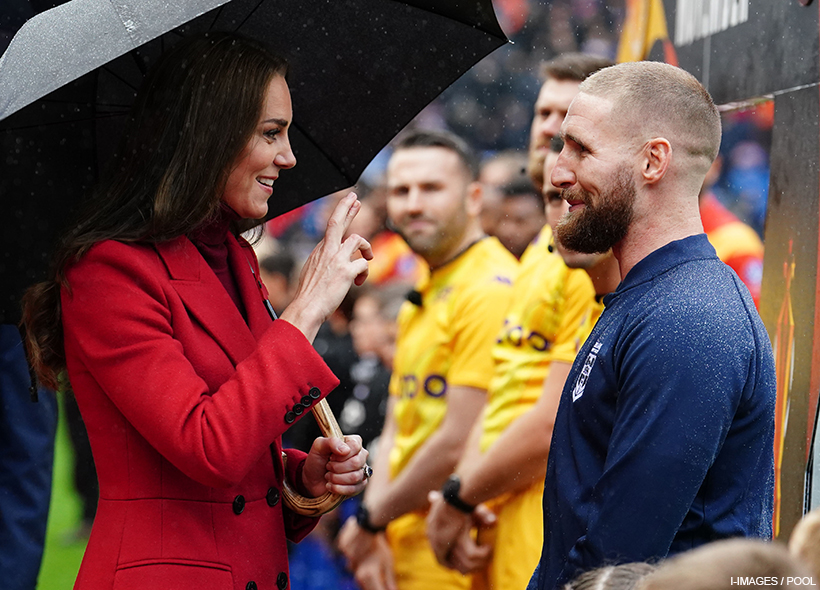 Kate joined athletes and spectators in clapping during the "Moment Against Silence"—an initiative run by the Rugby League in collaboration with Movember, the men's health charity. People at the rugby match were encouraged to make as much noise as possible for one minute, as part of a campaign to persuade men to speak up about their mental health struggles. Kate's a long-time mental health advocate and has publicly supported many projects in this space since she joined the Royal Family in 2011.
The Princess spoke with some of the volunteers of the Rugby League World Cup Social Impact Programme, a programme that aims to drive positive change in local communities.
She received some knitted hats from volunteer Susan Hill. She told Ms. Hill that she'd previously tried the craft but "was terrible at". "I'll have to come for lessons" she added.
At half time, Kate met with the Women's England Rugby League team and congratulated them for their victory against Canada in the Women's Rugby League World Cup. See the moment and watch Kate pose for photos with the women's team below:
The Princess attended the rugby match in her role as Patron of the Rugby Football League. Regular readers will know she took on the patronage in February. (Prince Harry formally held the title but renounced it after stepping back as a 'senior' member of the Royal Family.)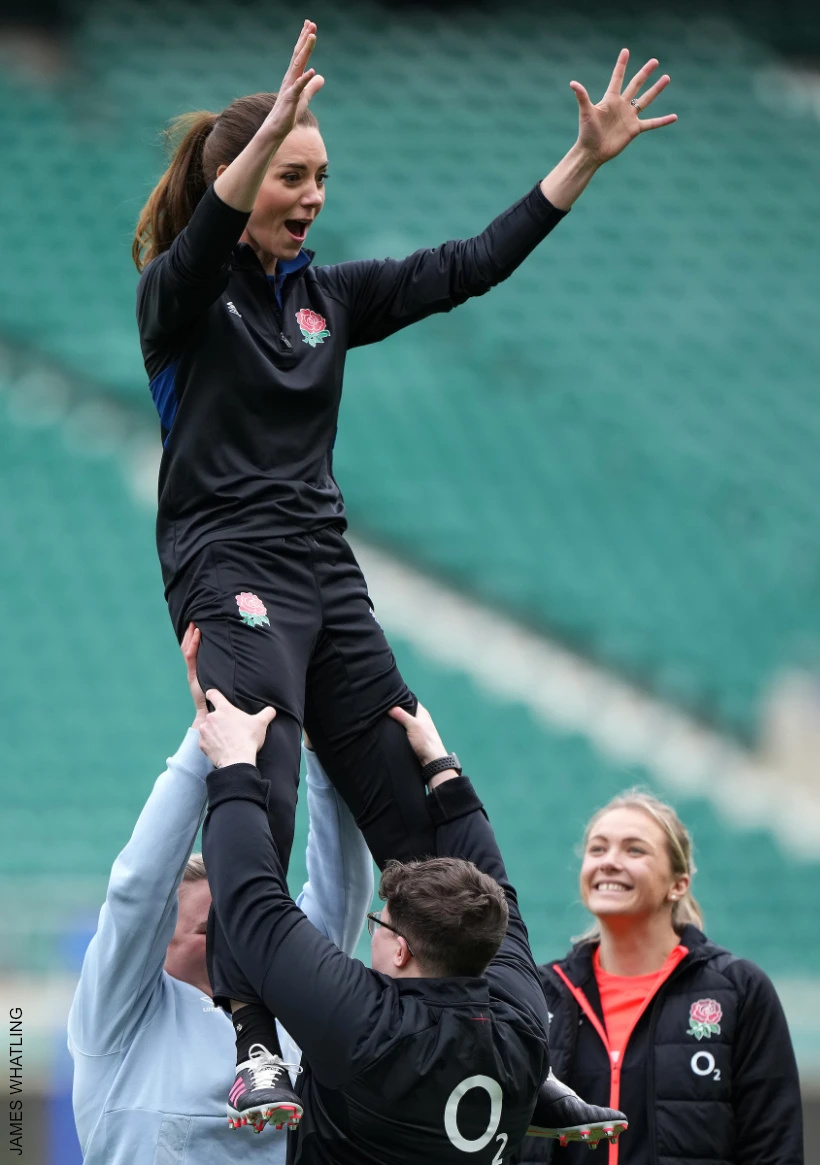 (Above, Kate during a rugby training session at the Twickenham Stadium on the day her new patronage was announced.)
Kate watched as England triumphed over Papua New Guinea. (You'll notice she's sat behind broadcaster and sports journalist Clare Balding. The two shared a chat and a joke just before this moment.)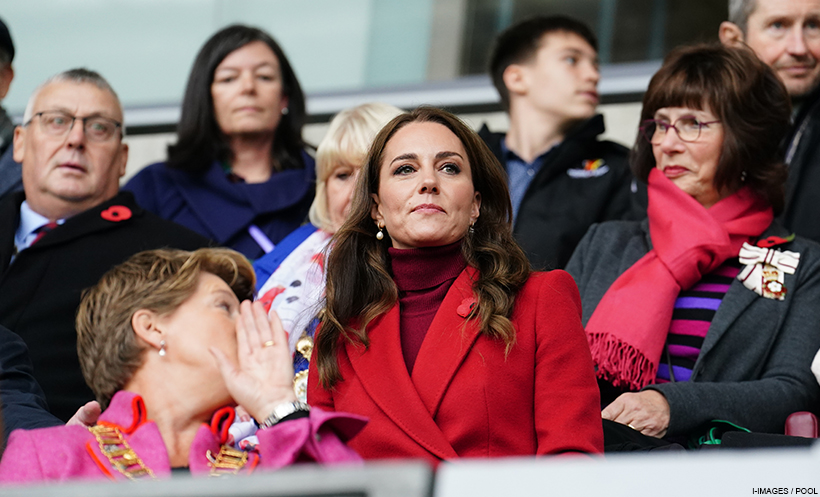 It was the Princess's first Rugby League game since taking on the patronage earlier in the year. (Though, you might remember she attended the England v Wales Six Nations Rugby Union game in February, pictured below. Rugby Union is a different game to Rugby League. Kate is Patron of both.)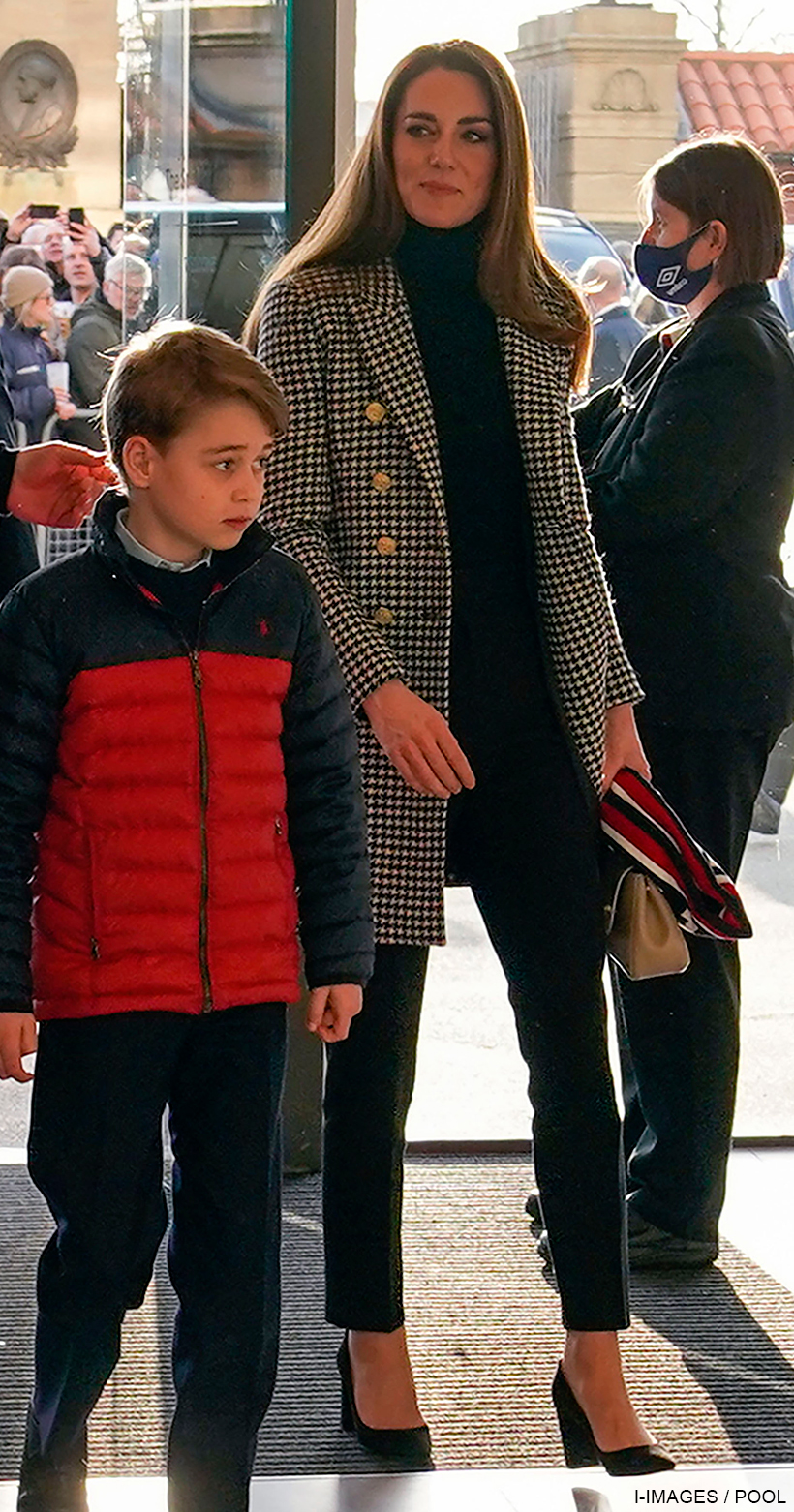 Let's take a closer look at Kate's red-on-red ensemble now.
Kate's outfit at the England V Papua New Guinea Rugby Game:
The Princess dressed in patriotic red to support England—it is one of the country's national colours. It's also the dominant colour in the rugby team's emblem, the red rose.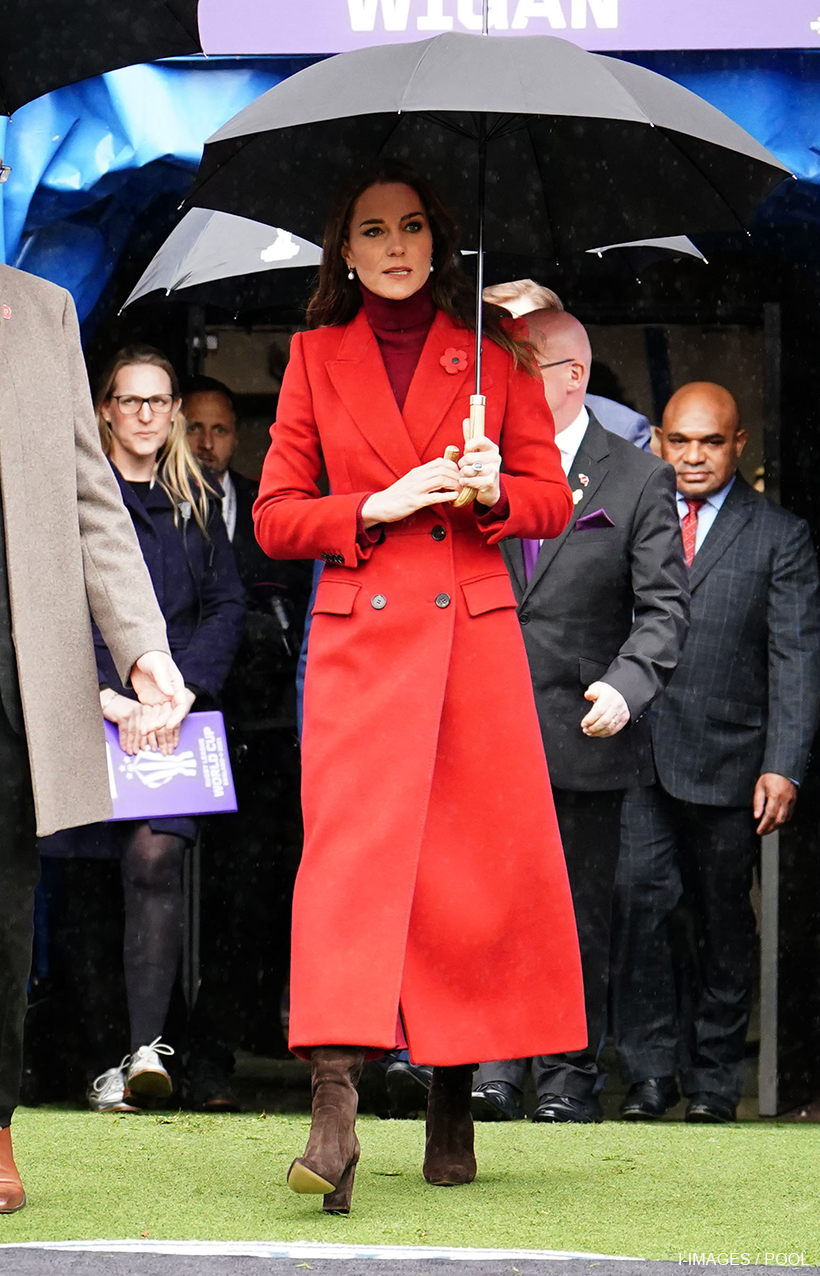 Kate's red coat is a bespoke design from Alexander McQueen. The long garment features sleeves, a double breasted button closure, flap pockets and a peak lapel.
The coat shares many similarities with several other designs offered in Alexander McQueen's previous ready-to-wear collections, as you can see below: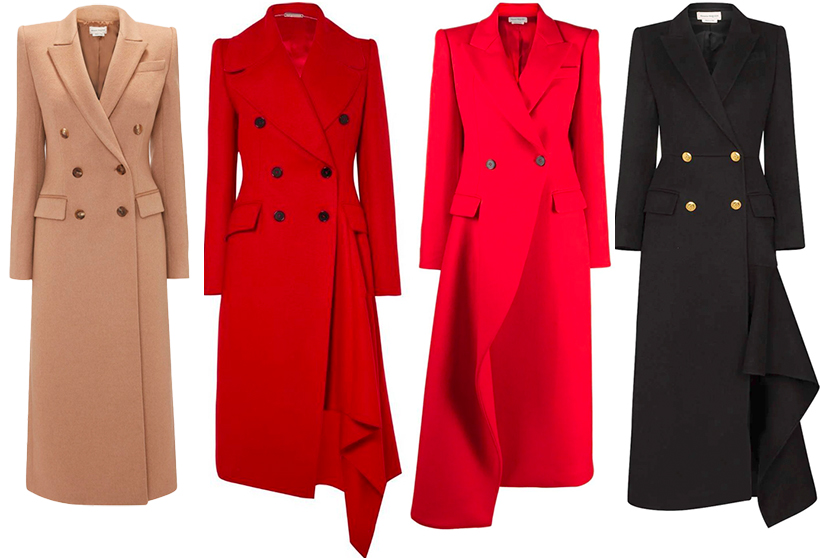 From left-to-right: camel coat at alexandermcqueen.com, red via Pinterest, red at farfetch.com, black at brownthomas.com.
Kate's coat is most like the black—with the asymmetric hem removed, of course. Note the two sets of buttons and the seam around the waist.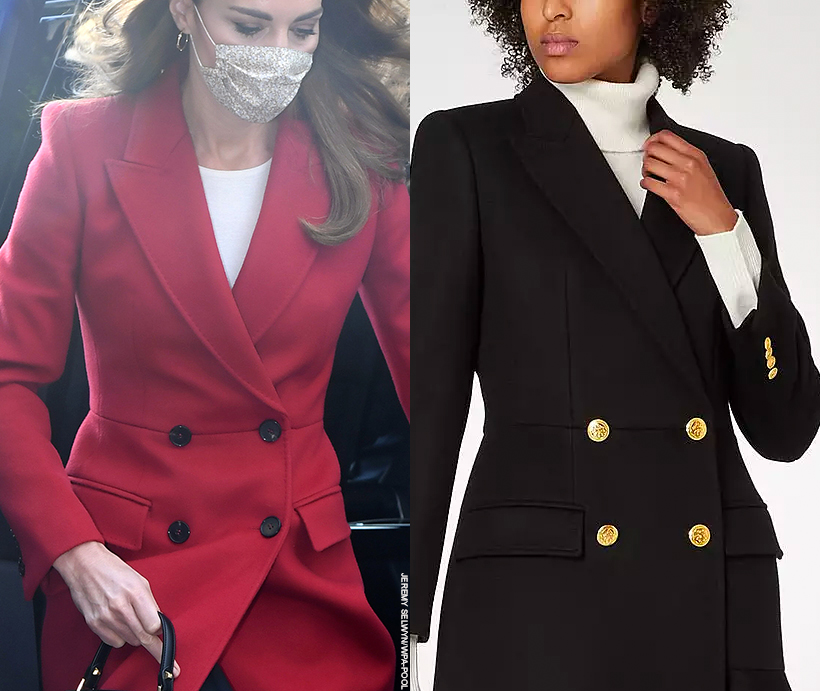 The Princess debuted the garment in October 2020 for the Hold Still exhibition at Waterloo Station. She wore it for a second time in December of the same year for the Royal Train Tour (below right, easily one of my favourite winter looks!)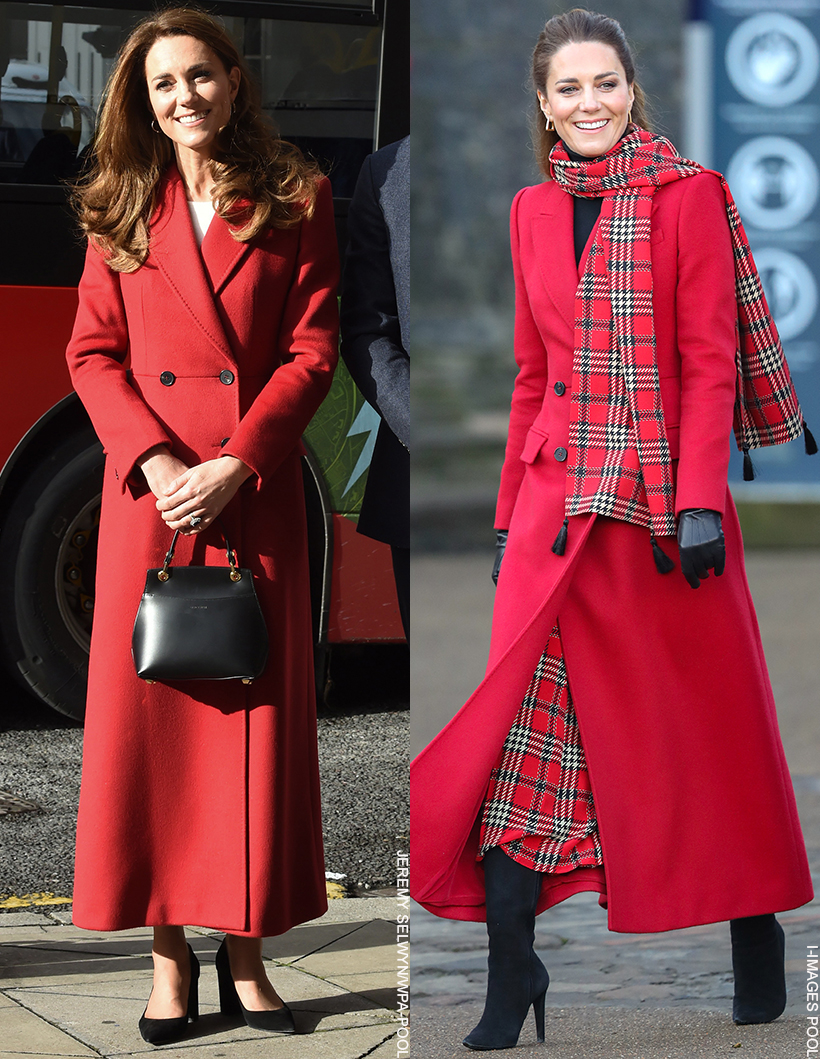 Want to copy Kate's bold look? Alexander McQueen is out of your budget? I've found some fantastic options from Mango and Monsoon that you might like instead:
GET THE LOOK: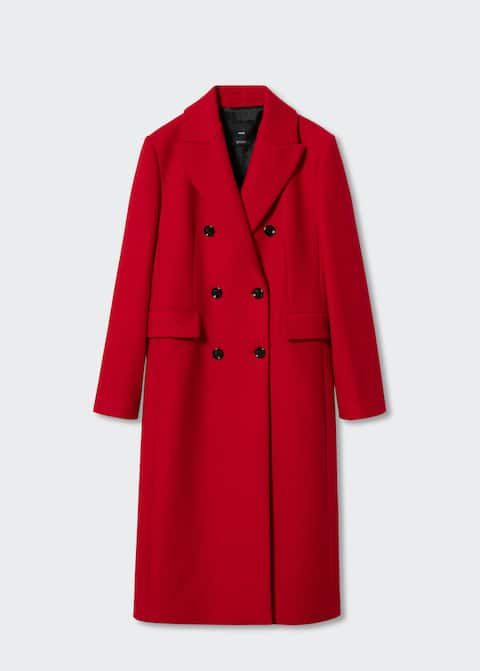 MANGO PREMIUM DOUBLE BREASTED COAT, RED
This lovely red coat is from Mango's Committed Collection. The premium design is crafted from a wool-mix fabric. It's less-tailored than the coat Kate wears but otherwise, it's a pretty close match.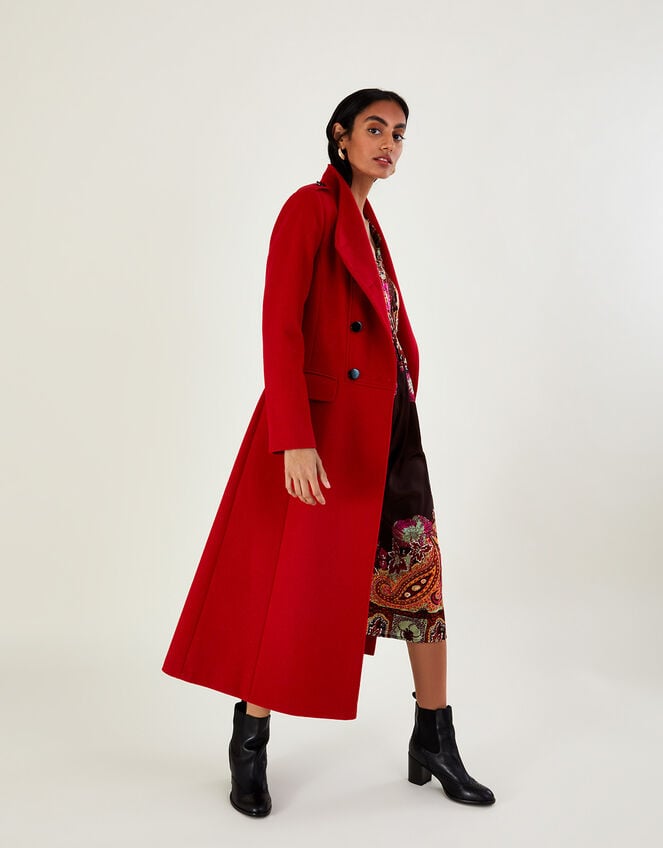 MONSOON VANESSA SKIRTED COAT, RED
If you're looking for a flattering silhouette, try the Vanessa Skirted Coat by Monsoon. It's also crafted from wool. Choose your look by adjusting the collar. Wear up for sharp military styling, wear down for an easier, informal look.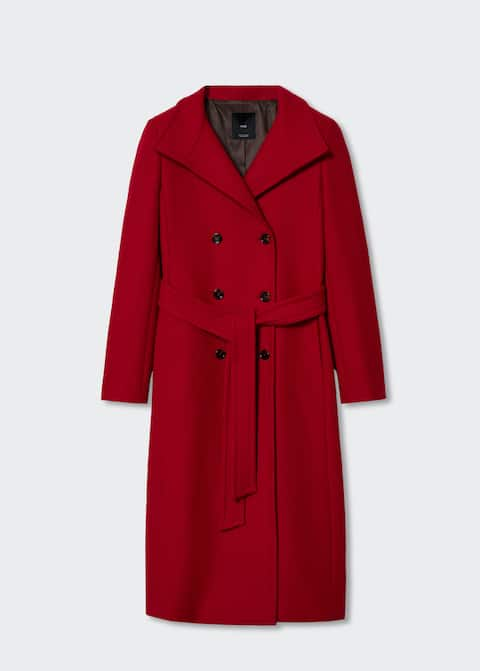 MANGO WOOLLEN COAT WITH BELT, RED
Another piece from Mango. This double-breasted coat is belted, so you can cinch it at the waist for a flattering look. Style it like Kate by wearing without the belt, open, over navy trousers and with a matching red sweater.
Let's look at the clothing Kate wore under her coat now. The maroon roll neck sweater and pleated skirt are new (to us at least, Kate might have owned them for some time!)
This is the only photo that exists showing the outfit sans coat:
UPDATE NOVEMBER 15th 2022:
Two brands are now claiming Kate wore their sweater.
Gabriela Hearst told Middleton Maven the Princess wore their maroon cashmere-silk sweater, pictured below:

Yoox listed the lightweight sweater on clearance at $387 (down from $733). They note the sweater is crafted from cashmere and silk.
The second is Scottish brand Kiltane. (Thanks to Sara for the tip!) I asked the brand on Twitter and they said "we can definitely confirm that HRH is wearing our Polo Neck Jumper in Bordeaux".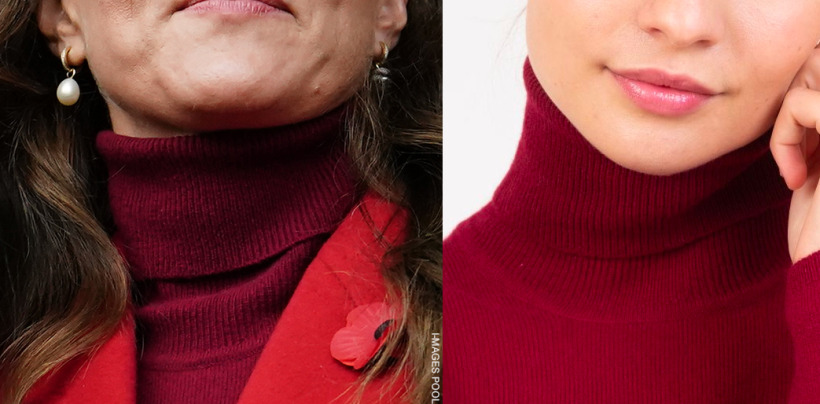 The £99 sweater is made from pure cashmere.
At this point, it's difficult to know for certain. They both look very similar.
Kate's worn Grabriela Hearst clothing before. Kiltane are a Scottish company, located in Edinburgh.
Let's move on to Kate's pleated skirt now. A refresher:
Again, I can't say for certain which piece she's wearing. Kate fans, including myself, spent a while searching to identify the garment.
Initially, I thought it was by Boden. I wrote as much on this page. However, consensus now is that she wore this skirt from Co. There's a past season Zara skirt that could also be an option. Sadly, I cannot say for certain which skirt she wore. Hopefully she'll wear it again so we can take a closer look.
Want to recreate the look in wine/maroon? Pair this gorgeous sweater from Reiss with this skirt from Mango instead-
GET THE LOOK: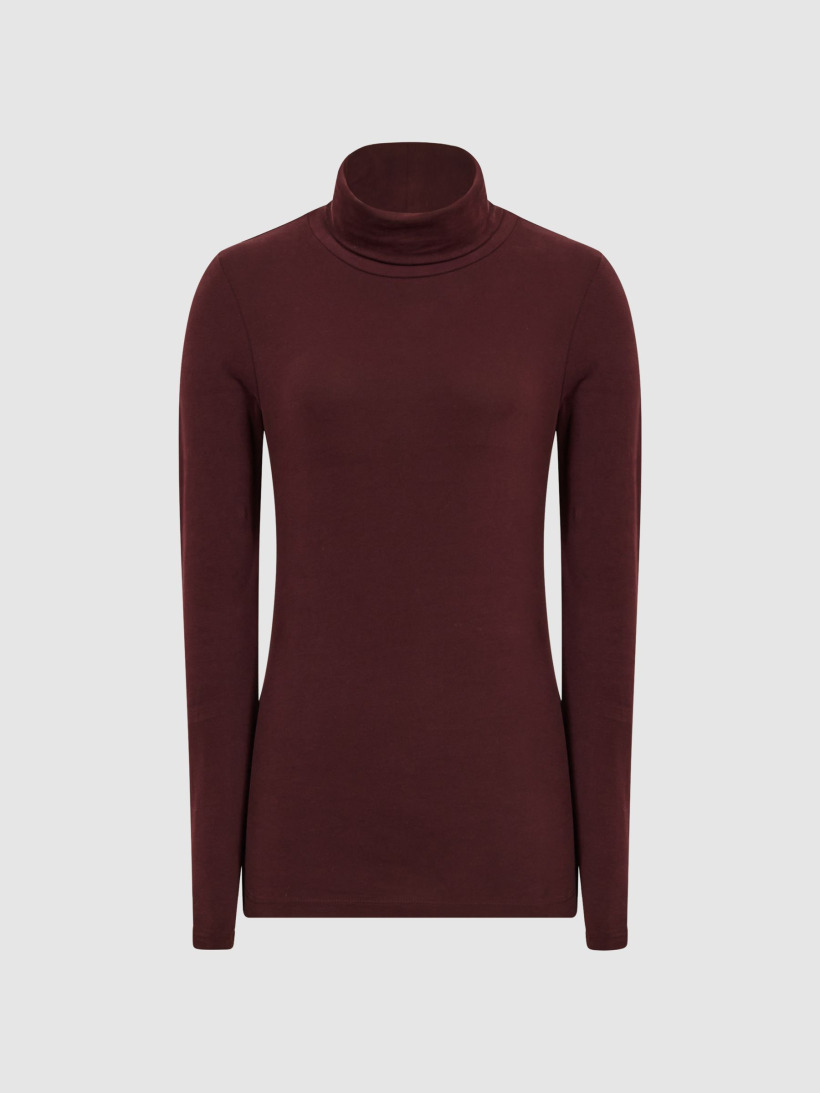 REISS PHEOBE SECOND SKIN ROLL NECK TOP, BURGUNDY
This sleek jersey-stretch roll neck top will keep you cosy all winter long. Wear with black trousers in the office or style it with a skirt at weekends. The slim fit design makes it perfect for layering.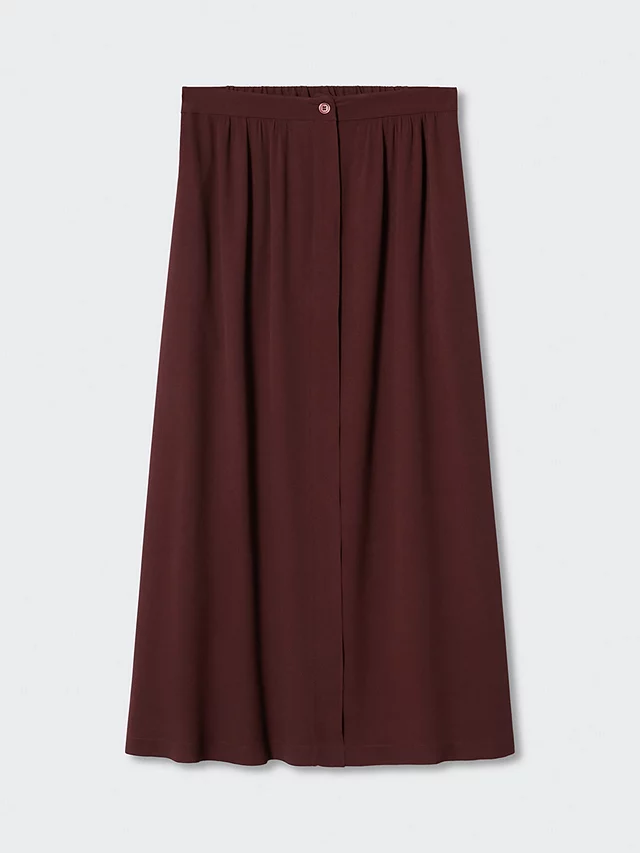 MANGO SONIA MIDI SKIRT, DARK RED
I haven't compared this skirt with the sweater in person, but on my screen they look like a match made in colour-coordinating heaven. I hope you'll forgive that it isn't pleated. Wear with a black tee and in the less frigid months.
I've scoured the web (for too long!) looking for Kate's brown suede boots. The boots feature a pointed toe, a block heel, a beige sole and an 'arch' shaped seam detail at the front.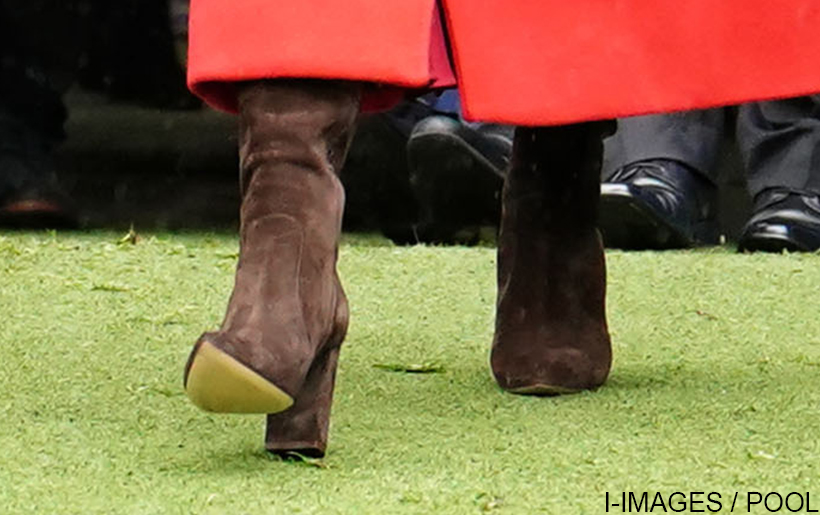 We've not seen the Princess wear the boots before. They don't appear to be from any of her usual brands (though I've seen some styles that come pretty close).
UPDATE: Gianvito Rossi confirmed they created the boots for the Princess, they're bespoke. Thanks to Ashley from Middleton Maven for writing to the brand and sharing the confirmation. As you can see from the graphic below, the footwear designer has created many similar designs in the past.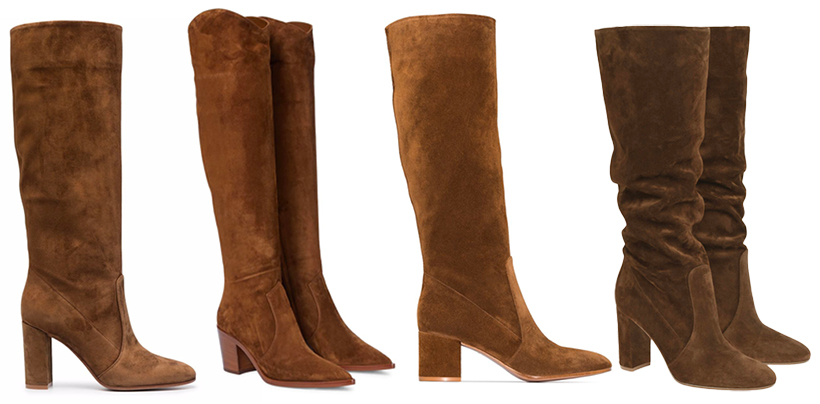 From left to right: Gianvito Rossi Heeled Suede Boots at FarFetch; Gianvito Rossi Suede Knee high Boots With Pointed Toe at MyTheresa (currently 30% off); Gianvito Rossi Calf-Length Boots with 60mm heel at FarFetch; Gianvoto Rossi Glen Boots at 245.
Let's look at Kate's earrings now. They're the Baroque Pearl Drop Earrings by Annoushka Ducas.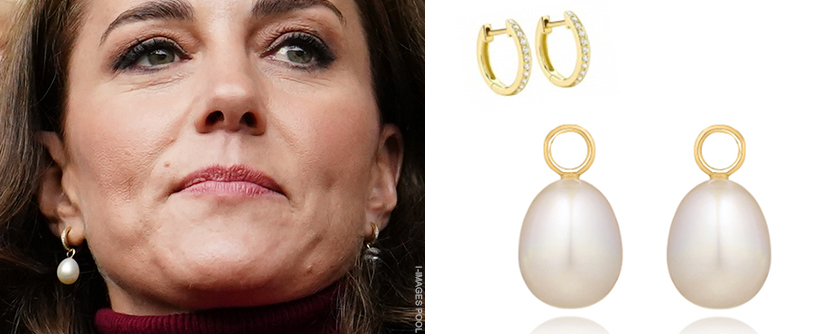 Kate's worn the pearl earrings frequently over last decade. They've racked up over 70 wears in public, to date.
The creamy freshwater pearls sit on 18ct rings. If you'd like to buy a pair, you're in luck. They're still available to buy from the designer's website for £425 / $480 (Other currencies and worldwide delivery available too.)
Annoushka Ducas MBA is one of the country's leading fine jewellery designers. Annoushka founded Links of London—a huge British brand that Kate used to wear regularly—in the 1990s.
Consensus in the "Kate community" is that the Princess hangs the pearls from a pair of gold and diamond hoop earrings by Kiki McDonough (also pictured above).
The sparkly hoops are crafted from 18ct yellow gold. They retail for £600 at kiki.co.uk (and are still available to buy).
Kate wears Kiki McDonough designs frequently, in fact, I'd go far as to say Kiki is Kate's favourite jewellery designer.