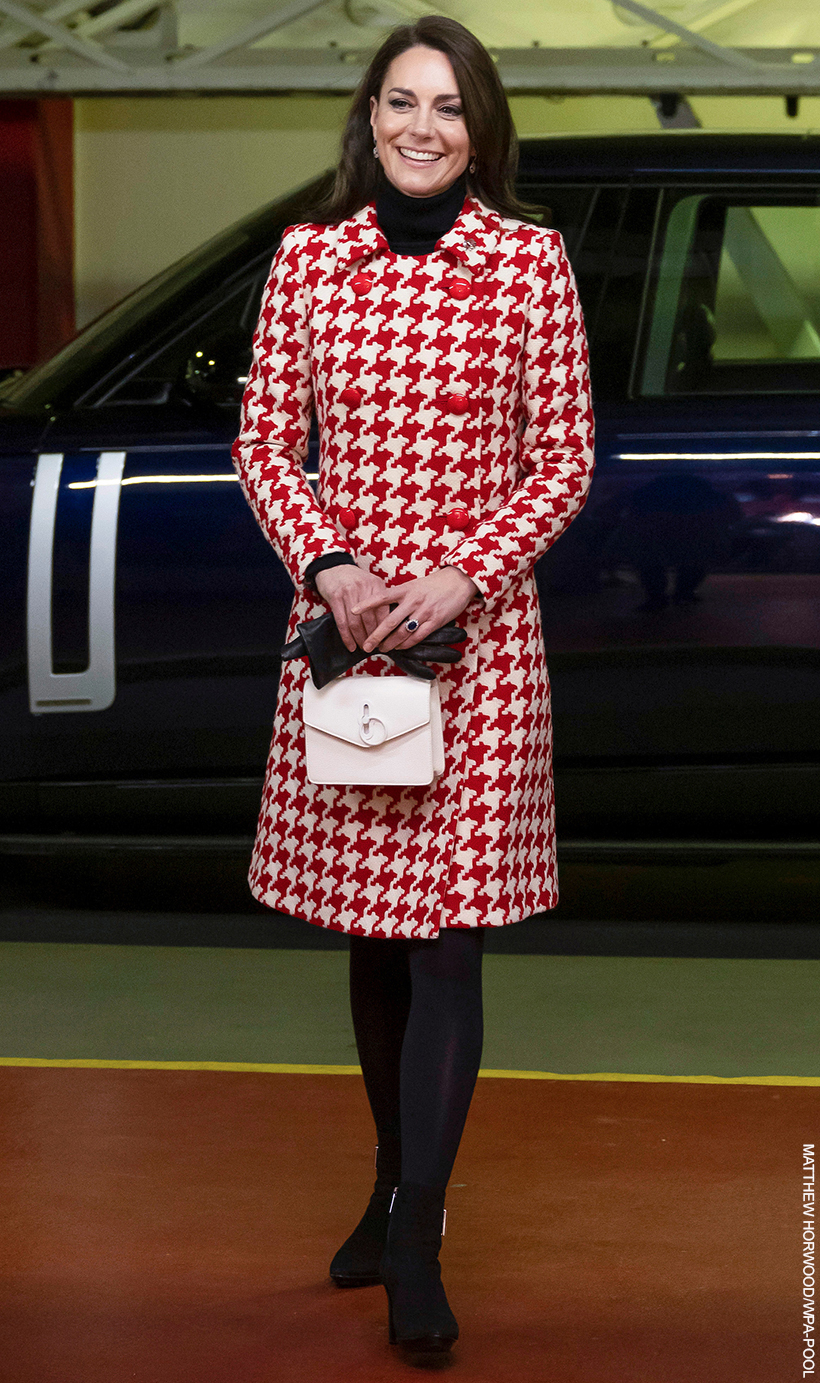 Kate Middleton dressed diplomatically for the Wales vs England game at Principality Stadium in Cardiff on Saturday evening—at least that's how her husband William described her outfit to a fellow attendee!
The Princess had opted for a red and white houndstooth print coat for the Six Nations rugby match—which just happen to be the colours of the two opposing teams' kits.
It was a good move for Kate who is both the Princess of Wales and the Patron of English Rugby Football Union.
Prince William holds the same role with the Welsh Rugby Union. The pair are famously quite competitive, so I expect there is some healthy rivalry when both countries play one another.
During a meeting with injured rugby players ahead of the game, William quipped that the drive home would be tense, no matter which team won.
The injured rugby players are currently supported by the Welsh Rugby Charitable Trust, which Prince William has served as Patron since 2012.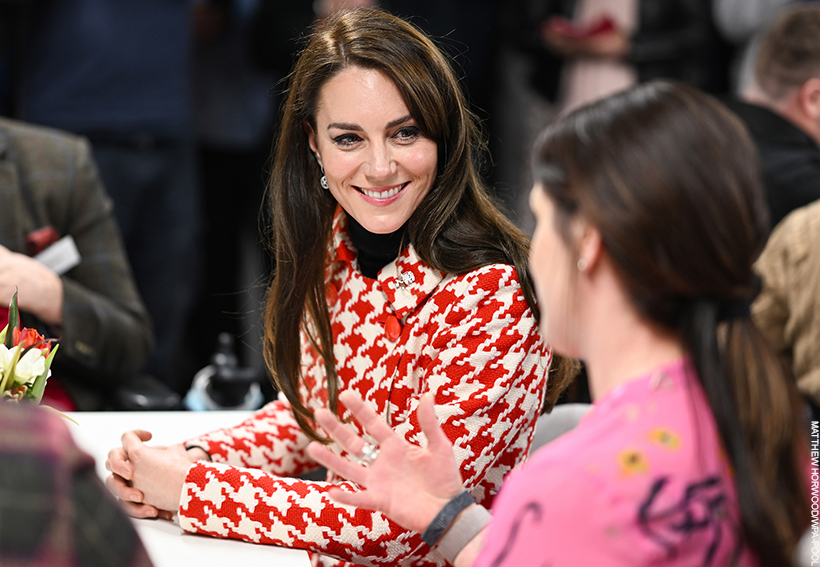 Since its creation in the 1970s, the trust has provided support to hundreds of male and female Welsh rugby players. William and Kate spoke to some of them during a brief reception.
The pair officially opened the Sir Tasker Watkins Suite during their visit. This is a new space within the stadium dedicated to providing injured players and their families with a comfortable and supportive environment before matches.
The suite's namesake, Sir Tasker Watkins, was President of the Welsh Rugby Union from 1993 to 2004. Prior to his death, Watkins was described by many of his countrymen as the "greatest living Welshman". He was a war hero, barrister and judge and a much-loved figure in Welsh rugby. He was awarded the Victoria Cross for outstanding bravery and leadership in the Second World War. In fact, William met Tasker at a Rugby Match with Princess Diana during childhood (thanks to Charlotte for sharing this info!)
Kate was appointed Patron of the Rugby Union just twelve months ago, last February. However, she's attended several Six Nations games over the last three decades. Back in 2007, Miss Middleton joined Prince William at an England vs Italy game at Twickenham Stadium (below).
The pair also took in the France vs Wales Six Nations match at the State de France during an overseas visit to Paris in 2017 (above).
Just last year, the couple returned to Twickenham for the England vs Wales Six Nations game with their son George (below) – Kate sported a houndstooth coat on that occasion too (hat tip to the Data Duchess for noticing this!)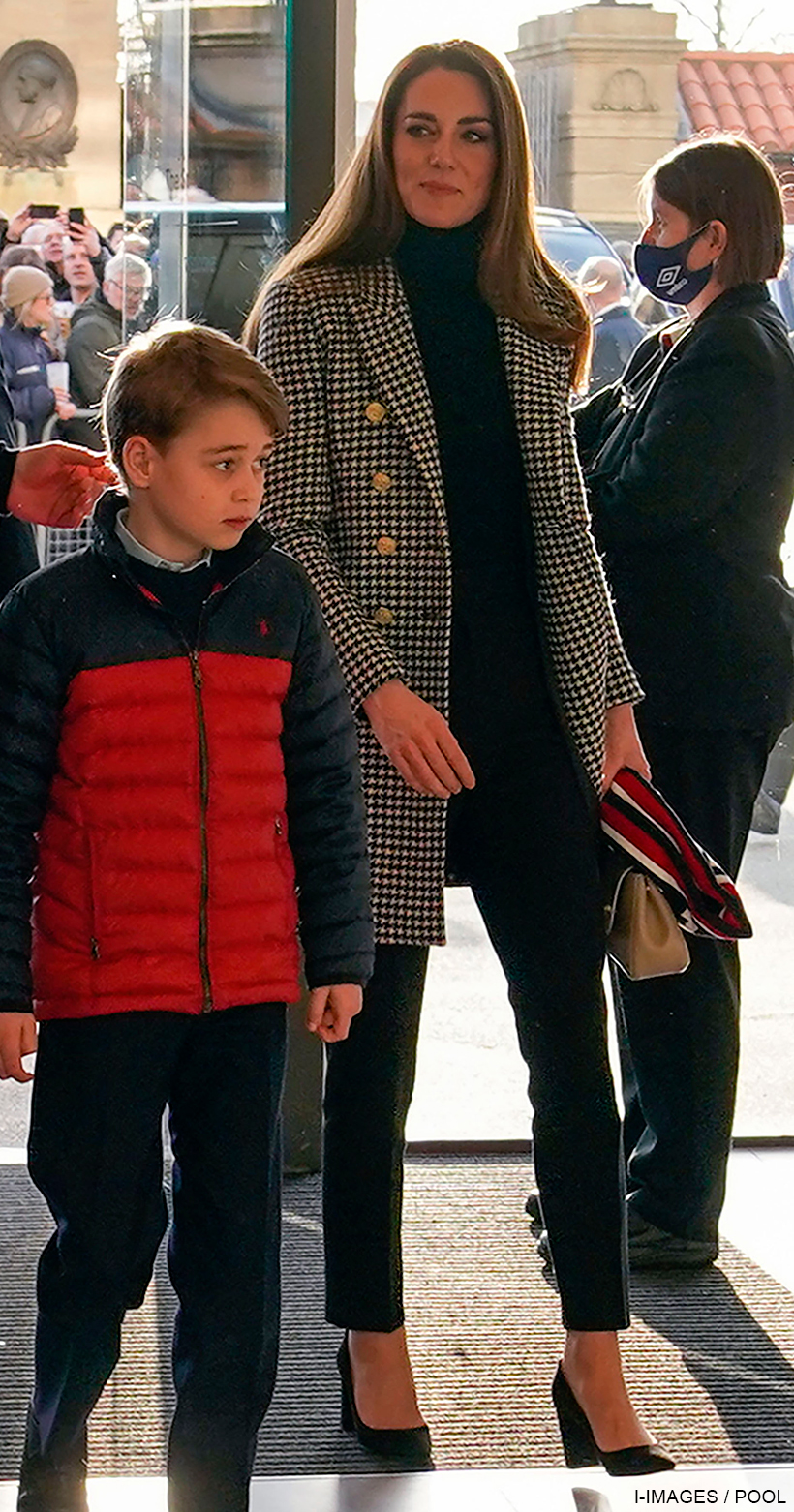 The sporty Princess has demonstrated her love for Rugby on numerous occasions since joining the Royal Family. She's watched a handful rugby union world cup games at stadiums across the country and has taken part in rugby-related royal engagements both overseas and at home (pictured below). She is also Patron of the Rugby League.
Let's move on to the fashion portion of the post now!
Kate's outfit at the Wales vs England Rugby game:
The Princess's double-breasted houndstooth check swing coat is from Catherine Walker & Co. It is knee-length, has a collar and is finished with oversized glossy red buttons.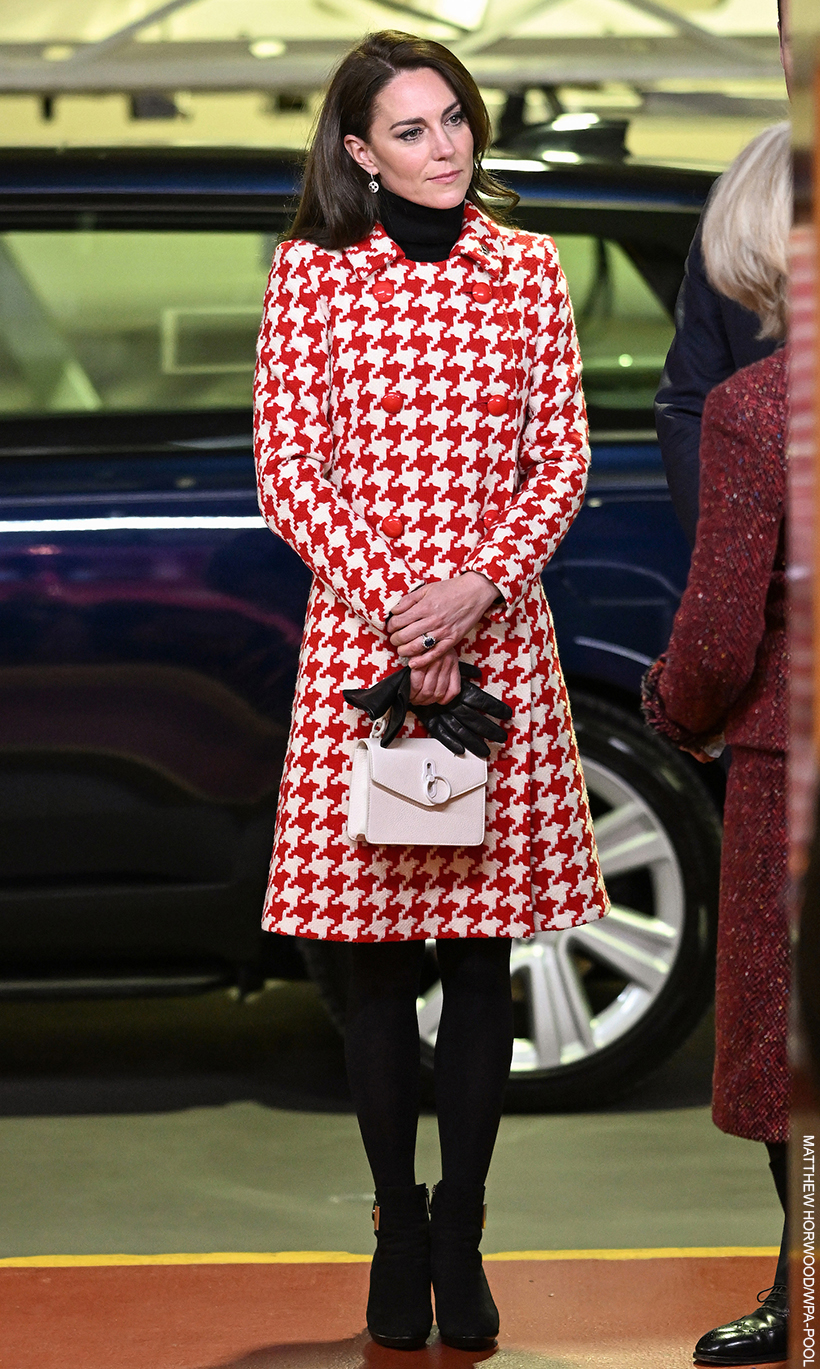 Catherine Walker & Co. created the coat for Kate to wear in Stockholm, Sweden in 2018 (below). Kensington Palace confirmed the coat came from the design atelier at the time.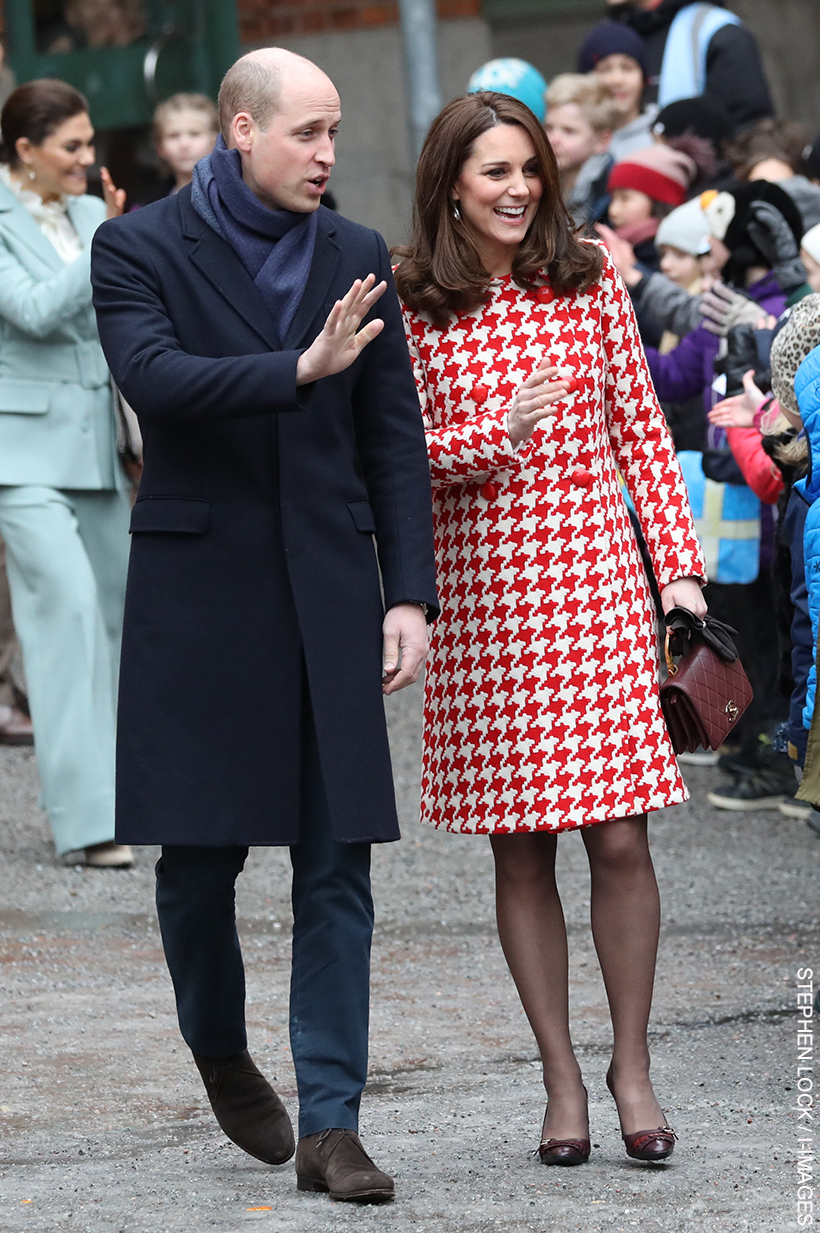 If you recall, the Princess was 6-7 months pregnant during the overseas visit. It seems she's had the garment tailored so that she can continue to wear it day-to-day.
On Twitter, Emma pointed out that Kate wore three custom Catherine Walker coats during that tour. She's since had two of the three coats altered and worn them during public engagements following her pregnancy. (The second coat is pictured below.) Emma suspects this was always the plan, that she had them designed with this in mind and we might see the Princess wear the third coat at some point too.
Back in 2018, Kate styled the houndstooth coat with a cream dress, black sheer tights and burgundy accessories (her Chanel handbag and Tod's block heeled courts). It was a polished look perfect for an official overseas visit on behalf of Queen Elizabeth.
Today, she put a fresh spin on the coat by pairing it with what we presume is a black roll-neck sweater dress, opaque tights, ankle boots and a white handbag. She looked effortlessly chic in the ensemble—smart enough to befit her role as a patron of English rugby but dressed down enough for watching a sports match. The outfit struck the perfect balance between comfort, style and status.
I'm afraid that I cannot tell you much about the availability of the houndstooth coat, should you suddenly find the desire to add it to your collection. You'd have to contact Catherine Walker and Co. for this information. They offer consultations in their London store and online.
Catherine Walker was a French-born fashion designer who opened a couture house in London with her husband and business parter Said Cyrus. Princess Diana was probably Walker's most notable client. It's said Walker was one of Diana's favourite designers and she supplied the late Princess with over 1,000 garments throughout her marriage to Prince Charles, right up until her death. Sadly, the designer also passed away under tragic circumstances, from cancer in 2010. Today, the atelier is still run by Said and a skilled team.
Kate's worn a huge number of Catherine Walker designs since joining the Royal Family in 2011. The design house is one of her go-tos for high profile royal engagements and events.
Let's look at Kate's heeled black ankle boots now. The photos aren't very clear but I'm pretty certain she's wearing her Aquatalia Ruby Dry boots in black suede.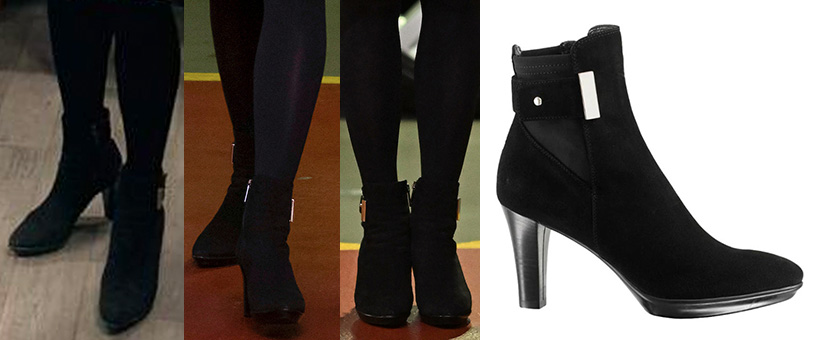 To date, we have seen the Princess wear the black heeled boots on two other occasions. In 2018 at a conference hosted by the Anna Freud National Centre for Children and Families, and in 2022 during an engagement at Abergavenny market in Wales.
The boots are made in Italy using weather-resistant black suede and subtle silver hardware. They feature an elegant heel and a padded rubber platform for comfort.
The style was listed as "Ruby Dry" at Russell and Bromley in the UK. In the USA, it was known as "Rouge" before being renamed to "Royal" for obvious reasons.
Kate owns a second pair of the same boots in brown, which she's worn to a handful of public engagements since 2011.
Unfortunately, Aquatalia have now discontinued the style. If you really want to get your hands on a pair, eBay is your best bet. There are several pre-loved versions listed. For my readers in the UK, Russell and Bromley currently stock a very similar design called the 'Raindrop Platform Ankle Boot' that's a pretty great alternative.
Aquatalia is luxury footwear company that blends Italian design with innovative technology. The company adheres to the tradition of meticulous Italian shoemaking and produces designs that are contemporary yet classic, elegant yet every day. Fabrics are all weatherproof and stain resistant ensuring you can step out in every weather. The brand call their footwear the "true foundation of a timeless wardrobe".
Kate's clearly a fan of Aquatalia, we've counted her wearing six different designs from the brand to date.
Let's look at her earrings next. They're the 'Empress' style by Mappin and Webb.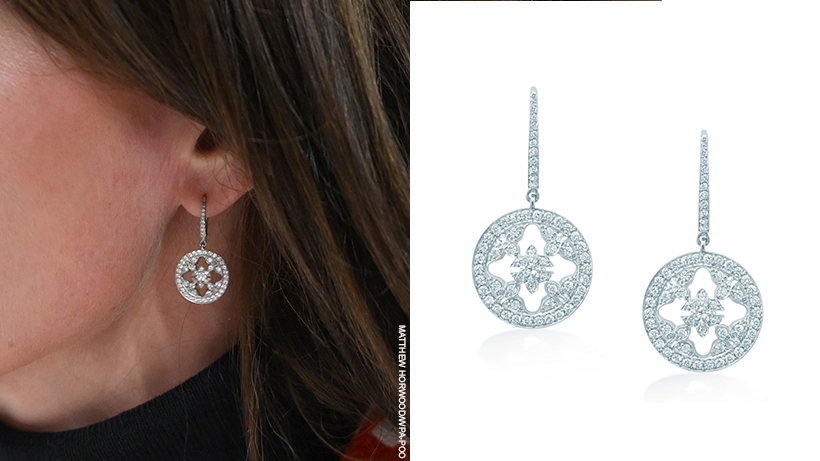 The sparkling white gold earrings feature disc drops cut with an intricate design and set with brilliant cut diamonds. According to Mappin & Webb, the design is reimagined from the company's archives. They say it's "inspired by an exotic motif" on an item the company designed and presented to the Queen of Siam in the 1920s.
Although Kate debuted the earrings at Princess Charlotte's christening in 2015, we suspect she added them to her jewellery collection a year prior. We first noticed her wearing the matching Empress necklace during a visit to the Tower of London in 2014. You'd expect she received/purchased the items as a set.
I have good news and bad news for anybody wanting to add the Empress earrings to their birthday/Christmas/anniversary wishlist. Sadly, Mappin and Webb no longer sell the exact style worn by Kate. They do, however, sell a very similar pair cut with an almost identical design—but it does not have quite the same level of diamond adornment. They're still absolutely beautiful—I just like my readers to know exactly what they're buying.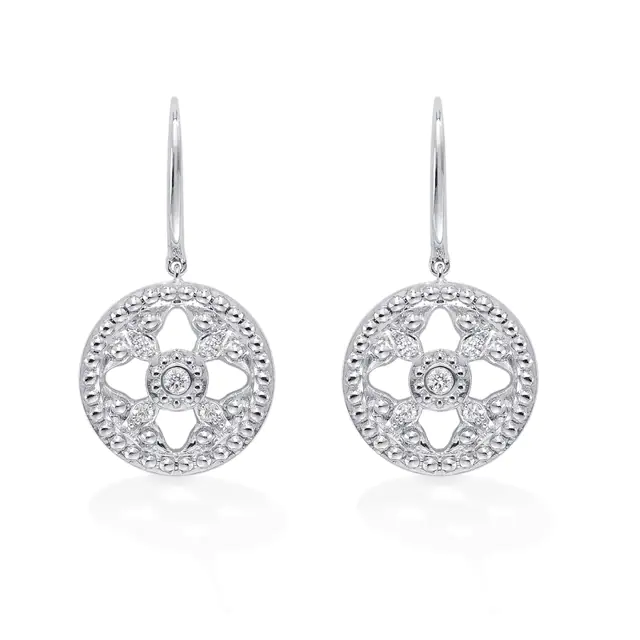 GET THE LOOK – Mappin & Webb Empress Earrings
Celebrate your next big occasion with this pair of Mappin & Webb 'Empress' earrings. They feature 0.17ct of round brilliant cut diamonds set into 18k gold. Mappin and Webb describe the earrings as "delicate and dreamy". Note: This isn't the exact pair Kate wears. This is a very similar design. Kate's version has been discontinued.
Kate rewears the Empress earrings with some frequency, and occasionally, she'll pair them with her matching necklace. She also owns one other item from Mappin and Webb (that we know of), a circular 'fortune drop' necklace. We've not seen her wear this piece since approximately 2015.
Mappin & Webb is a luxury jewellery company founded in Sheffield, England in 1775. They're known for exquisite craftsmanship, attention to detail, and use of high-quality materials. The company has a rich history, having held Royal Warrants to British monarchs since 1897. The company's master craftsman is the current Crown Jeweller of the United Kingdom.
The Princess carried her white Mulberry Amberley handbag to the rugby, cleverly picking up on the white houndstooth check of her coat.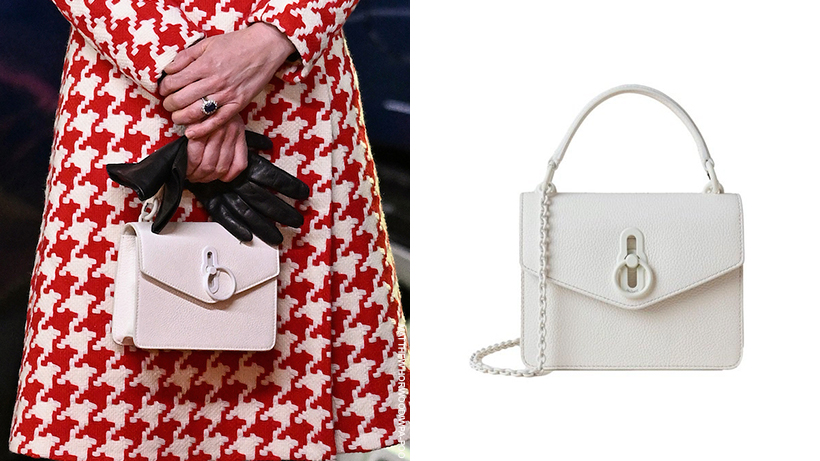 The leather bag features a flap-over front with a tonal white ring and Mulberry's iconic geometric rider's lock closure. Kate carries the bag with the top handle, but it also came with a crossbody strap.
Kate's carried the bag a handful of times since 2021. In true Kate style, she owns it in a second colour (black) too.
Unfortunately for those wishing to get their hands on the bag, Mulberry have discontinued this particular style. They do sell a satchel version, which is a good option for anybody seeking a strap. Otherwise, check out the brand's small Iris bag if you prefer to hold a handle.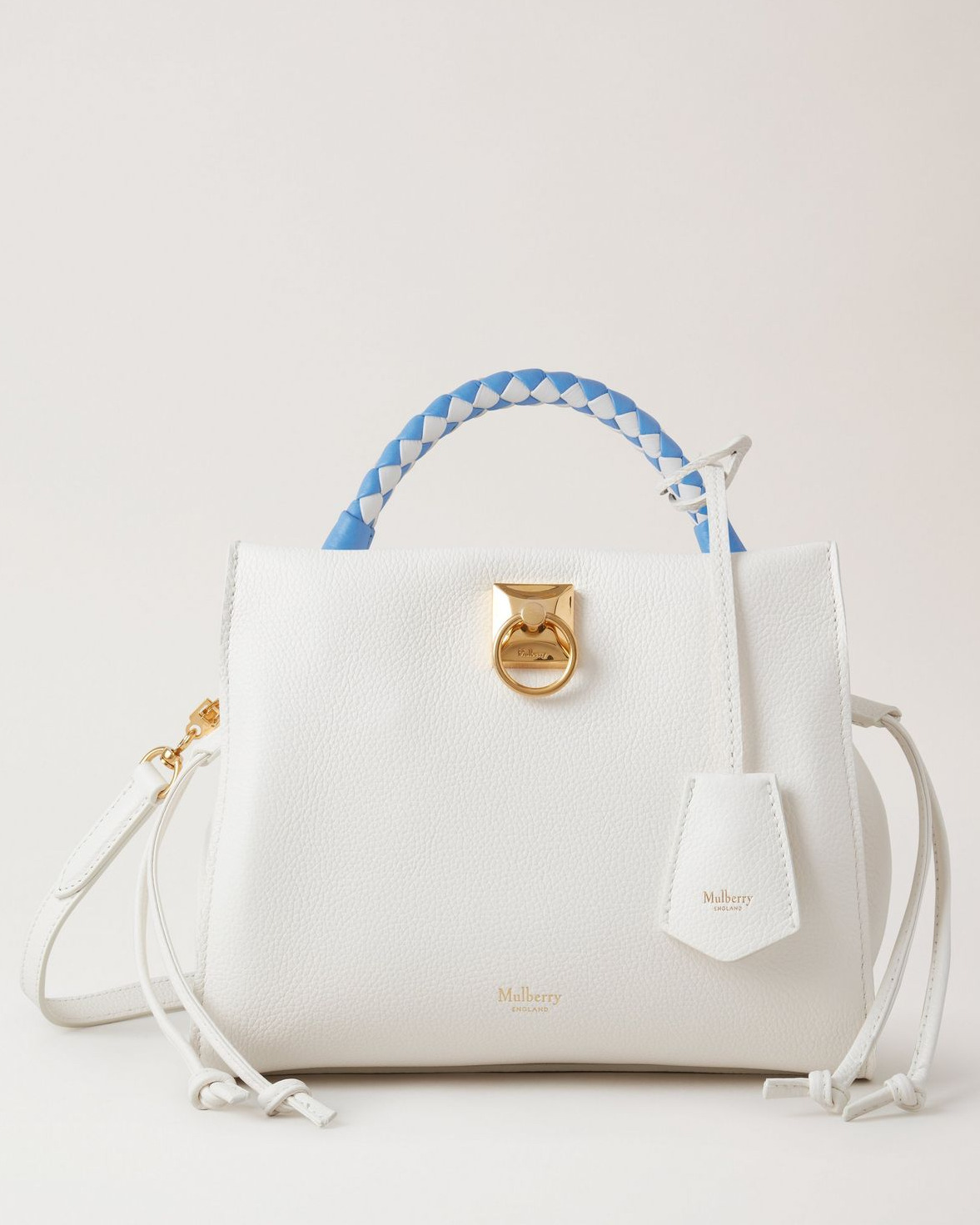 GET THE LOOK – Mulberry Iris Bag
Looking for a sleek bag that'll fast become your go-to? Check out the Iris. We love its beautiful feminine shape. Personalise it with your choice of braided top handle—the sky blue is striking but other options are available.
Mulberry is one of Kate's favourite handbag brands, we've seen the Princess carry ELEVEN bags from the British company since joining the royal family in 2011. She's worn several coats and dresses from the company too.
The princess finished her look with a sparkling rose brooch pinned her to her coat.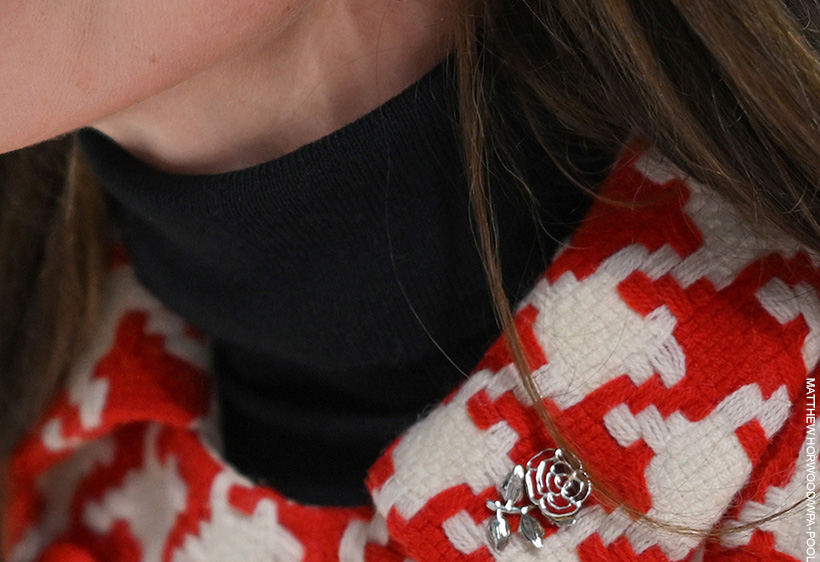 It appears to be an official England Rugby piece (the team's emblem is a rose). I wonder if she was presented with the jewel after taking on the patronages.
UPDATE: Kensington Palace have just shared a couple of photographs from "behind the scenes with the Wales and England teams" at last night's Rugby match. I love the one of Kate!