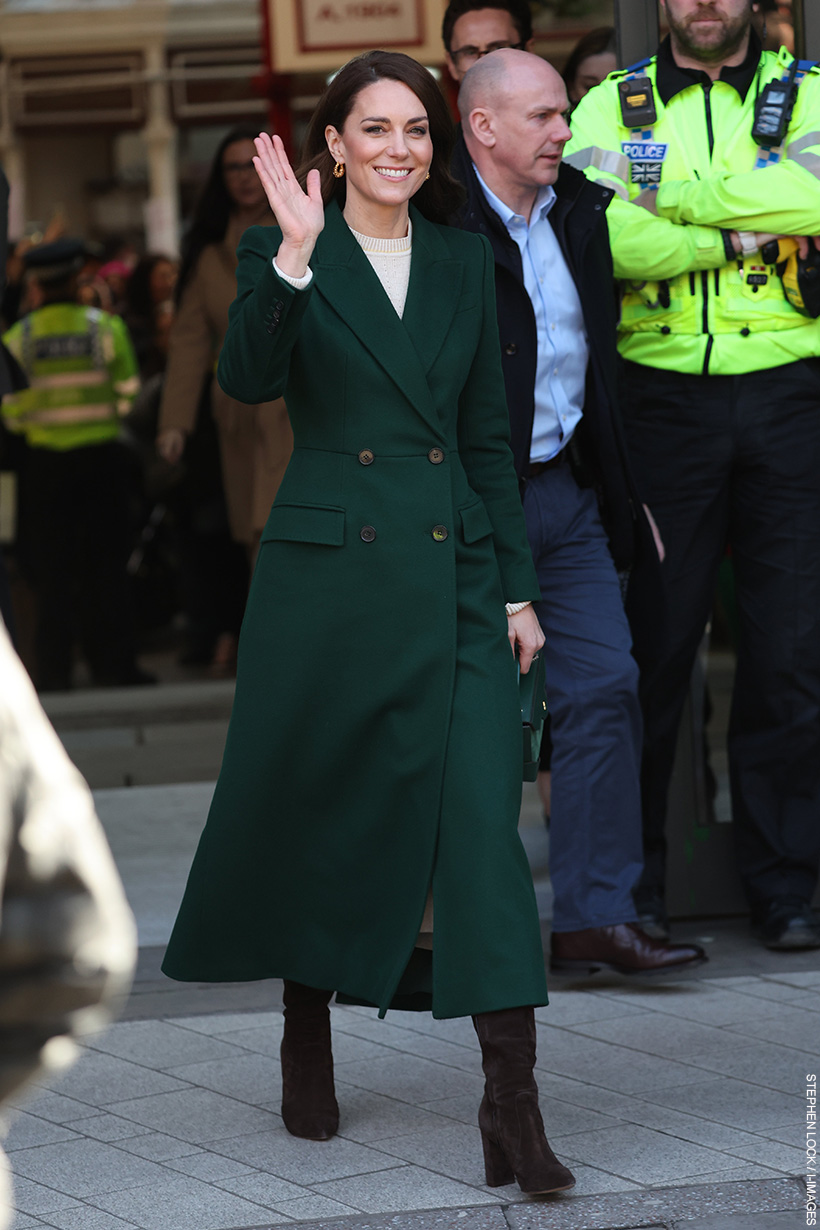 On Tuesday, Kate Middleton marked the launch of her 'Shaping Us' campaign with a visit to Leeds in the north of England. The Princess looked stylish in a long green coat by Alexander McQueen worn over a cream Victoria Beckham dress and a pair of brown suede boots by Gianvito Rossi.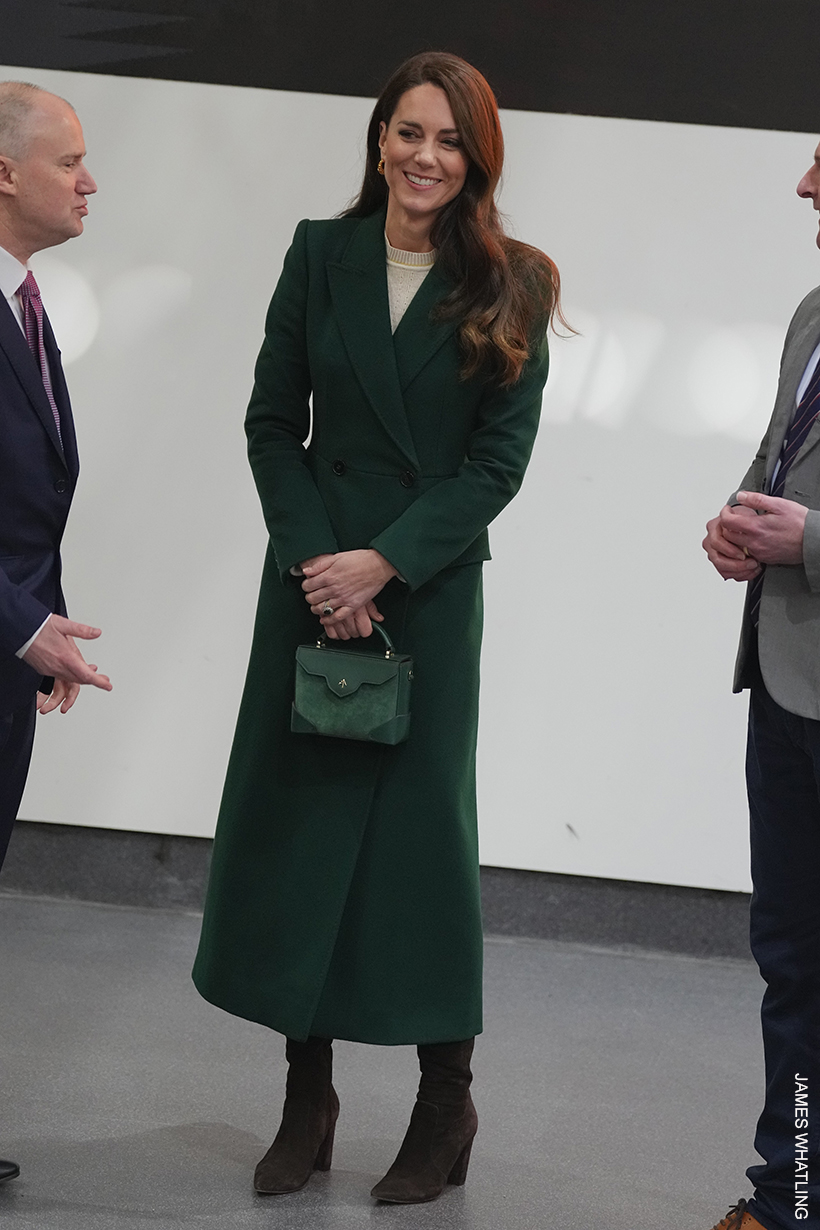 The visit started with a tour of Kirkgate Market in the heart of the city. Here, the Princess chatted with locals and vendors—some who have been in the market for over 30 years.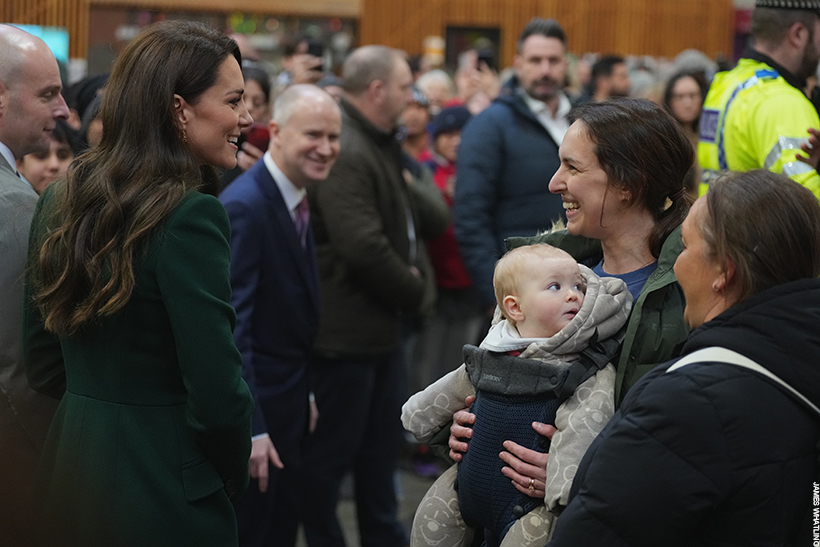 Leeds Kirkgate Market opened in 1857 and is home to hundreds of local independent businesses covering everything from fresh fruit and vegetables, butchers, and fishmongers, to a Community Library, cookery school and Volunteer Centre.The market receives around 120,000 visitors a week and is much loved by the people of Leeds, providing a place where customers can shop sustainably and where communities can come together to enjoy cultural events and vibrant street food. Its mission is to be an inclusive, successful, and sustainable part of the Leeds city centre offer where independent retailers can innovate and thrive.

Kensington Palace Press Release
Next, the Princess sat down with vendors and local people to hear about their experiences of early childhood, and to hear their reflections on the Shaping Us film.
Video from the Leeds market:
From here, the Princess travelled to the University of Leeds to attend a lecture from their Childhood Studies degree programme.
The programme takes a child-centred approach, encouraging you to consider the rights and perspectives of children on all matters that affect them … [the] degree is designed to provide […] an in-depth understanding of children's lives in diverse social, cultural and educational contexts.

The University of Leeds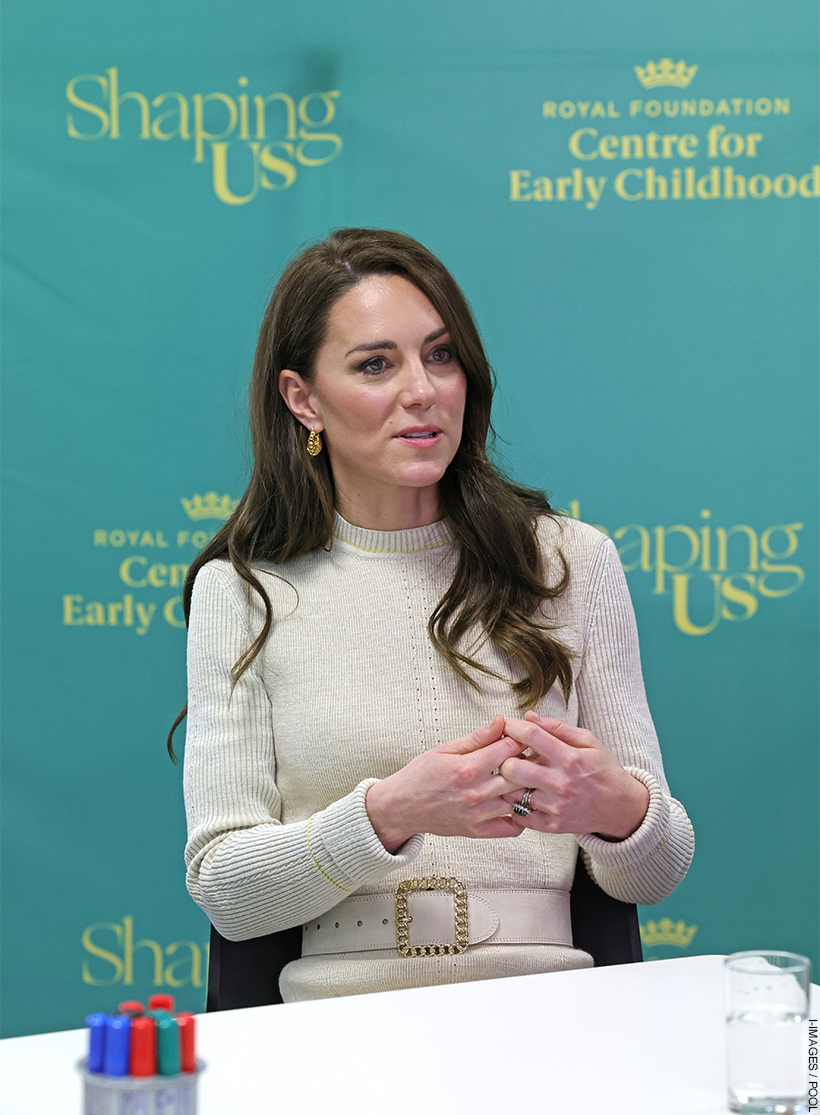 The lecture itself was focussed on attachment theory, specifically how relationships formed in early childhood provide a template for later life and set the foundations for all future learning, behaviour and health.
After, Kate sat down with the programme leader and a group of final-year students to discuss the 'Shaping Us' video and campaign, plus how it overlaps with the degree they are undertaking.
'Shaping Us' is a new long-term campaign by The Royal Foundation Centre for Early Childhood, spearheaded by Kate. It aims to increase the public understanding of the crucial importance of the first five years of a child's life and how it shapes their lives and the person they will become.
Kate officially launched Shaping Us on Tuesday morning (31st January 2023) with a video explaining why the campaign is crucial:
The Royal Foundation Centre for Early Childhood have also created a 90-second claymation film that shows a little girl named Layla developing from pregnancy to age five, and how she is shaped by her interactions with the people and environment behind her. You can watch it below:
If you read my earlier post, you'll know that William and Kate attended a preview of the film at BAFTA HQ on the evening prior.
Most of our readers will remember the Princess launching the Centre for Early Childhood in June 2021.
Let's take a quick look at the Princess's outfit from her trip to Leeds.
Kate Middleton's outfit in Leeds:
The Princess wore green, biscuit and brown for her visit to Leeds—lovely winter tones for a cold January day. The green was in keeping with the official colours for the Shaping Us campaign-it is in the campaign's materials and branding. The coat is by Alexander McQueen.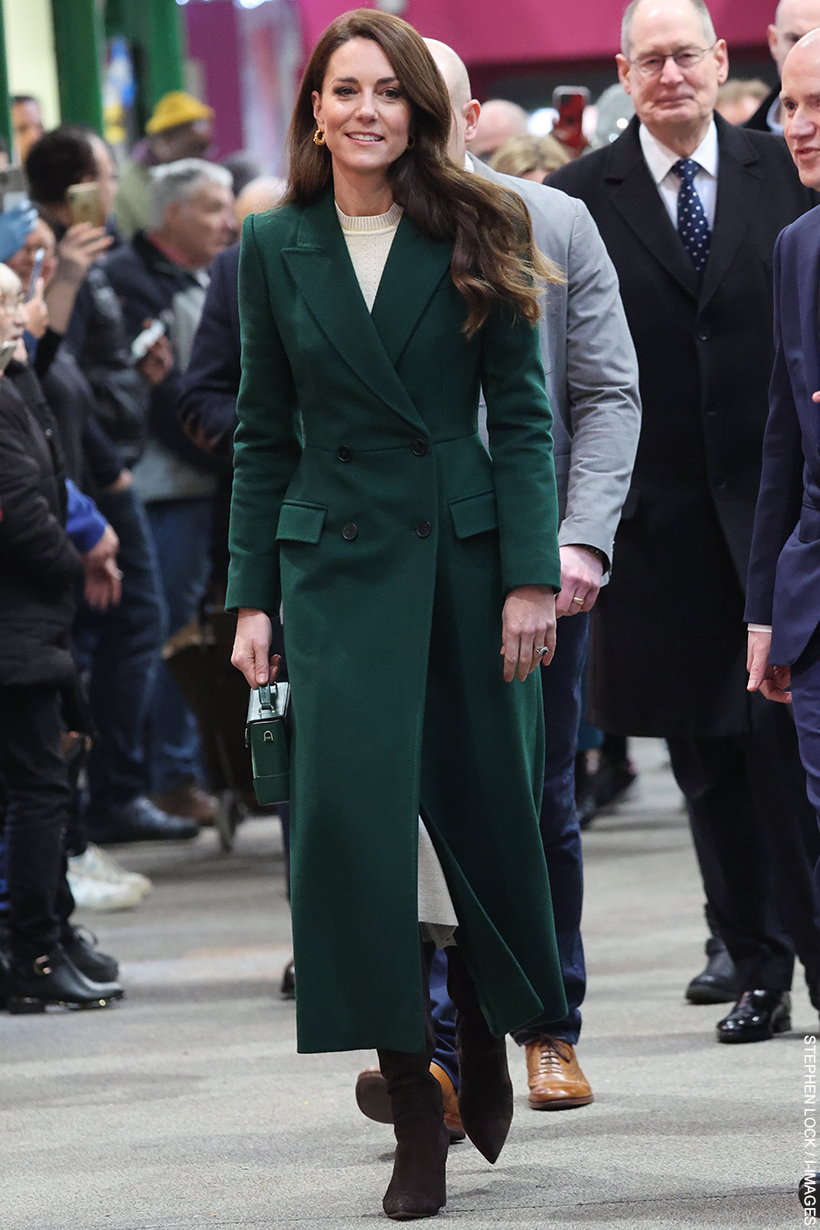 The longline coat features a notched lapel, welt pocket on the breast and two flap pockets on the hip. The coat fastens with two sets of buttons at the waist.
We think the coat was a bespoke commission. Alexander McQueen produced an identical ready-to-wear version at some point (below), but as far as I can see, it only came in camel. It looked like Kate had the same garment produced in green wool. The camel coat retailed for £2990 at Selfridges.com.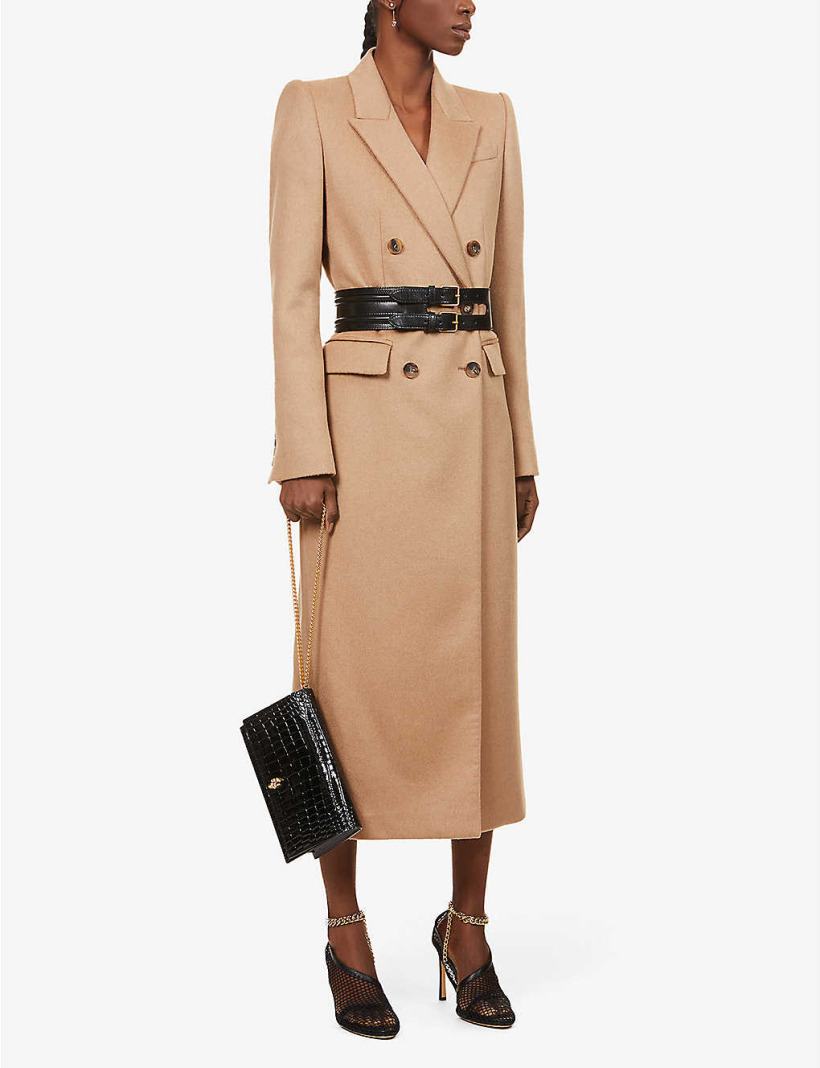 If the garment feels familiar, that's because the Princess owns it in two other colours: red and brown. She's worn both coats to a handful of engagements recently.
Regular readers will have noticed Kate's remixed the coat-knit-boots look all winter. It's become something of a uniform for the Princess. We've also seen a lots of items being mixed and matched and reworn.
Let's look at Kate's biscuit-coloured midi dress now. It's by Victoria Beckham. Thanks to Data Duchess for identifying the garment and sharing the information with us!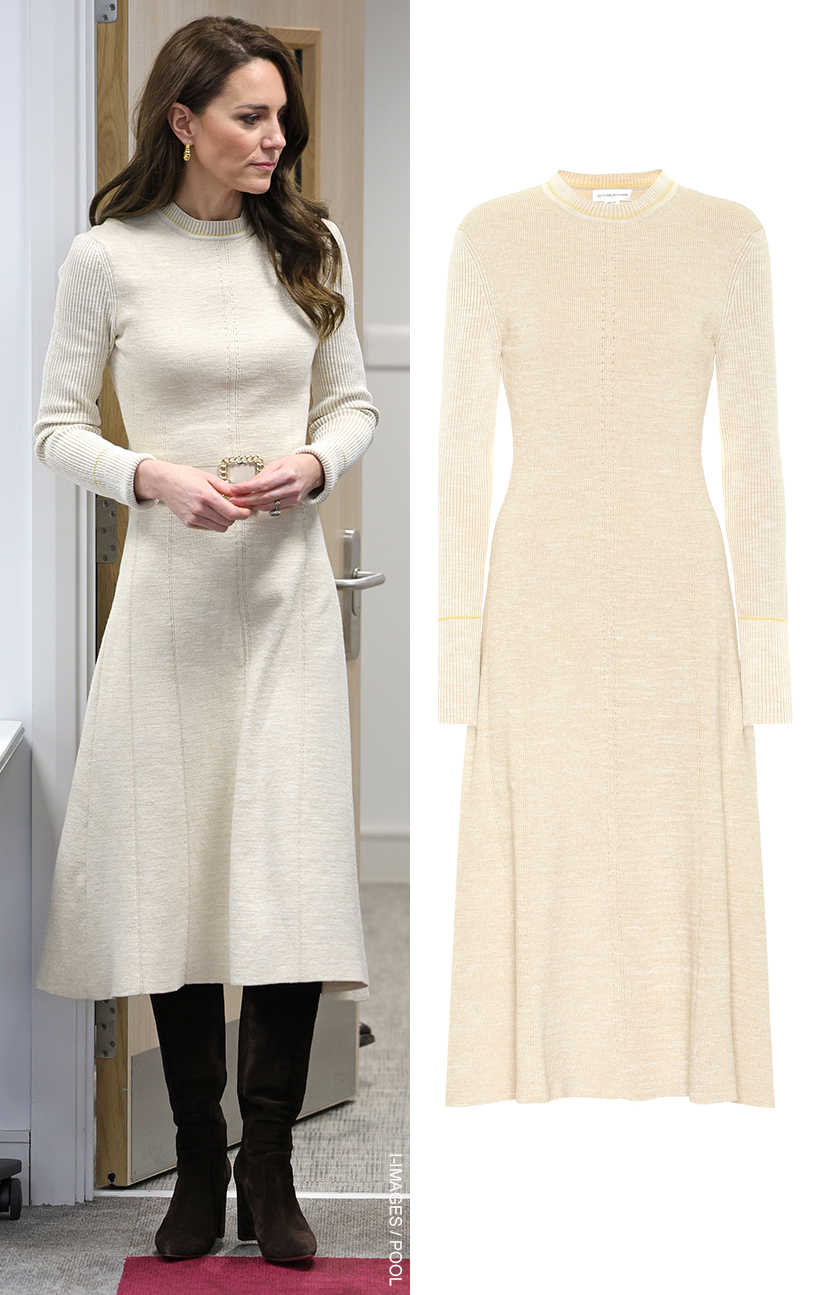 The elegant beige dress features a slim-fit bodice, a flared skirt and a textured-rib knit sleeves. A lemon yellow stripe runs across the neckline and cuffs.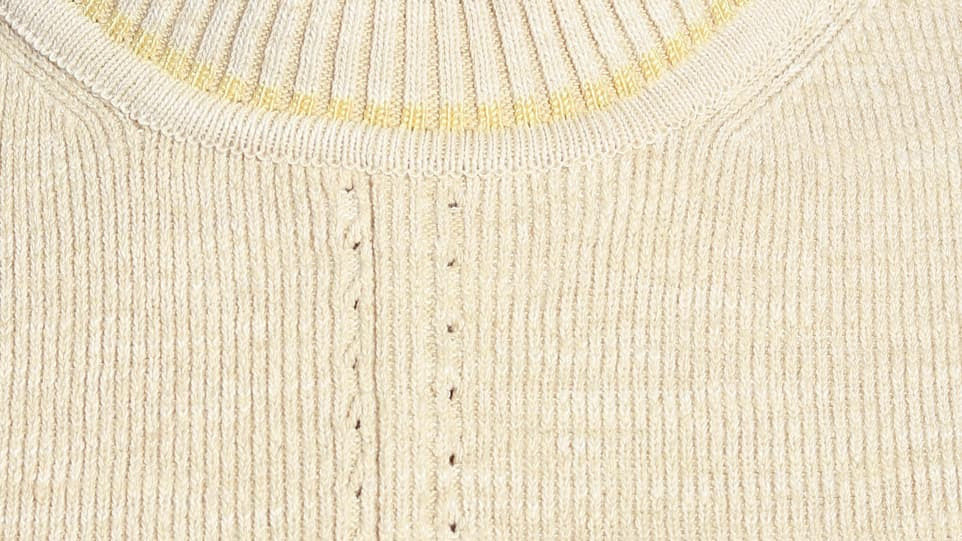 Unfortunately, for anybody hoping to buy the knit dress, it's sold out (it originally retailed for £950 at MyTheresa and $1,190 at Moda Operandi.)
However, the same dress is available in blue at The Outnet, see below: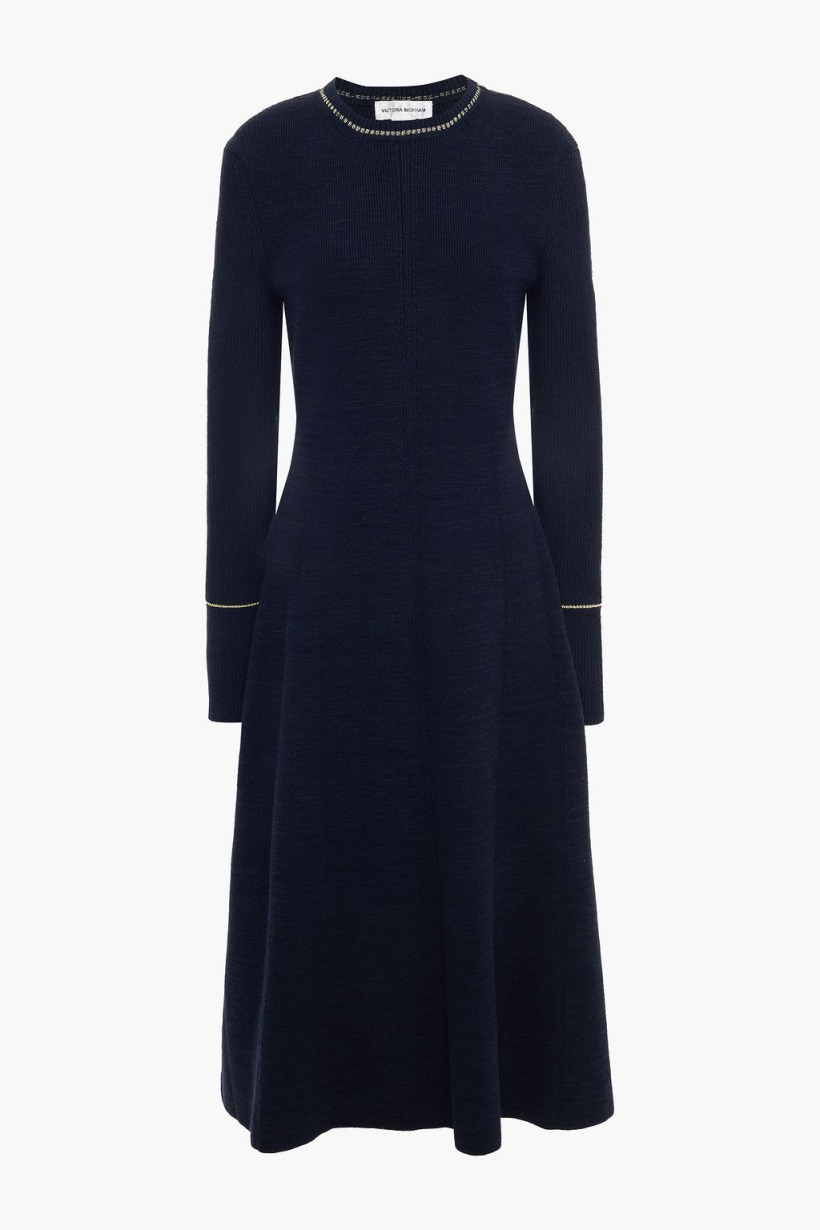 Victoria Beckham Cotton Blend Midi Dress, Navy
Same dress, different colour! Get Kate's elegant and refined style with this ribbed fit and flare midi dress from Victoria Beckham. While Kate wore it in 'biscuit', you can buy it in Navy ON SALE! There's 30% off at The Outnet.
This is the first time we've spotted Kate wear an item of clothing from Victoria Beckham's label. She does own one of the designer's handbags and has carried it on a few public occasions, including to the opening day of Wimbledon in 2017.
I know many in the community had expected to see Kate wear something by Victoria Beckham sooner, or had hoped she'd start to wear the label. Victoria and her husband David were both guests at William and Kate's wedding in 2011. Many wondered if Kate had been avoiding the label due to her friendship with the two stars—perhaps she didn't want to be accused of using her position as a royal and a fashion influencer to benefit her friends?
The former pop star turned fashion designer launched her eponymous womenswear label in 2008.
Over the dress, Kate wore a cream belt with an ornate gold buckle. It looks like she's wearing this design by Vanzetti. Thanks to Bojana for the ID!

The cream belt is made from 100% leather. You can choose from various waist sizes. It also comes in black.
Vanzetti is a BGM brand, the German company supplies belts and accessories all over the world. It looks like they produce belts for lots of different suppliers, including large online retailer Zalando, another German company, where this cream version is listed, RRP: £45.99. Good news, it's still available to buy at the time of writing.
Now let's move on to look at Kate's compact green handbag. It's by Manu Atelier. It's not a new item, she has carried twice in public before.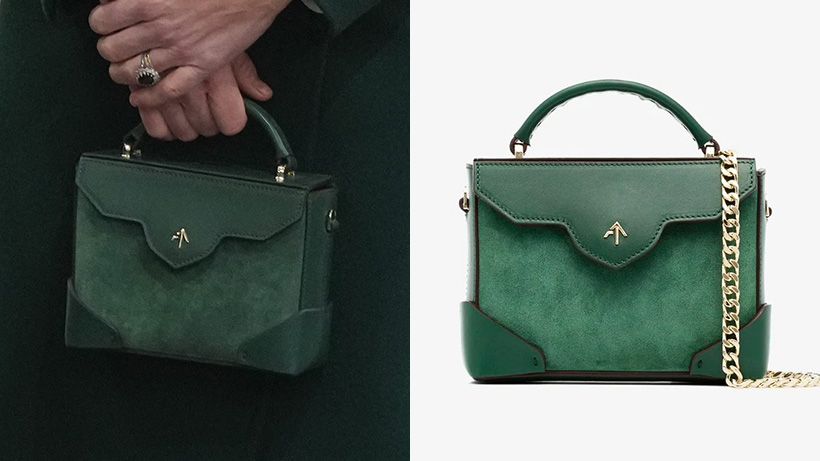 The stylish micro bag has been handcrafted from green vegetable tanned leather and features the brand's logo embossed in gold on the flap. The front is crafted from green suede. The bag features a top handle and a gold chain strap, so it can be carried or worn crossbody (Kate always opts for the former).
For those hunting down the bag to buy, you're out of luck, sadly. Manu no longer produce the piece. However, there is one listing for the bag in olive green, on eBay, new with tags, for £280. Click here to shop.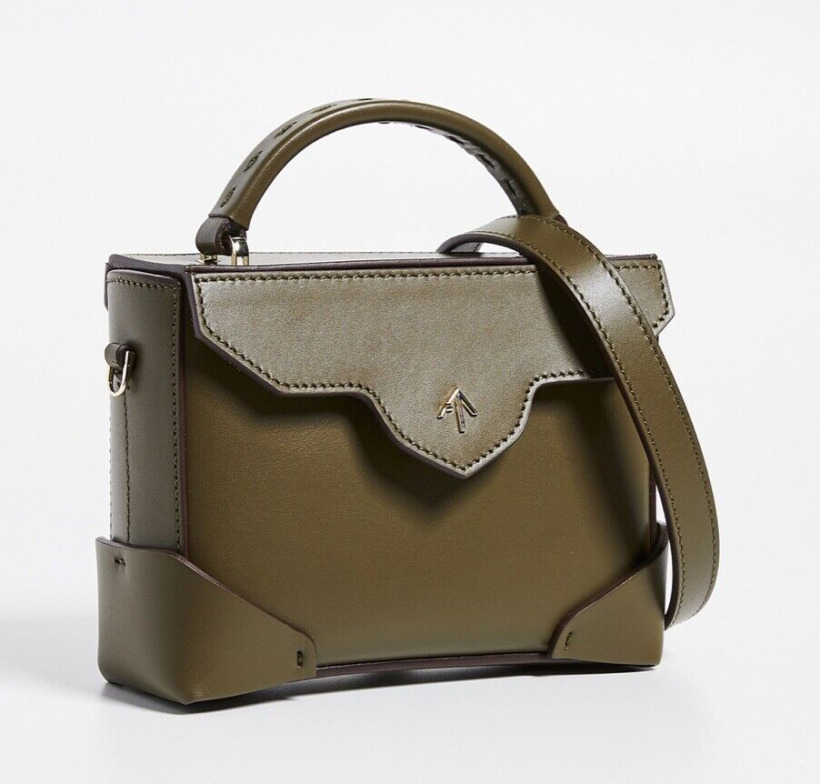 Manu Atelier are based in Istanbul, Turkey. The name 'Manu' comes from the latin word 'Hand', a reflection of how the products are made in the atelier-by hand. The company's sculptural bags feature a modern aesthetic, but are made using traditional craftsmanship techniques. In fact, the founders are the daughters of one of the oldest hand craftsman and leather goods manufacturers in Turkey and they literally grew up in the trade. The two women say that as little girls, they were infatuated with craftsmanship and dreamed about starting their own brand.
It's also wonderful to see the brand list their many ethical and sustainable practices on their website. I suspect this is one of the reasons why Kate chose to purchase a bag from the brand. She seems to have gravitated towards slow, eco-friendly and sustainable brands in recent years.
To date, we've only spotted the Princess with this one bag from Manu Atelier—but I suspect we'll see her carry more in the future.
I think Kate's boots will be familiar to most of my regular readers, they're by Gianvito Rossi. The Princess has worn them quite a lot recently. Rossi's spokesperson confirmed they were a custom commission for the Princess. They're very close to the 'Glen' style the brand offer in their main collection, pictured below right.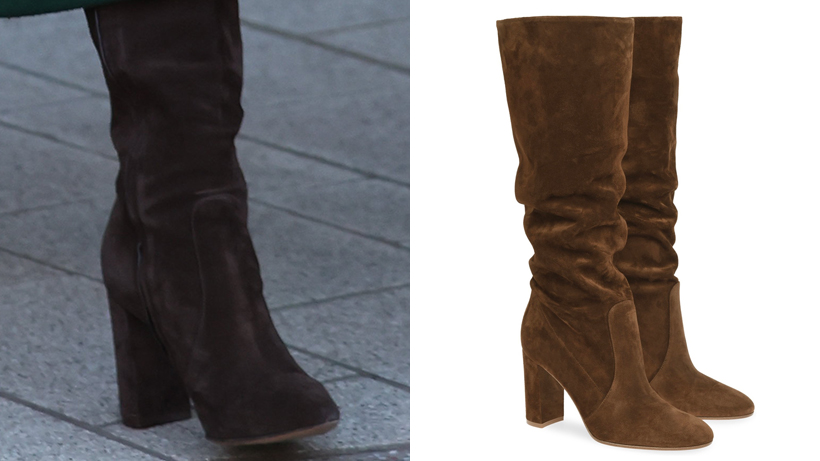 However, Kate's boots have a sharp pointed toe, as opposed to the rounded point on the Glen boot. (It's not very noticeable in the photo above, but it is in others, see below for example!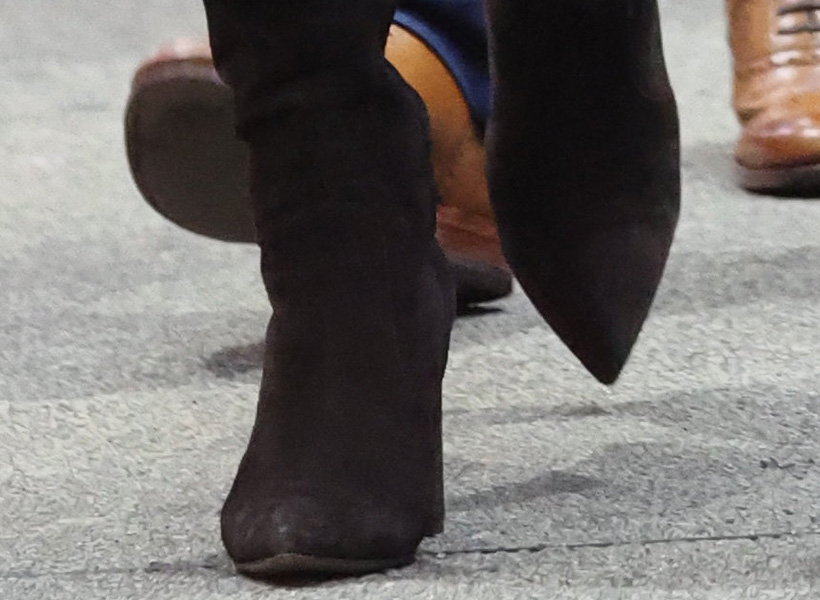 The Glen boots are described as 'Texas brown', they made from soft suede and feature an 85mm block heel.
The brown suede boots are currently available at 24s.com for £1280. Top tip for anybody planning to buy: there's a 10% discount code under the 'add to cart button' (correct at the time of writing).
Gianvito Rossi is an Italian footwear designer. Kate is clearly a fan of the brand, we've spotted her in 14 different Rossi designs to date. The Princess also owns the same pair of boots in navy blue suede. As we know, she loves commissioning multiple items, I suspect we'll see her wear them in black one day too.
Let's finish by looking at Kate's gold statement earrings. They're from Shyla London, the Biaritz Squiggle Earrings.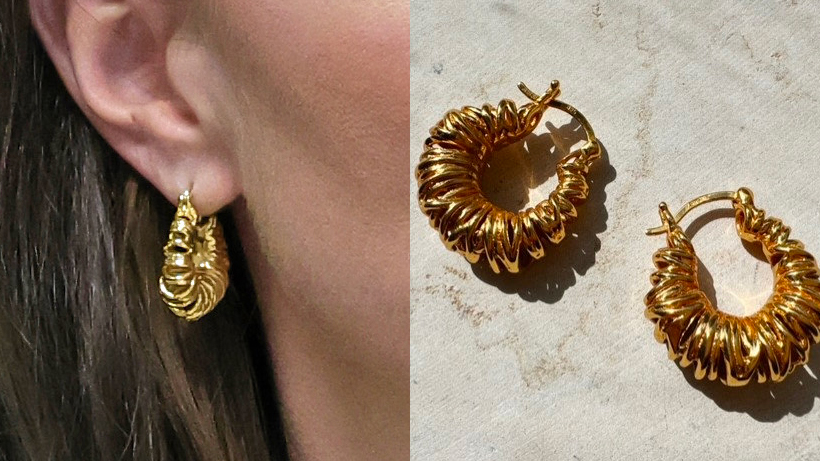 The Princess has worn them just once before, during a visit to Boston in December 2022.
The earrings are crafted from multiple layers of exquisite 22 carat gold plated on silver. The designer calls them "timeless and elegant and feminine."
The earrings remain available at ShylaJewellery.com RRP £74.
Shyla is a London-based brand that is ethically motivated, conscious and uses sustainable practises where possible. The company works with some of the poorest communities in India. The women learn a craft that will support and sustain their families. Shyla use recycled gold and silver, plus all of their packaging is recycled too.