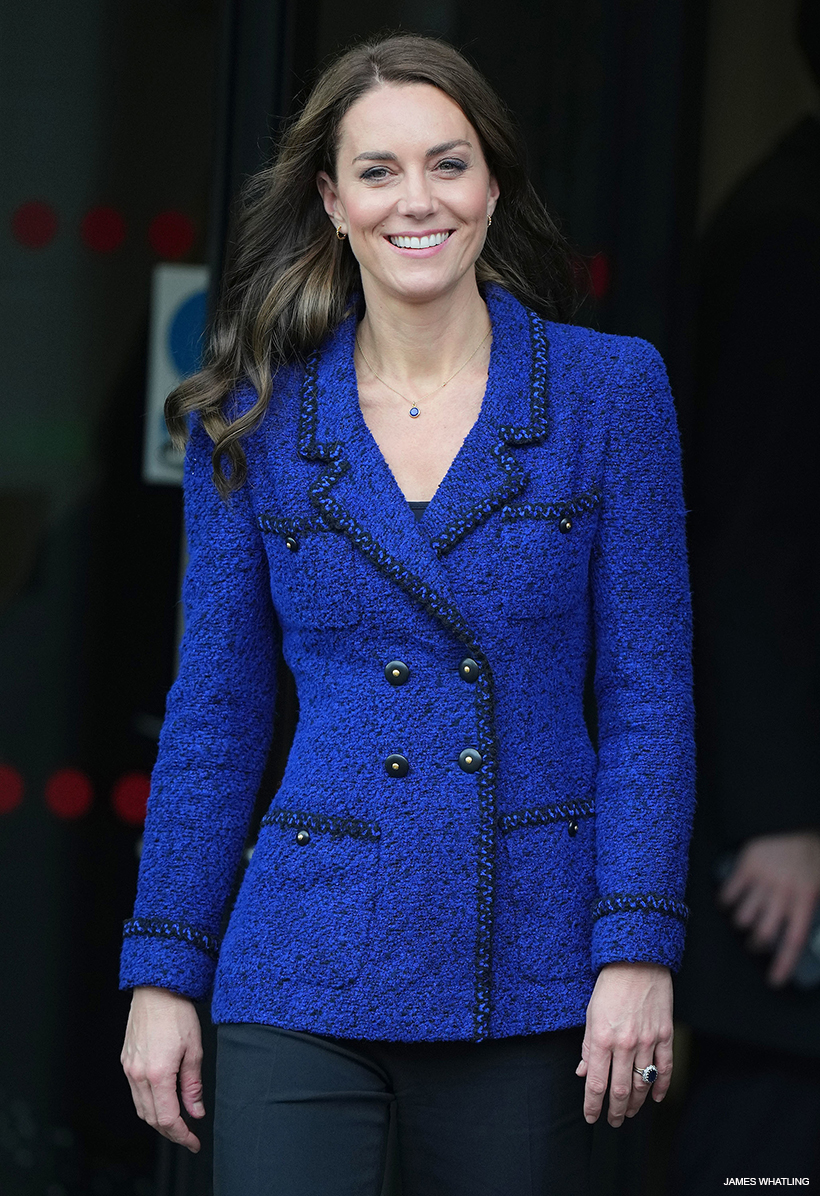 Kate Middleton helped Coach Core celebrate their tenth anniversary on Thursday (13th October 2022). The Princess of Wales paired a blue vintage Chanel blazer with black puddle pants for the special visit to the sports charity's London headquarters.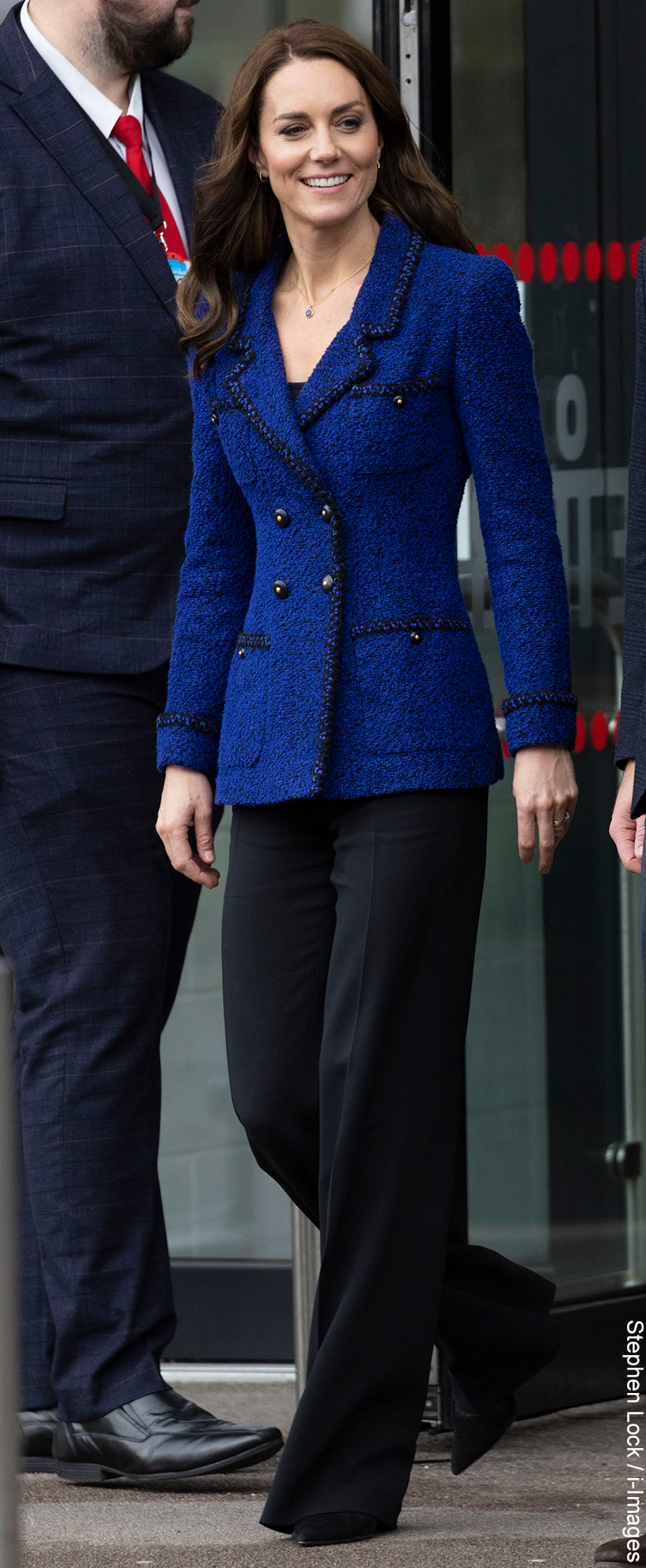 She joined her husband at the Copper Box Arena in Queen Elizabeth Olympic Park (the sporting complex purpose-built for the 2012 Summer Olympics and Paralympics).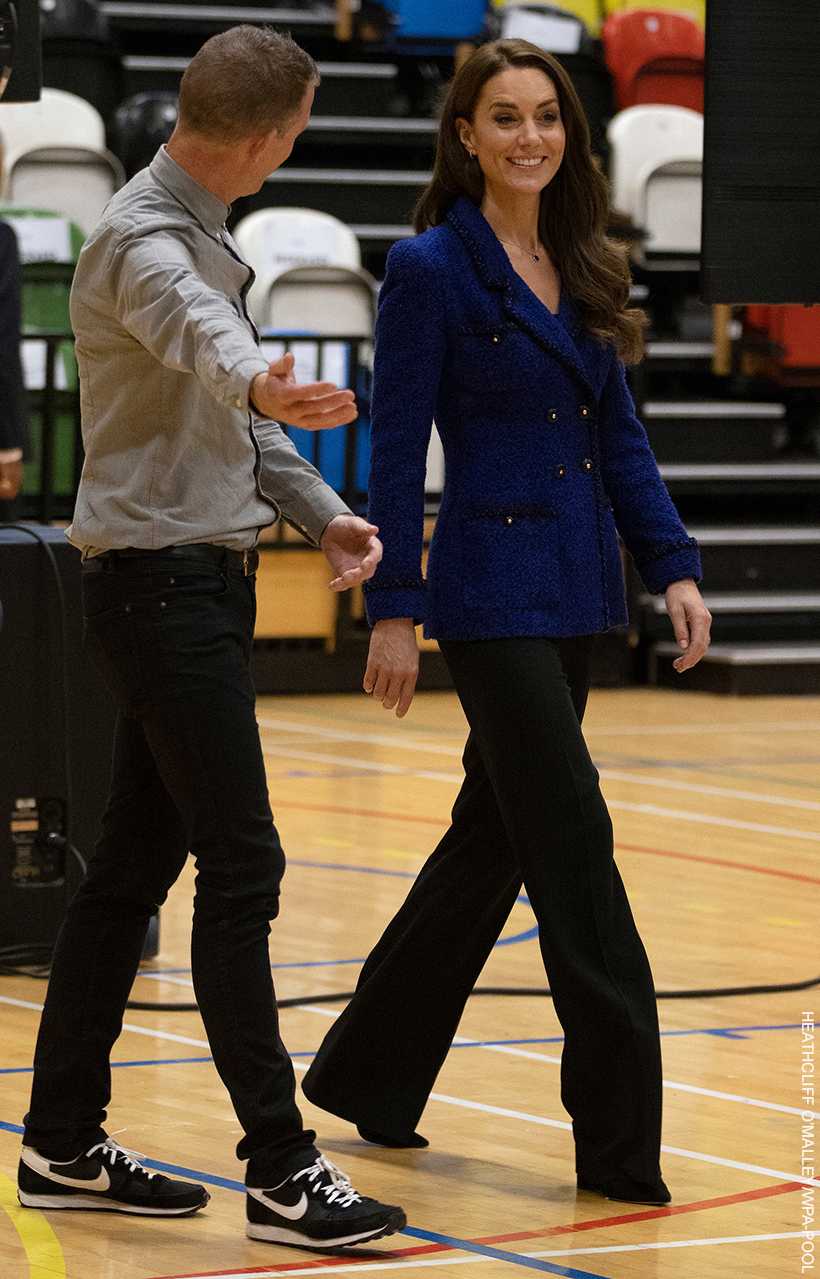 The pair met some of the young people that Coach Core works with and took part in some sporting activities.
William, Kate and Harry launched Coach Core through their Royal Foundation in 2012.
The Royal Foundation launched the Coach Core programme in 2012, in response to the London riots and to contribute to the legacy ideals of the 2012 London Olympic and Paralympic Games.

Since then, the now independent charity has supported over 750 disadvantaged young people onto community sports coaching apprenticeships, which will enable them to start meaningful careers, re-engage with education and increase activity levels in their local areas.

Royal.gov
During the visit, William and Kate tried various sports, including wheelchair bowls and boxing.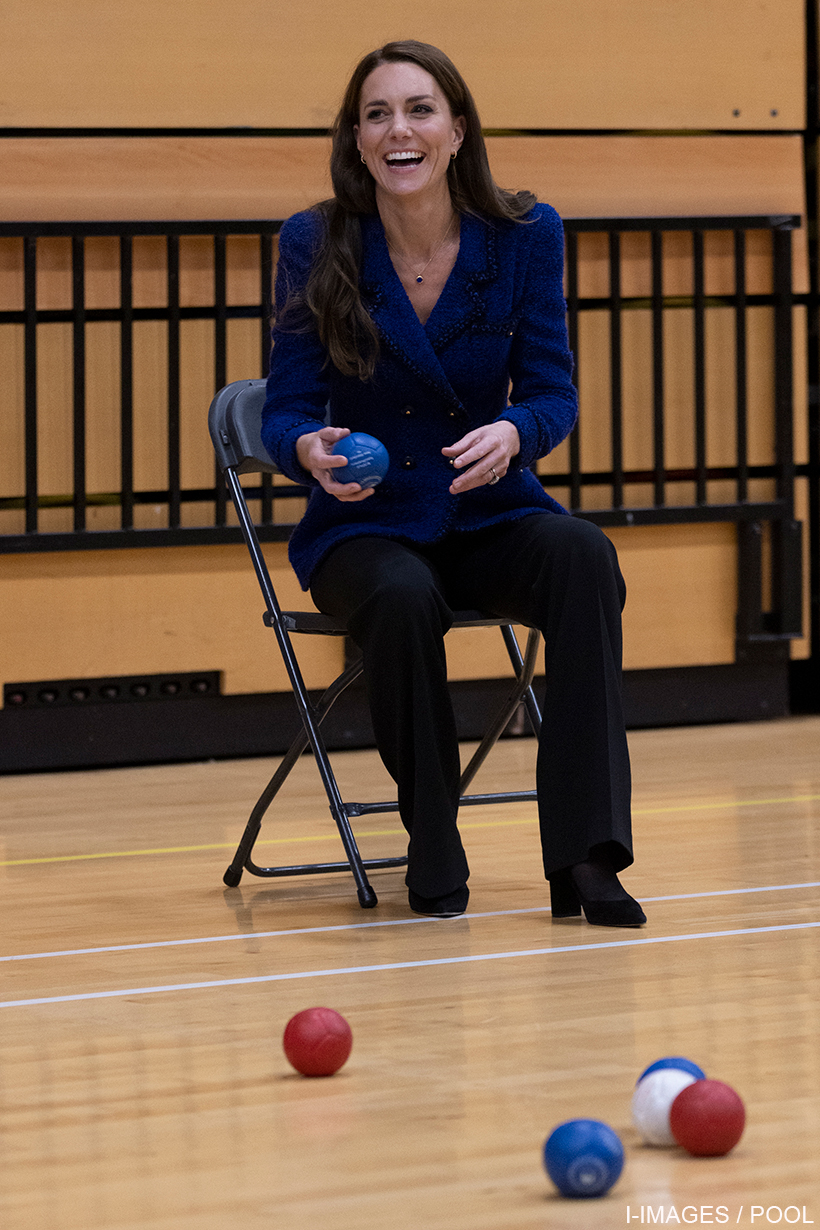 This is Kate's fourth public visit to Coach Core. She last visited in 2018 (pictured below wearing her Smythe Glen Check Blazer, Kiki McDonough White Topaz Cushion Drop Earrings and Aquatalia Fallon Boots.)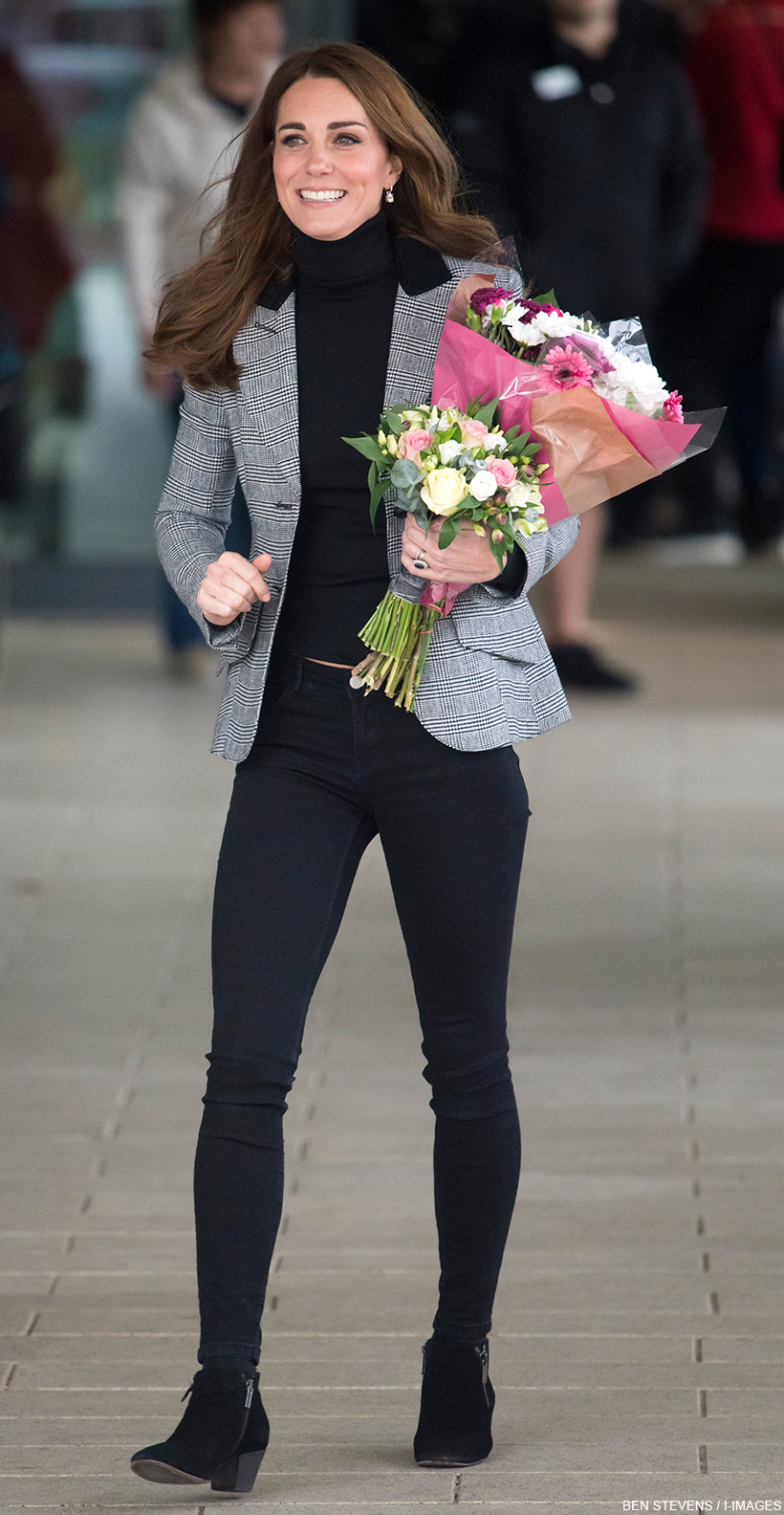 In 2017, she surprised fans by joining Princes Harry and William an event while pregnant with Prince Louis. (Pictured below wearing a Philosophy di Lorenzo Sarafini jacket, Kiki McDonough Lauren Leaf Earrings and the Aquatalia Fallon Boots.)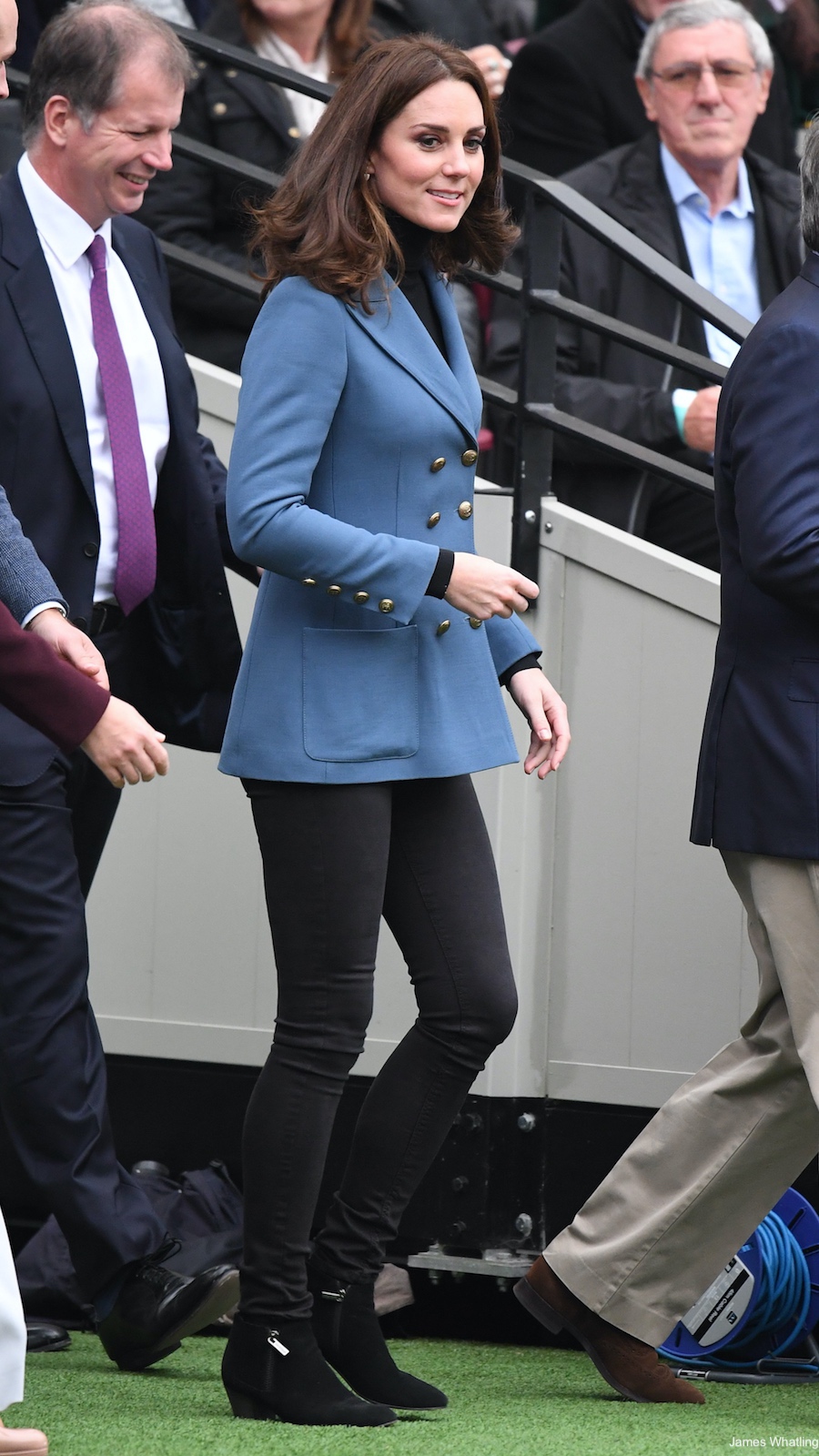 In the same year, the Princess visited Coach Core Birmingham at Aston Villa football club. (Shown below wearing her red Perfect Moment Mini Duvet jacket, Kiki McDonough Lauren Leaf Earrings and New Balance x Sweaty Betty Vazee trainers.)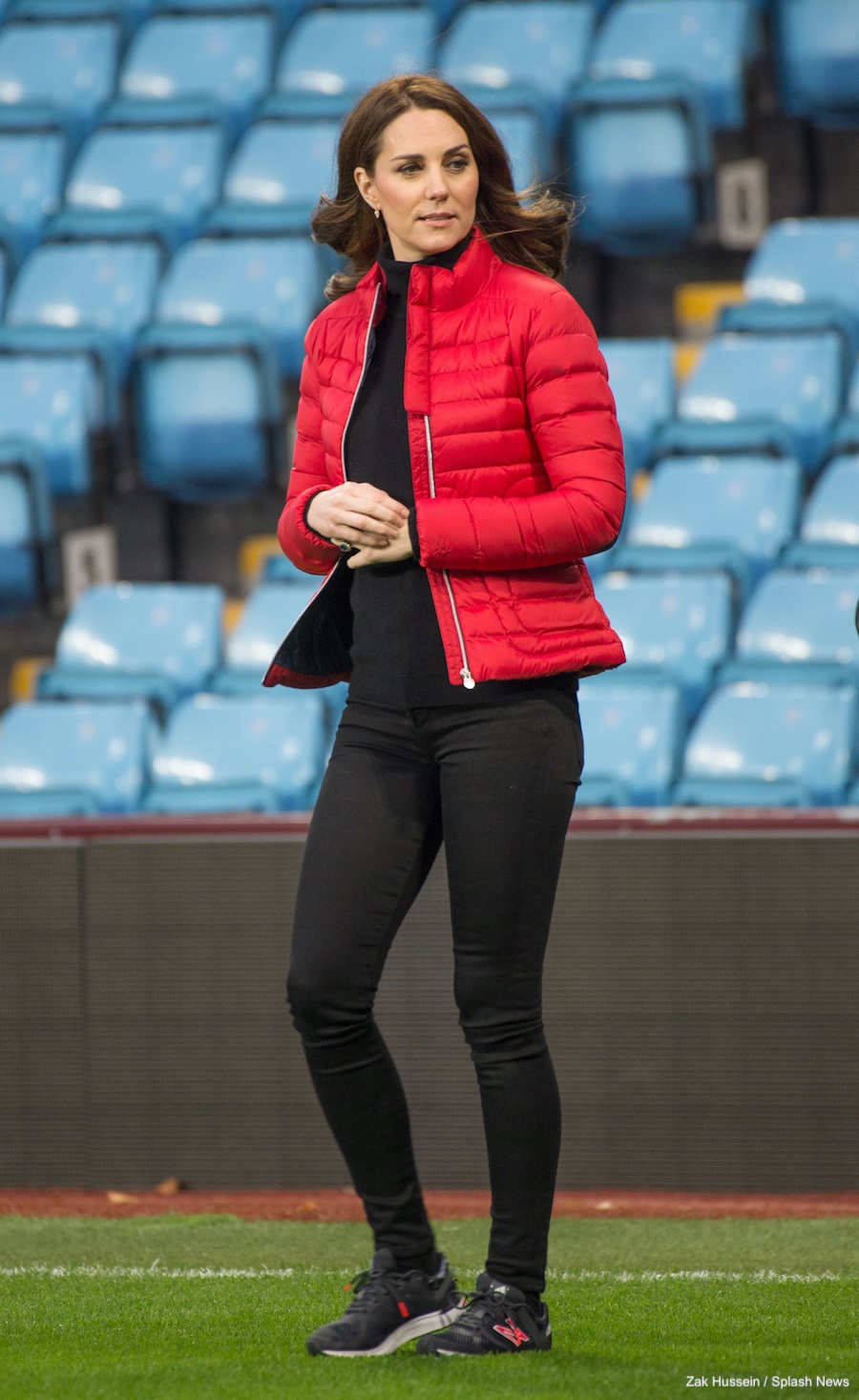 Kate Middleton's Outfit Today:
The Princess of Wales paired a blue jacket with black trousers. The minute I saw photos of Kate wearing the blue jacket, I thought "is that Chanel?".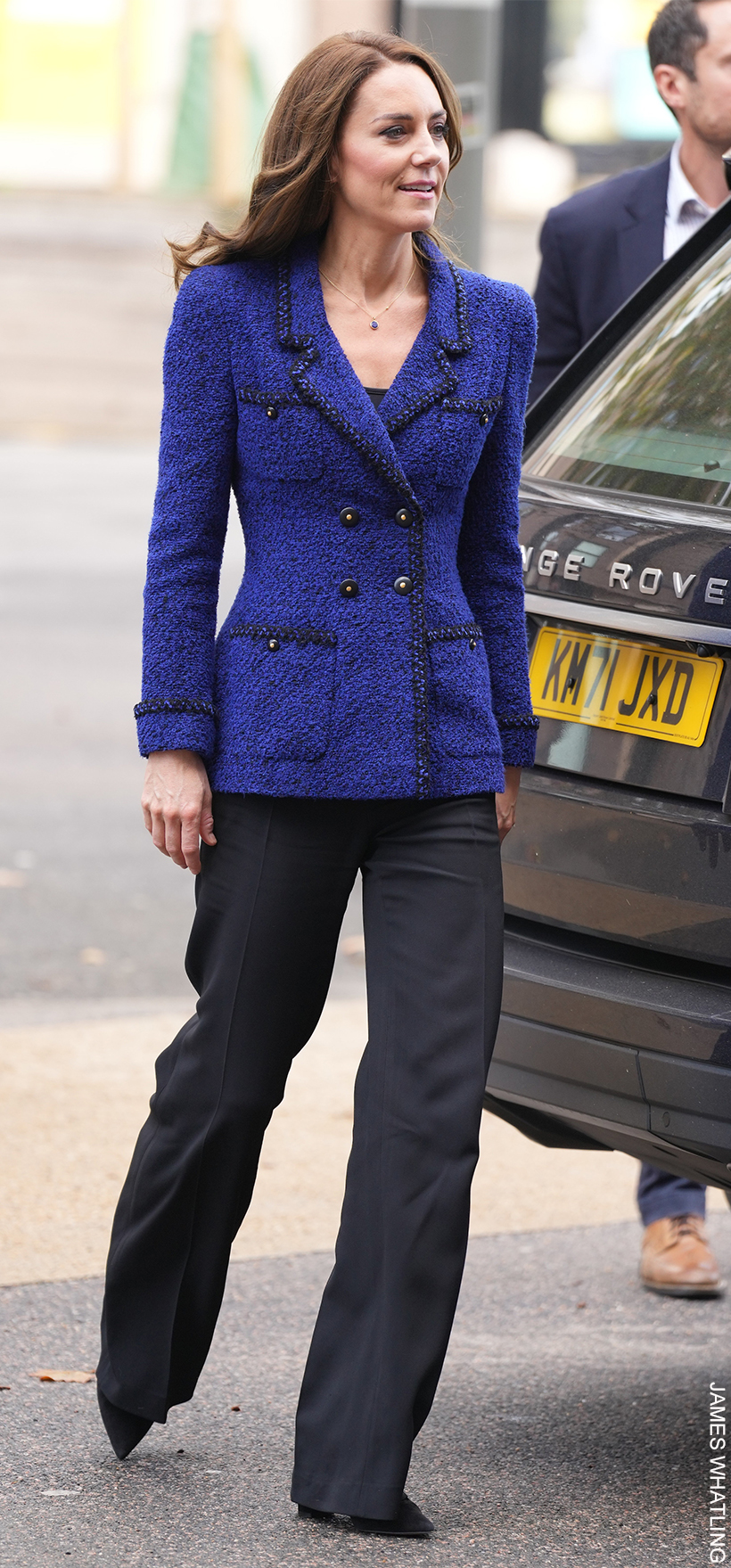 I searched online and found the exact piece on FarFetch within minutes—my suspicions were confirmed! The online store refer to the jacket as a "1995 trimmed double-breasted jacket". As you can see, the Chanel piece is identical to the jacket Kate is wearing: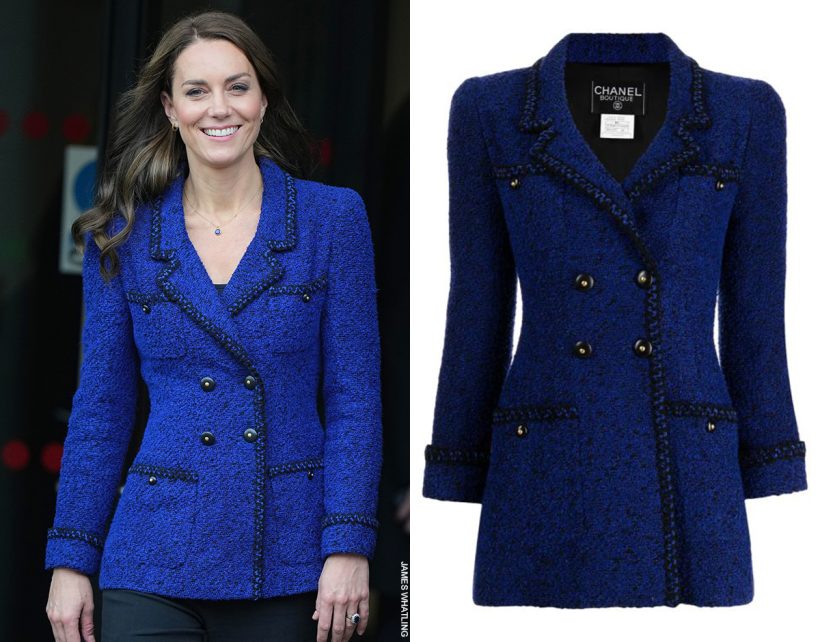 The jacket features a contrasting black trim on the cuffs, lapel and pockets.
Vogue note that supermodel Claudia Schiffer wore the blue blazer down the Chanel runway in 1995.
The palace hasn't given word on how Kate came into possession of the jacket, unfortunately. We don't know if she's owned it for a long time, hired it from a rental marketplace or recently purchased it from a vintage boutique. Perhaps Chanel agreed to lend the piece to her.
The Princess has worn an increasing amount of vintage clothing this past year. She's also gravitated towards slow fashion brands and pieces made by conscious companies using sustainable practices. She's clearly trying to use her platform as a fashion icon to encourage others to do the same.
FarFetch only stocked one jacket and it sold out quickly after I identified it. It was listed for around $3,500 USD. The company do stock similar pre-owned Chanel items if you want to invest in a vintage piece.
Vintage Chanel out of budget? Shop our widget below:
GET THE LOOK: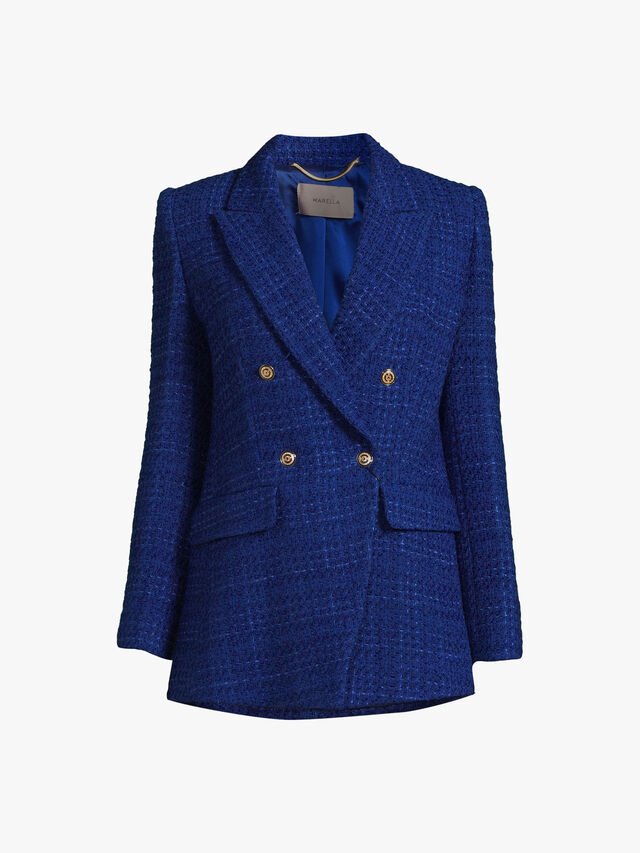 MARELLA GLASGOW BOUCLÉ JACKET IN BLUE
I think this jacket will see you through the next decade+. Wear with anything. More affordable than the Chanel, same great style and colour. £315 GBP.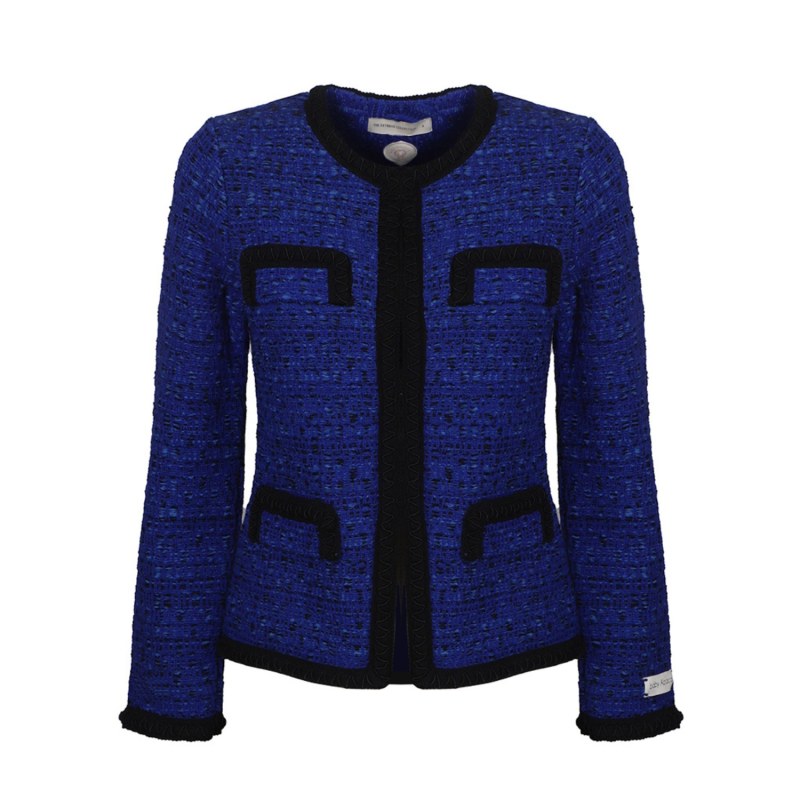 THE EXTREME COLLECTION ALPACA AND MERINO WOOL JACKET
Made in Spain – limited edition run. A military-inspired tweed jacket crafted from a merino/alpaca wool blend. The black trim on the pockets, collar and front reminded me of Kate's (though the shape is different). $610 USD.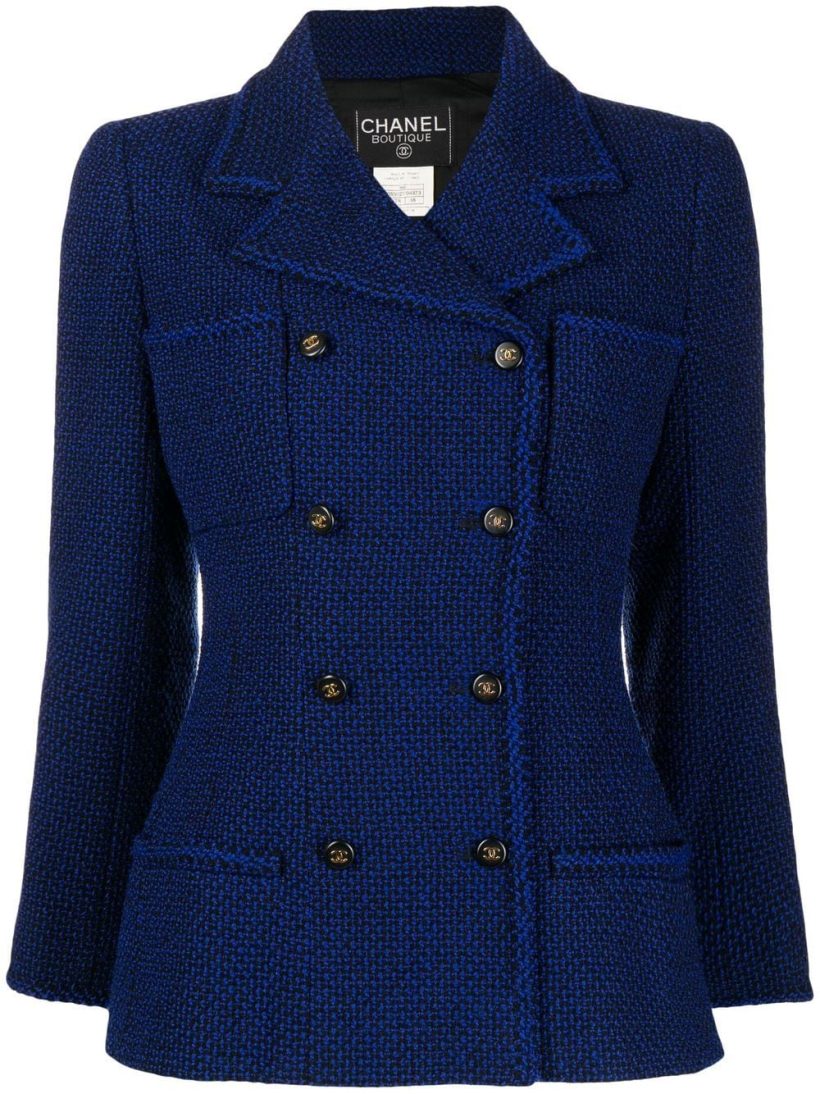 CHANEL 1995 BLAZER, PRE OWNED
Very similar to Kate's. Different button placement and blue trim, rather than black. An investment piece. $3,629 USD.
Chanel is one of Kate's lesser-worn brands. Before she debuted this jacket, we saw her carry one Chanel quilted burgundy handbag on a couple of occasions. She also chose a Chanel coat and belt for a visit to Paris in 2017 (all pictured below).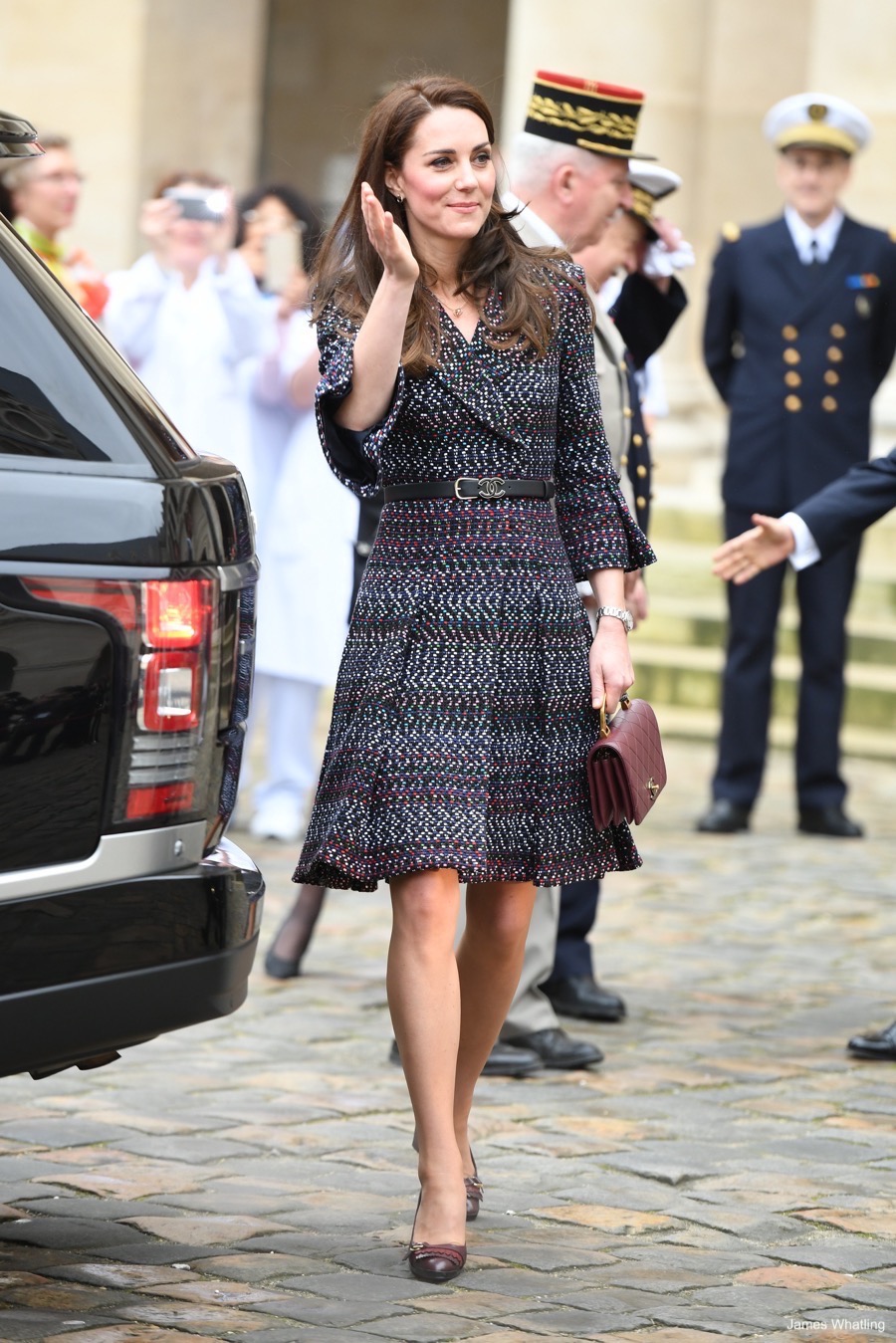 Of course, Chanel is a French brand, founded in 1910 by legendary fashion designer, Coco Chanel.
Kate selected a coordinating blue and gold necklace to wear with the jacket. It's the Astley Clarke Round Stilla Pendant.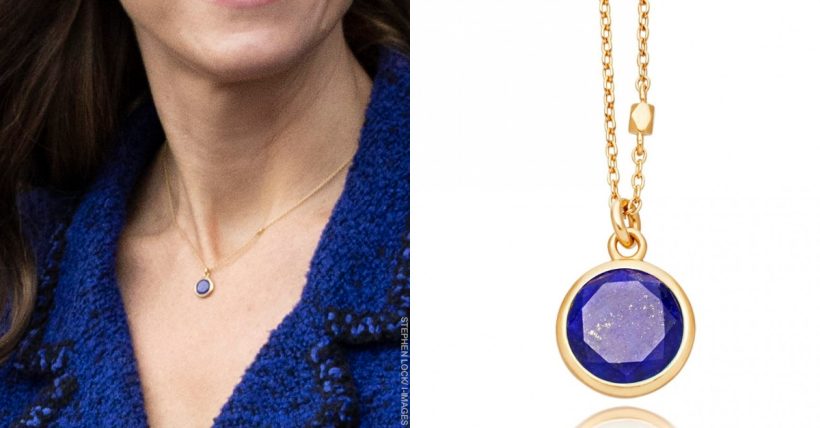 The piece features a vibrant hand-cut and hand-polished Lapis Lazuli stone. The pretty pendant hangs from an 18ct yellow gold vermeil Demi-fine chain.
This is the tenth time we've seen the Princess wear the piece, making it one of her most-spotted necklaces. She first debuted the piece in January 2021. We suspect it was a Christmas or birthday gift (her birthday is in early January).
Astley Clarke still stock the Stella necklace with the Lapis Lazuli stone (and other gemstones if blue isn't your colour). RRP: £160 GBP / $185 USD.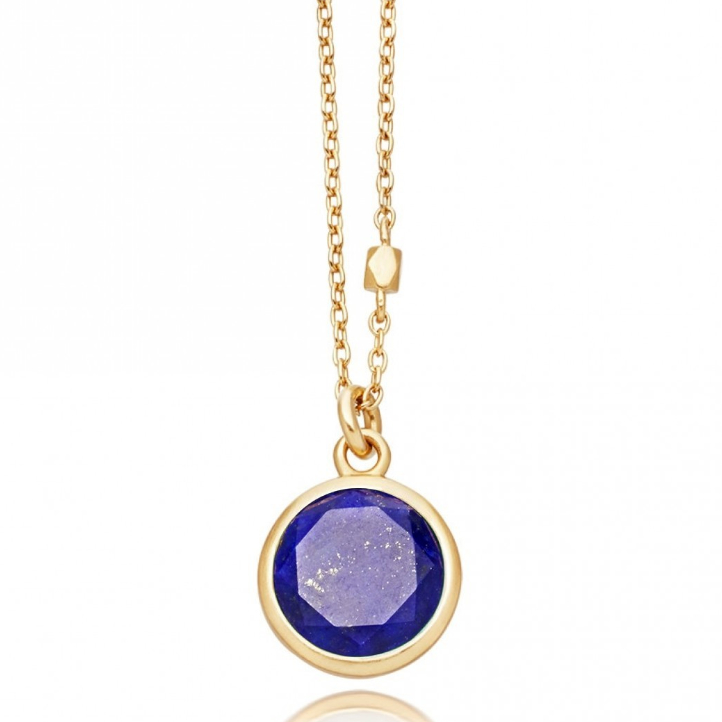 Astley Clarke Round Stilla Necklace, Blue/Gold
Exact match! Elevate any outfit with this gorgeous gemstone necklace by Astley Clarke. Layer this versatile piece with other demi-fine gold jewellery in complementing tones. Would make a fab gift.
Unless I'm mistaken, this is the only Astley Clarke item we've seen Kate wear. Astley Clarke is a British luxury jewellery brand that sells fine and demi-fine pieces. They are an ethical and conscious brand, which reflects in their manufacturing processes. Founder Bec Astley Clarke was listed in Vanity Fair's 2010 jewellery power list, she's also been appointed MBE for her services to the jewellery industry.
The Princess re-wore her black Roland Mouret Axon trousers— 'puddle pants' as some magazines refer to them! (The name references the trouser's length and how the excess fabric 'puddles' around the feet.)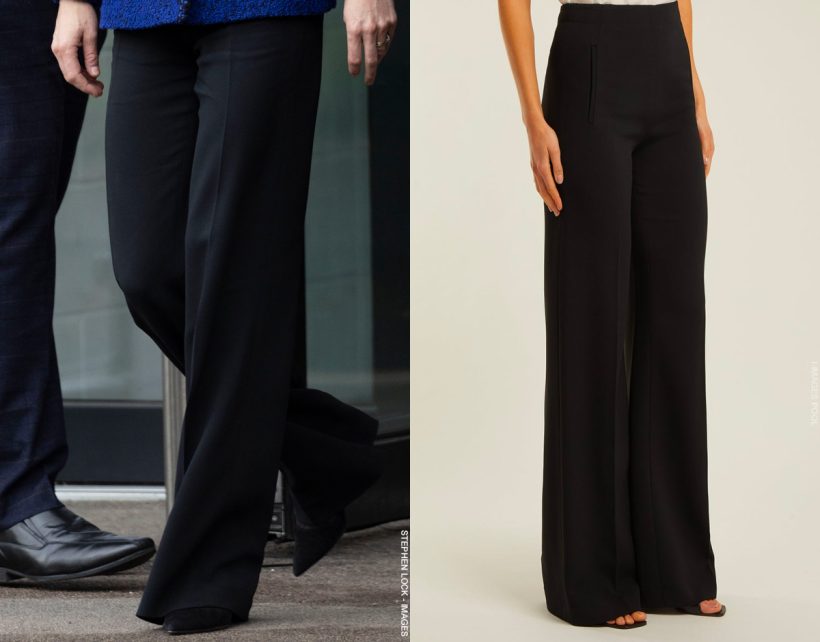 We first spotted the Princess wearing the trousers last winter. We've seen her in them a few times since.
The wide-leg trousers are made from a stretch-blend fabric for a comfortable, non-restrictive and flattering fit. They feature an exposed gold zip on the side, mock front pockets, plus pressed creases on the front and back.
Sadly, Roland Mouret no longer stock these trousers. I found a similar pair at Joseph if you're hoping to copy Kate's look. Click here to shop.
Kate doesn't wear Roland Mouret frequently, but she has opted for his designs on a few occasions—most recently, she chose the designer's Lamble gown for the Top Gun premiere (pictured below).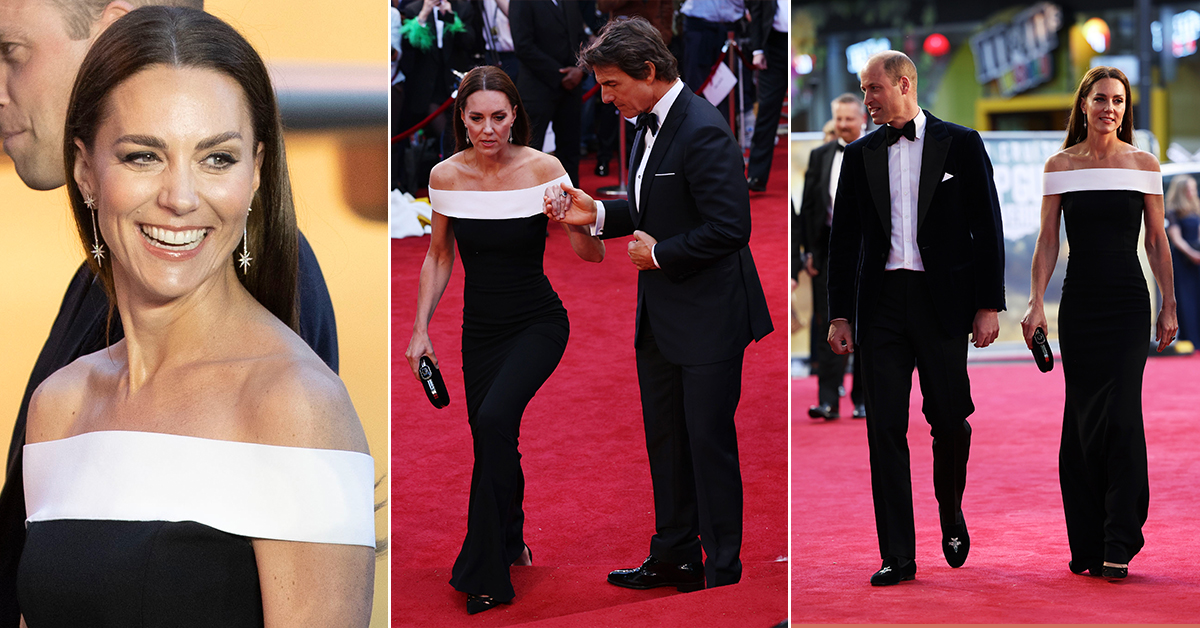 Roland Mouret is a French fashion designer, known for his figure-flattering Galaxy dress. In 2005, the dress catapulted Mouret to fame.
Sadly, the brand fell into administration in 2021. Self-Portrait acquired the company last year and will be relaunching soon (their website states 'Fall 2022').
Kate wore a familiar pair of shoes under her wide-leg trousers. They're the Gianvito Rossi 'Piper' 85 Pumps in black suede.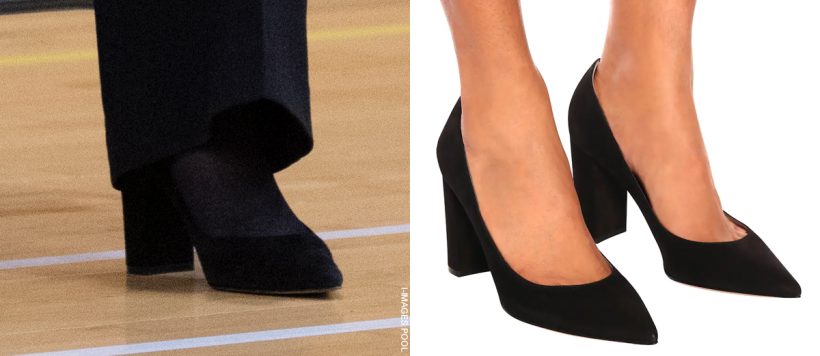 The shoes feature an 85mm block heel and a pointed toe. They're made in Italy.
Kate added the block-heeled shoes to her wardrobe in 2019. This is the 15th time she's worn them in public to date.
MyTheresa still stocks the black shoes in limited sizes, click here to buy (RRP: £520 GBP / $695 USD).
It's safe to say Kate Middleton is a huge fan of Gianvito Rossi's shoes. The Princess has worn more than 10 pairs by the Italian designer.
Gianvito Rossi is the son of the renowned Italian shoemaker, Sergio Rossi. Gianvito is known for his stylish, sophisticated and timeless designs.
Finally, let's take a look at Kate's gold twisted hoop earrings. They're from the Welsh brand Spells of Love.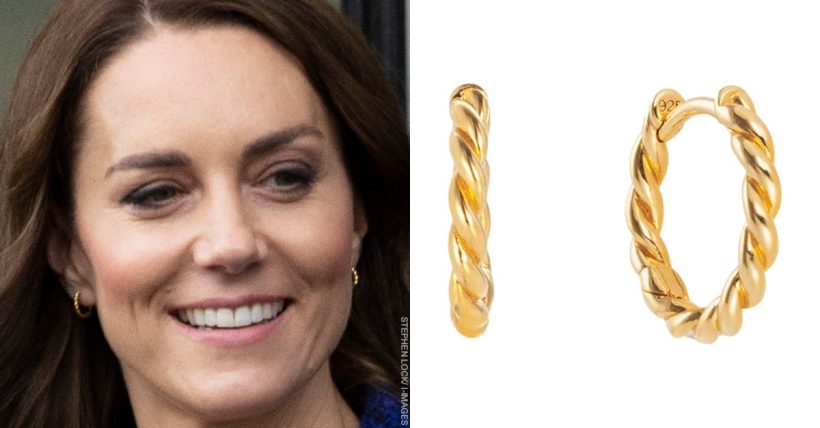 The hoop earrings are crafted from recycled 18kt gold vermeil.
Kate debuted the gold earrings during a visit to the V&A museum in 2021 and has worn the hoops on a handful of occasions since.
At the time of writing, you can pre-order the hoops in gold from the Spells of Love website. Alternatively, you can buy the hoops in rose gold or silver from the Wolf and Badger website here.
Kate's worn a necklace and at least one other pair of earrings from Spells of Love.
Spells of Love is a company that ethically produces handcrafted jewellery.