Kate Middleton wears Astley Clarke's Round Stilla Pendant in yellow gold / blue Lapis Lazuli.
We first saw the Duchess wear the pretty necklace in January 2021. She's worn it on nine occasions (in public) since:
During a virtual meeting with nurses on 19 Jan 2021
During a video chat to mark Holocaust Memorial Day on 27 Jan 2021
For a video chat with nursing students on 9 Feb 2021
While launching her Centre for Early Childhood in June 2021
To watch the England Euro 2020 final in July 2021
During a rugby training session at Twickenham in February 2022.
To visit PACT (Parents and Children Together) and MumSpace in February 2022.
To visit Manchester in May 2022
To receive Navy sailors at Windsor in September 2022
To attend the Coach Core 10th birthday celebrations in October 2022
We think the piece could have been a birthday gift, perhaps from William or another family member. Kate's 39th birthday was in early January 2021, so the timing does make sense.
About the Stilla Necklace:
Astley Clarke say this pretty pendant is a "celebration of vibrancy". I just love how it looks layered with other necklaces in complementing tones:
The piece features a hand-cut and hand-polished multifaceted blue lapis lazuli gemstone pendant hung from an adjustable demi-fine chain made from 18ct yellow gold vermeil. The chain is finished with a gold nugget detail and one of Astley Clarke's signature star tags.
Where to buy the necklace:
If you'd like to buy Kate's gold and blue necklace, you're in luck! Astley Clarke still stock the piece today. You can buy it from their website: astleyclarke.com.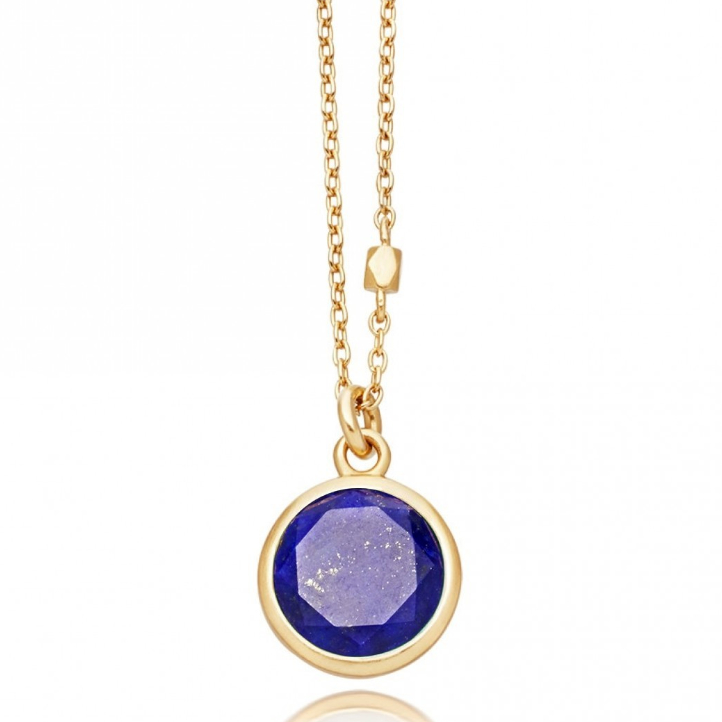 Astley Clarke Round Stilla Necklace, Blue/Gold
Exact match! Elevate any outfit with this gorgeous gemstone necklace by Astley Clarke. Layer this versatile piece with other demi-fine gold jewellery in complementing tones. Would make a fab gift.
The Stilla Collection:
Astley Clarke's Stilla Collection features spherical motifs that reference "natural droplet formations". In addition to Kate's necklace, you'll find rings, earrings and bracelets.
If you like Kate's necklace but not keen on blue, you'll be pleased to know Lapis lazuli isn't the only gemstone on offer. Choose from other semi-precious beauties including black onyx, green malachite, aqua-blue amazonite and silver labradorite.
Stilla is defined by contemporary forms and beautiful semi-precious gemstones, designed in stackable silhouettes. Updated and refreshed with the new Stilla Arc collection, these precious pieces offer fluidity, movement and a relaxed statement for everyday wear. Interspersed with vibrant gemstones, sapphires and droplet motifs, Stilla's softened structures make a bold statement.

Astley Clarke