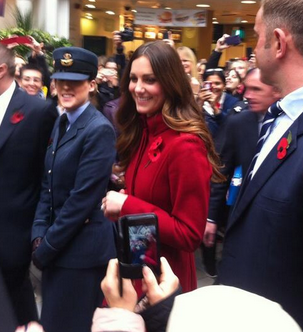 This morning, Kate and William met staff and volunteers from the London Poppy Day initiative run by The Royal British Legion.
The royal pair met London Poppy Day supporters who were touring the city on a 1960s routemaster bus, which stopped at Kensington Palace.
The Duke and Duchess of Cambridge arriving at High St. Kensington station. #LDNPoppyDay #PoppyAppeal pic.twitter.com/SOjurC0TEc

— Royal British Legion (@PoppyLegion) November 7, 2013
William and Kate took the old fashioned bus down from Kensington Palace down to High Street Kensington and Kensington Tube Station, where they met poppy vendors and supporters.
The Duke and Duchess of Cambridge meeting #PoppyAppeal volunteers at High St. Kensington #LDNPoppyDay pic.twitter.com/W8pUalbDLO

— Royal British Legion (@PoppyLegion) November 7, 2013
According to The Mirror's reporter at the scene, extra police had to be drafted in to help cope with the growing crowd of revellers, as people using the tube network realised that Kate and William were visiting the station.  The surprise visit to the station had been kept a secret.
Here's another photograph taken at the Tube station:
https://twitter.com/wonderlandmag/status/398418740645478400/
Kate's outfit:
Kate wore a very fitted, long red coat by L.K. Bennett (it's the Ami style, specifically.)  You may recall that Kate wore this coat back in 2011 during her visit to Denmark.  Here's a reminder:
Shop L.K. Bennett Coats:
In addition, Kate wore black tights/hose and a pair of black suede shoes.  I believe they're the Episode Angel pair we've seen her wear dozens of times previously.  A look at those shoes in closer detail:
Resources:
You can follow the events as the day unfolded by visiting The Mirror's Live Blog for pictures and updates.
You can follow The Royal British Legion's Instagram account and view pictures from London Poppy Day by clicking here.
About London Poppy Day: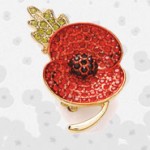 Now in it's 8th Year, The Royal British Legion's London Poppy Day event aims to raise more than £1 million in a day for the charity's Poppy Appeal.  Over 2,000 uniformed personnel, veterans and supporters hit the streets of London.  Fundraisers collect at Tube and train stations across the London transport network, plus they visit well trafficked hubs such as Convent Garden, where a stage has been created for military performances throughout the day.  You can read more here.
SUPPORT THE POPPY APPEAL:  Shop Poppy Jewellery in the Royal British Legion Shop, including the Buckley Crystal Poppy as seen on Kate – all proceeds are donated to the Poppy Appeal.
Additional tidbits:
BACK IN STOCK:  The ever popular Honeycomb style is back in stock for the winter season at Temperley London.  The Tunic is available in various sizes and colour, including those depicted below.  Kate has worn the honeycomb style in both ivory and black.  However, it's hard to know for sure whether Kate owns tunics or the (now out of stock) sweater (its thought she wore the shorter sweater in ivory in 2011, and the longer tunic in black earlier this year).
NEW WATCH ID:  Kate's been wearing a wristwatch regularly over the last couple of months.  It's not a new piece (she's been photographed wearing it before) – it's had the community stumped.  Thankfully, a lovely lady called Nancy came to our rescue and IDd the watch as brand "Tissot".  Anna from My Small Obsessions has all the details on her Facebook page.  Visit for more information.
SEBAGO OFFER:  Apologies to those who've already seen me mention this elsewhere, but I think it's a great deal so totally worth adding it to today's blog post.  For ladies in the USA, Sebago are currently running a Veteran's weekend offer, $10 off when you spend $50 with the code FALLTEN.  You can use this code to reduce Kate's Balas down from $95 to $85.  The code is valid through to Monday 11th November 2013.
COVETIQUE:  I can't remember if I've mentioned Covetique
to blog readers before?  But I'm a huge fan of their site.  They sell pre-owned designer clothing at amazing prices – but without all the fuss and worry over scouring eBay (Covetique guarantees the authenticity of their designer goods, for example.)  Basically, I've spotted LOTS of Kate and Pippa items in the store at really good prices.  For example, Jimmy Choo Cosmics – at snip at £250 (they look brand new, and retail at £450 full price & brand new .) Kate's Issa dresses also pop up from time to time, and sell for around £150 (they're about £500 new).  It's well worth a look around if you ask me, especially if you'd like to find previous season clothing that is otherwise hard to come by.
L.K. BENNETT SLEDGE NOW COMES IN SUEDE – erm, how did this pass me by?  I adore the L.K. Bennett Sledge pumps, and I own a pair in grey that I just adore…  Now the shoe comes in suede too, perfect for the winter season… its like having Kate's Sledges, Cosmics and Harpers all in one!  Oh yeah, and the festive glitter shoe is back too.  (And, I imagine LOTS of brides will be opting for the sparkly gold colour under their wedding dresses this year.)  Shop Suede and glitter Sledge at L.K. Bennett // Selfridges  // Bloomingdales
NEWSLETTER:  My first ever Kate-themed newsletter went out yesterday.  Phew, it was hard work.  It's not perfect (it doesn't line up properly on iPhone – but I'll fix that for next month) but I hope it was still useful for everyone.  This month's edition featured Kate's current schedule for November (including the two new events released yesterday), a round up of articles I've loved (including pieces penned by the lovely ladies at What Kate Wore and What Would Kate Do, plus a link to an interesting Grazia story).  And more too.
You can read it online here if you missed it AND if you'd like to sign up before next month's edition, you can do so on this page, or by using the box below (right after the social icons)!  Thanks!  I'm hoping to secure exclusive discount codes for favourite brands, plus interviews with journalists and bloggers for the next few editions…