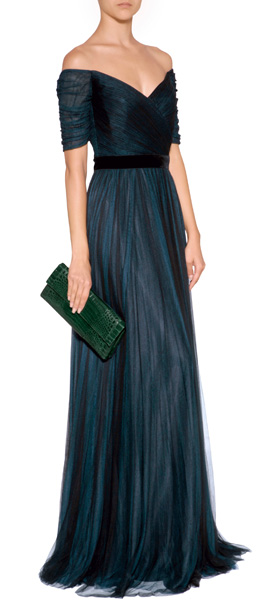 24th October 2013—Kate Middleton attended the 100 Women in Hedge Funds Gala Dinner wearing an ink blue gown by Jenny Packham.
The event was held in aid of Action on Addiction, a charity of which Kate is patron.  The gala dinner was held in Kensington Palace.  Kate, William and George currently reside in an apartment in the grounds nearby.
During the event, Kate spoke about leaving three month-old George 'fast asleep' with dad William so she could attend the event. She also mentioned that the baby had been 'such a good boy' at his christening the day prior.
In addition, Kate presented an award to Dame Amelia Fawcett DBE, Chairman of the Hedge Fund Standards Board in London. The award was the '2013 100WHF European Industry Leadership Award' and was given in recognition of Dame Fawcett's dedication to serving the financial services industry.
Kate's gown:
Kate wore a stunning silk tulle evening gown in a dark petrol-ink colour by designer Jenny Packham. The dress forms part of the designer's Autumn Winter 2013 collection. It retailed at Stylebop for $5655 / £3,586.
The dress is described on Stylebop as "simply stunning", in "ink-tinged silk" and the "ultimate in evening elegance." The dress features a wrapped front, a V-neckline and gathered short sleeves. It also features a black velvet sash, tailored bodice and full skirt.
Kate accessorised the dress with the diamond bracelet and earrings she apparently received from The Prince of Wales following her marriage in 2011, which we have seen her wear previously on a number of occasions. She also wore a new (to us) ring, but there aren't any clear pictures for identifying purposes – it's speculated that the ring could be a gift for either the birth or christening of Prince George. You can view the ring in more detail on What Kate Wore's website here.
About Kate's involvement with 100 Women in Hedge Funds:
Kate became a Patron of 100 Women in Hedge Funds' philanthropic initiatives for a three-year period in January 2013. 100WHF's three-year partnership with The Charities Forum of The Duke and Duchess of Cambridge and Prince Harry will focus on three specifically chosen charities, including Action on Addiction in 2013, and the focus reflects 100WHF's three philanthropic themes of mentoring, women's and family health, and education.
About 100 Women in Hedge Funds:
100 Women in Hedge Funds is a global, practitioner-driven non-profit organization serving over 12,000 alternative investment management investors and professionals through educational, professional leverage and philanthropic initiatives. Formed in 2001, 100 Women in Hedge Funds has hosted over 400 education events globally, connected more than 250 senior women through Peer Advisory Groups and raised over $30 million for philanthropic causes in the areas of women's health, education and mentoring.
– www.100womeninhedgefunds.org
About Action on Addiction:
We are Action on Addiction. We take action to disarm addiction. Addiction is the biggest preventable killer in the UK. It destroys lives, breaks up families, harms communities and has a damaging impact on society as a whole. In some way it affects us all. We think it is important to take a dynamic and integrated approach to improving our understanding of addiction and our responses to it. We are the only charity working across the addiction field in research, prevention, treatment, professional education, support for families and children and campaigns. We are working hard to realise our vision of people free from addiction and its effects.
– www.actiononaddiction.org.uk