Kate Middleton visited The Queen's Dragoon Guards in Norfolk on Wednesday.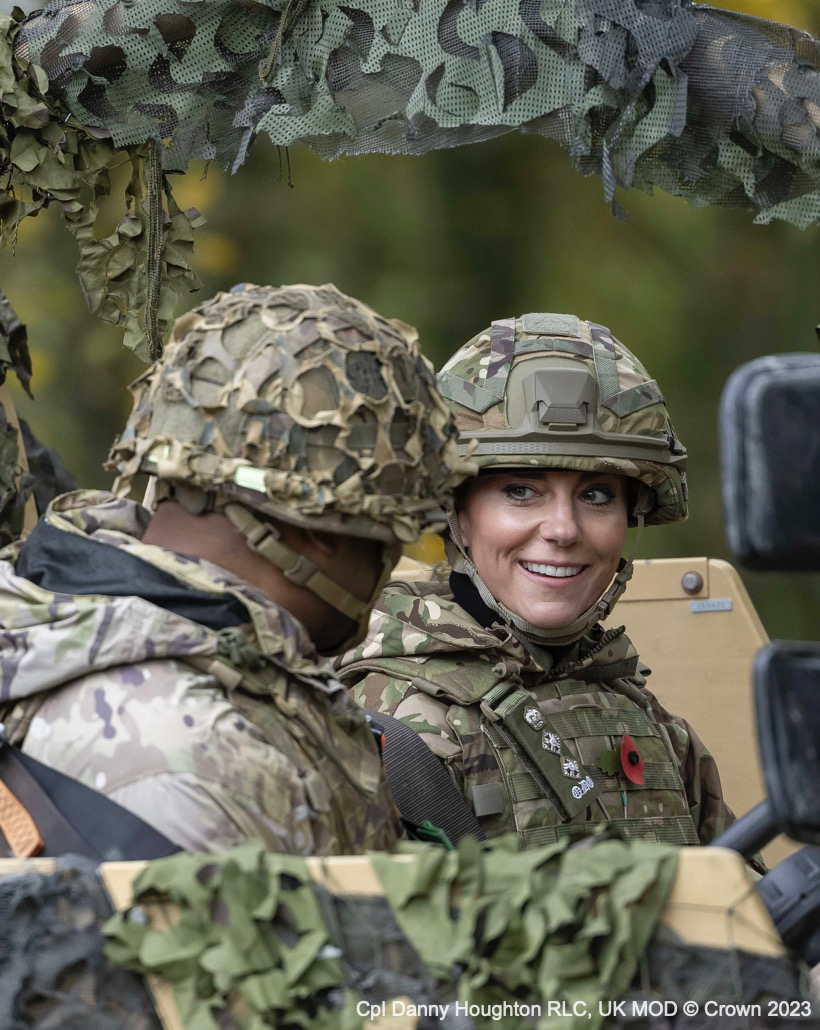 The Princess of Wales certainly looked the part as she dressed in a camouflage jacket, vest and hat, to drive a Jackal 2 vehicle across the barrack's training ground.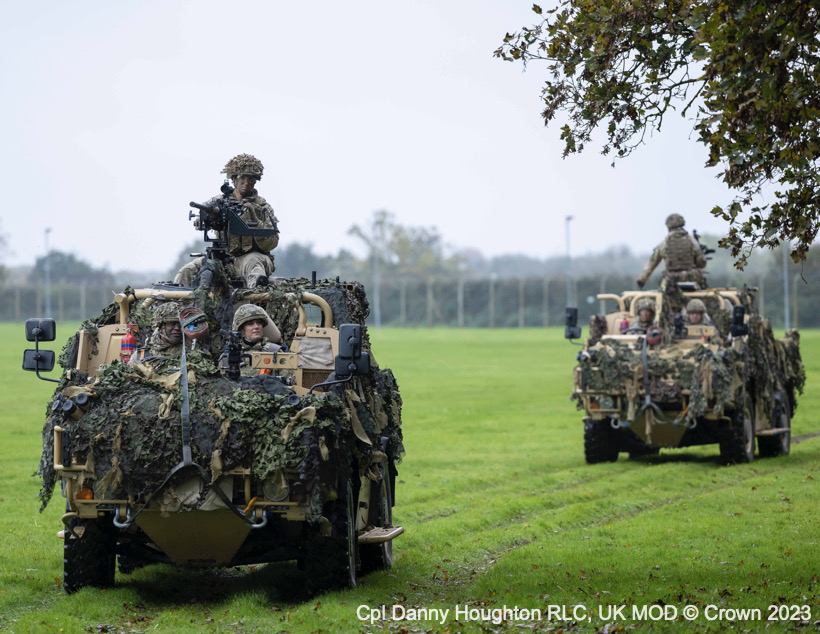 The high mobility weapons platform is designed to drive across all kinds of terrain and protect personnel against roadside explosions and mine attacks.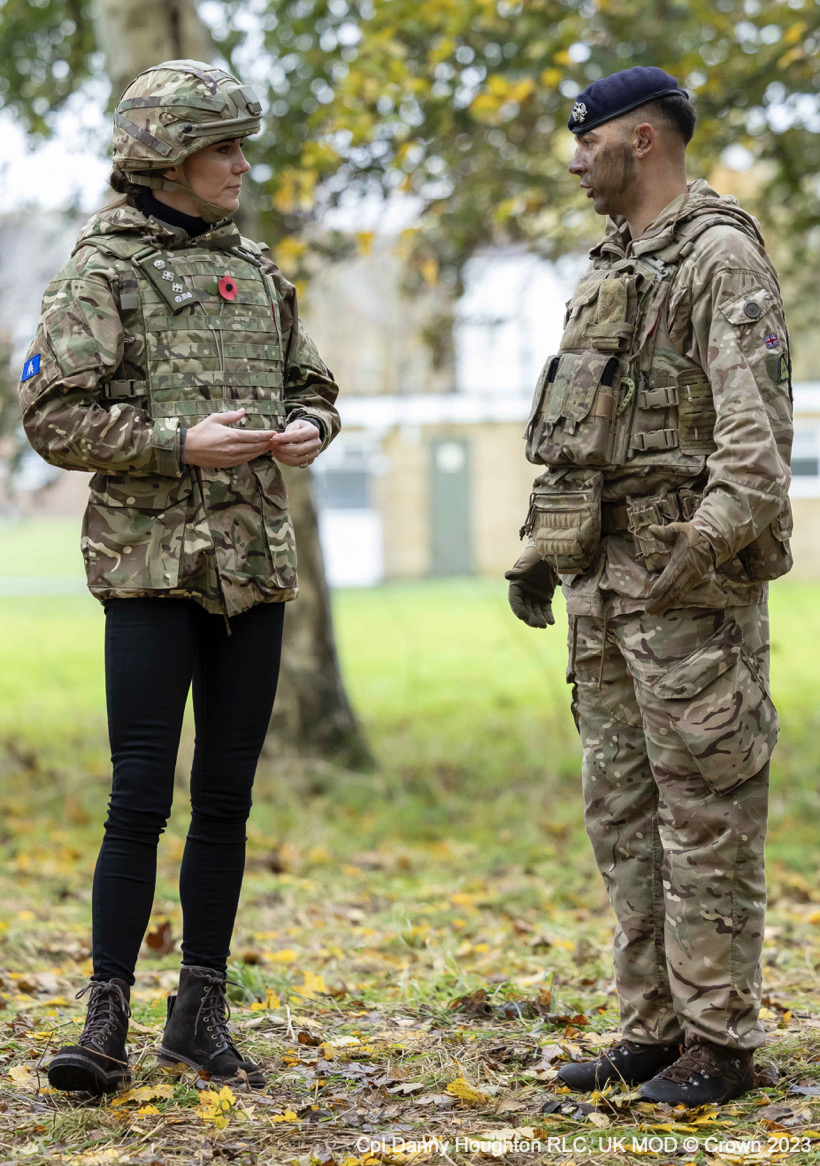 After getting to grips with the armoured vehicle, the Princess spoke with cavalry members, familiarised herself with their operations, and learnt how the team communicates via radio while deployed.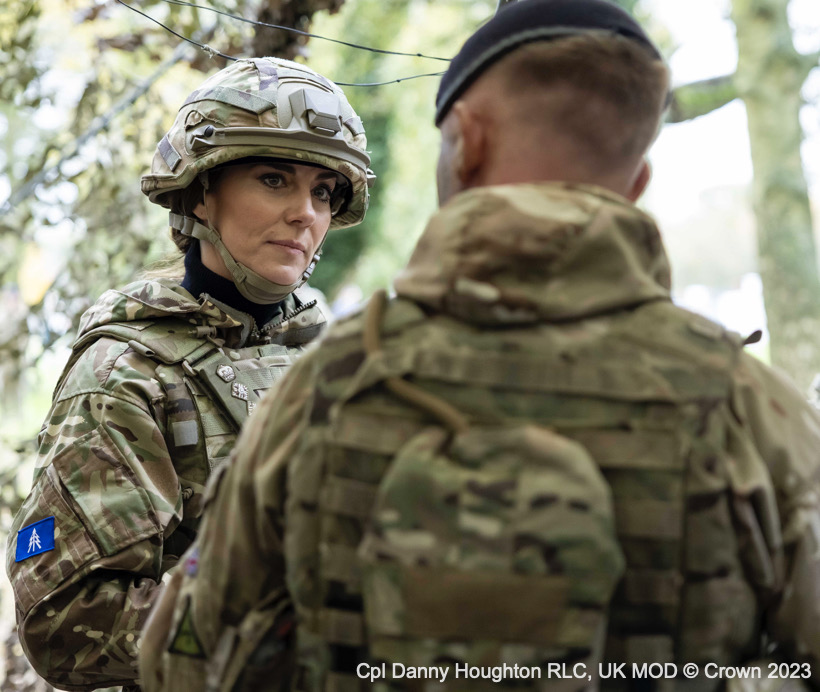 She also got the opportunity to fly a reconnaissance drone! I'd be worried about crashing the expensive machine…!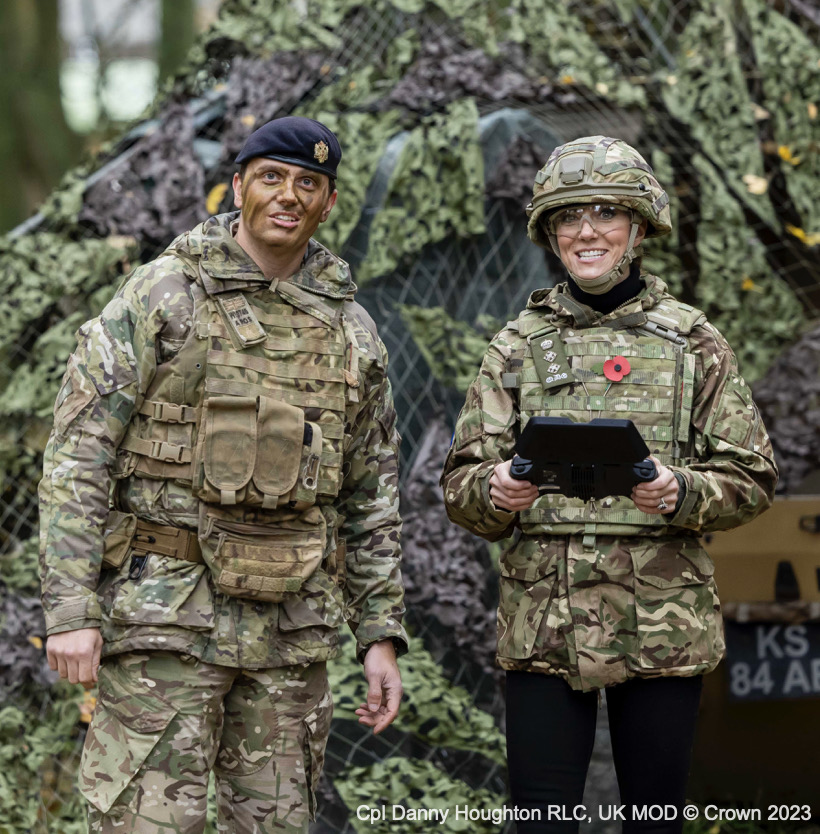 Kate conducted a rather unique yet important duty during her visit too. She promoted The Queen's Dragoon Guards's mascot—a Welsh pony named 'Trooper Emrys Jones'—to the rank of Corporal. As you do.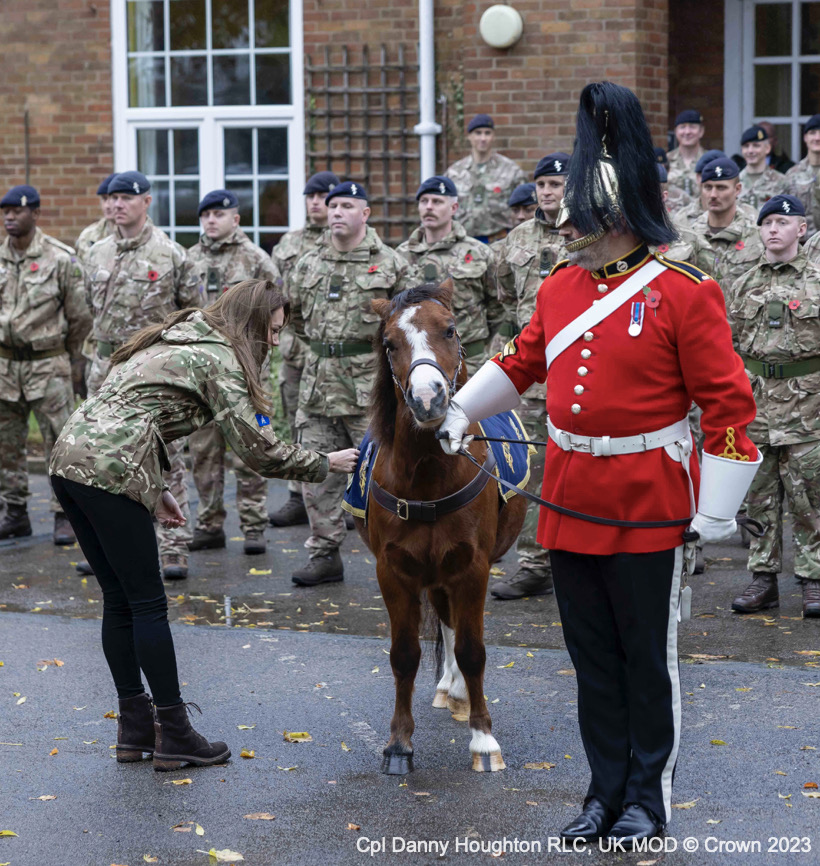 The pony, affectionately known by the nickname 'Longface', previously held the title 'Lance Corporal.' The special award recognised the Welsh mountain pony's performance on parade at numerous events across the UK.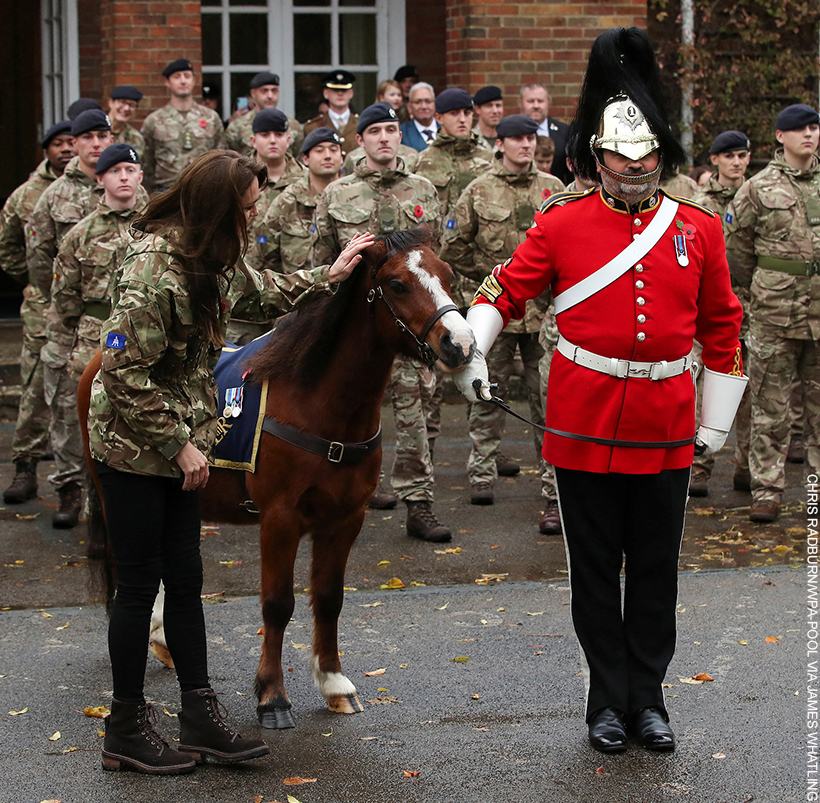 Kate handed awards to non-equine members of the Regiment too—the Princess presented servicemen and women with awards for Long Service and Good Conduct.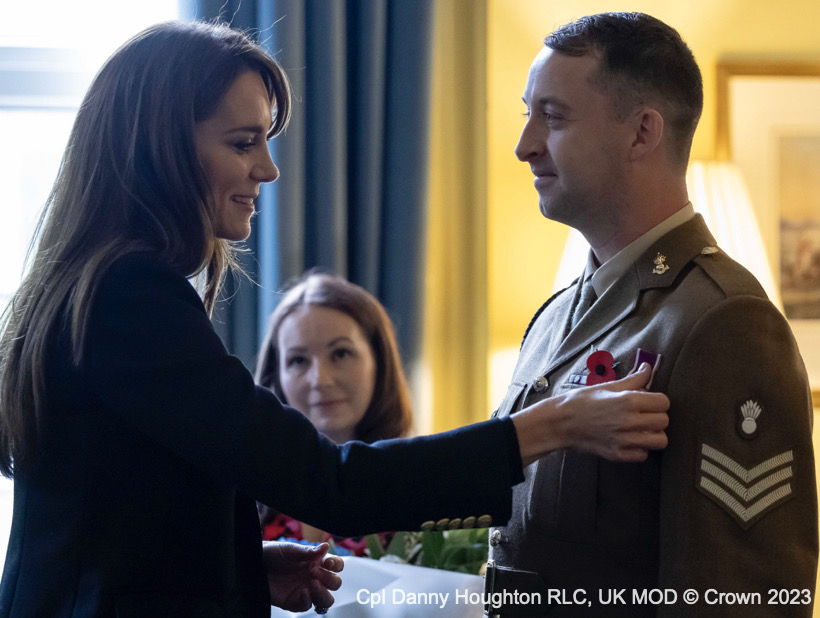 She also joined the Regiment in taking a moment to remember those they've lost during active service in recent years, ahead of Remembrance Sunday this weekend.
The Princess spent time with members of the QDG and their families, learning more about their experiences and the welfare support provided by the Regiment.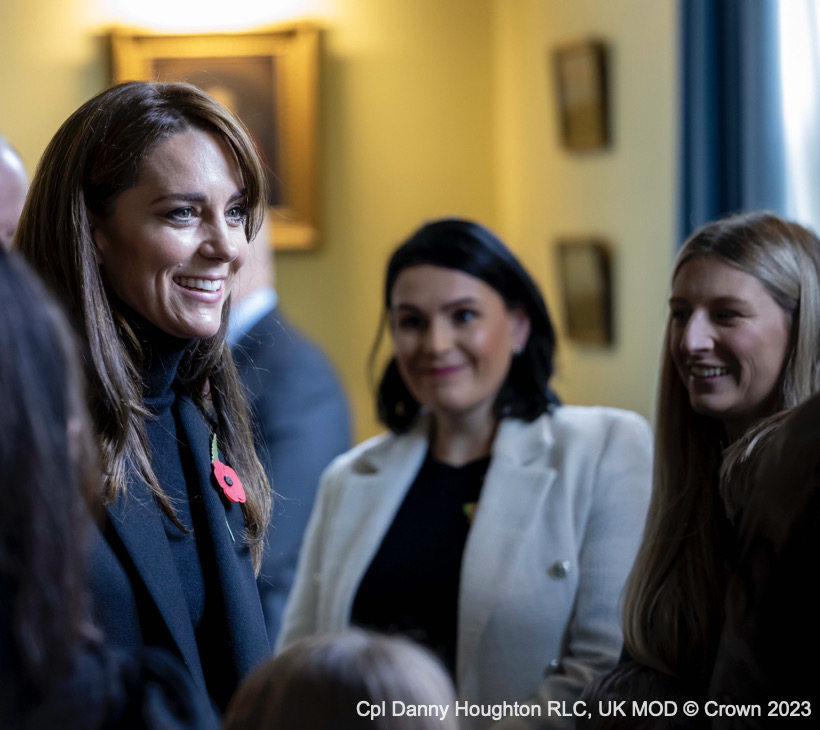 It was the Princess of Wales's first visit to Queen's Dragoon Guards—also known as the Welsh Cavalry—following her appointment as Colonel-in-Chief by King Charles back in August. The visit took place at their base, Robertson Barracks in Dereham, Norfolk.
Let's move on to look at Kate's outfit.
Kate Middleton's outfit in Norfolk:
Kate began the visit all in black, pairing a structured black blazer with a coordinating roll neck sweater.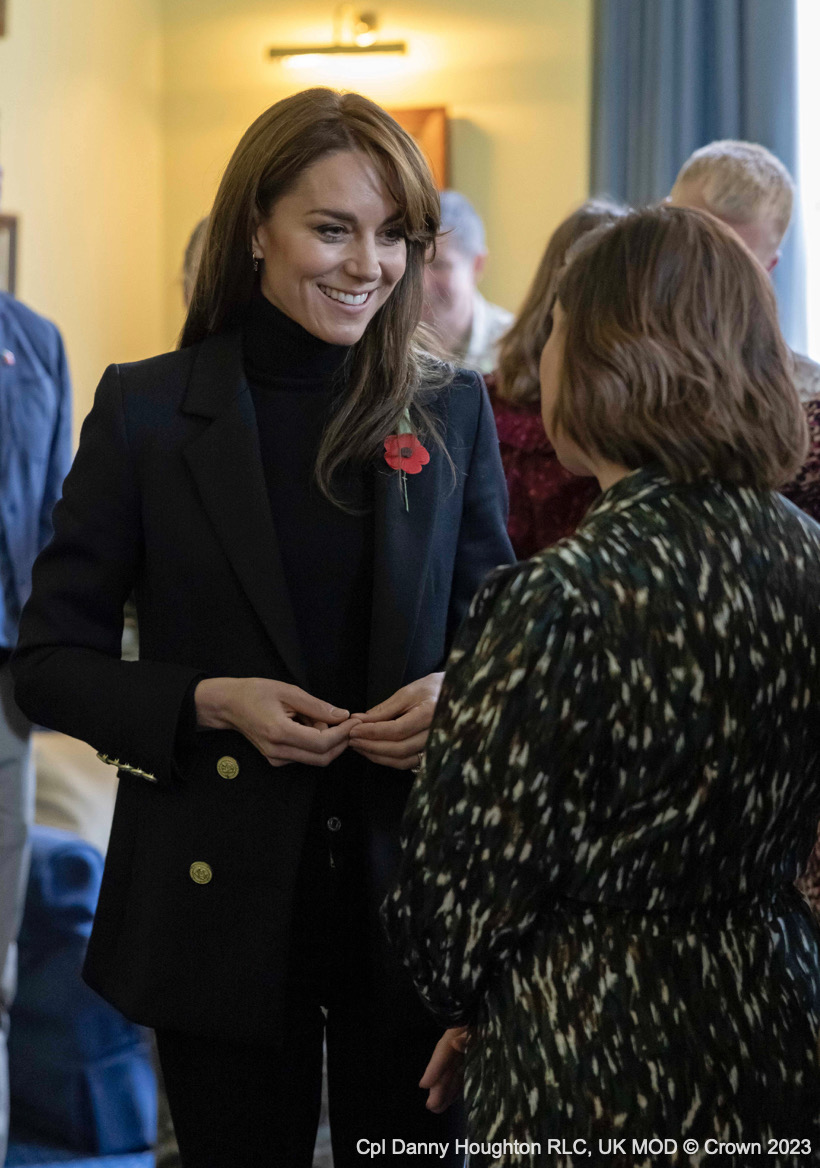 On her lower half, she wore a pair of black skinny jeans and brown combat boots.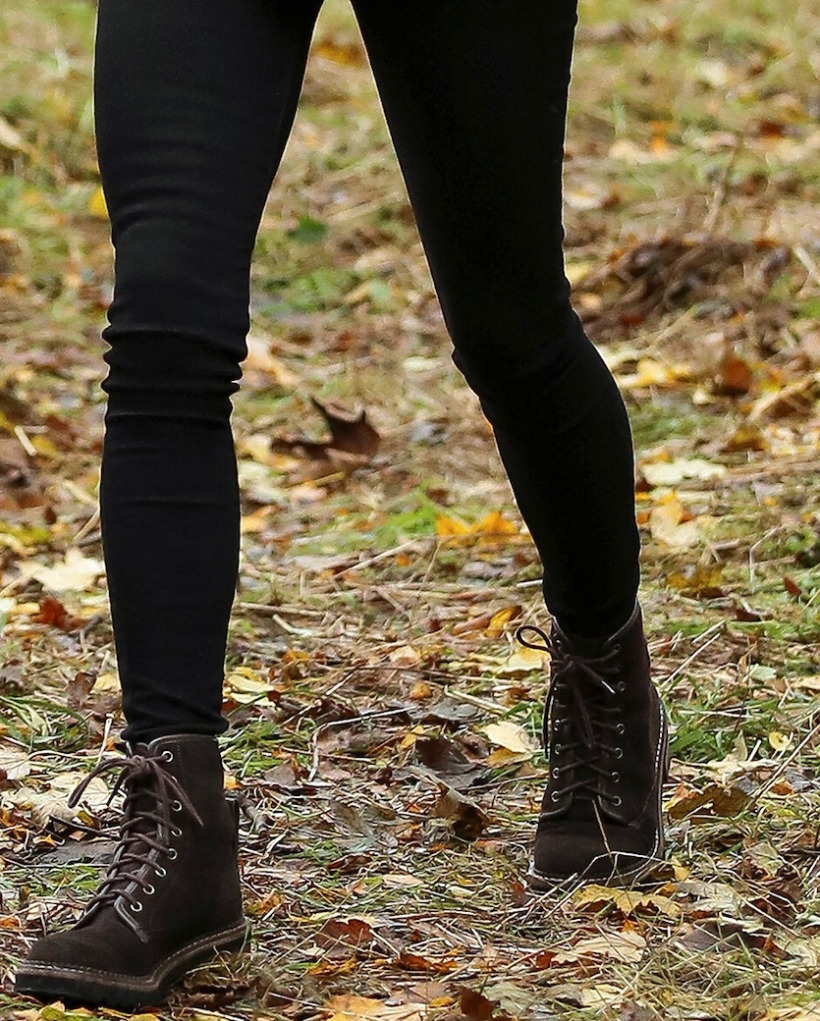 The black twill blazer is by Holland Cooper.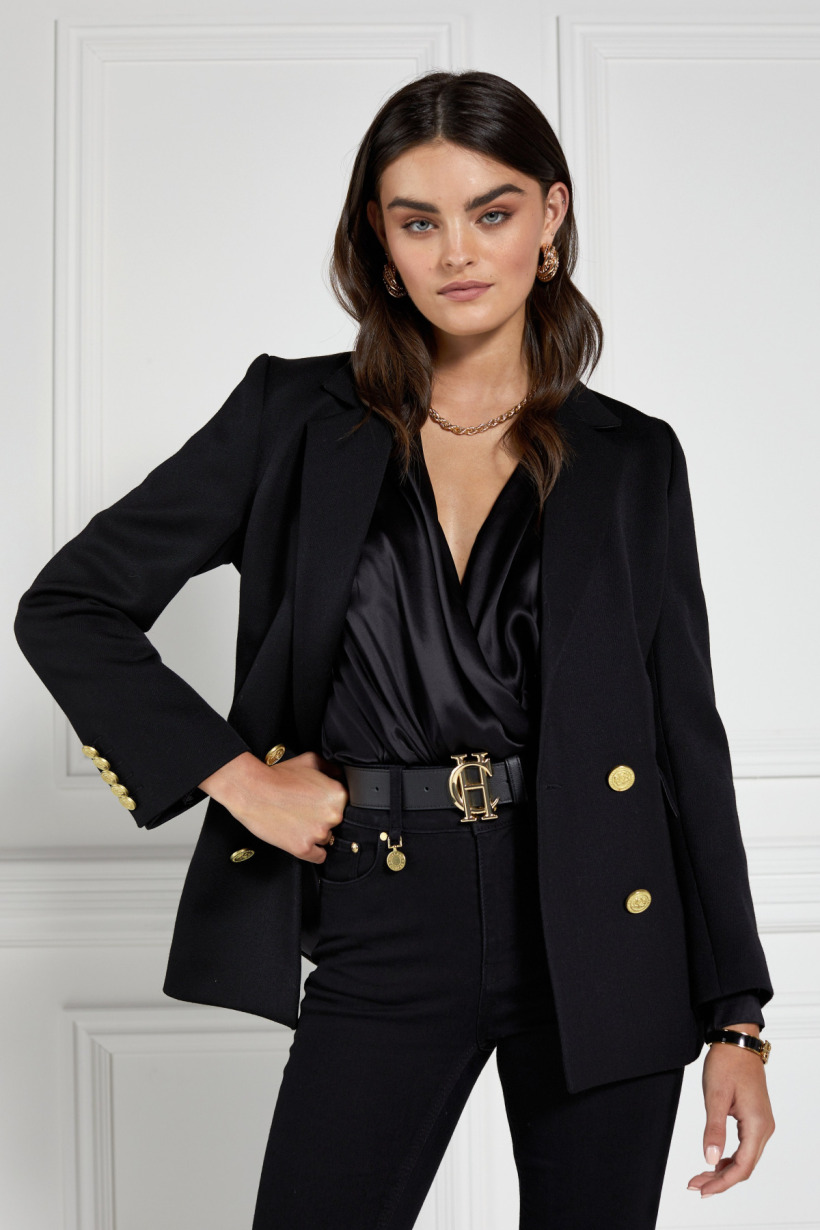 The piece is a longline, double-breasted wool blazer crafted to sculpt a sharp, tailored silhouette. Fully lined with a luxury stretch lining for added comfort, it features the brand's signature gold buttons on the front and cuffs, which add a touch of regal elegance. This hand-cut piece is entirely made in England from UK-woven wools, a nod to traditional British craftsmanship.
The black jacket isn't new to us. The Princess debuted it on a trip to Scotland in May 2021, during a visit to St. Andrews University and Pittenweem village. She has worn it on just one other public occasion to date, earlier this year at another military engagement—at a Royal Naval Air Station (pictured below).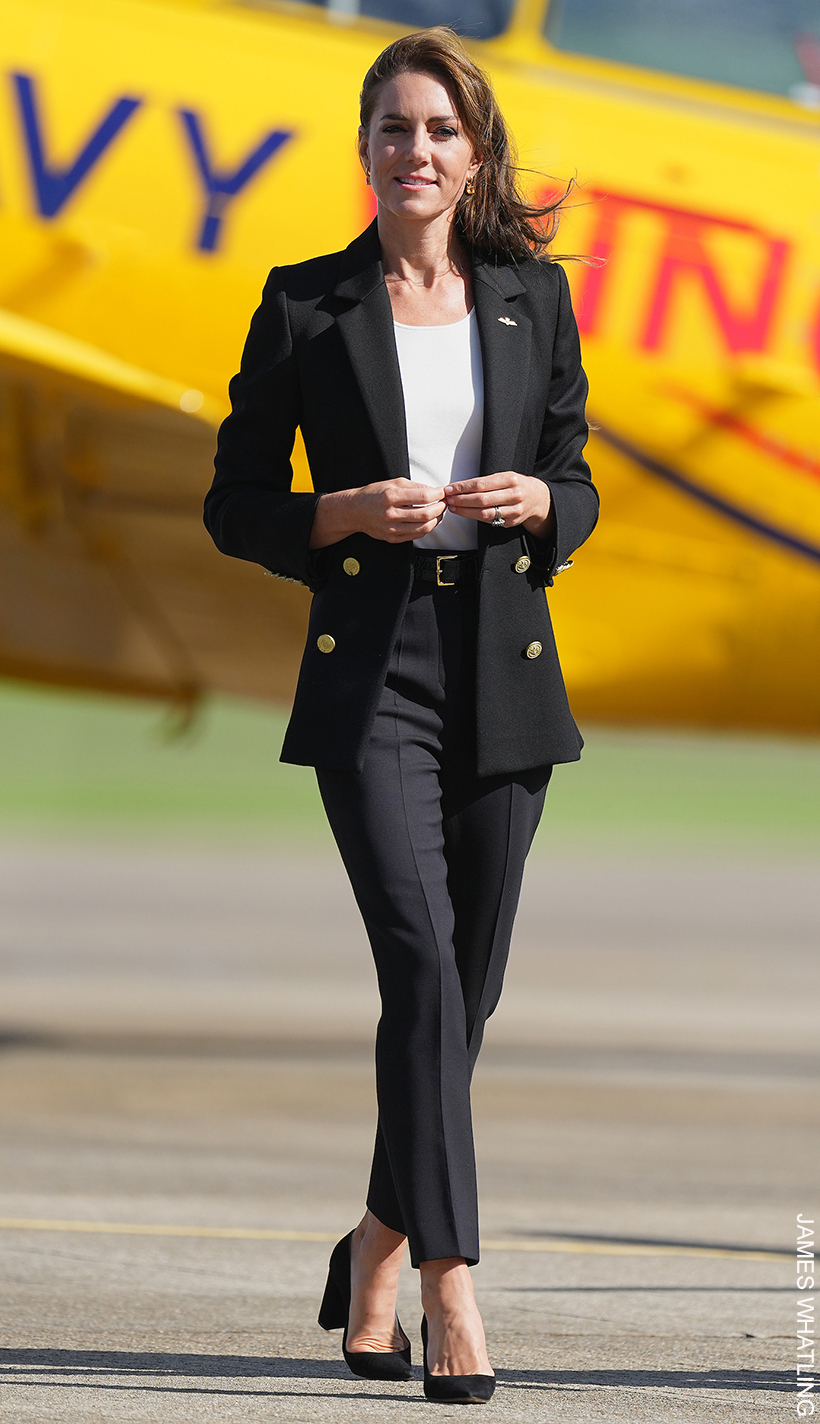 Hoping to emulate the Princess's look? You'll be pleased to read that the blazer is still available for purchase. Priced at £549.0, shop it directly on Holland Cooper's website.
Kate's no stranger to Holland Cooper, the brand has graced her wardrobe on several occasions. She has been seen in various designs from the company, from snug fair isle knits to gorgeous tartan coats, suggesting that the label's classic, equestrian-inspired British aesthetic aligns seamlessly with her style.
Founded in 2008 by Jade Holland Cooper, the brand has carved a niche for itself with its classic equestrian style and British-made tweed. Holland Cooper targets those who appreciate the timeless allure of traditional British tailoring, combined with modern luxury, thus resonating with high-end fashion lovers who also value heritage.
The Princess completed the look with her pair of See by Chloé combat boots.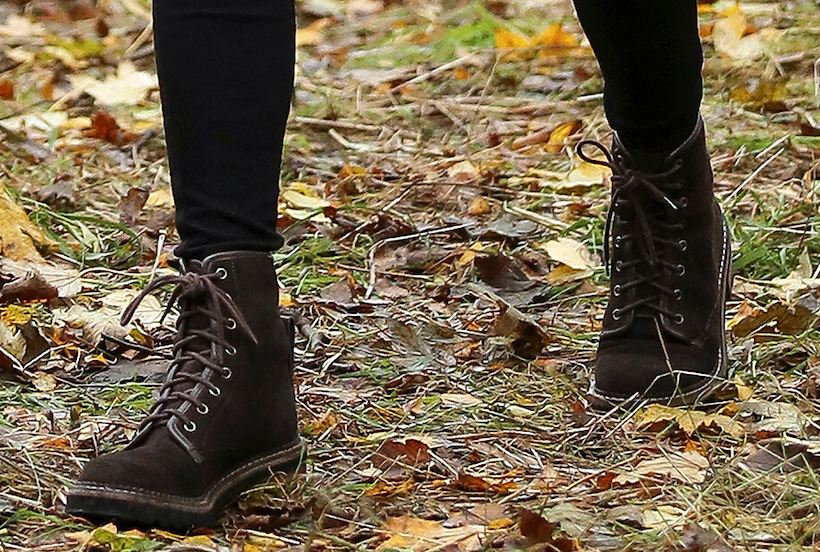 The robust ankle-length combat boots feature a luxurious dark brown suede upper, metal eyelets and a lace-up front that lends a classic yet rugged aesthetic. The boot has a back pull tab for ease of slipping on and off. It sits on a chunky, layered platform sole with a wood-effect midsole.
The outsole is a deep tread rubber, providing both durability and traction. The design strikes a balance between functionality and high-end style, perfect for a fashion-forward yet practical footwear option.
A staple in her wardrobe, the Princess first debuted these combat boots in January 2019 during a visit to the King Henry's Walk community garden in Islington. Since then, they've made an appearance at least nine other public engagements, including a memorable outing to a COP26 Scouts event in Glasgow in November 2021 (pictured below).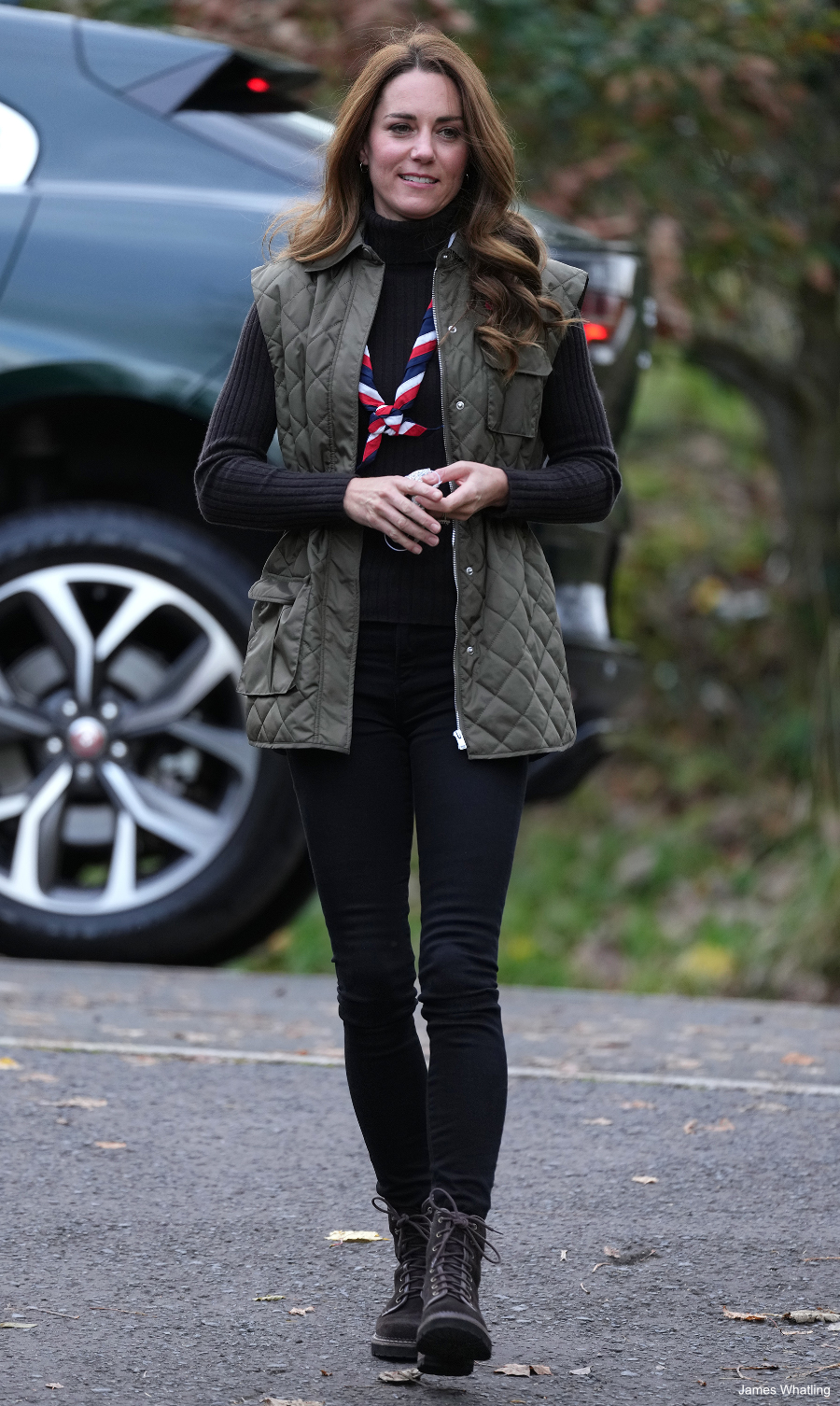 The exact style of See by Chloé combat boots owned by the Princess is currently not available for purchase, as they have sold out. When they were available, they retailed for $445 at Net-A-Porter.com. FarFetch list a few similar styles from See by Chloé, but nothing that's a really perfect match to Kate's.
See by Chloé is not one of Kate's go-to labels. We've only seen her in one other item from the brand to date, a dress from the Fall 2016 line. It was cream-coloured with long sleeves and a fit and flare silhouette. Pictures and more details on this page.
See by Chloé launched in 2001 as the sister brand to the French luxury house Chloé, envisioned by Phoebe Philo. It caters to a younger demographic with its array of everyday styles that still maintain the parent brand's ultra-feminine and slightly bohemian aesthetic. Crafted predominantly in Italy, the pieces range from timeless to trendy, aimed at young, aspirational women looking for high-quality, luxury items with a unique flair.
The Princess paired her jacket and boots with black skinny jeans and a polo neck sweater—at present, I have no further details about either piece, sorry!
I spotted Kate wearing a pair of earrings indoors—it looks like she took them off when she changed into the helmet to drive the armoured vehicle. I'd guess they're her Garnet Teardrop Hoops by Spells Of Love.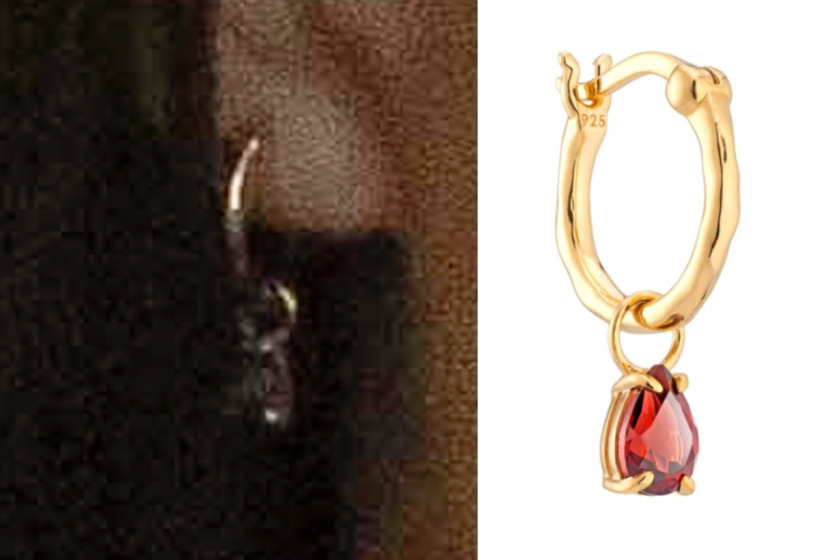 I cannot confirm for certain, due to the images provided from the engagement—in most of the indoor shots, Kate's hair is in front of her ears. This is the clearest shot of the earrings I've found.
The garnet earrings would make sense though—Spells of Love are a Welsh brand, and Kate did visit the Welsh Cavalry at their barracks today, after all!
The 18K Gold Vermeil earring feature a delicate hoop design with a removable charm attachment. The charm showcases a teardrop-shaped garnet stone, secured in place by a minimalist setting that allows the rich, red gemstone to take centre stage. The garnet's deep red hue is beautifully complemented by the warm tones of the gold, giving the earrings a classic and sophisticated look.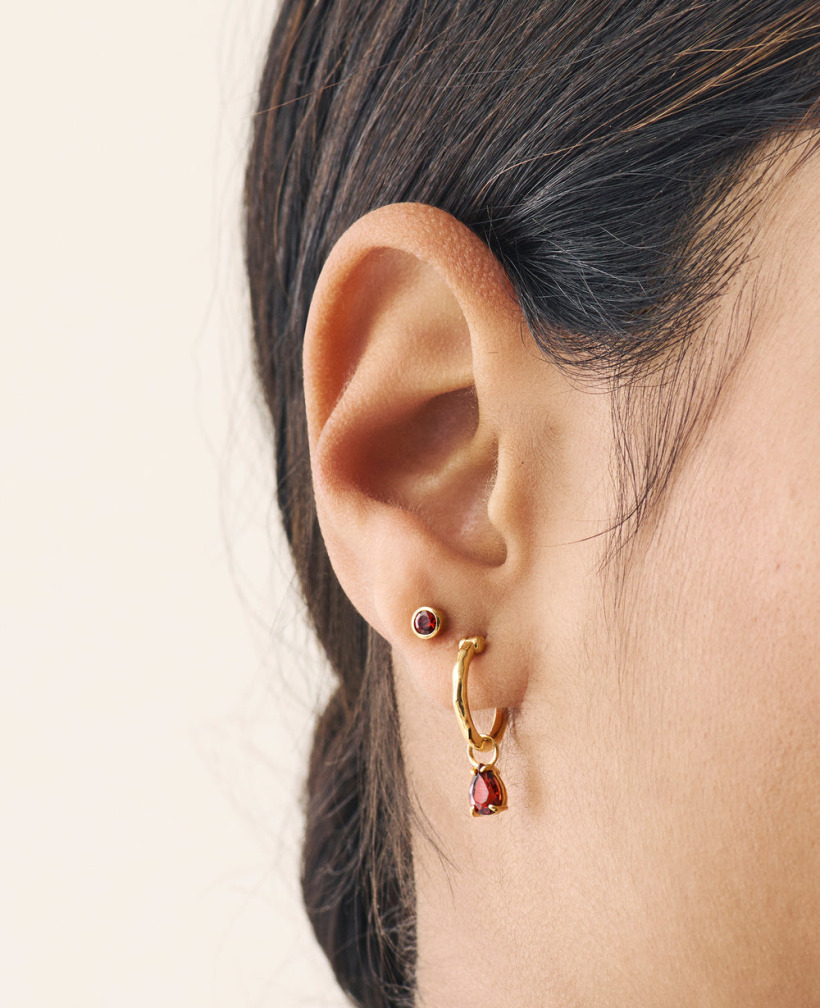 The earrings are handcrafted with recycled gold and silver and natural garnet stones ethically sourced from South Africa.
The hoop itself is sleek, with a smooth finish. Perfect for adding a splash of colour and elegance to any outfit, these earrings could be a versatile addition to any jewellery collection.
Kate debuted the hoop earrings, without the garnet drops, at an engagement in March this year (another military-related engagement, in fact). I suspect they were a birthday gift. Her birthday is in January and her birth stone is garnet.
Jewellery fans, rejoice! The earrings are available for purchase at a cost of £95. However, it is important to note that they are a pre-order item, taking approximately 10-12 weeks to be handcrafted.
They also come in rose gold with a glamorous opal stone, if you'd prefer a different option.
Kate's no stranger to Spells of Love, she's worn three other pieces from the brand in public to date. We've spotted her in the company's Gold Double Strand Beaded Satellite Necklace, the Alia earrings, and a pair of gold Twist Hoops.
Founded in 2016 by Hayley Jones, in Wales, Spells of Love focus on creating sustainable, ethically produced jewellery. The brand has a clear commitment to eco-friendly practices and produce their collections in small batches.
For the practical part of today's engagement, Kate swapped her Holland Cooper blazer for a combat jacket and helmet.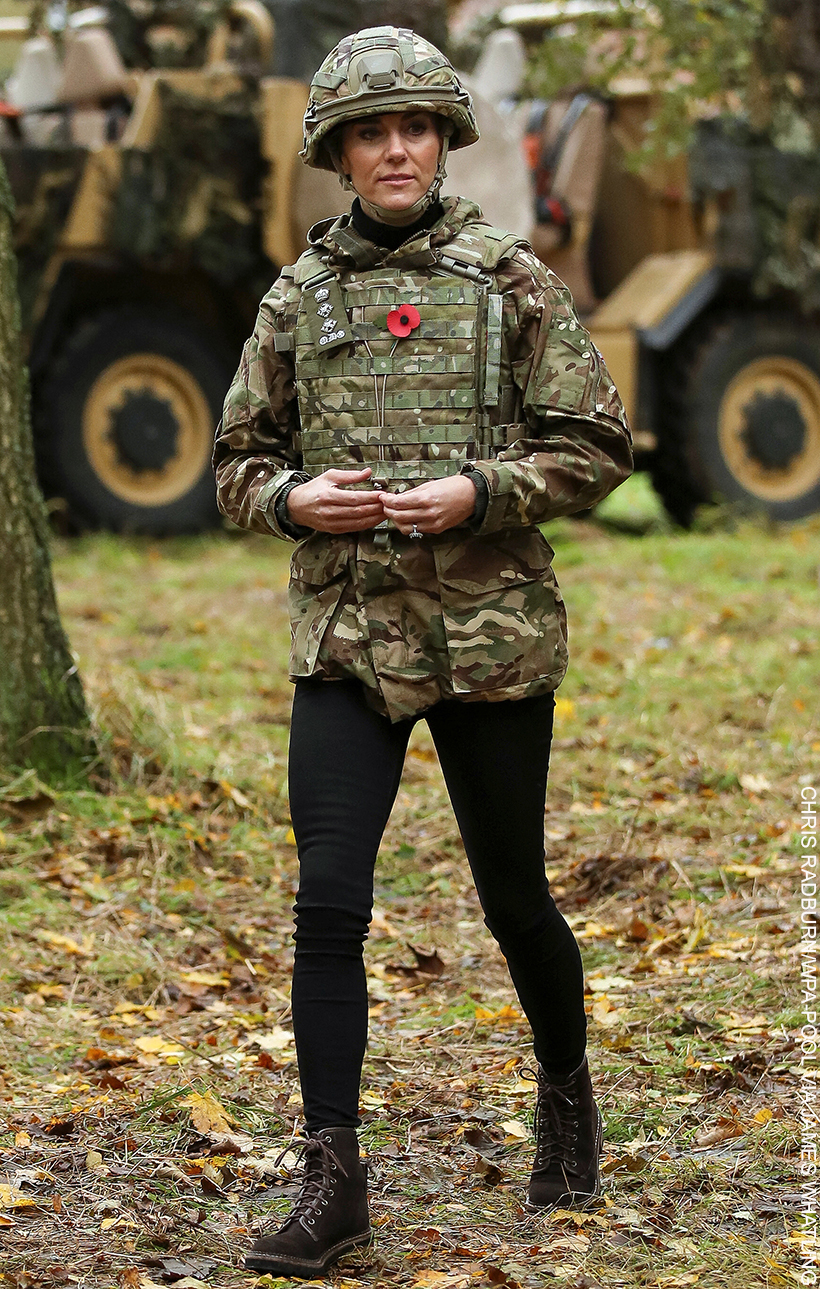 As I wrote in a previous post, the jacket looks to be standard British Army issue, part of the Army's Personal Clothing System, designed with the standard Multi Terrain Pattern (shown below at Etsy). I'm certain Kate will have been given it to wear for the engagement.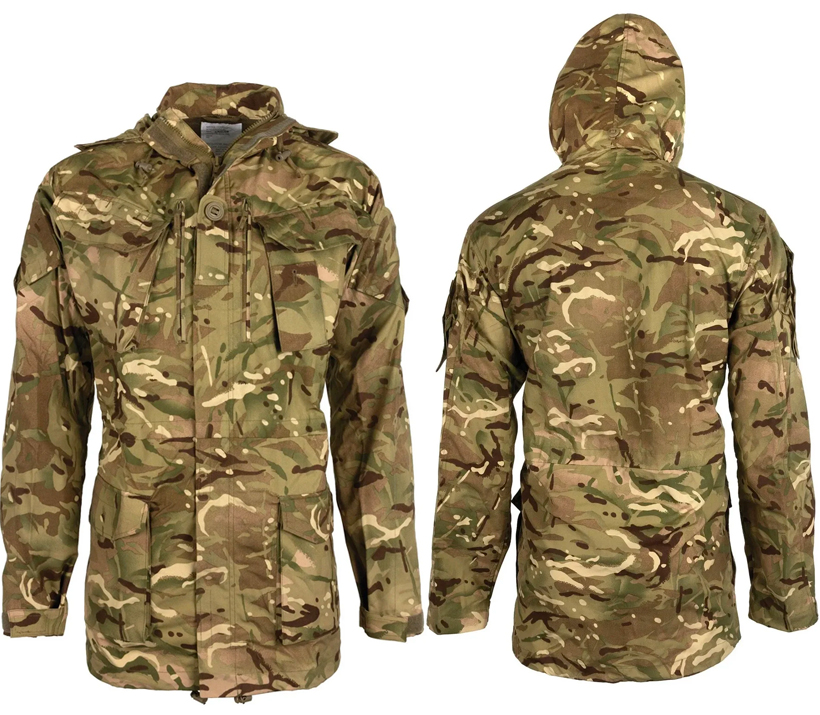 It looks like Kate's wearing a Rank Slide on the front of the jacket, featuring her embroidered badges showing her military rank as Colonel. It looks like the embroidery at the bottom reads QDG—Queen's Dragoon Guards.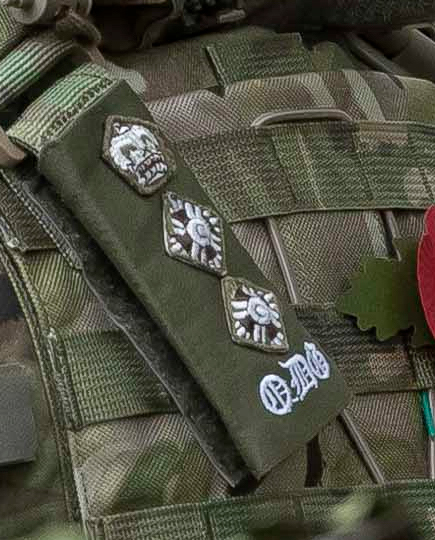 Update: Eagle-eyed MiddletonMaven spotted khaki green sleeves poking out from under Kate's cuffs during the outdoors portion of the engagement. It looks like the Princess layered a green sweater over the top of her black poloneck— I think it's this Holland Cooper piece:
Kate's worn this green sweater over a black polo neck before, at a previous engagement. Yes, it was another military visit! The Princess attended training day with the 101 Operational Sustainment Brigade at Abingdon Airfield. She wore the double sweater combo for the engagement, which marked Armed Forces Day. See below.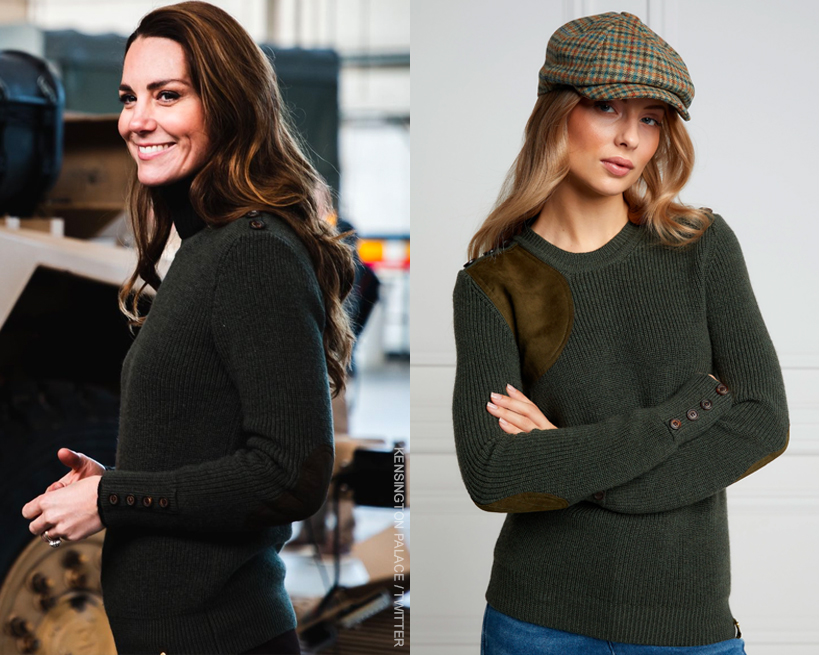 Assuming it's the same sweater-and it looks like it is to me—it's knitted from a forest green Merino wool. It features faux suede patches and it's finished with horn-style buttons at the cuff and elbow.
Kate debuted the dark green sweater during a visit to Orkney, Scotland in 2021. This is its third public outing.
Want to buy the crewneck sweater? You're in luck. You can find it on Holland Cooper's website here, and at Ruffords, here.
The Princess certainly looked the part in Norfolk—and I'm always happy to see those combat boots make a return. They're fab.
Let me know your thoughts about her outfit in the comments section below. Or come and join us on Facebook (100,000+ Kate fans on our Page!)