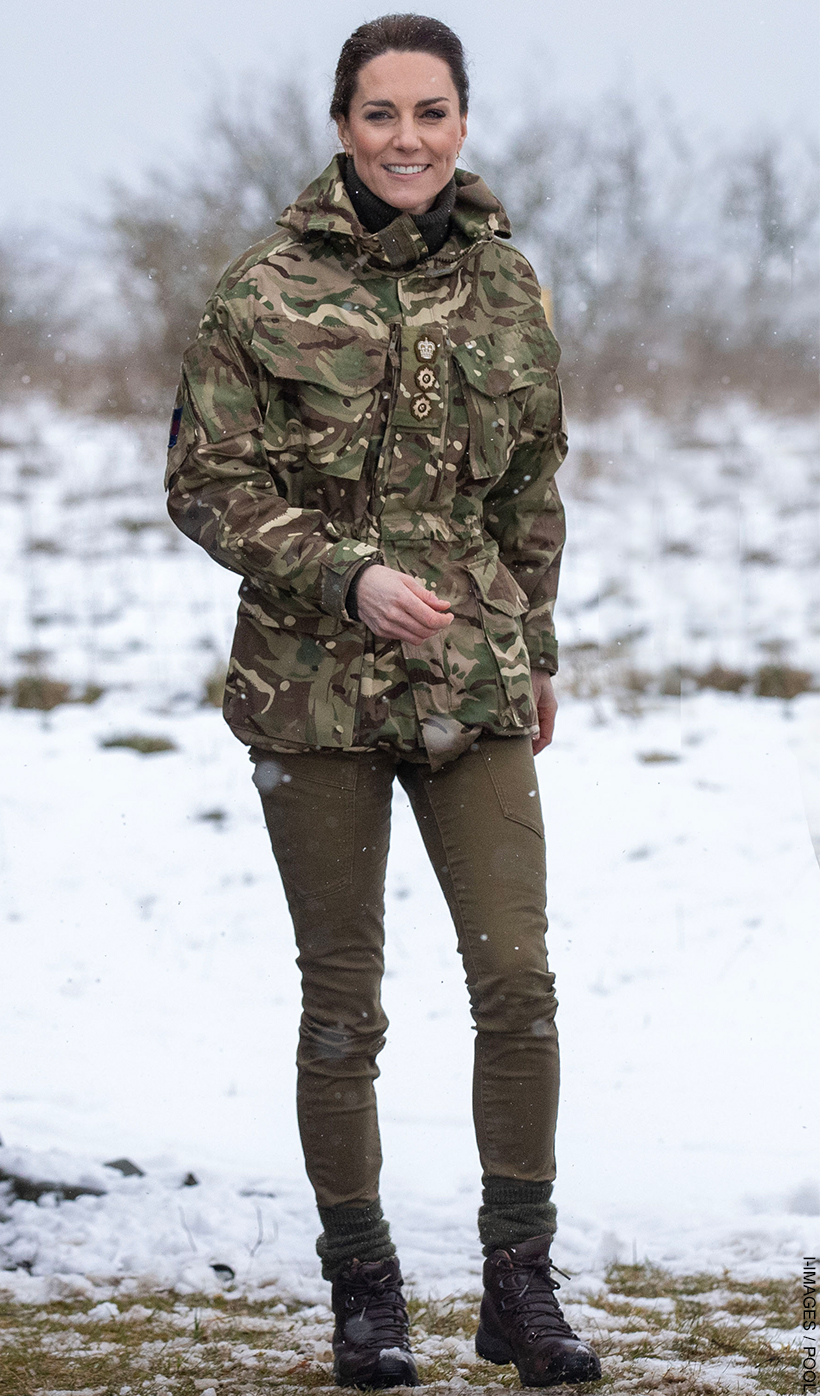 Kate Middleton braved the winter weather during a visit to the 1st Battalion Irish Guards on Salisbury Plain on Wednesday morning (March 8th 2023). Despite the cold temperature, flurry of snow and full-on military training exercises, the Princess managed to keep her composure and look chic in a camouflage jacket, cargo trousers and walking boots.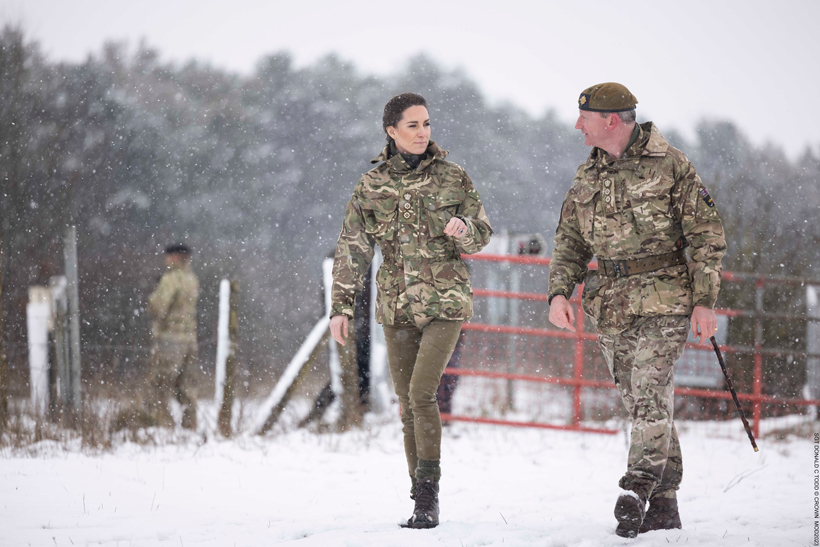 The visit was an important milestone for the Princess—it was her first engagement with the regiment since King Charles appointed her the honorary Colonel in Chief back in December.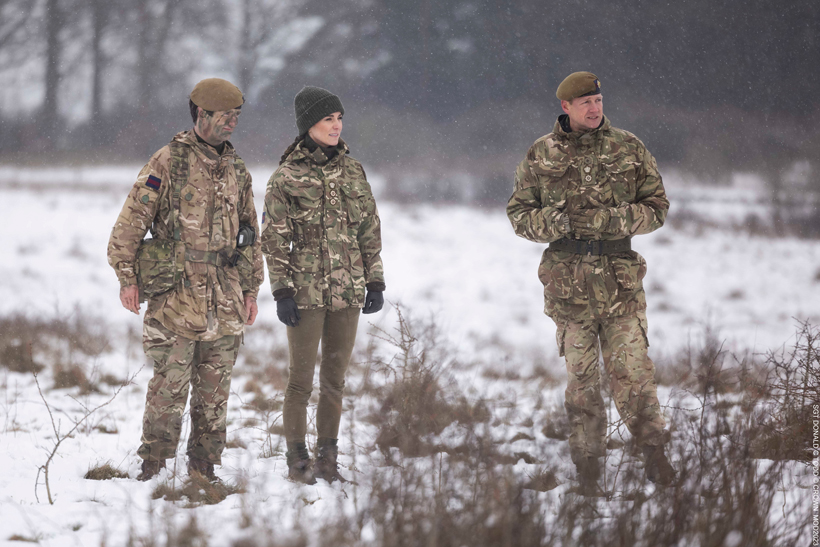 The visit was an opportunity for Kate to learn more about the Irish Guards' work and engage with the soldiers.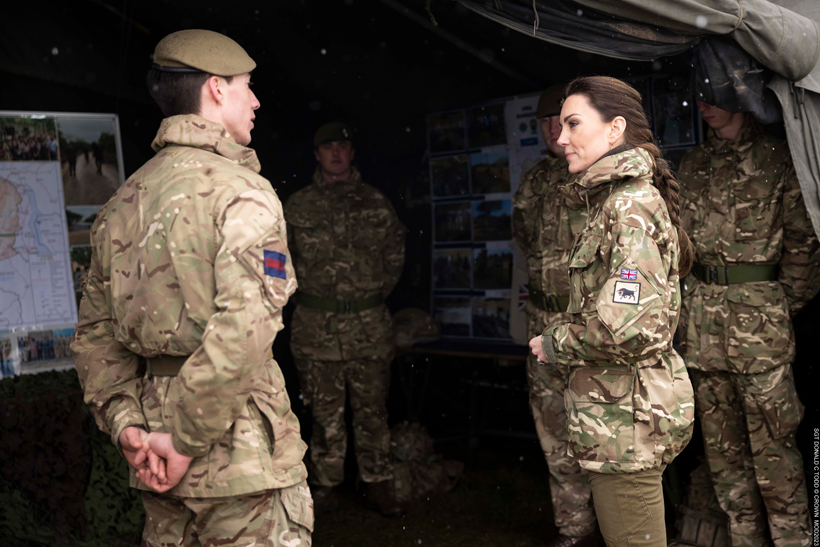 The Princess didn't hold back during her visit—she enthusiastically took part in exercises and training activities. She started by meeting Guards of the Number One and Number Two Company, both recently deployed on Security Force Assistance tasks across East Africa. The Guards train and assist foreign forces. Tasks in the programme include training park rangers on counter-poaching.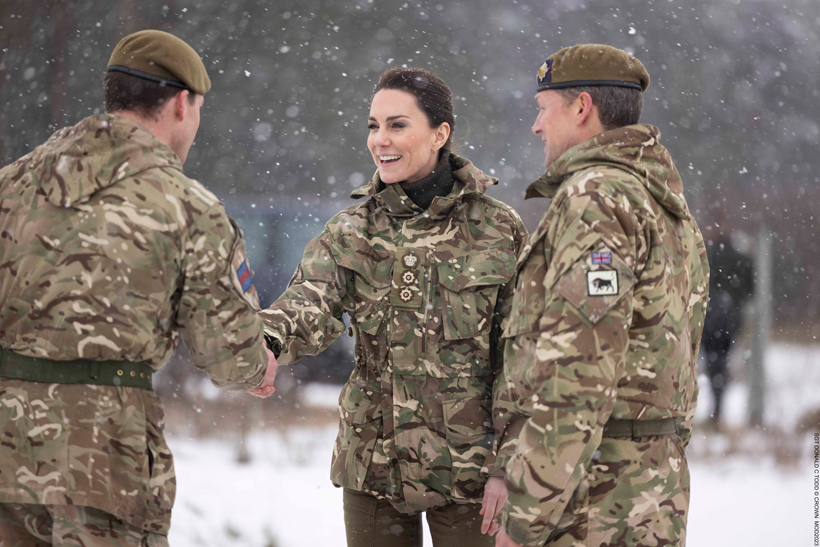 Then, she joined members of the Number Three Company for a medical training and casualty exercise, during which she participated in a casualty simulation to learn how to care for injured soldiers on the battlefield.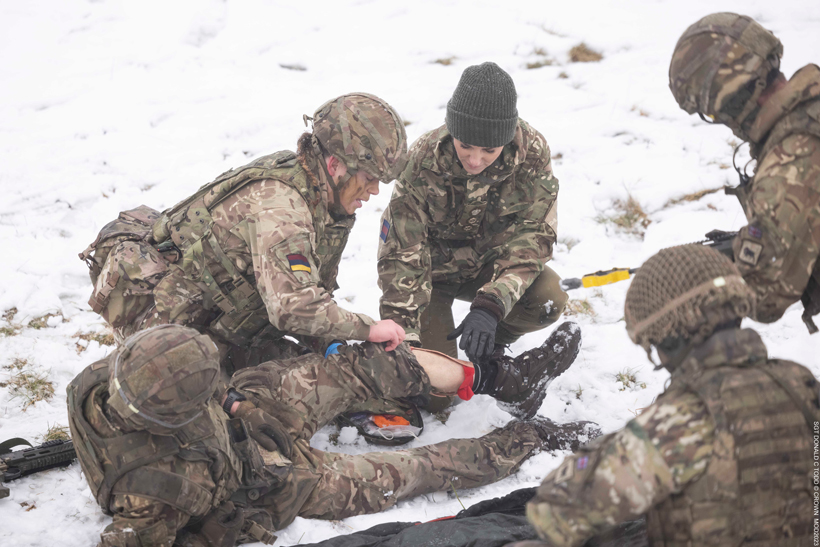 Next, the Guards briefed the Princess on the Counter-Explosive Ordnance de-mining training that is currently being delivered by the Irish Guards to Ukrainian Armed Forces.
The visit concluded with the Irish Guards demonstrating some of their weapon systems to the Princess.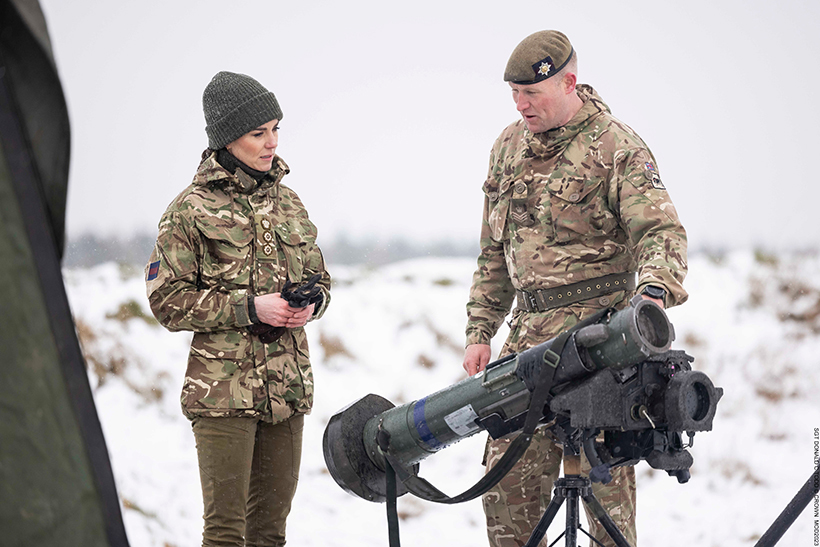 The Irish Guards are an Irish Regiment which has proven its loyalty and grit on many tough operations. The soldiers have the privilege of guarding the Royal Family.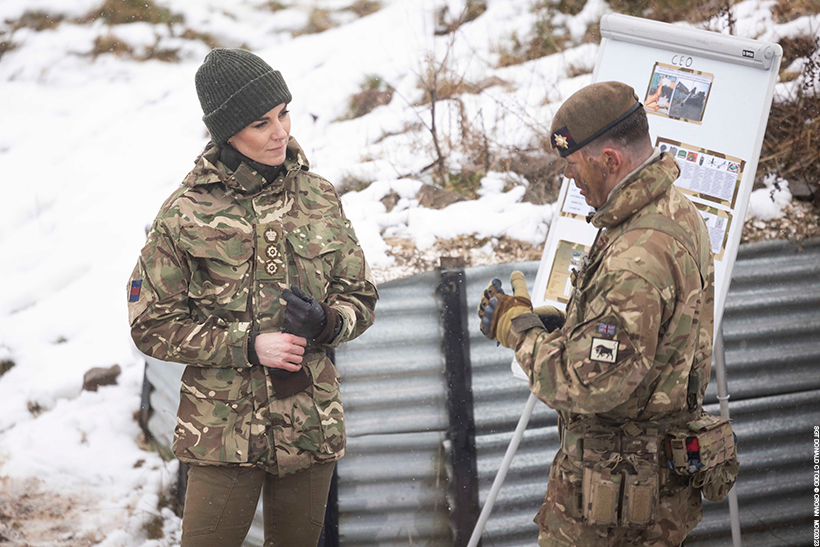 Kate took on the honorary Colonel role in December 2022. She succeeded her husband, Prince William, who'd held the role for over a decade. You'll remember the royals reshuffled some military patronages following King Charles' accession to the throne last year.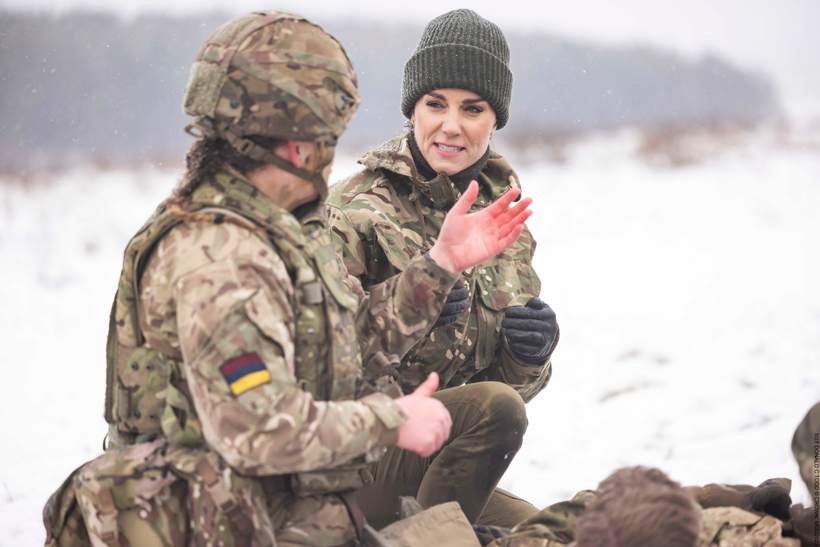 Prince William, who now holds the Prince of Wales title, took over as Colonel of the Welsh Guards. William and Kate visited the regiment earlier this month, on St. David's Day: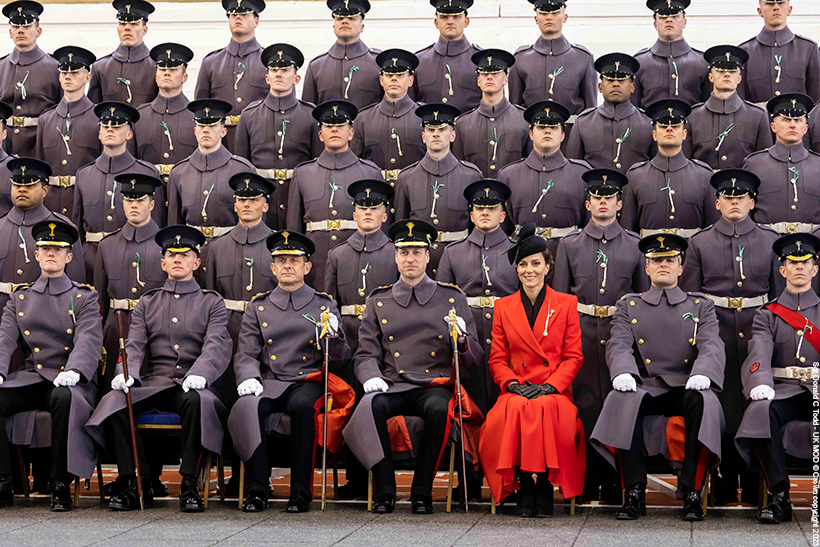 Regular readers will know Kate already has a relationship with the Irish Guards through her husband's previous role as Colonel. She visited their Barracks on many occasions— usually on St. Patrick's Day to watch the regiment's traditional annual parade. You'll probably remember her handing shamrocks to the officers and their four-legged mascots!
About Kate's Middleton's army outfit:
The Princess mixed official army gear with casual pieces from her own wardrobe. The outfit managed to strike the perfect balance between fashion and function—she looked combat ready, while maintaining her usual sleek, stylish edge befitting of a royal. The practical gear kept her warm and dry despite the snow.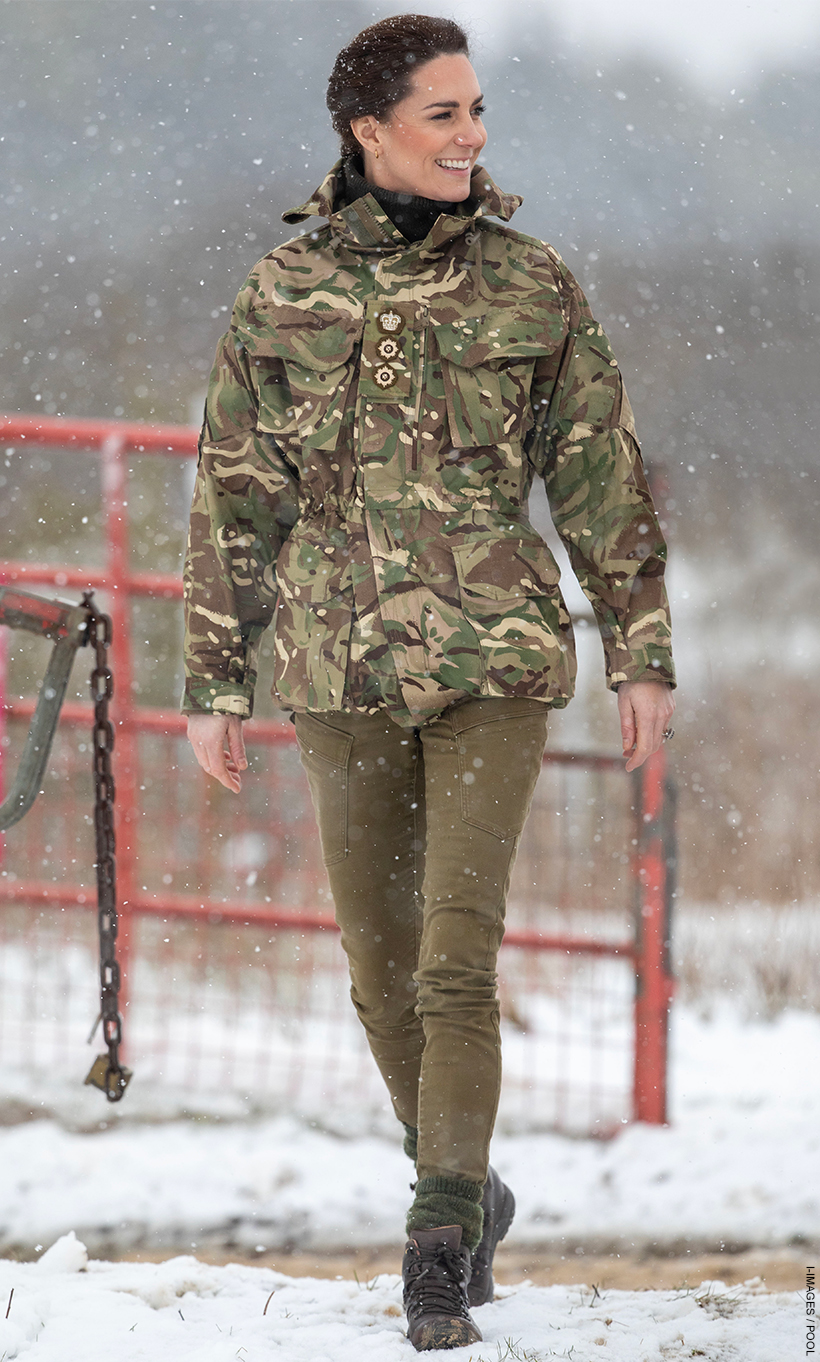 I won't write too much about her camouflage jacket. From what I gather, it is standard British Army issue, part of the Army's Personal Clothing System, designed with the standard Multi Terrain Pattern (shown below at Etsy). I'm certain Kate will have been given it to wear for the engagement. Plenty of sites do stock the jackets if you want to buy one—I read they're windproof and waterproof. Handy!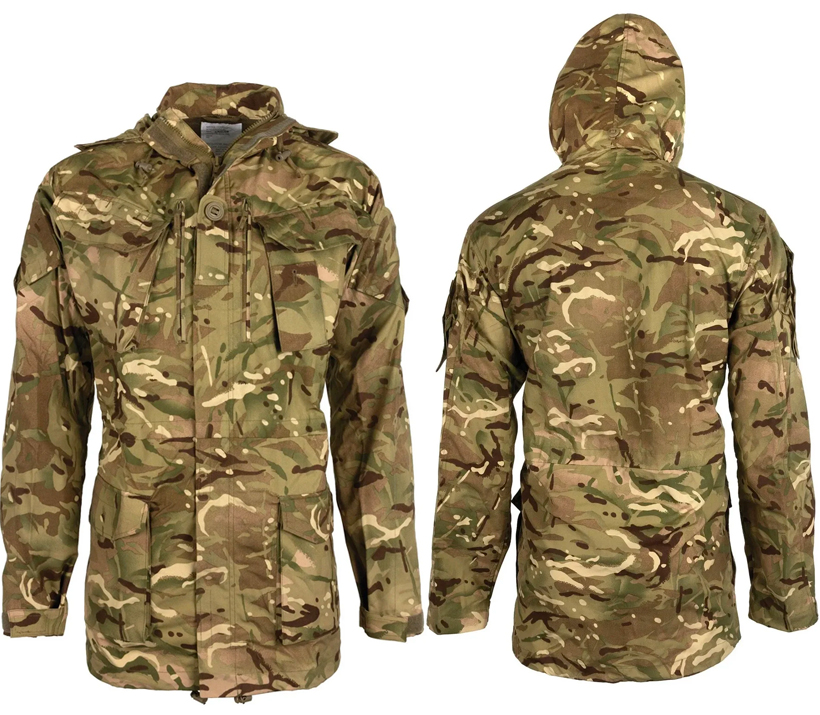 On the front of the jacket, you'll notice Kate's wearing three embroidered badges featuring a crown and two stars—from my extensive research (I Googled it), I can tell you this is called a Rank Slide and it's shows Kate's military rank as Colonel in Chief.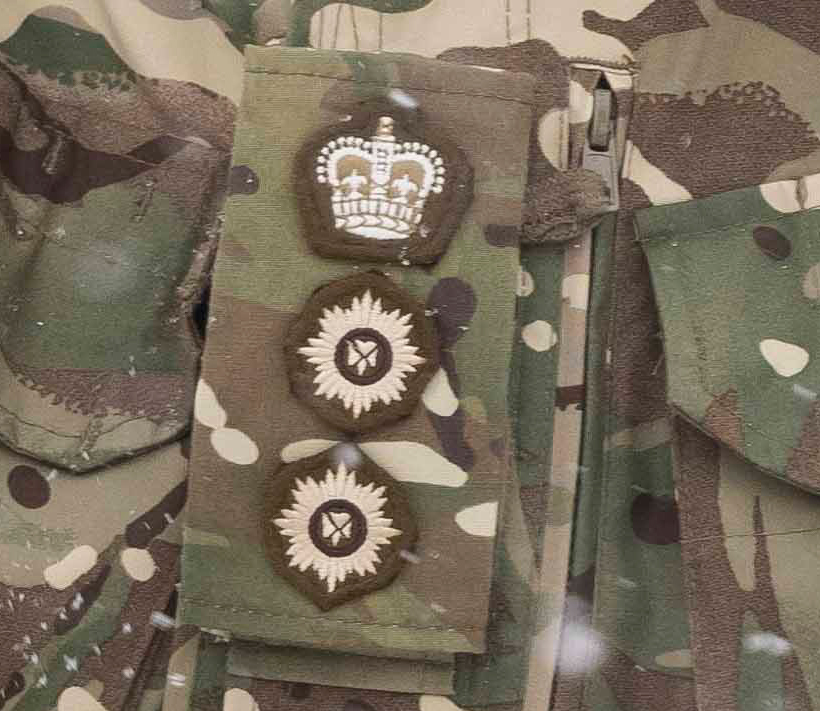 I wanted to share this fab jacket from Troy London (found by Middleton Maven) for anybody who does want to copy Kate's sleek military style without buying actual Army surplus gear. It's practically Princess approved—Kate owns this very jacket in two other colours already!
GET THE LOOK: Troy London Wax Jacket in Camo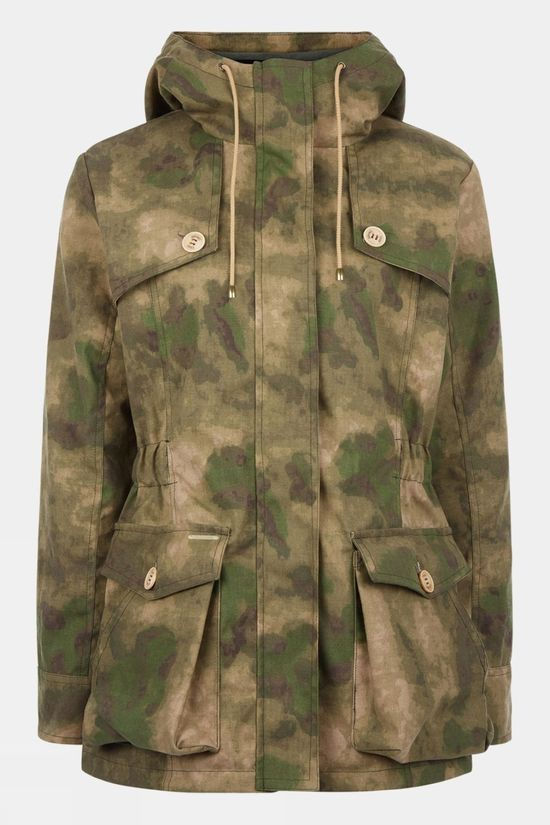 Combine fashion with function in this fab camo jacket from Troy London. Pair it with cargo trousers and boots for a chic, outdoorsy look à la Kate. Fun fact, the Princess already owns this very jacket in two other colourways (khaki and navy)!
Let's take a look at Kate's cargo trousers now. The slim-leg khaki green trousers are from G-Star Raw.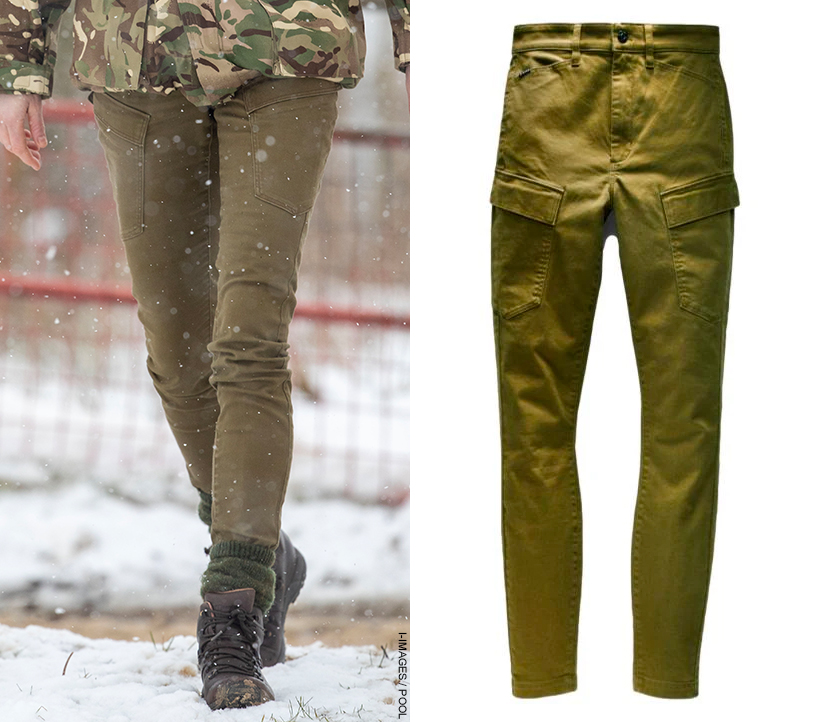 The trousers feature a high waistline and a skinny fit on the leg, plus they are cleverly designed with a shaped waistband to eliminate gaps. They're finished with deep pockets on the thigh, as well as additional inset front pockets and a single zipper pocket at the backside.
The pants are made from G-Star Raw's Bracket Superstretch Twill, a stretch woven fabric that offers added ease of movement. It's a cotton-elastane mix, which makes it comfortable and stretchy.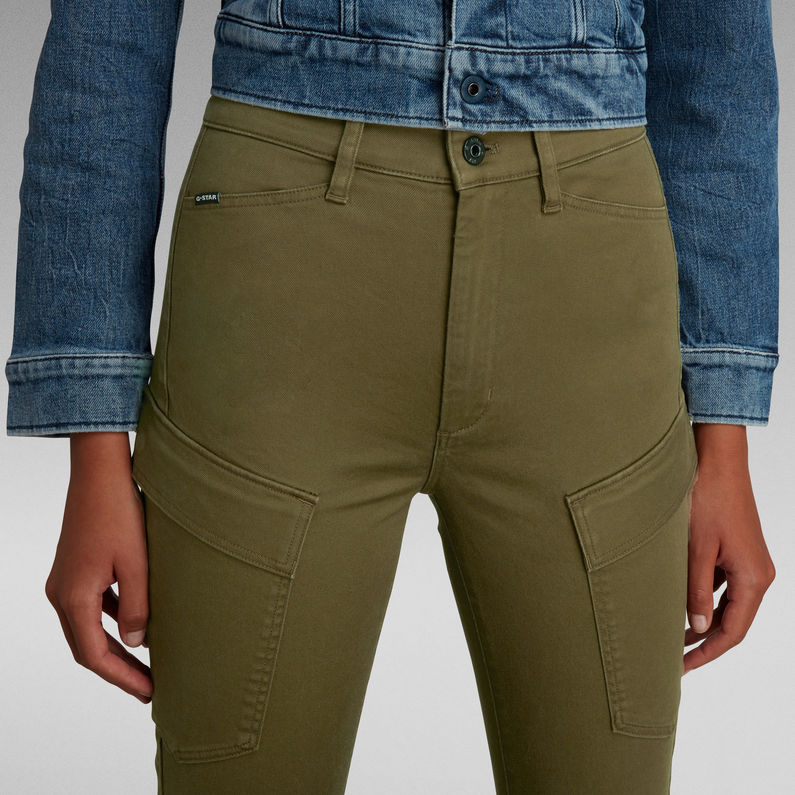 I would imagine Kate's attracted to G-Star Raw's dedication to sustainable manufacturing and reducing their environmental impact. It's clear the Princess is an advocate for sustainable fashion practices; in recent years we've noticed she's gravitated towards slow fashion brands. Today, a lot of her pieces are from environmentally conscious companies and collections.
I like G-Star Raw's commitment to transparency and accountability. They openly provide the names and locations of the factories that manufacture their products. G-Star Raw commits to paying their workers fairly throughout the supply chain, ensuring their workers work in a safe environment and healthy conditions, while protecting their human rights. I think it's fantastic that Kate uses her influence as a fashion icon to support companies with good ethical practices.
We last saw the Princess wear the skinny cargo trousers to walk around the ancient Mayan ruins in Belize last year (below):
Back then, Kate paired the olive green trousers with a simple white tee and her white Superga sneakers, finishing the look with a pair of Ray-Bans.
It doesn't look like Kate's exact cargo trousers (below left) are available to buy right now. Update: As of 10th March 2023, I can G-Star have restocked the cargo trousers in a few sizes.
For those who need a different size, try this almost-identical pair on G-Star Raw's website (below right)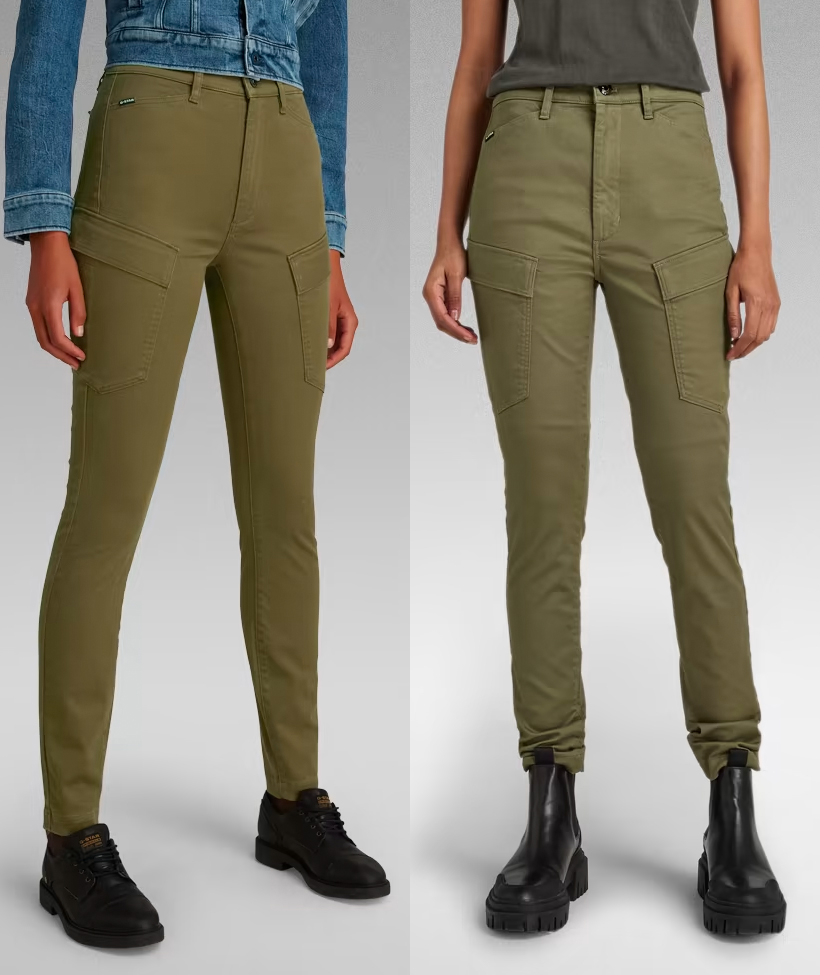 Left – the High G Cargo Shaped Skinny Pants as seen on Kate. Right – the newer pair from this season, the Kafey Ultra High Skinny Jean.
As you can see, both pairs are pretty similar. If you check the pockets, tab on the hip pocket and zipper on the back pocket, you'll see they're near identical.
The product descriptions are VERY similar for both pairs too. From what I can gather, they're both made from the same fabric. I think the cut of the newer pair is ever-so slightly looser, and the back pocket is slightly different too.
G-Star Raw is a Dutch brand founded in 1989. The brand specialises in making raw denim—an unwashed, untreated denim. G-Star is influenced by military clothing and the brand is known for its innovative and modern designs.
Kate wore the cargo trousers with her Berghaus walking boots. The Princess wears the Supalite II GORETEX style in brown.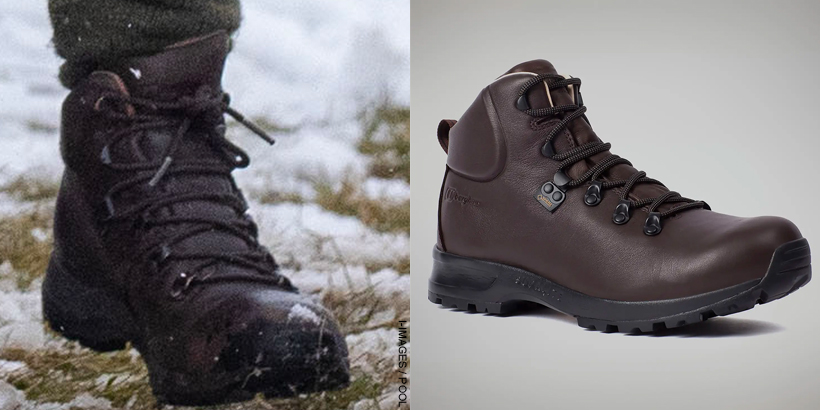 The boots are made from water-resistant leather, feature GORE-TEX performance technology for breathability and waterproofing, have a cushioned memory foam footbed for added comfort, and a specially designed outsole for traction on different terrains.
Berghaus want to tackle climate change and stop their products from ending up in landfill, so they offer a free repairs service, which I think is pretty great.
Berghaus is a British brand (although you'd think it was German from the name) that specialises in outdoor clothing and equipment. It was founded in 1966 by climbers Peter Lockey and Gordon Davison. The brand's mission is to create innovative and high-performance gear for outdoor enthusiasts and adventurers.
We've seen the Princess wear the boots on a handful of occasions since 2019.
The Princess wore a pair of green hiking socks with her boots. I can't provide any information about these, unfortunately.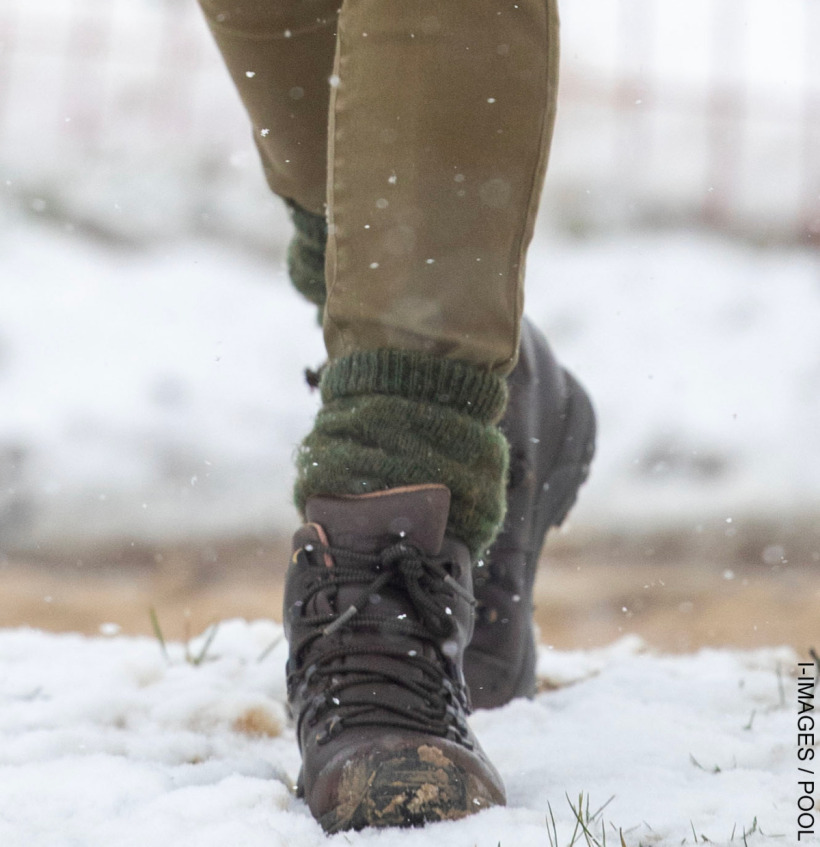 She also wore a very small pair of gold hoops in her ears—I don't recognise them. They feature a small 'bump' in the metal which could lead to their identification. I'll keep looking.
UPDATE: Agnieszka send me a direct message showing Kate's earrings could be the Spells of Love Detachable Teardrop Hoops in gold, I think she's correct.

Spells of Love sell the earrings with a range of different removable gemstone charms, including green onyx, opal, turquoise and Kate's birthstone, garnet.
Kate's worn Spells of Love on many occasions. We know she owns a necklace and two other pairs of earrings from the Welsh brand.
Spells of Love is a jewellery brand founded by designer Hayley Jones in 2016. From her studio in Wales, Hayley designs demi-fine jewellery with a unique aesthetic, beautiful craftsmanship, fine materials, and ethical practices.
During some of the snowier moments, Kate pulled on a woolly beanie hat and a pair of leather gloves, which appear to feature a brown ribbed cuff. Again—I can't tell you anything about those two items at the moment.
Update: Bojana thinks the Princess wore this cashmere hat from N.Peal when it snowed.
The moss green gat is made from 100% Mongolian organic Cashmere and it's finished with a chunky rib stitch. The cashmere has been coloured with organic dyes. It's a unisex hat. RRP: £135 currently £110.
Considering other fans think Kate wore an N.Peal sweater in Wales last week, it's a solid theory.
On an old page on their website, N.Peal say that the 'Duchess of Cambridge' has worn their garments previously, again adding weight to the theory.
Plus, a "celebrity style" website lists Kate as wearing a green cashmere polo from N.Peal in Abergavenny last year. (though take their IDs with a pinch of salt as I've seen a couple of incorrect items listed on their site personally.)
N.Peal is a British luxury cashmere brand that has been around since 1936. The brand is known for its high-quality cashmere garments, from classic sweaters to contemporary designs. N.Peal uses only the finest Mongolian cashmere to create its products, and its garments are hand-finished by skilled craftspeople. James Bond famously wore N.Peal sweaters in a couple of the movies, and we already know Kate's husband William wears the brand.
Let's look at the sweater Kate wore during the visit to the Irish Guards now. Middleton Maven cleverly identified it as Holland Cooper's Astoria knit in fern green.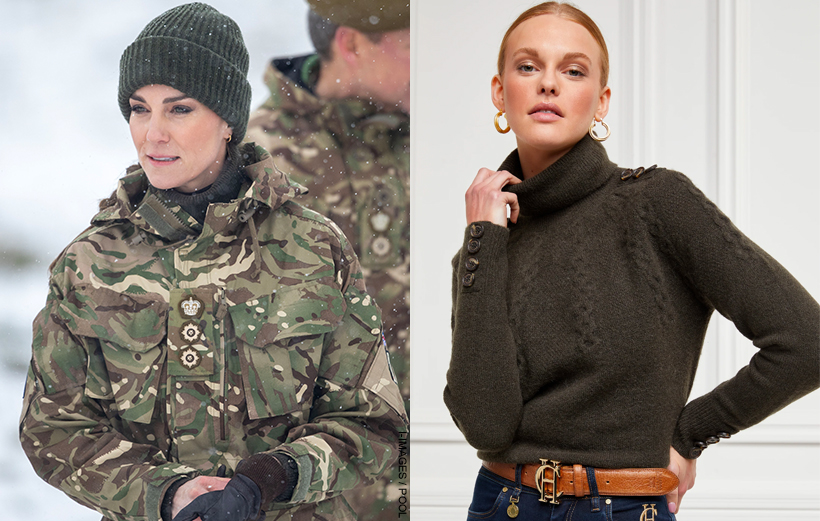 It was the button on Kate's cuff (below right) that gave it away.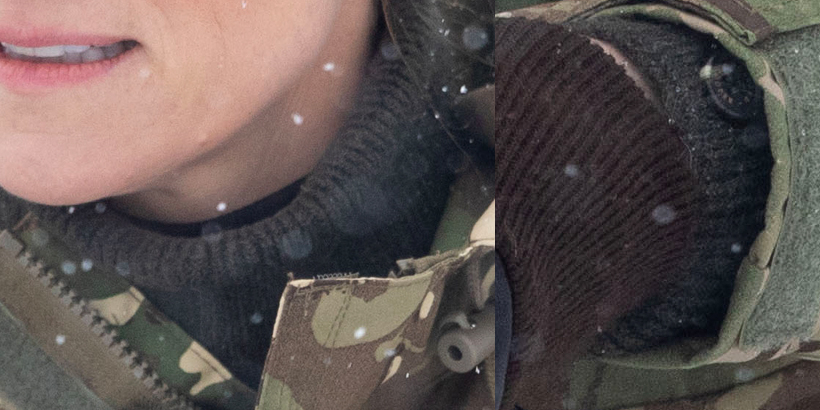 The stylish and cosy Astoria Roll Neck features raglan sleeves with ribbed cuffs. It's made from a premium blend of alpaca yarns, making it super soft. The garment features a delicate cable knit to the upper body and is designed with a slouchy, relaxed fit.
The knit is finished with the brand's signature horn buttons on the sleeves and shoulders.
We know the Princess is a fan of Holland Cooper clothing, she owns a pair of shorts, a bodysuit, a couple of sweaters and a couple of coats and jackets from the brand.
Holland Cooper is a British luxury fashion brand founded in 2008 by designer Jade Holland Cooper. The brand's designs are inspired by the British countryside and heritage.
Kate finished her look with a French plait, pulling her hair back off her face. The hairstyle appears to be a popular choice for women in the military—I guess because it keeps hair neatly out if the way (plus, it still looks nice). I suspect Kate chose the hairstyle for the same reason. I can't remember seeing Kate with her hair like this before, I love it.