Kate Middleton channelled military chic for her inaugural visit to Royal Naval Air Station Yeovilton in Somerset on Monday.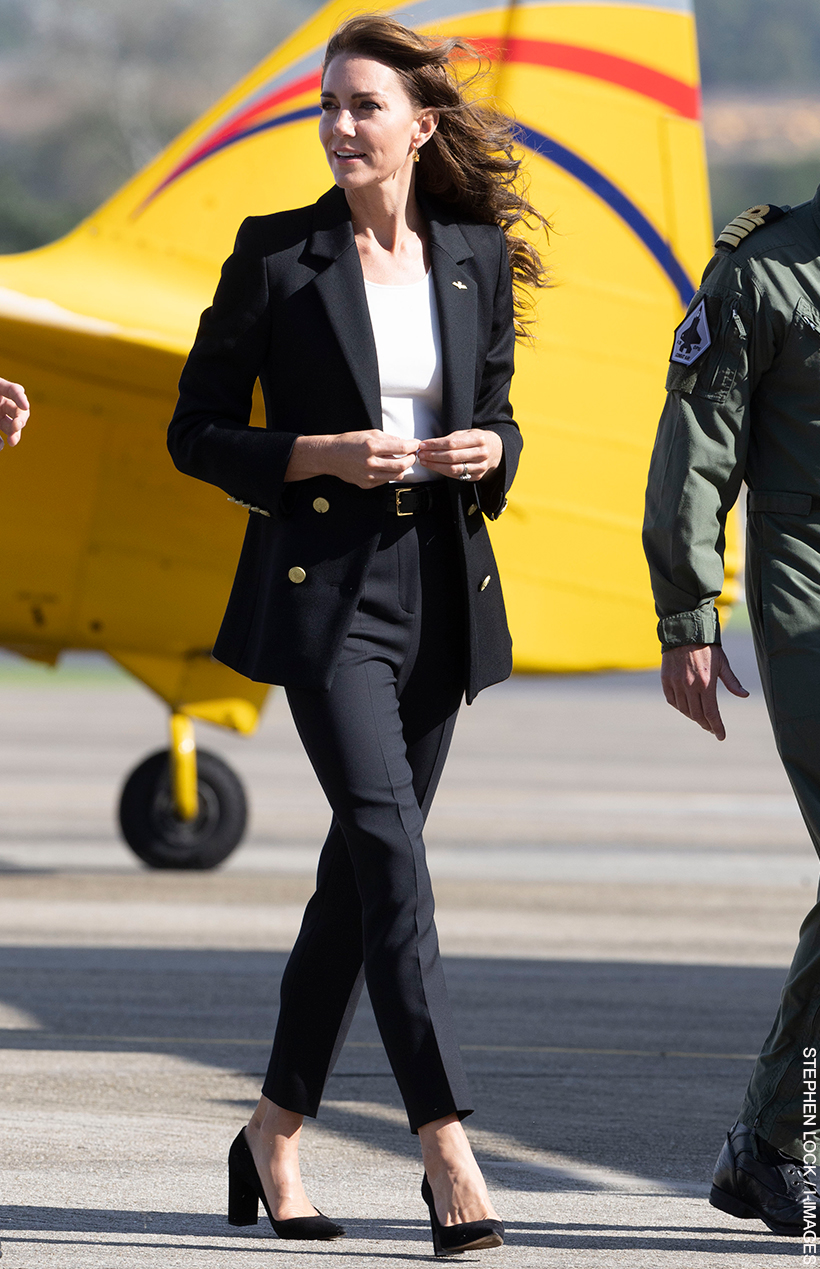 The Princess walked with the uniformed officers as she wore her own uniform of sorts—a blazer and trouser combo, a look we've seen her wear on repeat in recent months. On this occasion, she paired a double-breasted black blazer with gold buttons from Holland Cooper with tailored ankle-length trousers and sky-high block-heeled shoes by Gianvito Rossi.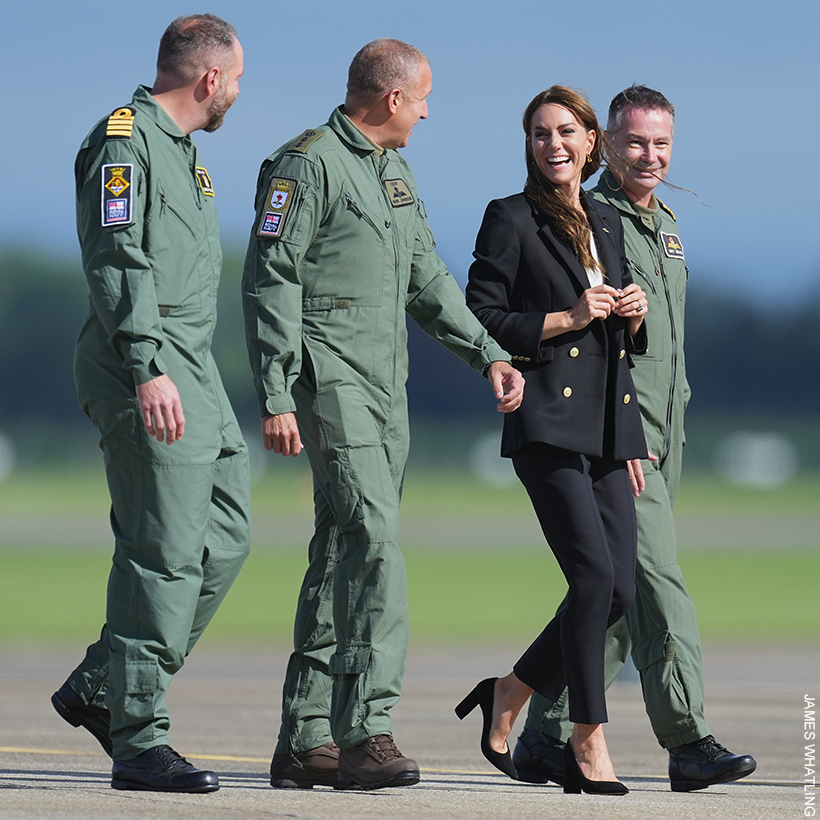 The naval air station is one of the busiest military airfields in the UK, making it an impactful location for Kate's first visit since her appointment as Commodore-in-Chief of the Fleet Air Arm — a role announced for the Princess by King Charles earlier this year.
The Princess began the engagement in the Air Traffic Control (ATC) tower, a pivotal nerve centre for the busy airfield. Here, she met the experts enabling the safe and operational flying output of RNAS Yeovilton and chatted with an airborne Wildcat crew. The Princess donned a headset:
The itinerary then took Kate to a hangar. Here, Her Royal Highness engaged with Royal Navy Survival Equipment (SE) Technicians who play a crucial role in ensuring aircrew are kitted out with essential life-saving gear. From flotation equipment to advanced helmets, the SE techs laid it all out. Not one to shy away from immersive experiences, Kate even got to participate in training exercises with the techs.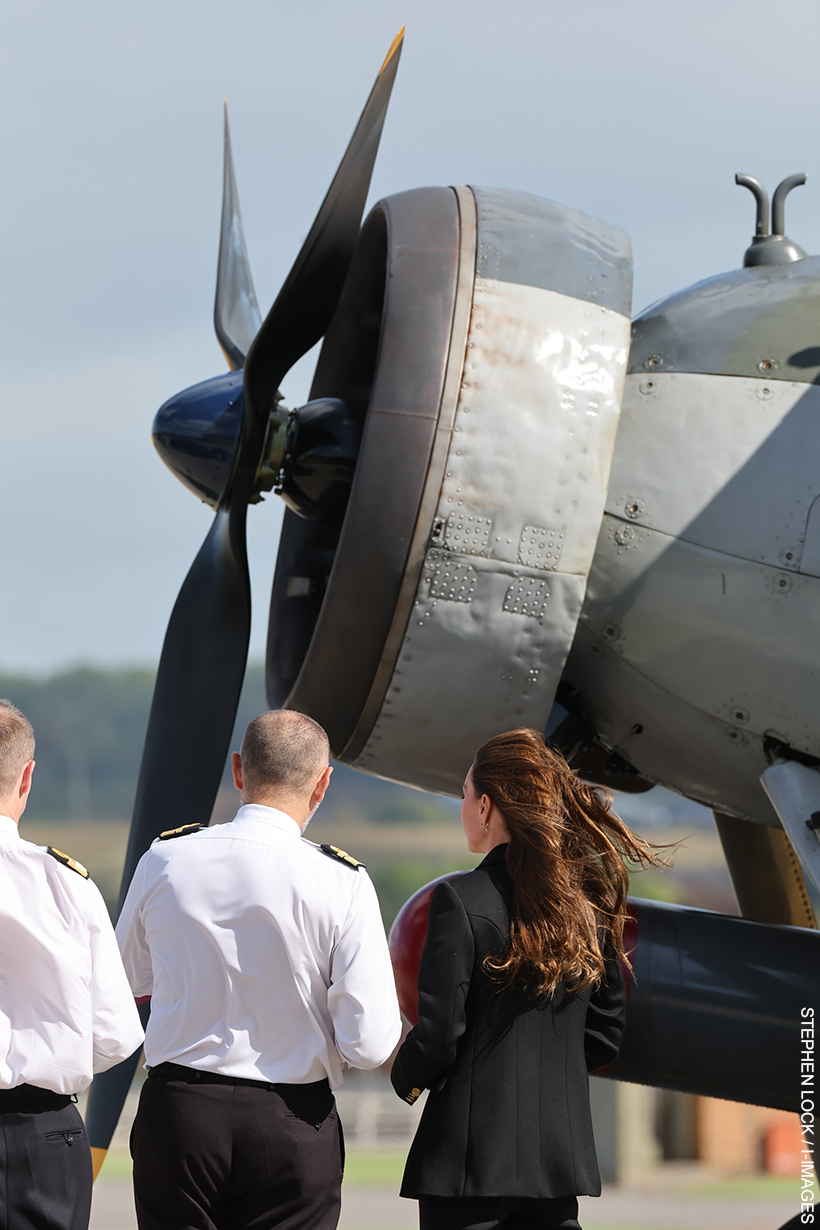 During one unscripted moment of the day, the Princess burst into a fit of giggles when a lifejacket she tried on inflated a bit too enthusiastically.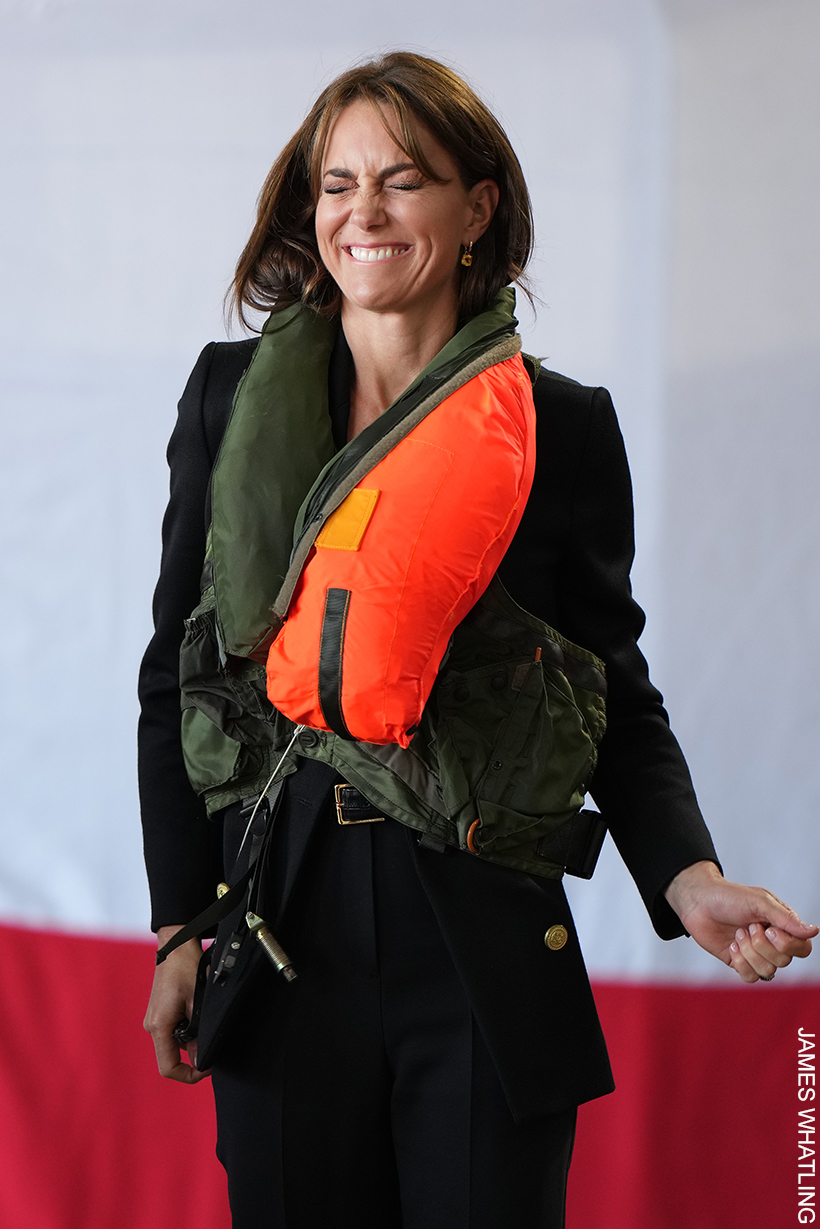 Louise Evans-Hughes, a leading survival equipment technician, shared her behind-the-scenes account, noting Kate's delight and a little surprise at the lifejacket's swift inflation.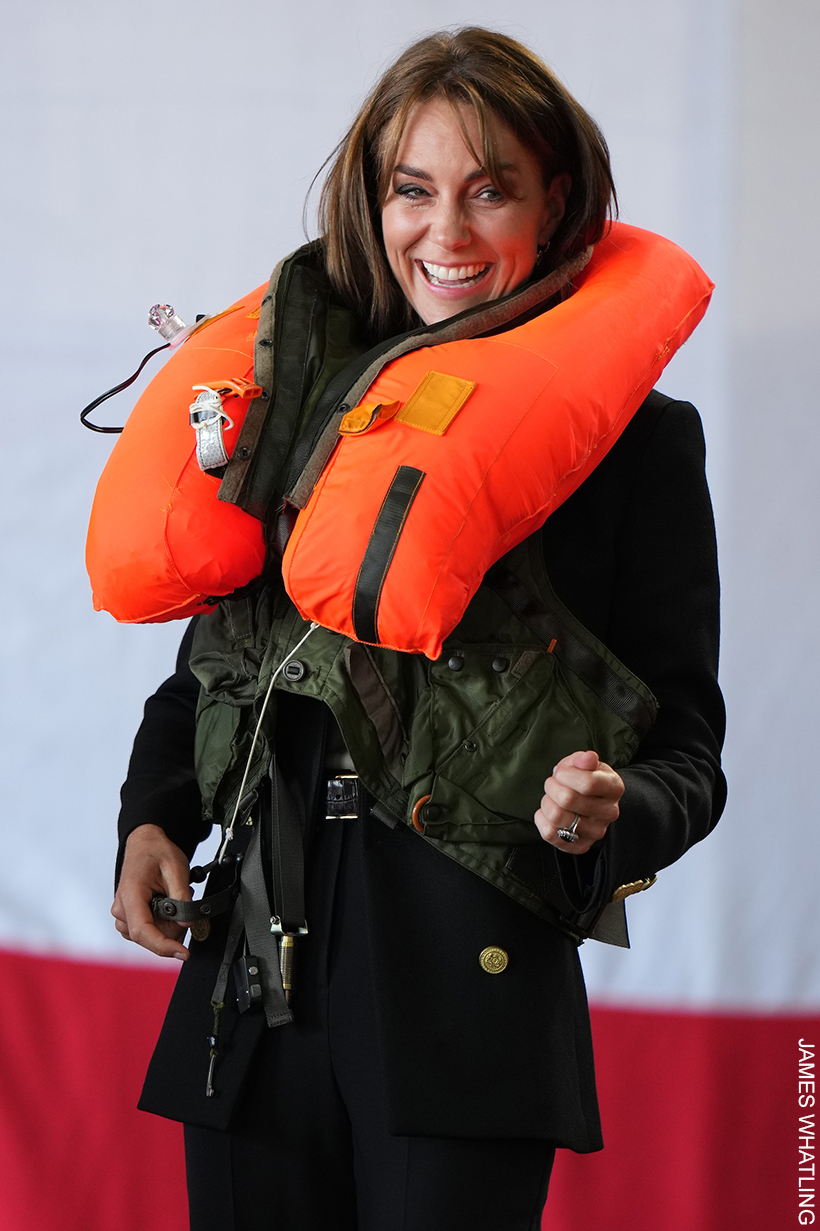 The tech said that she knew what was going to happen as soon as Kate agreed to put the lifejacket on, and that she appreciated the Princess for getting "really engaged" in her work.
Speaking afterwards, she said: "I told the princess there might be a bit of a bang because sometimes when the Velcro rips open there is a bit of a noise.

"I think that was why she was a bit apprehensive to pull it. As soon as she pulled it, it inflated.

"I gave the princess the option whether she wanted to put it on or whether one of my colleagues would put it on.

"I didn't know if she would or not, but it was really nice that she got hands-on and got really engaged in what we do and making the kit work."

Louise Evans-Hughes via ITV
Next, Kate toured two helicopters, the Merlin MK4, a global force in disaster relief operations, and the Merlin MK2, an Anti-Submarine Warfare platform versatile enough for disaster relief and training exercises alike. Kate was keen to discuss the various operational functionalities with the servicemen and women.
The day's events reached peak excitement at the Wildcat Training Centre. Here, Kate got a first-hand look at the art of weapon-fitting on the Wildcat MK2. She even tried her hand at flying a Wildcat MK2 in a simulator, which allows aircrew to practice flying over land or on to ships.
Let's move on to discuss the Princess's outfit now.
Kate's outfit at the airfield:
As I said up top, this look is fast becoming something of a uniform for the Princess. It used to be a rare occasion we'd see her in trousers–now it's virtually every engagement.
The blazer is from Holland Cooper. It's the company's Double-Breasted Blazer in Black Twill.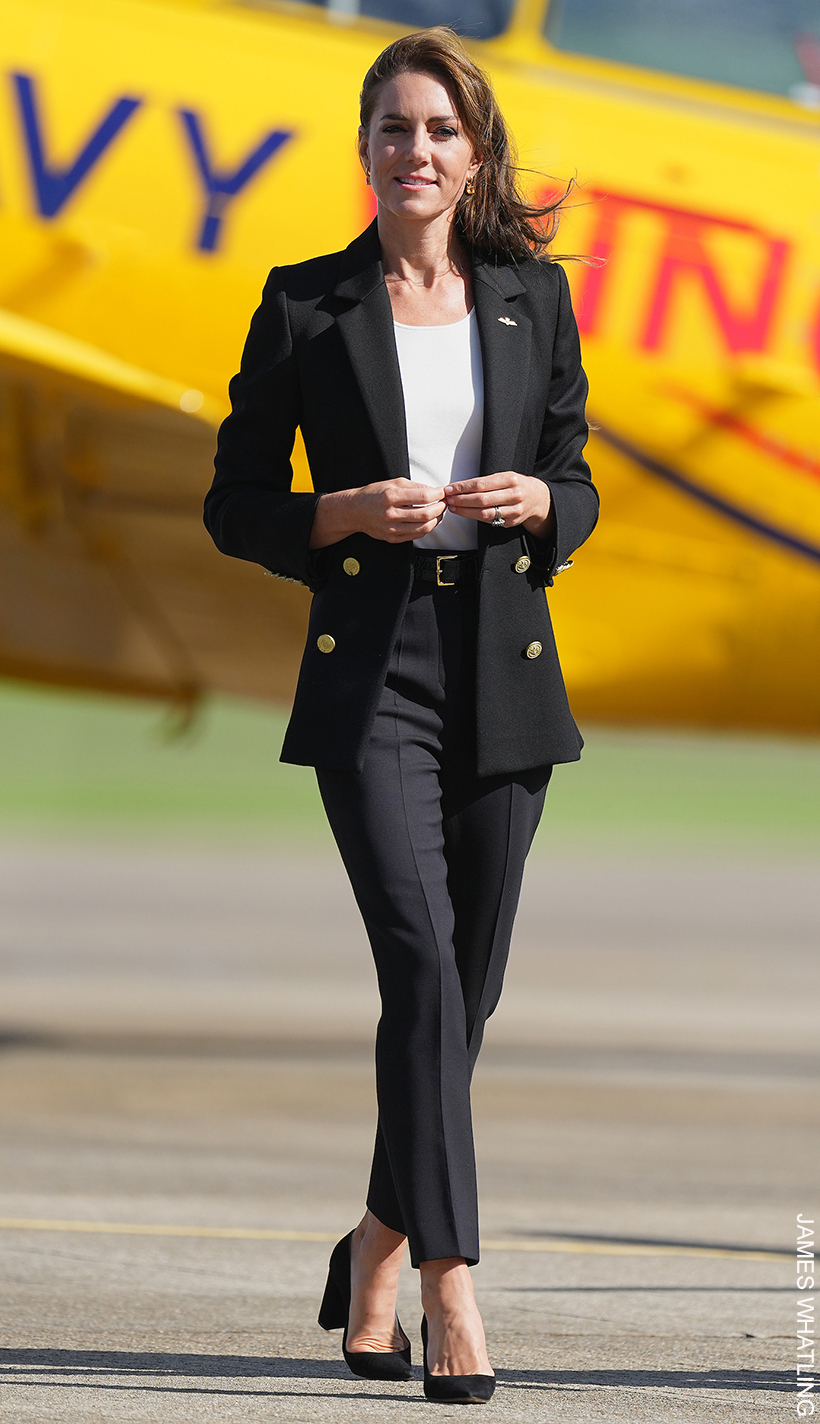 The jacket is meticulously crafted in England using UK-woven wools. With its sharp tailored silhouette, gold HC signature buttons, and luxurious satin lining, this blazer elevates any look instantly. It's designed for a slim fit.
Before you rush to add this beauty to your cart, be prepared to invest. The item retails for a price that reflects its craftsmanship and luxe materials: it costs £549. It's available from HollandCooper.com in UK sizes 6-16. (And actually comes in 17 other colour options).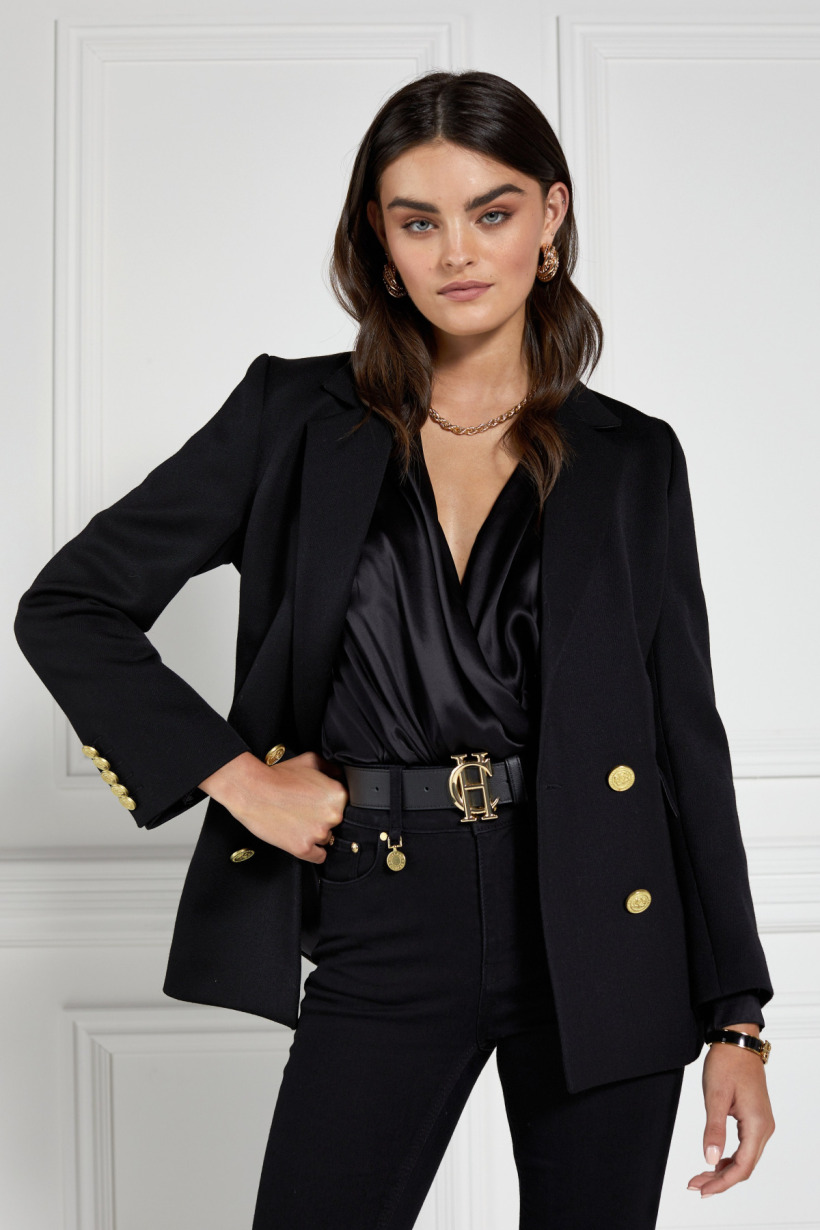 This isn't the first time the Princess has sported this elegant blazer. Fashion enthusiasts may recall Kate donning the same piece during her 2020 Royal Visit to Scotland. Specifically, the blazer made appearances at St Andrews University and in the charming village of Pittenweem.
Holland Cooper is a brand that has become a growing presence in Kate's closet, and it's not hard to see why. Known for their quality craftsmanship and British heritage fabrics, Holland Cooper has offered the Princess a variety of styles that speak to both her formal engagements and her more laid-back outings. Over the last couple of years, Kate has integrated various pieces from the brand into her style repertoire—everything from sophisticated coats to a sleek bodysuit, a cozy sweater, and even a pair of shorts. Clearly, the brand's versatility and attention to detail align seamlessly with Kate's fashion sensibilities, making it a go-to label for royal engagements and beyond.
Kate wore a simple white tee under her blazer jacket, plus black ankle-length trousers with a crease pressed down the front. Unfortunately, I cannot tell you anything about either piece. They remain mysteries for now…
Kate wore her Anderson's Black Croc-Effect Leather Belt with her trousers.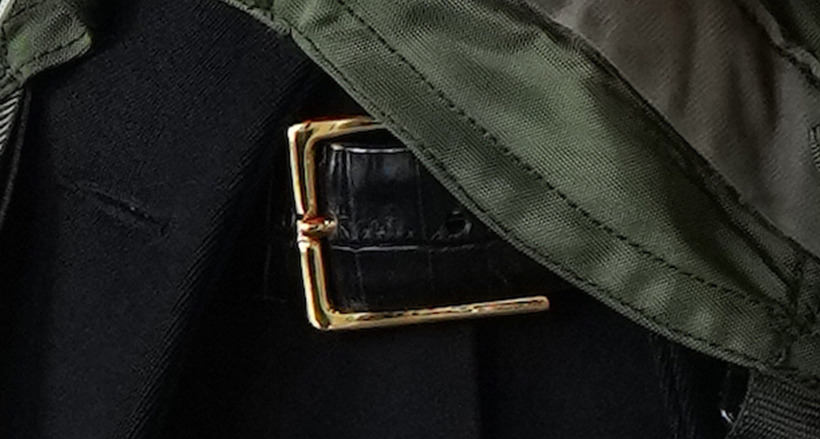 This Italian-made gem is far from your average belt. Artisans employ a meticulous 100-step process to craft its croc-effect leather, culminating in a luxe finish that secures with a gold buckle.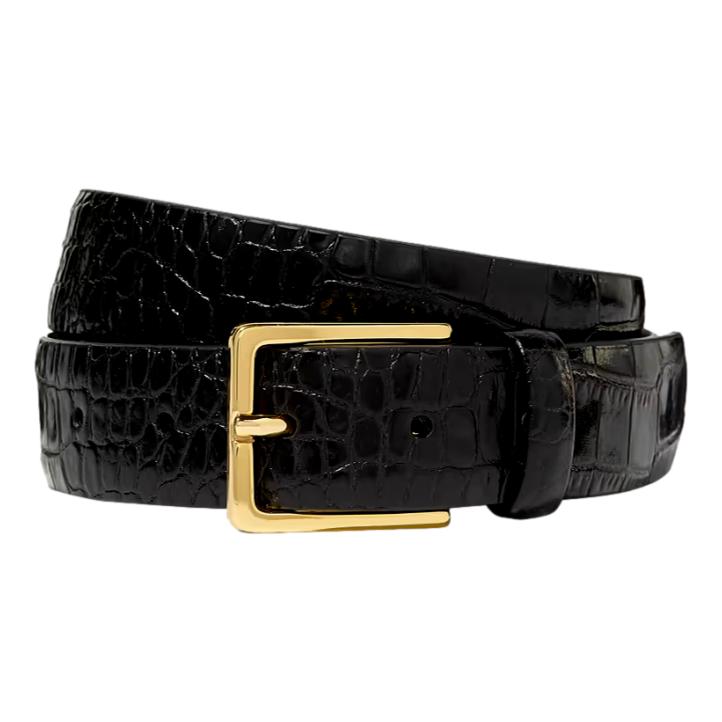 Ready to snag one for yourself? It's available at Net-A-Porter.com and retails for £105 GBP or $190 USD.
This belt is clearly a favorite of the Princess, having been spotted on her at least eight times since its public debut in 2020. It's her go-to for pulling together those effortlessly chic looks we all love.
When it comes to leather goods, Anderson's is a brand that knows its stuff. Founded over half a century ago, the brand has garnered a reputation for high-quality, impeccably crafted pieces. From their Italian workshop to your wardrobe, every item goes through rigorous quality checks to ensure it meets the brand's high standards.
Kate's shoes will be familiar to any regular readers of this blog. They're by Gianvito Rossi, the Piper Block Heel Pumps in black suede.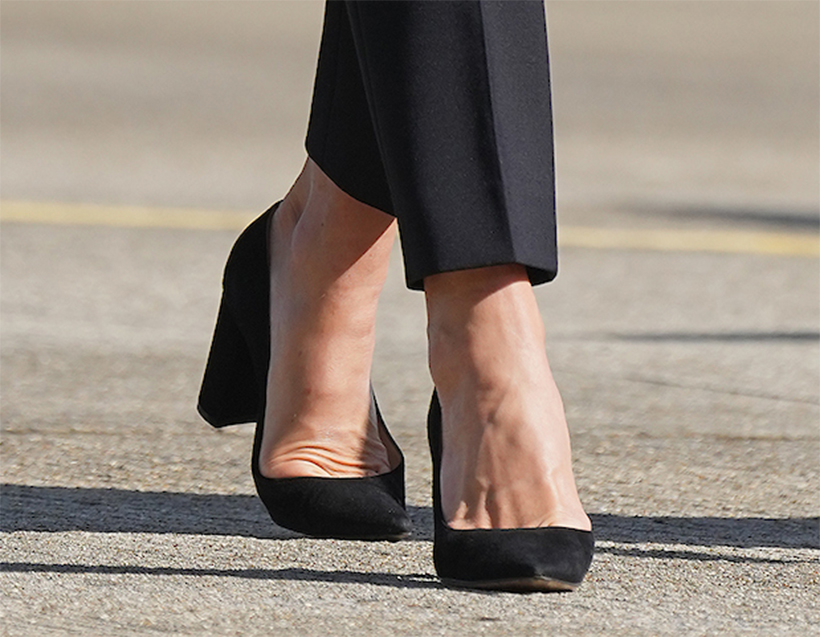 Designed with a pointed toe and a sturdy 85mm block heel, these Italian-made pumps are anything but basic. Crafted in buttery black suede and equipped with a leather insole, they promise comfort without compromising on style. Looking to add these to your collection? Find them at Net-A-Porter.com (£650 / $795) and MyTheresa.com (£618 / $755) in black for (other colours and currencies available too).
Kate's fondness for these pumps is apparent. She's worn them on at least 16 different public occasions since their debut in 2019. She's worn the versatile shoes with coat dresses, wide-leg trousers, summer frocks, skirt suits, and more. They've proven to be adaptable to both casual and formal looks.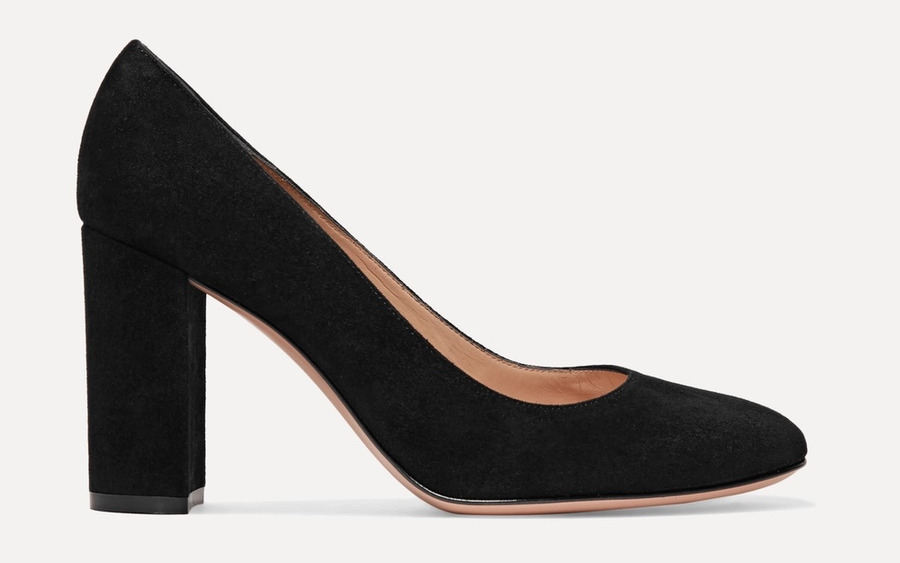 If you're in the know about luxury footwear, you're likely already familiar with Gianvito Rossi. The brand is renowned for its modern yet timeless designs that don't skimp on comfort—a clear winner for anyone needing to look polished from morning until night.
Built on Italian craftsmanship and an eye for detail, Gianvito Rossi consistently delivers on quality, making it a regular fixture in the closets of discerning fashionistas—including, of course, the Princess herself. We know that Kate owns more than 20 pairs of Gianvito Rossi shoes.
Let's finish by looking at Kate's dazzling gemstone earrings, the Cushion Citrine Detachable Drops by Kiki McDonough. These captivating earrings feature bright citrine stone set in 18ct yellow gold.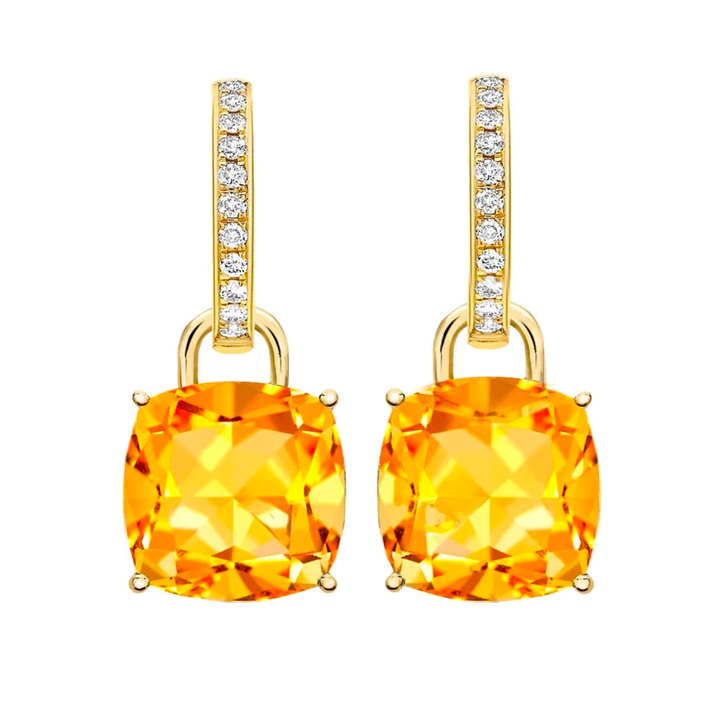 Interested in snagging a pair? You can buy them directly from Kiki McDonough's official website, which offers worldwide delivery (RRP £900 cushion only, $1,600 with diamond hoops). Also find at FarFetch.com ($2,410 USD with diamond hoops).
Kate usually mixes and matches her citrine drops with either a pair of diamond or plain hoops, also thought to be by Kiki McDonough. Though, on this occasion, we're thinking she might have attached them to a new hoop, with a straighter edge where it enters the ear, which falls into a curve. It certainly looks like it (see below).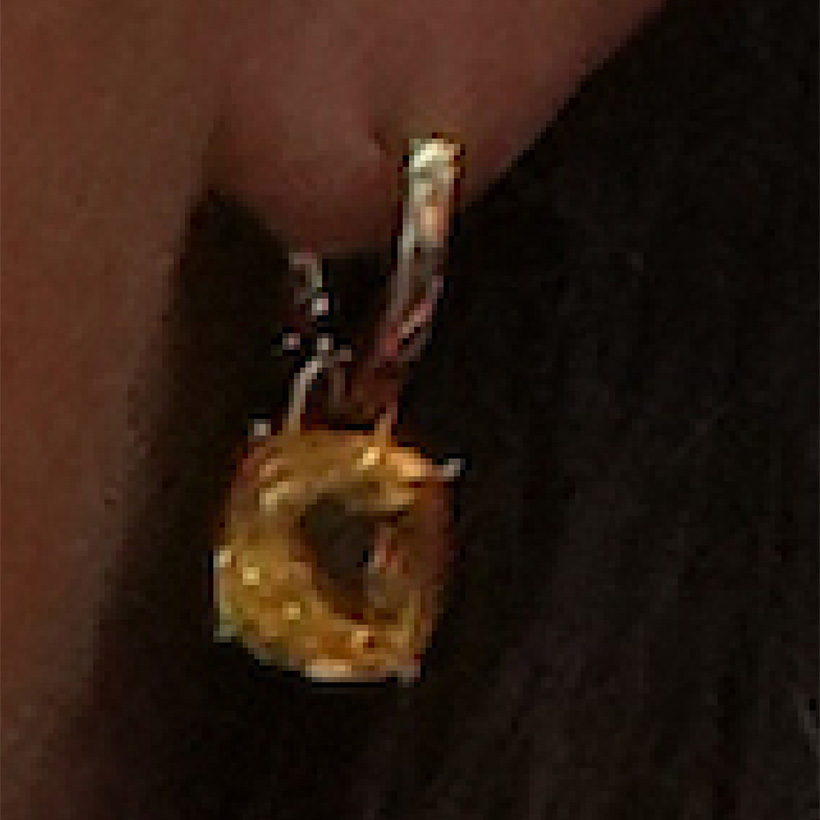 The citrine detachable drops first caught our eyes when Kate sported them at the Cheltenham Festival back in 2013. Clearly a fan of the brand's detachable drops, she's added three more pairs to her jewellery box since—pink morganite, white quartz, and green amethyst.
If you're wondering how committed Kate is to Kiki McDonough, let's just say it's not a fleeting fashion fling. The Princess owns an impressive 21 pieces by the British jeweller—18 pairs of earrings and 3 necklaces to be exact. And that's saying something, considering she only owns 6-7 items from her next most-worn brand, Sézane.
Kiki McDonough has become something of a staple in Kate's royal style, and it's not hard to see why. The brand is renowned for its sophisticated designs, exceptional quality, and a touch of contemporary flair.