It's likely that we'll see Kate Middleton wearing a tiara VERY SOON.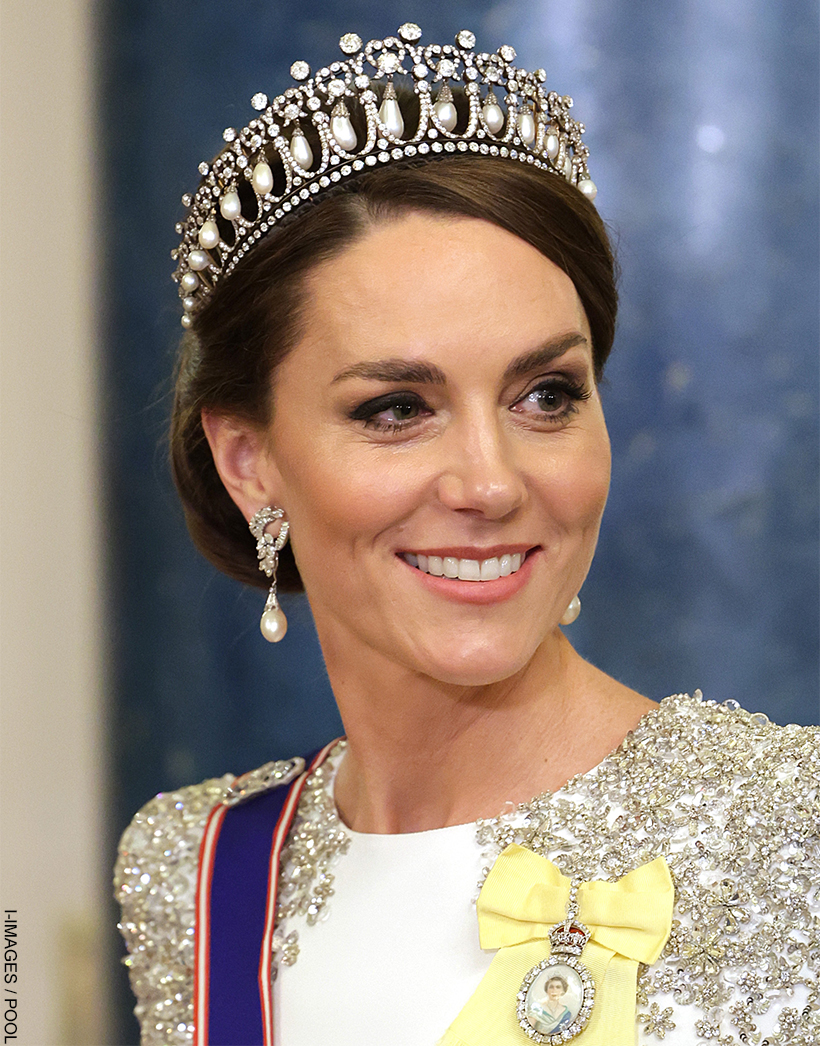 Buckingham Palace have just confirmed that South Korean President Yoon Suk Yeol will visit the UK later this month and the royals will hold a State Banquet in his honour!
While nobody has explicitly confirmed the royal dress code for the grand event, we expect Kate will sprinkle some sparkle in the ballroom. After all, nothing screams "tiara time" louder than a royal State Banquet.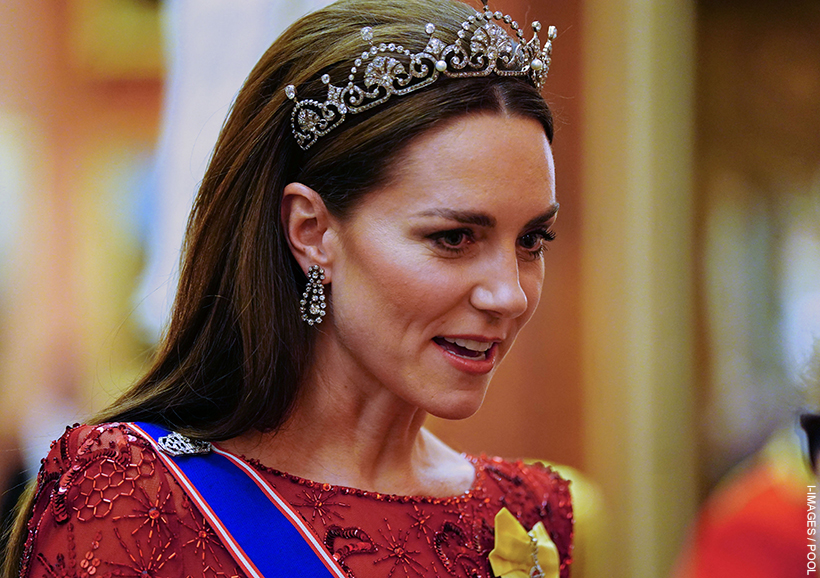 The Princess has worn several tiaras at State Banquets in recent years, so I fully expect to see her wear one again this November.
Kate's last State Banquet took place a year ago. She wore a tiara on that occasion.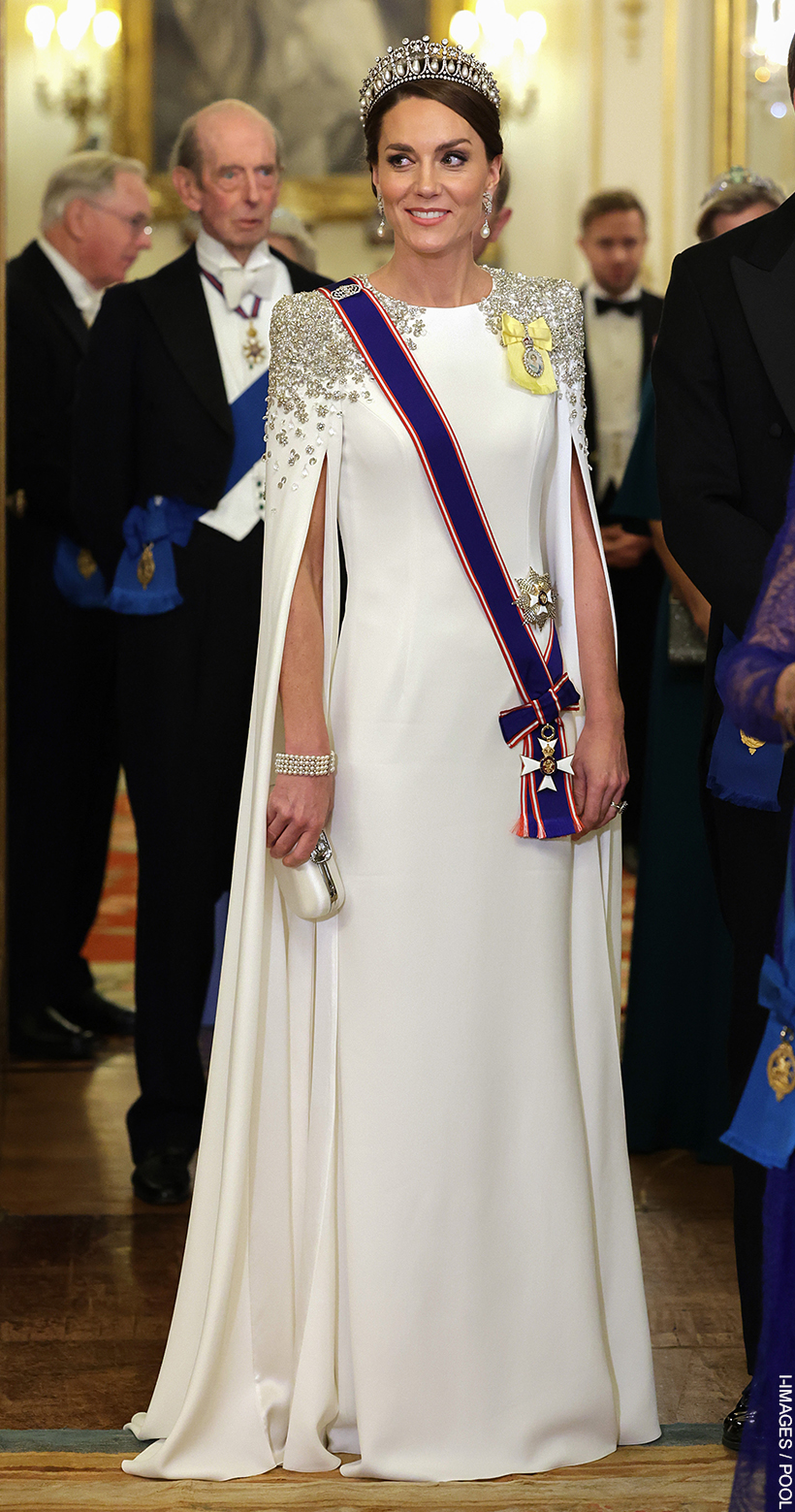 She looked the epitome of elegance at a State Banquet for South African President Cyril Ramaphosa. She chose a head-turning white cape gown by Jenny Packham, which she topped with the storied Queen Mary's Lover's Knot Tiara.
Just a fortnight later, Kate opted for her second tiara of the year, at the Buckingham Palace Diplomatic Corps Reception. She wore another Jenny Packham gown, but this time in a striking shade of red, paired it with the fabulous Lotus Flower Tiara, another royal heirloom.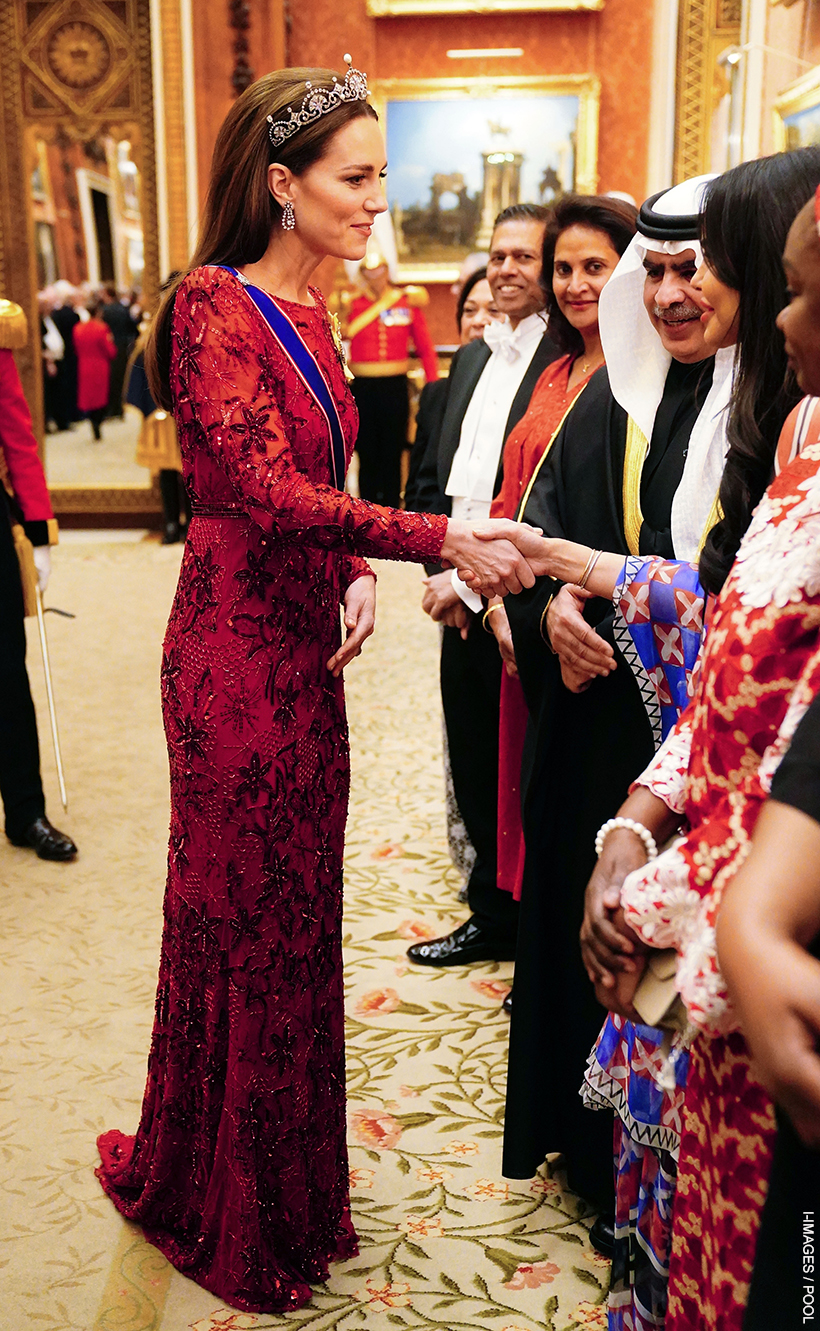 If—as we suspect—full regalia is on this menu for this month's State Banquet, it'll mark Kate's second tiara moment of 2023.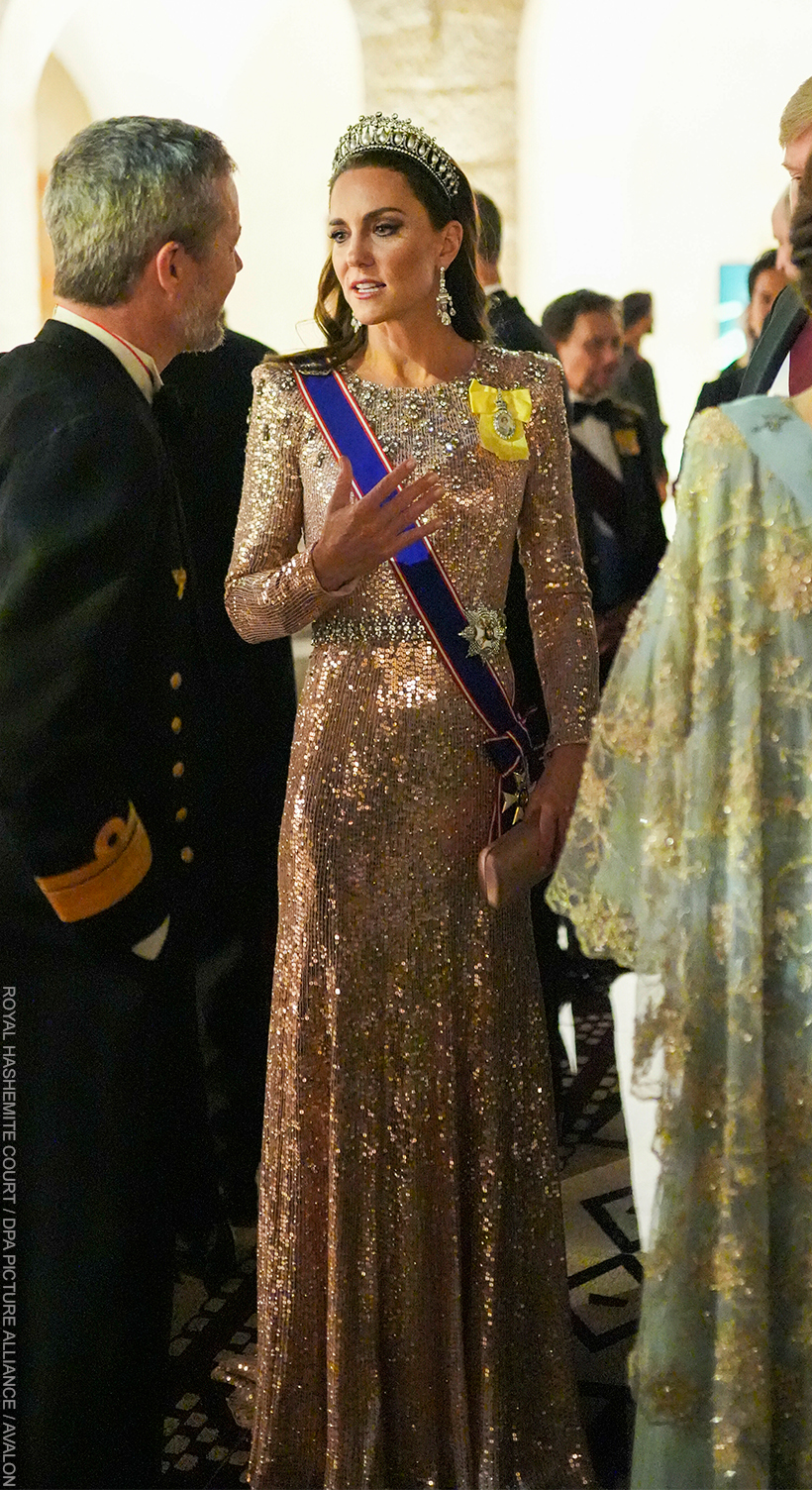 The Princess adorned the Queen Mary tiara during the Royal Wedding in Jordan, earlier this summer. For the grand occasion, Kate paired the Lover's Knot Tiara with a shimmering sequinned gown by Jenny Packham in blush pink.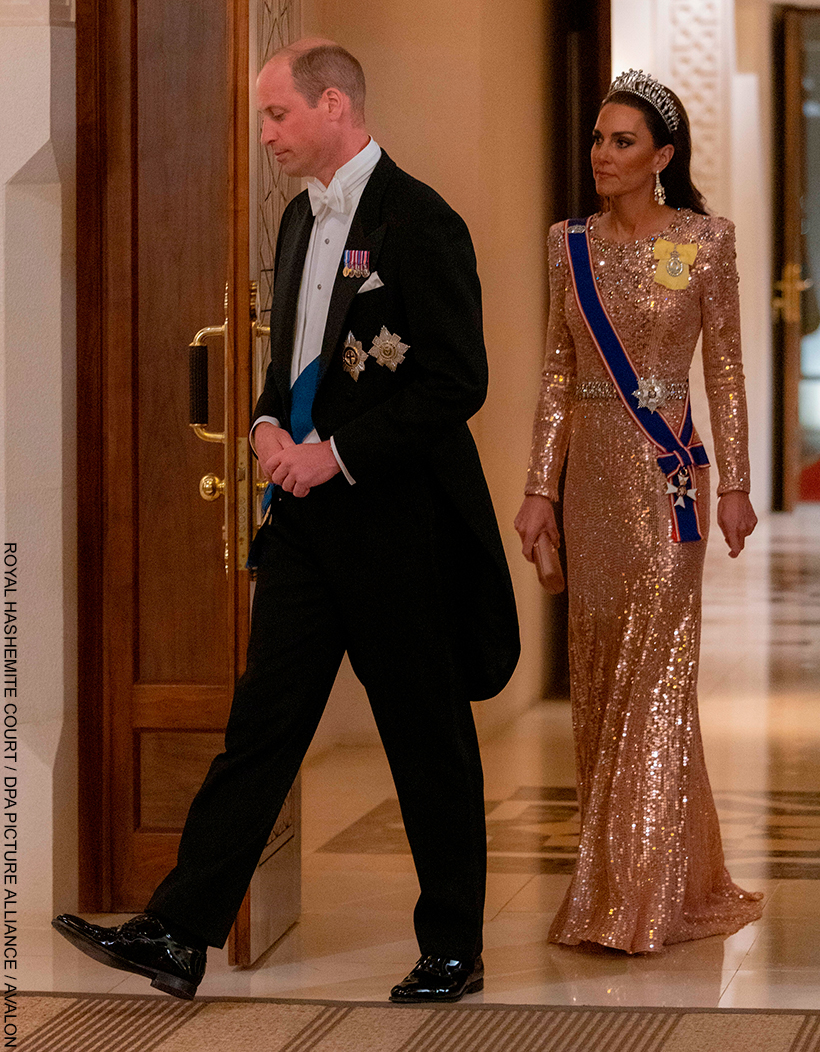 Which Tiara will Kate wear for the South Korean State Banquet?
As the State Banquet draws near, it's fun to speculate about our next possible tiara sighting.
If all goes as expected, and Kate attends wearing a tiara, I think it's likely we'll see the Queen Mary Lover's Knot again as it's her go-to. Personally speaking, I'm a fan of the Lotus Flower tiara, Kate's second favourite gem-encrusted headpiece.
But as always, I've got my fingers crossed that we'll see something new from the vault….! It's always fun to see the Princess debut a new royal heirloom and dive into the history of the piece. And she should have quite the array to choose from!
Do you have any tiara preferences? Let me know in the comments below.