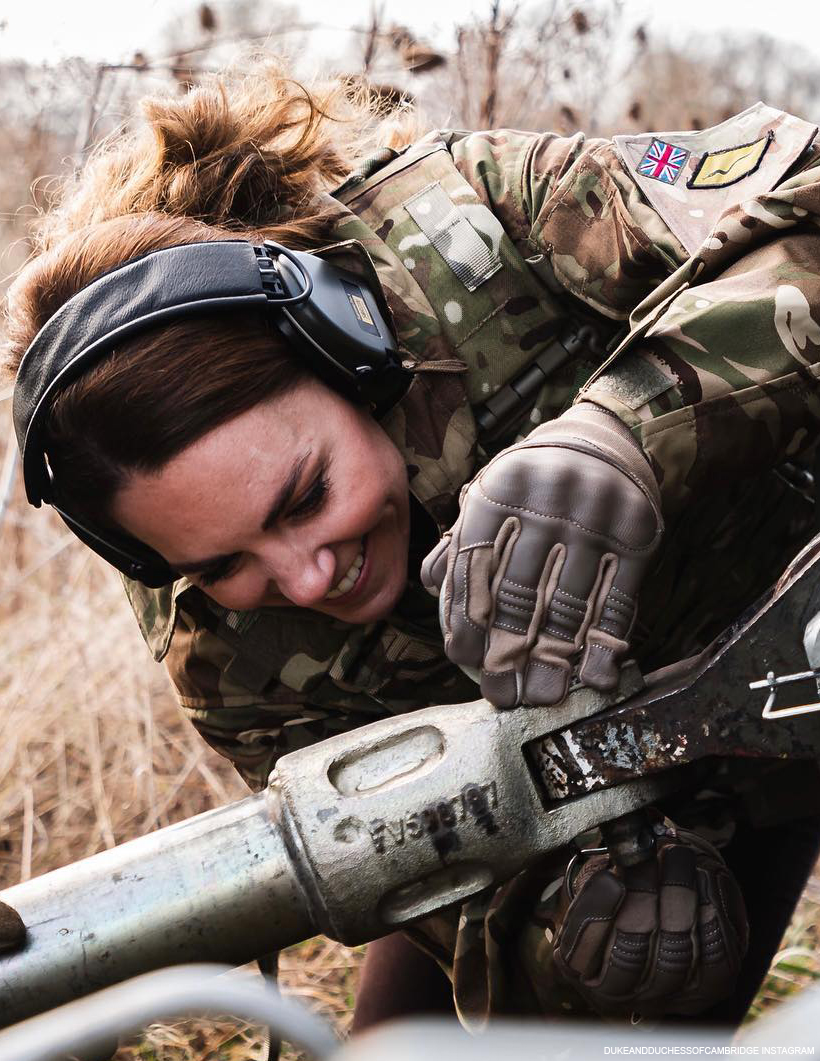 Kate shared a personal message on social media this morning (25th June 2022) to mark Armed Forces Day. She took to Twitter and Instagram to pay tribute to all the "brave men and women, past & present, serving in all of our armed forces, at sea, on land & in the air, here in the UK and around the world."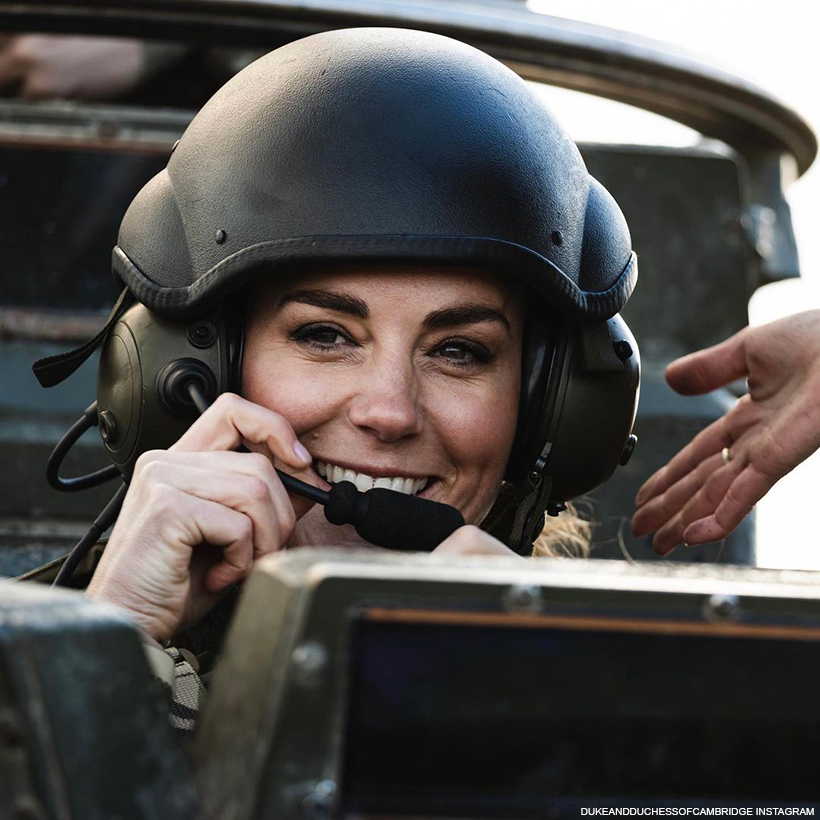 The Duchess thanked all Armed Forces and their families for the "sacrifice to keep us safe."
New photographs of the Duchess accompanied the message. In some photos, Kate could be seen undertaking training exercises wearing military uniform. In others, she is dressed casually chatting with personnel.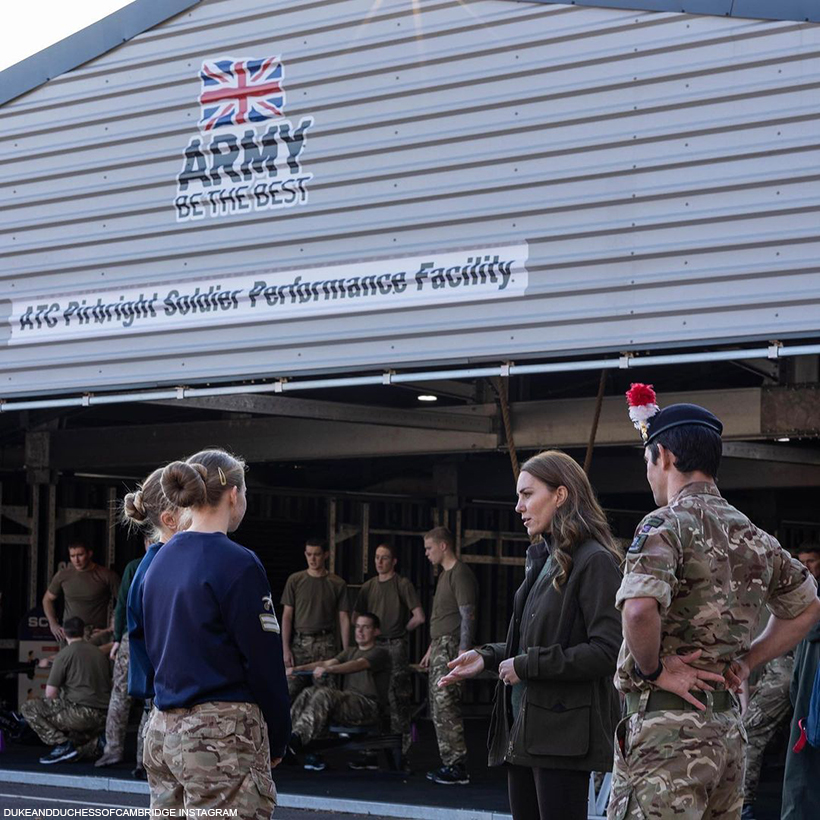 It's understood that the photos were taken in November last year as Kate spent time on a Pirbright Training Day with the 101 Operational Sustainment Brigade at Abingdon Airfield. The visit wasn't previously announced or publicised.
Army Training Centre Pirbright is the UK's largest basic training establishment for the British Army.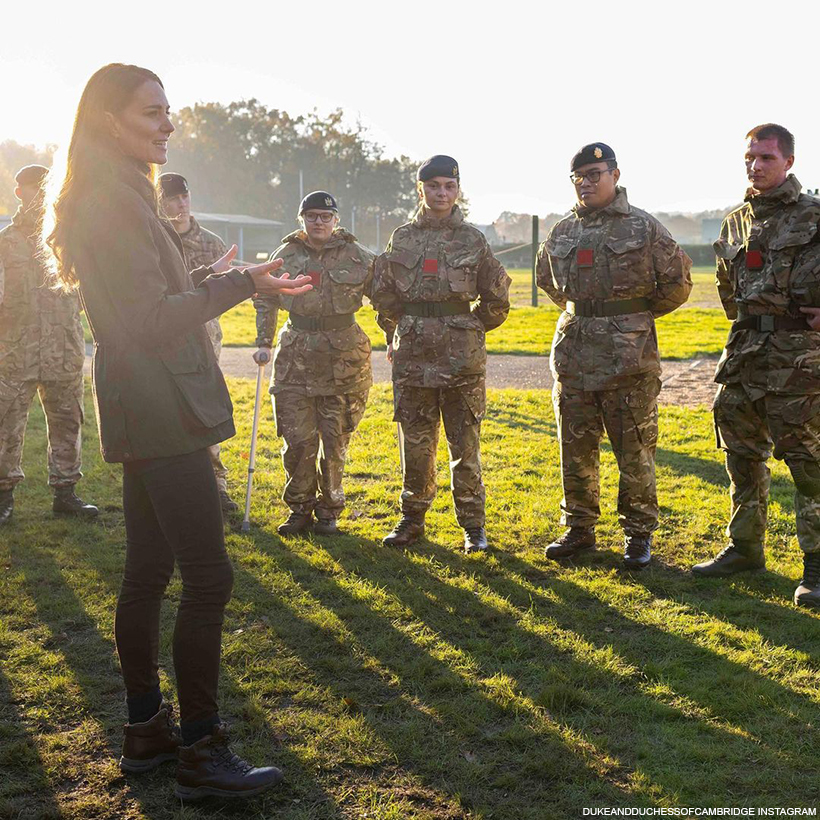 The army training centre delivers a 14-week training course known as the Common Military Syllabus. It's completed by all adult recruits that join the Army—it's understood that Kate took part in a few training activities and spent time talking to personnel about their time in the army.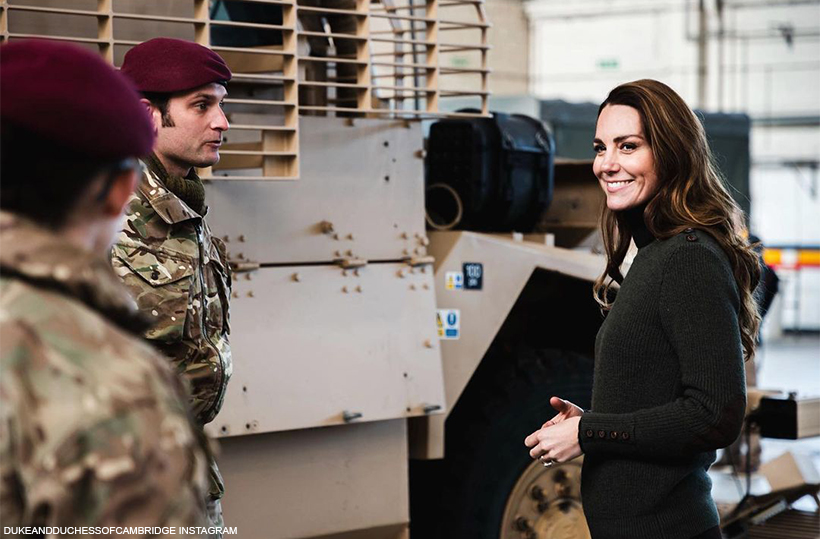 Last year, I was honoured to spend time with the British Army to see how they train serving personnel and new recruits.

It was wonderful to see first-hand the many important and varied roles the military play day in, day out to protect us all.

The Duchess of Cambridge
Kate finished her social media messages by saying she's looking forward to discovering more about the Royal Navy and Royal Air Force in due course. She signed off with her initial, C.
On social media, fans are speculating this means a big announcement in the future—perhaps an honorary military appointment.
What did Kate wear on the military training day?
Working from the photos provided (above), I can see that Kate wore her Seeland Woodcock Advanced Jacket during the Army training session. Note the pocket detail, straps on the cuff and buttons on the back vent:

The Woodcock is a shooting jacket with lots of features ideal for anybody spending a lot of time outdoors: it's windproof and waterproof, features a detachable hood, has fleece lined pockets and features a cartridge pockets too. To ensure the perfect fit, the jacket's made from a four-way stretch fabric and features adjustable waist and cuffs. Kate wears the women's version of the jacket, it's cut with a more feminine shape.
At the time of writing, I've found the jacket on sale at Hollands Country Clothing, where it can be purchased for £180. Elsewhere, it's £209.99.
Kate first debuted the green jacket during a visit to County Durham in 2021 and has worn it during three other engagements between then and now. (Pictured below in Denmark, earlier this year).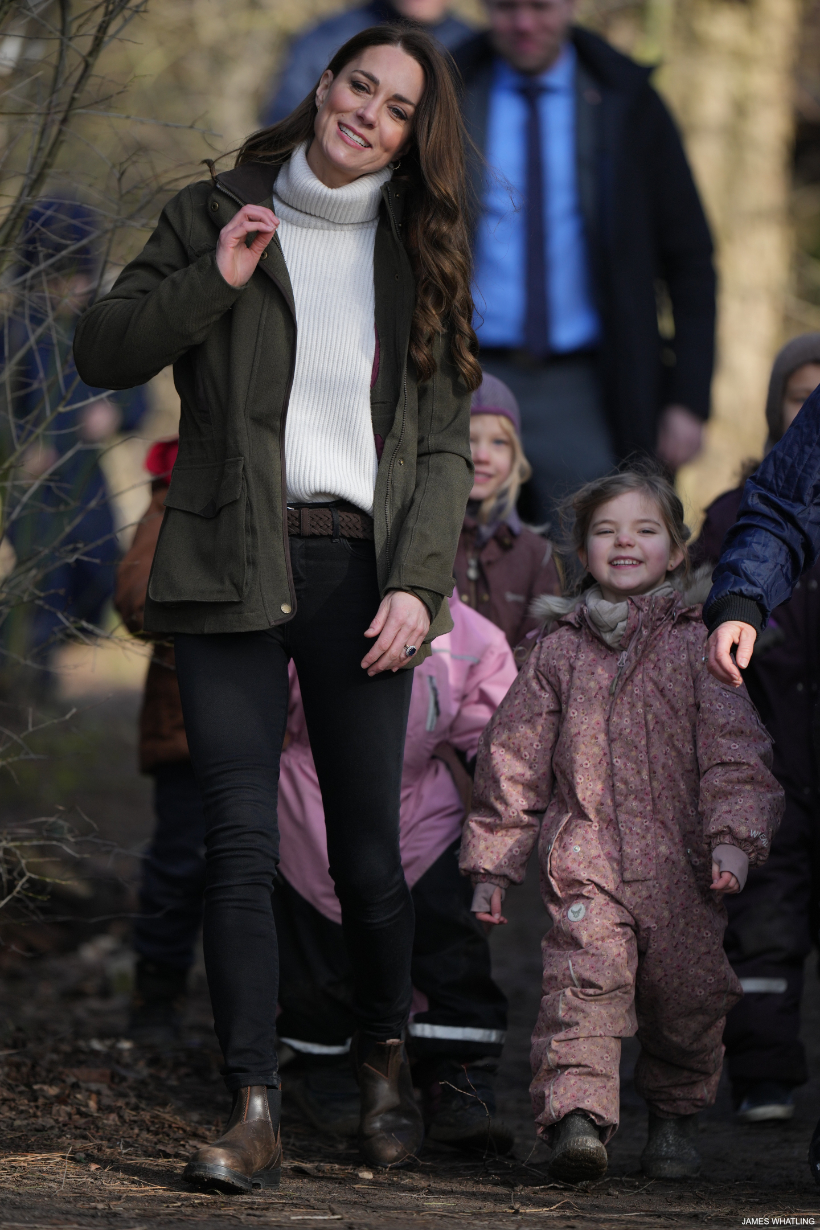 Kate's sweater felt familiar but my searches were coming up blank. Puzzled, I turned to Twitter. Lady Parky and Shannon solved the mystery straight away! They pointed out that Kate had layered two different sweaters on top of one another—the forest green Holland Cooper crew neck she first debuted in Orkney, Scotland in 2021 and a black roll neck!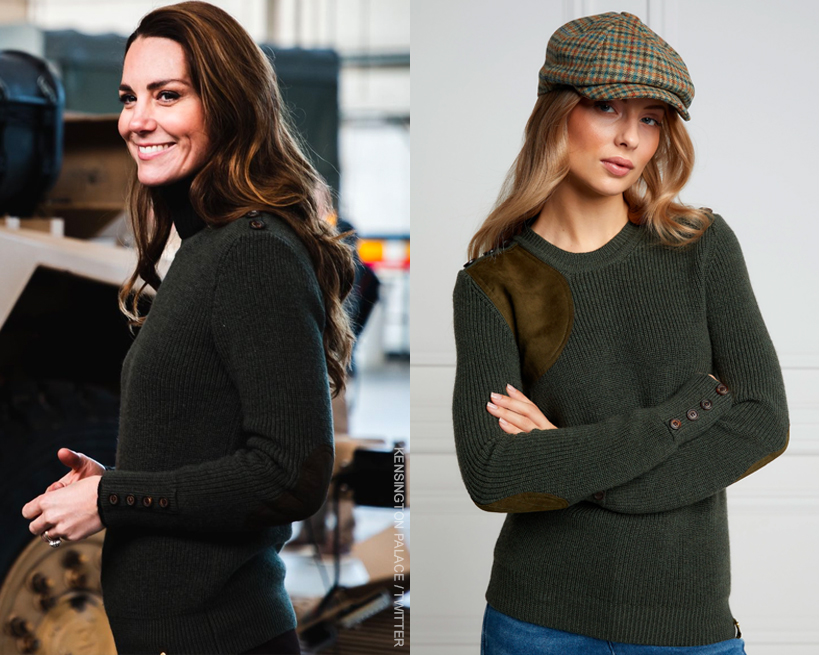 The Holland Cooper sweater is knitted from a forest green Merino wool. It features faux suede patches—which you can just make out on Kate's elbow. The cuffs and shoulders are finished with horn-style buttons.
We first spotted the Duchess wearing the dark green sweater during a visit to Orkney, Scotland in 2021. This is only its second public outing.
Kate paired her two sweaters and coat with a dark pair of jeans and a pair of brown hiking boots.
I cannot tell you anything about the jeans, unfortunately. But I know her boots are by Berghaus. They're the Supalite II GOTEX style in brown.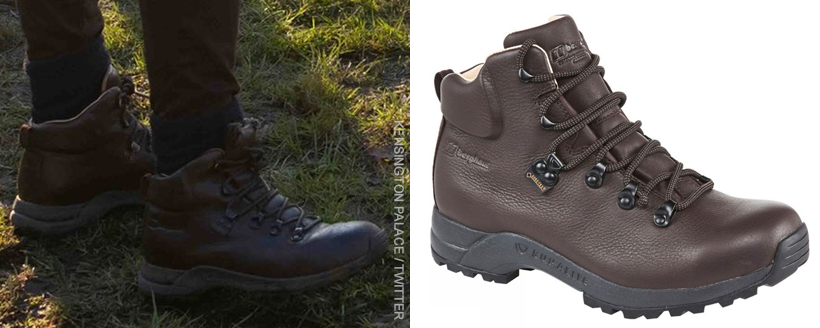 The boots are made from a single piece of water-resistant leather, designed to be lightweight, comfortable, breathable and streamlined without comprising on performance or durability.
Kate's walking boots are still widely available to buy. In the USA, they're reduced to $130.80 at Wiggle.com.
In the UK, the shoes are on offer at Go Outdoors for £119. They're also available for full price at Berghaus.com for £165.
I'll end this article with a quick refresher from eleven years ago to the day. On the 25th June 2011, just a couple of months after marrying into the Royal Family, Kate accompanied William to a ceremony marking Armed Forces Day. I've always thought this was such a stand-out look for the Duchess. Full details on this page!