Kate Middleton wears the Spells of Love Alia Hoop Earrings in Gold.
We first spotted Kate wearing the earrings in 2020. She's worn them eight or nine times in public to date. Half of the wears have been in Wales—the country in which Spells of Love is based.
About the Spells of Love Alia Hoops:
The angular gold hoop earrings are a bestseller for the brand who describe them as the "ultimate hoop for any occasion, a big and bold statement piece that dresses up any outfit."
The Alia Hoop Earrings are handcrafted and made from demi-fine vermeil, essentially a thick layers of 18k gold coated over brass. This ensures that the earrings are high-quality and durable, perfect for dressing up any outfit.
In addition to their stunning design and craftsmanship, the Spells of Love Alia Hoop Earrings are also eco-friendly. The earrings are made using recycled materials and posted in 100% plastic-free and biodegradable mailing bags, making them a sustainable choice for those looking to reduce their environmental impact.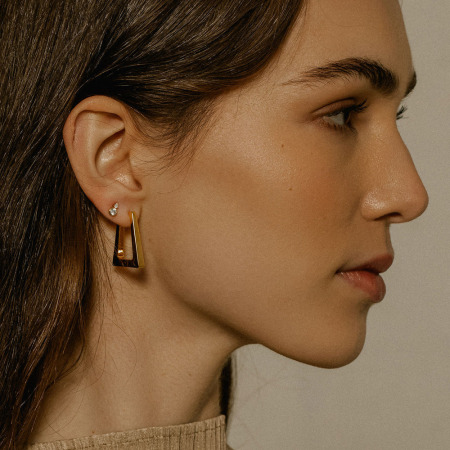 Spells of London Alia Hoops in Gold Vermeil
Exact match! These hoops are the ultimate statement earrings for any occasion. The versatile style can be dressed up or down. I picture them with a sweater and jeans. But Kate's shown they work equally well with a more formal ensemble. Handcrafted and made from high-quality materials. Click the button below to shop at Spells of London:
About Spells of Love:
Spells of Love is a Welsh company that is committed to responsible manufacturing and uses recycled materials in their production.
Does Kate Middleton own anything else from Spells of London?
Yes, the Princess wears two other pieces from Spells of Love in addition to the Alia Hoop Earrings. The Medium Twist Hoop Earrings in Gold, as well as a Double Strand Satellite Beaded Chain necklace in gold.