On the 23rd of October 2013, the Duke and Duchess of Cambridge took Prince George to his christening ceremony at The Chapel Royal in St. James' Palace.
The christening took place at the 'Lily Font', a silver baptismal font commissioned by Queen Victoria and Prince Albert in 1840 for the birth of their first child Victoria, Princess Royal. It has been used at every christening since. In addition, Kensington Palace confirmed that George will be christened using water from the River Jordan.
George wore a handmade replica of the delicate Honiton lace and white satin christening gown first worn 172 years ago by Queen Victoria's first-born. Royal babies wore the traditional gown until 2004 when Queen Elizabeth decided the gown was past its prime and ordered a replica to be made from her dressmaker, Angela Kelly.
The christening had lots of significance for the future King, who will become Protector of the Faith and Supreme Governor of the Church of England during his future reign. As such, he must become a fully confirmed member of the religion.
The Duke and Duchess broke tradition by choosing seven godparents instead of six. The godparents are Oliver Baker (who attended St. Andrew's University) Emilia Jardine-Paterson (formally D'Erlander) who attended Marlborough College with Kate, Earl Grosvenor (otherwise known as Hugh, Earl Grosvenor is the son of The Duke of Westminster), Jamie Lowther-Pinkerton (William, Kate and Harry's former Private Secretary), The Hon Mrs Michael Samuel (otherwise known as Julia Samuel – Diana, Princess of Wales' good friend), Zara Philips (William's cousin) and William van Cutsem (family friend, Prince Charles was good friends with William's late father Hugh.)
After the ceremony, the guests (including George's godparents, their spouses, the Queen, Prince Philip, Prince Harry, Prince Charles, the Duchess of Cornwall and the Middleton family) joined William, Kate and George for tea at Clarence House. The top tier of William and Kate's wedding cake was served, as is British tradition. The cake was designed by Fiona Cairns and originally had eight tiers.
Kate's outfit:
To the christening, Kate wore a ruffled cream outfit, complete with a matching hat adorned with flowers.
Kate wore a bespoke piece by Alexander McQueen. Here's a very similar style from the label's 2013 Spring/Summer collection, although Kate's skirt part of the outfit is different: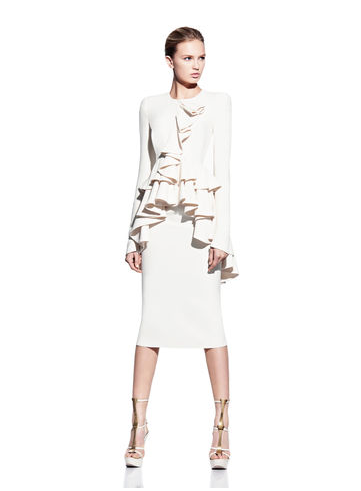 It's already been confirmed that Kate's white-cream floral hat/fascinator is by Jane Taylor Millinery:
Kate wore her off-white Russell and Bromley "Park Avenue " shoes, seen here last year in Singapore: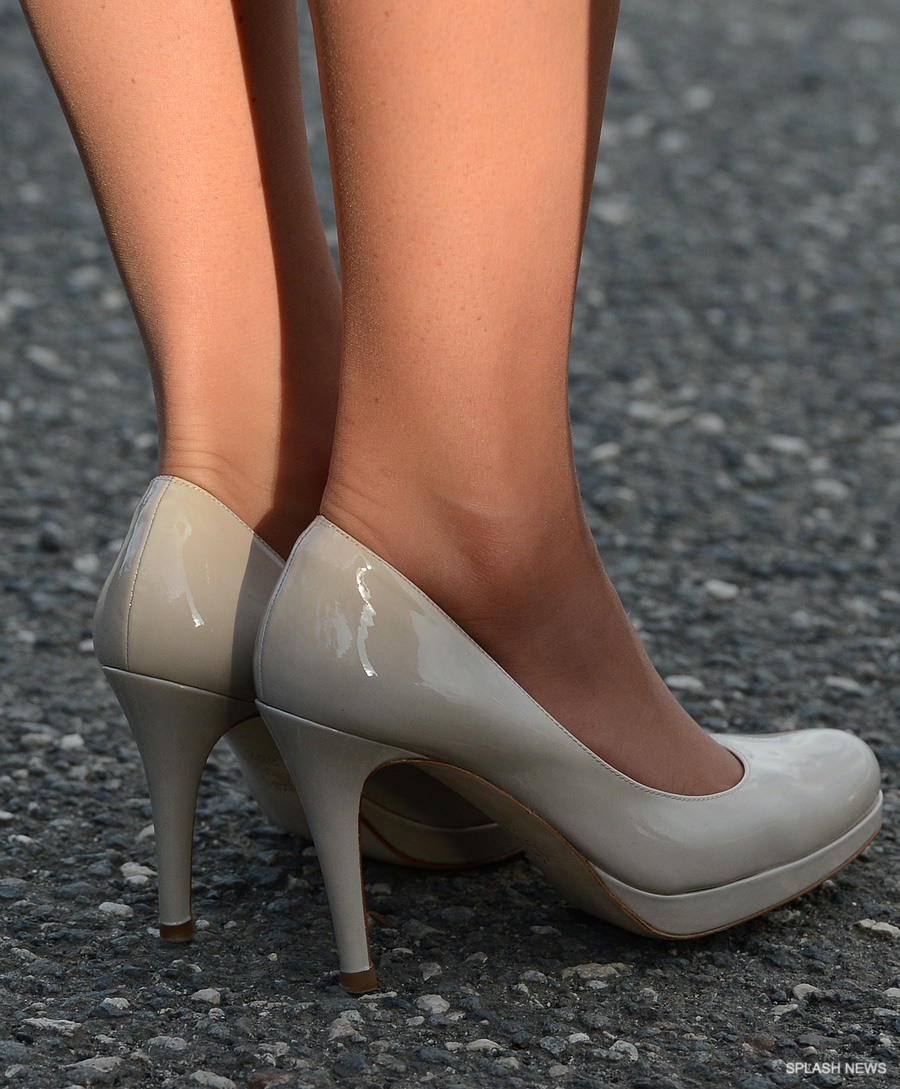 She finished off her outfit with a pair of Kiki McDonough Citrine earrings (pictured here on a different occasion):