This week, Kensington Palace announced further details about William and Kate's upcoming tour of India and Bhutan.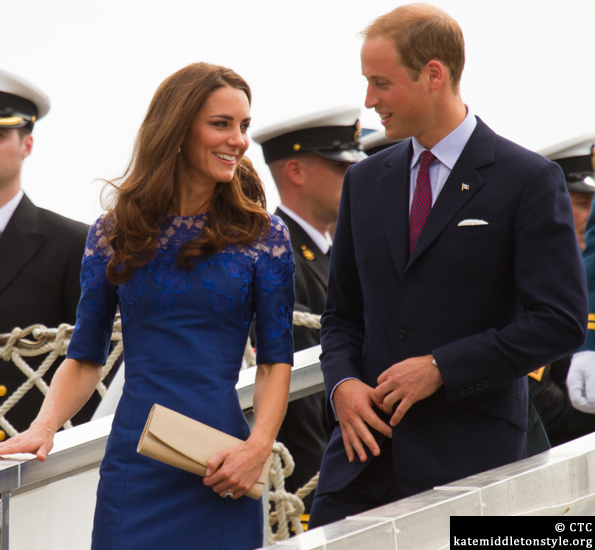 The tour kicks off a week today, Sunday 10th April. You can read the full press release here, but I thought I'd provide a summary for you:
Saturday 9th April
The couple will take an overnight flight to Mumbai
Sunday 10th April
The tour will begin in Mumbai. William and Kate's first engagement will be at the Taj Palace Hotel. The hotel was subject to a terrorist attack in November 2008.  The royal couple will lay a wreath at a memorial inside the hotel, and meet with members of staff who helped guests during the attack.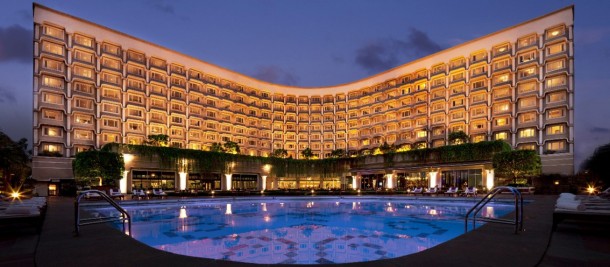 After, the royal couple will visit Oval Maidan, a famous public park that is home to cricket pitches. William and Kate will watch a young person's cricket match and meet representatives from three charities – Magic Bus, Doorstep and India's Childline. The press release says the couple will meet and play with children who live in slums around the city.  It also says a "couple of surprises" are promised too! Exciting!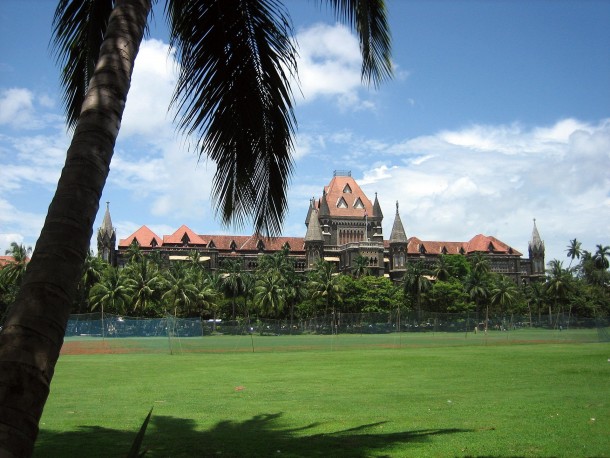 Image:  Michael Siegel
Next, the couple will head to the Banganga Water Tank. This is an ancient water tank in the Malabar Hill area of the city.  According to the palace:
A visit here will allow Their Royal Highnesses to get a real sense of the complexity of this city. Alongside one of the most upmarket residential areas in Mumbai, they will see people who are living in tough circumstances in a small slum and are working hard to gain skills and make their way in the world. They will meet representatives of a charity called SMILE that focuses on skills and opportunities for young people and their parents.
Later in the evening, Their Royal Highnesses will attend a "glittering reception" and dinner to celebrate Mumbai's film and creative industries and raise money for charity.  We can expect a red carpet-worthy gown for Kate.  It'd be wonderful to see her showcase a dress from an Indian designer.  Otherwise, I'd expect her to fly the flag for Britain in a piece from Alexander McQueen, Alice Temperley or Jenny Packham.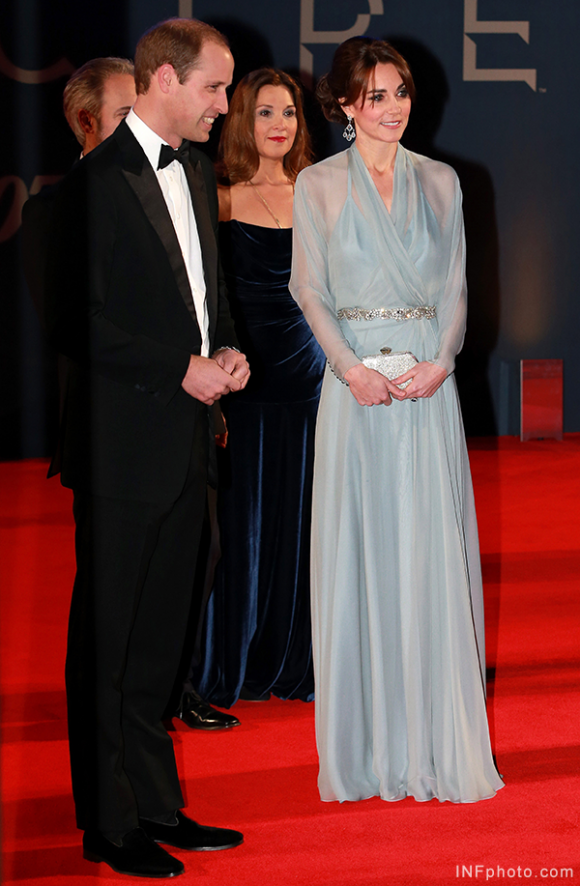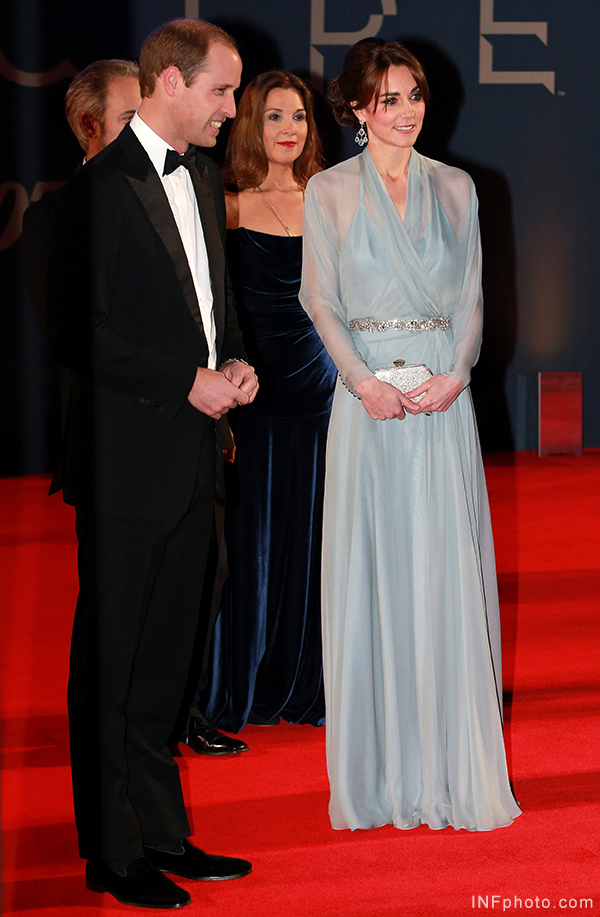 Monday 11th April
Day two of the tour will kick off at a bar, restaurant and collaborative workspace called The Social.  Mumbai has a thriving young business scene, and the Cambridges will meet with aspiring entrepreneurs and learn more about a project called Startup India, a campaign to encourage new business and job creation.  The Duke and Duchess will be discussing how the UK can work with Indian businesses to achieve these goals.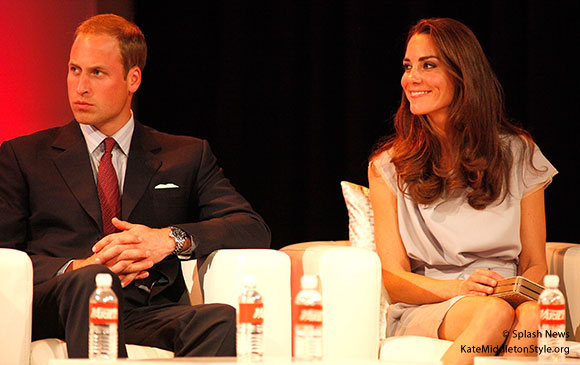 Next, the Royal Couple will travel to New Delhi, India's capital city.
The visit in New Delhi will begin with a wreath-laying ceremony at India Gate, a war memorial commemorating the two world wars, the Third Anglo-Afghan War, and the Indo-Pakistan War of 1971.

Next, Their Royal Highnesses will head over to the Gandhi Smriti (Memory) Museum.  It's located in Old Birla House, where Mahatma Gandhi, India's founding father, spent the last few years of his life.
That evening, the couple will travel to the residence of the British High Commissioner for a birthday party held for Her Majesty The Queen.  This event will be a garden party attended by hundreds of VIPs from the world of government and politics.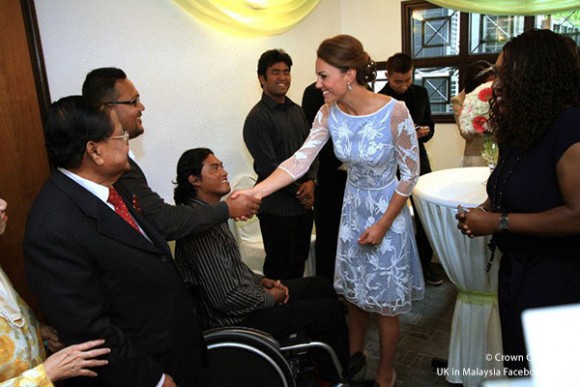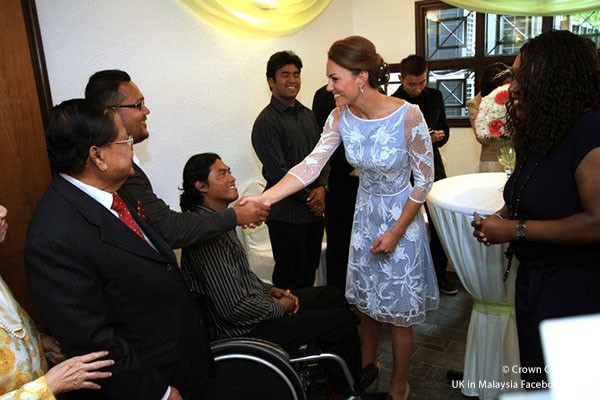 Tuesday 12th April
William and Kate will have lunch with the Indian Prime Minister Narendra Modi.
The Duke and Duchess will also hold a private meeting with NGOs working in New Delhi before departing the city.  The palace says further information about this will be released later.
On Tuesday evening, the Royal Couple will visit Kaziranga National Park, a UNESCO World Heritage Site in the state of Assam.

Kaziranga is a wildlife conservation site of great global importance. It is the home of elephants, water buffalo, a number of bird species, the endangered swamp deer, a high density of tigers and the Indian one-horned rhinoceros.  The trip will allow William and Kate to learn more about the work being done to manage the conflicts that arise when humans and wild animals live in close proximity.
From the press release:
A number of stories of human-animal conflict in India have made global news recently and this trip will allow Their Royal Highnesses and accompanying media to understand this issue in much more detail.
The visit coincides with the Bohag Bihu festival, the celebration of the Assamese New Year.  The Duke and Duchess will meet local people around a campfire.
Wednesday 13th April
Today, the Royal Couple will take an open-air drive around the National Park and learn more about the local villages and their impact upon the animal populations, climate change and the local ecosystem.  They'll also meet with rangers inside Kaziranga and learn how they're protecting animals from poachers.  Here, William (who is passionate about conservation) will give a speech about Rhinoceros poaching.
According to the press release, the couple will also interact with local people in a village after the tour of the National Park, but further details will be announced later.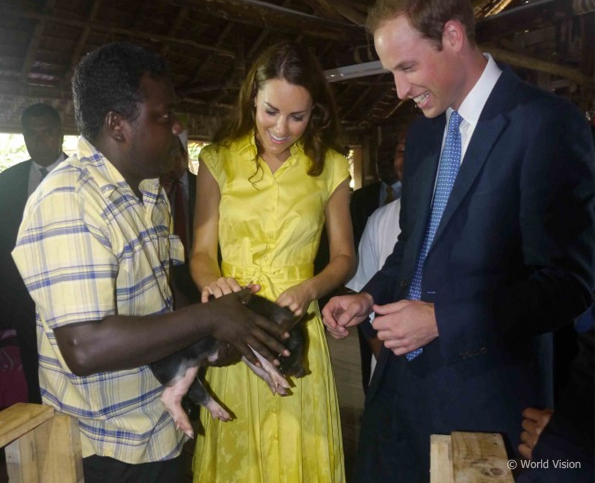 In the afternoon, William and Kate will visit the Centre for Wildlife Rehabilitation and Conservation. The centre provides emergency care and rehabilitation to wild animals that have been injured, displaced, or orphaned.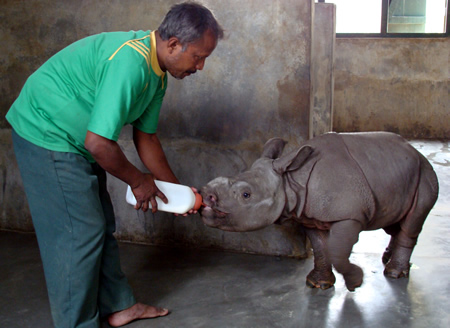 Here, the Royal Couple will meet with young filmmakers who are members of Green Hub, a project that teaches film-making as a vocational skill to young people across North-East India. They will see two short films that both focus on human-animal conflict.
Next, William and Kate will visit the Kaziranga Discovery Centre built by Elephant Family, the charity founded by Mark Shand, late brother of The Duchess of Cornwall.  More about this visit from the press release:
Here they will see a first of its kind health clinic for working elephants and an elephant information centre, which is under construction. Their Royal Highnesses will also have an opportunity to meet with villagers who have been relocated by the charity to keep them safely out of the path of an elephant corridor.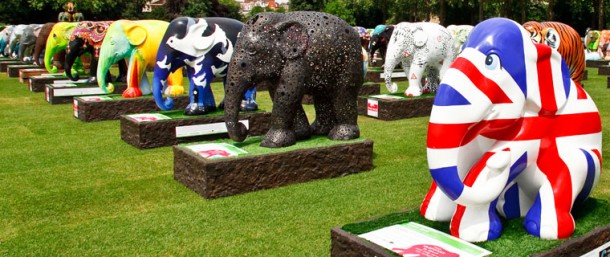 Before leaving, William and Kate will put the finishing touches on an elephant sculpture.  The Elephant sculptures will form part of an "Elephant Parade", designed to raise awareness and funds for the charity worldwide.  Here's an excerpt from the Elephant Parade London website explaining the initiative further –
Summer 2010 saw a herd of 260 brightly painted elephants pushed their way into London life when they took up residence in neighbourhoods and landmarks over the capital. Tourists and city dwellers become gripped by elephant fever which swept across London's schools and business community.

For two glorious months the exhibition mopped up over 500 press articles, 10 hours of TV and radio air time and reached an audience of 25 million people. The event was made possible by the genius of several hundred artists and the creative vision of over 100 business sponsors. An astonishing £4.1m was raised at the auction – double the target! This is great news for Asian elephants, whose numbers have fallen by 90% in the last 100 years.
Thursday 14th April
The Duke and Duchess will fly out to Bhutan on Thursday morning.  They'll receive a ceremonial welcome from senior state representatives, before departing for a scenic drive through the country's capital city Thimphu.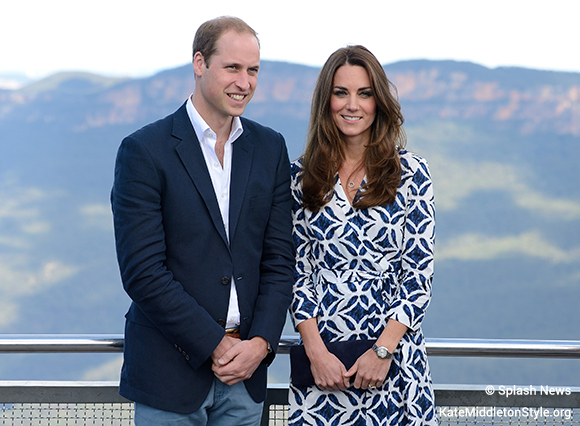 In the afternoon, William and Kate will travel to Thimphu Dzong where they will take part in a Chipdrel ceremony, a traditional welcome procession, complete with music, ceremonial dress, and plenty of colour.
The royal couple will then have a private audience with The King and Queen of Bhutan.  (Pictured below with their new baby son).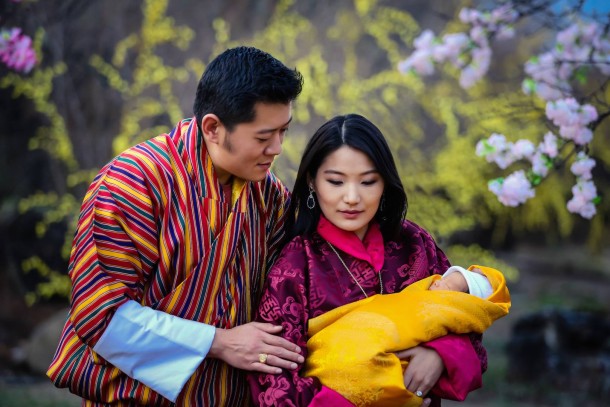 Image via Queen Jetsun's official Facebook page.
After, Their Majesties will lead William and Kate across the Dzong's vast courtyard to a temple.  Here they'll receive a brief blessing and together, they'll light butter lamps.
In the afternoon, William and Kate will visit Thimphu's open-air archery venue.  Archery is Bhutan's national sport.
Archery is played during religious and secular public holidays in Bhutan, local festivals (tsechu), between public ministries and departments, and between the dzonkhag and the regional teams. Archery tournaments and performances have also become a significant point of interest for tourism in Bhutan.
You can learn more by clicking here.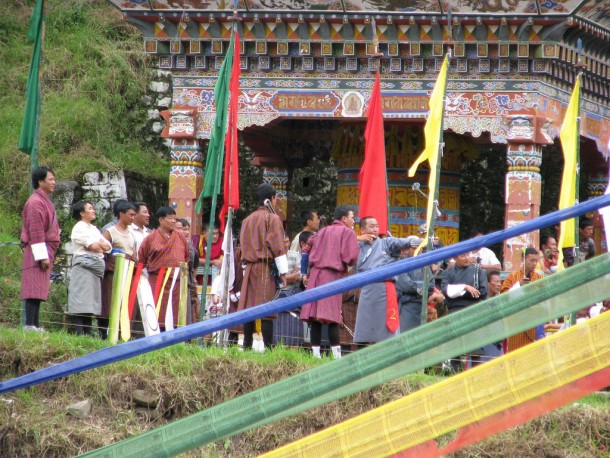 Photo:  muddum27
At the archery venue, the Duke and Duchess will also have the opportunity to meet young people from local schools and NGOs who will be playing other traditional games.
In the evening, William and Kate will attend a private dinner with the King and Queen at Lingkana Palace.  I'm hoping this will be another opportunity for Kate to wear a glittering gown.

Friday 15th April
On Friday, William and Kate will take a six-hour hike to Paro Taktsang, the Tiger's Nest monastery which dates to 1692.  You can read about the fascinating history of the monastery here.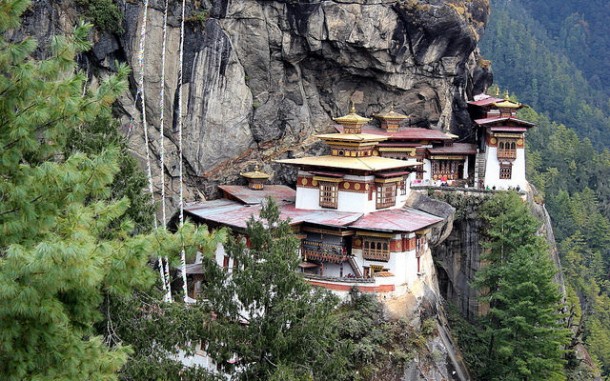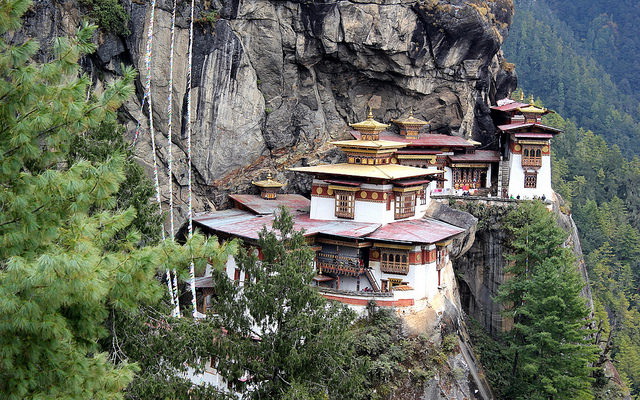 Photo:  Nagarjun Kandukuru
Later in the evening, William and Kate will attend a reception held for British nationals in Bhutan and for Bhutanese people with strong links to the UK.  I'm assuming we'll see Kate in another cocktail dress for the event.
Saturday 16th April
After saying farewell and thank you to the people of Bhutan, William and Kate will board a flight to Agra in India.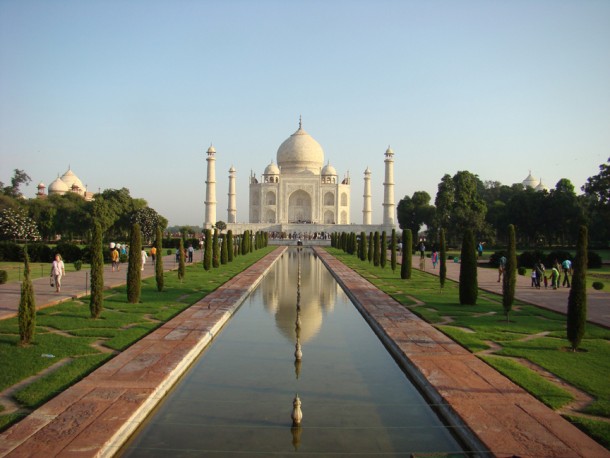 Here, they'll visit the Taj Mahal, one of the wonders of the world and a symbol of India.
The Duke of Cambridge is, of course, aware of the huge esteem his mother, the late Princess of Wales is held in India and he appreciates the iconic status of the images that exist of The Princess at the Taj. He feels incredibly lucky to visit a place where his mother's memory is kept alive by so many who travel there. 24 years on from her visit to the Taj, The Duke and The Duchess are looking forward to seeing this beautiful place for themselves and creating some new memories as they say thank you to the people of India at the conclusion of this tour.
---
Pretty exciting, huh?
Which part are you looking forward to the most?  For me, I'm pretty excited about the Bhutan leg of the tour.  I cannot wait to see photographs of this gorgeous country!  I've also got a theory on the 'surprise' at the Oval Maidan park… Oh, and the dresses!  Of course, I'm looking forward to all of the glittering gowns – and to see if Kate will don a sari!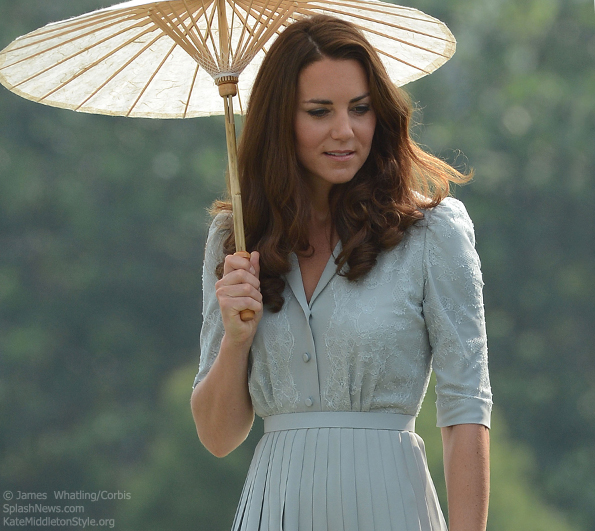 Speaking of clothing, an article in the Telegraph this week discusses what Kate might be packing:
The Telegraph has learned that the Duchess will take 12-15 outfits for the six days of official visits but that alongside daytime dresses and evening gowns, they'll be a surprising addition: a pair of hiking boots.  Whilst the Royal couple are in Bhutan they'll go on a six-hour trek to Tiger's Nest monastery said to require peak physical fitness and hiking gear, likely to be the [Brasher] Hillmaster boots the Duchess last wore when she visited Borneo's jungle.
According to the article, a small team (including Kate's private secretary Rebecca Deacon) took a "rehearsal trip" to the two countries and made notes ahead of the tour:
The team took a photograph of every place the Duchess will visit, so that she can use these images as a guide to determine how formal she needs to dress and what colours will look best against the backdrops.
Don't you kind of wish you had a private secretary to do that job for you?  I do!
The article has more detail, click here to read it in full.