Kate Middleton looked striking in an all-white ensemble as she cheered the England rugby team at the Stade de Marseille in France on Saturday evening.
Dressed in a white suit blazer by Alexander McQueen and sporting jewellery by Mappin & Webb, the Princess, who is the Patron of the Rugby Football Union, was present as England faced off against rival team Argentina in their opening World Cup match.
Kate … was greeted by RFU president Rob Briers, France 2023 chairman Jacques Rivoal and World Rugby chairman Sir Bill Beaumont before being shown to her seat in the Presidential Box at Marseille's Stade Velodrome.

Independant
Kate chatted with the VIPs, mentioning to Sir Bill how she'd love to extend her stay in France. Sir Bill noted how hectic the lead-up to the tournament had been.
The Princess watched the full match, which ended in a 27-10 victory for England.
Following the rugby match, Kate visited the changing room to meet the players and congratulate them on their win.
Kate's been patron of Rugby Football Union since February last year. Prince Harry formally held the position. Kate took on the role following his decision to step back from royal duties.
On Sunday evening, Kate's husband, Prince William, will watch a match in Bordeaux. As Patron of Welsh Rugby Union, he'll cheer as Wales play Fiji.
Kate Middleton's Outfit At The Rugby:
The Princess of Wales opted for her chic white suit for the occasion—a fitting choice for sitting in the presidential box in her capacity as Patron of the RFU.
The white tailored blazer is from Alexander McQueen. It features slanted pockets and a peaked lapel.
The blazer is a staple for McQueen. The brand regularly include it in their ready-to-wear offering in different colours. In fact, the Princess owns the same suit in five other colours: pink, navy, purple, black and red.
You can shop the white Alexander McQueen blazer at Net-A-Porter for £1,690 GBP / $2,390 USD.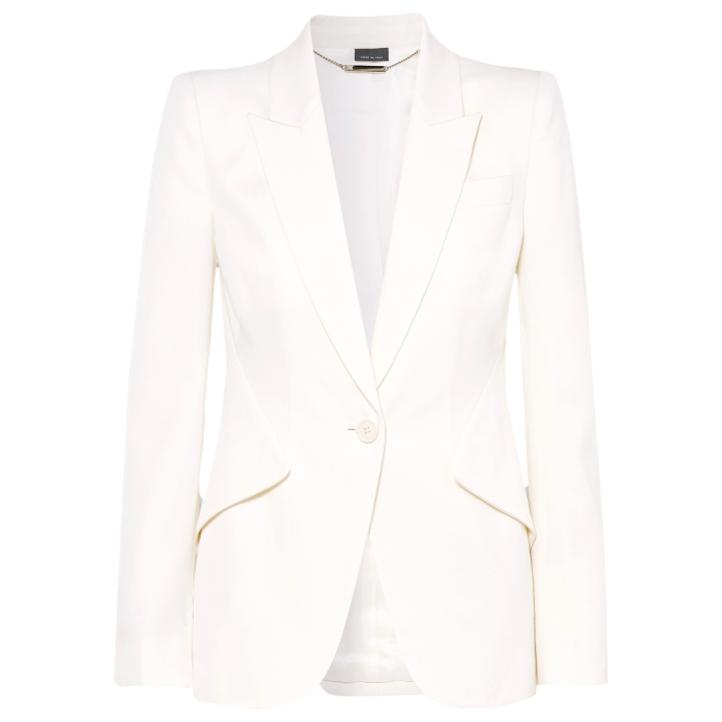 Alexander McQueen White Suit Blazer
Add a little sparkle to your outfit with these diamond earrings.
The Princess debuted the white suit last spring, during an official visit to Jamaica. We last saw her wear it to the Commonwealth Games in summer (below).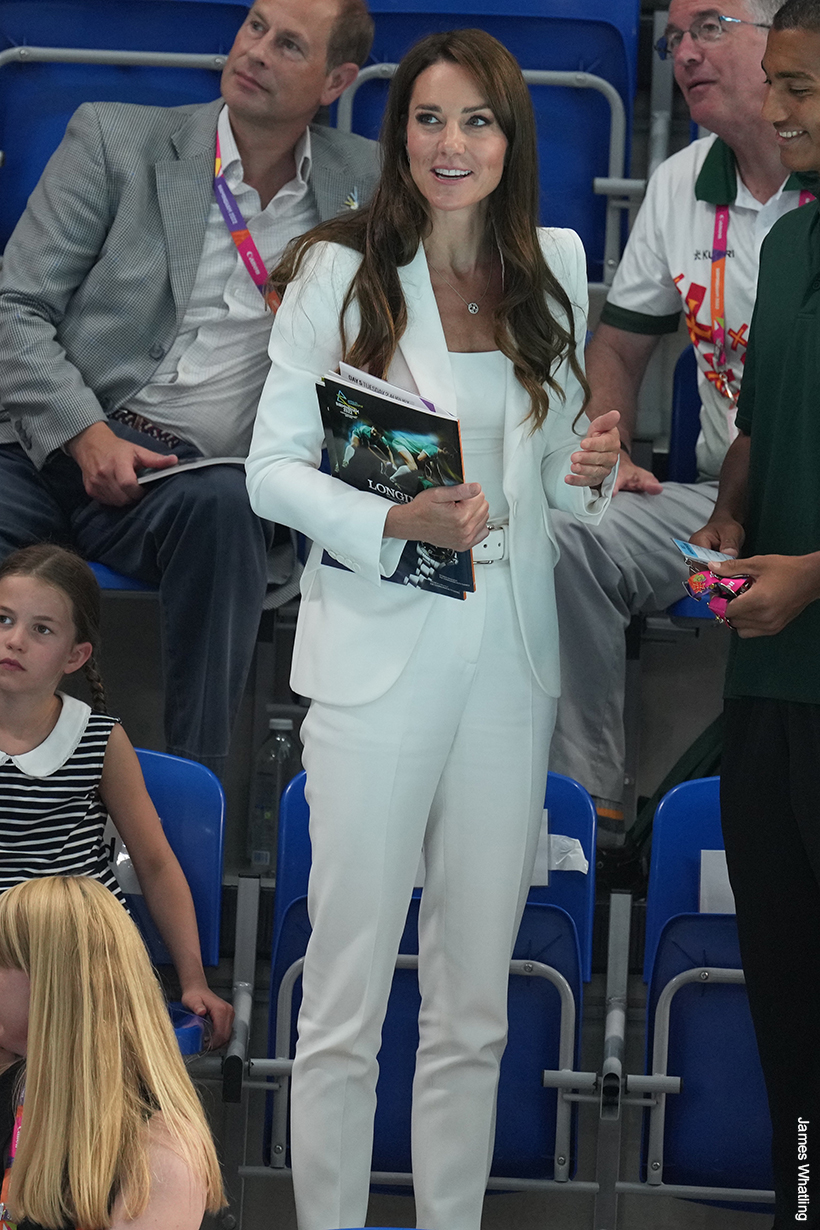 We suspect she wears a pair of matching Alexander McQueen trousers with the blazer. She rotates between a couple of different pairs in different shapes (wide leg, straight leg).
Of course, Alexander McQueen is synonymous with Kate and her style. The Princess has stepped out in more coats, jackets and dresses by the designer than I can count. I haven't crunched the numbers, but I assume McQueen is her most-worn label across the board.
Kate brought back a familiar jewellery set for the rugby match. The Mappin & Webb Empress earrings and matching pendant.
The earrings feature 18ct gold disc drops cut into an intricate design set with brilliant cut diamonds. According to Mappin & Webb, the Empress design is from the company's archives; they say it's "inspired by an exotic motif" they presented to the Queen of Siam:
The inspiration for [the Empress earrings] came from some pieces that the brand originally created in the 1920s for the Empress of Siam. We've re-imagined them for the 21st century and of course it's very nice that they have been worn by one of our royals.

Elizabeth Galton, Creative Director of Mappin & Webb Jewellery, via PEOPLE
Kate first wore the white gold and diamond earrings in 2014 and has worn them to more than 25 public engagements to date, making them one of her most frequently re-worn earring styles.
Unfortunately, the exact style of Empress earrings that Kate wears is no longer available for purchase. An almost identical design retails at Mappin & Webb for £1,750 GBP or Mayors for $1,750 USD. The stunning earrings are crafted from 18ct White Gold and feature 0.17cttw of diamonds.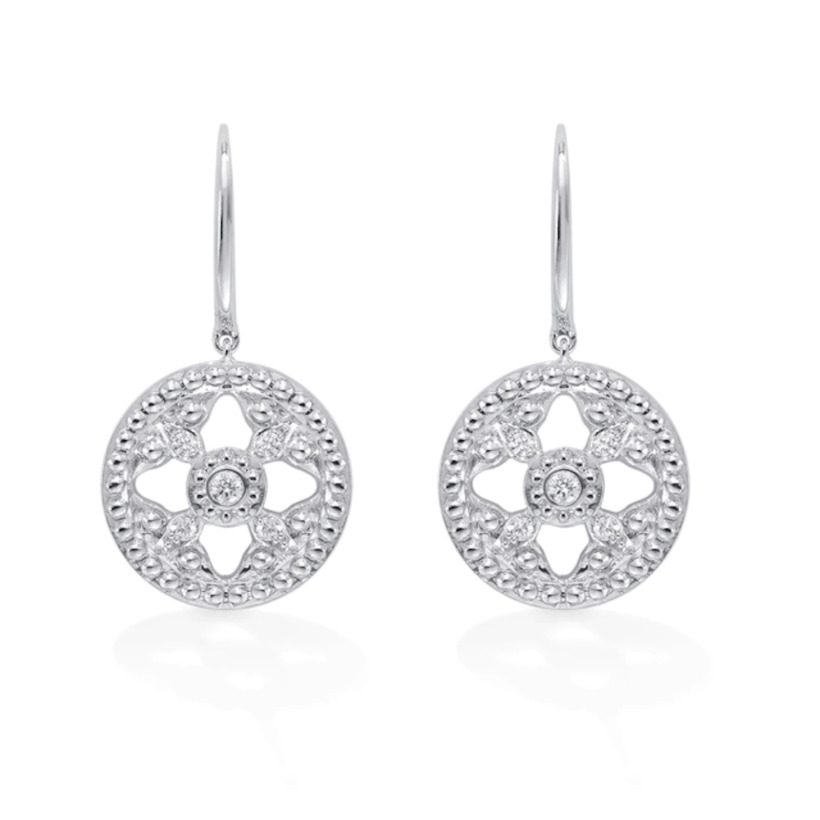 Mappin & Webb Empress Diamond Earrings
Add a little sparkle to your outfit with these diamond earrings.
The Princess wore the matching necklace with her earrings. The item features a small pendant that is encrusted with sparkling round brilliant cut diamonds suspended from an adjustable chain.
The jeweller describes the piece as "sparkling and versatile". Kate's proven this to be true. The Princess has worn her Empress pendant with a variety of outfits—on both casual and formal occasions.
You can currently buy the 18ct white gold necklace with 0.40cttw diamond pendant from Mappin & Webb for £1,500 (was £2,250). Alternatively, buy from Mayors.com for $2,340.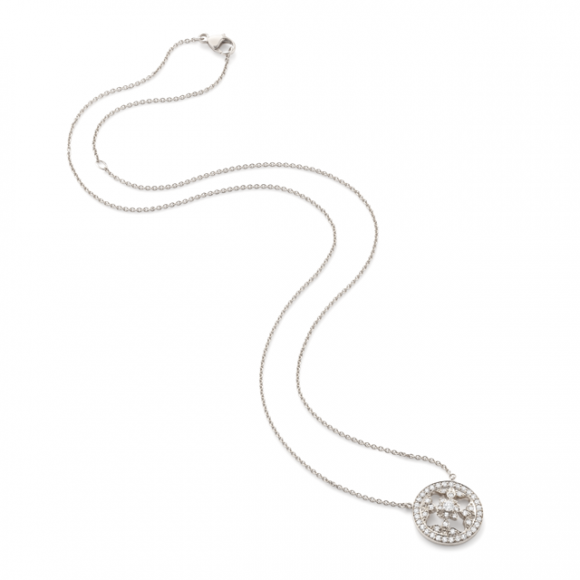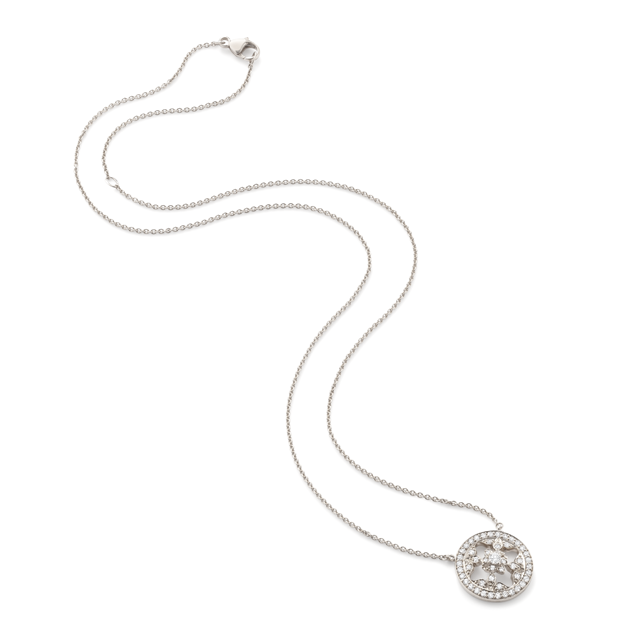 Mappin & Webb Empress Diamond Necklace
Celebrating something special? Perhaps an anniversary or milestone birthday? Mark the occasion with this stunning diamond necklace by Mappin & Webb.
Kate debuted the necklace at Princess Charlotte's christening in 2015. She debuted the piece during a visit to the Tower of London in the August of that year. We've seen her wear the diamond necklace at 18 public events to date.
Mappin & Webb is a British jeweller and luxury goods retailer, founded in 1775. It holds two royal warrants. Kate has a long-standing relationship with Mappin & Webb and has worn their jewellery on numerous occasions.
Kate carried her Massimo Dutti woven bag to the rugby match. The handbag features a handle, which Kate tucks in. It's made from strips of responsibly sourced sheepskin leather woven together.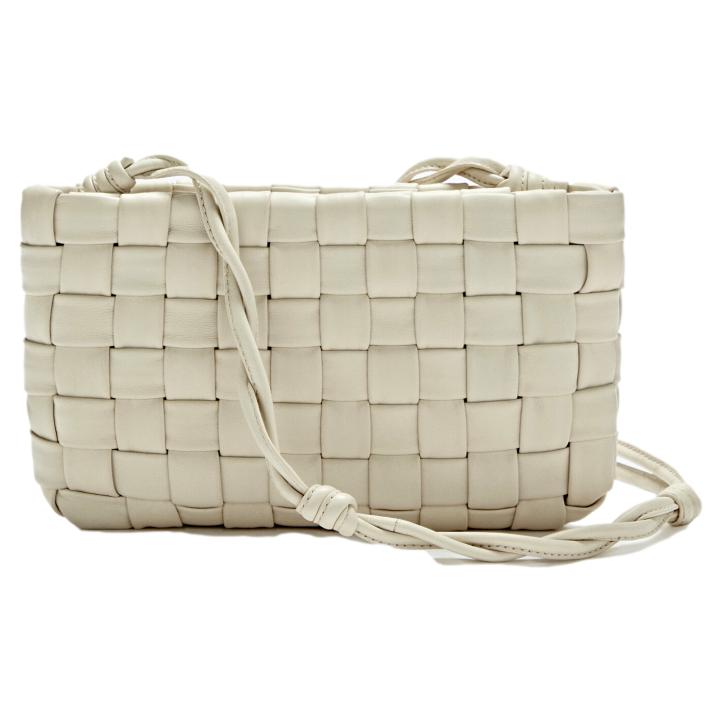 The bag originally retailed for $179 USD / £149 GBP. It's no longer available to buy. Shop other Massimo Dutti handbags here. Or check eBay for the original here.
We first saw Kate carry the bag to visit the Little Village baby bank in London on the 8th of June 2022. This is its second public outing.
I'll end by saying I cannot identify Kate's white pumps, unfortunately. I haven't seen enough photos. I'd hazard a guess that she's wearing her Gianvito Rossi 105 pumps in white.