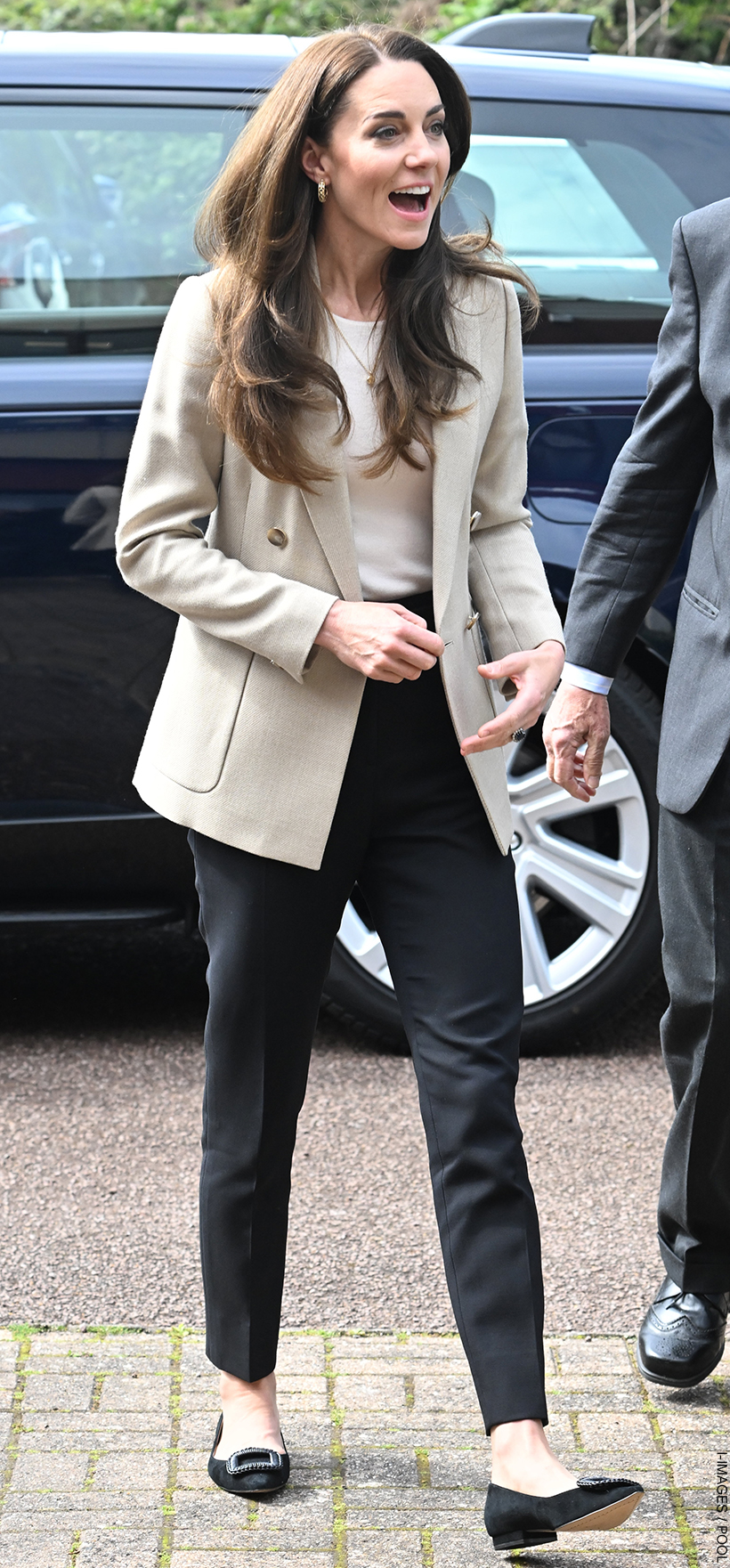 Kate Middleton showcased her signature polished style as she visited The Baby Bank in Windsor on Monday morning (24th April 2023). Wearing her beige Reiss blazer, black trousers and pointed flat shoes, the Princess of Wales heard more about the organisation's crucial work in supporting parents who are struggling.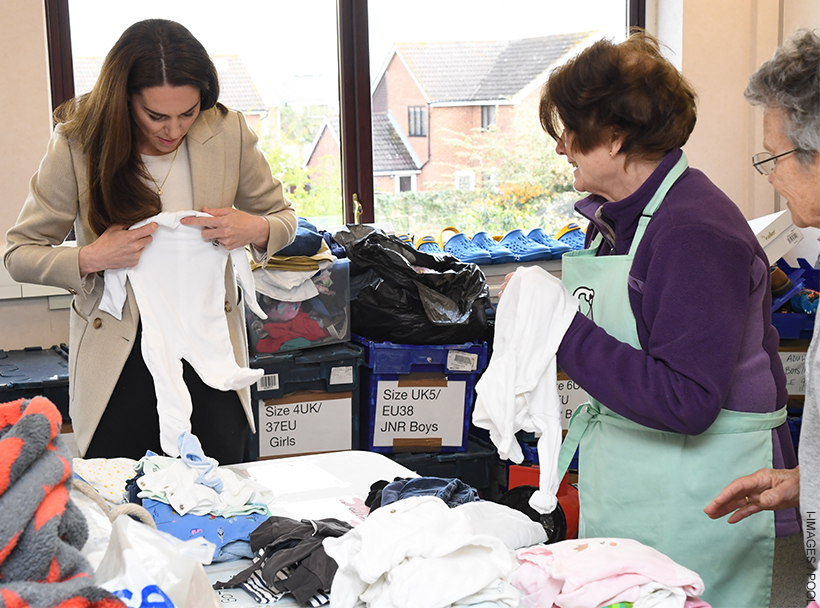 The charity supports families who are in extreme need from all sorts of backgrounds—including teenage parents, victims of fire and flooding, those who're newly arrived to the UK with refugee or asylum seeker status, those who've left the family home due to domestic violence and similar situations, those who are living in poverty, military families in need, children living in emergency foster placements and those who are homeless or living in temporary accommodation. Their goal is to ensure all children have the best possible start in life.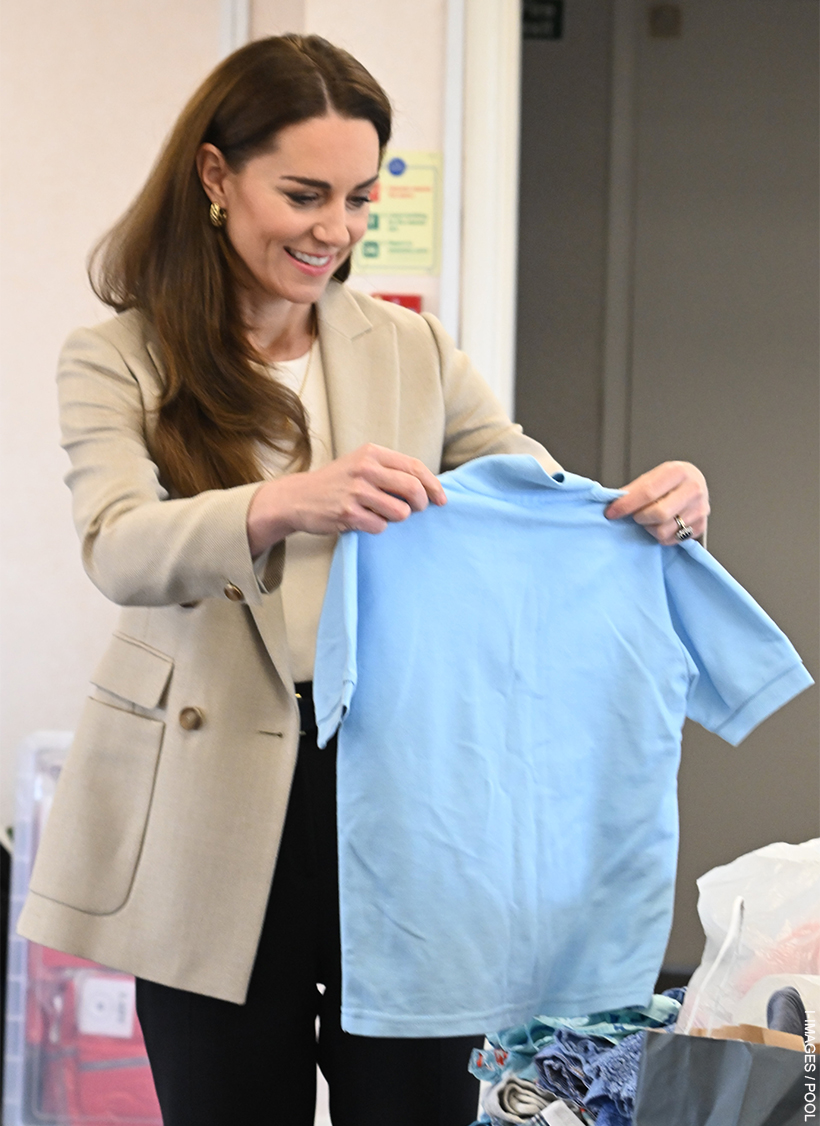 The charity can supply everything from new-born starter kits to school uniforms. Nappies to buggies to beds. Donations are provided by the general public, retailers and local suppliers.
Families are referred to the charity through a large network of 150 referral partners which include Helping Hands, social services, schools, food banks and Refugee organisations.
Since its opening, The Baby Bank has supported over 21,500 individuals and have seen a year-on-year increase in referrals. The charity was founded in 2015 by two mothers.
During her visit, the Princess met with volunteers from the charity. She helped to take part in sorting donations and packing referrals, while hearing how the organisations works with local partners, including health visitors and midwives to provide support to families in need. You can see Kate help out in the video below:
In the video, Kate also reminisces about how little her children were, and how fast they grow.
Later in the day, The Baby Bank took to social media to discuss the visit:
We were absolutely delighted to have welcomed The Princess of Wales to our premises in Holyport this morning.

We talked a lot about the worrying increase in need of charities like ours & how grateful we are for such a supportive community enabling us to help so many families in the area.

She chatted to our volunteers & helped pack a referral bag ready for us to regift to a family. She also marvelled at the lovely condition of the donations we receive.

We are so pleased that this visit will not only help raise awareness of baby banks nationwide, but also to help encourage those in our community who need support to not be afraid to ask for help.

The Baby Bank Windsor, Facebook
Kate began to champion baby banks around the time of the pandemic, following private visits to a branch of Baby Basics in West Norfolk, near her Anmer Hall home on the Sandringham Estate. Baby Basics is a volunteer-led project devoted to supporting new mothers and families who are struggling to meet the financial and practical burden of looking after a new baby.
After seeing the organisation's vital work firsthand, the Princess used her connections to persuade 19 UK retailers to donate a staggering 10,000 items to a collection of charities that operate 40 baby banks across the UK.
In July 2020, Kate paid another private visit to Baby Basics to help unpack some of the donations and bundle them into parcels (below).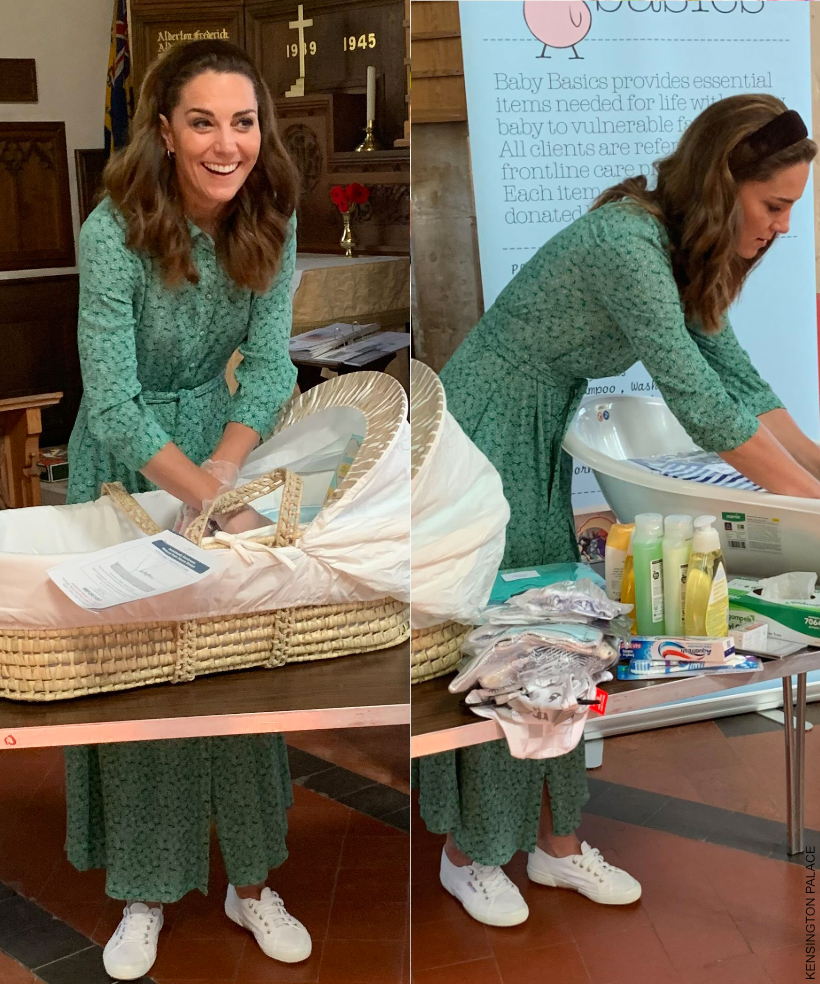 One month later, she did the same at the Sheffield branch of baby basics, in the north of England.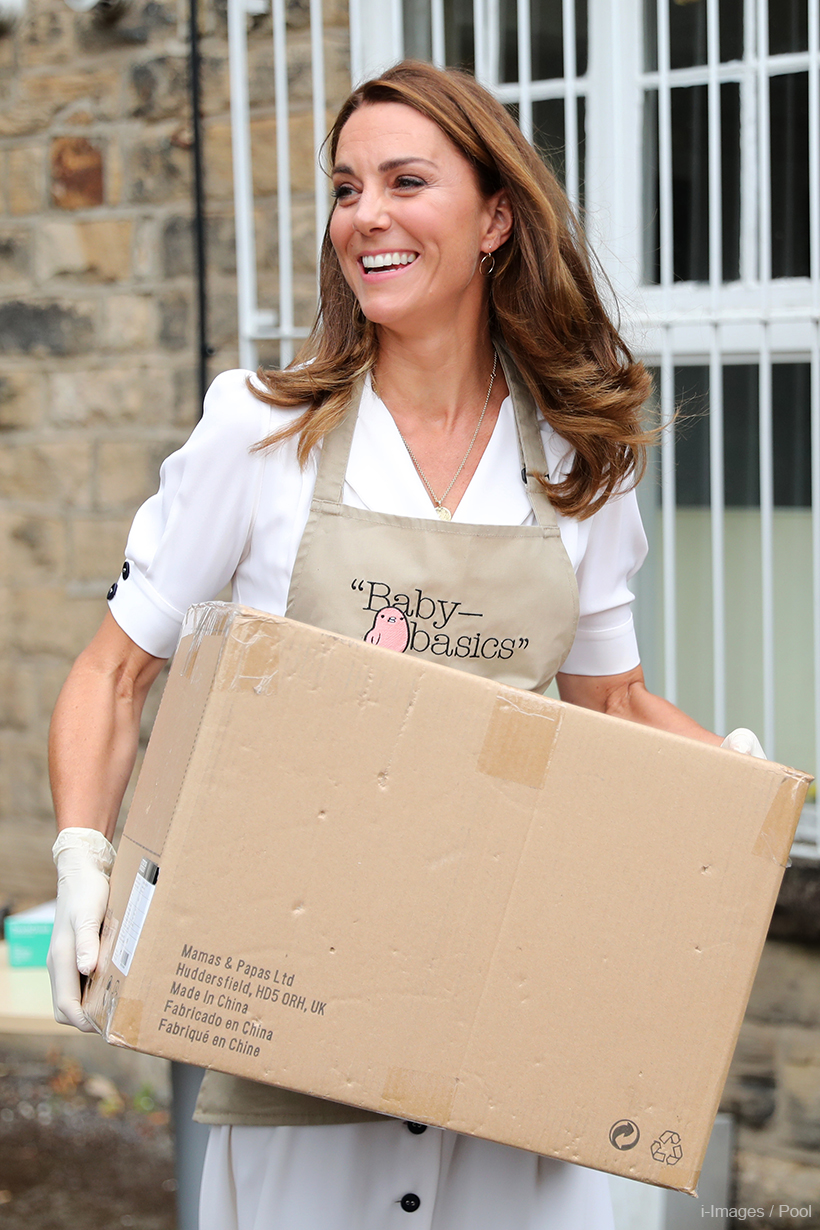 In February 2021, amid the coronavirus lockdown, Kate hosted a video call with Little Village, another London-based baby bank charity. During the call, the then-Duchess spoke with the CEO and mothers who had benefitted from the invaluable service.

Fast forward to June 2022, and Kate paid an in-person visit to Little Village, where she not only helped package their milestone 20,000th bundle, but also took the time to meet with the mothers and dedicated volunteers who keep the baby bank thriving.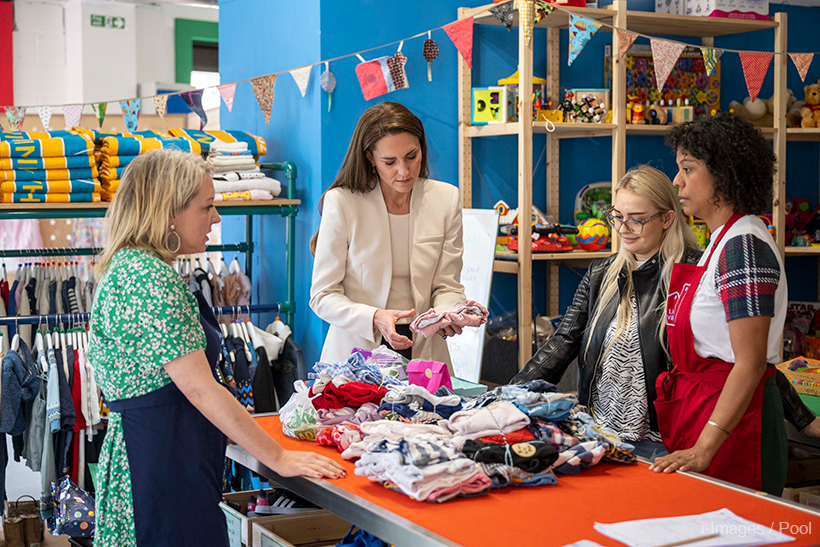 In September 2022, Kate also visited a church and community hub in Swansea, South Wales that's also home to a Baby Basics. The Princess met a two-year-old and helped pack a parcel during the visit.
Let's take a look at Kate's outfit now.
Kate's outfit at The Baby Bank Windsor:
As I mentioned in the opening paragraph, the Princess wore her neutral-coloured Reiss Larsson twill blazer.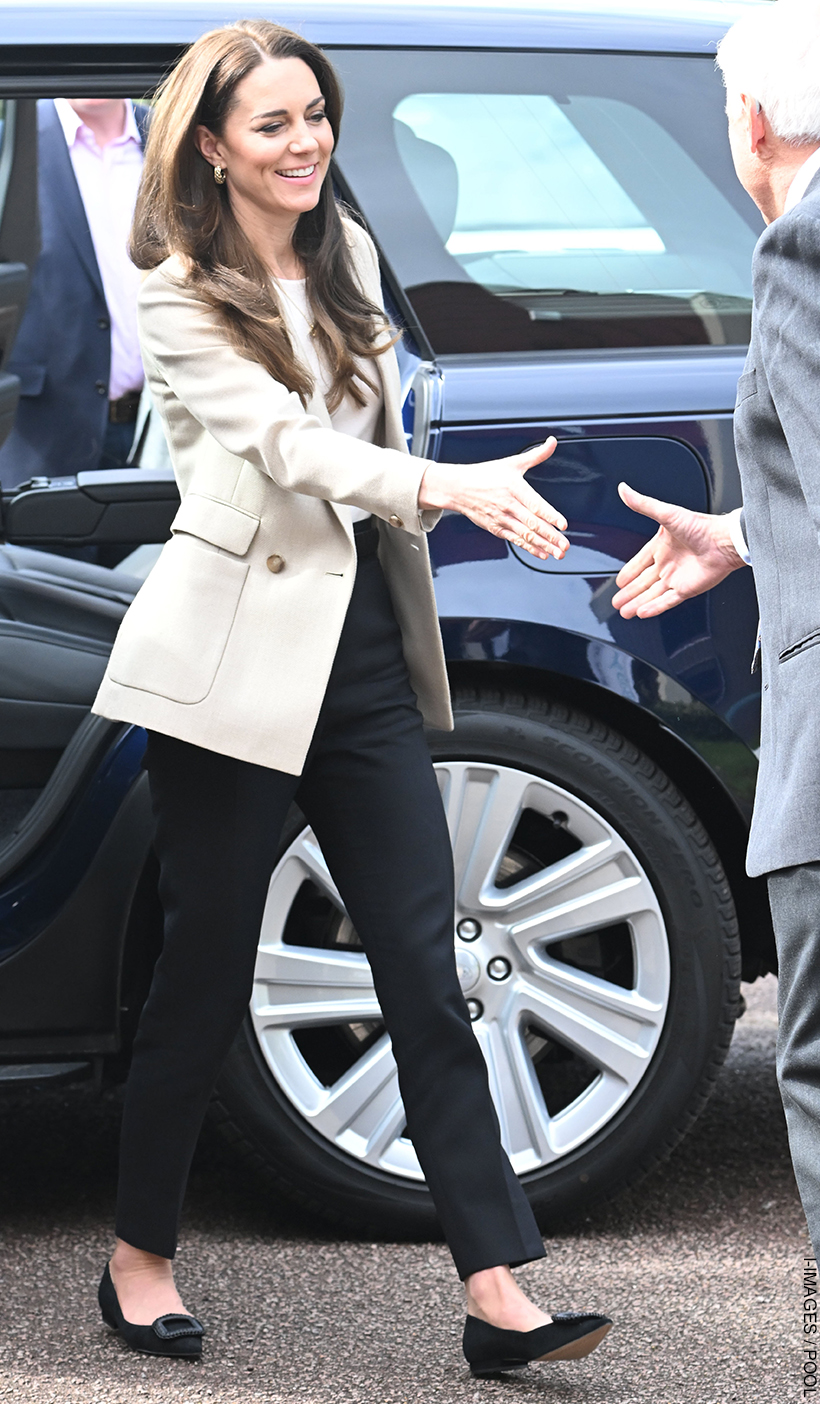 The blazer is made from a wool-blend fabric with a pronounced twill weave. The double-breasted design features with peak lapels and oversized pockets, plus it has a figure-flattering tailored silhouette.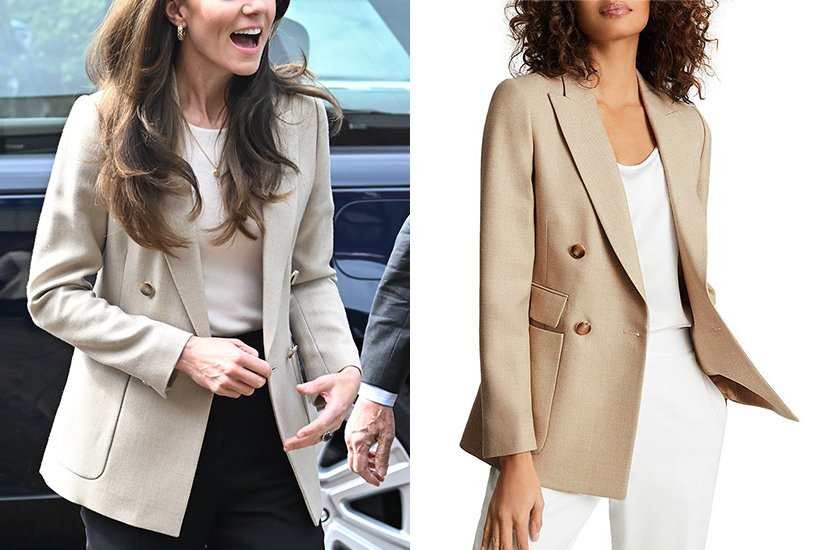 As Kate has demonstrated, the blazer is the perfect spring piece. It's polished for the office, but easy to throw on for evening drinks.
She's has worn the item twice before (in public) to date. First, to visit RAF Brize Norton in September 2021. She chose the blazer for a second time, to visit DEC headquarters in April 2022.
At the time of writing, the blazer can only be purchased in the colour worn by Kate at Brown Thomas, an Irish department store.
It's out of stock in the neutral shade at Reiss.com, though several other colour options remain available to buy, including the 'light camel' variation pictured below.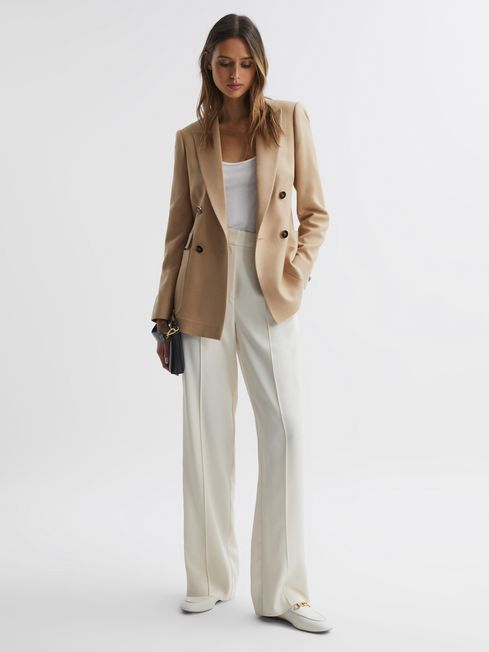 Reiss Larsson Blazer
Want to add some of Kate's signature polish to your wardrobe? Invest in the Larsson blazer—throw it on before you head into the office. Pair it with cigarette trousers and heels for a polished and professional look. Dress it down with flats, or wear with white for a fresh and easy spring-summer ensemble.

Unfortunately, Reiss no longer stock the colour worn by Kate but the Larsson blazer does come in several other shades, including light camel.
Of course, Reiss is a name we all recognise in relation to the Princess. She's worn lots of their pieces over the years. I'm sure we all remember the white 'Nanette dress' she wore for her official engagement photos in 2010. The then-Duchess also chose Reiss bandage dress when she met the Obamas in 2011.
Reiss is a British fashion brand with stores up and down the country. The company is known for being luxury design-led and premium quality at high street price points. The Reiss aesthetic is refined, effortless and elegant, often with clean lines and understated detailing. Shop at Reiss.com.
I can't tell you much about Kate's trousers unfortunately. They could be the L.K. Bennett Frieda Crepe Cigarette Trousers, which we suspect she wears. Or they might be from Alexander McQueen, perhaps the 'Long Cigarette Trousers'? I suspect she owns a pair that she wears with her matching jacket. Of course, they could be from another brand entirely! Perhaps this pair from Reiss?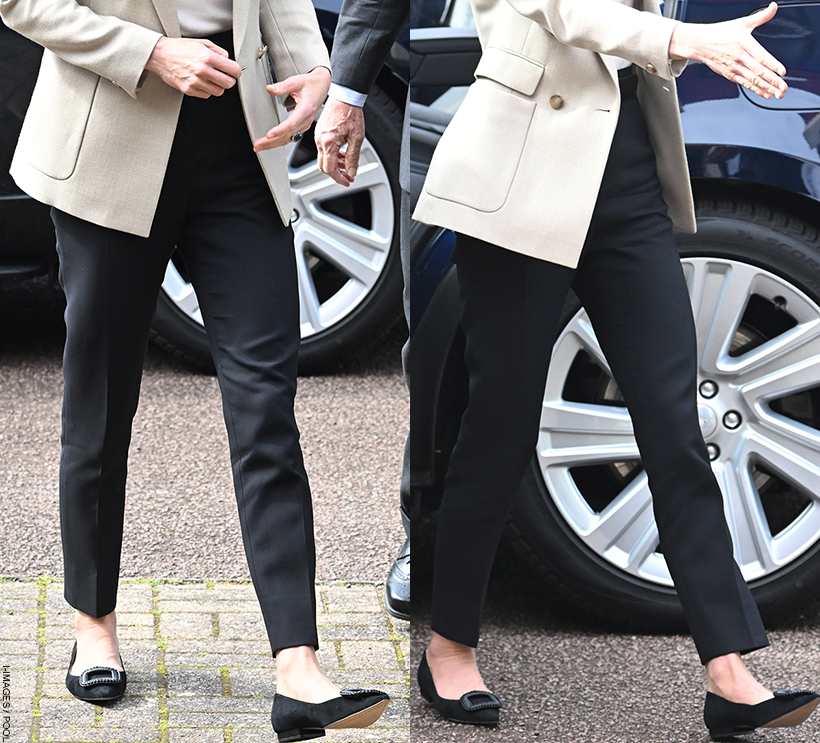 And likewise, I cannot tell you anything about the cream fine knit top she's wearing under the blazer. I've not managed to track down the exact piece.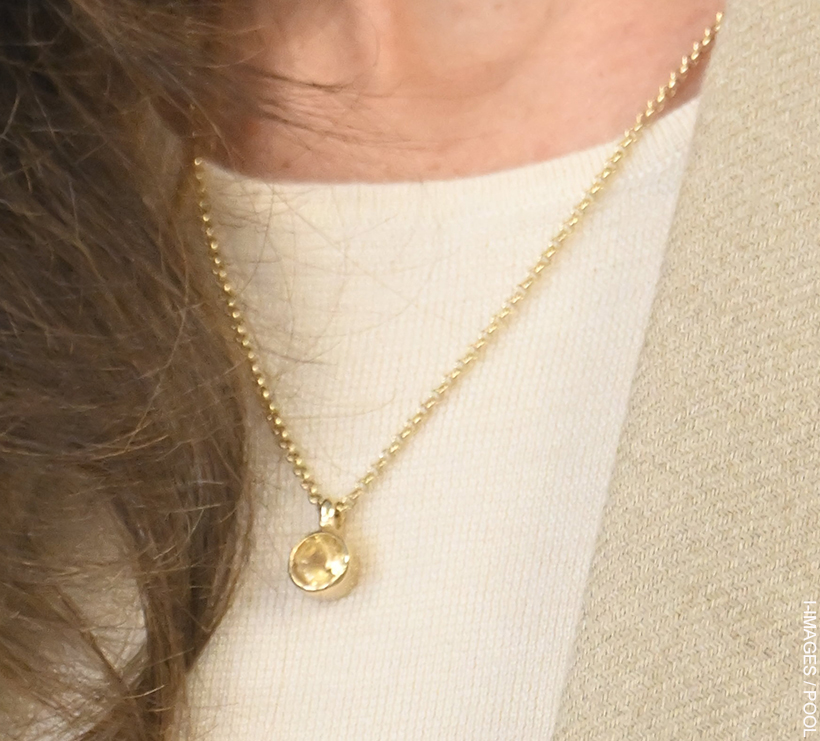 If you're looking for a basic knit to wear under a jacket, try this feather cashmere piece from Theory. Or this soft rib silk top from Arket. Both look like hardworking wardrobe essentials.
One item I can tell you about is Kate's new flat shoes! I tracked them down earlier, they're from Boden. The British brand's pointed ballet flats in black suede.

The flat shoes feature a standout square buckle, which helped with their identification! A closer look: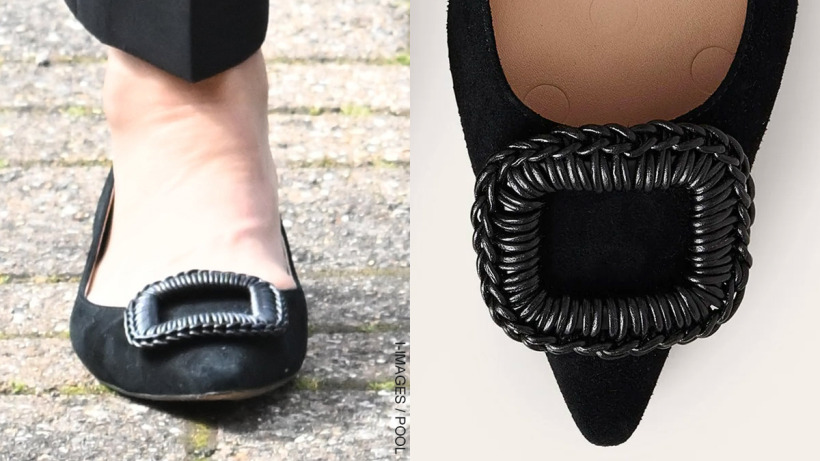 They're made from a mix of responsibly sourced leather and suede, though the sole is crafted from a man-made material.
For those wanting to buy the flats, it's bad news I'm afraid. Only limited sizes remained when I first tracked down the shoes and hours later, they're completely sold out.
However, Boden do still stock the shoe in tomato red and olive green (see below).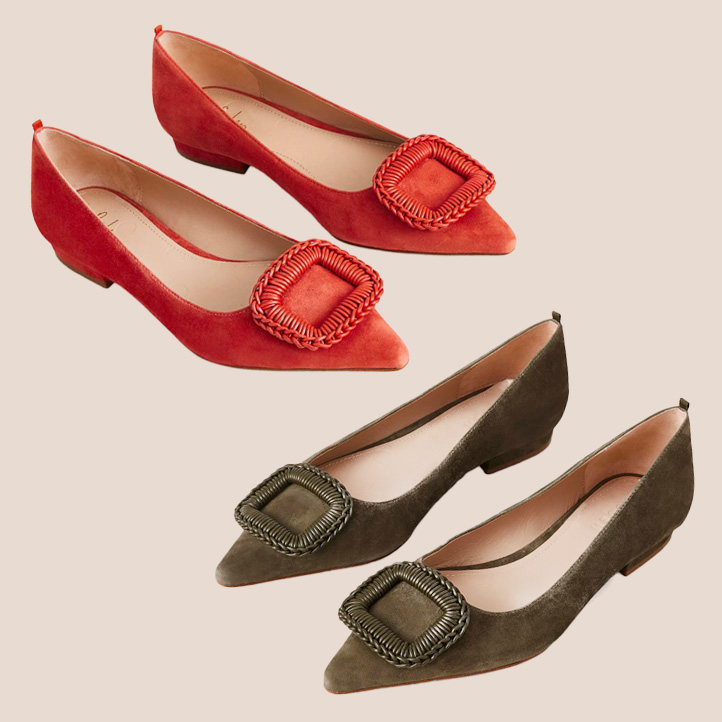 Boden Square Buckle Flats
Love Kate's fabulous flats? Copy her chic style by adding them to your wardrobe in tomato red or olive green.
The Princess started wearing Boden in the late 2010s/early 2020s. The brand has become a recurring choice in her wardrobe since then.
I'm not surprised. Boden is a British brand and, for obvious reasons, Kate often supports homegrown fashion. The company is also known for its classic and timeless aesthetic, with works with Kate's own style. I suspect the Princess also appreciates the company's commitments to ethical sourcing and sustainability too. It's looking increasingly like Kate's drawn to brands that align with these values—a lot of the items she wears nowadays come from slow fashion companies, or from brands that manufacture responsibly. Shop Boden.co.uk / Shop BodenUSA.com
Finally, let's take a look at Kate's gold jewellery. Both items are 'repeats' (we've seen her wear them before). The earrings are from Sézane, the gold 'Bruna' open hoops.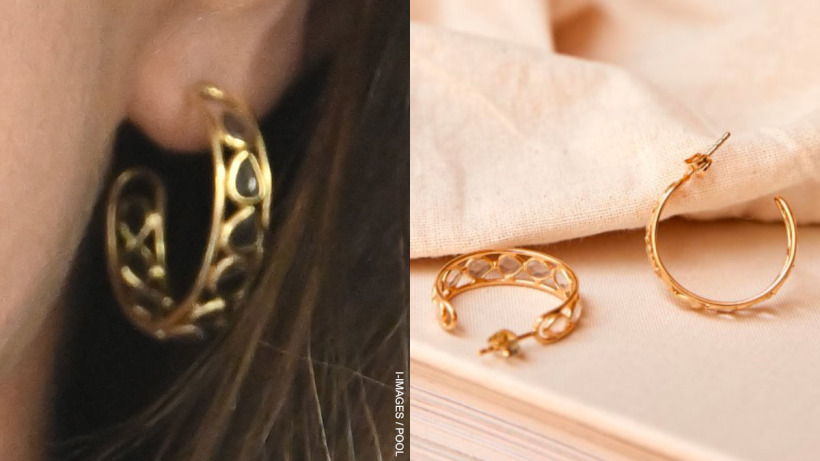 The open hoop earrings feature small hand-set glass stones. They're made from gold-plated metal.
Kate debuted the gold hoops during a visit to the Fabergé exhibition at the V&A Museum in December 2021.
Unfortunately, they're no longer available for purchase.
Sézane is relatively young Parisian fashion brand, launched in 2013 by designer Morgane Sézalory. The label is knowns for its effortlessly chic, quintessentially French designs. Morgane launched the brand with no formal training or education in fashion. She set to designing after years of blogging, styling and selling vintage pieces online. Sézane prides itself on offering women luxury quality at a fair and accessible price. "Je ne sais quoi for all". Shop Sézane.com.
Kate's partial to a pair of Sézane earrings. We know she owns six different statement designs from the brand. We've also spotted her in a few items of clothing from Sézane too. See Kate's Sézane collection here.
Let's look at Kate's delicate necklace now. It's from Daniella Draper, it's the Citrine 'Baby Treasure' Pendant. The pretty necklace is made from 100% recycled 9ct gold and set with a shimmering yellow citrine stone.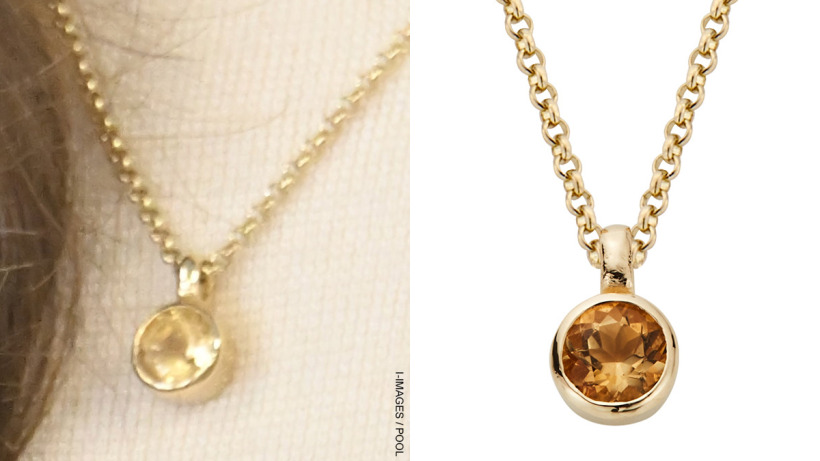 This is the third time we've seen the Princess wear the necklace, she debuted it in January this year. I suspect it was a gift—she wore it for the first time shortly after her 41st birthday.
Planning to buy the necklace? That the item is handmade at Danielle Draper's Lincolnshire workshop and it can take up to two weeks to fulfil your order.
In addition to the necklace, we've spotted Kate wear a couple of pairs of Daniella Draper earrings.
Daniella Draper is a British jewellery designer that handcrafts pieces in the UK from recycled gold and silver. Her high quality, timeless pieces draw inspiration from nature, history, travel, and romance. The brand is an independent family-run company, with a commitment to preserving and protecting the natural world.
I'm not going to lie, I was a little disappointed Kate chose this ensemble today. I understand that the focus of the visit is the baby bank and all the wonderful and necessary work they do. But from a purely selfish point of view, as somebody who follows and writes about her style, I will say I'm over the beige and white blazers!