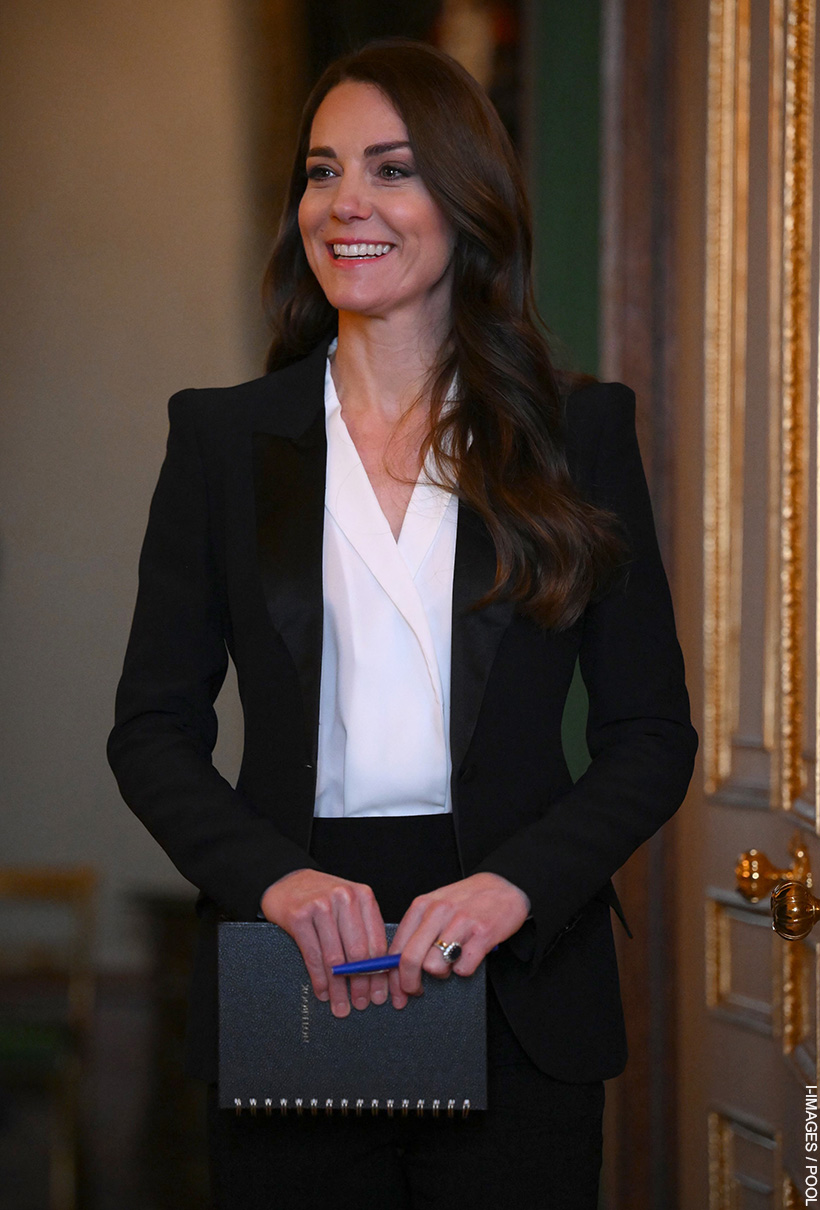 On Wednesday morning, Kate Middleton attended a meeting with her new Advisory Group at Windsor Castle. She looked polished and professional in a sharply tailored blazer by Alexander McQueen as she met the newly formed group of eight experts who will offer strategic advice and oversee the work of the Royal Foundation Centre for Early Childhood.
As fans will remember, the Princess founded the Centre in June 2021. The eight experts are skilled in topics including neuroscience, psychology, perinatal psychiatry, early years services and policy development.
The group will support the delivery of the Centre's work in commissioning new research, learning from best practice in the UK and globally, and raising awareness of the extraordinary impact the first five years of life have on future outcomes.
During the first five years of a child's life, the brain forms connections at a faster rate than at any other point in their lives, establishing the foundation for learning, health, and behaviour. Kate and her team are working to educate the wider public on the significance of this period and to support children during their early years to ensure they have a fair and equal start in life.
The Princess has long been dedicated to the study of early childhood. Over the last decade, she's explored how experiences during these formative years often shape current social challenges. Her latest meeting is a continuation of this ongoing focus.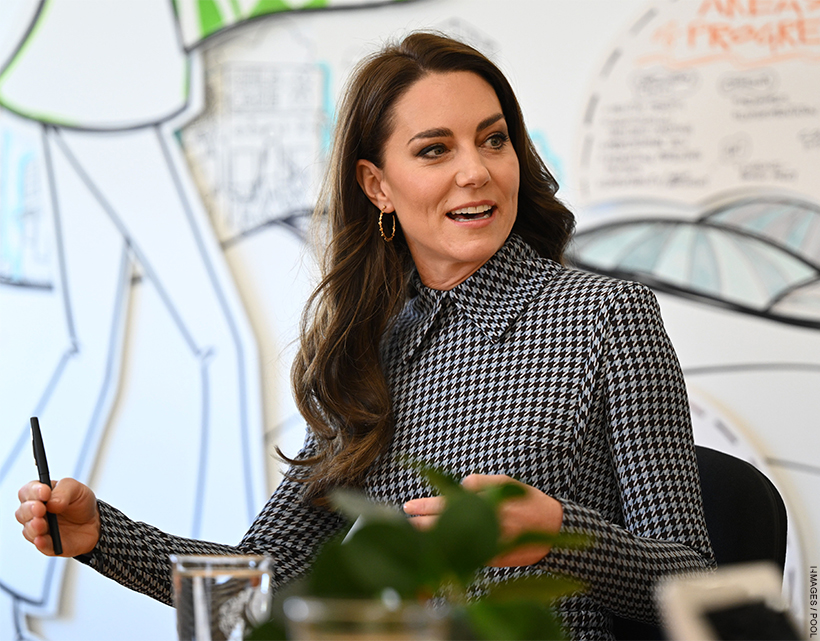 Next week, with the Centre, Kate will announce a new revolutionary "three to five-year program" aimed at positively impacting the vital first five years of every child's life. According to an article in The Telegraph, the programme will "focus on the "building blocks and the scaffolding" that allows children to better develop social and emotional skills as an adult."
In the video above, Kate teases that we'll hear more on Monday evening: "I hope [it] will be an exciting evening for everyone".
Let's move on to the outfit portion of the post now.
Kate's outfit at the Windsor Castle meeting:
As you'd expect, Kate's fashion choices were on point. The Duchess exuded professionalism in her sleek Alexander McQueen jacket, making a statement of her dedication to the work at hand.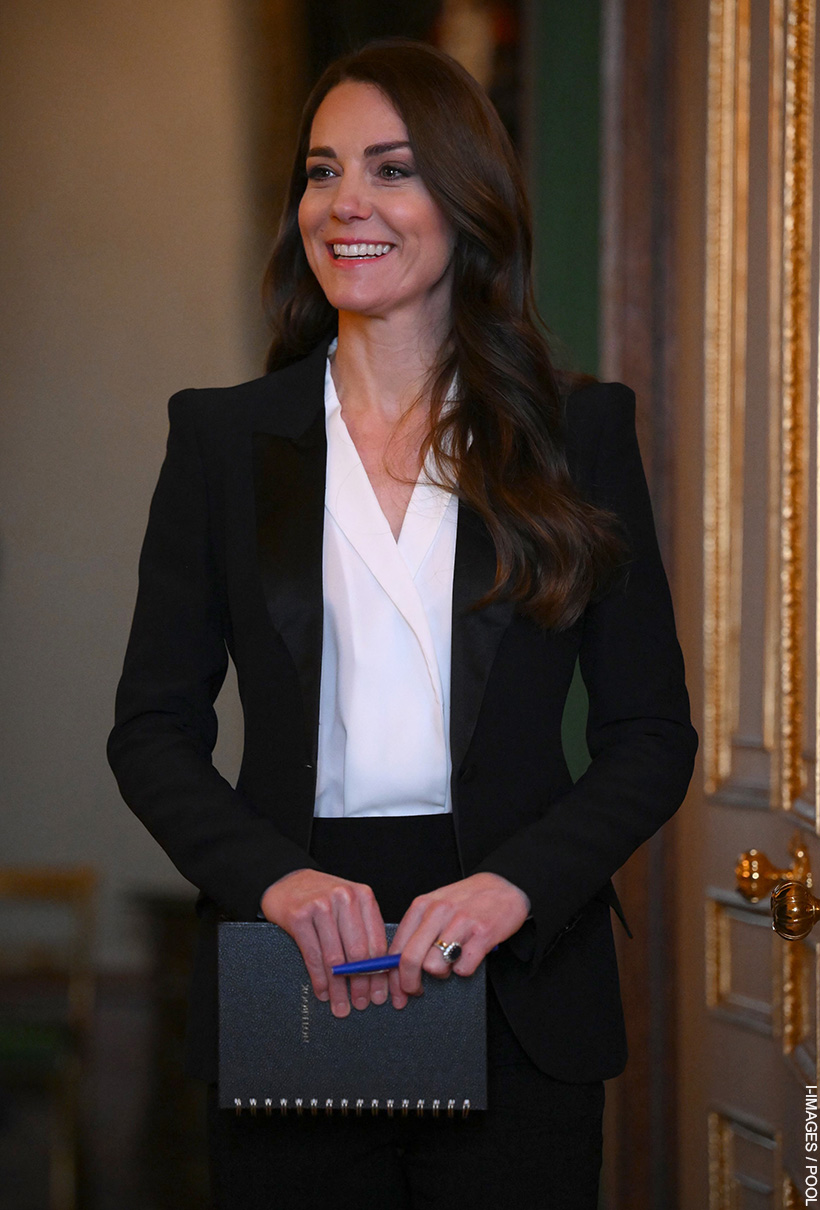 The ensemble allowed Kate's message to take centre stage. I expect the Princess aimed to convey a sense of seriousness to both the experts in the room and the public at large.
We've seen her wear this particular jacket twice before. It's the Leaf Tuxedo jacket in black. The piece features a contrasting blue lining, an exaggerated silk lapel, padded shoulders and a single button fastening. It is tailored for a fitted look and is finished with four buttons on the sleeves.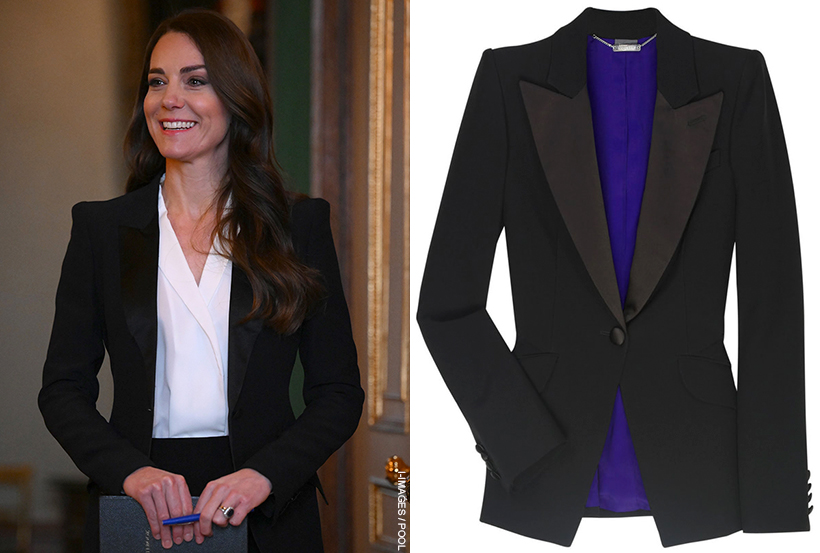 Kate wore it to announce the winner of the annual Wildlife Photographer of the Year competition at the Natural History Museum in London in October 2020. She wore the garment for a second time during a Zoom call with students from the Ulster University School of Nursing in February 2021. Both pictured below:
Alexander McQueen no longer sell this exact piece, but you can still copy the Princess's outfit by shopping one of the blazers from their current season collection. This is my pick: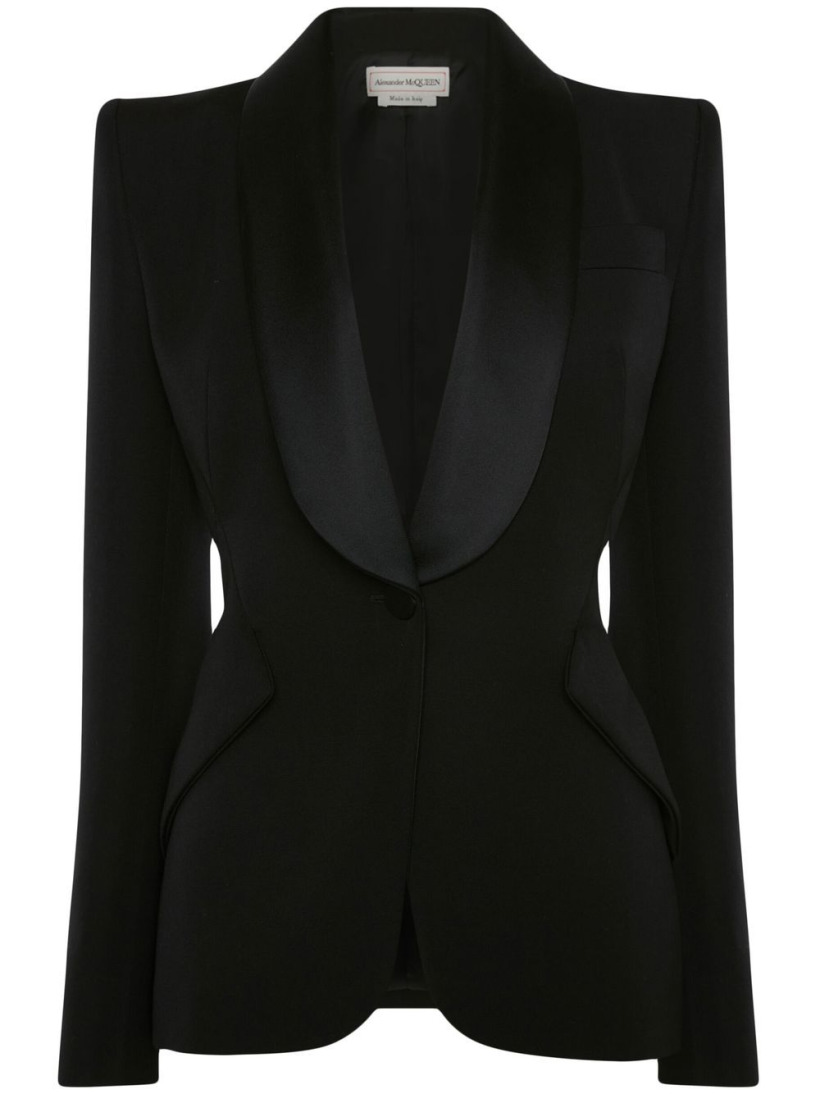 GET THE LOOK!
Alexander McQueen Satin-trim wool jacket, Black
Recreate Kate's power-suit moment with this stunning black wool jacket from Alexander McQueen. It features a satin-trim collar.
Kate's clearly fond of Alexander McQueen tailoring. She's worn a couple of suits from the fashion house recently. We believe she's worn it in white, ice pink, navy and amethyst.
Kate's long been a champion of the British fashion house. Since they designed her iconic wedding dress in 2011, she's continued to wear their designs during official visits, both at home and overseas. The Princess clearly has a good relationship with the label and a deep admiration for their craftsmanship.
Founded by the late designer, Lee Alexander McQueen and known for its avant-garde designs and impeccable tailoring, the label has become a go-to for fashion-forward individuals and a favourite of both royals and celebrities alike.
Let's look at the shirt Kate wore under the blazer next. It's actually a bodysuit from Holland Cooper.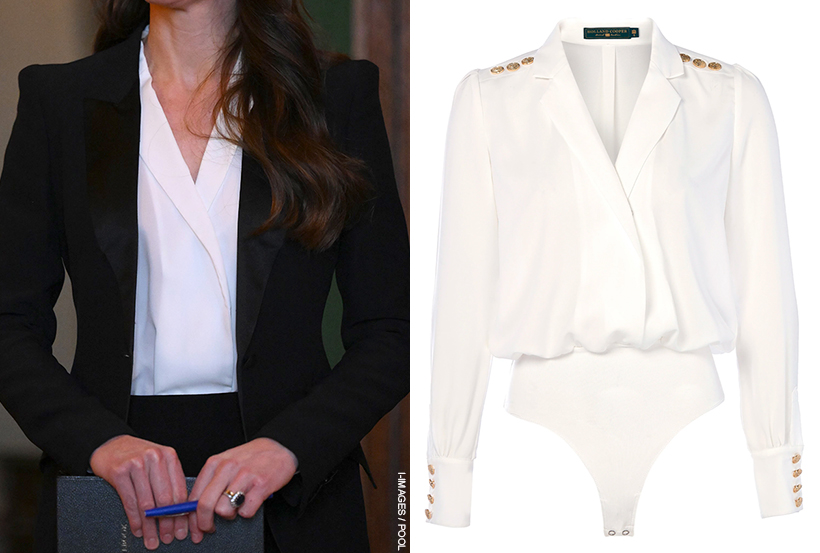 We've spotted her wearing the item on a handful of occasions since 2021. Holland Cooper confirmed Kate wore their Shirt Bodysuit in a post on Instagram back in 2021. They wrote "An incredibly proud moment for the HC team to see the Duchess of Cambridge, Kate Middleton wearing our white Shirt Bodysuit!"
This is the fourth time we've seen the Princess wear the garment to date.
Holland Cooper calls the piece a "stunning lightweight shirt bodysuit" that was "designed with a day to night concept in mind". It's finished with Holland Cooper's signature branded gold buttons on the cuffs and shoulders.
Thanks to our nylon elastane thong base, made with our superior knitting technique this ensures our bodies have a flawlessly smooth fit every time. This piece creates the impression of a seamlessly tucked-in blouse. With an inverted dart back pleat, this well designed shape creates for a flattering silhouette.

Holland Cooper
It's clear that Kate is a fan of Holland Cooper's clothing, we know she owns six or seven pieces from the brand.
The brand, founded by fashion designer Jade Holland Cooper in 2008, is known for its luxurious materials such as cashmere, wool, and leather, as well as its attention to detail and high-quality craftsmanship. With a focus on traditional British style, Holland Cooper has become a go-to for those looking for timeless and elegant pieces.
Let's look at Kate's earrings now. They're the Chunky Knot Baroque Pearl Drop Earrings from Shyla London. She first debuted the earrings during a visit to Boston at the end of last year (shown below in Boston).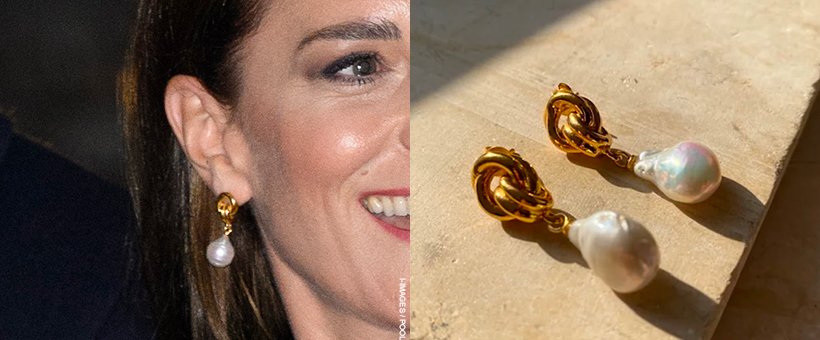 The earrings feature a baroque pearl suspended from a chunky knot top finished in a high shine gold. The designer describes the style as "feminine, graceful, and elegant".
These earrings are made from 22 carat gold on silver and have a retail price of £72—they remain available to buy if you're looking to purchase the earrings.
Shyla London is an eco-conscious company that offers timeless, wearable and thoughtfully designed jewellery with a clean, minimalist, and contemporary atheistic. All stones are natural, and the metals are ethically sourced or recycled.
Shyla London work with small charities in India to teach some of the poorest women in the country a new craft that they can use to support and sustain their families.
Let's finish with Kate's trousers. There are no high-quality photos showing her legs and feet. I can see she's wearing long, puddling, wide-leg trousers in one video. They could be her Axon trousers by Roland Mouret, it's a possibility.