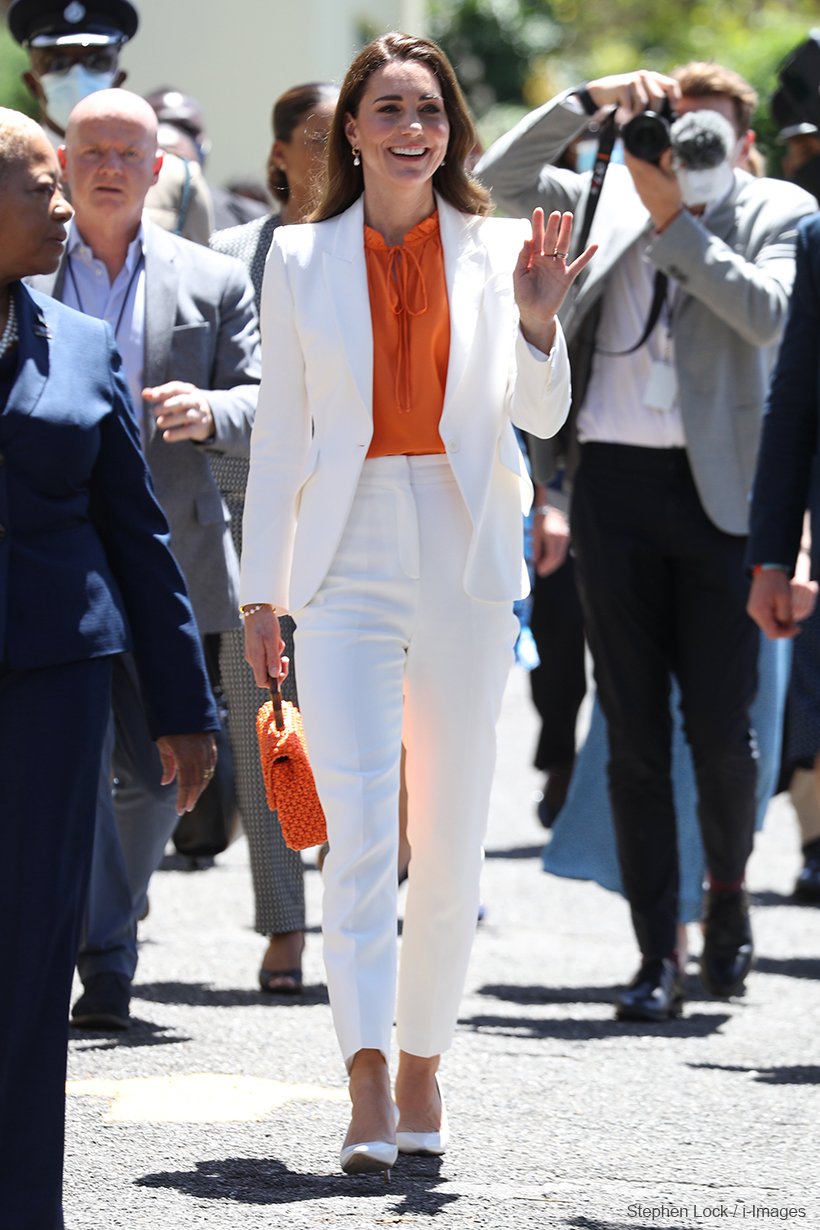 Kate started day five of the Platinum Jubilee Tour in another strong outfit. She chose a white suit by Alexander McQueen for a meeting with Jamaica's Prime Minister Andrew Holness and his wife Juliet, an MP.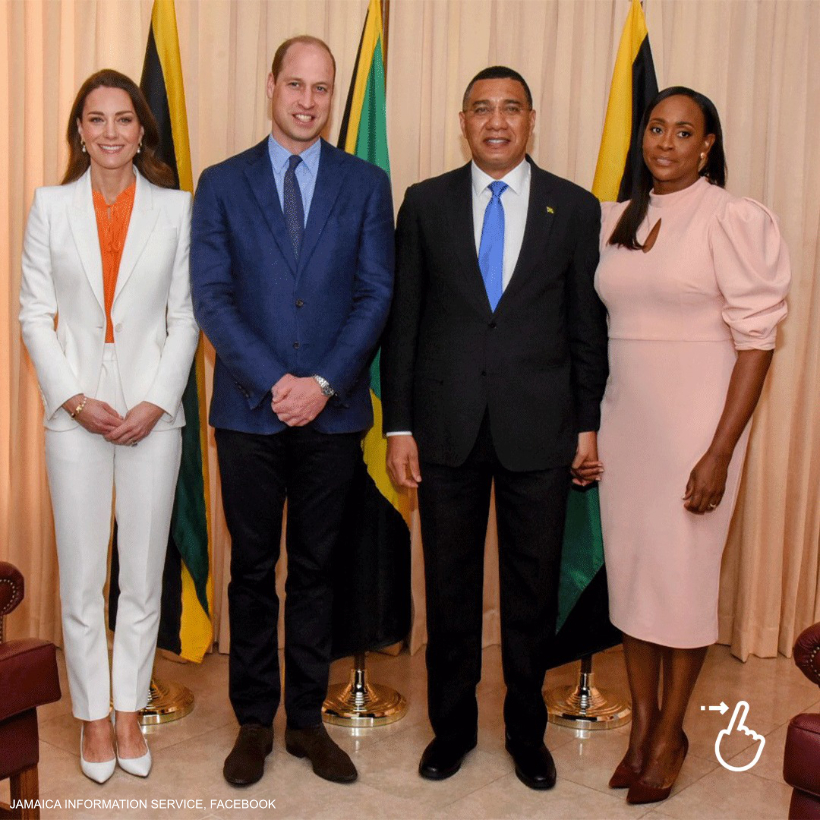 The Duchess paired the chic suit with vibrant orange accessories—including a vintage bag from the 1960s. As usual, you'll find detail about Kate's outfit further down the page ⬇️
As William and Kate posed for a photo opportunity, the Prime Minister delivered a short speech addressing anti-monarchy protests in Jamaica. He also spoke of the country's wish to remove The Queen as head of state. From People:
"Holness directly addressed his country's intention to break away from the British monarchy, referencing the anti-colonial protests that took place amid the couple's arrival in Jamaica on Tuesday and the call for the country to drop William's grandmother Queen Elizabeth as head of state.

We're very, very happy to have you and we hope you've received a warm welcome of the people," he said. "Jamaica is a very free and liberal country and the people are very expressive —and I'm certain that you would have seen the spectrum of expressions yesterday," he said, referencing the couple's warm welcome in Trench Town, which followed a protest calling for slave reparations from the British monarchy in the country's capital."

"There are issues here, which as you know, are unresolved, but your presence gives us an opportunity for those issues to be placed in context, to be out front and center and to be addressed as best we can. But Jamaica is, as you would see, is a country that is proud of its history and very proud of what we have achieved. And we're moving on and we intend to… fulfill our true ambitions and destiny to become an independent, developed and prosperous country."

PEOPLE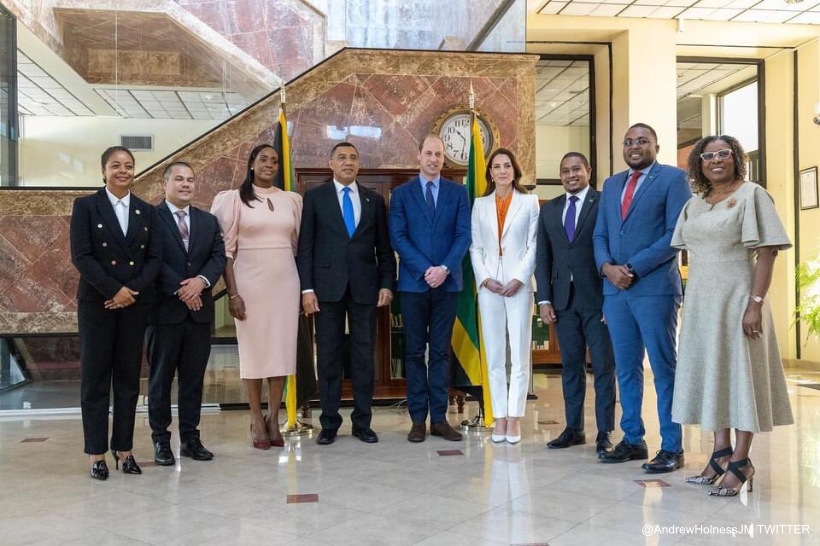 Before leaving, William and Kate signed a visitor's book. They also received a bottle of Appleton Estate Ruby rum, an official gift from the government. The rum was created by Dr Joy Spence—the first female master blender in the world.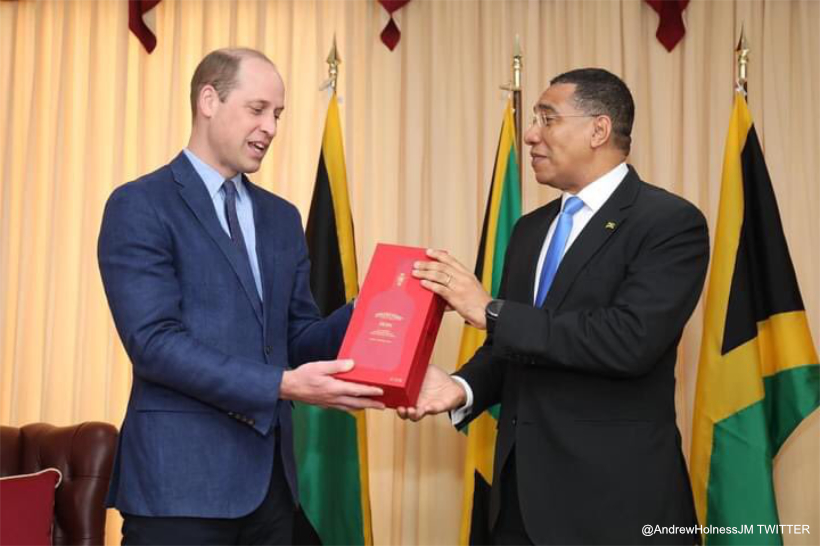 Then, it was time for a visit to the Shortwood Teacher Training College in Kingston.
Shortwood is one of the country's training colleges and the first in Jamaica to offer training in early childhood education. It was founded over 100 years ago.
After a discussion about the early years with education shareholders in the College's library, the Duke and Duchess walked over to the on-campus school.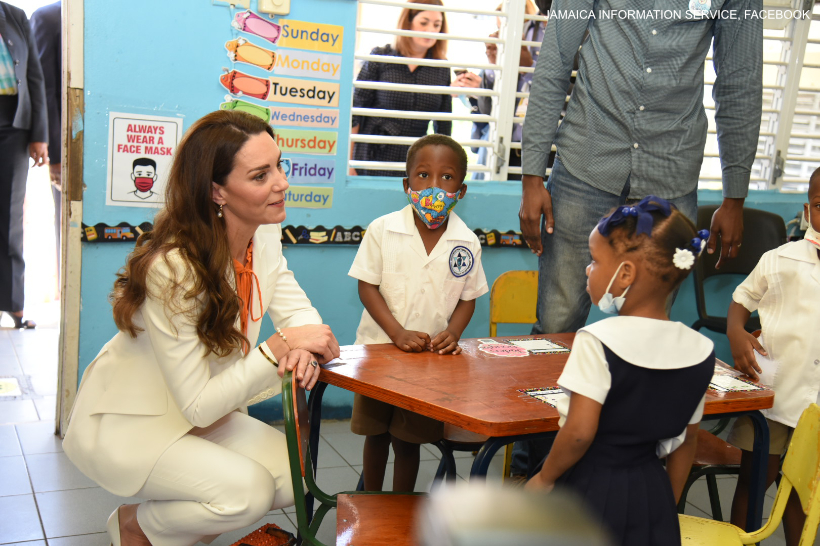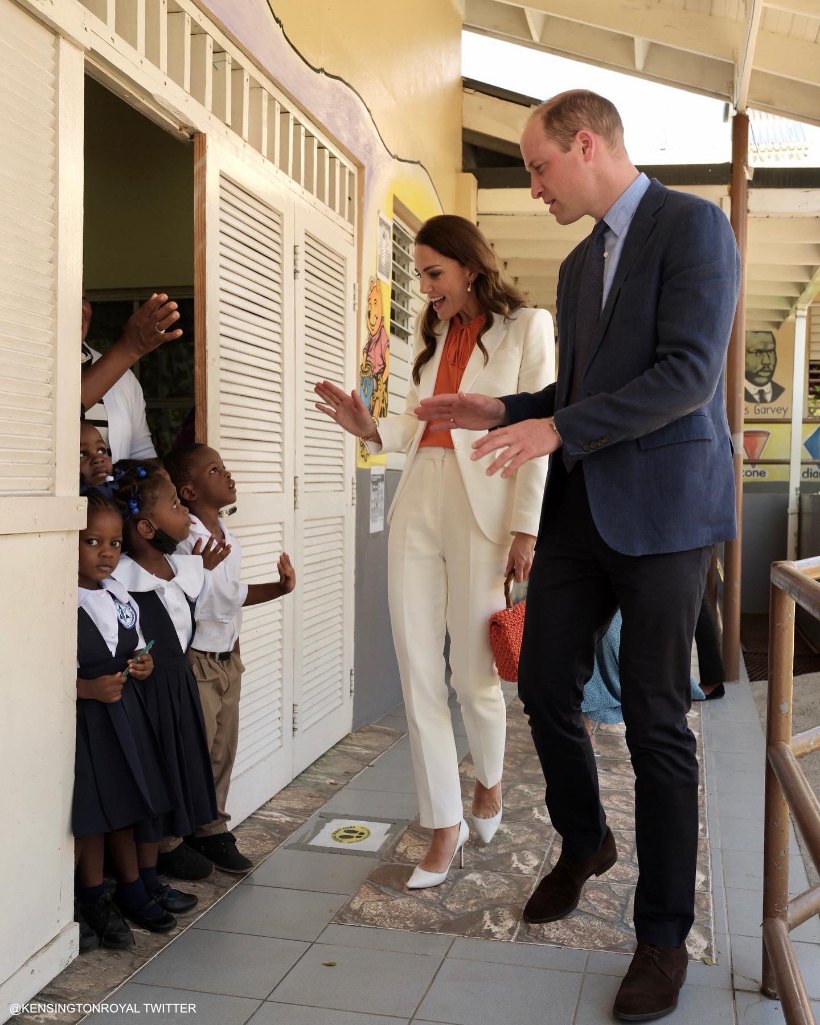 Here, they spoke with parents and teachers about teaching styles and other issues affecting the education sector. They also met with some of the schoolchildren.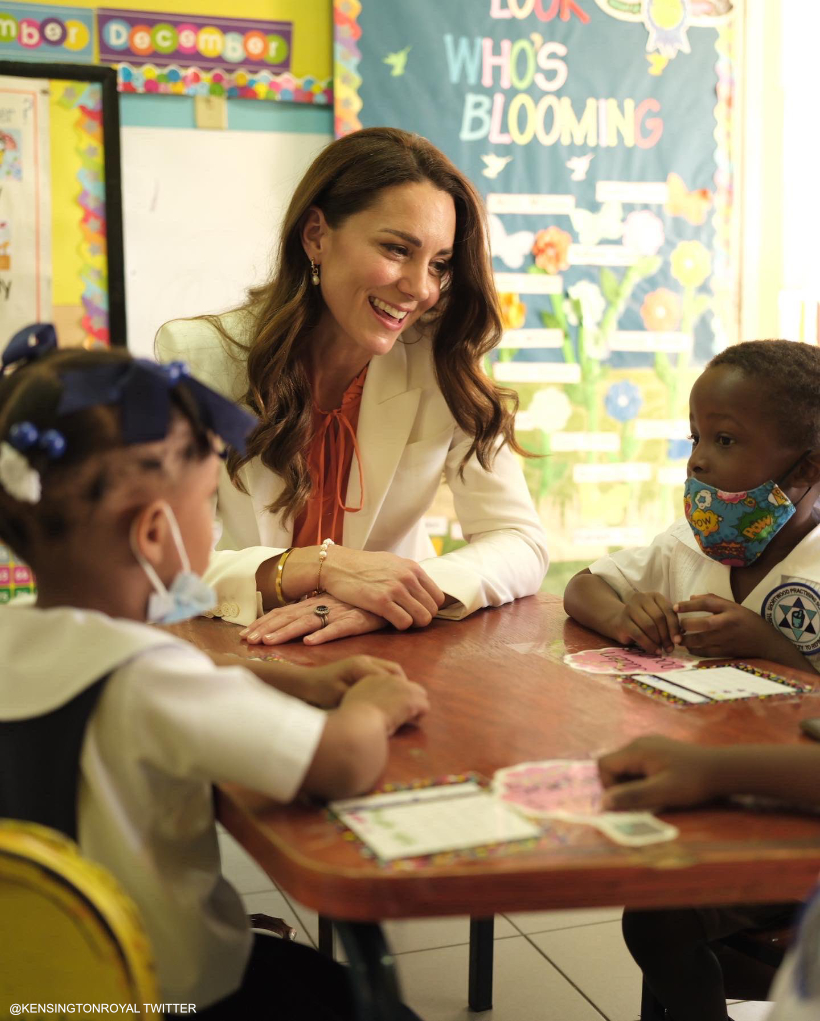 Kate delivered a speech. From People:
[Kate] made sure to stay focused on her primary mission of championing early childhood education around the globe.

"I truly believe we are on the cusp of one of the biggest opportunities for positive change in generations," she said in a speech delivered to faculty and staff at Shortwood Teacher Training College in Kingston."

Kate used the speech to reiterate the importance of early childhood:

"It is when we learn how to form relationships, how to connect to one another, how to manage our feelings and emotions. It is when we learn to develop a sense of identity, belonging and worthiness," the Duchess noted. "And it is when we shape our values and understanding of the world we live in."

She continued, "That is why I am so passionate about early childhood. Because we are doing something much more than building healthy children. We are nurturing the children and the adults that they will become, the families they will build and the communities they will be part of."

PEOPLE
After the college visit, William and Kate headed to the Spanish Town Hospital in St Catherine. Upon arrival, they were greeted by the Minister of Health and Wellness, Dr. Chris Tufton, who showed them a vaccination centre. Here, the couple met with nurses and observed them administer a vaccine.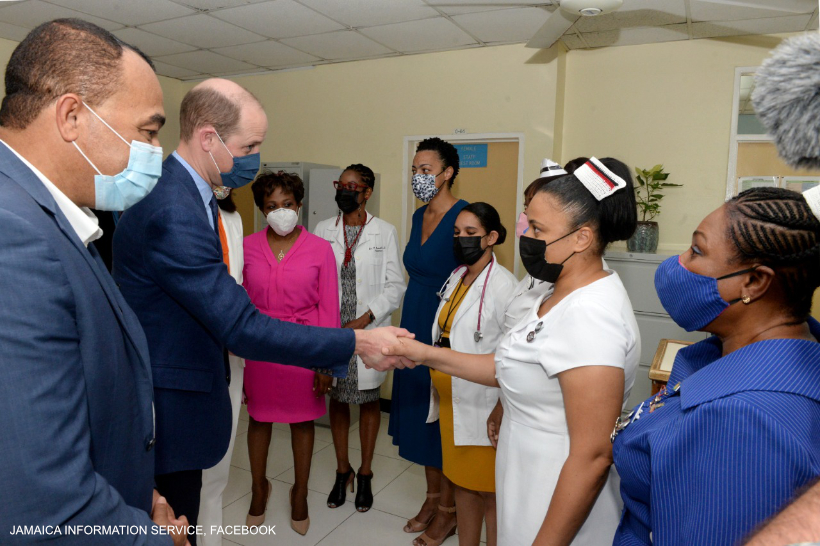 The final visit of the day took place at the Caribbean Infantry Training Centre in Flankers, Montego Bay, St James. Here, William and Kate met the Jamaican Defence Force. Minister of National Security Dr Horace Chang welcomed the couple upon arrival.
Let's take a look at Kate's eye-catching outfit from the day's engagements.
Kate's white suit & orange accessories in Jamaica:
The Duchess wore a white suit by Alexander McQueen to visit the Prime Minister's office, college, school and training centre.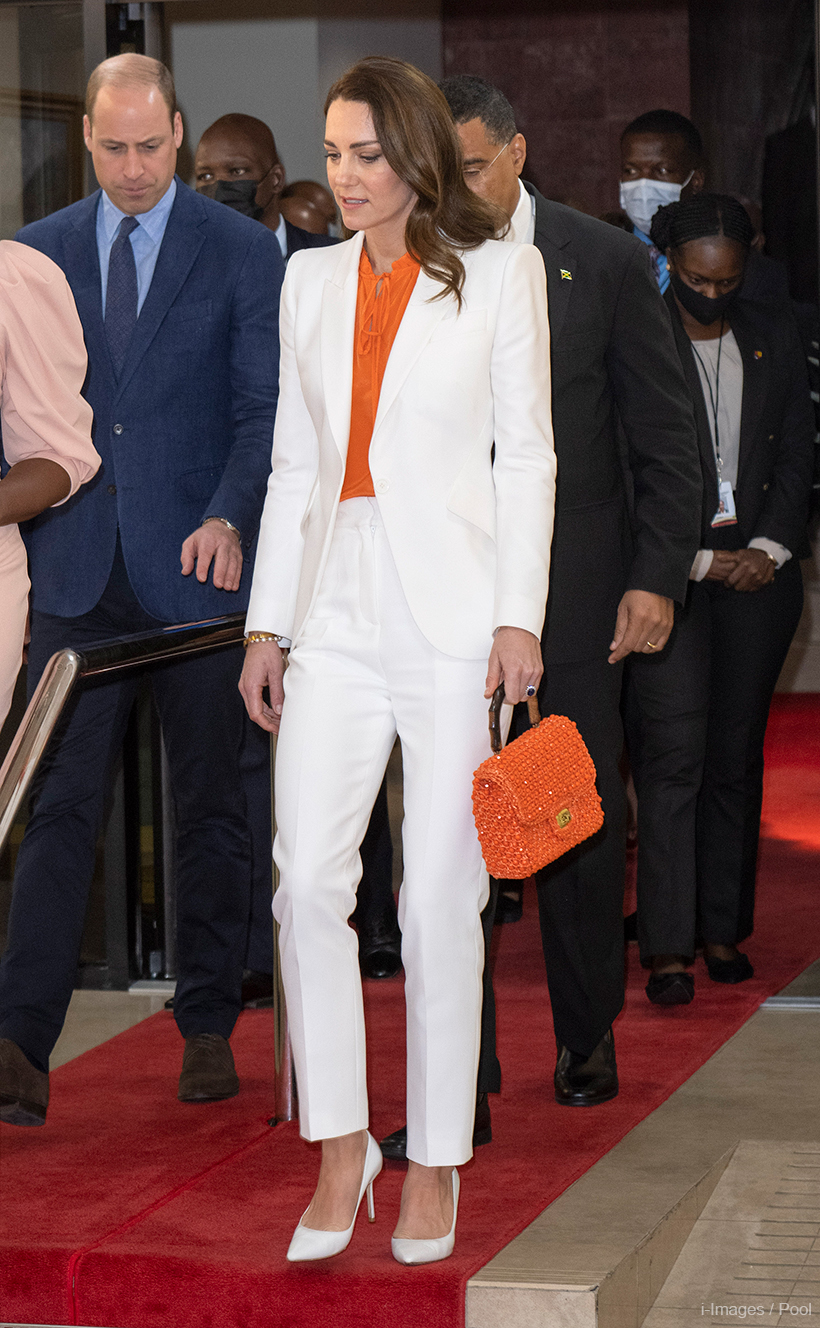 I suspect the white suit was chosen to contrast against the Jamaican flag used as the backdrop for her speech.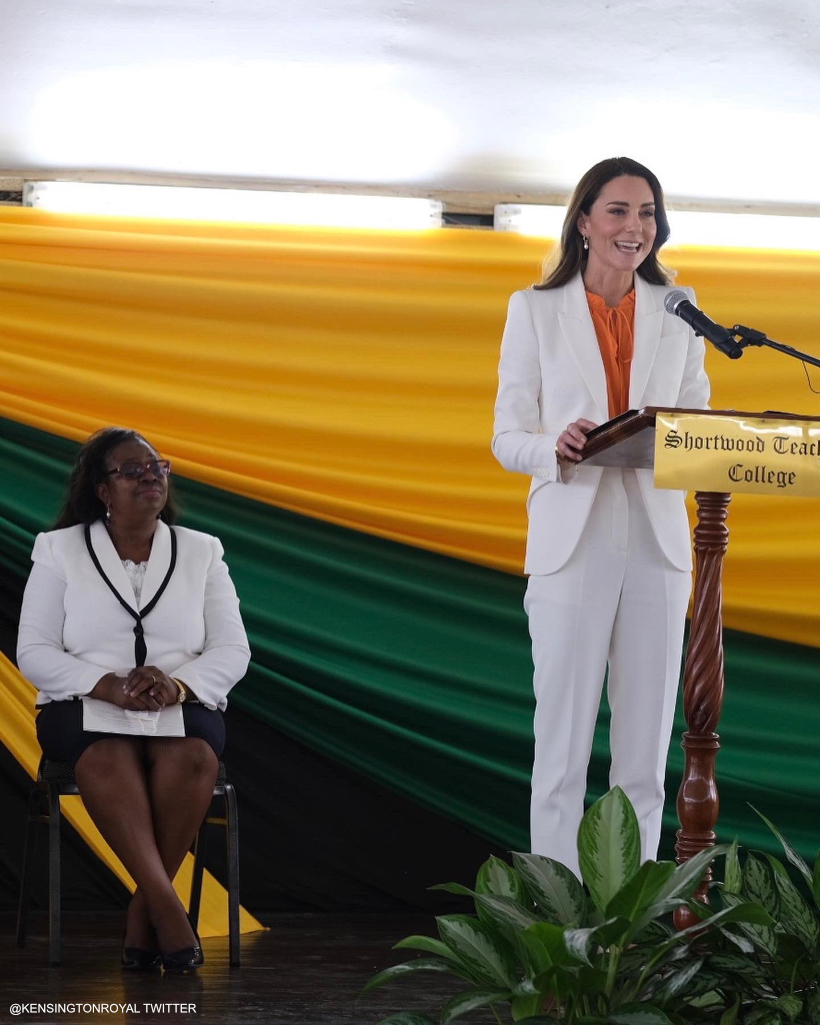 At the time of writing, Alexander McQueen sell the white suit jacket in two different fabrics: grain de poudre wool and viscose crepe. (Thanks to Susan and Katie for sharing the two blazers).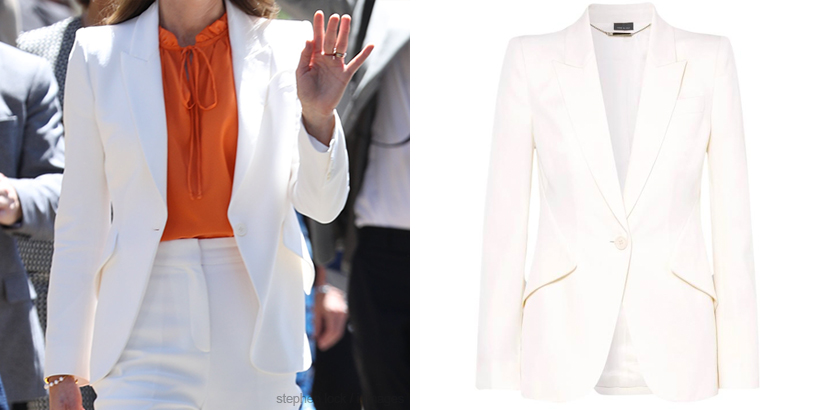 The jacket features strong shoulders, slanted pockets and a double vent. The expertly tailored single-breasted blazer features a single button. It is made in Italy. RRP: £1,370 GBP / $1,995 USD.
Katie suggests the Duchess wore the white jacket with this pair of matching slim-leg pants.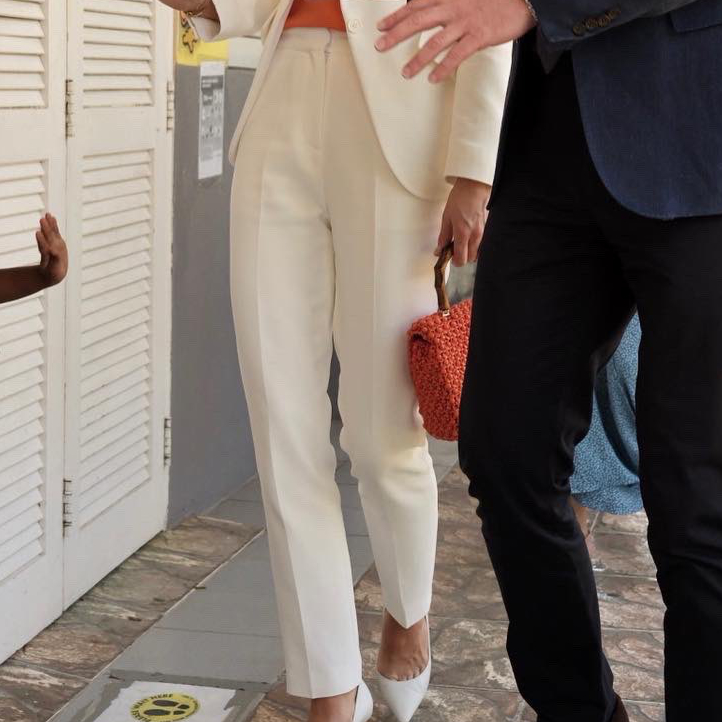 The trousers are high-rise and slim fitting. They're made from a mid-weight, non-stretch crepe fabric (This leads me to believe Kate is wearing the matching crepe jacket). They feature a concealed zip on the front. The backs and fronts of the trousers have been finished with creases. RRP: £590 at Net-A-Porter.
Below, a stock image of both the jacket and trousers worn together: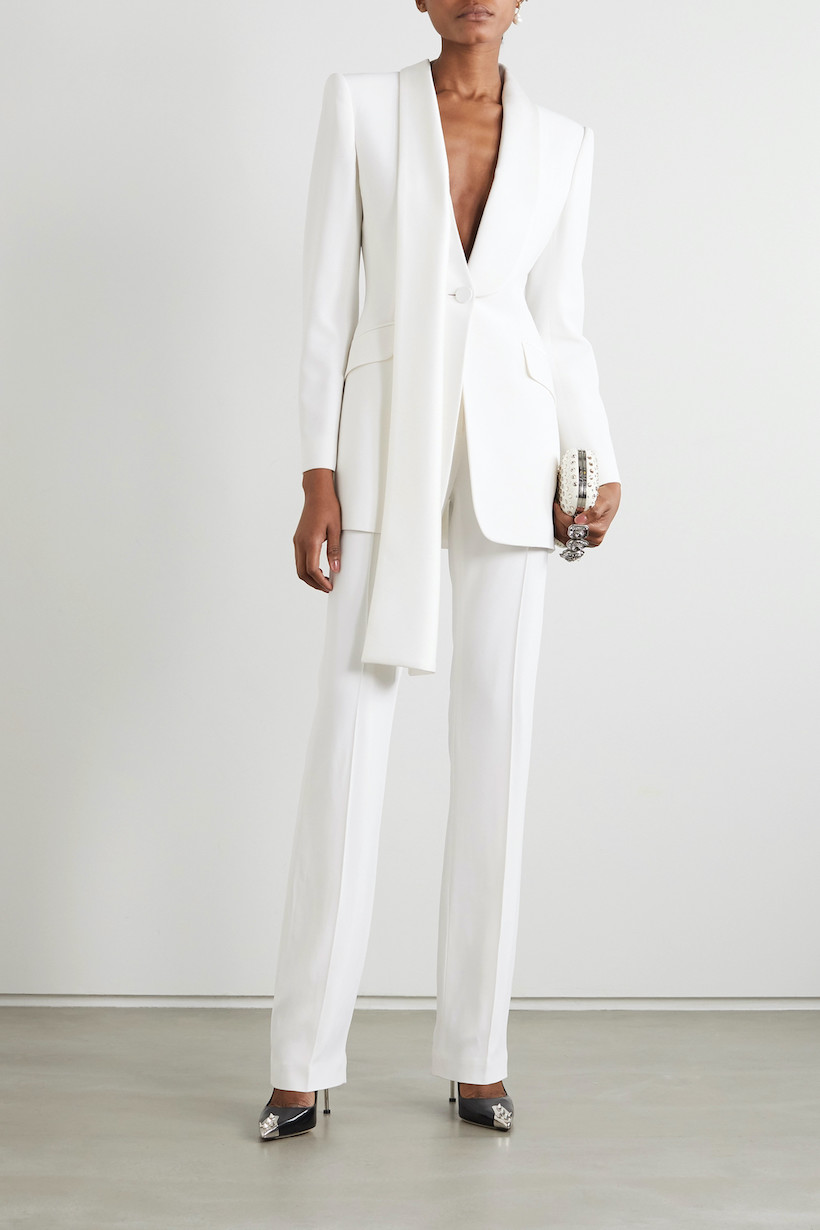 Kate's blouse is from a British brand called Ridley. It's the Alicia top in tangerine orange.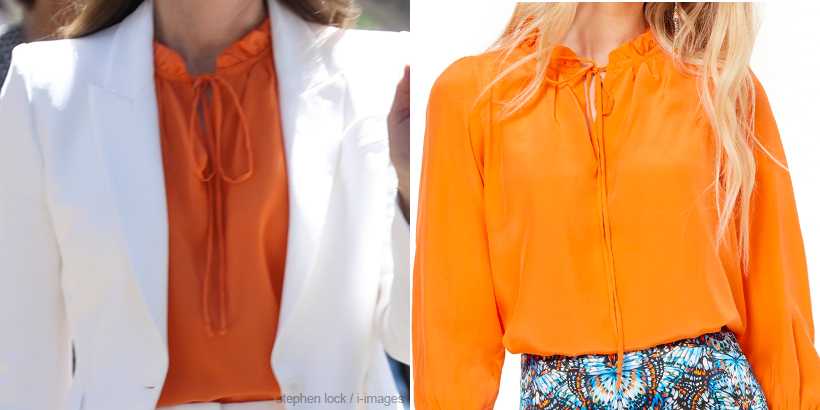 The piece is made from silk crepe de chine fabric, features a tie-neckline and three-quarter length sleeves finished with an elasticated frill cuff. The piece remains in stock on Ridley London's website for £249.
Kate continued to champion sustainable fashion by carrying a pre-loved bag sourced from a vintage shop.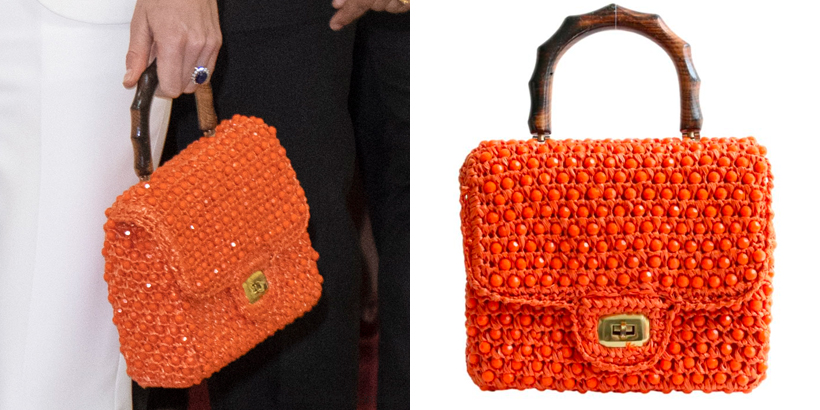 It looks like she bought the bag from the same boutique as her 1950s sundress.
The piece is made by Dayne Taylor and dates back to the 1960s. It's made of knotted and woven raffia interlinked with faceted plastic beans—all in a stunning vivid orange. The bag features a gold clasp and a brown wooden handle. Willow Hilson sold the accessory for £229. (Possibly to Kate!)
Kate wore a pair of white Jimmy Choo Romy 85 pumps with her suit. The shoes feature a slim heel and a pointed toe. Sadly, Jimmy Choo no longer stock the ROMY 85 in white leather. You can view the other styles of ROMY on Jimmy Choo's website here or all of their white pumps here.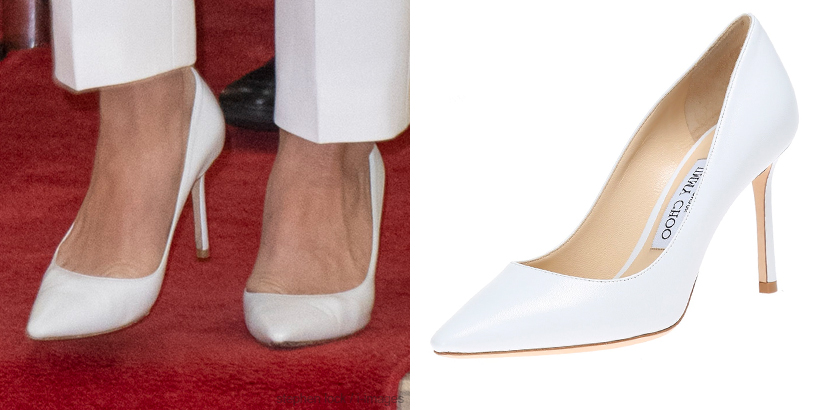 Let's briefly look at Kate's jewellery now.
She wore her Maria Black Cha Cha Pearl Earrings for a second day running. You might remember she first wore the gold and pearl earrings in Denmark, a month before her visit to Jamaica.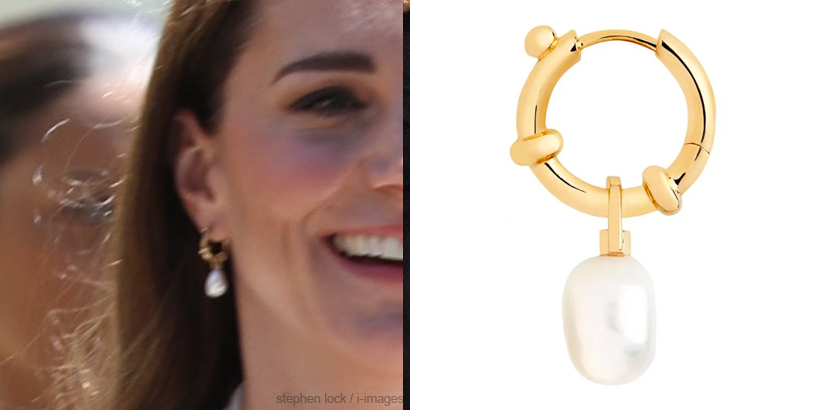 Maria Black is based in Copenhagen. The earrings feature a mother-of-pearl bead hanging from a sterling silver huggie hoop earrings plated in 22-karat gold. A silver version is also available. One single earring retails for £152 GBP / $188 USD. You need to buy two earrings if you want to wear a pair.
Kate wore two gold bracelets by Jamaican designer, Lashawndla Bailey-Miller from her brand Steelz and Mantraz.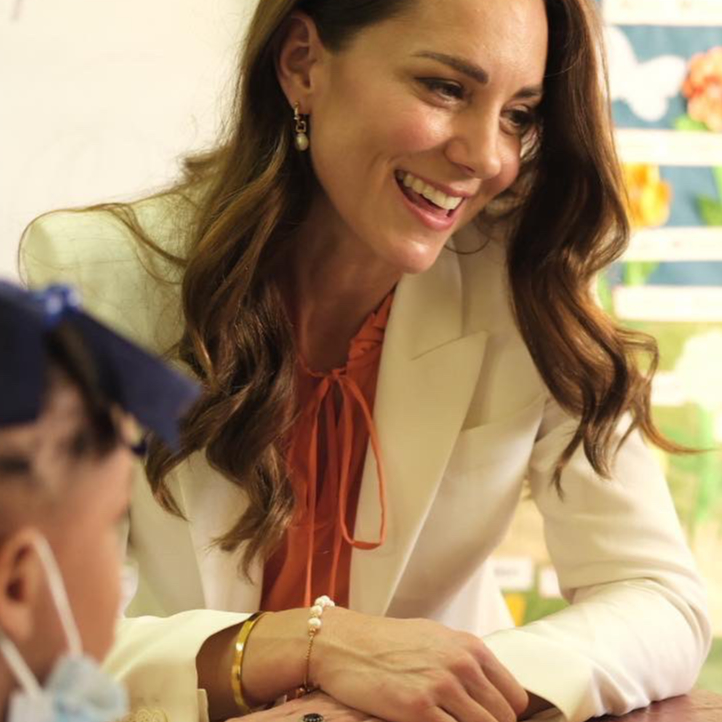 She chose the 'She's Royal' cuff and the 'Happy Pearl' bracelet.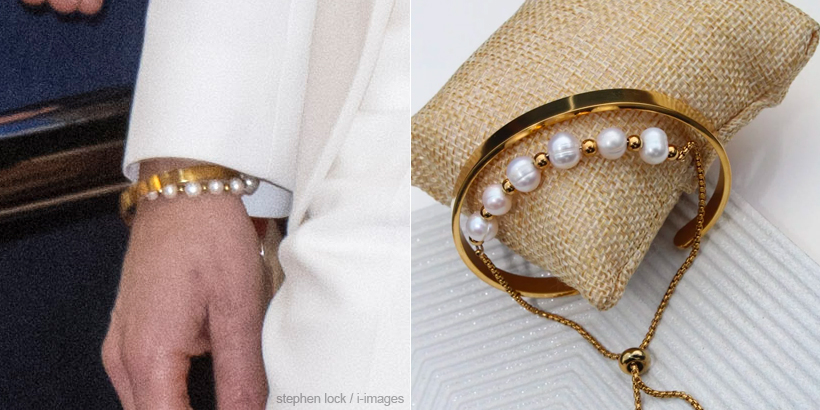 The Happy Pearls bracelet is made in Jamaica from 18k gold plate and freshwater pearls. It has a slider clasp – one size fits most. It retails for $95 (I think that is USD but I'd check before buying, the prices might be listed in Jamaican Dollars.)
The gold "She's Royal" cuff is made from highly polished stainless steel and plated in 18k gold. You can have it inscribed with a message of your choice. It looks like Kate wore hers without an inscription.