Kate Middleton made a special guest appearance on The Good, The Bad and The Rugby podcast over the weekend.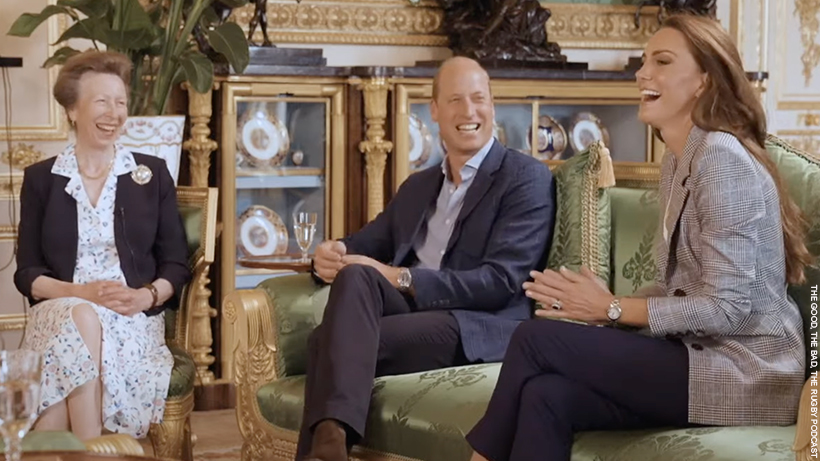 Released this weekend to align with the Rugby World Cup, the Princess of Wales was joined by her husband, Prince William and his aunt, Princess Anne, making it a full royal affair.
As most of you will already know, former English rugby player Mike Tindall is married to William's cousin, which means, of course, he is Princess Anne's son-in-law.
Each of the three royals is patron of a different rugby organisation. (Just in case you're keeping score. William is patron of the Welsh Rugby Union, Kate is patron of the Rugby Football Union and Princess Anne is patron of the Scottish Rugby Union.)
The three guests covered a lot of ground with hosts James Haskell, Mike Tindall, and Alex Payne. From Kate's impromptu barefoot race at her kids' sports day to her memories of playing sports in harsh weather conditions, the episode is packed with gems, and plenty of funny moments too.
(Even if you're not a rugby fan, the episode is well worth a listen.)
During the podcast, Mike Tindall revealed that he's seen Kate play beer pong. He made the remark when talking about her competitive streak. For the uninitiated, beer pong is a drinking game in which players attempt to throw or hit table tennis balls into cups of beer, and their opponents are required to drink the contents of any cup in which a ball lands. I can imagine the royal cousins and their spouses getting together to play this of an evening! Hilarious.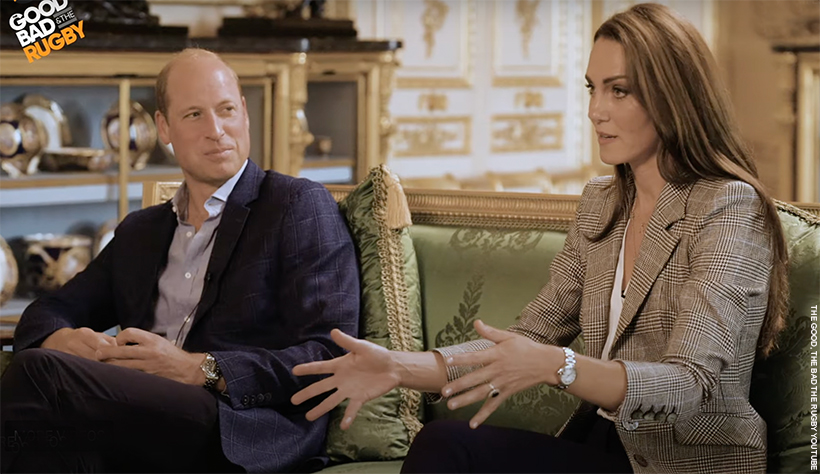 Kate also spoke about her love of cold swimming during the podcast, telling the hosts "the colder, the better. I absolutely love it. Slightly to the point where William's (saying) 'your crazy' and it's dark and it's raining. I will go and seek out cold water. I love it."
Joking about their competitive nature, Kate revealed the pair have never finished a game of tennis because "it becomes a mental challenge between the two of us".
The Princess also revealed she was truly disappointed to miss Andy Murray's landmark Wimbledon win in 2013. Heavily pregnant at the time, her doctor had given her a firm "no" when she enquired about attending the final.
When asked if William and Kate's children had inherited their parent's competitive natures, Princess Anne answered, "just a little bit."
Kate said that the three children have very different temperaments and they're still trying different sports as they grow. Charlotte, she revealed, is playing both rugby and football at school.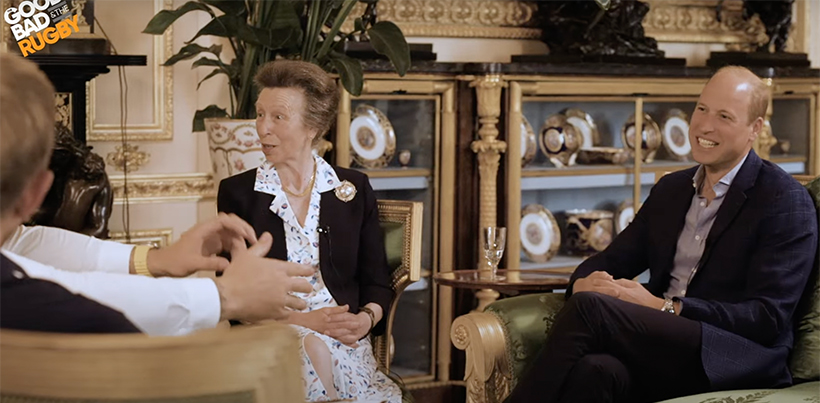 The podcast crew filmed the episode in the Green Drawing Room at Windsor Castle on September 6th 2023.
The full episode is available to watch on YouTube, or you can catch the audio version on your favourite podcast platform.
On Saturday evening, Kate attended England's opening World Cup match against Argentina in France on. The match ended in a 27-10 victory for England.
Now, let's pivot to what you're all really curious about—Kate's outfit for the podcast. Read below for the full style breakdown.
Kate's outfit on The Good, The Bad and The Rugby podcast:
For her podcast appearance, the Princess opted for a chic blazer, tailored trousers and heels—a smart choice that perfectly aligned with her role as patron of the RFU.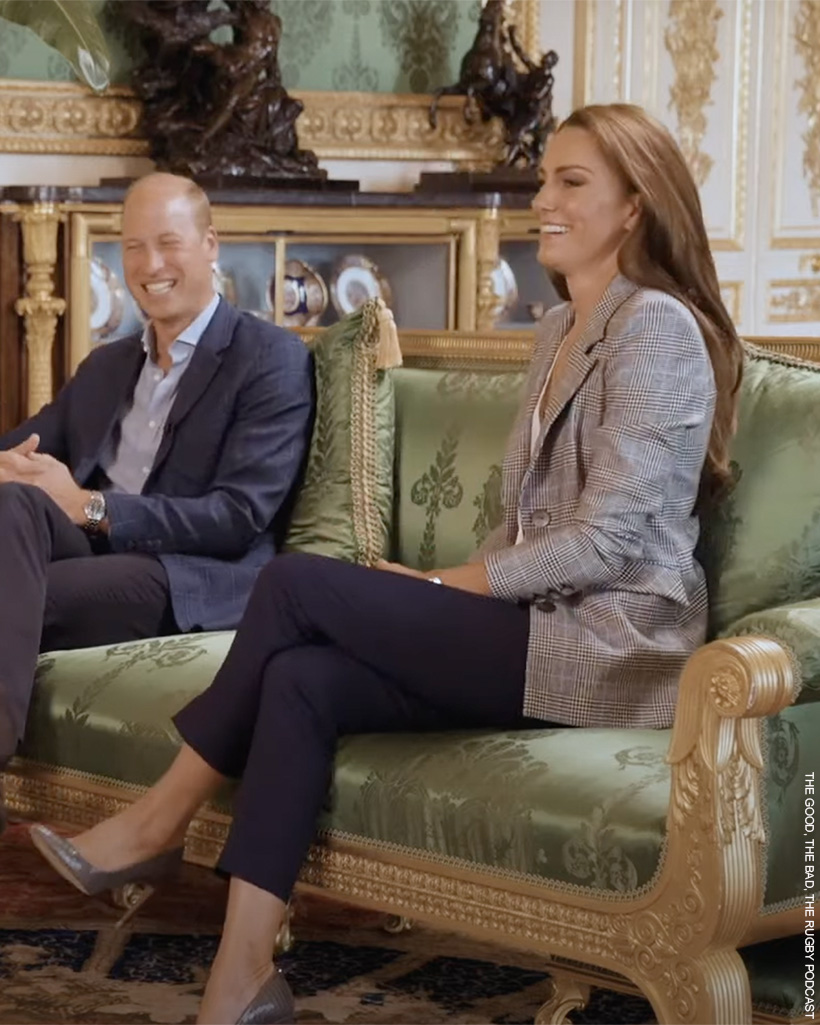 The blazer is a repeat. The Princess first wore it to visit PACT (Parents and Children Together) in February last year (pictured below) –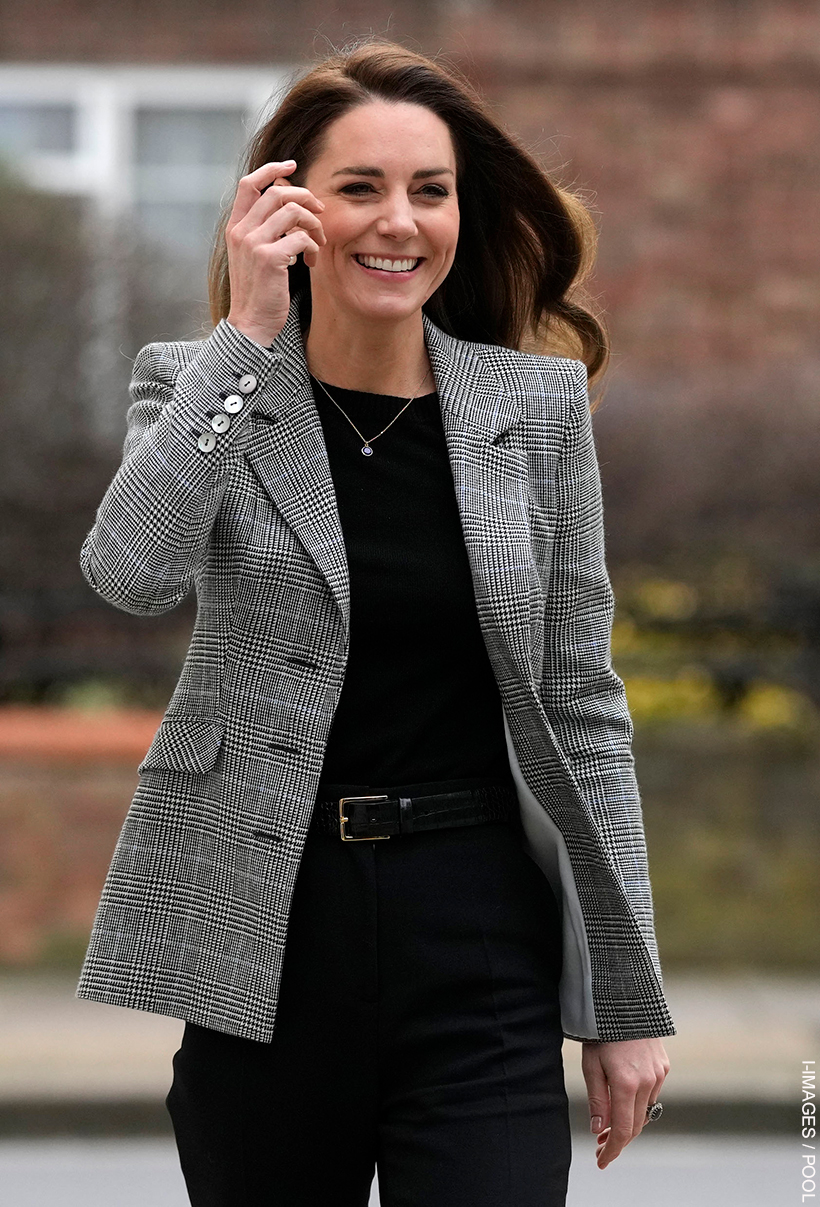 The smart blazer features a Glen check (also known as a Prince of Wales check) design in black and white. A light blue thread runs throughout. There's also a notched lapel collar, single-breasted button front closure and four buttons on the cuffs. It looks like the buttons are made from mother-of-pearl.
Last year, Chrissy (via Middleton Maven) identified the blazer as a bespoke Catherine Walker creation. I'm not sure how Chrissy came across this information. I haven't been able to verify the ID. I assume Chrissy either read it somewhere, or perhaps she emailed Catherine Walker.
Of course, Catherine Walker is a label Kate is very familiar with. She owns many bespoke pieces from the company, including coats and dresses. Catherine Walker has sadly passed on now. Her husband and business partner, Said Cyrus, still oversees the business in Chelsea, London.
I recognised Kate's shoes instantly. They're by Hugo Boss, the Staple P90-L pumps in grey. Kate's worn them on and off since 2016.

The embossed leather shoes feature a pointed toe and a 9cm stiletto heel. They're finished with a branded ornament on the heel.
Let's look at Kate's jewellery now. She's wearing a mix of new and familiar pieces.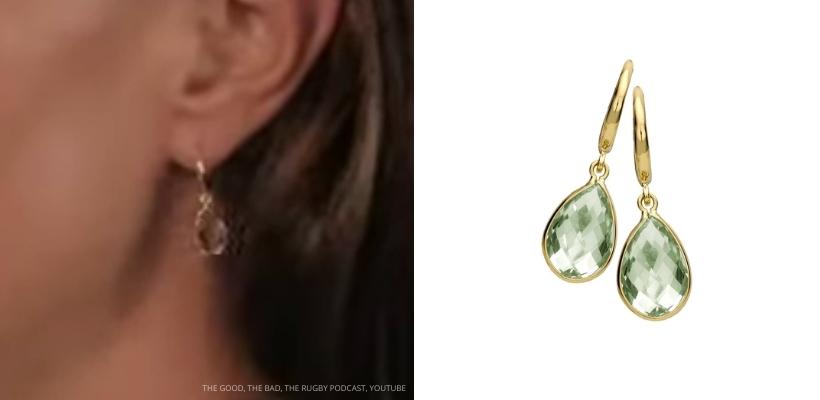 It looks like she's wearing a pair of her Kiki McDonough pear drop earrings, perhaps the new green amethyst design she debuted earlier this year. (The Princess also owns this design with a yellow citrine stone.)
The gemstone earrings are crafted from 18ct yellow gold. They retail at kiki.co.uk for £695. There are plenty of other gemstone options available, including smoky quartz, blue topaz, purple amethyst, and more.
Kate's layered two gold necklaces by Daniella Draper. One piece is new (to us), the Daniella Draper Gold Three Star Necklace: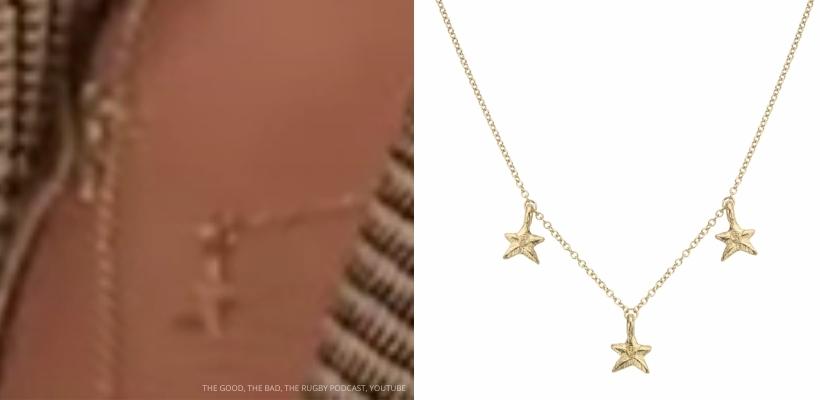 The star necklace is made from 100% recycled solid 9ct yellow gold. RRP: £550.
Thanks to Chrissy and Middleton Maven for sharing the ID.
Kate wore her personalised Midnight Moon pendant with the star necklace. The Princess has owned this item since 2020. It's engraved with her children's initials. It's a favourite piece, she's worn it more than 10 times in public to date.
The £1,300 necklace is also made from 100% recycled gold and is set with sparkling diamonds. It's hand engraved with the initials of your choice.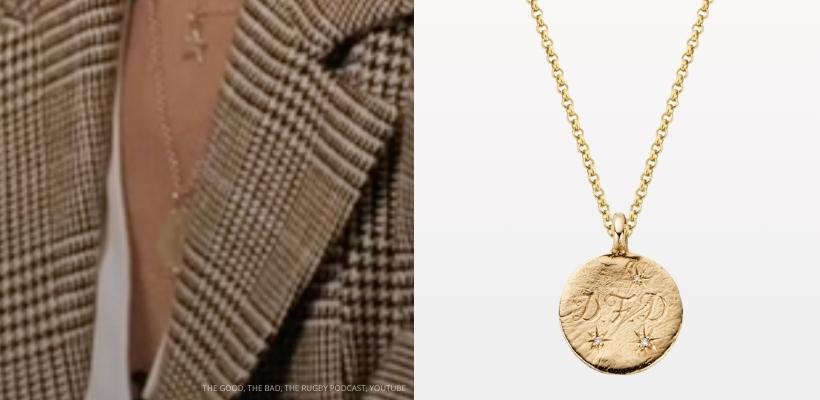 For anybody wanting to buy the necklace, it's handmade in Lincolnshire. Orders take up to two weeks to fulfil.
You'll find a few Daniella Draper treasures in Kate's jewellery box. The British designer crafts the pieces from recycled gold and silver. Her high quality, timeless pieces draw inspiration from nature, history, travel, and romance. The brand is an independent family-run company, with a commitment to preserving and protecting the natural world.
It looks like Kate's wearing her Holland Cooper Shirt bodysuit under the blazer. We've spotted the princess wearing the garment on a handful of occasions since 2021.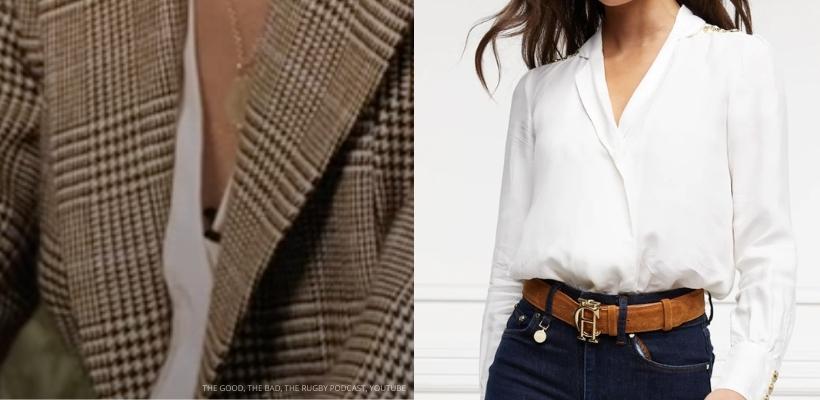 Holland Cooper confirm the Princess wore the shirt body suit in a post on their Instagram account. They wrote "An incredibly proud moment for the HC team to see the Duchess of Cambridge, Kate Middleton wearing our white Shirt Bodysuit!"
The item features a flattering silhouette, long sleeves, a thong base, Holland Cooper's signature branded gold buttons and a v-neckline. The shirt bodysuit is designed to offer a smooth, flawless shape.
It's clear that Kate is a fan of Holland Cooper's clothing, we know she owns six or seven pieces from the brand.
The brand, founded by fashion designer Jade Holland Cooper in 2008, is known for its luxurious materials such as cashmere, wool, and leather, as well as its attention to detail and high-quality craftsmanship. With a focus on traditional British style, Holland Cooper has become a go-to for those looking for timeless and elegant pieces.