After commemorating the one-year anniversary of Queen Elizabeth's passing at St. David's Cathedral in South Wales on Friday, William and Kate switched gears with a seaside excursion.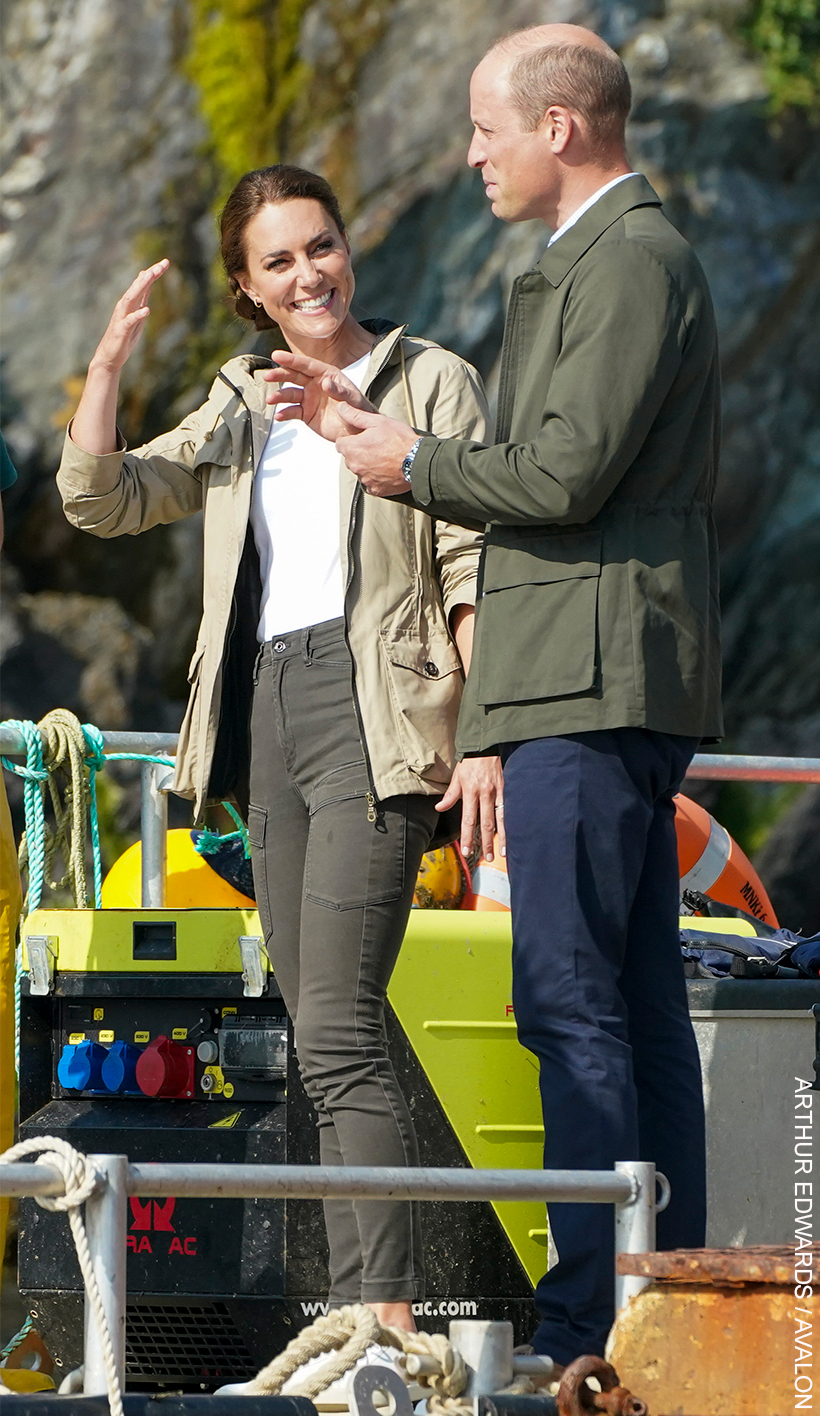 The royal pair toured a regenerative ocean farm with links to William's Earthshot Prize and hopped onboard a lifeboat.
As I shared in an earlier post, the Princess began the day in a smart ensemble that paid tribute to Queen Elizabeth. For the later events, she changed into a casual ensemble more suited to maritime adventures.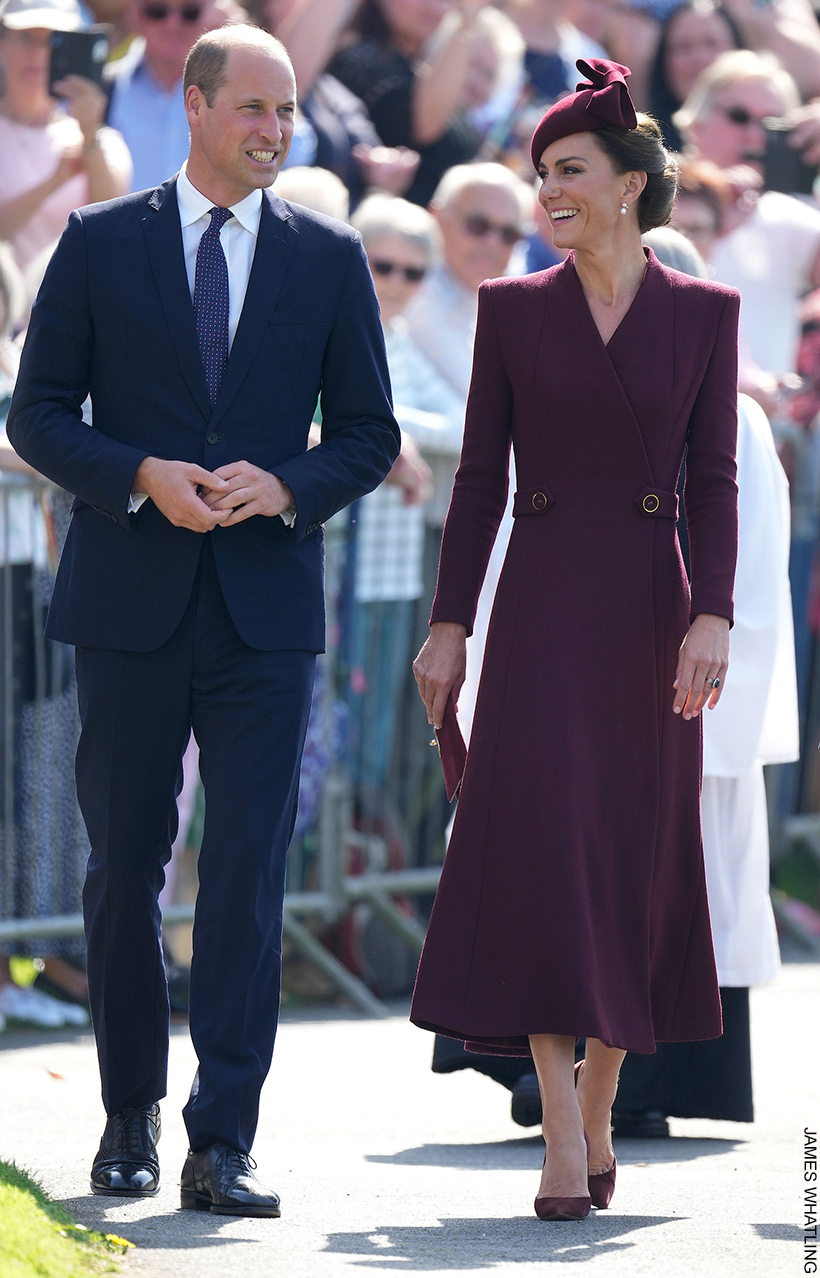 For the more casual engagements, Kate changed into grey utility trousers, a simple white top, a khaki jacket and white sneakers. The relaxed attire was perfect for exploring a seaweed farm aboard a barge, tasting seaweed samples, and meeting with a lifeboat crew.
The seaweed farm belongs to Câr y Môr, a regenerative ocean farm located in St David's, not far from the historic cathedral that William and Kate visited prior.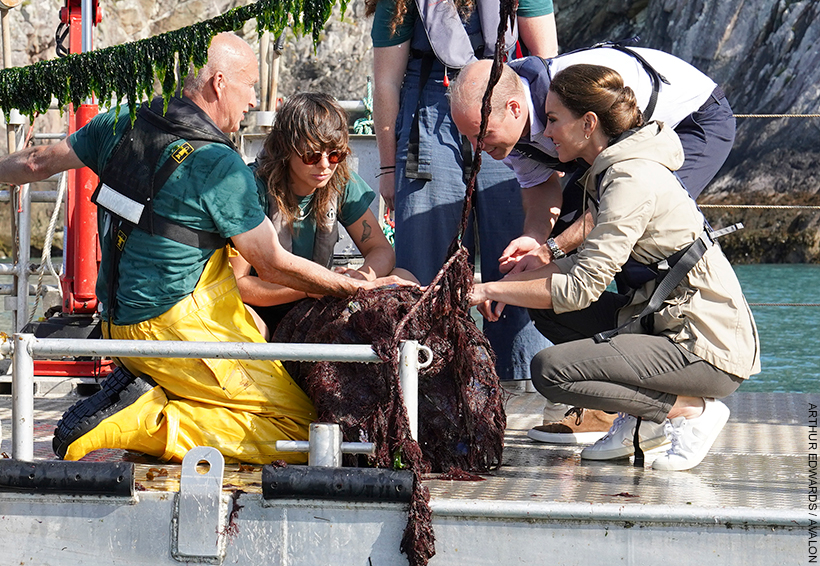 The pair boarded a barge for a tour of the site and heard more about the project's 'zero input' approach to farming, which uses no fertiliser, pesticides or freshwater.  They also learned about the farm's goal to motivate and inspire others to replicate their sustainable model, enhance the coastal environment, and create local jobs.
The commercial farm supplies one of its products, seaweed, to a company called Notpla. Notpla use the seaweed to create a natural, sustainable and biodegradable plastic-free packaging material that can be used in a multitude of ways, across different industries. If you follow the royals, you might remember Notpla won the 'Build A Waste-Free World' category for its innovative packaging material at the 2022 Earthshot Prize Awards?
As most of you will remember, Prince William launched the Earthshot Prize with The Royal Foundation in 2020. The initiative aims to inspire and reward innovative solutions to the world's most pressing environmental challenges.
The other Earthshot Prize categories include 'Protect And Restore Nature', 'Clean Our Air', 'Revive Our Oceans,' and 'Fix Our Climate.'
This year's Earthshot Prize award ceremony will take place later this year, in Singapore. I expect we'll see Kate at the ceremony, decked out in a glamorous gown. The dress code is Black Tie and guests are encouraged to consider the environment in their choices—e.g. wearing existing items in their closet, buying vintage, or seeking sustainable retailers.
Last year, the Princess rented her outfit, a vivid green dress by Solace London. The previous year, she repeated an item from her closet, one of her most famous dresses that she'd originally worn a decade earlier. I'm excited to see what she has planned this year. I hope she'll wear something crafted from a new, innovative, sustainable fabric. Or wear something vintage? Bonus points if it belonged to her mother … ooh, or another royal!
The couple hopped off the sea barge and met crew from St Davids Lifeboat Station, a Royal National Lifeboat Institution station. It was opened in 1869 and to date has been involved in saving over 360 lives at sea in more than 420 launches.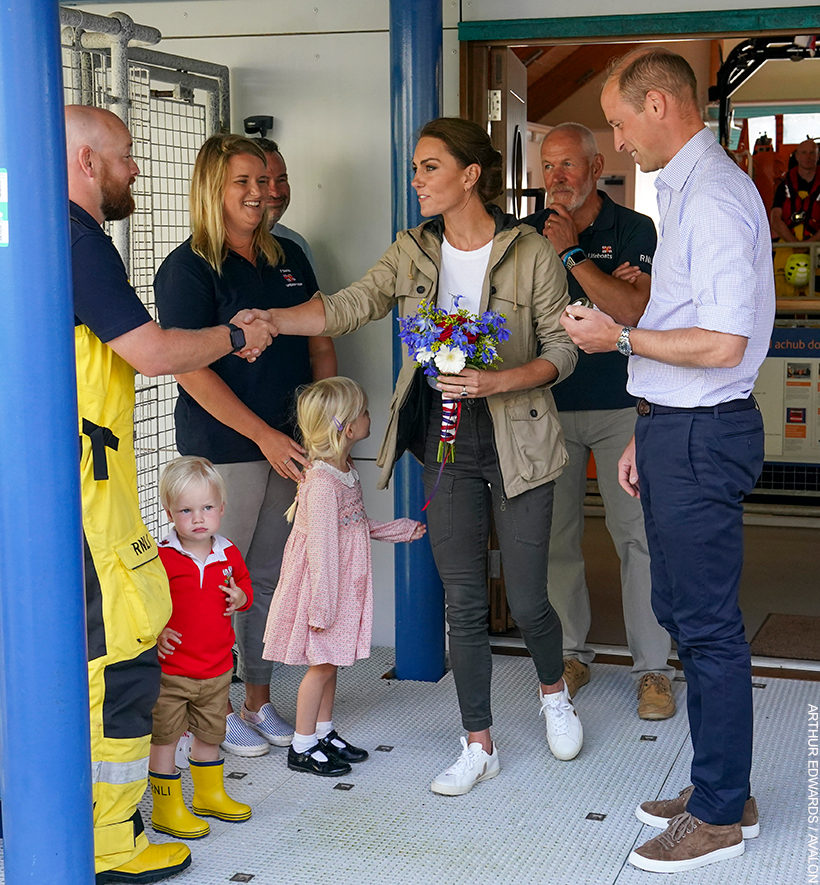 The RNLI is a 200-year-old charity that saves lives at sea and depends on public donations. The organisation has saved more than 140,000 since its formation in 1824.
Following a tour of a lifeboat, William and Kate were presented with a posy of flowers and a jar of St David's wild honey by a crew member's daughter and son. A very cute exchange followed:
Kate asked Isla: "Have you been on the lifeboat?"

The little girl shook her head and her mother explained she had been on the boat but not out on the water while Albie interjected and said: "Me."

Kate asked the toddler: "Have you been on the boat? It goes very fast, and your daddy has got a very cool job."

Albie then started mimicking the boat's siren and the princess said: "I didn't hear the siren, but it was a lovely day on the water. Thank you very much for coming to see us."

The Independant
Kate's casual outfit:
Kate's casual attire was more than appropriate for an afternoon out on the water. Let's start by looking at her jacket. It's by Troy London, the company's wax parka in khaki green.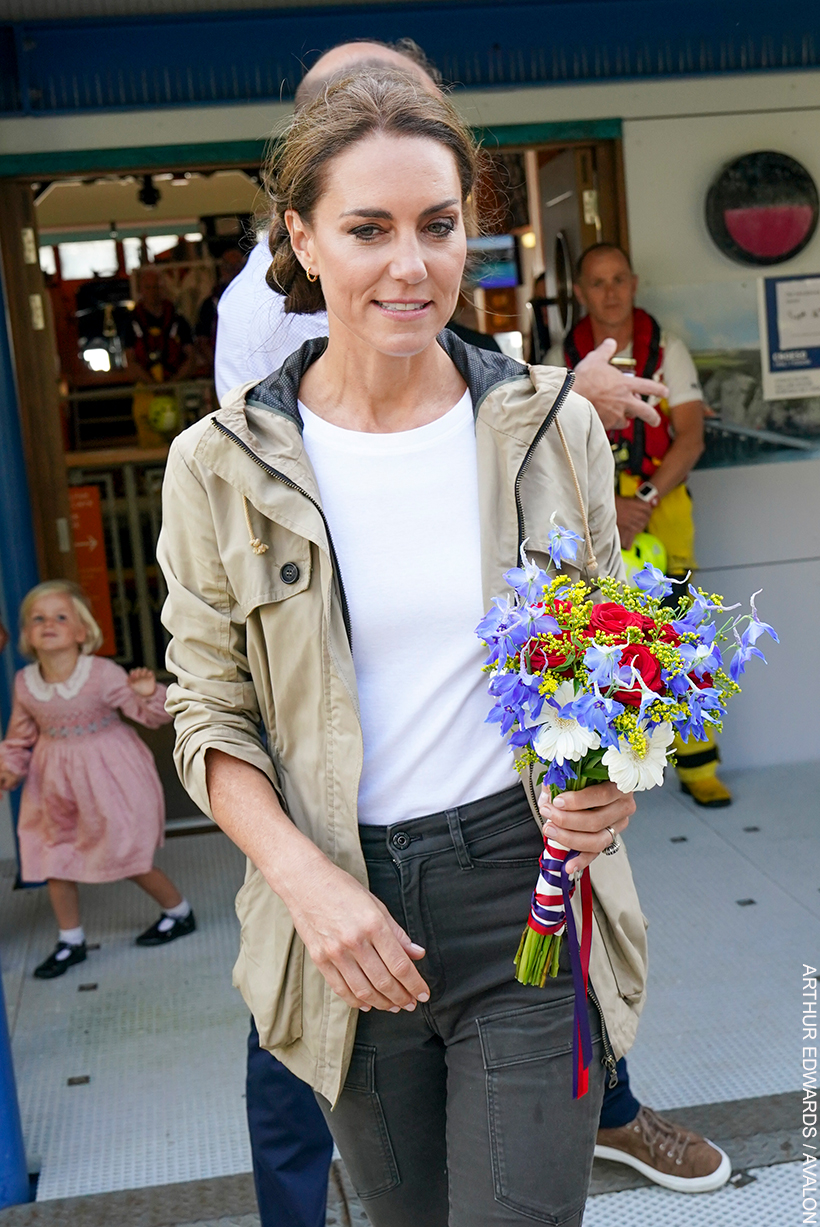 Made from light, breathable cotton, it's the perfect coat for any spring or autumn outing. Plus, it's waterproof. The cinched waist and drawstring hood add a nice stylish touch, and the deep pockets are super practical.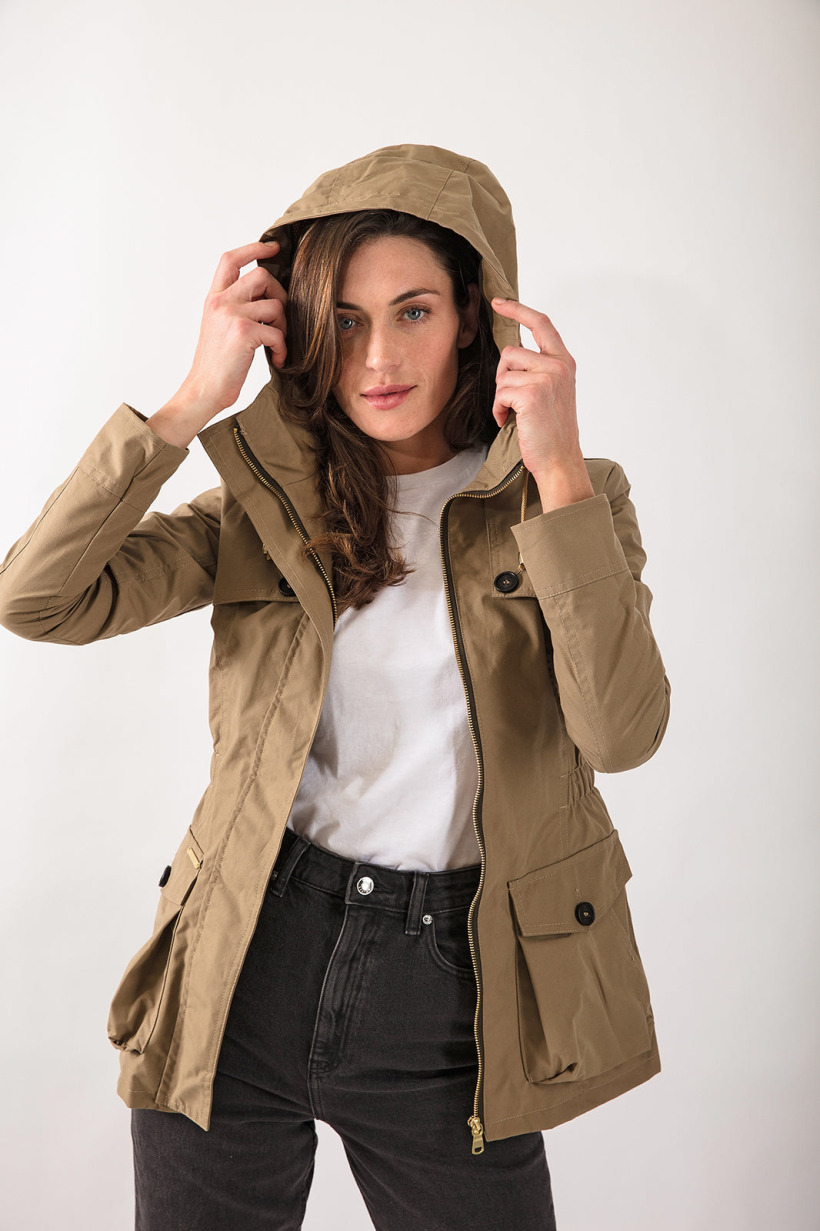 Kate owns the same jacket in blue too.
The parka is still available for purchase at the following places: Wolf & Badger, House of Bruar, Cotswold Outdoor, and Troy London.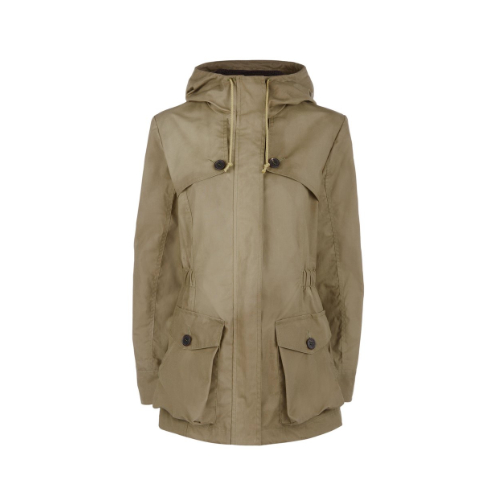 Troy London Wax Parka In Khaki
Exact match. So nice she bought it twice! The Princess owns this jacket in two colours, khaki and navy. Perfect for throwing on to run errands, walk the dog, take your kids to the park and more. With its versatile style and practical design, it's sure to become a staple in your closet for years to come.
For the uninitiated, Troy London is your go-to for quintessentially British, countryside chic. Founded by sisters Rosie van Cutsem and Lucia Ruck Keene, the brand boasts of attire that's built to last. Fun fact: Rosie is pretty chummy with the royals, being married to one of Prince William's friends, William van Cutsem. The sisters and their venture are Norfolk-based, just a stone's throw from William and Kate's Anmer Hall residence.
Kate paired the khaki jacket with her G-Star cargo trousers in the colour 'raven'.
The trousers feature a high waistline and a skinny fit on the leg, plus they are cleverly designed with a shaped waistband to eliminate gaps. In addition to the deep pockets on the thigh, there are additional inset front pockets and a single zipper pocket at the rear.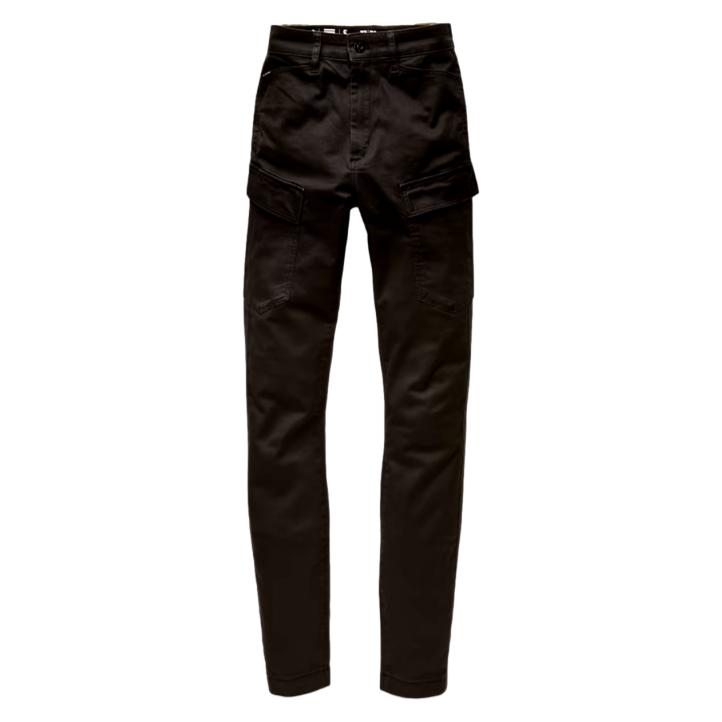 The Princess owns the same trousers in khaki green. The style has become her go-to for adventurous engagements, whether she's braving a snowstorm with an army regiment or clambering up rock faces with the Mountain Rescue.
The pants are made from G-Star Raw's Bracket Superstretch Twill, a stretch woven fabric that offers added ease of movement. It's a cotton-elastane mix, which makes it comfortable and stretchy.
Kate's exact pair are no longer available to buy, but G-Star do offer a very similar design: the Kafey style: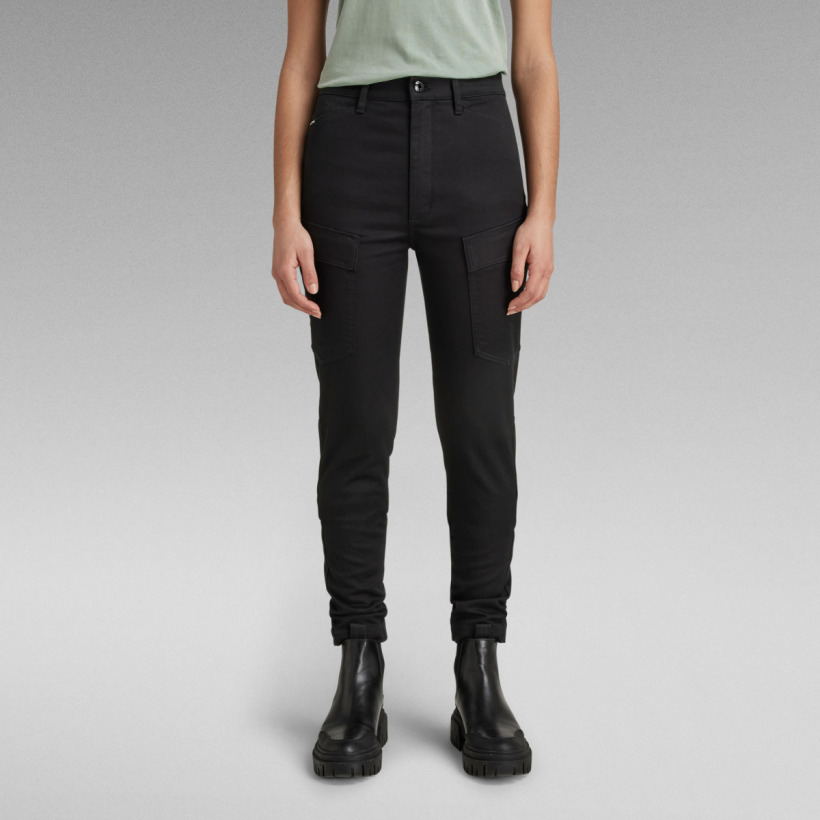 I asked a customer service representative about the differences between the two similar-looking trousers:
So the High shape cargo skinny pants and the Kafey cargo ultra high skinny jeans are two different styles but they indeed do look alike.

They both are skinny fitted and some features are different in the G-shape has inset pockets at the front, a zipper pocket at the back, and thigh pockets- hidden snap closures and the Kafey has inset pockets, thigh pockets with flap: hidden snap button closure, zip pocket at the back and shaped seams at the back of the hip.

But the "biggest" difference is the height of the waist, as the G-Shape regular high waist, approximately 4.72 inches, and the Kafey has an ultra-high waist, approximately 6.30 inches, those are the measurements that go from underneath the button to the end of the zipper.

G-Star Raw
So, the newer Kafey trousers have an ultra-high waist fit.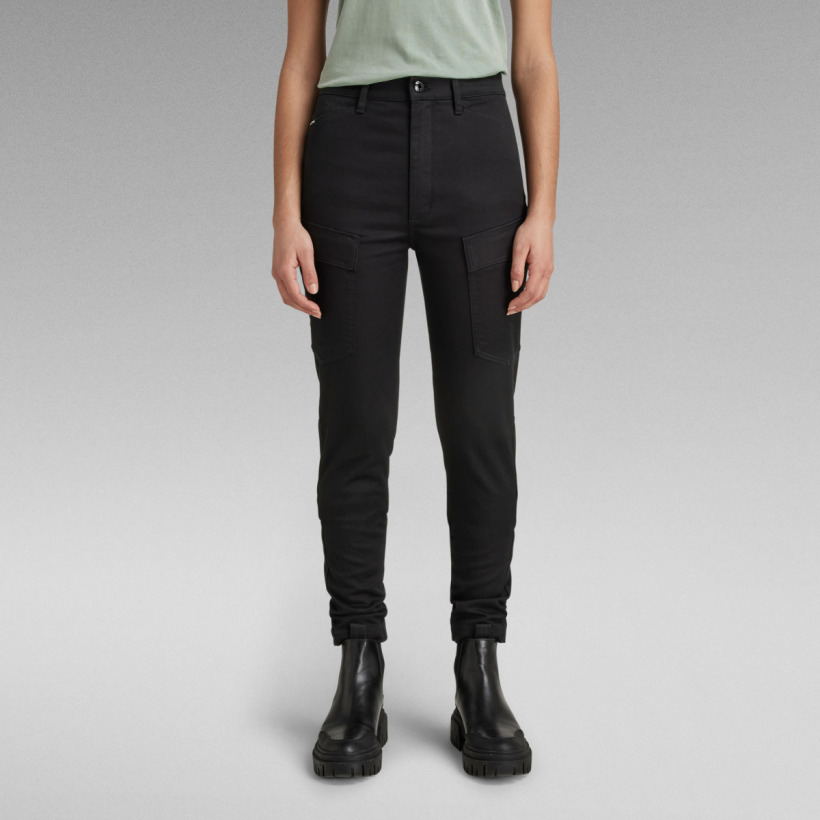 G-STAR RAW KAFEY TROUSERS
Want to copy Kate's elegant outdoors style? Get the look with these cargo trousers from G-Star Raw. CURRENTLY 50% OFF
G-Star Raw are dedicated to sustainable manufacturing, reducing their environmental impact. I expect Kate chose the brand for this reason. It's clear the Princess is an advocate for sustainable fashion practices. In recent years, we've noticed she's gravitated towards slow fashion brands. Today, a lot of her pieces are from environmentally conscious companies and collections.
G-Star Raw is one of the most transparent companies I've seen in the fashion space. They openly provide the names and locations of the factories that manufacture their products. They commit to paying their workers fairly throughout the supply chain, and ensure their employees work in a safe environment under healthy conditions, while protecting their human rights. I think it's fantastic that Kate uses her influence as a fashion icon to support companies with good ethical practices.
Let's move on to Kate's sneakers now. I suspect many of Kate's fans will recognise them as the VEJA Esplar sneakers in white with metallic detailing. Veja call this colour "platine."

The white Veja sneakers are made from leather, feature a round toe, a lace-up vamp, a cushioned footbed and a rubber sole. They have VEJA's signature V logo on the side in a contrasting shade of metallic rose gold. The heel panel is also metallic and printed with the company's name.
The shoes are lined with a material made from 100% recycled plastic bottles, the laces are 100% organic, the insole is made from a mix of organic-sourced and recycled ingredients and the outsole is made from a mix of rice waste, new and recycled rubber. No doubt these sustainable properties appealed to conscious shopper Kate.
Want a pair? You're in luck. Lots of retailers stock the Veja sneakers in Kate's colourway, including Net-A-Porter, Matches, Office, and Flannels.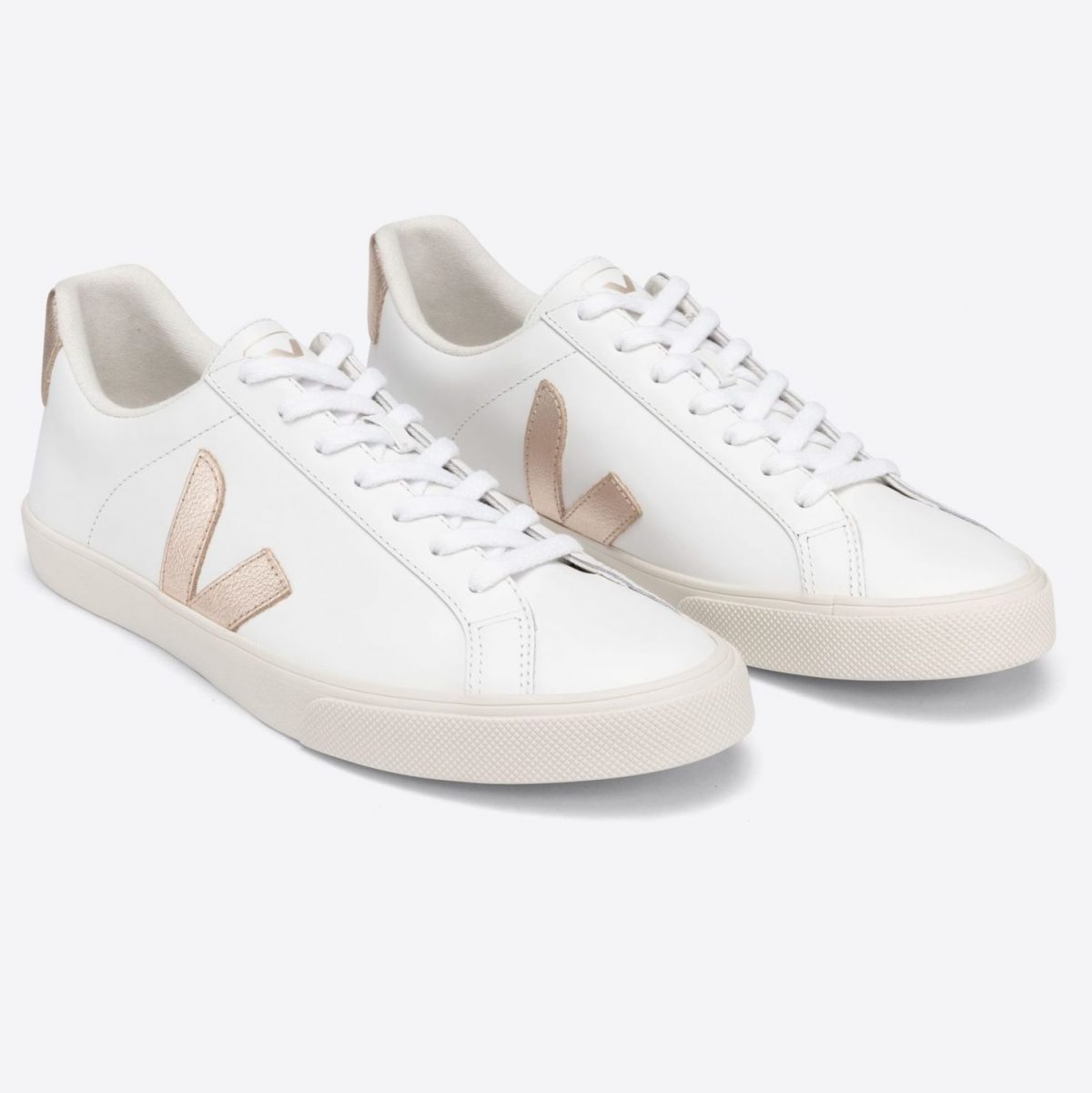 EXACT MATCH – VEJA Esplar Sneakers In Platine
Snag Kate's sustainable sneakers! Kate wears these VEJA Esplar sneakers with rose-gold metallic detailing. The stylish white shoes will elevate any casual look!
The Princess debuted the VEJA sneakers during a visit to Scotland in 2021. She's worn them a handful of times since.
Veja is a shoe brand that's all about ethical sourcing and eco-friendly materials, but without sacrificing style. Born in France, the brand has quickly become a staple for those who care about where their fashion comes from. Whether it's organic cotton from Brazil or wild rubber from the Amazon, Veja's commitment to sustainability is real. Plus, their designs are clean and versatile—think minimalist but with a trendy edge.
Let's finish by looking at Kate's earrings. The Princess completed her outfit with her Spells of London Medium Twist Hoop Earrings in Gold.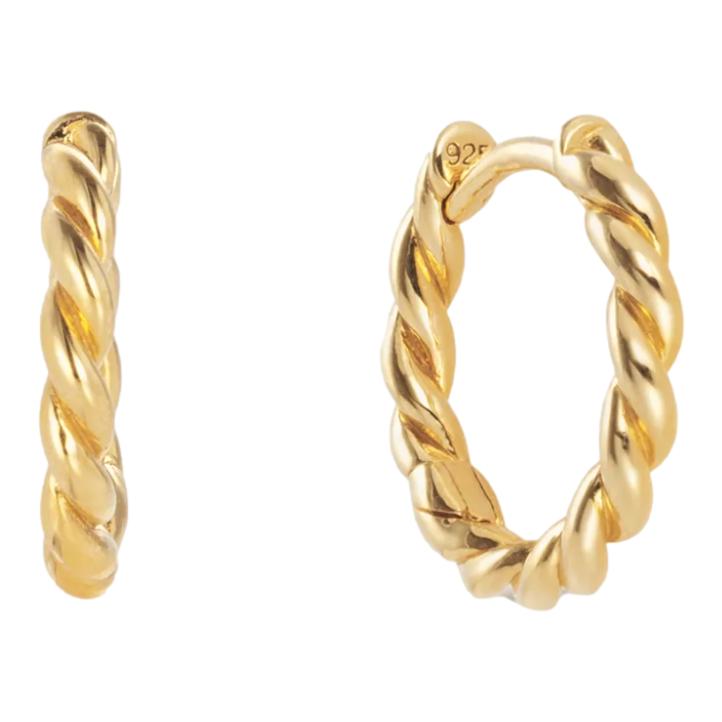 The elegant and modern gold hoop earrings feature a twisted design. They're crafted from gold vermeil covering a sterling silver base. This ensures the earrings are not only beautiful but also high-quality and durable. (Vermeil is often regarded as a good process for long-lasting wear).
The Medium Twist Hoop Earrings are another eco-conscious addition to Kate's attire. They are crafted from recycled materials and delivered in 100% plastic-free and biodegradable mailing bags.
You can pre-order the earrings from Spells Of London for £60.
Spells of London Medium Twist Earrings, Gold
Exact match! Looking for a statement piece to wear on a special occasion or a timeless and elegant accessory for everyday wear? These hoops are ideal. With their stunning design, high-quality craftsmanship, and eco-conscious production, they're not only beautiful, but also a sustainable and ethical choice too. Click the button below to shop the earrings at Spells of London.
Spells of London is a luxury jewellery brand located in Wales—thoughtful Kate often wears their jewellery when she visits the country, championing this small, sustainable and ethical Welsh business.
And a final note, Kate's hair was still in the elaborate updo from earlier in the day, when she wore a hat into the cathedral. It really suits her up.