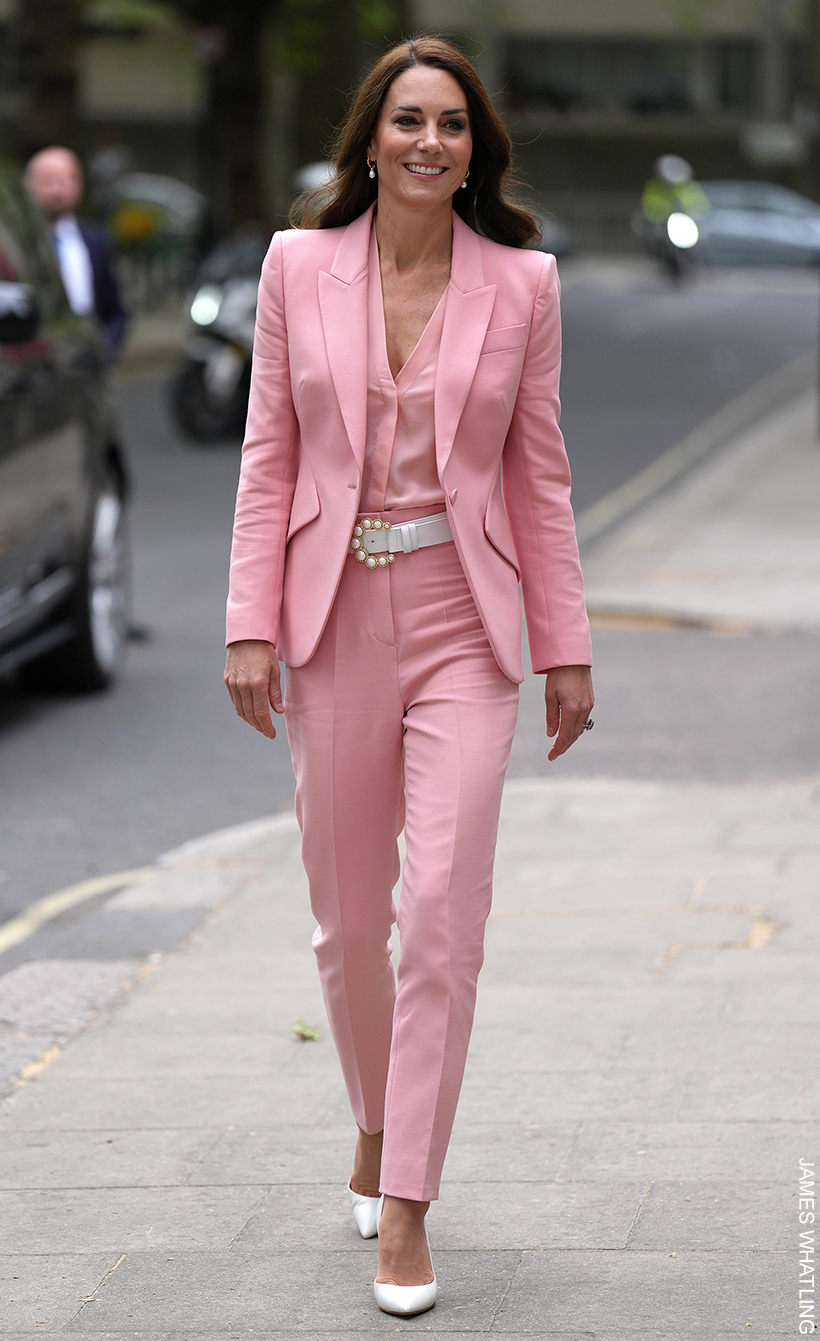 Kate Middleton embodied elegance in a polished pink suit and pearl accessories as she stepped out in London on Thursday (May 25th 2023).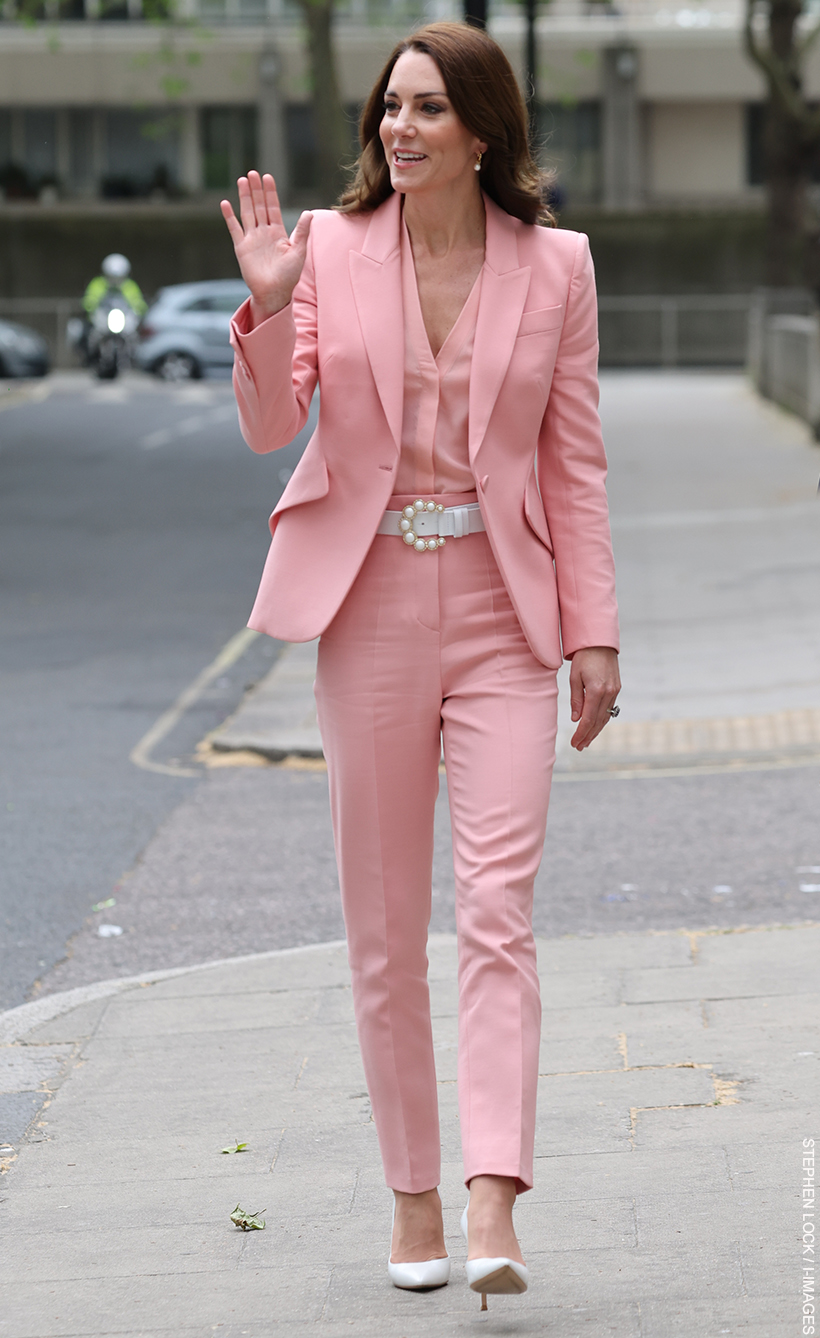 The Princess of Wales joined care-experienced individuals, adoptive parents, foster parents and kinship carers to highlight and discuss the importance of relationships in the formative years, as part of her 'Shaping Us' campaign with The Centre for Early Childhood.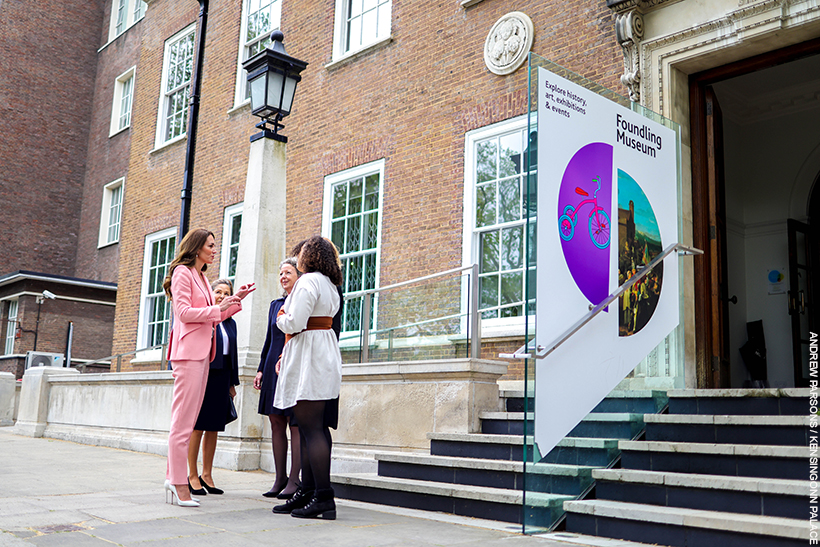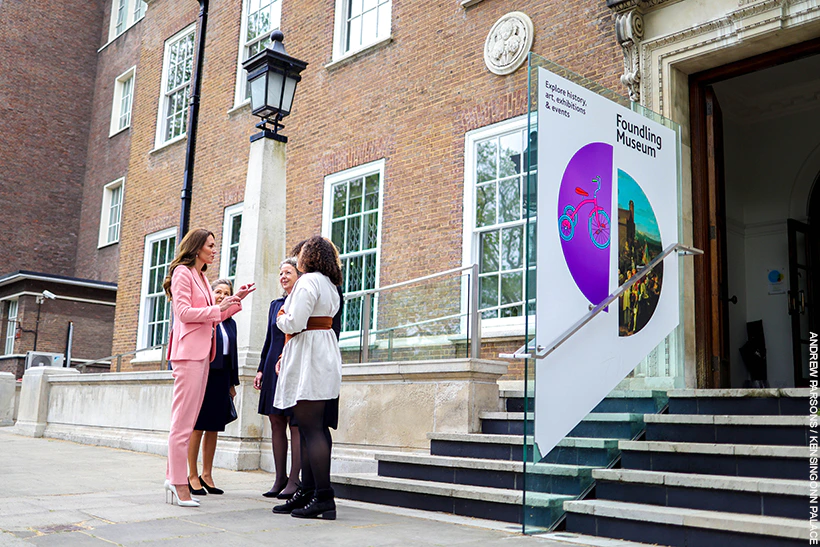 Kate visited the Foundling Museum, an institution that explores the history of the Foundling Hospital—the UK's first children's charity. The hospital cared for and educated around 25,000 children who were abandoned, usually as babies.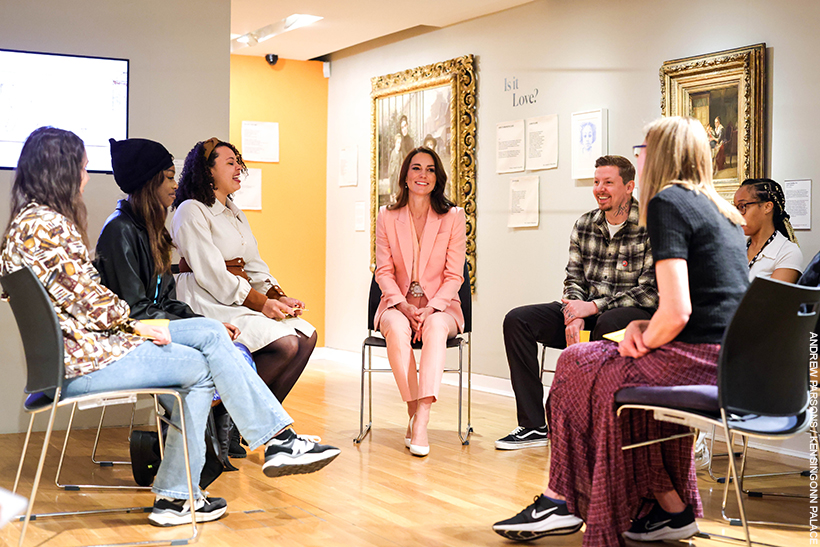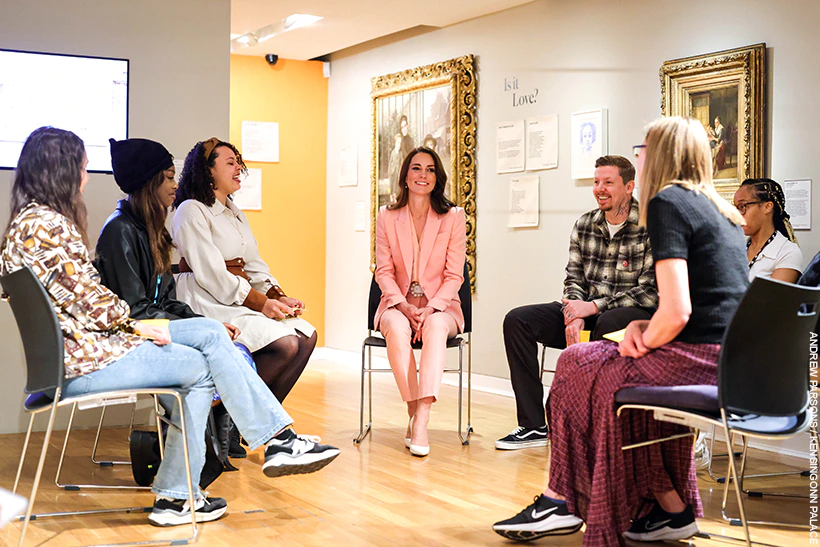 The pioneering institution was established in 18th century London. Today, the museum showcases a diverse collection of art, artifacts, and archival material, offering visitors a glimpse into the lives of abandoned and vulnerable children, as well as the courageous efforts made to provide them with care and support.
The museum also has a profound commitment to social welfare and provides resources and support for young people, including training opportunities, mentorship programs, and collaborative projects guided by established artists, writers, and musicians.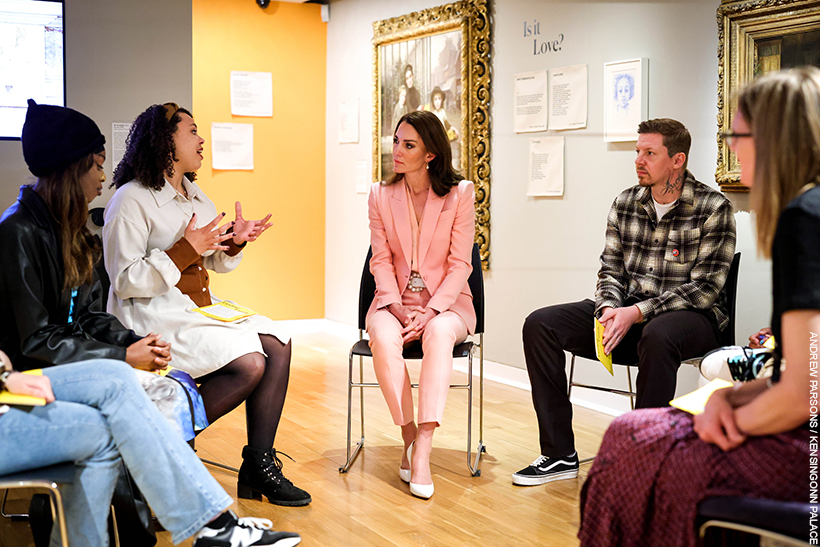 Kate and English rapper Professor Green met with some of the young people who've benefited from the museum's programs, including a creative writing course.
The pair learned about the scheme and heard how it'd helped the youngsters cope with their life experiences and emotions.
Green, whose real name is Stephen Manderson, was brought up in kinship care.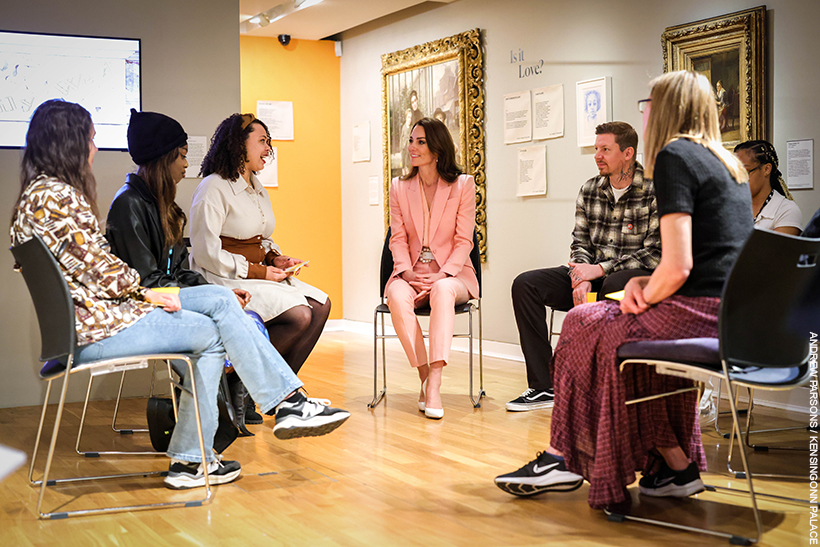 In kinship care, extended family or close friends take care of a child if they cannot stay with their birth parents.
Kate also hosted a discussion with adoptive parents and foster carers about the lifelong impact that positive, supportive relationships can have for children and young people.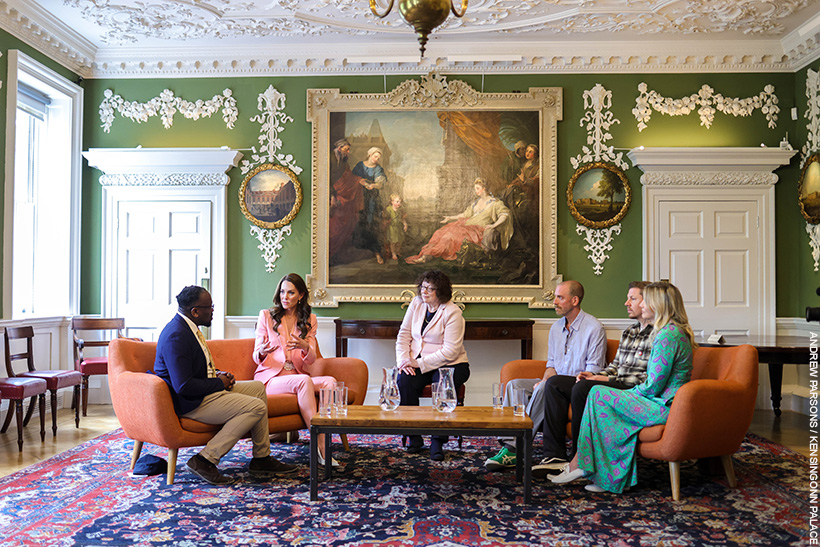 Kate first visited The Foundling Museum in 2017 and became its patron in 2019.
There's a good bit of background information about the hospital and the word 'foundling' in my article from five years ago – read it here.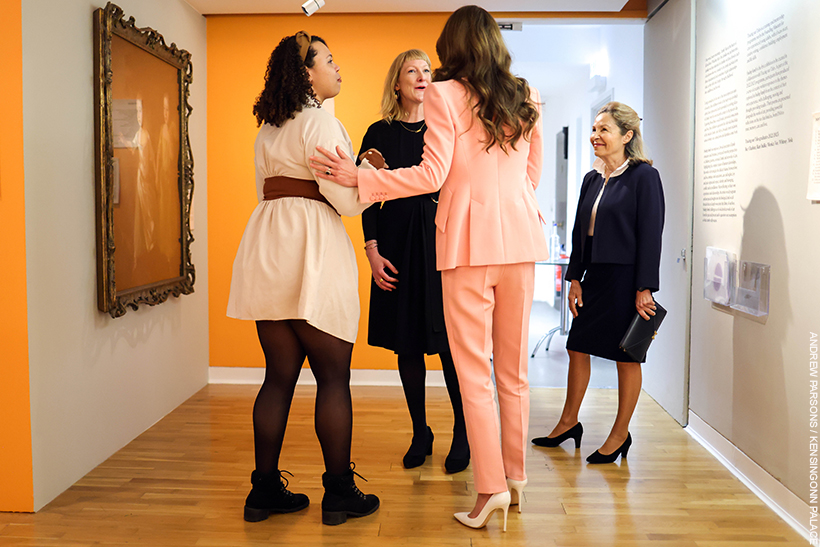 This is Kate's fourth visit to The Foundling Museum. She last visited in January 2022, with Prince William. The couple joined a roundtable discussion with experts and stakeholders across the care sector and took part in a couple of fun bonding exercises (below).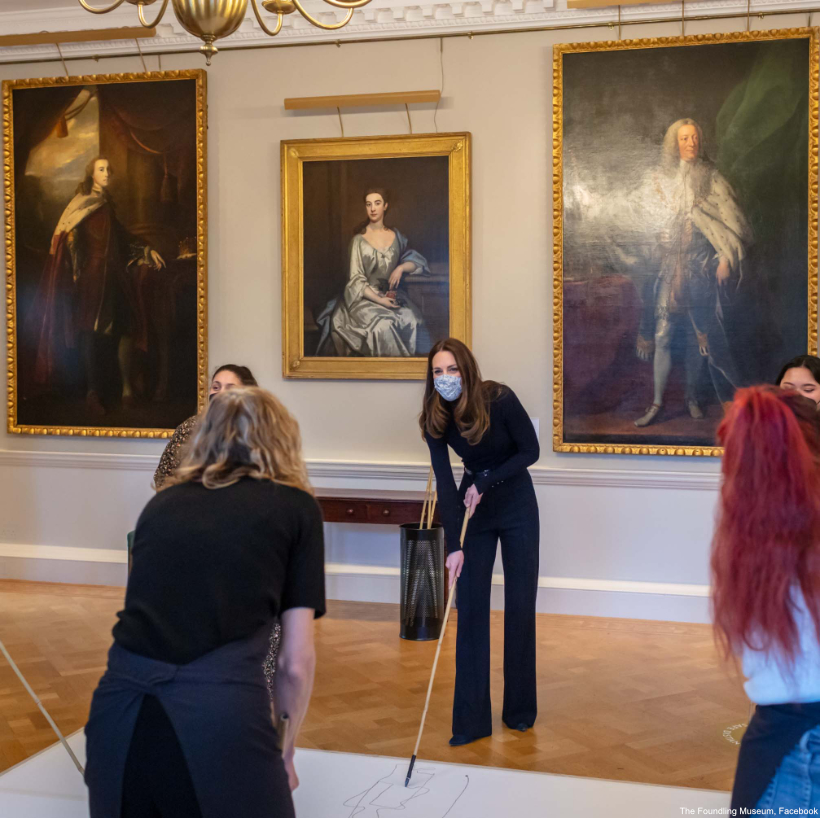 Kate and Professor Green also attended a 'Kinship' peer support group today.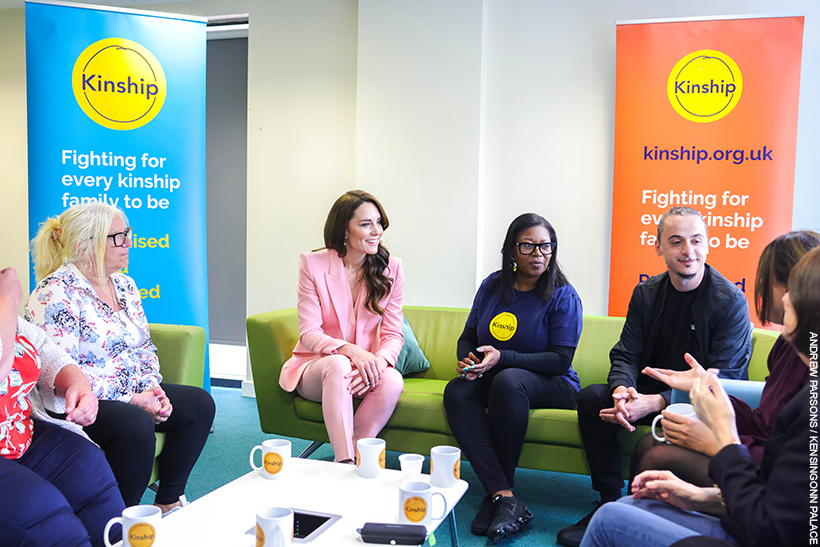 Kinship is the leading kinship care charity for England and Wales. The Princess met with carers, including grandparents, aunts and uncles.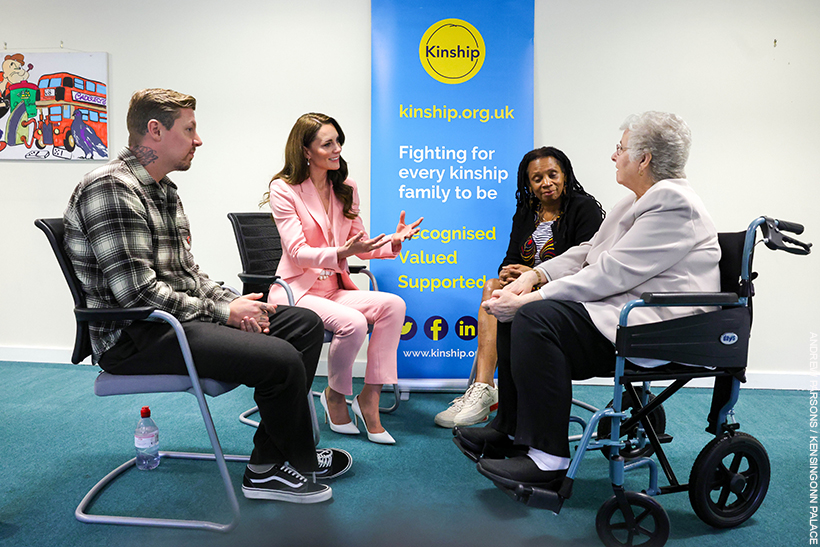 She also played with some of the young children being raised by kinship carers.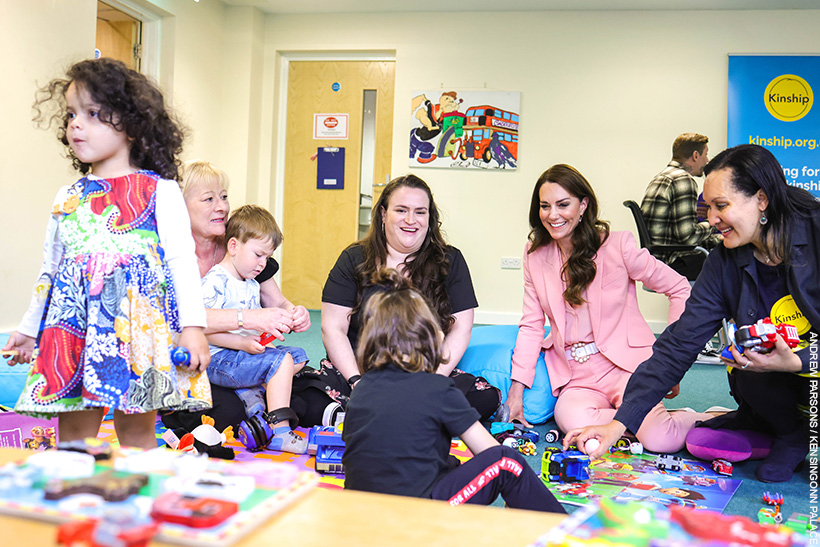 As I mentioned at the top of today's post, the engagements form part of Kate's 'Shaping Us' campaign. I'm sure my regular readers will remember the Princess launched 'Shaping Us' in January.  The long-term campaign aims to increase the public understanding of the crucial importance of the first five years of a child's life and how it shapes their lives and the person they will become. 
If you missed the launch, I'll let Kate explain the campaign in her own words below:
Kate's running the campaign through her Centre for Early Childhood, which you'll recall she launched in June 2021.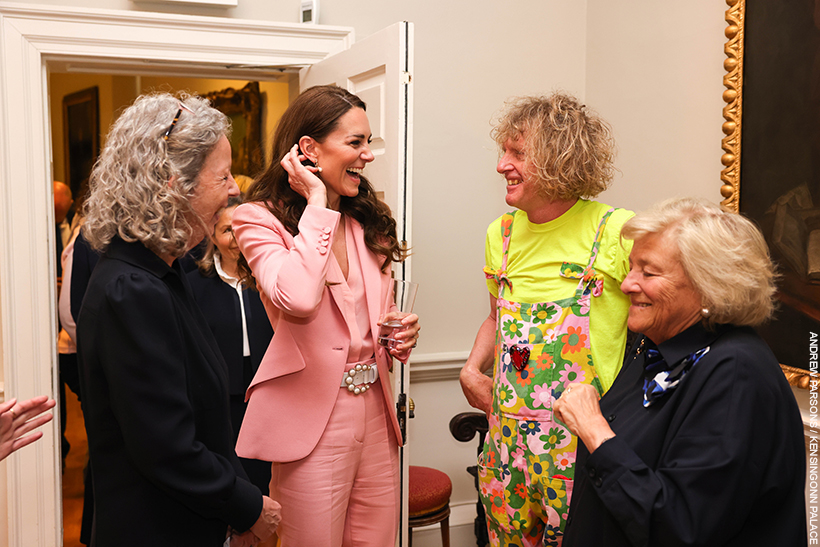 Now, let's take a thorough look at Kate's pink suit and pearl accessories.
Kate's pink suit & pearl accessories:
Kate's ice-pink suit was an impeccable choice for this engagement. The precision tailoring silently communicated Kate's authoritative role as she represented her foundation and centre while the pastel hue chimed with the season, a superb choice for spring!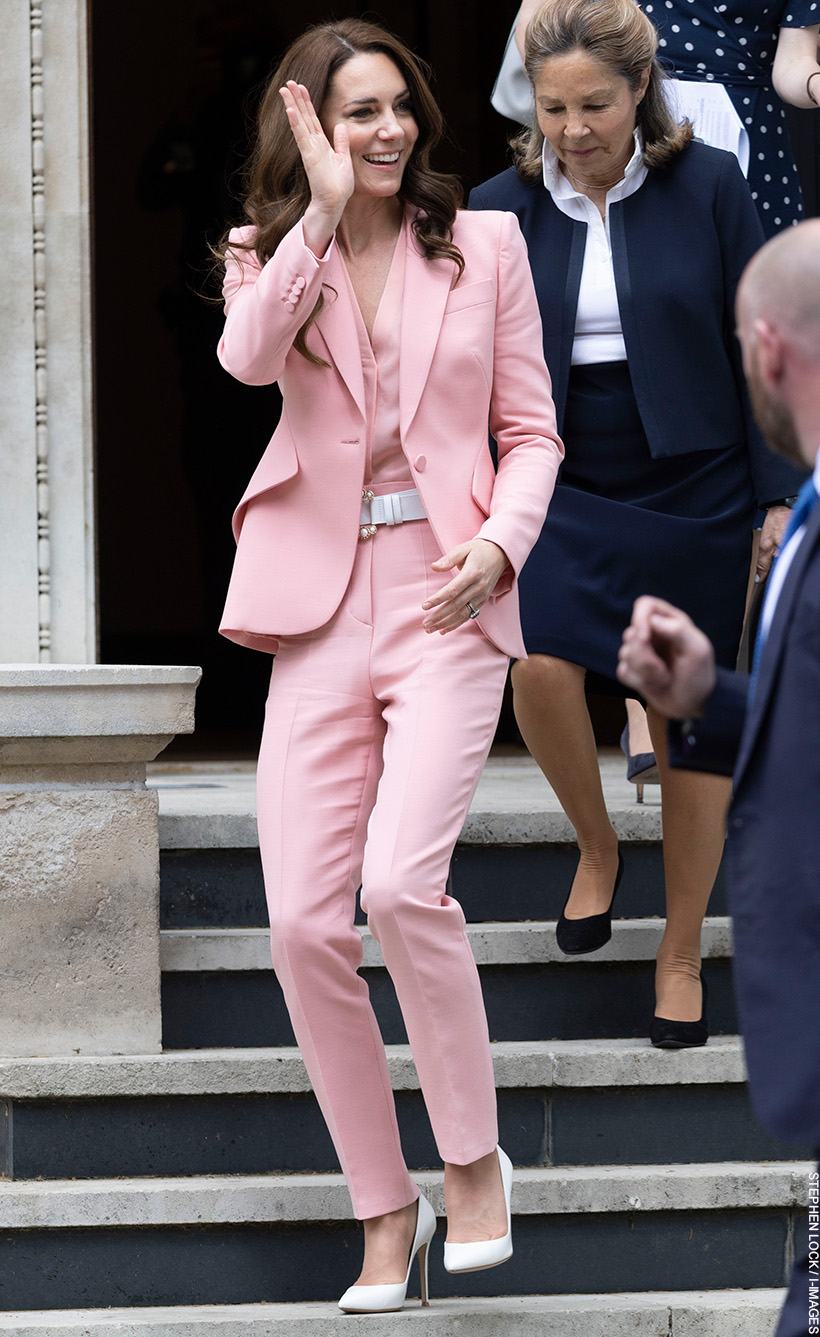 Pink, without a doubt, reigns as the current colour in fashion. It splashes vibrantly across runways, shops, and online platforms. I think this summer's Barbie movie is largely driving the pink wave, the film has significantly amplified the trend. Whether by design or coincidence, Kate's pink suit is perfect in sync with the movement. In fact, it was Kate's second pink outfit in a week. On Monday, she attended the Chelsea Flower Show in a two-tone bubblegum pink dress from ME+EM.
No doubt, Kate's pink outfits were head-turners, catching the world's attention this week. This bright color isn't just eye-catching; it's strategic. By drawing attention to herself, Kate also highlights the causes she supports. Her fashion choices are a smart way to amplify her work.
If the pink suit feels familar, it's because the Princess has worn it before, a year ago. She debuted the look at a Royal Foundation Centre for Early Childhood roundtable in June 2022​​.
The pink blazer jacket features angled pockets, peak lapels and a matching pink button. Kate wears the blazer with the matching cigarette-style trousers. Both pieces are Alexander McQueen.
🛍 EXACT MATCH:
FarFetch
🏷 GET THE LOOK FOR LESS:
Mango, Boden, Boden at John Lewis, Phase 8, Reiss and Reiss.
Last time Kate wore the suit in public, she styled it differently. She opted for dark pink shoes from Emmy London and a crisp white vest. However, for Thursday's outing, she opted for a harmonious look by wearing the suit with a matching pink blouse. She finished the ensemble with pearl and white accents, adding a fresh twist to the look.
I think Kate's leaned into power dressing in recent years, especially for engagements relating to her Early Childhood centre. Previously known for her colourful dresses and coats, the suits have become a staple of her working wardrobe. She now owns several styles from different designers, in a range of hues. She owns this particular Alexander McQueen suit in several colours, including white, black, dark blue and amethyst purple.
At present, I do not have an ID for her matching pink v-neck blouse, but I found a good "repliKate" at The Fold. It looks perfect for wearing under a blazer if you're looking for something similar.
I noticed Kate's gorgeous pearl white belt straight away. What a stunning design. Kylie informed me that it's by Camilla Elphick.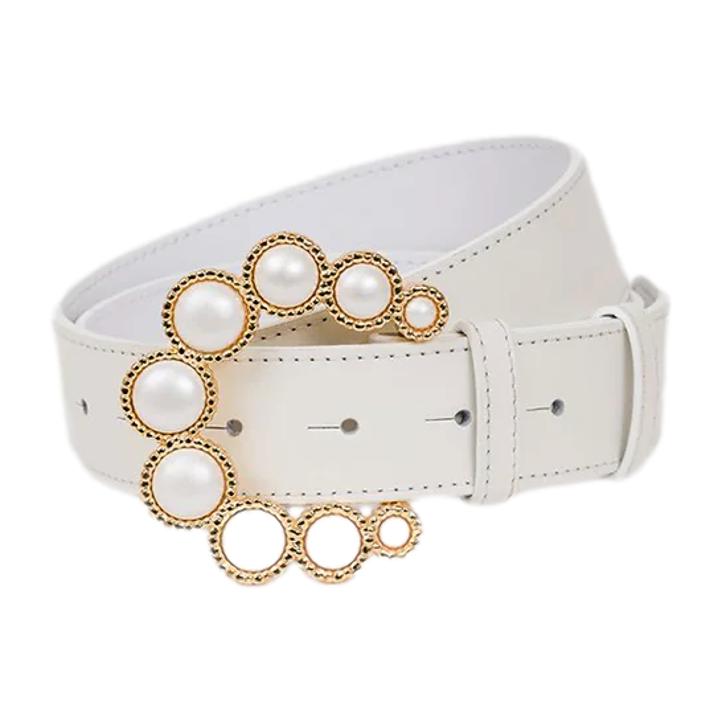 The belt is made from high-quality soft calf leather and features the designer's signature buckle. It's made in Portugal and currently available for pre-order (it will ship from June 22, 2023). It is priced at £90 and comes in two sizes: S/M and M/L.
If either the pearl design or the name Camilla Elphick feels familiar, it's because the Princess debuted a pair of the designer's shoes to the Royal Charity Polo Cup in July 2022. She wore a pair of Elphick's two-tone flats named 'Alicia'. The cresent-shaped buckle, bejewelled in pearls, has become a signature for the brand.
Let's look at Kate's earrings next. They're the 'Cha Cha' pearls by Maria Black.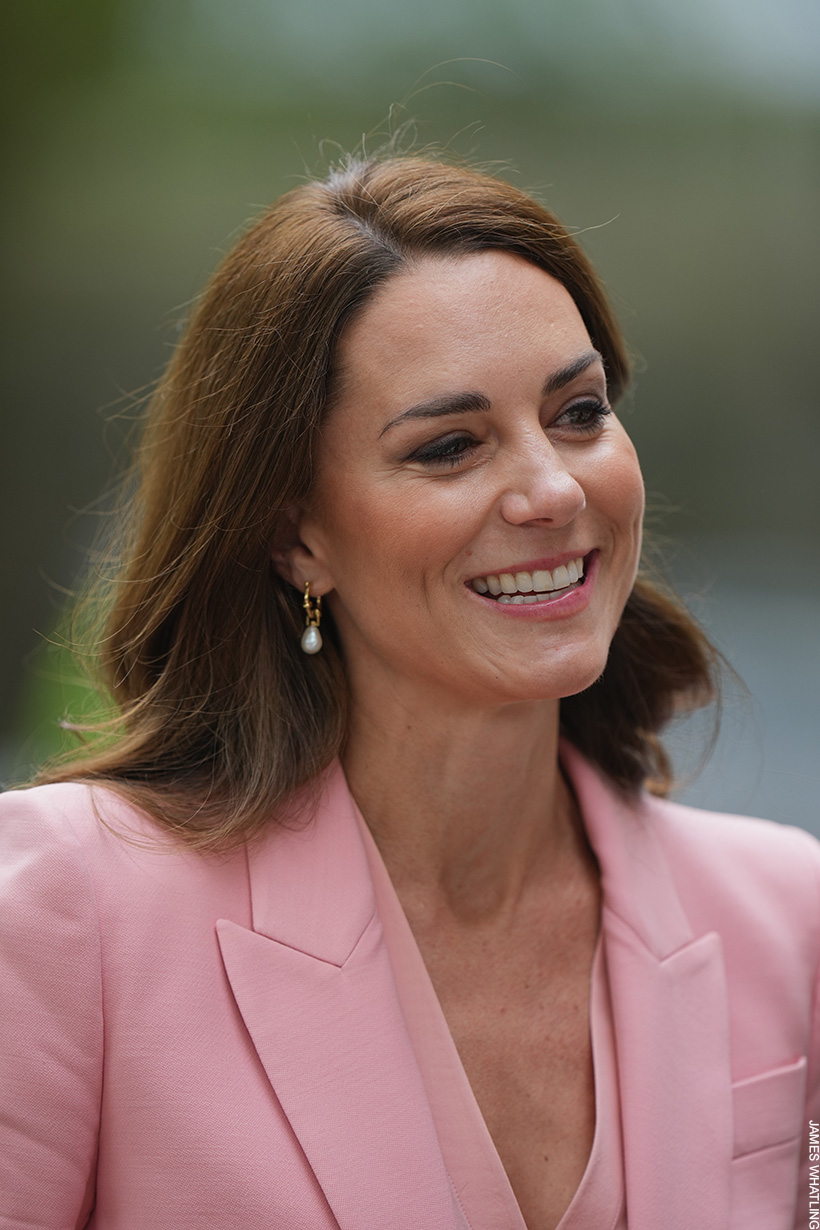 The earrings feature a mother-of-pearl bead that hangs delicately from a sterling silver huggie hoop. The hoop is plated in 22-karat gold.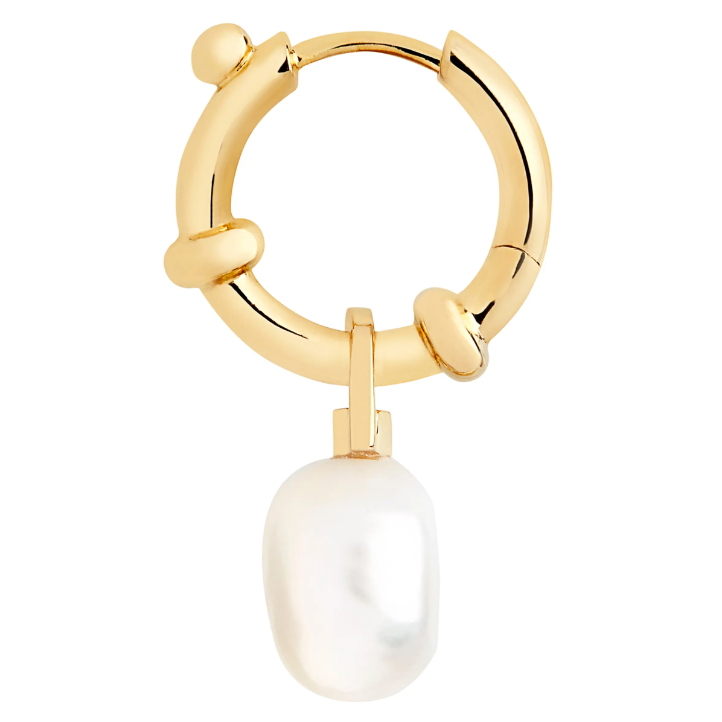 If you're inspired by Kate's style and want to add these Maria Black earrings to your own collection, you can find them at Maria Black's official website or at Reiss.com. But remember, these earrings are sold individually, so you'll need to buy two to make a pair. They retail at £152 each​. Maria Black offers a silver version of the earring as well, for those who prefer a cooler tone​.
This is the eighth time we've spotted the Princess wearing the stunning earrings since they made their debut last year. They're quickly becoming a staple in her jewellery collection. Kate first wore the earrings during a visit to Denmark in February 2022, a fitting occasion given that Maria Black is a Copenhagen-based designer.
Let's finish up by looking at Kate's white heels. The pumps are by Gianvito Rossi, they're the 105 style in white leather.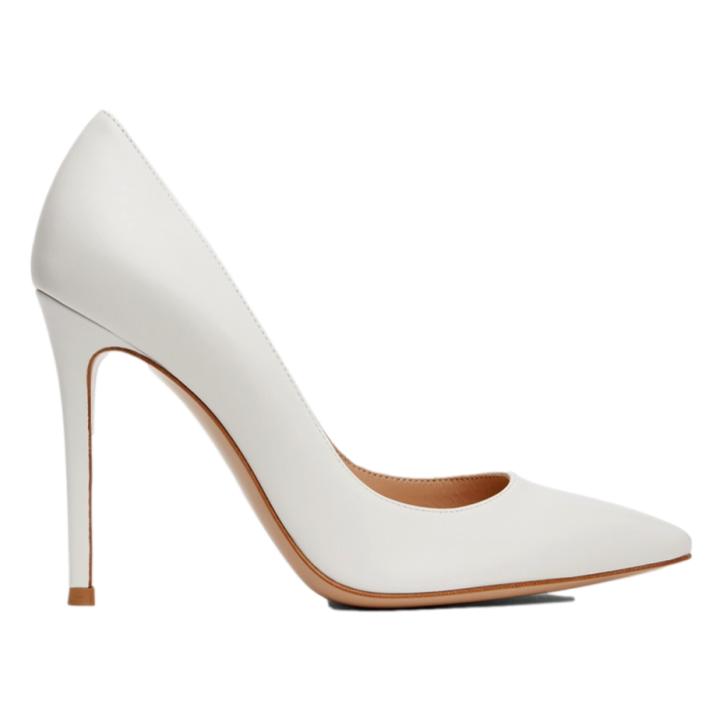 The Italian-made pumps feature a pointed toe, a partially covered stiletto heel, and a beige leather sole. They also have leather insoles, proving that comfort doesn't have to be sacrificed for style​!
She was first seen wearing these pumps during the 2022 Caribbean tour.
If you're inspired by Kate's style and wish to own a pair of these pumps, you'll find them at a number of high end luxury retailers, including MyTheresa, 24S, and FarFetch.
The 'Gianvito 105' is a staple style in Kate's wardrobe. She owns the shoe in multiple colours. Apart from white, she has been seen wearing these pumps in eight other shades: red, praline, black, silver, teal, midnight, burgundy and bisque. It's clear that the shoes are a trusted go-to for the Princess, versatile enough to pair with a variety of her stylish ensembles​.
Love Kate's sleek shoes? I recently wrote a round-up of her favourite designer heel brands. I literally counted how many pairs she owns from and how many times she's worn them, and ranked them! Check it out here.
That's all for now! I don't expect Kate will conduct any engagements next week (from 29th May) as it's half term at her children's school.
Let me know in the comments below if you loved Kate's look (I did, though I could take or leave the white belt and shoes, to be honest. I think I preferred it styled with the white top and dark pink shoes she wore previously. That look felt a bit 'fresher' for me.)
I also found the Kinship charity pretty interesting—I've not come across the term 'kinship carer' before, obviously I know that many children are bought up by relatives. It's fantastic there's a charity out there to support those who need it.
Related: Kate wants to help "secure the long-term future" for The Foundling Museum.