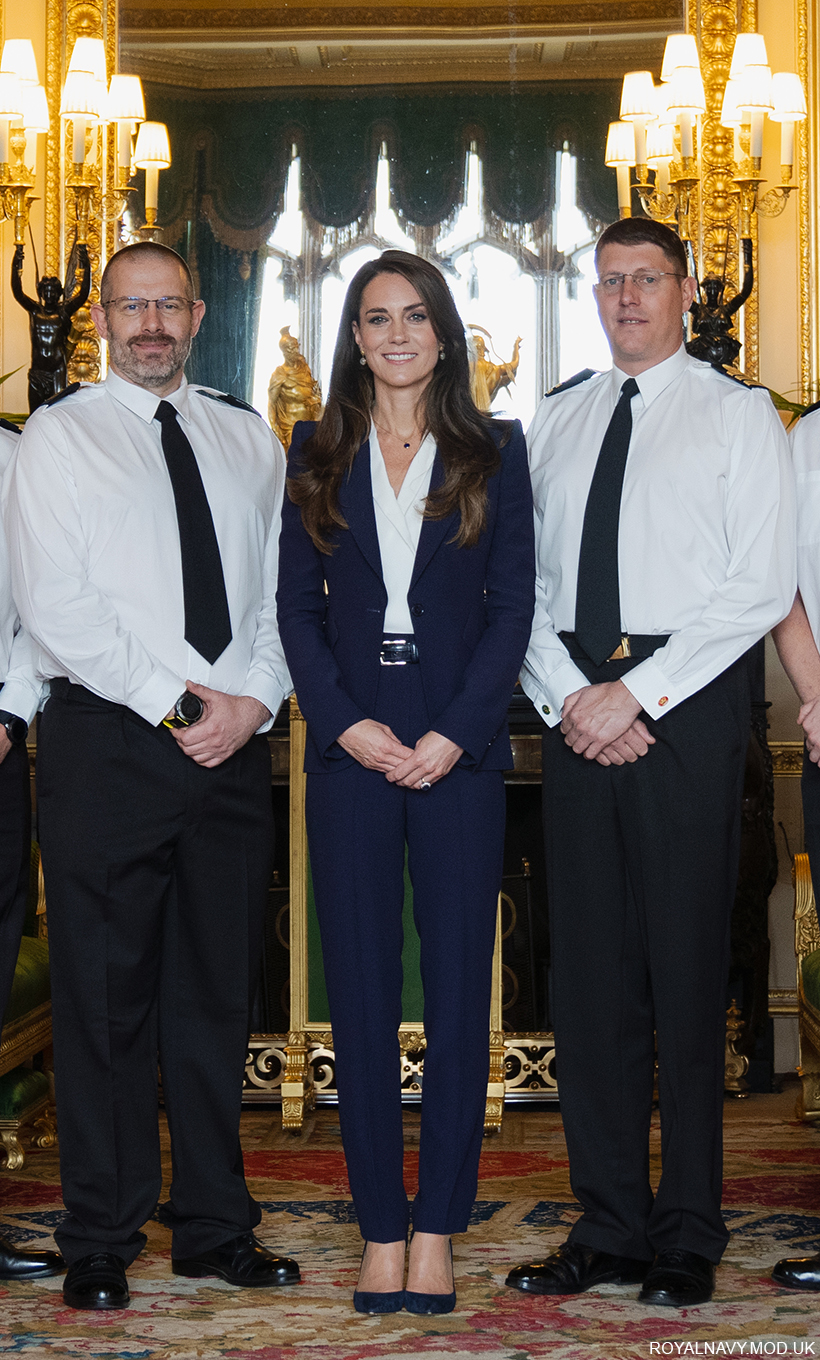 Kate Middleton surprised us with an unannounced engagement today.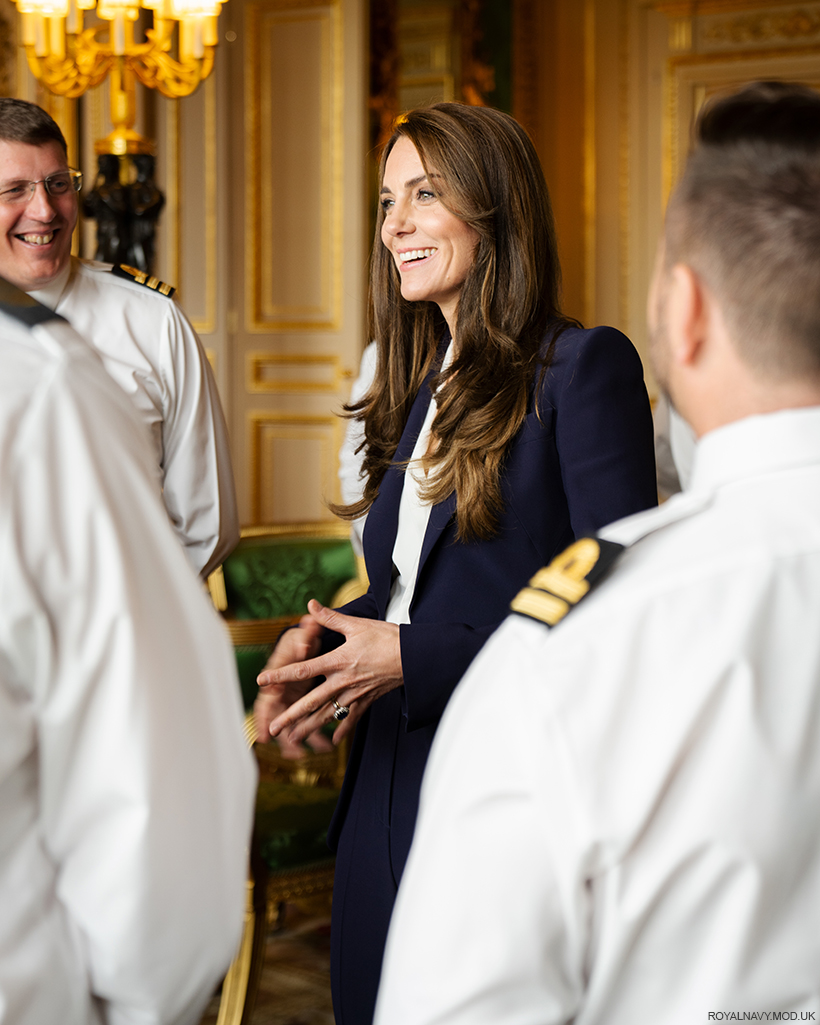 The Princess of Wales dressed in a blue Alexander McQueen suit to meet Royal Navy personnel at Windsor Castle.
The sailors are the first to join HMS Glasgow, a multi-mission warship currently under construction for the Royal Navy.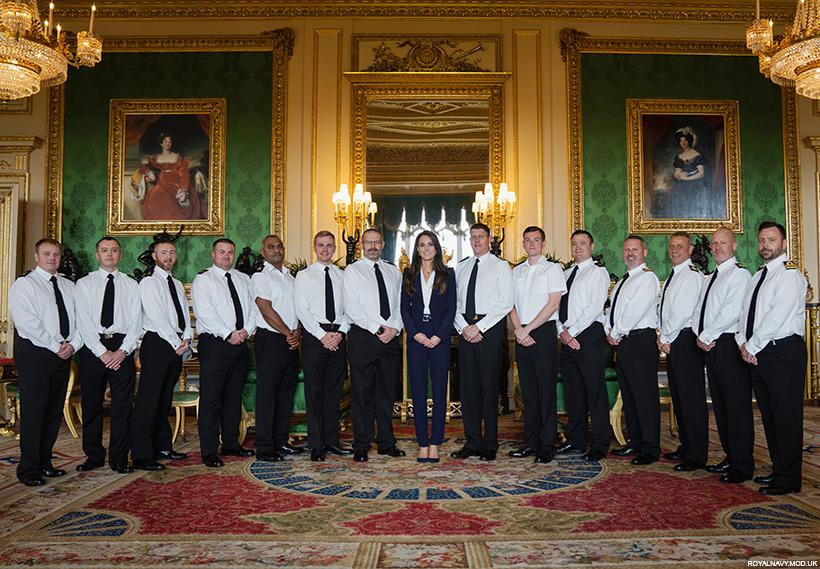 Kate is the ship's "sponsor"—a tradition thought to bestow good luck and divine protection over a seagoing vessel and all that sail aboard. A female civilian usually takes on the role.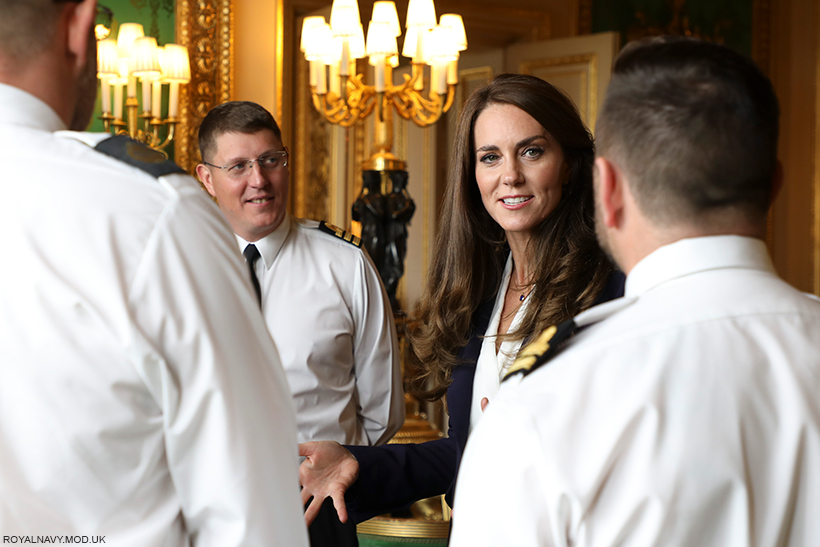 Prince William announced Kate's sponsorship in a speech at the shipbuilding yard in 2021. At the time, Kensington Palace said Kate will have a "strong and enduring personal connection to the vessel and her crew, often supporting milestones, events and deployments".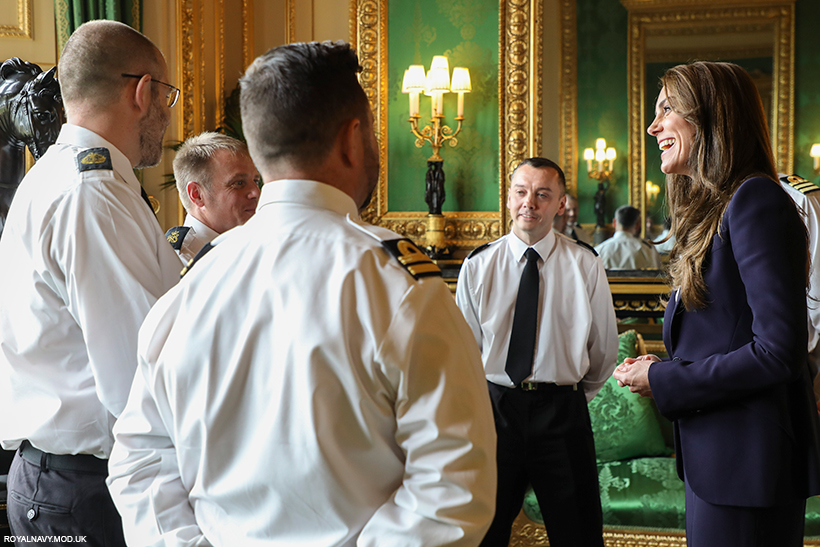 This is the first time the Princess has met the HMS Glasgow.
Darran Sullivan, HMS Glasgow's Executive Warrant Officer said it was a "huge honour to be invited to Windsor Castle" and "It is clear from meeting her that she has a real interest in HMS Glasgow and in the lives of those who will serve onboard."
Petty Officer Colin Chalmers spoke highly of the Princess too. "The moment she walked into the room her enthusiasm and genuine interest in us really shone through and put us immediately at ease."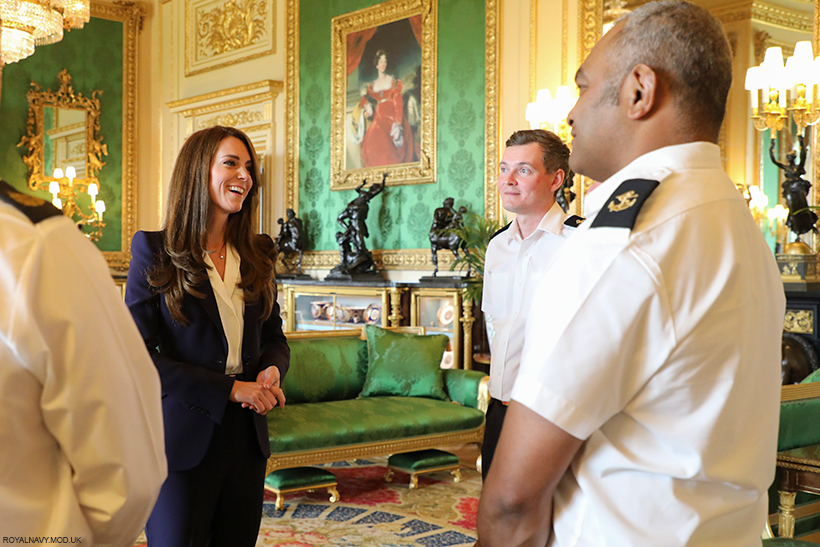 The ship is still under construction. The Navy plan to use it for anti-submarine warfare and air defence, though it can assist with counter-terrorism missions, disaster relief and other maritime security missions too.
After the meeting, Kate (or her team) took to the Kensington Palace Twitter account with the following message:
A pleasure to meet some of the Royal Navy Ship's Company of HMS Glasgow, learning more about their roles and what's next on the route to getting her in the water.

The Princess of Wales via Twitter
Let's dive into the outfit portion of this blog now? (Sorry, I couldn't help myself with the pun!)
Kate's outfit:
I love decoding the messages Kate sends with her outfits. It's easily my favourite part of writing this blog! Kate sent two today. Let's start with the obvious: she chose a navy suit…to meet members of The Navy! I think we all understand the reference here!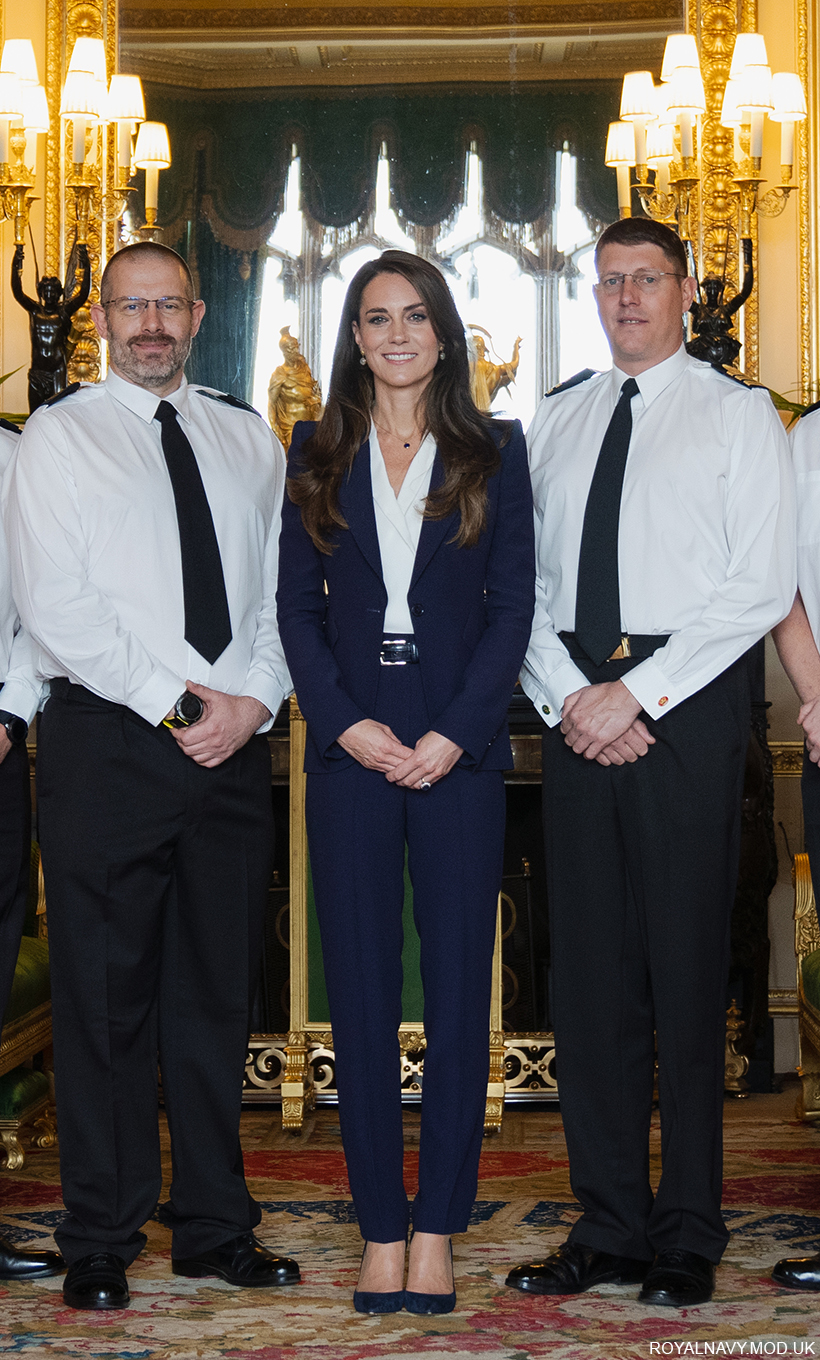 It looks like another Alexander McQueen design.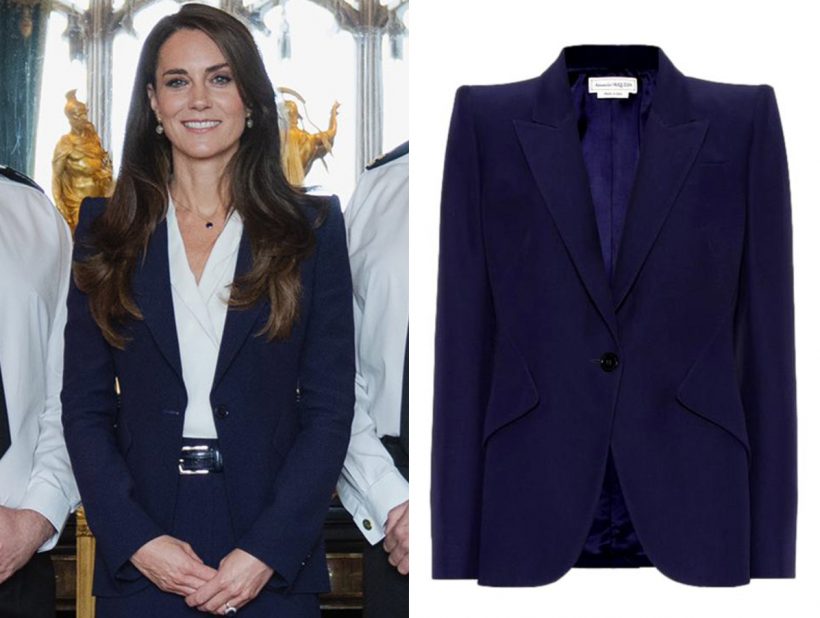 An easy identification, Kate owns the same suit in white, pink and 'black tuxedo' already.
The blazer is a staple for Alexander McQueen. They call the "Peak Shoulder Leaf Crepe Jacket" and sell it season-to-season in updated colours.
The garment has a single button fastening, two side flap pockets and subtly padded shoulders.
I suspect Kate wears the matching Leaf Crepe Cigarette Trousers in a longer leg length (if you look below, you can see they look quite cropped on the model? She wears a lot of custom McQueen designs. It wouldn't shock me to learn the company tailored these for her.)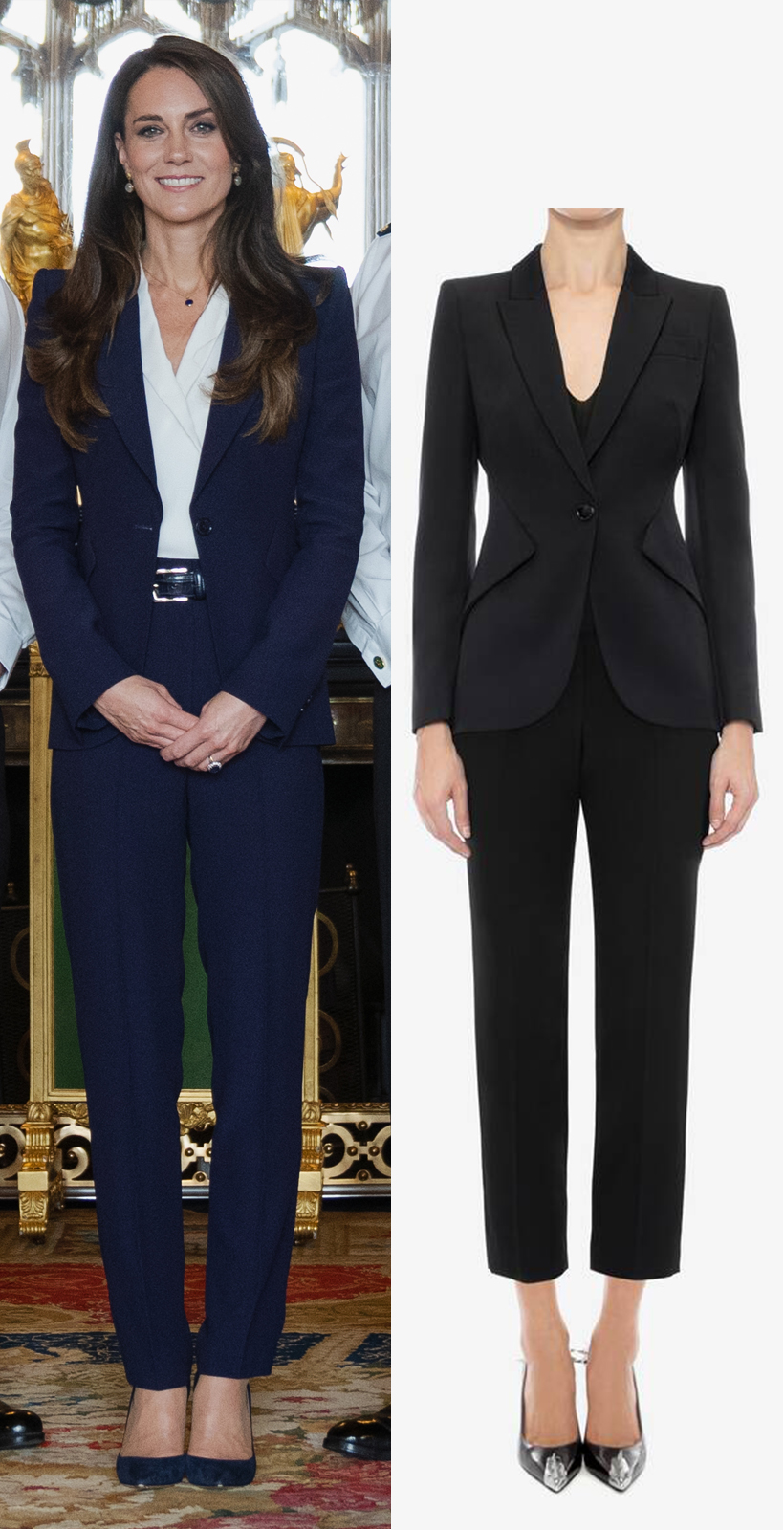 Sadly, you cannot buy the navy suit at present. McQueen did stock it as part of their ready-to-wear collection at one point, as you can tell from the images on this page.
You can, however, shop the same suit in black and ivory at: Alexander McQueen, Net-A-Porter, Matches Fashion and MyTheresa. Cettire also stock the jacket in red (in limited sizes, on sale).
GET THE LOOK: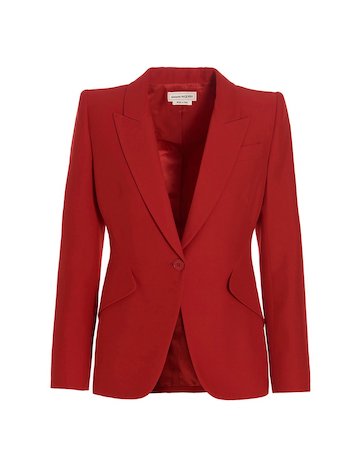 Alexander McQueen Leaf Crepe Jacket
RED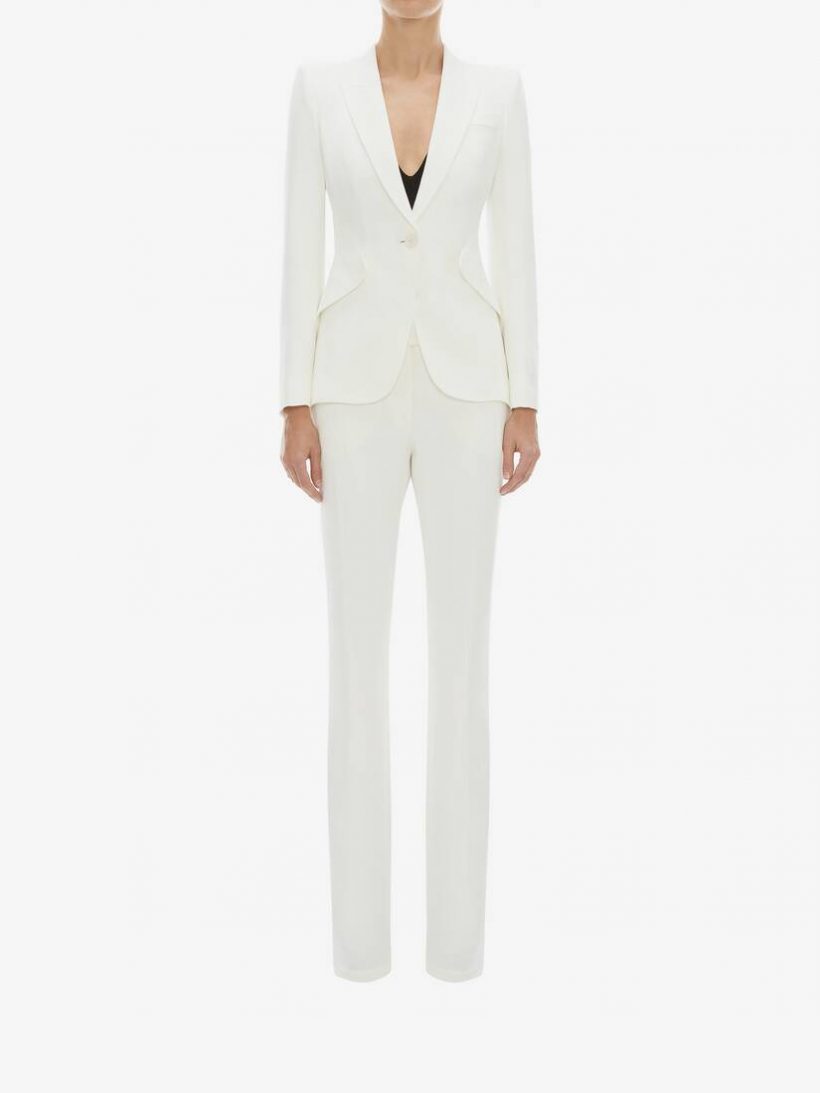 Alexander McQueen Leaf Crepe Suit
IVORY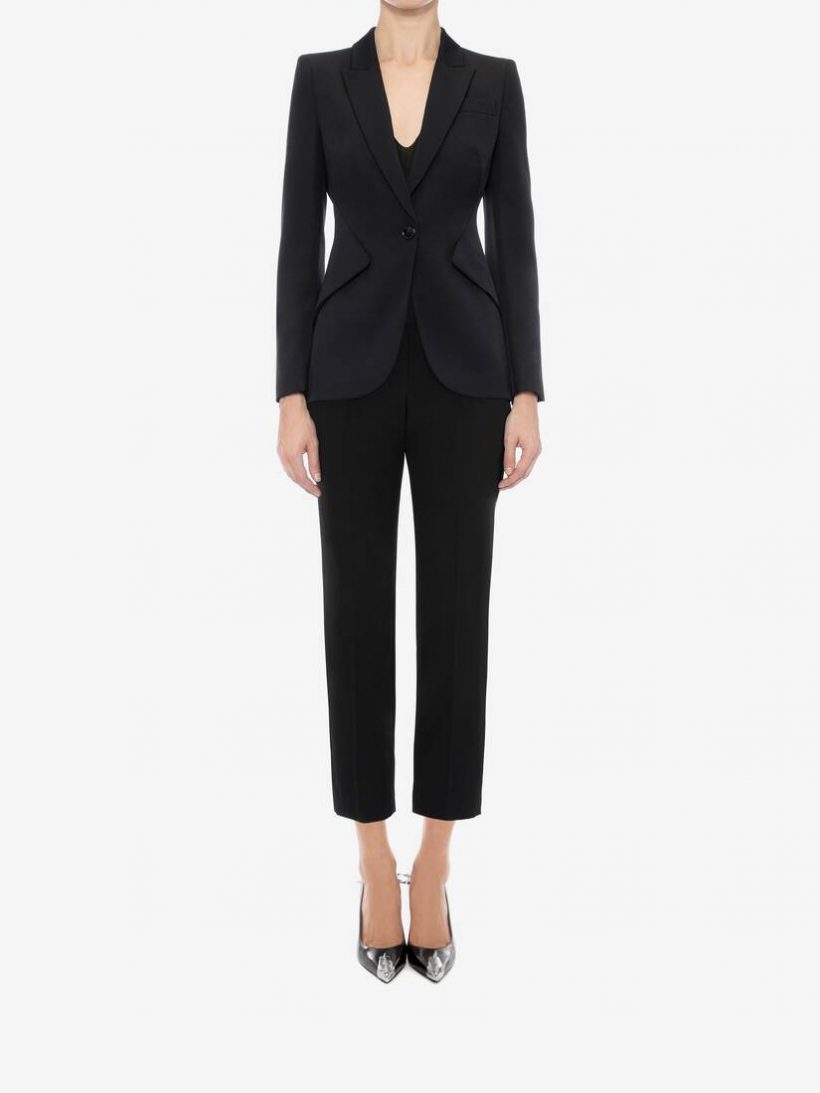 Alexander McQueen Leaf Crepe Suit
BLACK
It's safe to say Alexander McQueen is Kate's go-to fashion house. The Princess has Sarah Burton, the British brand's creative director, on speed dial to dress her during the milestone moments of her life. She chose Alexander McQueen for her high-profile wedding in 2011, her 40th birthday portraits in 2022, her children's christenings and for Queen Elizabeth's funeral.
Let's skip to the second 'message' I teased in the open of this section. Some of our regular readers will have noticed Kate referenced the sea using her jewellery-specifically, her earrings. They're known as the Ocean Tides earrings.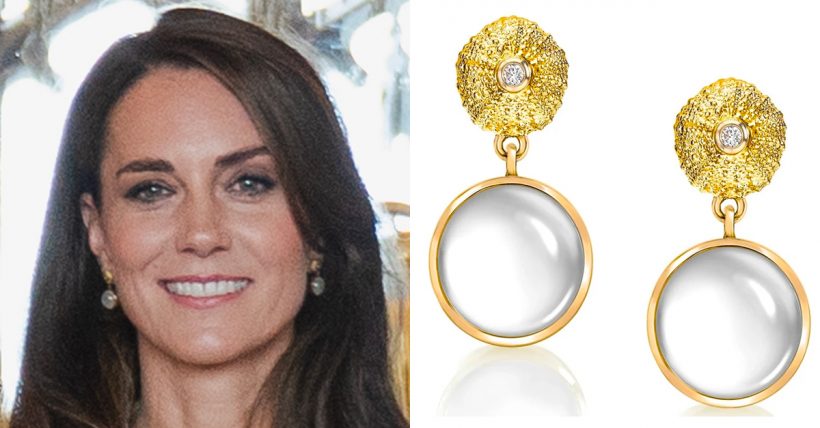 The pretty gold gemstone earrings are by Patrick Mavros. They feature a gold sea urchin design at the top and a polished milky quartz stone suspended from an 18ct gold post. The company specifically states the earrings are "ocean inspired" on their website. I'm certain Kate will have worn them intentionally. RRP: £3,400.
SHOP KATE'S EARRINGS: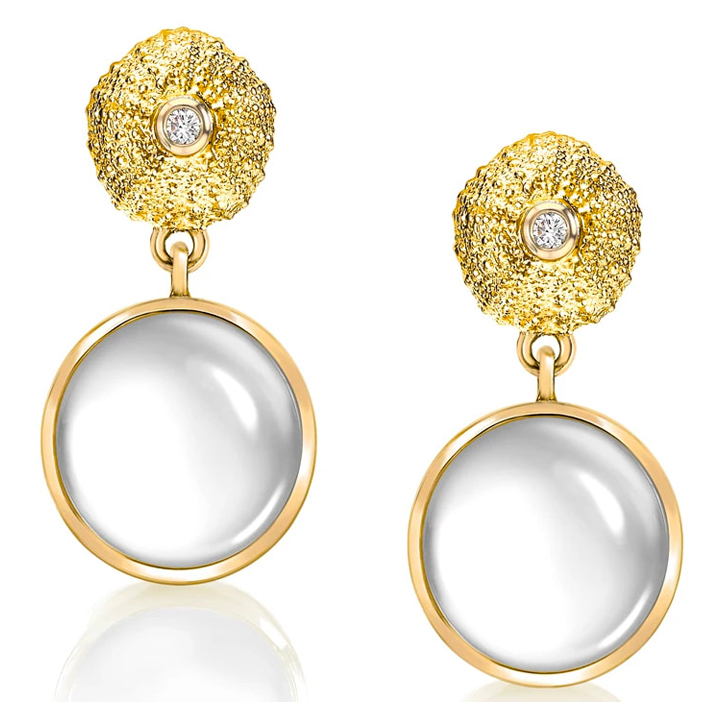 Patrick Mavros Ocean Tides Earrings
Beautifully designed earrings featuring polished milky quartz stones dangling from sea urchin-inspired posts made from 18ct gold.
Kate's worn the stunning earrings seven times (in public) since their debut in 2020.
Patrick Mavros founded his eponymous African luxury brand in the 1980s. Today, it's run by his four sons. To date, we've spotted Kate wear at least four pairs of Patrick Mavros earrings. It's also reported she introduced the Countess of Wessex to the brand too!
Under the blazer, Kate wore her Holland Cooper bodysuit.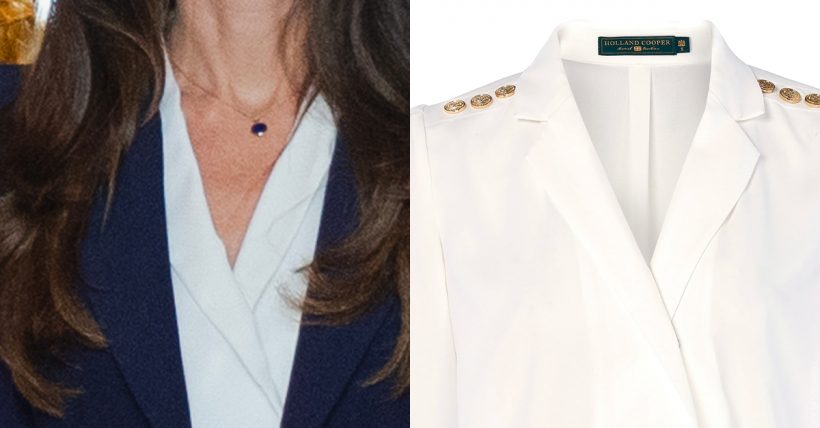 Holland Cooper designed the garment to create the impression of a seamlessly tucked in blouse. The piece features long sleeves, an inverted dart back pleat and the brand's signature gold-tone buttons. It's crafted from a cupro/viscose mix fabric.
Kate has worn the bodysuit twice before, in 2021. Kensington Palace shared videos of the then-Duchess conducting virtual engagements (hence the quality of the photos below).
Holland Cooper took to Instagram to confirm she wore their bodysuit.
The company still sell the white bodysuit on their website. Click here to shop.
Holland Cooper is a British brand founded by Jade Holland Cooper. The company is known for its quintessentially British styling and contemporary designs. Much of the company's clothing is made here in the UK—I'm sure this appeals to Kate, who gravitates towards homegrown, slow fashion brands.
Jade Holland Cooper told Drapers that Kate shops with the brand and will order clothing online "while at her home in Amner Hall in Norfolk."
Kate has worn a fair amount of Holland Cooper clothing over the last few years. (Pictured below, the Princess wearing the brand's Linen Tailored Shorts in the summer).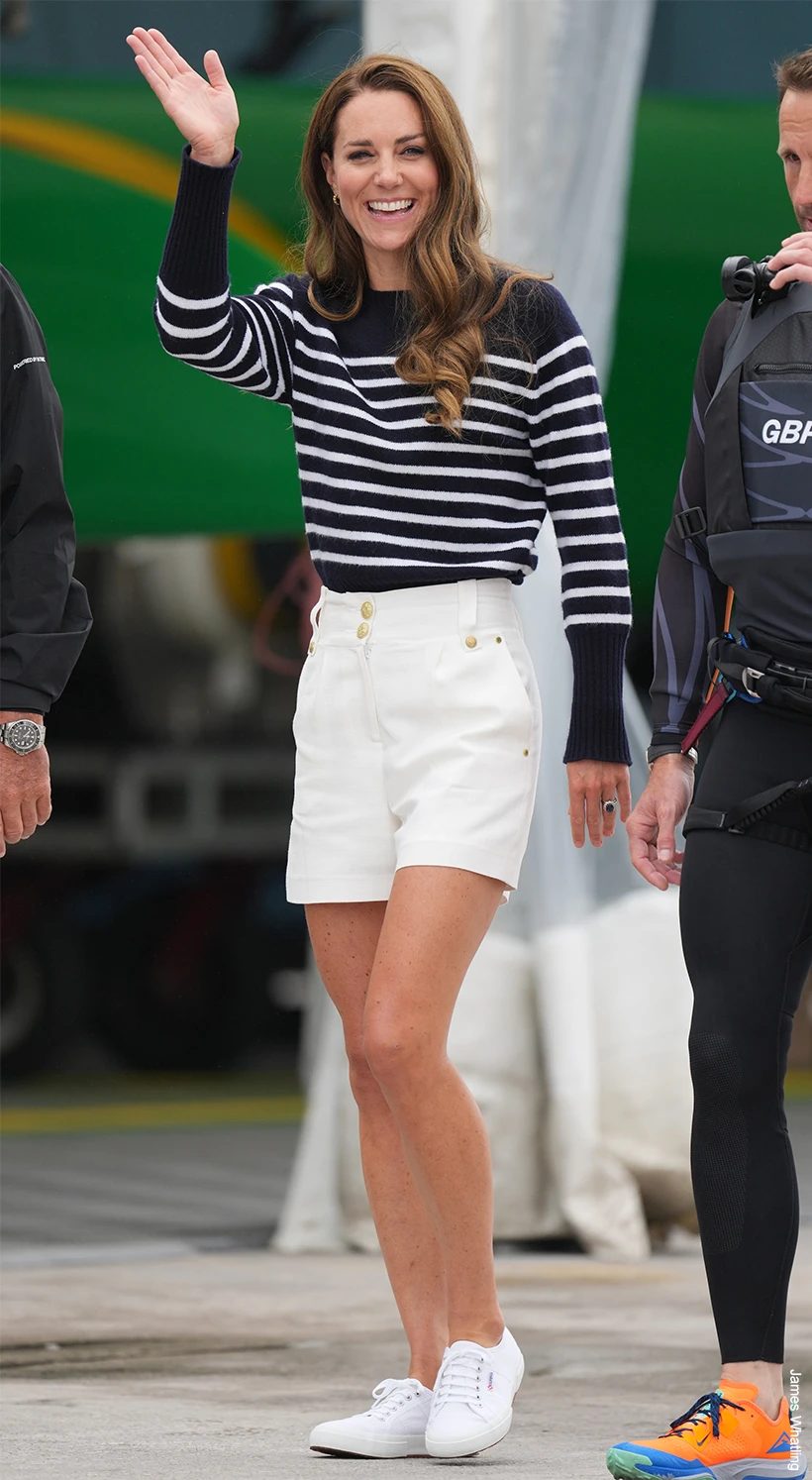 Let's take a quick look at Kate's pretty gold necklace now. It's from Astley Clarke. It's the Round Stilla Pendant Necklace with a blue lapis lazuli gemstone.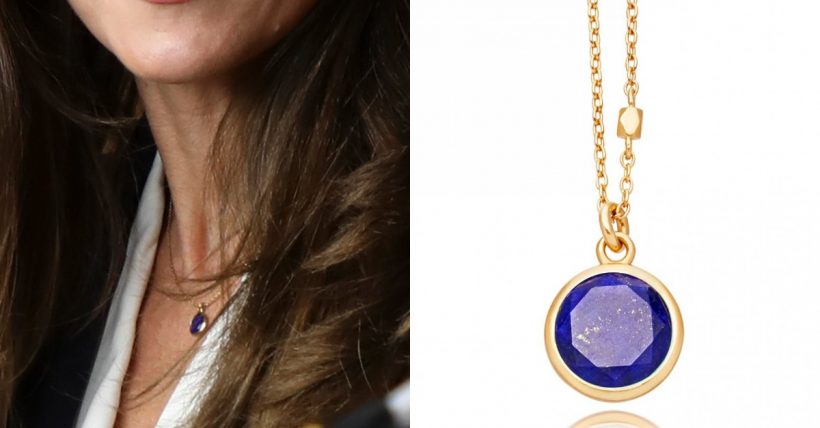 It will feel familiar to some. This is the ninth time we've spotted Kate wearing it since 2021.
The pendant features a multifaceted hand-cut, hand-polished blue lapis lazuli gemstone suspended from a Demi-fine 18ct gold vermeil chain.
If you'd like to put this pretty necklace on your Christmas list, you're in luck. The piece is available from astleyclarke.com for £160 / $180
SHOP KATE'S NECKLACE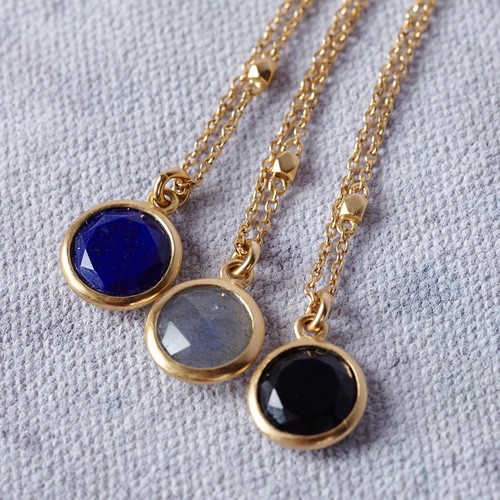 Astley Clarke Round Stilla Necklace
Exact match! Elevate any outfit with this gorgeous gemstone necklace.
Astley Clarke is a British luxury jewellery brand that specialises in fine & demi-fine jewellery. I don't believe we've spotted her wearing any other Astley Clarke jewellery to date.
I can't tell you exactly which pair of shoes Kate is wearing, as I've only seen this one picture and it's not enough to say confidently! I'm willing to bet they're her Rupert Sanderson Malory pumps in navy suede.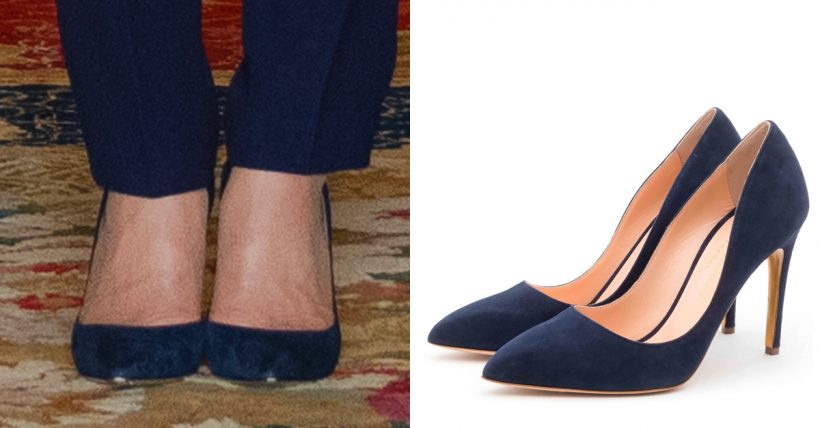 Kate's worn the blue heels many many times—she debuted them in 2016. They're still available to buy on the designer's website. (She also owns them in nude.)
Kate finished the look with her mystery blue croc print belt.
As an aside, it looks like Kate first wore this outfit for a Zoom meeting in 2021 (just with different earrings). It appears she's wearing the same blazer, bodysuit and necklace.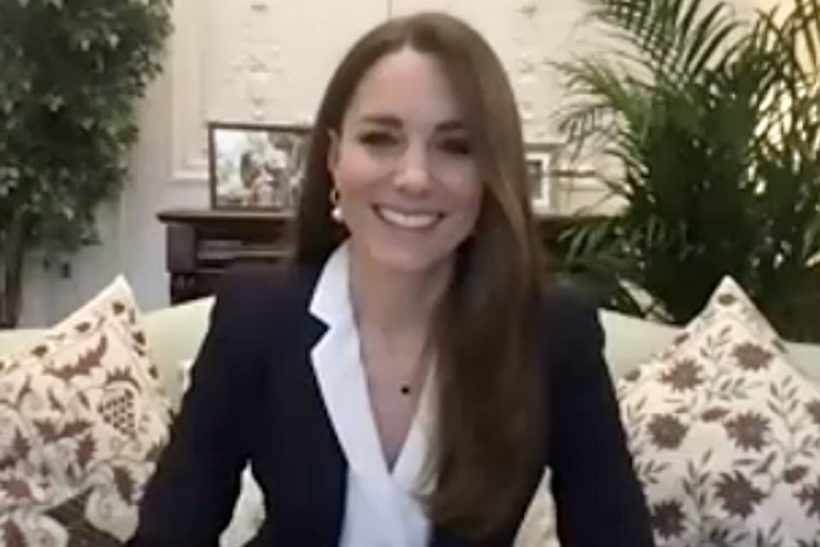 Note. All prices at the crazy £-$ exchange rate as of 29 Sep 2022. All subject to change, of course!