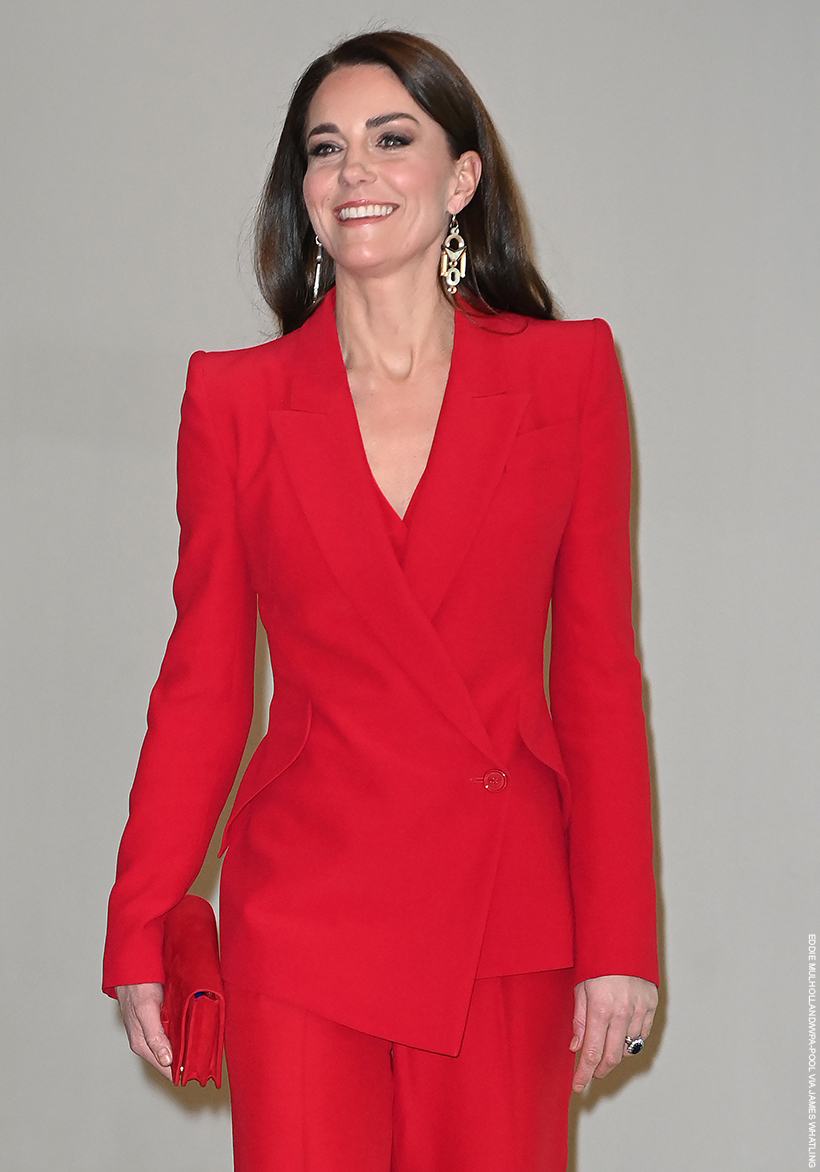 Kate Middleton launched her Shaping Us campaign on Monday evening wearing an eye-catching red suit by Alexander McQueen.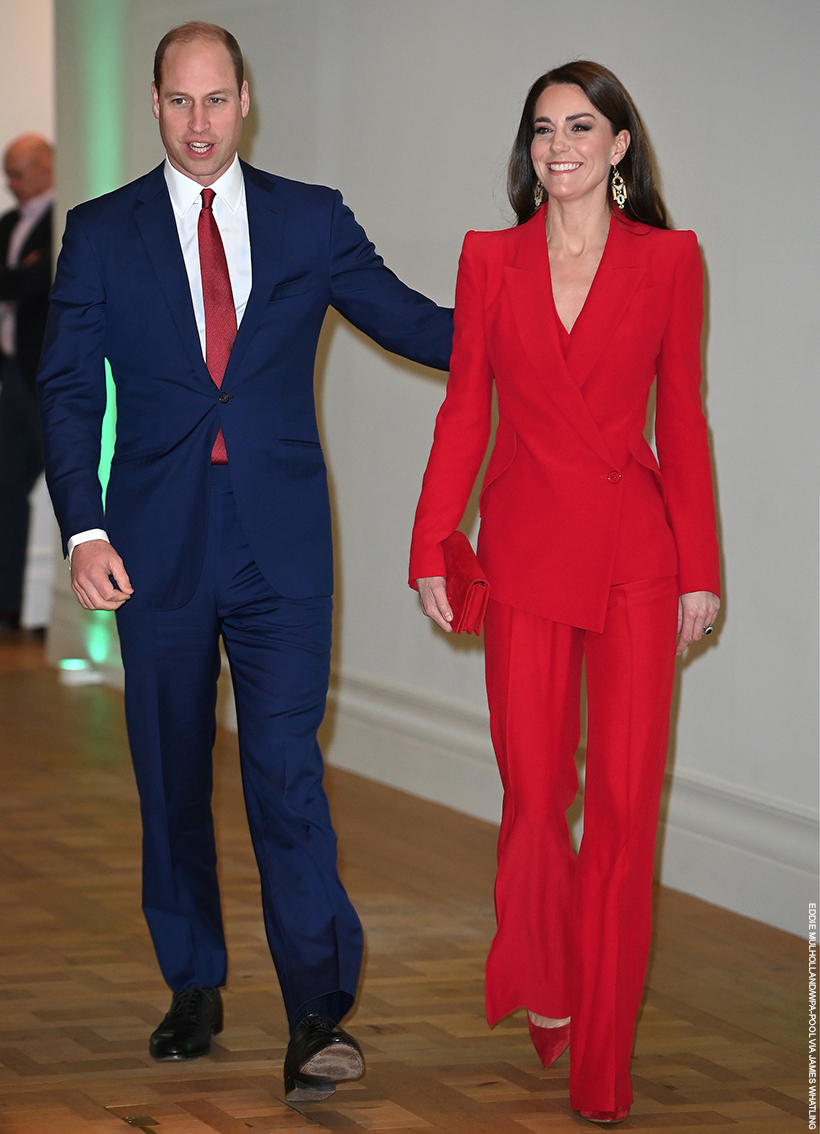 The beautifully tailored ensemble featured an asymmetric hem jacket, wide-leg trousers and a satin or silk vest in a coordinating hue.
Along with a host of guests from the worlds of media, sport, science and music, the Princess watched a preview of a short film on early childhood before she delivered a speech. The event took place at BAFTA HQ in London.
The event included a Q&A session and a drinks reception, allowing stakeholders to mingle and discuss the campaign.
A host of famous faces attended, including Fearne Cotton and Giovanna Fletcher. Both women hinted that they were working on "something exciting" in Windsor last week. I have no doubt they've collaborated on a project with the Princess.
Singer and Television Presenter Rochelle Humes delivered a speech as Campaign Champion. Kate Silverton compered the event.
Shaping Us is a new long-term campaign by The Royal Foundation Centre for Early Childhood, spearheaded by Kate. It aims to increase the public understanding of the crucial importance of the first five years of a child's life and how it shapes their lives and the person they will become.
More details will be released in the coming days. It's expected that Kate will attend a flurry of engagements to kickstart the campaign.
The Princess of Wales launched The Royal Foundation Centre for Early Childhood in June 2021. The centre aims to drive awareness of and action on the extraordinary impact of the early years, in order to transform society for the future. The launch was a culmination of all Kate's work and learning over the last decade plus.
Let's move on to the outfit portion of our post now!
Kate's outfit:
If Kate was after a bold and confident look that'd grab headlines but show she means business, she found it! Her vibrant red suit certainly fit the bill. It's by Alexander McQueen.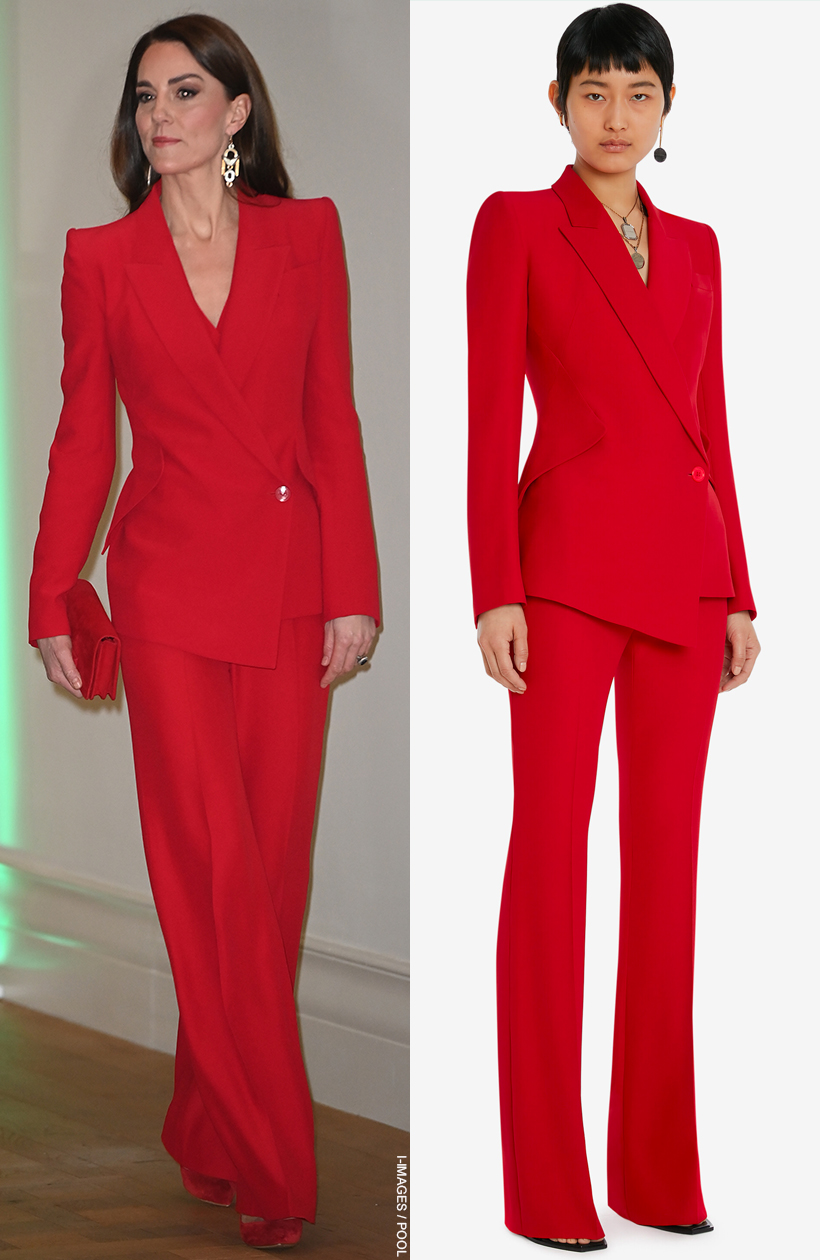 The suit jacket is crafted from crepe fabric and features peak lapels, flap pockets and an asymmetric drop hem. It's finished with a single button fastening.
It looks like she paired the jacket with the trousers shown on the website (on the model above), the 'Narrow Bootcut' style. Alexander McQueen describe them as "bootcut trousers in leaf crepe featuring side pockets and a back jet pocket."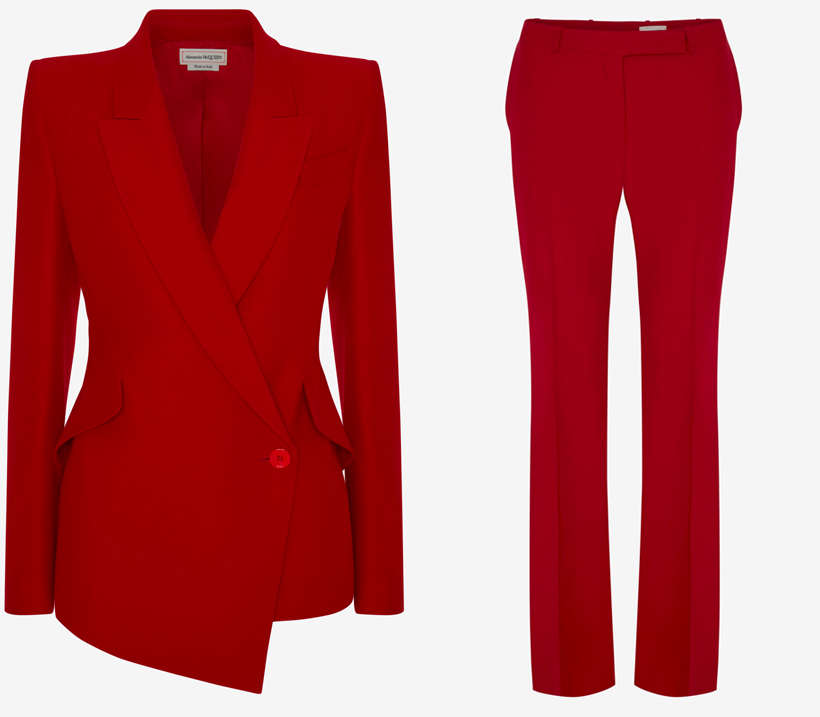 Need a power suit for your next big event? You'll be pleased to see that the jacket is available to buy in Welsh Red at a number of retailers including AlexanderMcQueen.com, MyTheresa, FarFetch, Matches Fashion and END Clothing.
Find the trousers shown above at Alexander McQueen. It looks like MyTheresa possibly sell a high-rise pair with a wider leg too.
Red not your colour? Printemps sell the suit in black. FarFetch list it in baby pink, white and black too.
I think it's safe to say the Princess has been loving Alexander McQueen suits of late—this must be the sixth/seventh variation that we've seen her wear since last spring!
She's worn a white suit with slim-fit trousers, a white suit with wide-fit trousers, a pink suit, a navy suit, a black suit and an amethyst purple suit in addition to the red variation seen at the launch event.
Kate's no stranger to Alexander McQueen. The Princess chose the British fashion house for her wedding gown in 2011 and has been loyal ever since—it's easily one of her most-worn labels.
Let's look at her accessories next. The Princess opted for red, keeping them in tone with her suit. She carried her Miu Miu bow bag.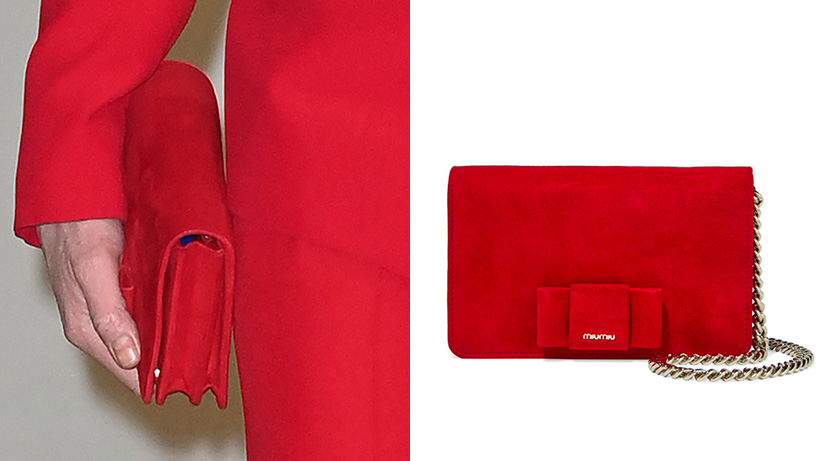 The bag was made in Italy from crimson red suede and finished with a bow adornment, which the brand's name, Miu Miu, in gold. Kate first carried the item during a visit to Canada in 2016. It originally retailed for £640 GBP / $895 USD at Net-A-Porter.com but is long sold out.
At the time of writing, there is one clutch available on eBay—but the markup is quite considerable. It's listed for €1,398.98 EUR.
Miu Miu is a subsidiary of Italian label Prada. We've only seen Kate wear two other items from the brand, to date. A tartan coat in 2017 and a rose print cardigan in 2021.
The Princess styled her wide-leg trousers with a pair of heeled pumps. It looks like she's wearing the Gianvito 105 style in red suede by Italian designer Gianvito Rossi.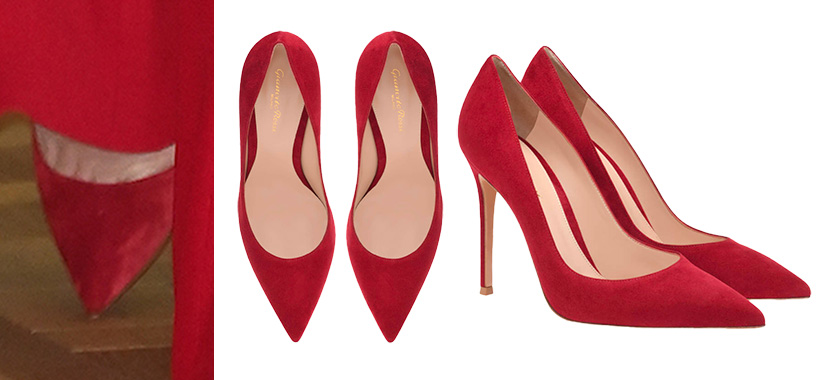 We first spotted the Princess wear the red court shoes in 2016. She's worn them 8-9 times in public in total.
Gianvito Rossi calls the 105 style his "iconic signature pump". He believes the shape makes the style "timeless". The shoes are handmade in Italy using fine suede leather. They feature an elegant pointed toe and a slim heel that measures 105mm.
In addition to red suede, the Princess owns the shoe in seven other colours (to our knowledge, maybe she has more squirrelled away in her wardrobe!).
Gianvito Rossi is the son of the highly renowned shoe designer, Sergio Rossi. Gianvito debuted his first collection in Milan in 2007 and has continued to create stylish, sophisticated and timeless designs over the last 16 years. Rossi is known as a perfectionist when it comes to fit and comfort. He believes he's engineered the perfect stiletto – mathematically balanced, with refined proportions and neither too high nor too pointy. Kate's clearly a fan of the footwear designer, we've spotted her wear 14 of his different designs to date.
Let's finish by looking at the Princess's statement earrings now. They're the Florence earrings by CHALK in a colourway called 'regency'.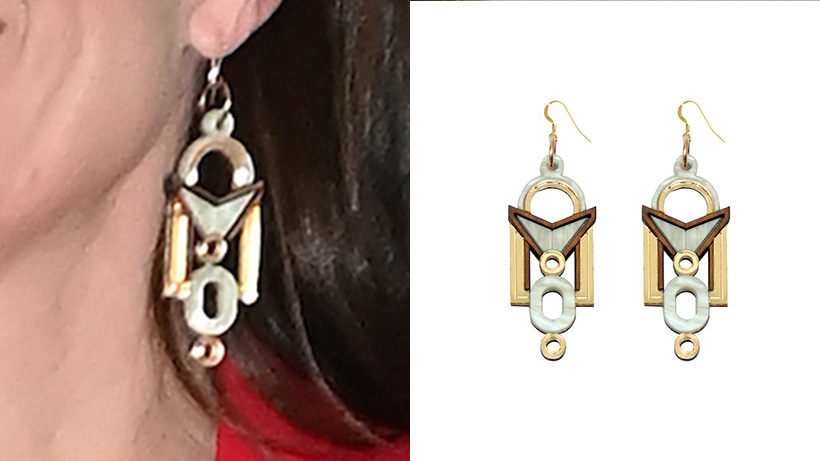 The beautiful earrings feature acrylic and walnut pendants that hang from gold-filled earrings hooks. The design comes from a collaboration between CHALK and the Royal Opera House, called "The Revival Collection". The designs are inspired by the "ornate details and geometry" found within the building's main stage auditorium ceiling. The earrings can be purchased via both CHALK and the Royal Opera House's online stores.
Chalk have used soft regency greens and a tanned pearloid hue to give the pieces a luxurious feel. Lining the pieces with walnut wood adds depth and durability. Chalk is a London-based design studio run by architect Malaika. Malaika has a passion for beautifully-crafted design, from the structure of large cityscapes to the intricacies of fine jewellery pieces. All pieces are carefully handmade in London by Malaika

Royal Opera House
Planning to order the earrings? They'll take up to two weeks for delivery as they're handmade. RRP: £75.