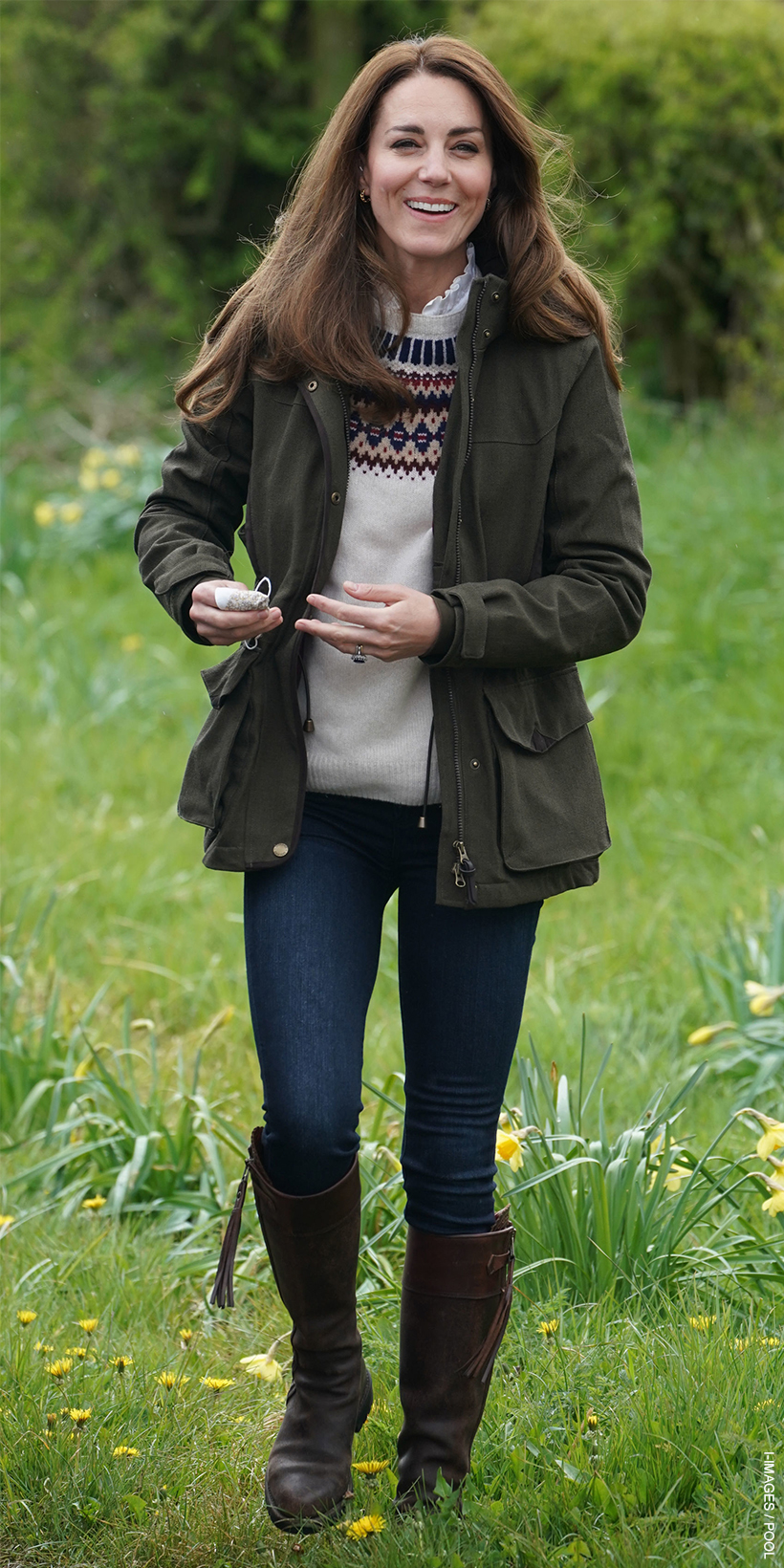 Tuesday, 27th April 2021—The Duke and Duchess of Cambridge visited the North of England for a series of engagements in Country Durham.
It was the couple's first "away day" of the year and their first royal engagements outside of London since December 2020 (due to COVID-19 restrictions). The visits took place outside for safety reasons.
The couple flew up to Teeside International Airport. On social media, representatives for the airport wrote that they were proud to support to royals. They also shared the following photograph: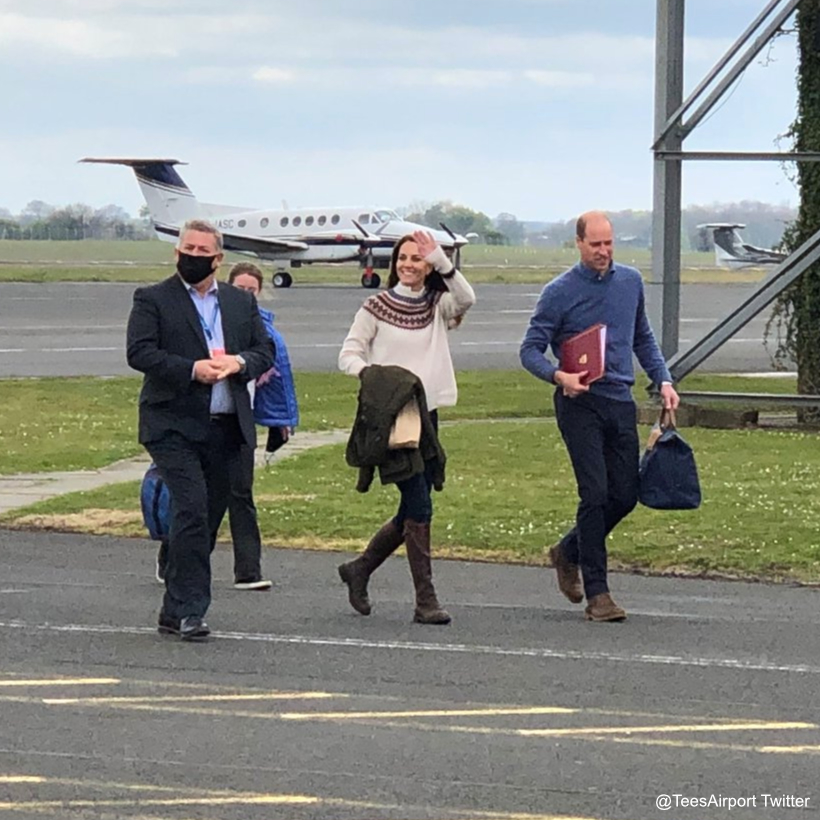 The first engagement took place at Manor Farm in Little Stainton, near Darlington. Manor Farm is a fifth-generation family-run sustainable farm. Owners Clare and Stewart won Sheep Farm of the Year in 2018.
During their visit, William and Kate toured the farm and drove a tractor. They also heard how Clare and Stewart are working towards the UK's 2050 net-zero target. The farmers explained how practices such as grass monitoring, land rotation and feed sampling have helped protect animal welfare while maximizing productivity and sustainability.
Next, the royals visited the Cheesy Waffles Project at the Belmont Community Centre in Durham. The CWP supports young people with additional needs across the county. During the visit, William and Kate took part in a golf activity and chatted with youngsters. (You might have noticed Kate changed her outfit.)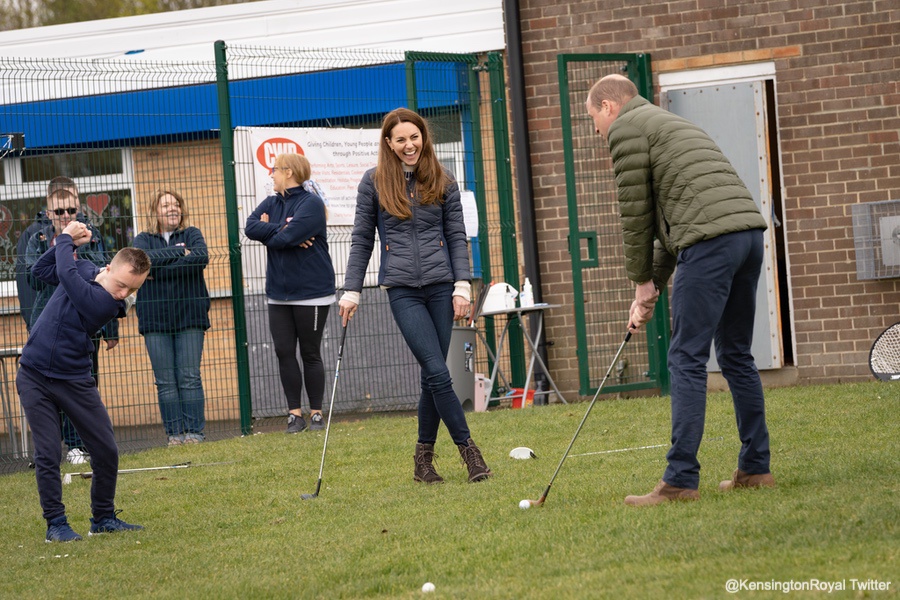 The Duke and Duchess chose to visit the Cheesy Waffles Project ahead of their ten year wedding anniversary on the 29th of April. The CWP receives support from The Key, one of 26 charities chosen by the couple in 2011 to benefit from donations to their Royal Wedding Charitable Gift Fund.
Kate's outfits:
Kate's casual attire was perfect for the day's engagements in County Durham. She sported a Fair Isle knit sweater over a pie-crust collar blouse and dark-wash denim. The jeans are unidentified but we know her part of a collaboration between two British brands, Brora and Troy London.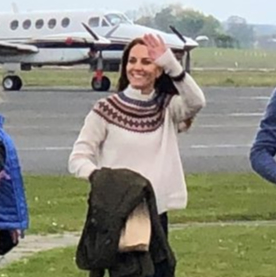 This is the second time the Duchess has worn the piece in public. She first wore it during a visit to Manchester in December 2020.
The almond-coloured sweater is made from 100% superfine lambswool. It's knitted with a traditional Fair Isle pattern in a palette of blue, burgundy and biscuit.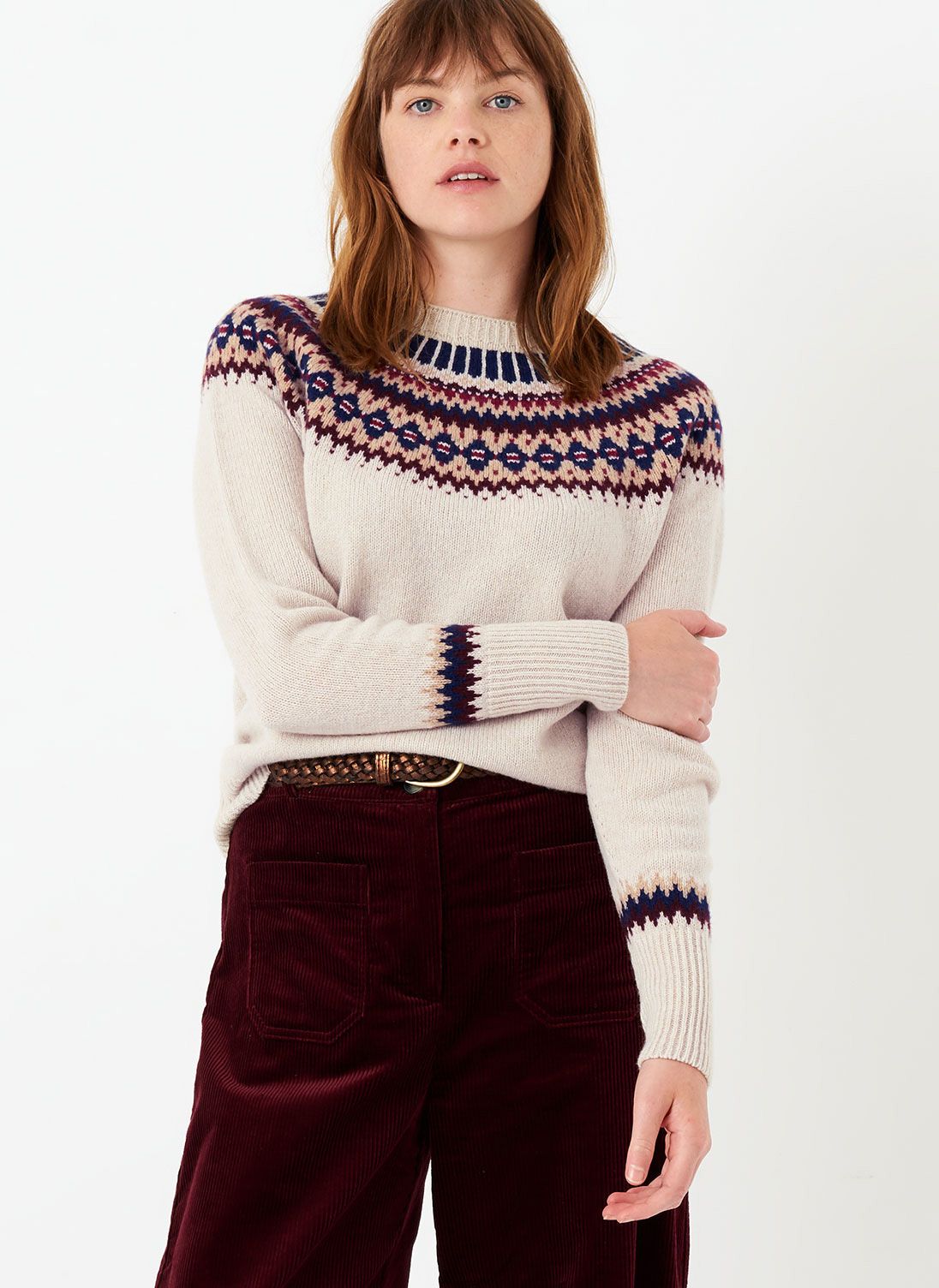 In my view, it's no coincidence Kate chose a lambswool sweater to visit the sheep farm. Brora and Troy London released the sweater during the 2020 British Wool Week, an event hosted by the Campaign For Wool. The campaign aims to educate people about the incredible benefits of wool in fashion, furnishings and everyday life. In turn, this will support many small businesses and farmers whose livelihoods depend on the industry. The campaign also promotes awareness about the natural, renewable and biodegradable properties of the fibre. Prince Charles is Campaign For Wool's Royal Patron.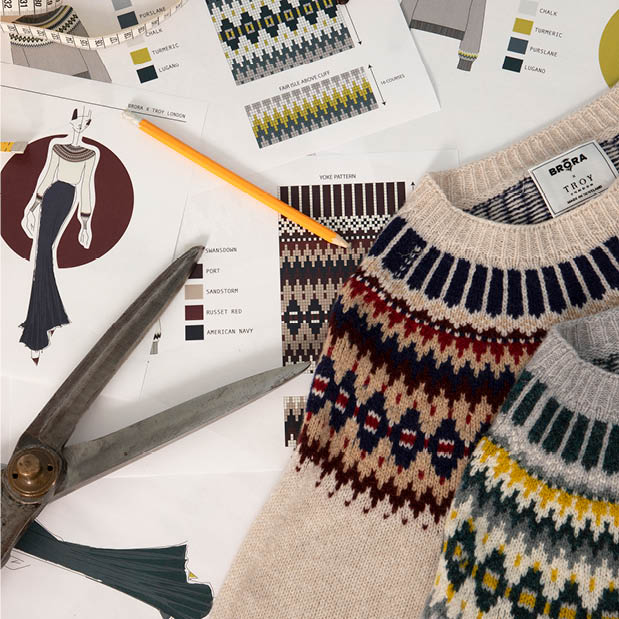 Speaking of green credentials, Brora and Troy London's sweater is an eco-conscious choice. Unlike fast fashion, manufacturing these sweaters produces zero waste. They're knitted on whole garment machines in one of the oldest knitwear mills in Scotland.
If you're new here, you might not realise that one of Kate's friends, Rosie van Cutsem, co-founded Troy London with her sister Lucia Ruck Keene. The Cambridges and van Cutsems live near one another in Norfolk. Rosie's husband is Prince George's godfather and William and Kate attended their wedding in 2013. Kate's worn a couple of Troy London coats over the last few years.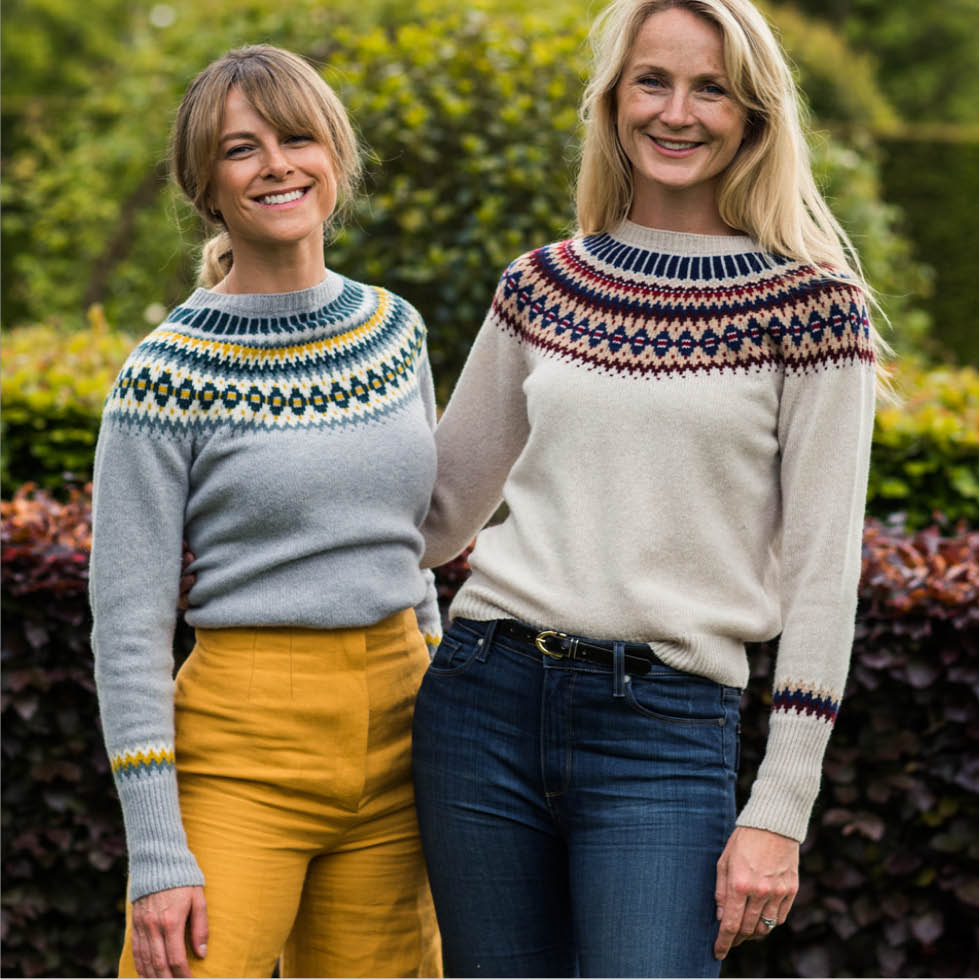 Brora also is a familiar brand for Kate. She's sported a few items from the company since joining the Royal Family. Below: the Duchess wearing Troy London's Khaki Green Wax Parka during a farm visit in 2017 and Brora's gold-coloured earrings in Bhutan in 2016.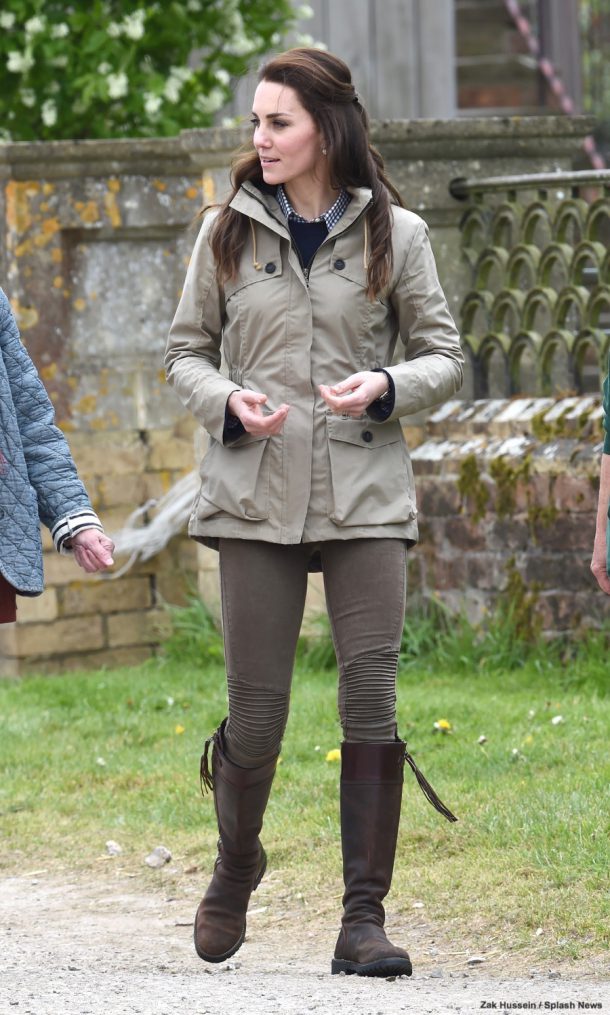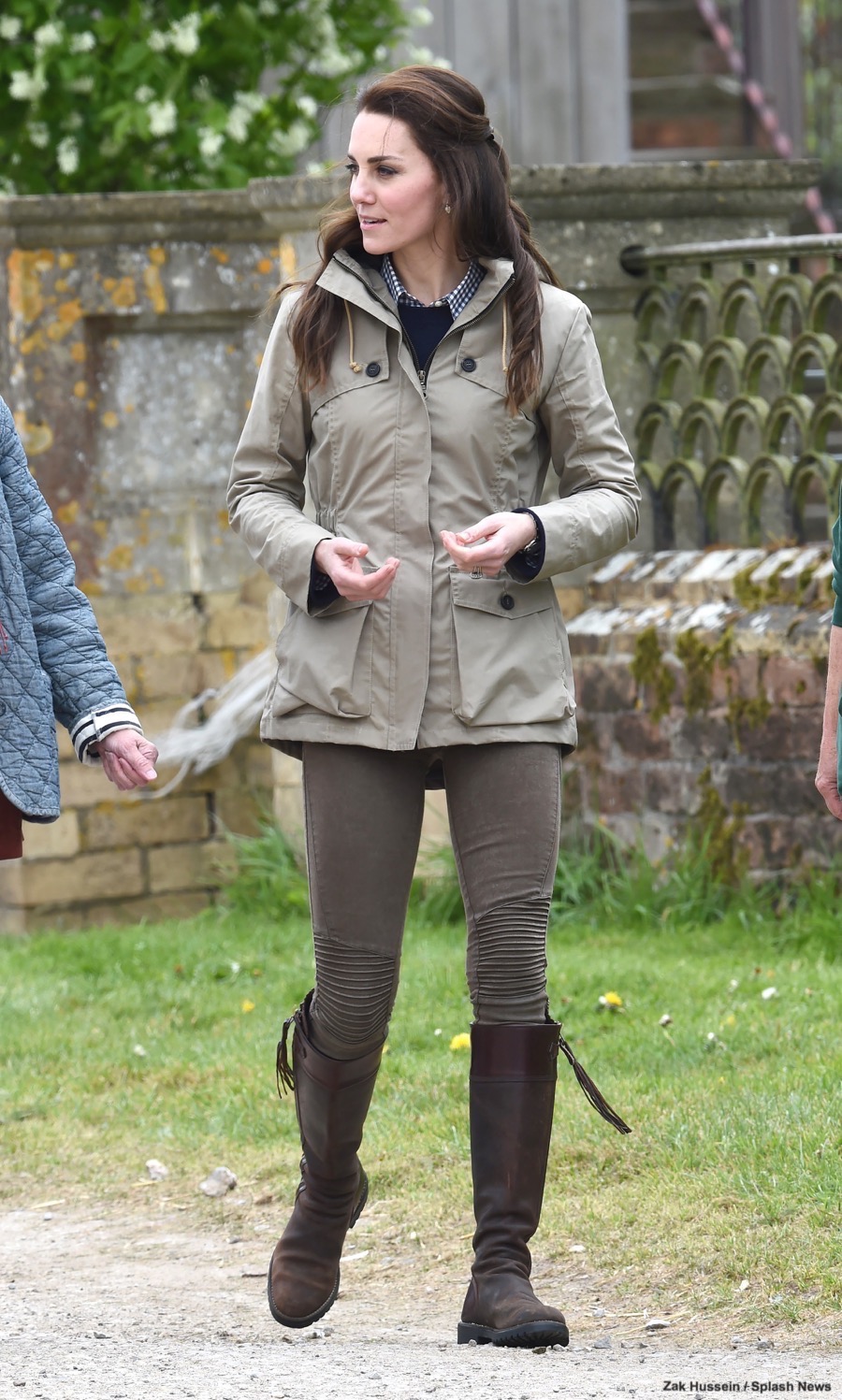 Kate paired her Fair Isle knit sweater with a ruffled-collar blouse by Sézane. It's the French brand's Marguerite blouse. It features a distinctive pie-crust collar and ladder stitch detailing. The piece is no longer available to buy. Kate first wore the piece during a visit to the Lake District in 2019. She's worn it under a couple of sweaters since.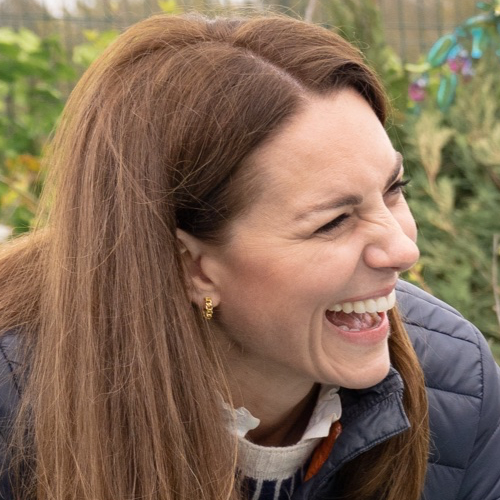 At the farm, Kate kept warm with a new jacket. It's the Woodcock Advanced Hunting style by Seeland. The smart jacket is equipped with a windproof and waterproof membrane and plenty of features that one might need for a day's shooting: large cartridge pockets, drain holes, QuickLoad functionality and handwarmer pockets. Kate wears the women's version of the traditional jacket, which has a more flattering cut.
The jacket RRPs for £189.99. Sadly, it's out of stock now. One retailer did write that they were expecting another delivery in July.
For the farm visit, we saw a return of Kate's trusty Penelope Chilvers Long Tassel Boots. We believe she has owned the boots for at least 17 years. (Kate was first photographed wearing the boots in 2004). Chilvers once said in an interview that Kate has never ordered a replacement pair to her knowledge.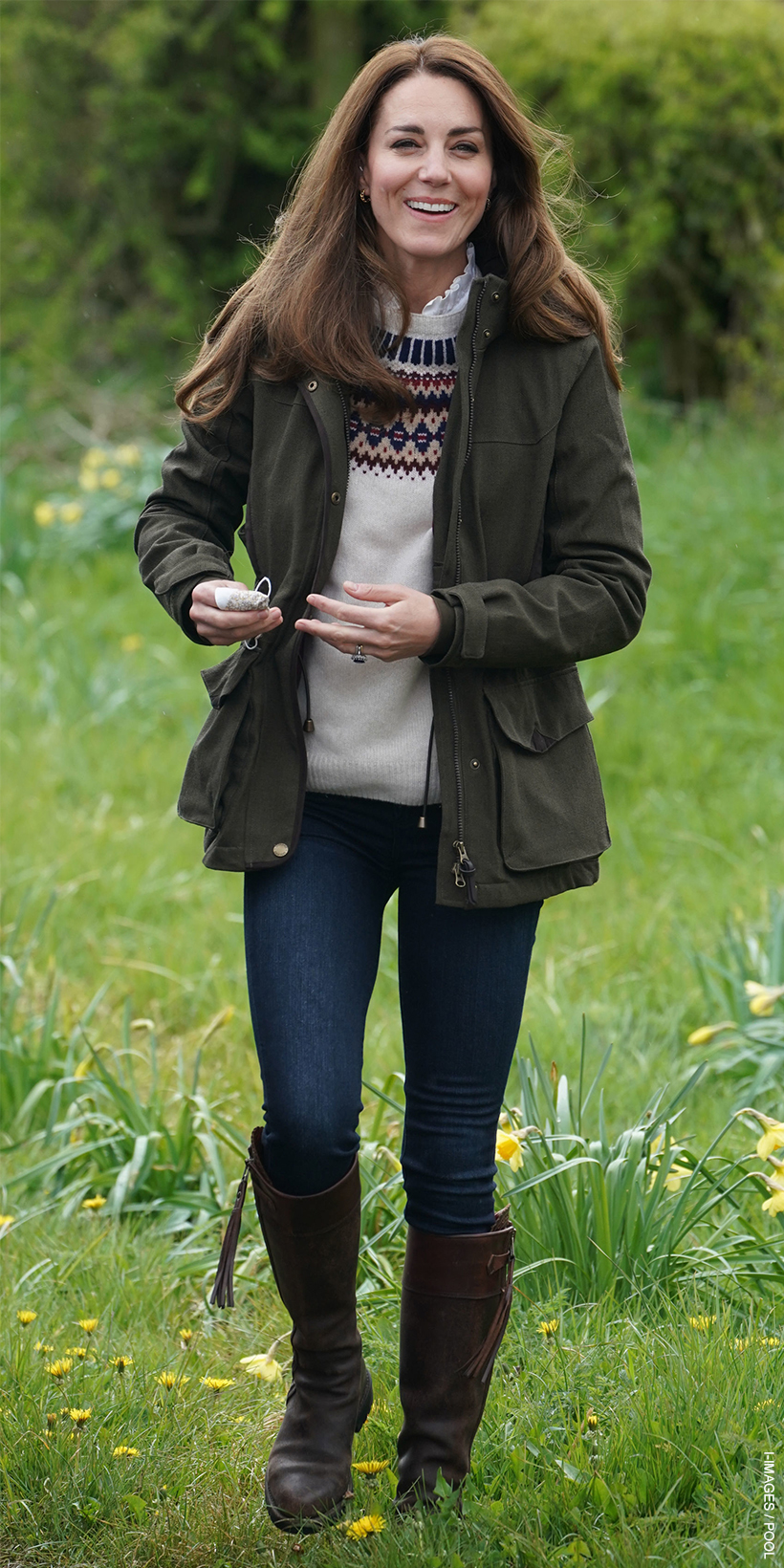 The boots are made from Spanish vegetable-dyed leather in the colour Conker Brown. The sleek cut boots feature a scalloped detail near the zip and hanging tassels. They retail for £475 on the Penelope Chilvers website.
Kate famously chose to wear the boots during her visit to Bhutan, for a three-hour hike up the Himalayas to see the Tiger's Nest Monastery in 2016.
Kate swapped to a blue puffer jacket and combat boots for her visit to the Cheesy Waffles Project. They're both pieces our regular readers will be familiar with as Kate has worn them before. The blue puffer jacket is by Barbour. It's the Longshore style from the luxury lifestyle brand's SS19 collection.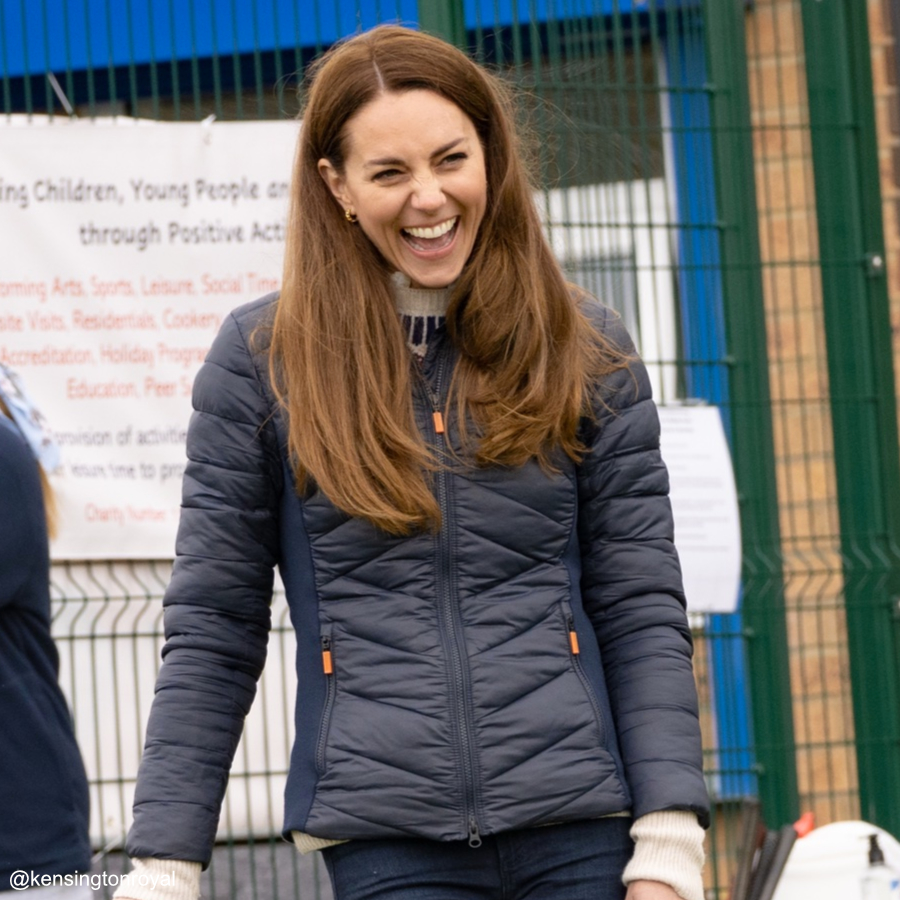 It features marigold orange accents. The lightweight, practical and stylish piece is tailored with chevron baffles, a diamond-detail waistband and stretch fabric side panels for a flattering fit. The funnel collar protects the wearer's neck from cold weather on chilly days.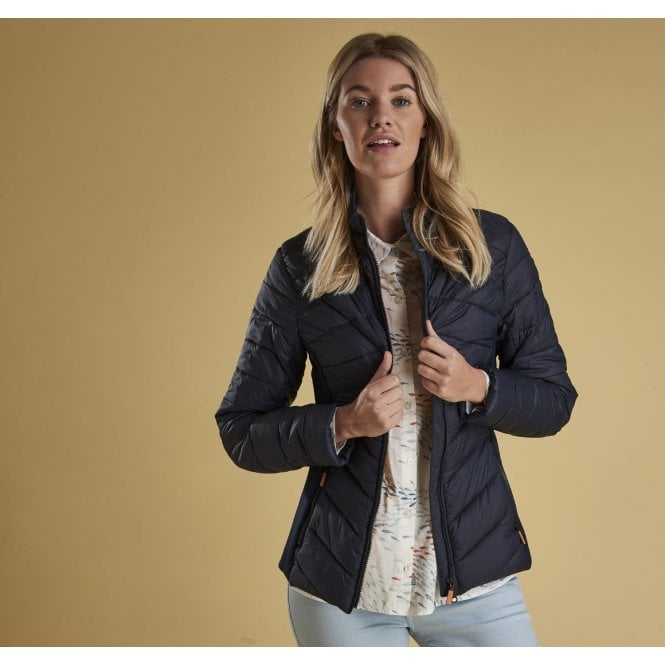 Barbour is another countrywear brand Kate's worn frequently over the last decade. In addition to the Longshore style, Kate owns the company's Edith and Winter Defence jackets.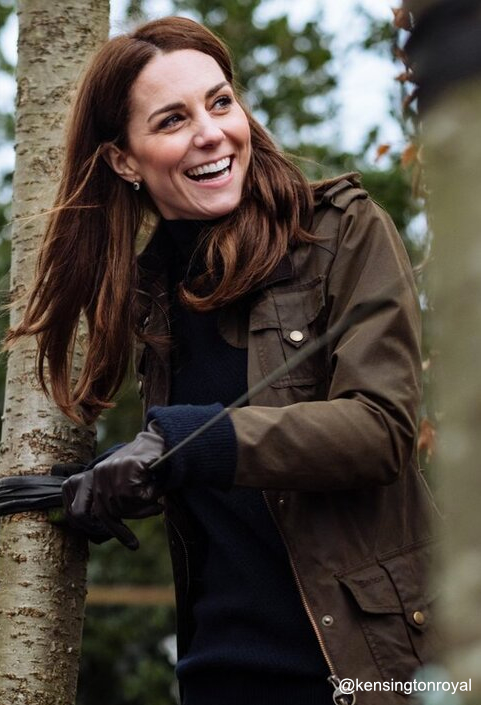 Kate's brown suede combat boots are from See by Chloe. The lace-up boots feature logo-embossed heel tabs on a chunky tread sole. The boot sold for $445 at Net-A-Porter, though they're now sadly out of stock.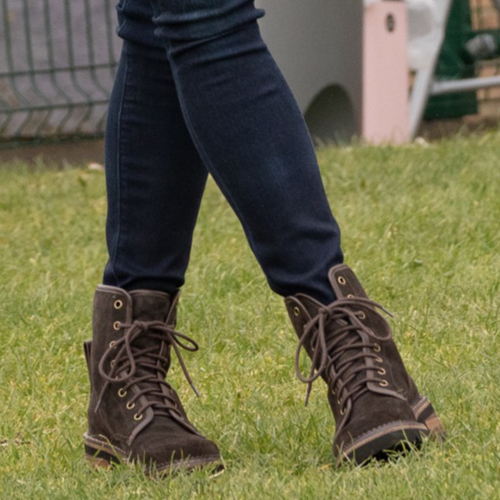 This is the fifth time we've seen Kate's sport the brown boots during a public engagement. We first noticed them during a visit to the King Henry's Walk Garden in Islington, back in January 2019. Also pictured below, Kate wearing the boots during a visit to The Scouts in London (September 2020).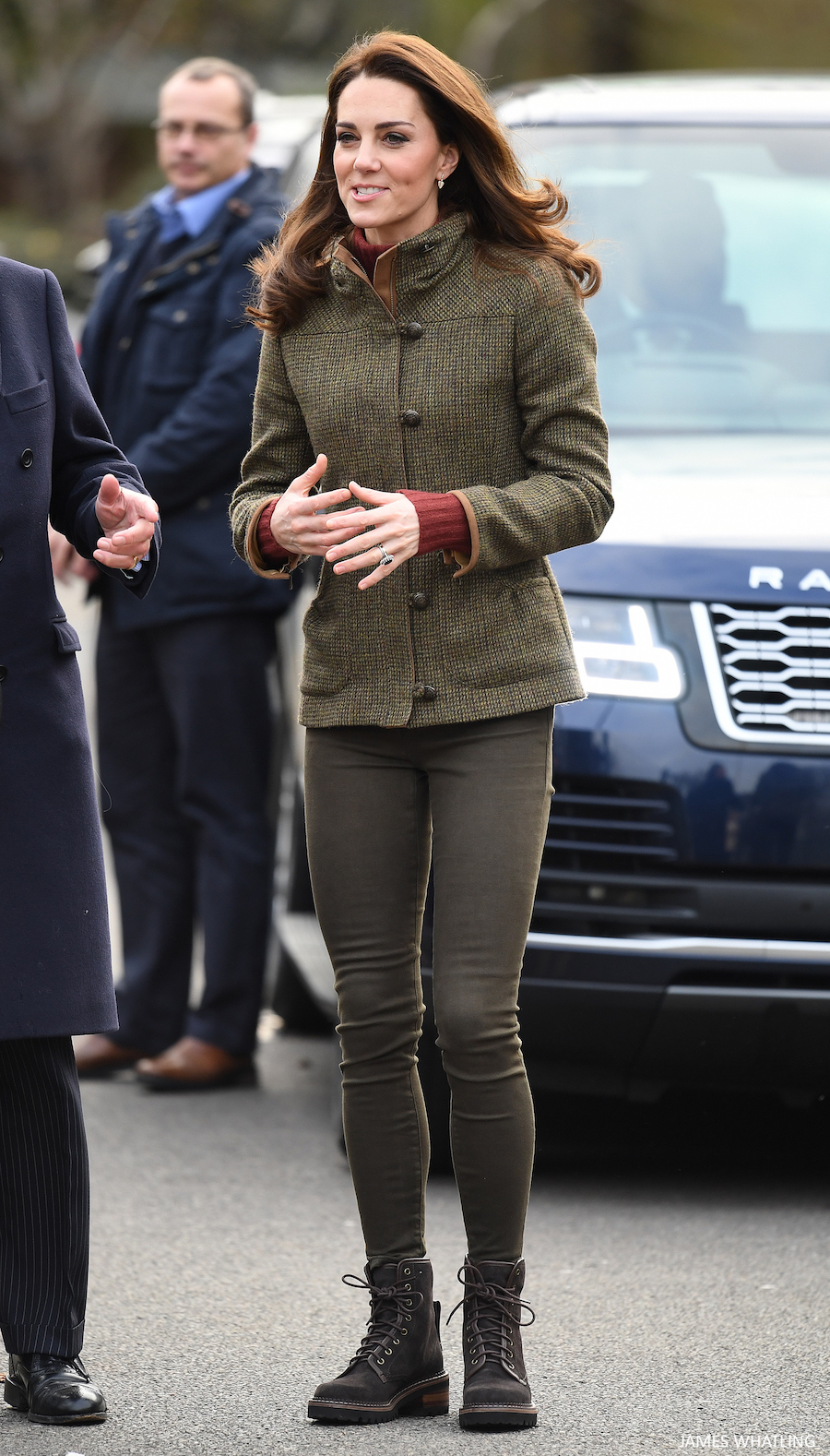 Finally, let's look at Kate's earrings. The Duchess wore her gold Chain Huggie Hoops by Orelia London. The gold plated earrings can still be purchased for just £15.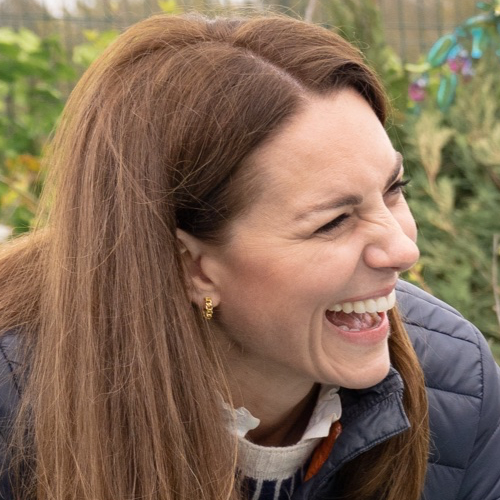 We first noticed Kate wearing the earring in February 2021, for a video call with nursing students. She's now worn them a total of five times to date.