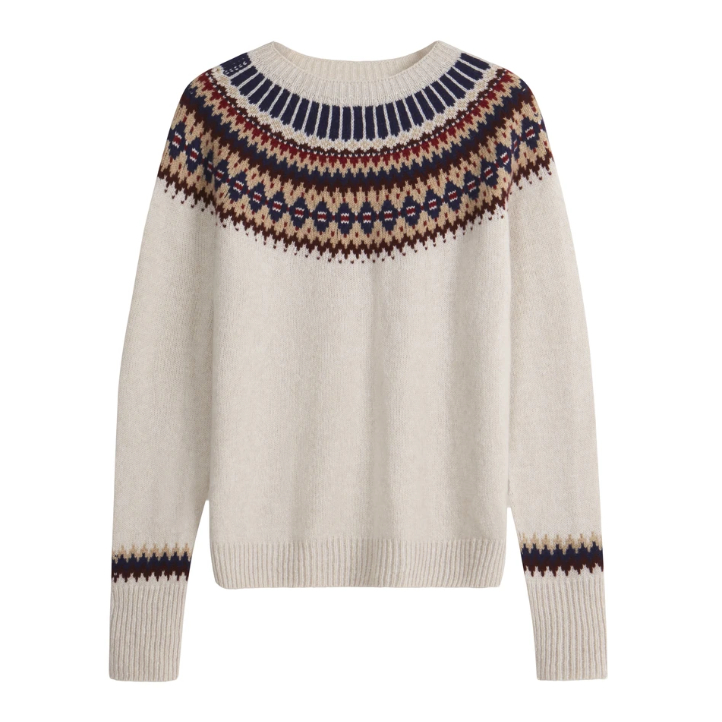 The Duchess of Cambridge really knows how to do English country style. Her casual clothing, like this Fair Isle sweater by Troy London x Brora, is always popular with fans. Probably because it is more wearable and attainable for mere mortals like us. I speak for many when I say we'll get a lot of use out of a cosy sweater— a glittering ballgown is not very practical for the school run!
Kate's worn this Fair Isle sweater twice in public so far. It made its debut in December 2020, during a visit to Manchester as part of the Royal Train Tour. She wore the piece for a second time in April 2021, during a visit to a farm on a chilly day.
Here's what you need to know about the Fair Isle sweater:
The beautiful piece is made from 100% superfine lambswool. It's knitted in a traditional Fair Isle design featuring blue, red and biscuit tones on an almond-coloured background.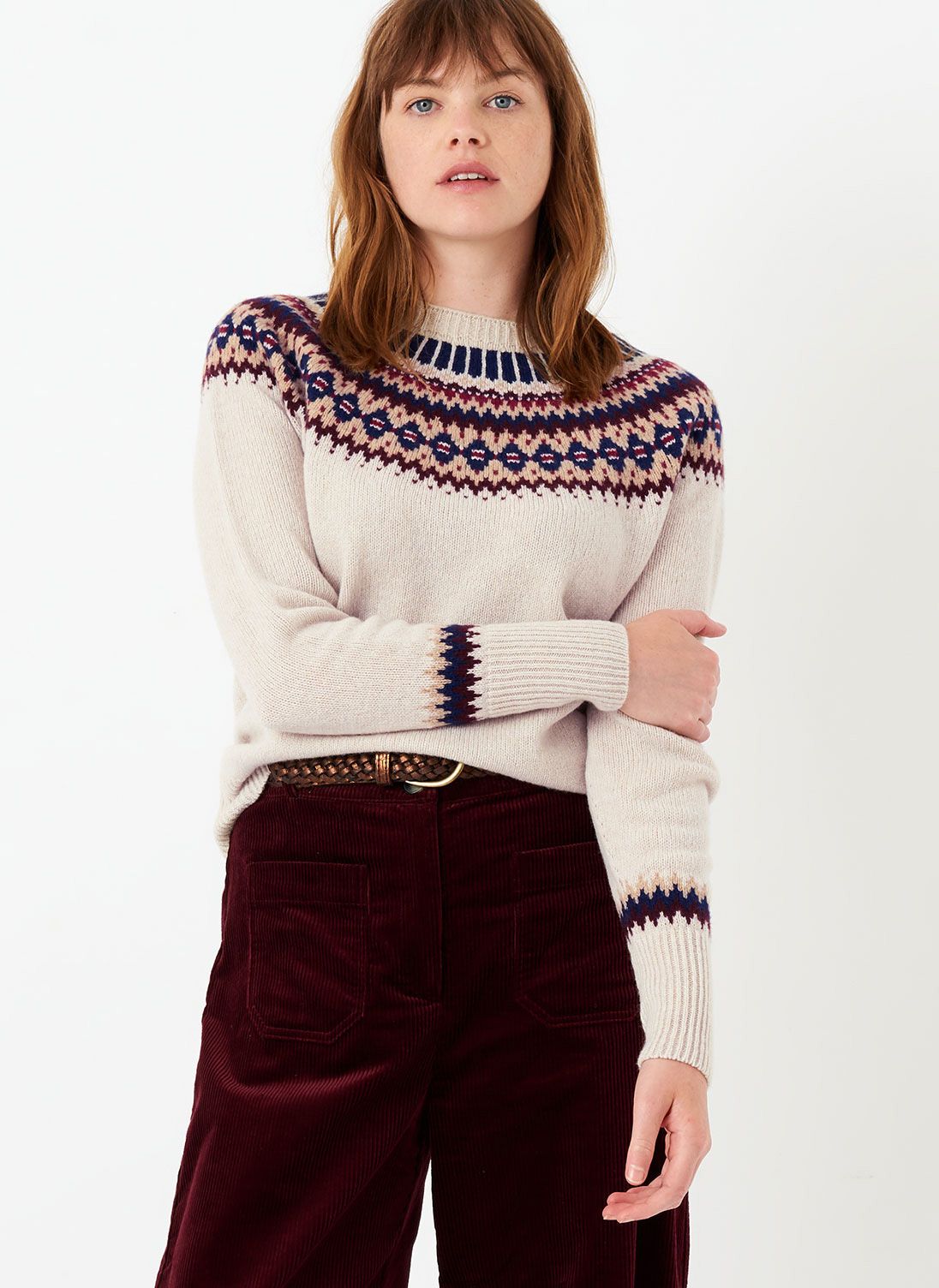 An eco-conscious choice:
Over the last year or so, Kate's added a bunch of sustainable items to her wardrobe. This sweater is one such piece. It's made on a whole garment machine in one of the oldest knitwear mills in Scotland, making it a zero-waste product.
Brora and Troy London launched the sweater during Wool Week, hosted by the Campaign for Wool (whose Patron happens to be Prince Charles). The campaign raises awareness about the natural and biodegradable benefits offered by wool.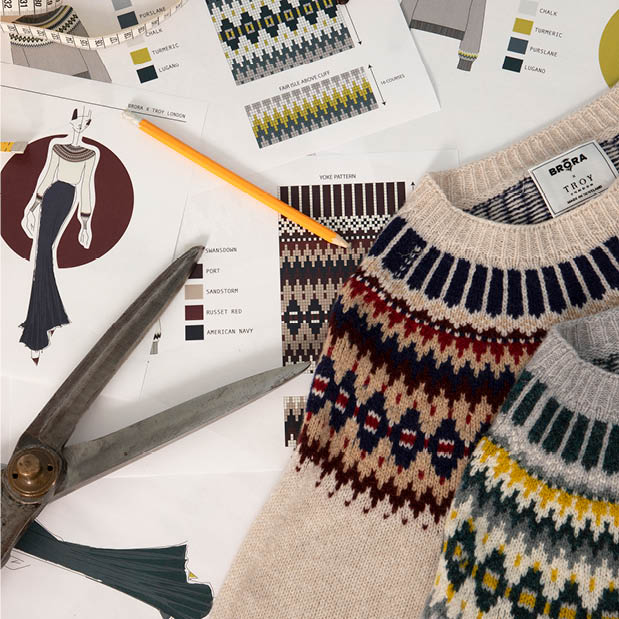 Where to buy the sweater:
At the time of writing, the colour worn by Kate can be purchased from snowandrock.com for £220 in size large (low stock).
You can buy the blue and oyster versions of the sweater (pictured below) from broraonline.com for £220. All sizes are available.
Correct as of 14th December 2021.
Who are Brora and Troy London?
So, two British companies collaborated on this Fair Isle sweater: Brora and Troy London.
Brora's skill for knitwear design and colour combinations and TROY's chic interpretation of heritage style have been combined to produce a stylish wardrobe staple with a uniquely British flair.

Brora x Troy London
Brora is well-known for producing traditional Fair Isle clothing. The company stocks a range of knitwear in the style, including cardigans, sweaters, wrist warmers and tank tops.
Troy London is a British luxury clothing brand founded in 2013 by sisters Rosie Van Cutsem and Lucia Ruck Keene.
Does the name Rosie Van Cutsem feel familiar? That's because she's a friend of Kate's and part of the so-called "Royal Set". Van Cutsem and her family live near the Cambridge family home in Norfolk. The two families are very close. Rosie's husband William is Prince George's godfather. William and Kate attended the couple's wedding in 2013. Rosie set up the company in the same year.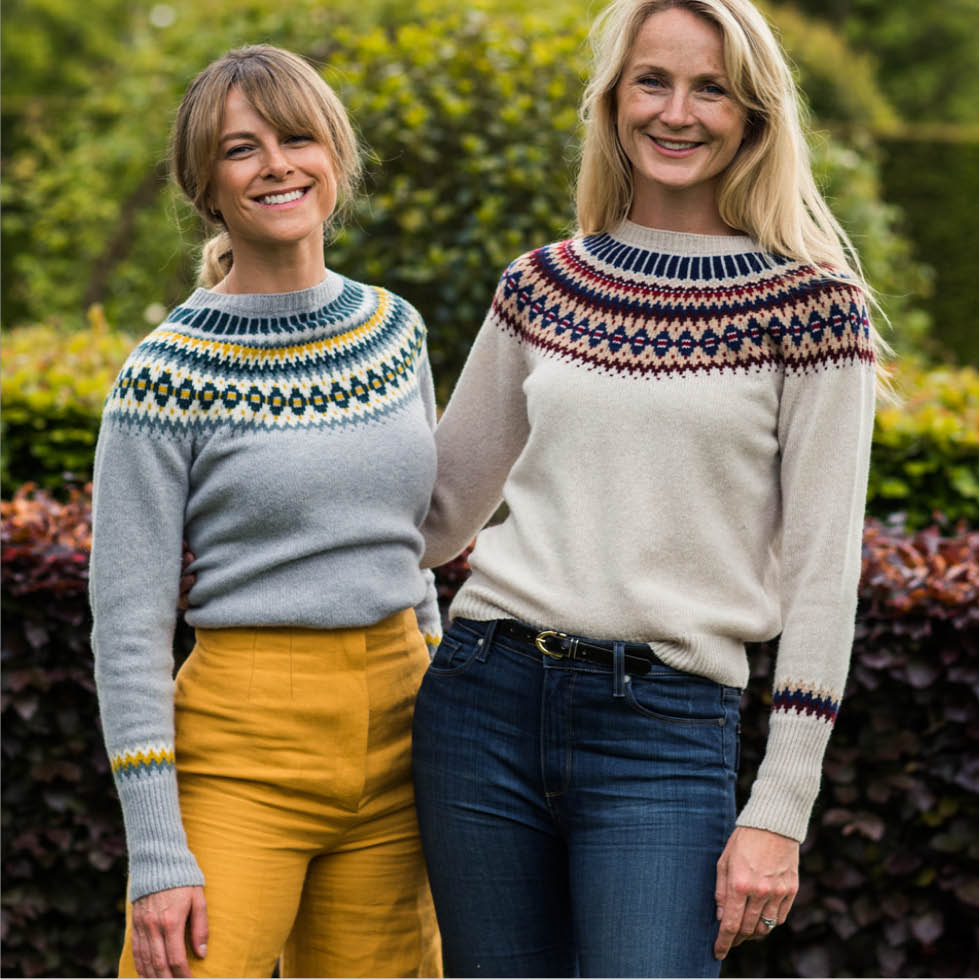 On this page, Rosie Van Cutsem, the co-founder of Troy London and Victoria Stapleton, the founder of Brora, discuss the collaboration and the inspiration behind the Fair Isle sweaters. The two women also explain that a 'mutual friend' put them in touch. I often wonder if they're referring to the Duchess…
We've seen Kate wear clothing and accessories from both brands in the past… Here's a quick recap:
Kate Middleton wearing Brora and Troy London.
Kate has worn a couple of coats from Troy London over the last few years, including this Khaki Green Wax Parka (pictured below visiting Haida Gwaii, Canada in 2016 and visiting a Gloucestershire farm in 2017.)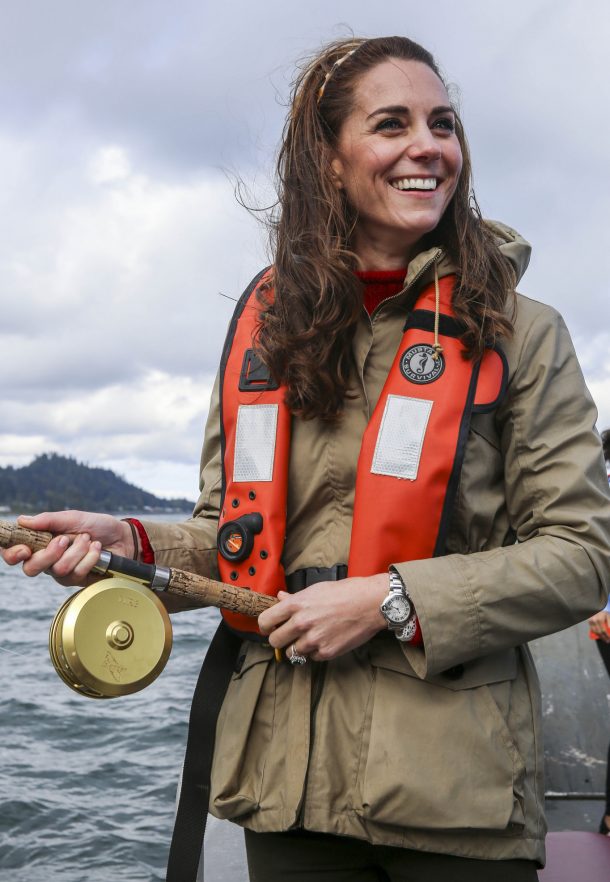 Kate owns a number of items from Brora too. Here, she wears a pair of gold-coloured earrings by the brand during a visit to Bhutan and to the Wimbledon Men's Finals, both in 2016.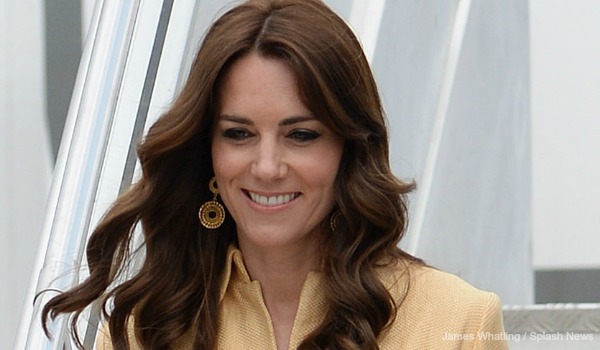 Does Kate Middleton own any other Fair Isle sweaters?
Yes, we've seen her wear two other Fair Isle knits: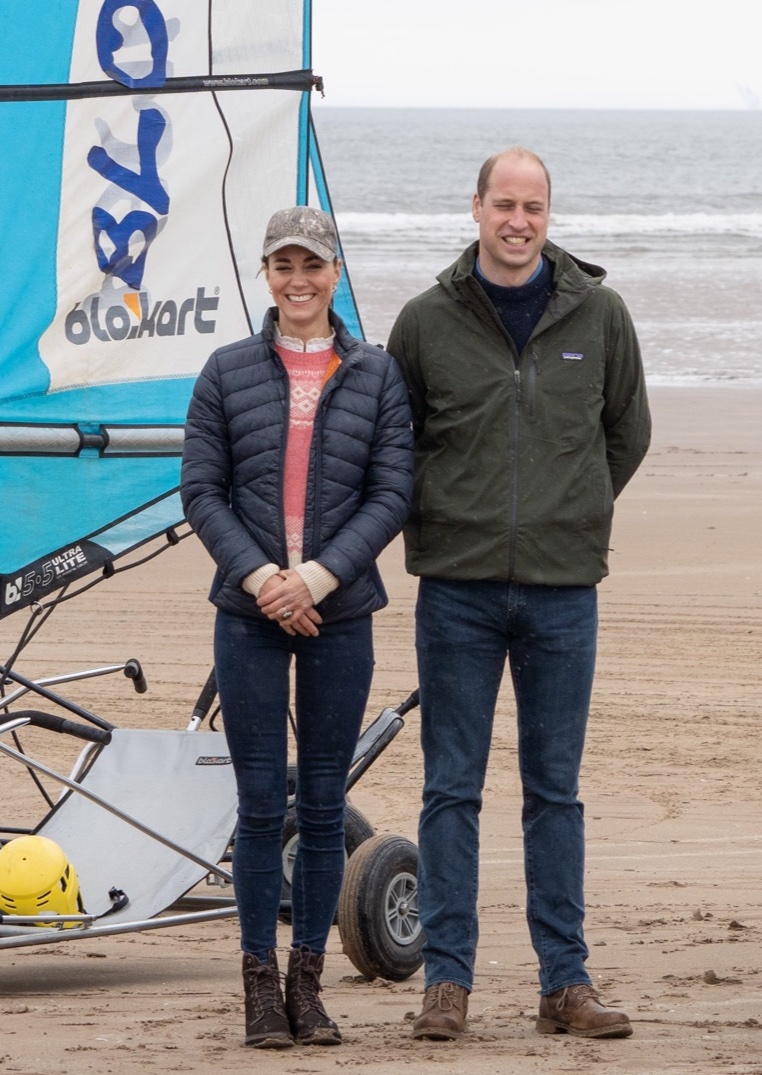 The Duchess wore this pretty pink sweater (left) from Campbell's of Beauly during a visit to West Sands Beach, St Andrews, Fife in May 2021. She wore this cream knit from Holland Cooper (right) to read the CBeebies Bedtime Story in February 2022.