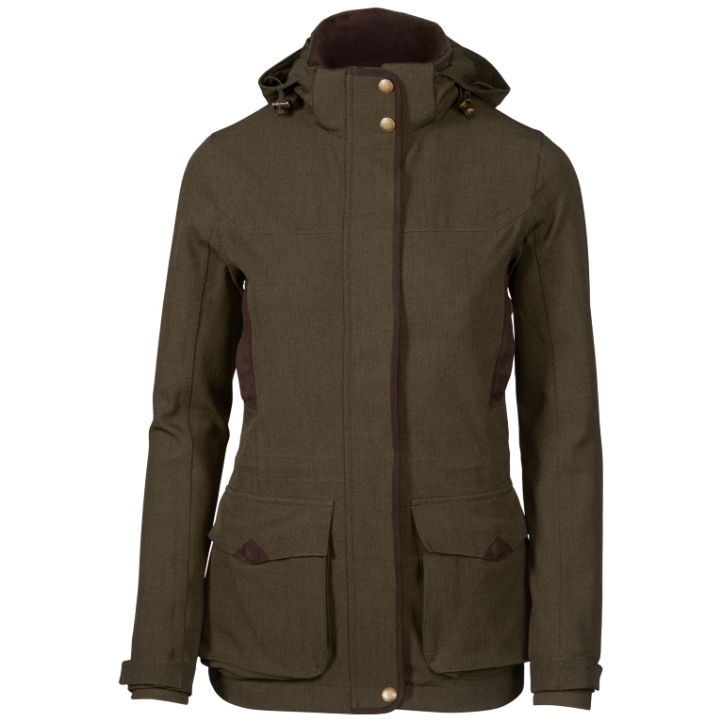 The Duke and Duchess of Cambridge returned to the countryside for a royal engagement on the 27th of April 2021. The couple travelled north to County Durham to visit a family-run farm and a local youth project near Darlington. The Duchess chose casual attire, an appropriate choice for helping with livestock and driving tractors!
For her day on the farm, Kate paired her Penelope Chilvers boots with her Troy London x Brora Fair Isle jumper, blue jeans and a lightweight jacket. The jacket is from Seeland, a brand that sells hunting clothing and countrywear. It's the brand's Woodcock Advanced Jacket in Olive.
About the jacket:
The Woodcock Advanced is a classic shooting jacket with plenty of functionality and a modern, stylish edge. The women's version features a flattering, feminine cut.
The piece has been equipped with a SEETEX® membrane that is windproof and waterproof, perfect for protecting against the elements. The jacket also has large cartridge pockets with QuickLoad function and drain holes for wet weather, as well as fleece-lined handwarmer pockets and a detachable hood.
Seeland use a stretch fabric that follows the movements of the body. This allows the wearer to be well-dressed for shooting in company while still experiencing full freedom of movement.
Buying the jacket:
RRP: £189.99
I checked a few different country/hunting clothing retailers and the jacket is out of stock. One retailer said more stock was expected in July.