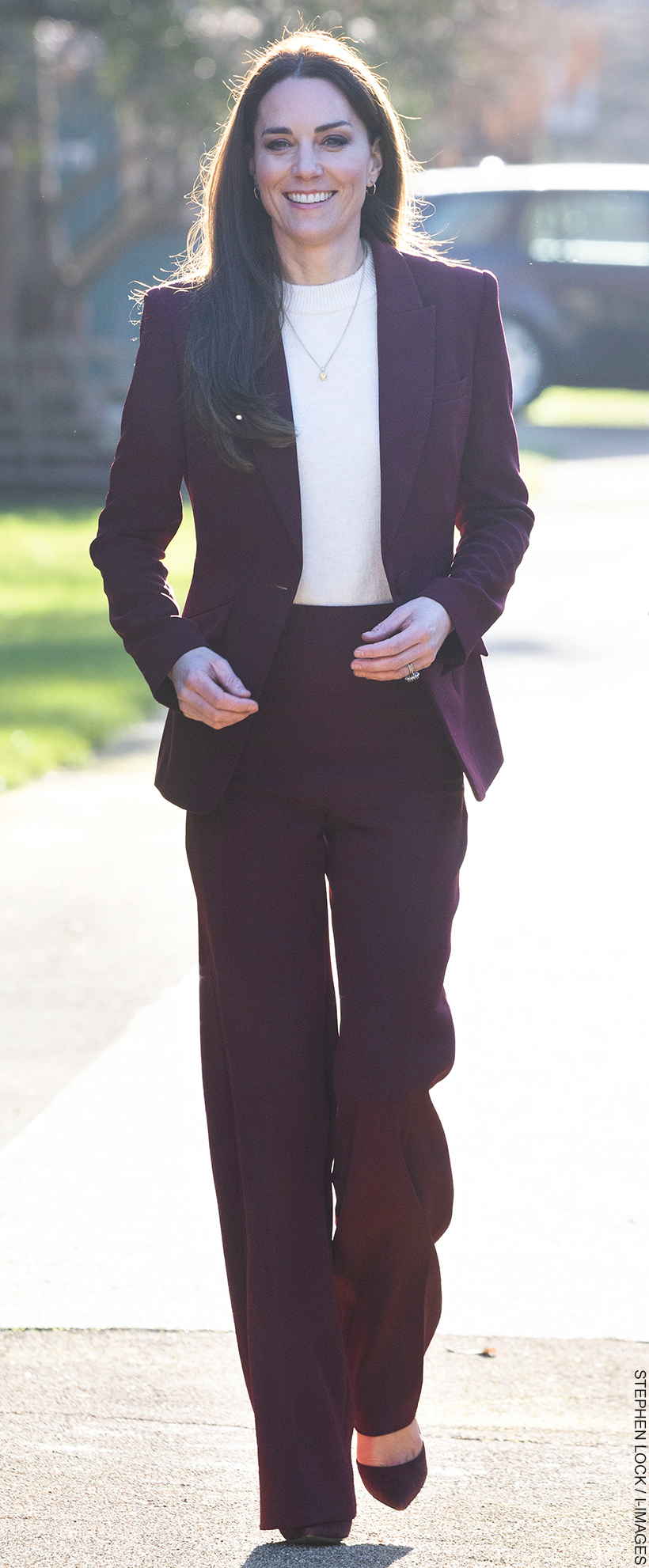 Kate Middleton looked elegant as she hosted a reception at Hampton Court Palace marking the success of the England Wheelchair Rugby League team in the recent World Cup on Thursday (20th January 2023). The Princess re-wore an elegant burgundy suit by Roland Mouret for the event.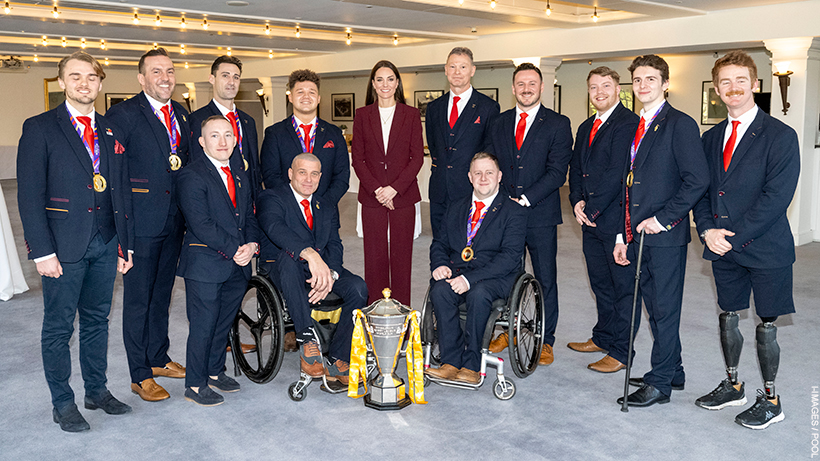 She congratulated members of the squad and coaching team on their historic win and discussed their plans for future competitions. The team defeated France in the final, marking England's first World Cup triumph since the tournament began in Australia in 2008.
Kate also heard about the impact that the Men's, Women's and Wheelchair competitions being played concurrently during the World Cup had on the sport. The Wheelchair Final attracted a capacity crowd of 4,500, a new record for Wheelchair Rugby League. It was also watched by a seven-figure broadcast audience.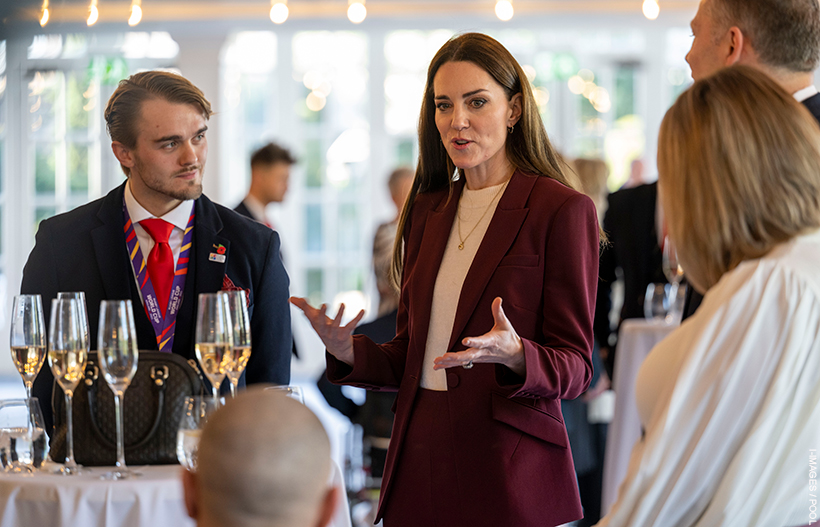 Wheelchair Rugby League was founded in France in 2004 and is open to all, including those with or without disabilities, with men and women playing on the same team.
At the reception, an attendee asked Kate if her children play rugby. She said "we're always slightly competitive with each other. The all love sport and Louis is mad about rugby. They are at an age where they just love running around".
Another player spoke to Kate about her fitness regime. She mentioned that she keeps trim by running around after the children. She disclosed that she tries to squeeze in exercise where she can, "even jumping on the trampoline with my children before school".
As our regular readers will know, Kate was announced as Patron of the Rugby Football League and Rugby Football Union on February 2, 2022. Both roles were previously held by Prince Harry.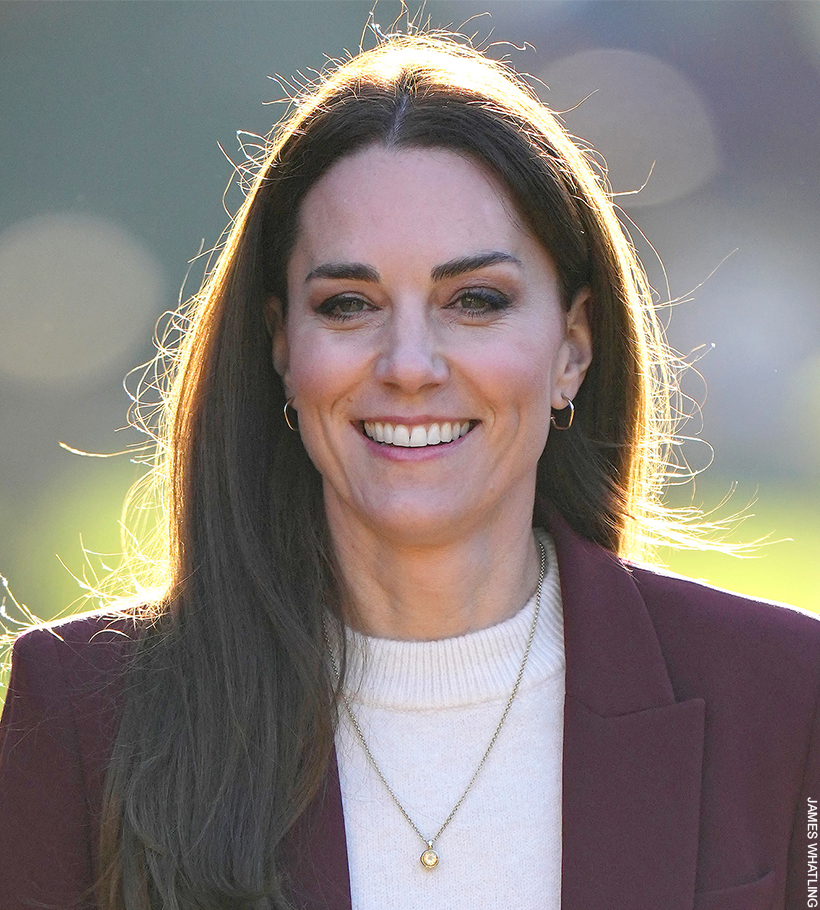 Let's move on to look at the Princess's suit and accessories.
Kate Middleton's outfit at the Rugby Reception:
The Princess looked polished in her burgundy suit, worn over a simple knit, with heels and gold jewellery.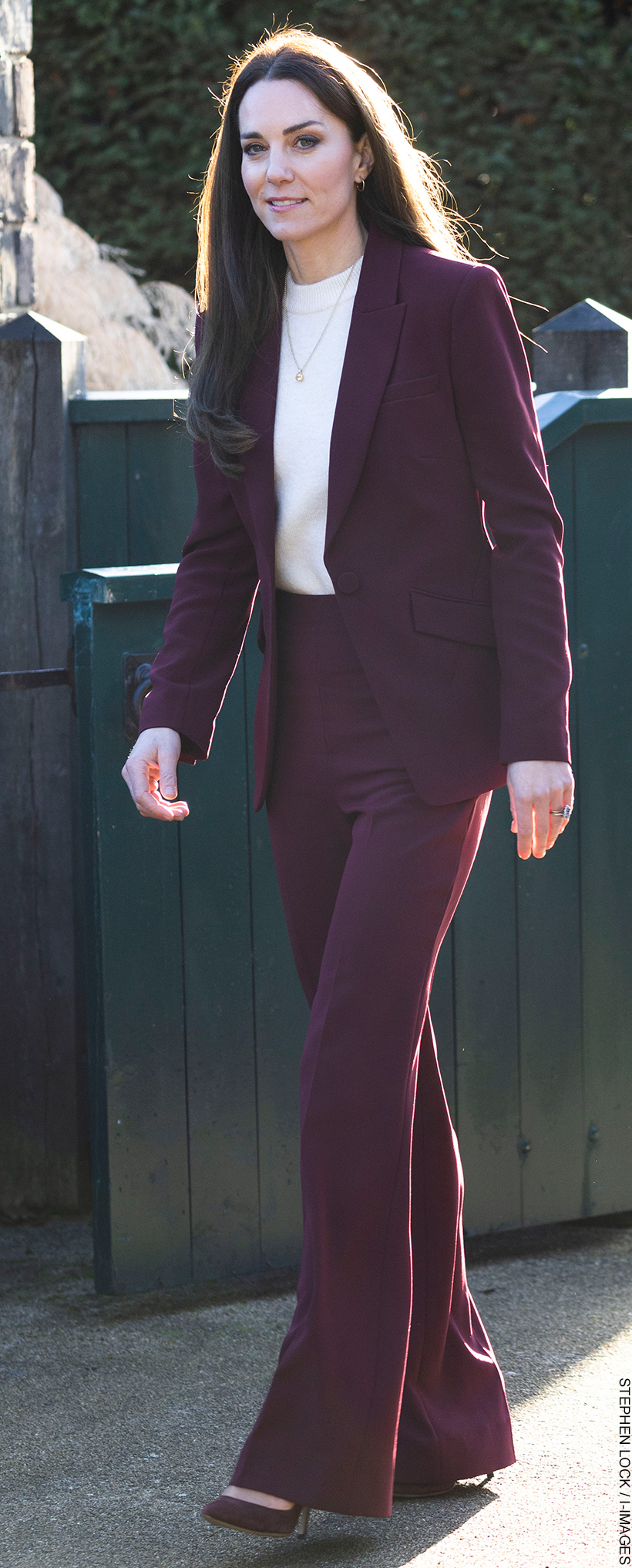 The suit is from Roland Mouret. The tailored blazer featured a single button closure, peak lapels and flap pockets sat at an angle. The floor-skimming trousers feature a crease down the front and have a slight flare.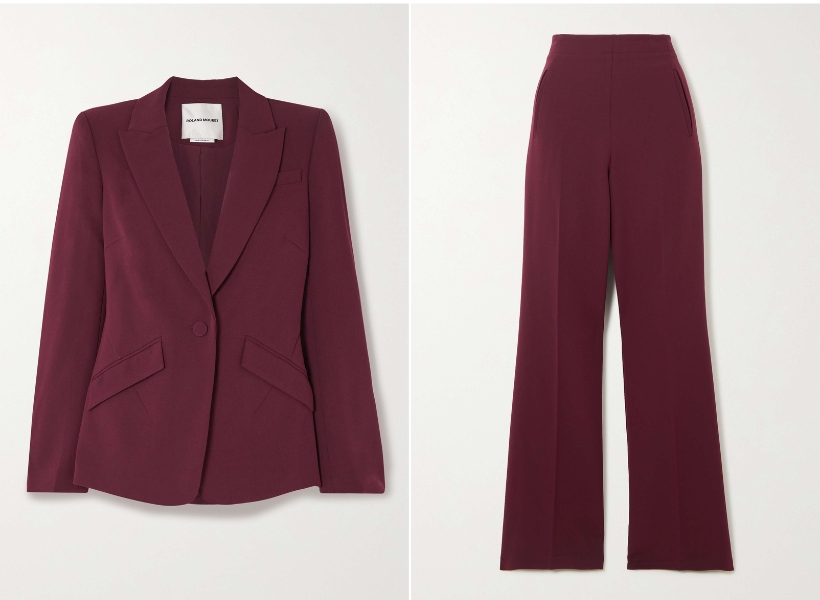 It's currently available to buy from Net-A-Porter.com.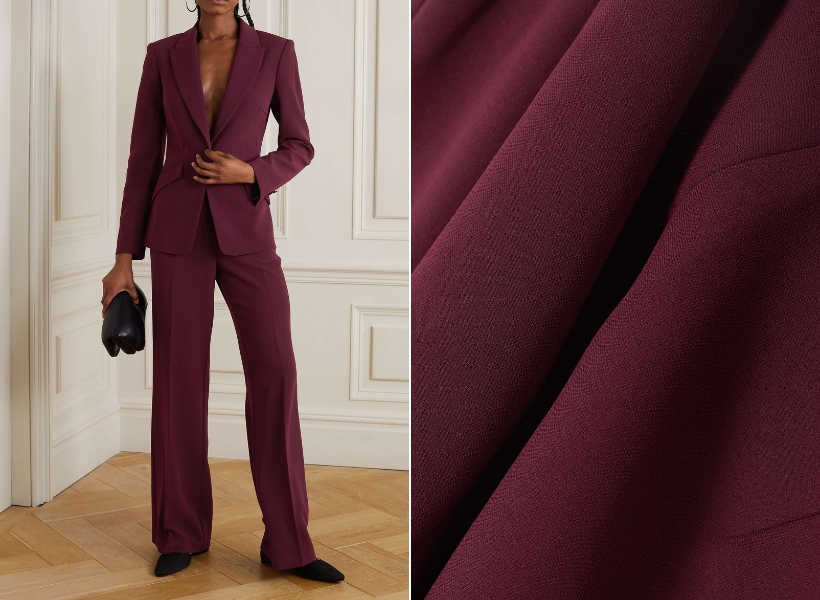 If you follow Kate's fashion, you'll remember she first wore the burgundy suit in Boston last year. She paired it with a pink pussybow blouse.
Roland Mouret is a French fashion designer known for his feminine and modern designs. His eponymous brand is synonymous with structured, sculptural pieces that flatter the female form. Kate's worn lots of his dresses since joining the Royal Family in 2011.
Let's look at Kate's footwear now. She paired the burgundy suit a pair of heels in a matching hue. They're the Gianvito Rossi 105 shoes in 'Royale.' Kate's owned these shoes for some time.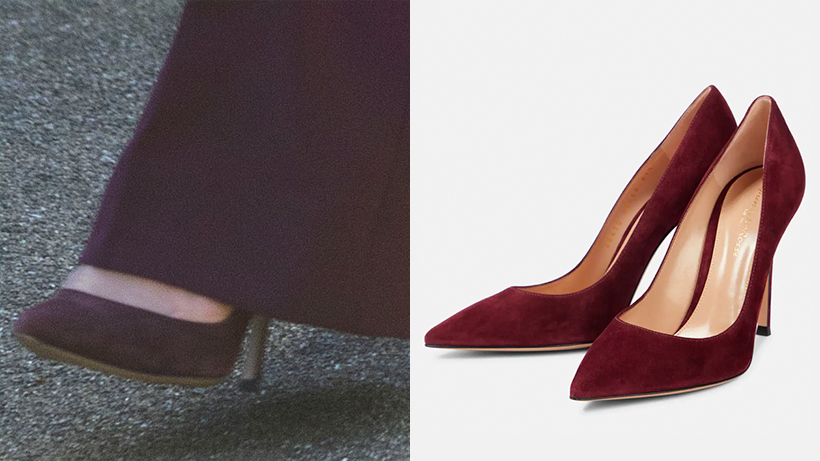 They're one of Rossi's signature designs. The shoe features a pointed toe and an elegant stiletto heel that measures in at 105mm. They're crafted from suede and leather.
Kate is a fan of Gianvito Rossi, she owns at least 18 different styles of footwear from the brand—including this shoe in a whopping 8 different colours.
Let's look at Kate's sweater next. We have no ID for this at present. One eagle-eyed fan noticed the Princess also wore the knit during the Royal Train Tour in 2020 (pictured below, right) (Sorry, I can't remember who shared this on Twitter—I've tried to search but to no avail!)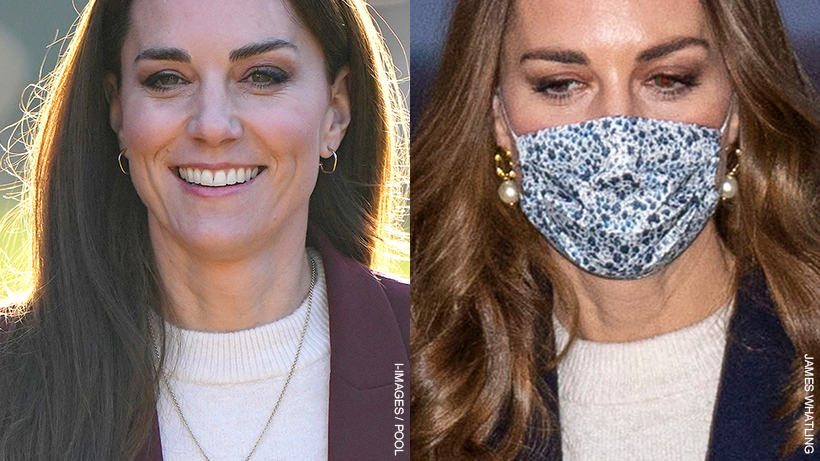 It's such a shame we cannot work out who manufactured the piece as it looks like a good staple.
The Princess finished her outfit with gold jewellery by Daniella Draper. We've not seen the Princess wear the necklace before. The designer confirmed she wears the Gold Citrine Baby Treasure Necklace.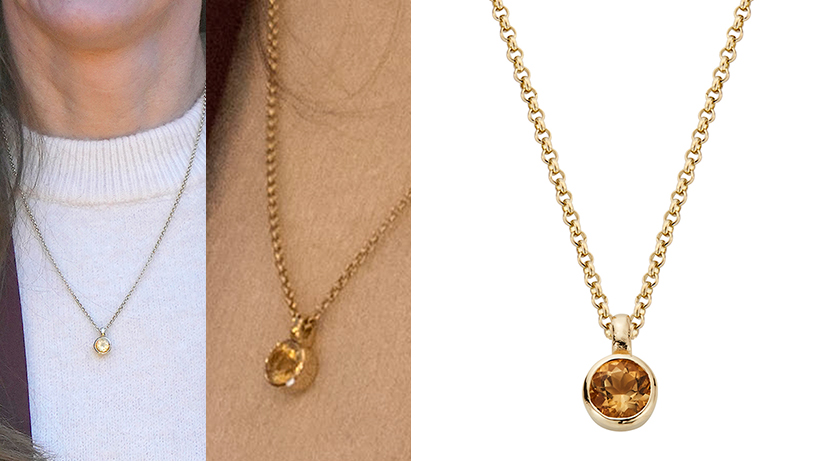 I suspect it was a birthday present from one of Kate's friends or family member—she celebrated her 41st one week prior. But that's pure speculation!
This pretty necklace is made from 100% recycled 9ct gold and set with a shimmering yellow citrine stone. The chain and pendant take up to two weeks to be made at Draper's Lincolnshire workshop.
The earrings are known as the 'Gold Mini Cupid Hoops'. Kate's worn them fairly regularly since 2020, we think.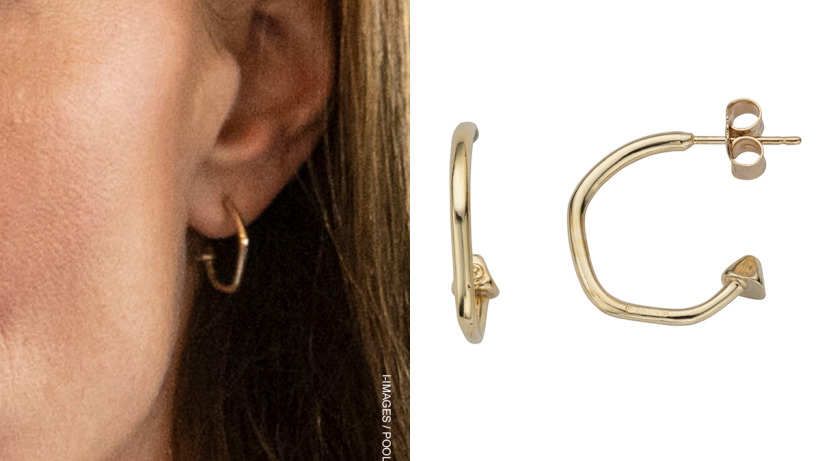 Daniella Draper is a British jewellery designer that handcrafts pieces in the UK from recycled gold and silver. She creates high quality, timeless pieces, drawing inspiration from nature, history, travel, and romance. Her brand is also an independent family-run company, with a commitment to preserving and protecting the natural world.
In addition to the earrings and the necklace, Kate wears four other items by the British Jewellery Designer.
ID Thanks to Data Duchess and What Kate Wore.