Kate Middleton mixed and matched a few familiar pieces for a visit to Foxcubs Nursery in Luton on Wednesday (19th January 2023).
The Princess of Wales dressed in her camel-coloured coat by Massimo Dutti, her "spice" orange-red knit separates from Gabriela Hearst, and brown suede Gianvito Rossi boots as she met with early childhood educators and discussed the role early years settings play in shaping a child's development.
Kate also joined a discussion with parents about the support that the nursery provides them on both a day-to-day basis as well as in the long term social and emotional development of their child.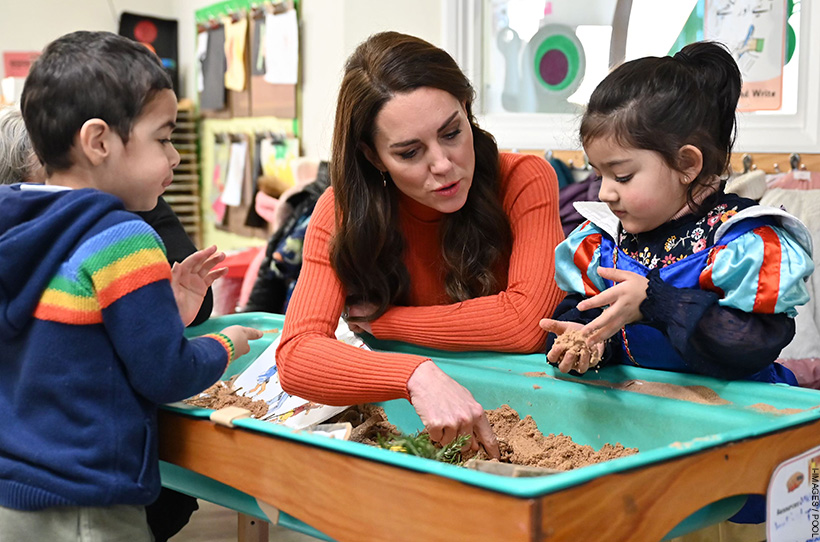 She got stuck in with the children, joining in with play at a sandpit and helping them to decorate masks.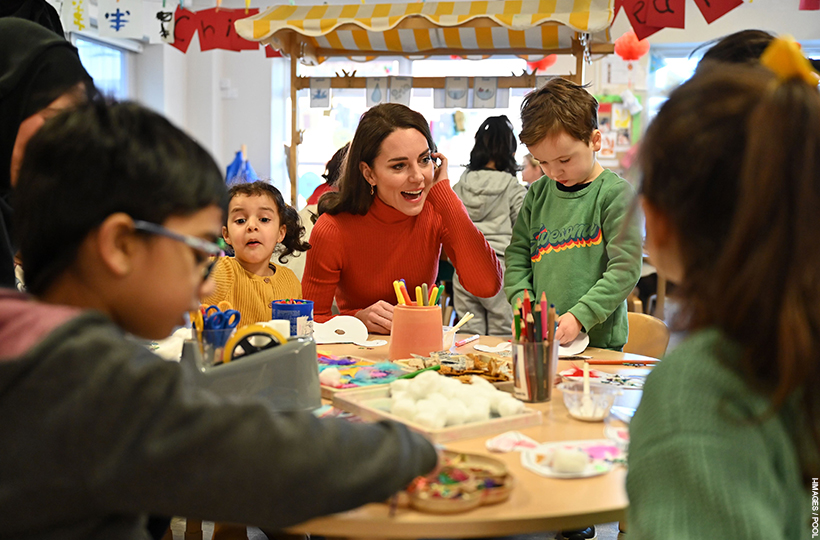 Foxcubs Nursery is a service run by the Early Years Alliance that provides 70 places for local children aged between 2 and 5 years old. The nursery adopts a pedagogy that emphasises learning through play and offers places to families eligible for free childcare and early education. Parents are encouraged to be involved in the life of the nursery.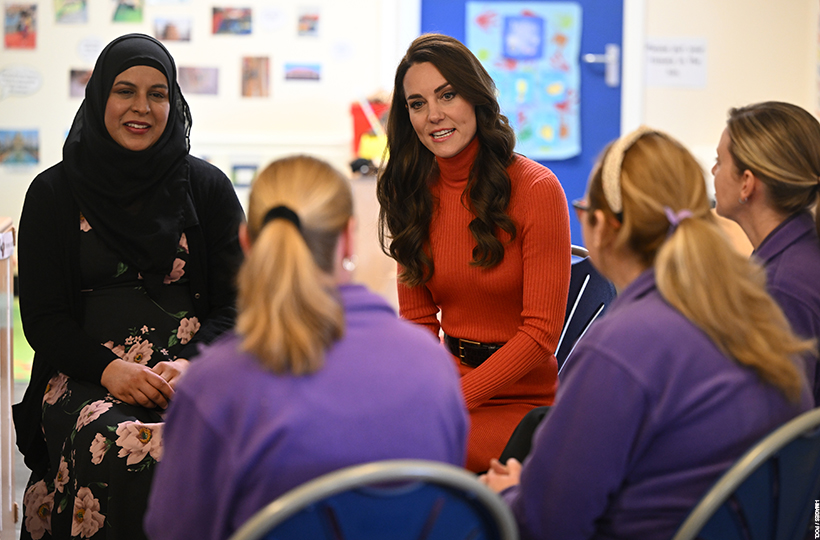 Kate visited the nursery as part of her ongoing work with the Early Years. She has long been an advocate for the importance of early childhood to lifelong outcomes. You'll remember she founded The Royal Foundation Centre For Early Childhood in 2021.
The centre works to raise awareness and promote collaborative action to transform society for generations to come.
The Early Years Alliance is the largest and most representative early years membership organisation in England. The educational charity represents and support over 14,000 members. It helps members to deliver care and learning to over 800,000 families every year. The organisation offers information and advice, runs acclaimed training schemes and campaigns to influence early years policy. Quite simply, the alliance aims to ensure that all children, regardless of background, are given the best possible start in life.
Let's take a closer look at Kate's outfit now.
Kate's outfit at the Luton nursery:
Kate wore what I describe as her 'winter uniform'—a long coat worn over a knit roll neck and long skirt with suede boots. As you can see below, she's favoured this look several times recently: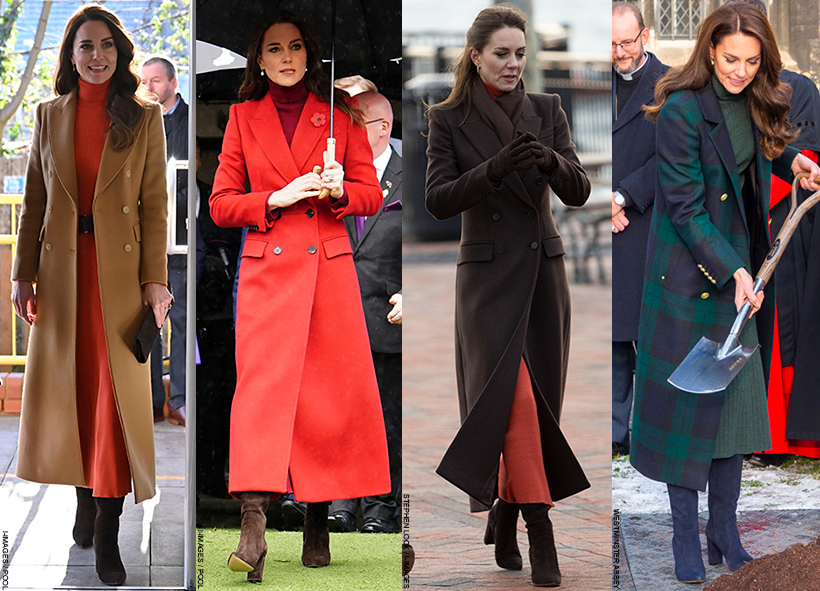 The camel Massimo Dutti coat is always a crowd-pleaser, and once again, Kate proved why it's a fan favourite!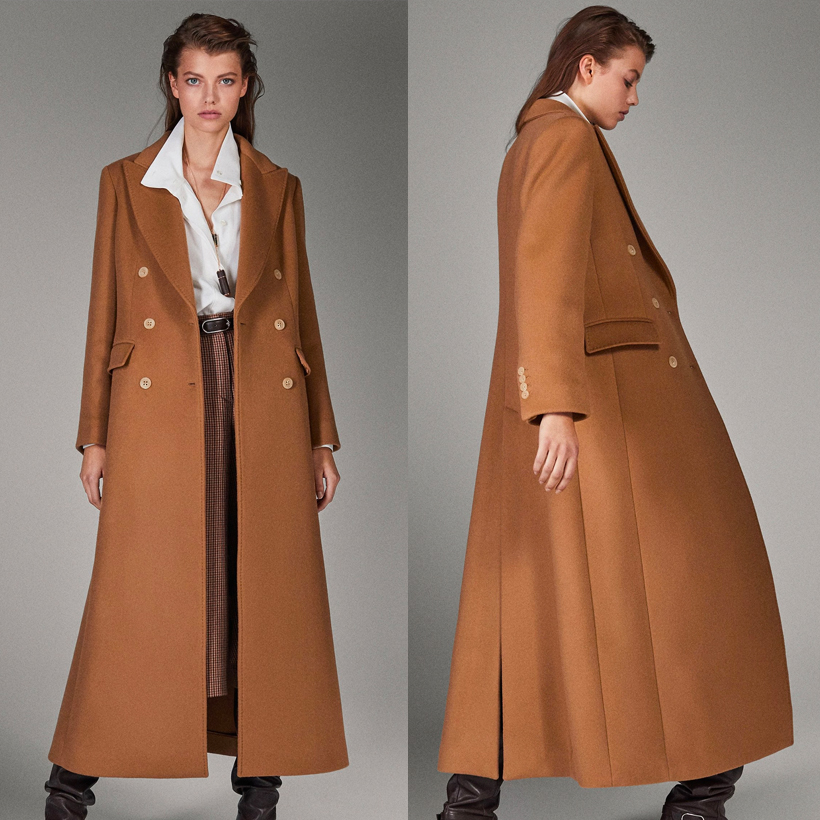 The coat is made from a wool and cashmere mix fabric and features a tailored, slim fit. It is fully lined with peak lapels, a double-breasted button fastening, two flap pockets, long sleeves, buttoned cuffs and a back vent. Massimo Dutti originally labelled the coat as 'limited edition'. Unfortunately, it's no longer available to buy.
GET THE LOOK: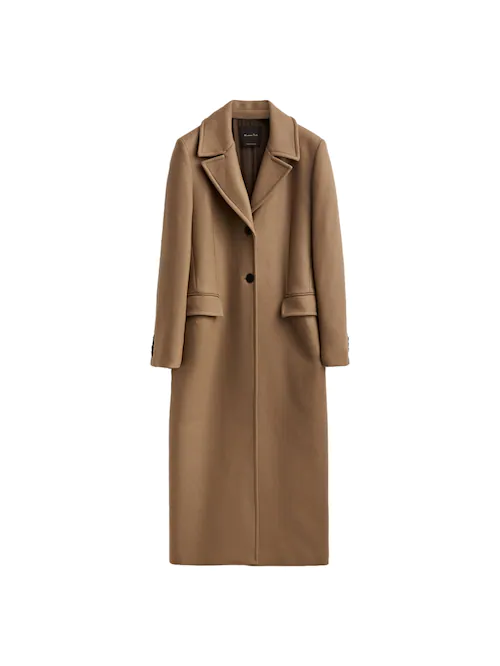 Massimo Dutti Camel Coat
Wool coat by Massimo Dutti in a rich shade of camel. Not the exact piece worn by the Princess but perfect if you want to copy her style this winter.
The Princess added the classic coat to her closet in 2020. This is the fifth time we've seen her wear it. I love that she's repeating some of these basic staples more often.
Kate's clearly a fan of Massimo Dutti. We've spotted the Princess in a dozen items from the brand over the last few years. Massimo Dutti is a clothing brand that is known for its high-quality, timeless fashion. The brand is owned by Inditex, the same parent company that owns the popular high-street brand Zara. Massimo Dutti offers a more refined and sophisticated aesthetic.
Let's look at Kate's top and skirt now. They're both from Gabriela Hearst.

Kate first wore them together during a trip to Boston Harbour last year.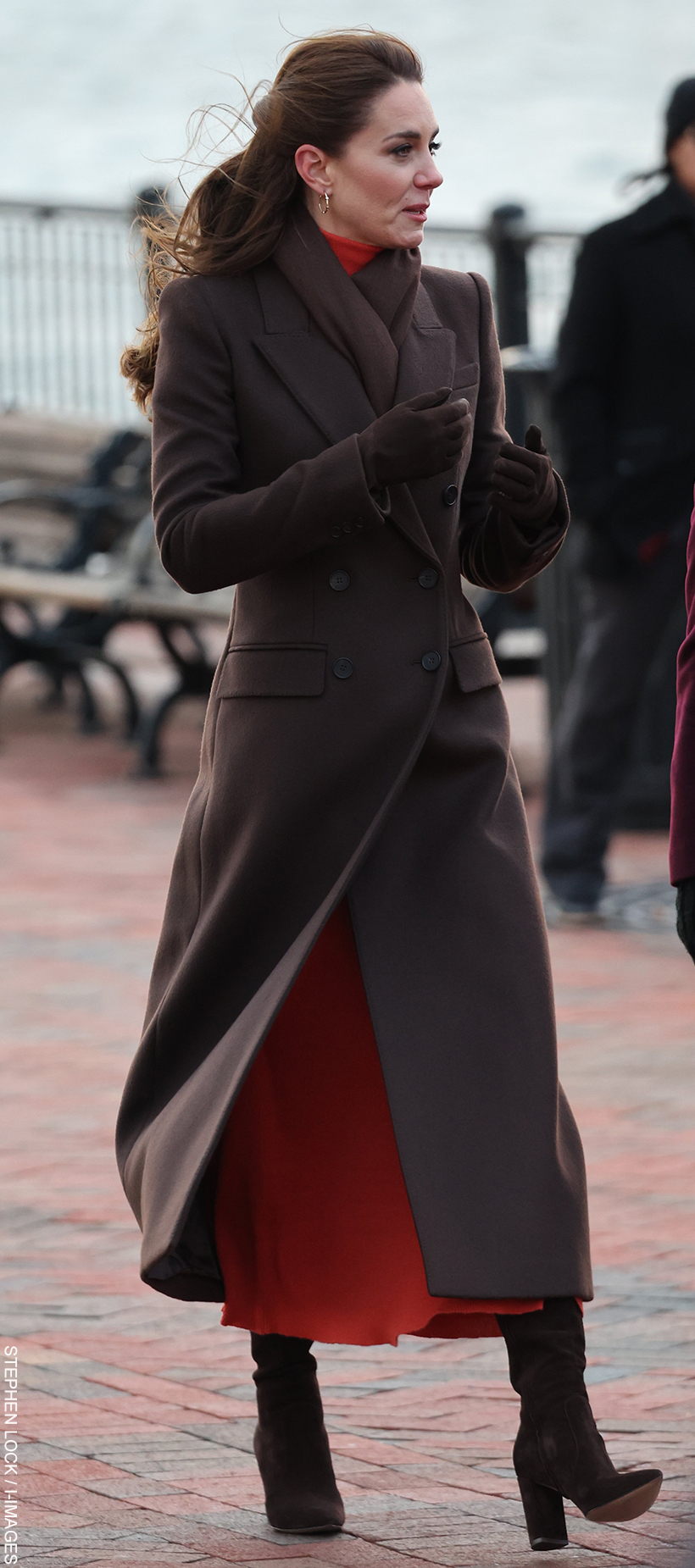 The turtleneck is known as the Peppe style. Made from a blend of cashmere and silk, the slim fit sweater is both soft and elegant. It features a ribbed pattern. The official colour name is 'spice.'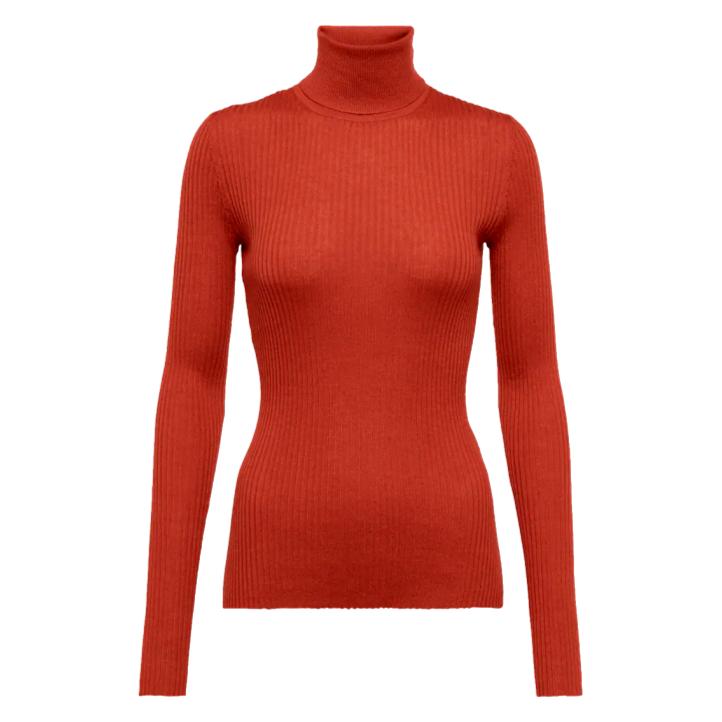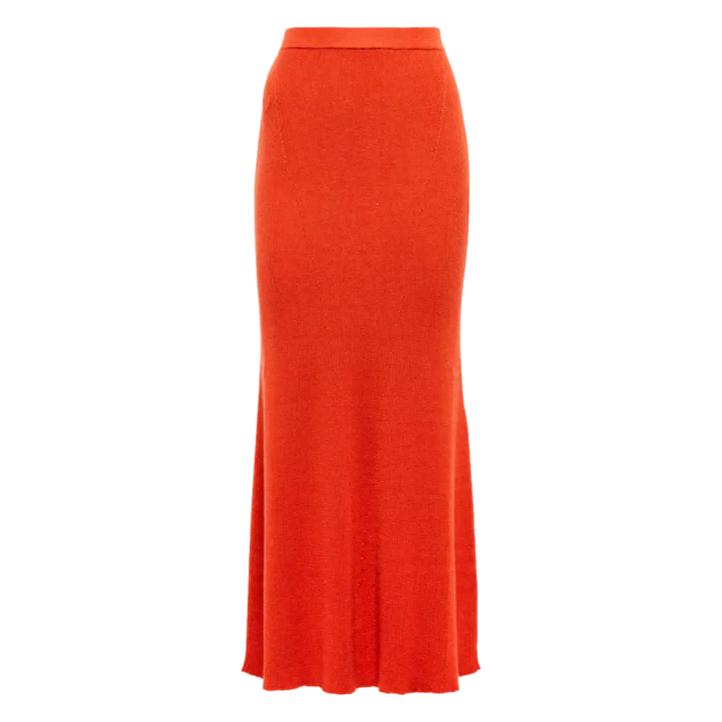 The use of cashmere and silk, rather than synthetic fibres, elevates this sweater to the next level. Cashmere is a natural, luxurious fabric that is highly sought after for its softness and durability.
The skirt is known as the Epper style. It too features a ribbed pattern. The body-hugging fit and elasticated waist ensure a flattering look. The combination of cashmere and silk yarn gives this skirt a mid-weight feel that drapes beautifully over the body.
Recreate this exact look by shopping the orange skirt and roll-neck top at MyTheresa. If the colour doesn't work for you, you can buy the same look in brown too.
Kate's worn several of Gabriela Hearst's designs over the last couple of years. The Uruguayan designer is known for being "the women who dresses the 1%" with celebrity fans including Amal Clooney, Oprah Winfrey, Melania Trump, Dr Jill Biden, Anne Hathaway, Katie Holmes and Uma Thurman.
Hearst uses only high-quality materials in her designs, preferring natural wool to synthetic materials like polyester and viscose. Sustainability informs all her decision making—from using deadstock in her collections to staging carbon-neutral fashion shows and changing how she transports her clothing across the world. I suspect this is one reason Kate buys and wears Gabriela Hearst—their values on sustainable and slow fashion align.
Under the skirt, Kate wore her Gianvito Rossi block heel boots in brown suede. (Pictured below in Boston as it was a clearer image.)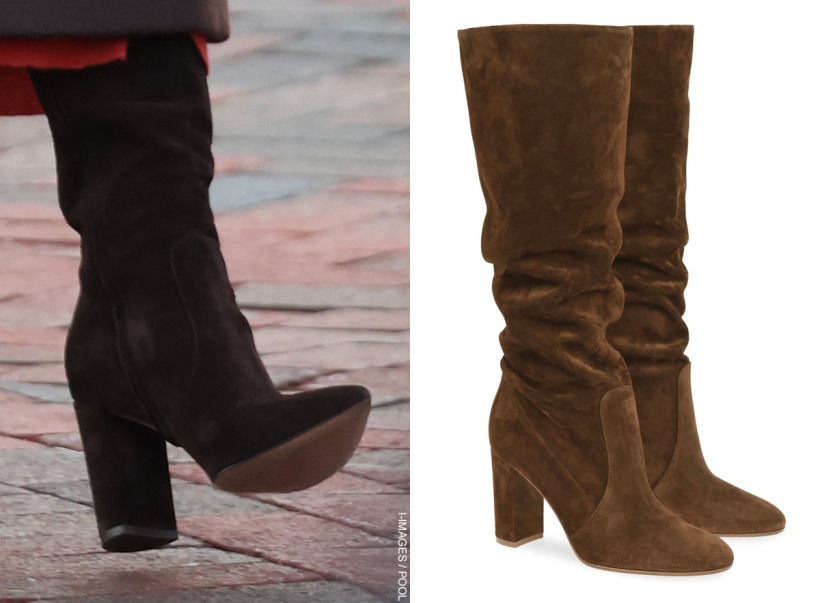 A rep for the designer confirmed to another blogger that they custom-made the boots for Kate.  To me, it looks like they're very similar to Rossi's Glen style boots, with the rounded toe swapped for a pointed toe. 
Looking for a similar pair of dark brown boots? The Glen style retails at 24s.com for £1,280 GBP / $1,695 (other currencies and worldwide delivery available too).
Kate first wore the brown boots in November 2022. We've spotted her wear them four times to date (including at the nursery in Luton). She also owns the same pair in blue.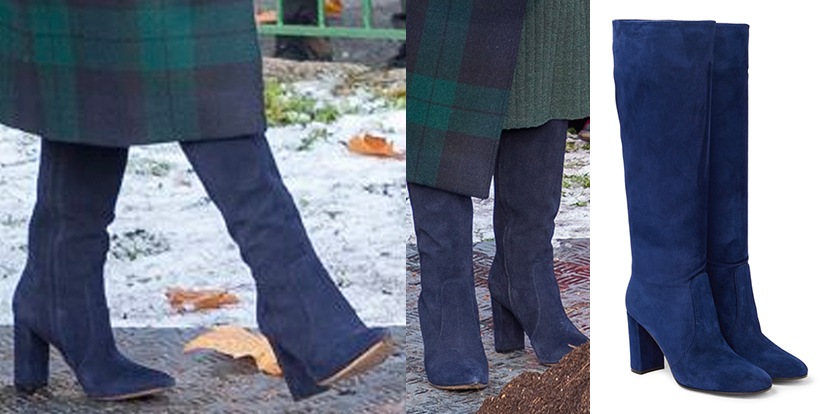 Kate has an enviable collection of Gianvito Rossi shoes—it's no secret that she's a fan of the Italian footwear designer. She has consistently turned to Rossi for her footwear needs in recent years—for everything from overseas tours to official engagements and red carpet appearances.
Let's finish by looking at Kate's accessories. Her earrings are by Kiki McDonough. She wears the Classic Citrine Pear Drops in 18ct yellow gold.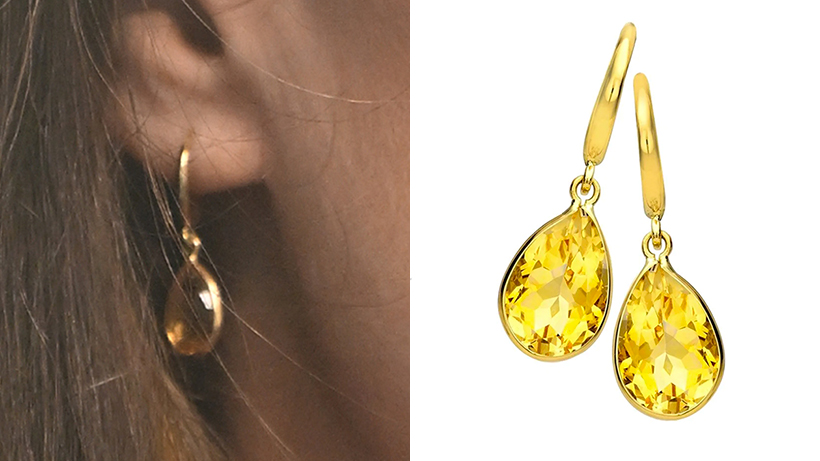 The earrings feature a yellow citrine pear-shaped gemstone suspended from an 18ct gold hoop.
The Princess has worn the yellow gemstone earrings since at least 2009. They're also the pair she has most frequently worn in public since joining the Royal Family—she must favour them.
Kiki McDonough calls them a "simple and extremely wearable style", which explains why Kate has worn them to more than 40 public engagements over the last 11 years. 
You can still purchase the earrings from Kiki's website today.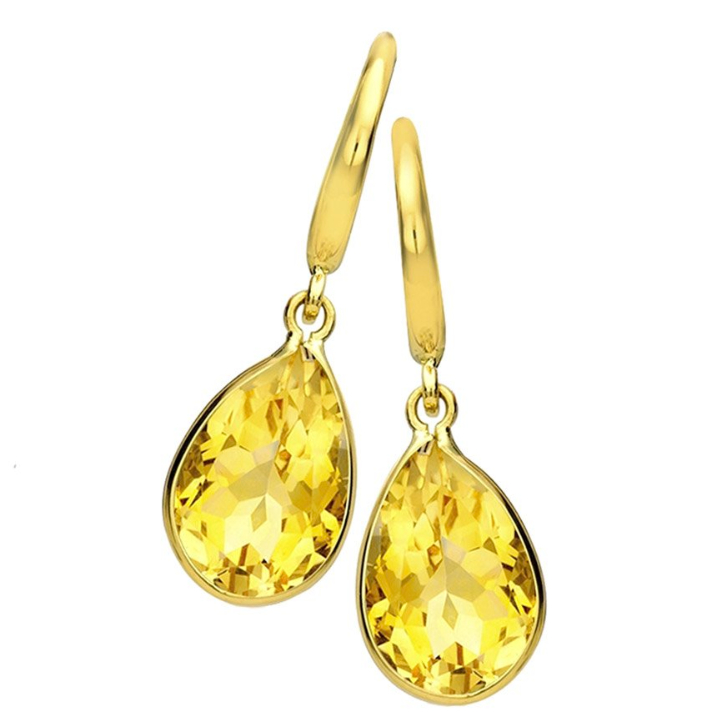 The Princess wears a lot of Kiki McDonough jewellery. She owns a whopping 21 pieces by the jeweller—18 pairs of earrings and 3 necklaces.  We haven't seen Kate favour any other jeweller on this scale.
Kiki McDonough is a British jewellery designer with a boutique located just off Sloane Square in Chelsea, London.  Her gems can also be found at high-end luxury goods stores like FarFetch, Mappin & Webb and Fortnum & Mason.
The designer is known for creating versatile and wearable items in striking colour combinations.
I think Kate carried her Stuart Weitzman Muse clutch in Brown Suede–I cannot confirm this 100% as I haven't seen any higher quality photos of her carrying the bag at the nursery.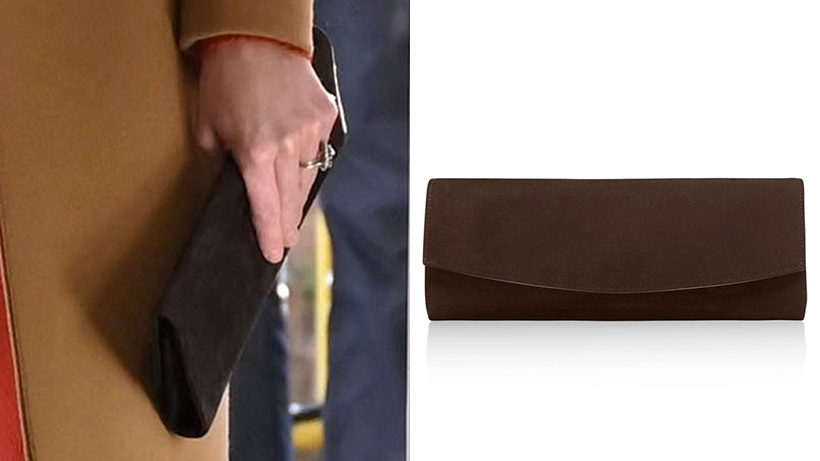 The Princess has owned the bag for a number of years (and carries it in four different colours), plus the shape looks right. So it's a safe bet.
The design was a staple for Stuart Weitzman who produced it in a variety of materials across multiple seasons. The company discontinued the design a few years ago, I'm afraid.
Stuart Weitzman produced a number of the clutch bags for Russell and Bromley in the UK.  We believed Kate picked it up from one of their London stores.
I think scouring eBay or a site like Depop or Vinted is your best chance of finding a Muse clutch if you're keen to own one.