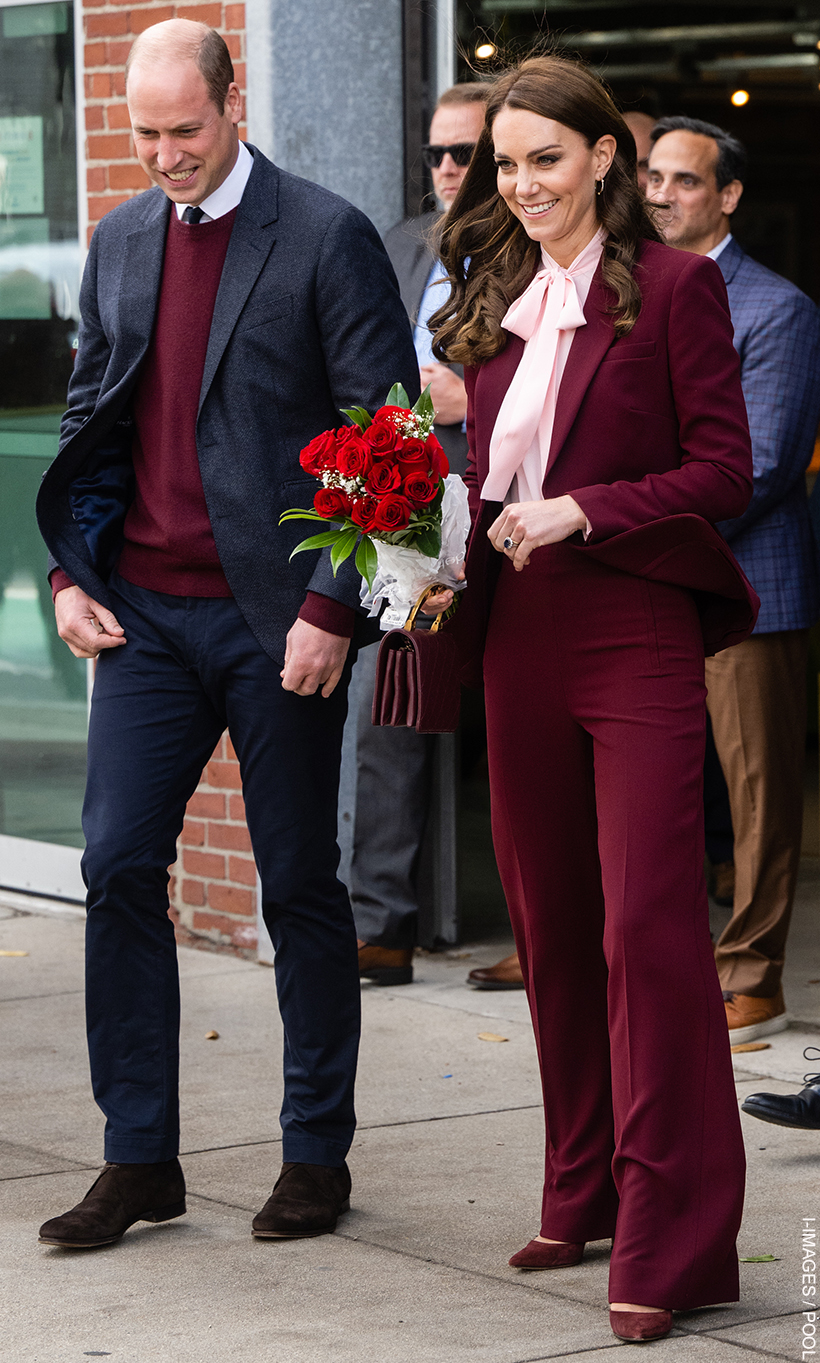 Kate Middleton's second day in Boston was marked by her fashionable choice of a burgundy suit by Roland Mouret and—to the delight of many—the reemergence of her Chanel bag.  The unique colour combo and the 70s inspired styling grabbed attention and headlines.  Plus, she and William looked every inch the power couple in their complementing outfits.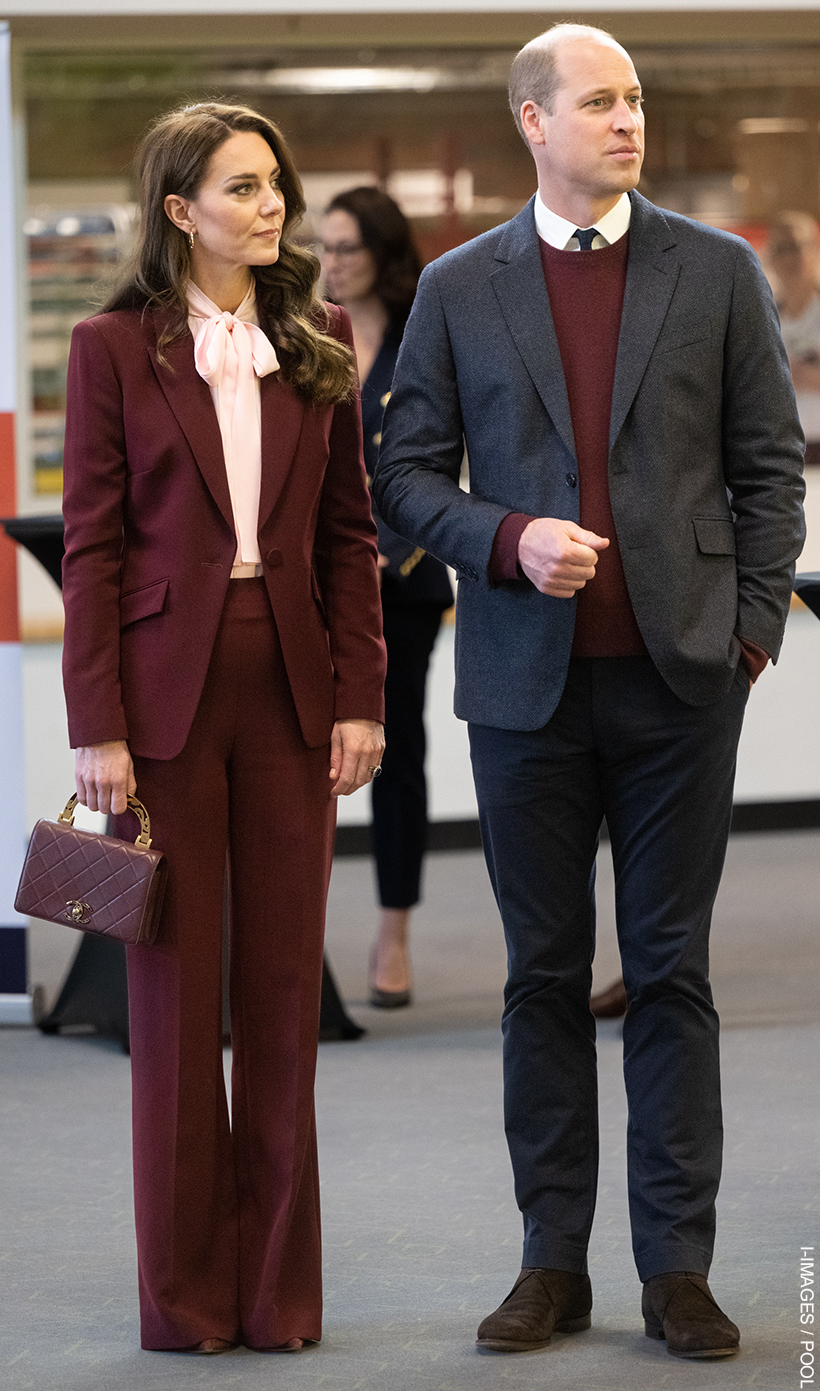 The pair spent the morning at two different organisations in the City of Boston.
Greentown Labs, a climate technology start-up incubator, was their first port of call.
Founded by entrepreneurs, Greentown Labs brings together start-ups, corporates and investors to foster ingenuity and collaboration
William and Kate learned about the history of the organisation and how it is contributing to global efforts to address the climate crisis.
They also met with representatives from start-ups within the incubator and saw some of the prototypes developed at Greentown Labs.
Next, the couple travelled to a nearby town to visit Roca, a non-profit focused on high-risk young people at the centre of urban violence. The organisation aims to reduce levels of trauma, violence and incarceration, create sustained employment, and improve parenting. They also work closely with critical public systems such as police officers, judges, correction officers and child protection services to help build policies and practices that produce better outcomes for young people who are the primary victims or drivers of violence.
Here, the pair met with leaders, spent time with women in the young mothers' program and met current and alumni members of the young men's program.
After one of the visits, a young boy surprised William and Kate by dressing as a guardsman. Watch the adorable moment below:
On to the fashion breakdown now. Let's take a look at Kate's maroon suit, pink blouse and accessories.
About Kate's outfit:
Kate chose a maroon suit by Roland Mouret for the visit. I think Kate wanted to assert her presence at the morning's engagements and show the world she means business. Perhaps show she's taking the new elevated Princess of Wales role seriously. That she's not just visiting the projects as William's plus one.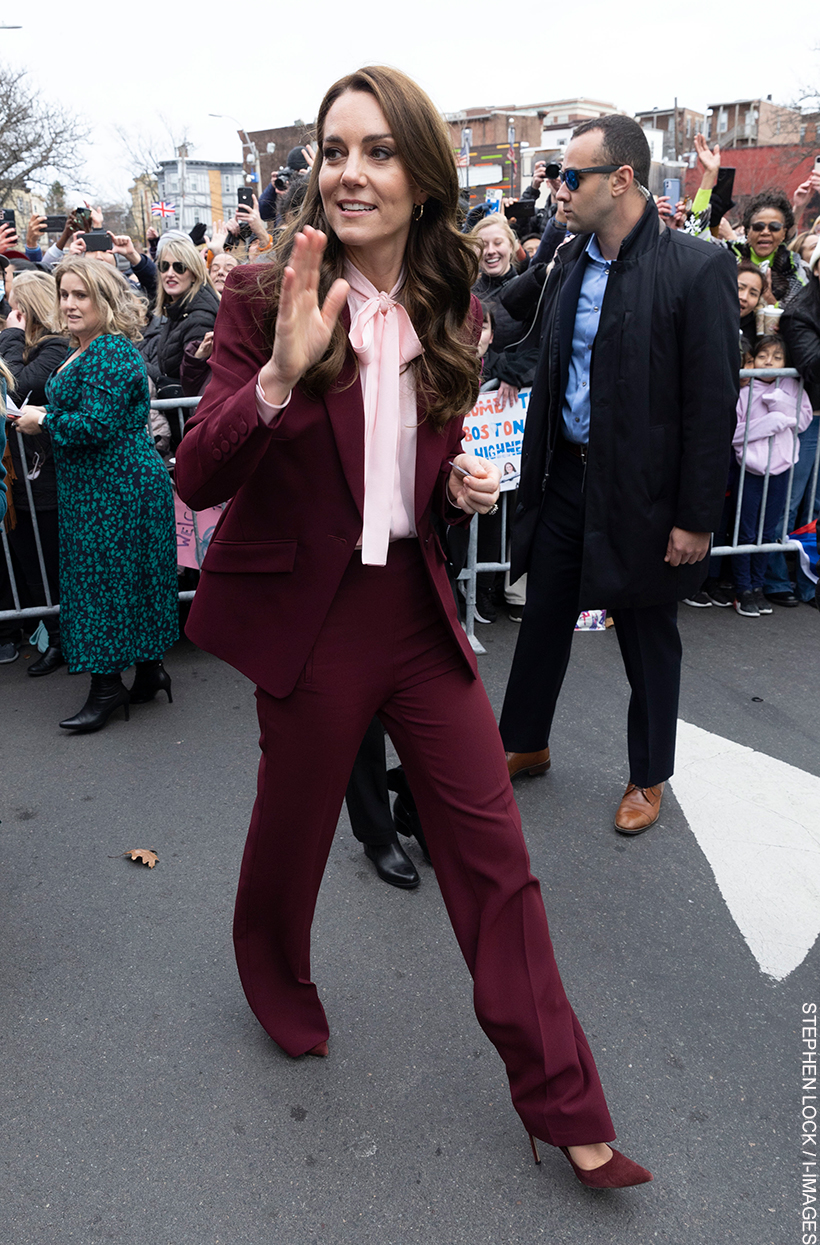 In fact, I think this is why the Princess of Wales has been wearing a lot of suits lately—in an attempt to show her serious side.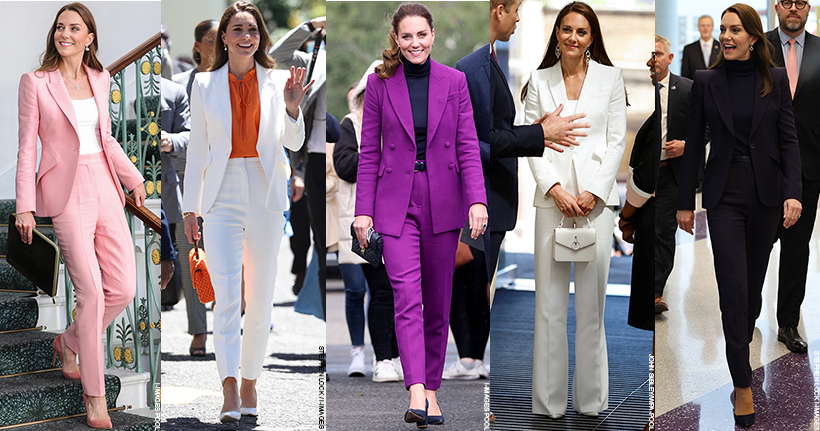 In a suit, Kate exudes power, confidence and professionalism.
In Boston, the 70s-esque styling (flared trouser, colour, pussybow blouse), tonal colour palette and luxe Chanel handbag ensured her fashion fans were catered for too. Meanwhile, the eye-catching colour grabbed attention and headlines.
The tailored blazer featured a single button closure, peak lapels and flap pockets that sat at a slight angle. The trousers skimmed the floor, featured a crease down the front and had a slight flare.
Kate's Roland Mouret suit is a custom design, there's no ready-to-wear items in this colour or style online, as far as I can see. The designer does currently stock other suits in eye-catching hues though.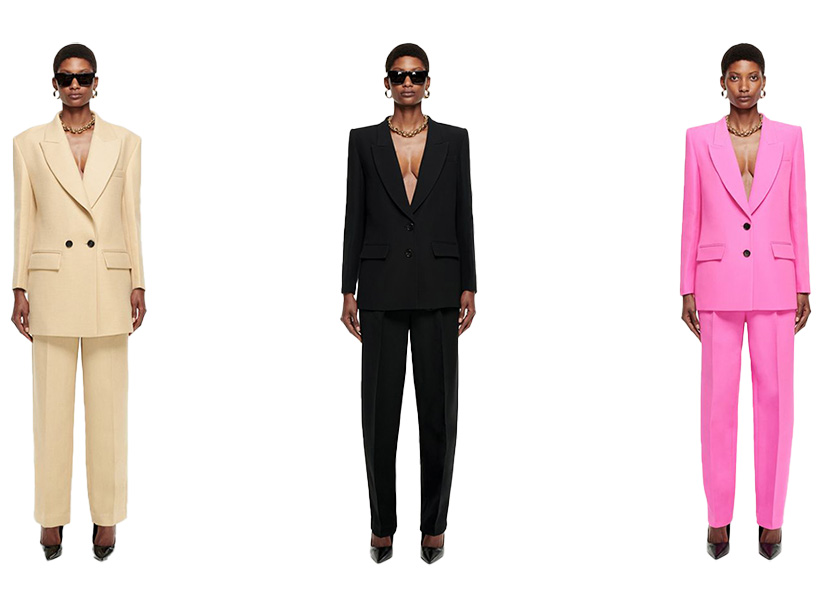 Perhaps Kate's burgundy design is from a forthcoming collection and will hit Mouret's online store in the months to come? We'll have to see. He's recently added the Princess's Lamble dress (from the Top Gun Premiere) to his website.
GET THE LOOK:
Steal Kate's style with this suit from British luxury clothing store and Kate favourite, Reiss. It's not quite the same burgundy tone, but the berry hue is a good option.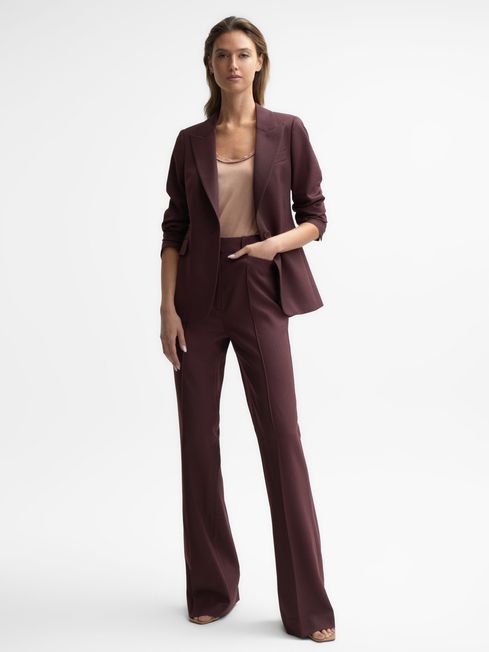 REISS FLORA SUIT, BERRY
Get Kate's professional and polished style in this gorgeous suit from Reiss. I genuinely thought Kate was wearing this suit when I first spotted her—it's such a good option! Wear yours with a pussy-bow blouse and heels and you're ready to go!
Kate's worn a handful of Roland Mouret items over the years. I remember her wearing one of the designer's blue dresses under a blazer as she boarded a plane at Heathrow Airport before the 2011 Canada and US Tour. She's also worn a pair of Mouret's wide-leg trousers on repeat recently, and donned two or three of his figure-flattering gowns.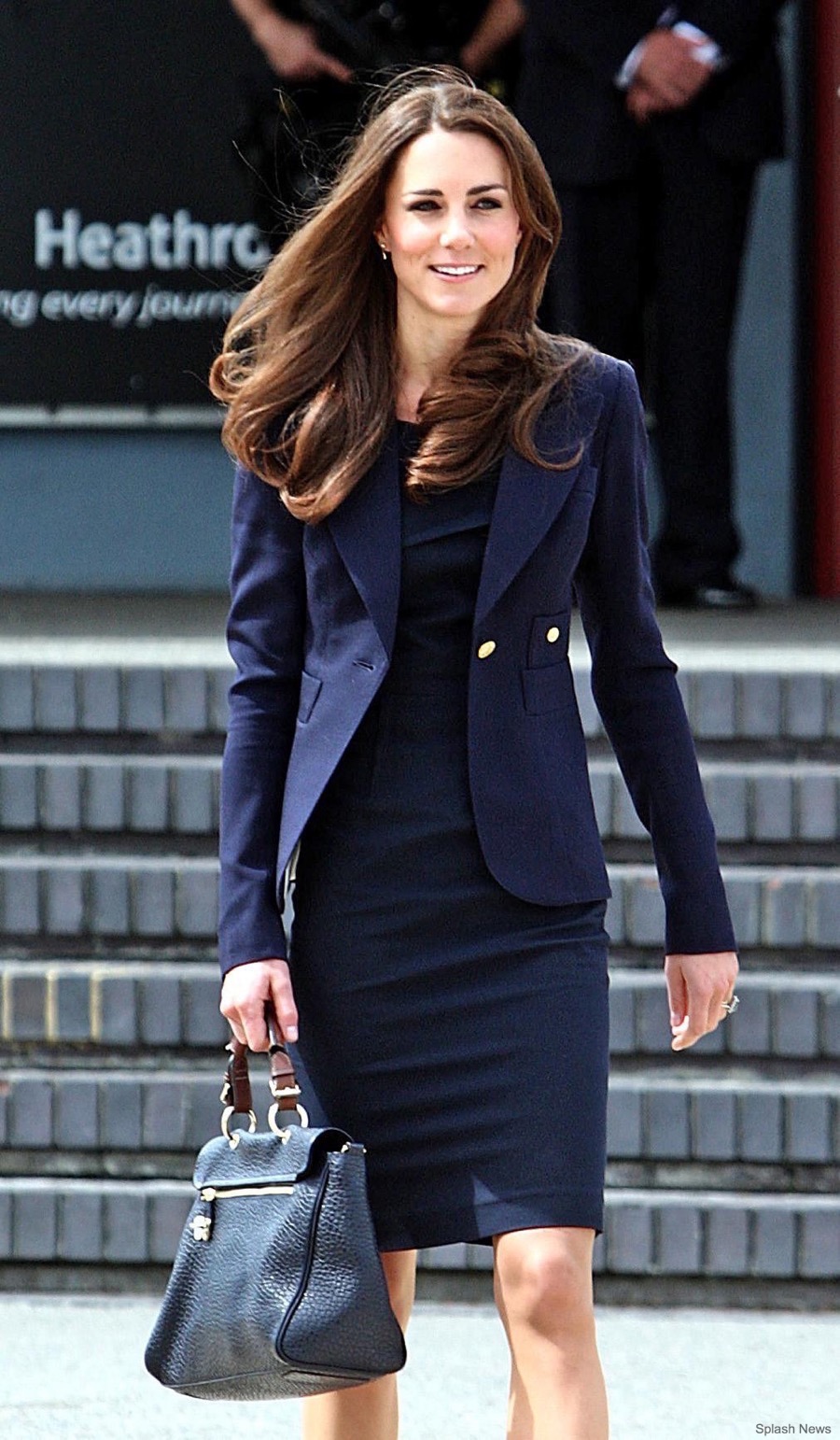 Kate's pink pussybow blouse is a mystery—we've not worked out who designed the piece as yet.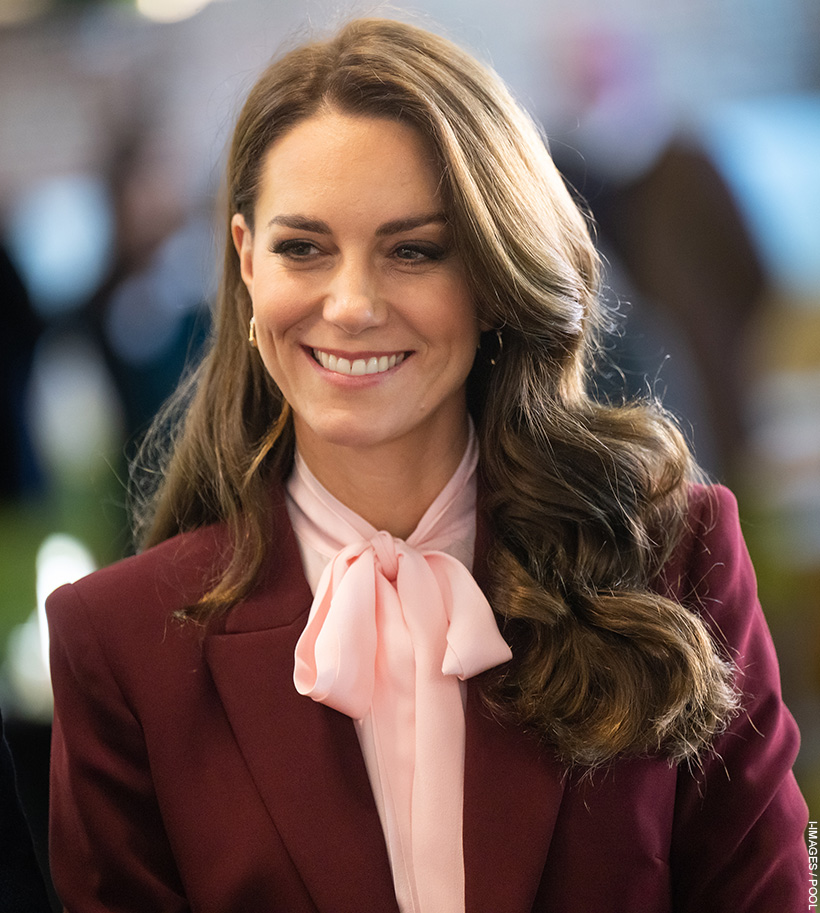 (I thought it might be a Winser London piece, like the light blue style she wore in Ireland a few months ago, but it is not. The ties don't match.)
Kate's bag is from Chanel. The burgundy bag is from the luxury label's Fall-Winter 2016/2017 collection. The piece boasts the brand's iconic logo on the front and a patterned enamel and brass handle. It's exquisitely crafted from quilted calfskin leather.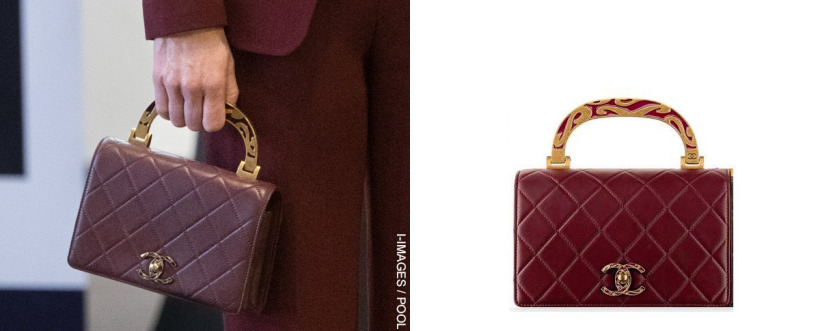 The handbag is no longer available for purchase, sadly.
Vestiaire Collective stock a couple of similar pre-loved designs if you're looking to invest. Here's the closest match I can find:
GET THE LOOK: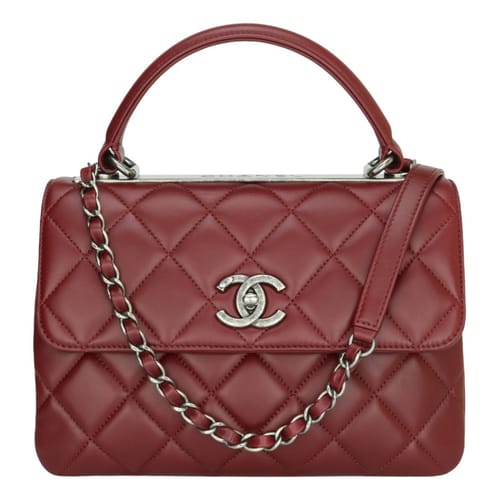 Chanel Trendy CC Leather Handbag
Looking to invest in a timeless and elegant handbag? The classic Chanel Trendy CC will add a touch of sophistication to any outfit. Elevate your look to the next level with this softly quilted burgundy bag.
On her feet, Kate wore a pair of heels by Gianvito Rossi, the Gianvito 105 style. Kate chose the luxurious shade of Royale Burgundy. The shoes perfectly complemented her suit.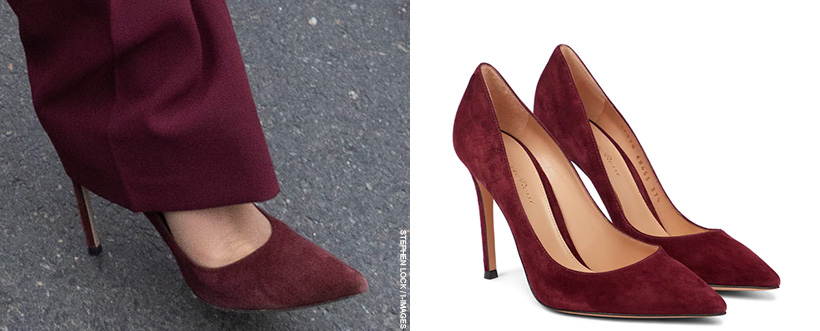 These pumps are a signature design from the Italian footwear designer, they feature a pointed toe and an elegant stiletto heel. Crafted from velvety suede and leather, they are made with the utmost attention to detail and quality, ensuring they are not only fashionable, but also comfortable to wear.
Kate is a known fan of Gianvito Rossi, owning over 10 styles in different colours, fabrics, and heel heights. The then-Duchess first debuted these pumps in October 2015 and has worn them a handful of times since.
If you want to channel your inner royal and add a touch of sophistication to your wardrobe, you can shop the Gianvito Rossi pumps at MyTheresa.com (note- the shoes are listed with a different colour name, Merlot rather than Royale. But they look the same to me?)
Let's finish by looking at Kate's earrings now. The Princess wore a pair of gold and diamond hoops by British jewellery designer, Daniella Draper.

These gold and diamond hoop earrings, known as the Luxury Maxi Cupid Hoops, feature three sparkling diamonds and are made from 100% recycled 9ct gold. Not only are they stunning, but they are also environmentally friendly, earning Draper the Butterfly Mark for her commitment to sustainability.
Planning to buy a pair? They cost £2,450. Allow 2-3 weeks for delivery.