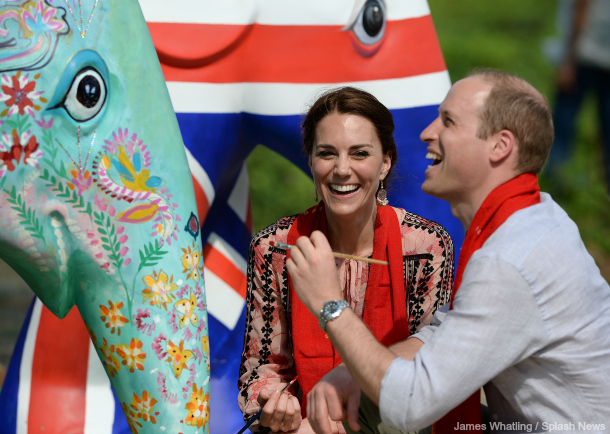 As mentioned in our previous article, William and Kate spent the morning on Safari at the Kaziranga National Park and chatting with park rangers about poaching.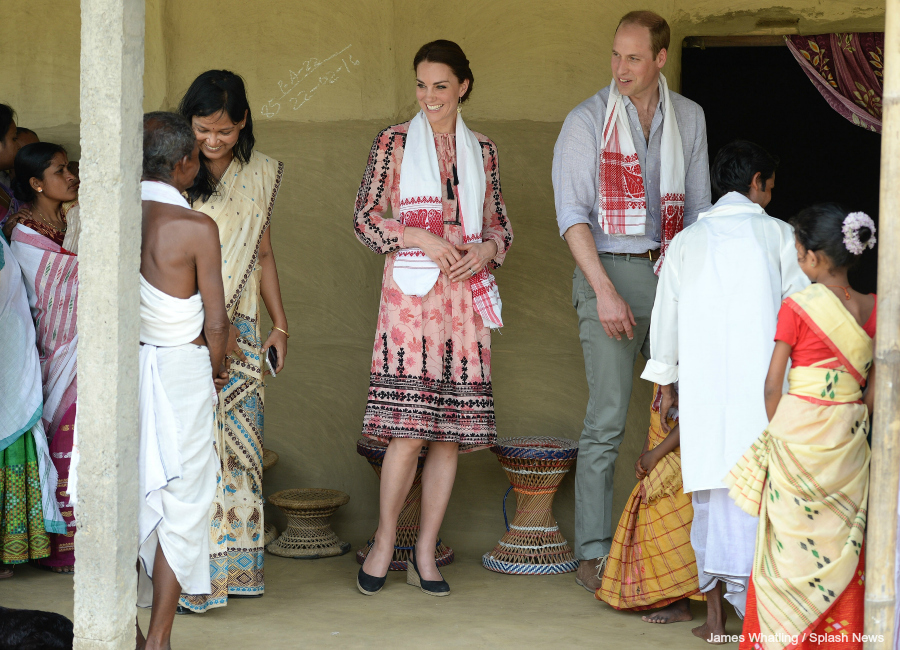 After a quick outfit change, they went to visit Pan Bari, a rural village on the edge of the National Park.
"The Duke and Duchess met families and saw a variety of crops which provide their livelihoods, in addition to traditional crafts such as weaving."

via Gov.UK
The Duke and Duchess met with members of the local community and listened to them speak about the challenges of living close to the National Park and amongst the wild animals (the area is home to elephants, water buffalo, the endangered swamp deer, a high density of tigers and the Indian one-horned rhinoceros).
"A number of stories of human-animal conflict in India have made global news recently and this trip will allow Their Royal Highnesses and accompanying media to understand this issue in much more detail."
Next, the royal couple visited the Centre for Wildlife Rehabilitation and Conservation. The centre provides emergency care and rehabilitation to wild animals that have been injured, displaced, or orphaned.  It is the only one of its kind in India.  The Centre has cared for and returned thousands of animals back into the wild.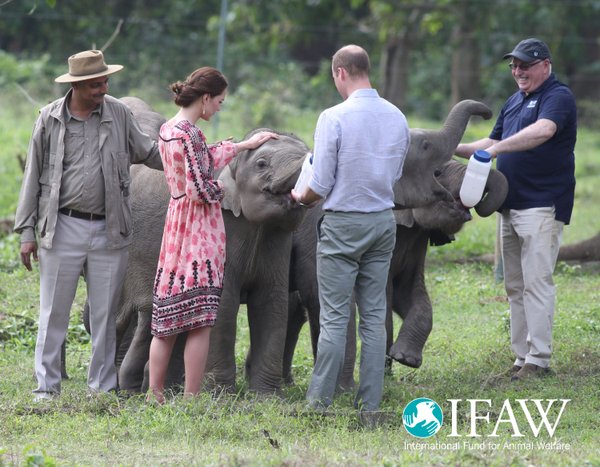 William and Kate helped to feed orphaned baby elephants and rhinos at the centre.
"They interacted with the animal keepers and even hand fed some of the orphaned animals being reared at CWRC – elephant calves Buree and Murphuli, just a few months old when they were rescued last October, now being raised on milk formula under the watchful eyes of their keepers; and Dunga, a male rhino, the youngest and newest resident at CWRC, in whom Duchess Catherine expressed a special interest."

Via wti.org.in
Before leaving, William and Kate met with young filmmakers from the Green Hub, a project that teaches film-making as a vocational skill to young people across North-East India.  The couple watched two short films that focus on human-animal conflict.
Next, William and Kate were escorted to the site of the upcoming Kaziranga Discovery Park built by the charity Elephant Family, which was founded by the Duchess of Cornwall's late brother Mark Shand.
"Here they saw a first of its kind health clinic for working elephants and an elephant information centre, which is under construction. Their Royal Highnesses had an opportunity to meet with villagers who have been relocated by the charity to keep them safely out of the path of an elephant corridor."

Via Gov.uk
Before departing, William and Kate put the finishing touches on an elephant sculpture.  Kate painted a flower motif, while William gave the elephant a bindi.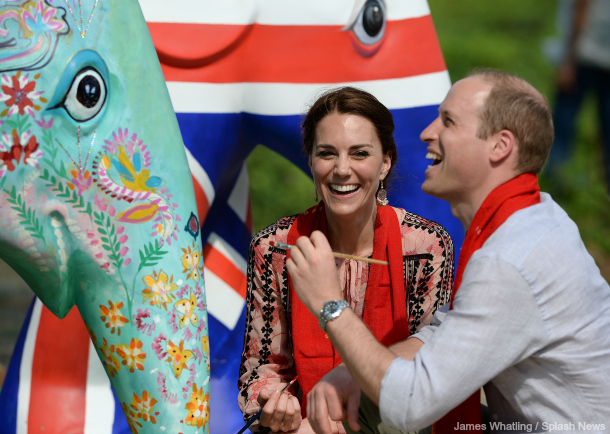 A number of artists have decorated over 200 elephant sculptures for the charity's "Elephant Parade" project.  The sculptures will be sent to 200 different locations across India, designed to raise awareness and funds for the charity,  Previous "Elephant Parades" have been held in London and New York.
You can read a full and thorough account of the day on the Wildlife Trust of India website.
Kate's outfit:
Kate wore a pink and black dress embroidered smock dress from British high street chain Topshop. The dress features long sleeves, a fitted waistline and a keyhole neckline with ties/tassels.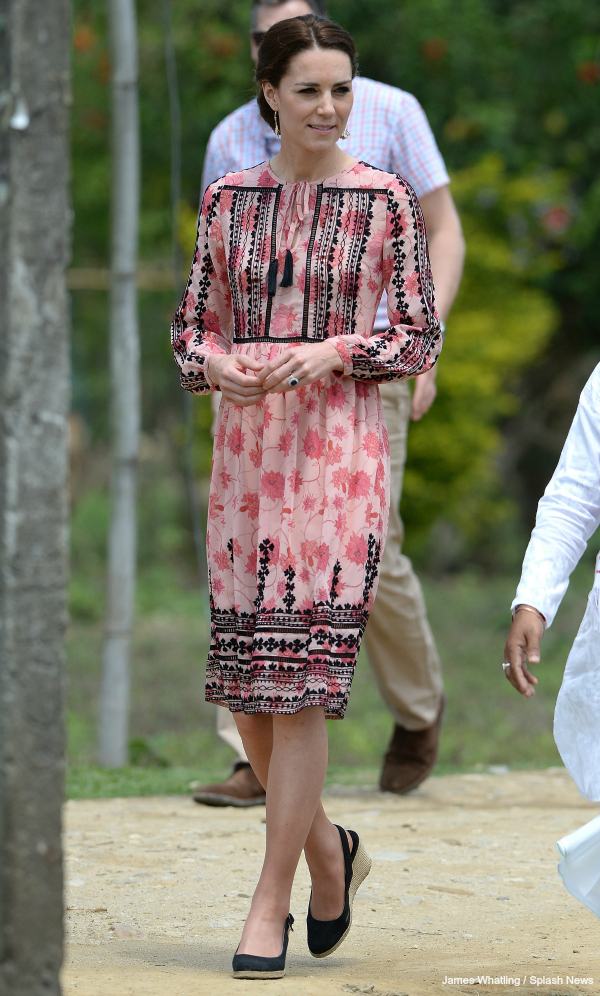 Now sold out, the piece retailed for £75 in the UK. The dress was available at Nordstrom for $140 USD, but it quickly sold out there too. (However, at the time of writing, one size is showing as back in stock.)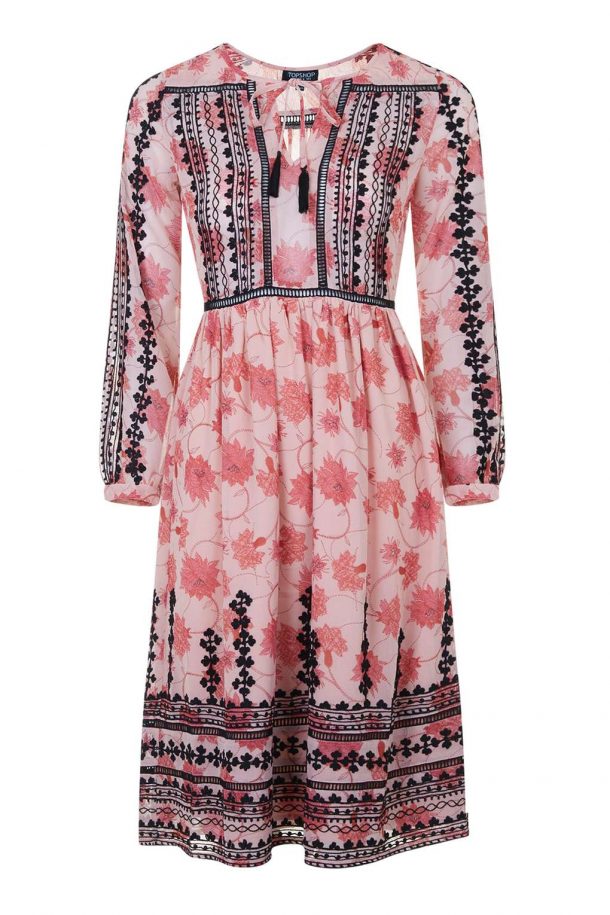 Here's how Nordstrom describes the piece:
"Boho-chic details define a midi-length dress in a pink-tone print accented with black embroidery, including open ladder-stitch insets. Tassel-tipped ties hang from the keyhole neckline."
For our Canadian readers, Hudson Bay stock the dress and it's available in all sizes. It costs $150 CAD.  Sadly, the company does not ship internationally.
Kate's shoes will seem familiar if you're a regular reader, or if you've followed Kate's style throughout this tour. Once again, she has opted for her Pied-A-Terre Imperia wedges.  FYI, the company ceased trading somewhere around 2011-2012 and their sister company Dune took over making the shoes.


They're identical in design and can still be purchased today.  They're known as the Karley wedge now.  Sadly, Dune no longer stocks the black colour, however, you can choose between gold, navy, cream (which Kate also owns) and bronze.
Here's where to buy:
Dune :

$57 – $95  /  £36 – £60
Other currencies available
Dune delivers worldwide
Gold, Navy, Cream & Bronze
6pm.com – From $49.99 (up to 50% off!)
(Prices and details correct at the time of publishing, 13th April 2016).
For the third time during this tour, Kate wore her new "Filigree Bead Short Drop Earrings" from Accessorize: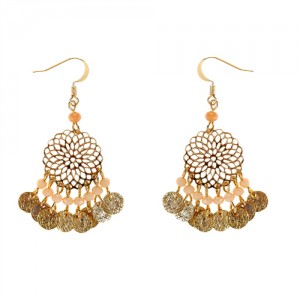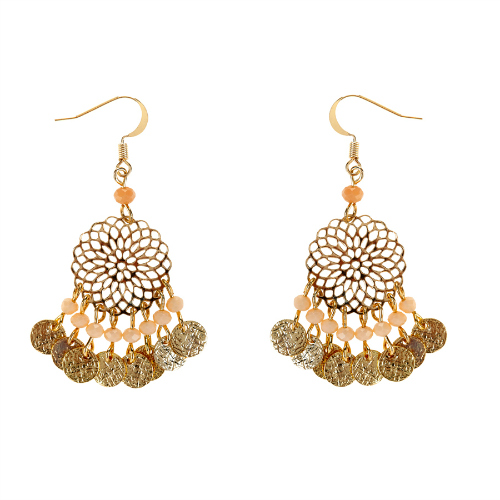 Sadly, they're now sold out, but the brand do have a few similar pairs in stock if you're looking to steal Kate's style!