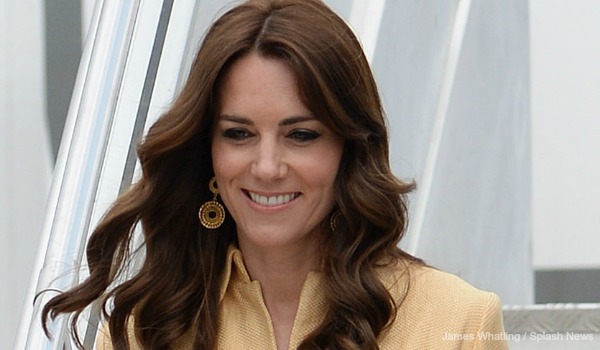 This morning, William and Kate bid farewell to India as they travelled over to Bhutan for the next leg of the Royal Tour. (Catch up with all our tour coverage so far by clicking here).
We have just a blurry photos of Kate on the tarmac at Guwahati airport in Assam, India, with thanks to Victoria Murphy of The Mirror: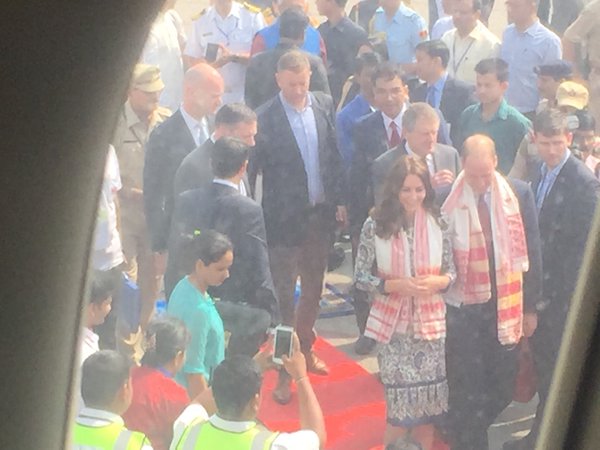 As you can see, Kate wore her £345 (approximately $530 USD) "Chrissy" dress by American designer Tory Burch.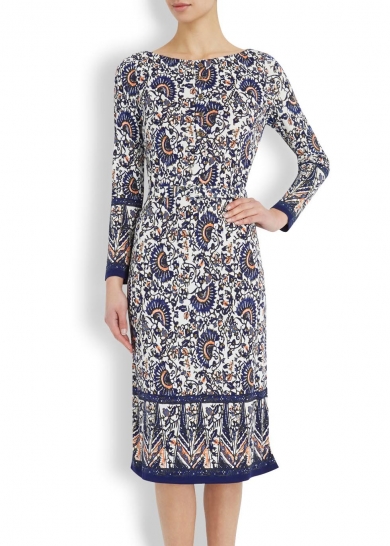 "Chrissy" is a jersey dress made from multicoloured printed jersey fabric.  It features a detachable buckle fastening waist belt and button fastenings at front.
Kate last wore the dress in June 2014 for a conference with charity Place2Be.
Kate's version of the dress is no longer available for purchase, although Tory Burch do sell an updated version of the dress here (see below left).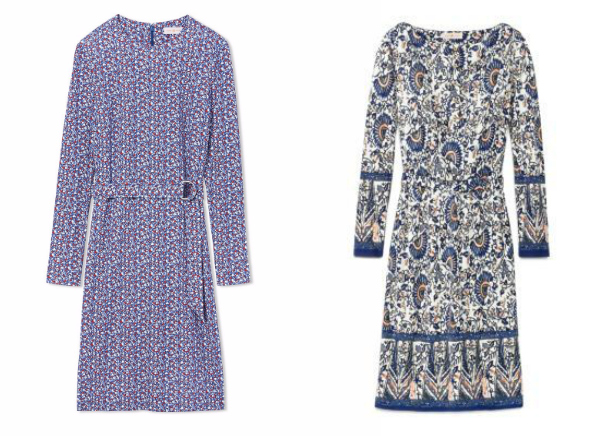 William and Kate arrived at Paro International airport after what most passengers call a "terrifying landing":
"When making the descent into Paro, planes navigate dozens of houses scattered across the mountainside.

Strong winds howl through the valleys, making touching down a trial for pilots.

Via The Mirror
Yikes!
Her Royal Highness Princess, Chimi Yangzom Wangchuck (the King of Bhutan's sister) and her husband Dasho Sangay Wangchuck met William and Kate off the plane.  Here's a short video of that moment:
William and Kate arriving at airport in Bhutan #RoyalVisitBhutan pic.twitter.com/7OL2xSboCY

— Carolyn Durand (@CarolynDurand) April 14, 2016
The royal couple stepped out onto a red carpet decorated with really beautiful patterns made from multi-coloured rice.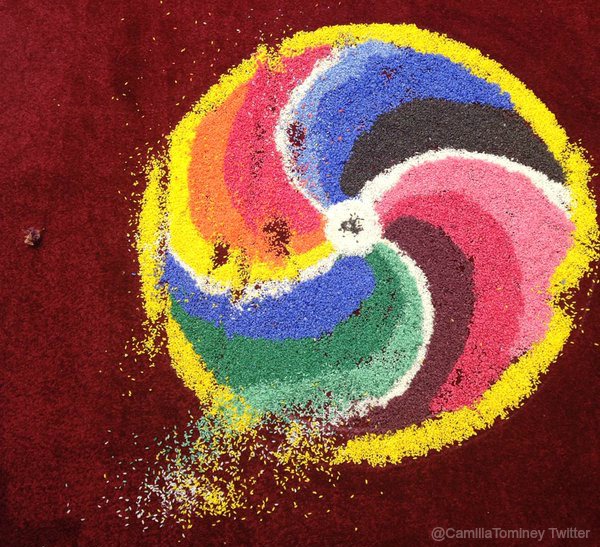 William and Kate then departed for the country's capital city of Thimphu.  According to the press release sent ahead of the royal tour, it was a very scenic journey.  Kensington Palace published the following short video showcasing the stunning views:
Such a lovely welcome! The Duke and Duchess stop to say hello to children who lined the road to Thimpu. pic.twitter.com/GOqQY6FXtq

— Kensington Palace (@KensingtonRoyal) April 14, 2016
At the end of the video, you can see William and Kate meeting with local schoolchildren lining the road to Thimphu.  (It's unclear whether this was a scheduled meet and greet or an impromptu pitstop, I'll have to do a little research!)
Kate's outfit:
Kate wore a yellow-gold coat dress by British-born Emilia Wickstead.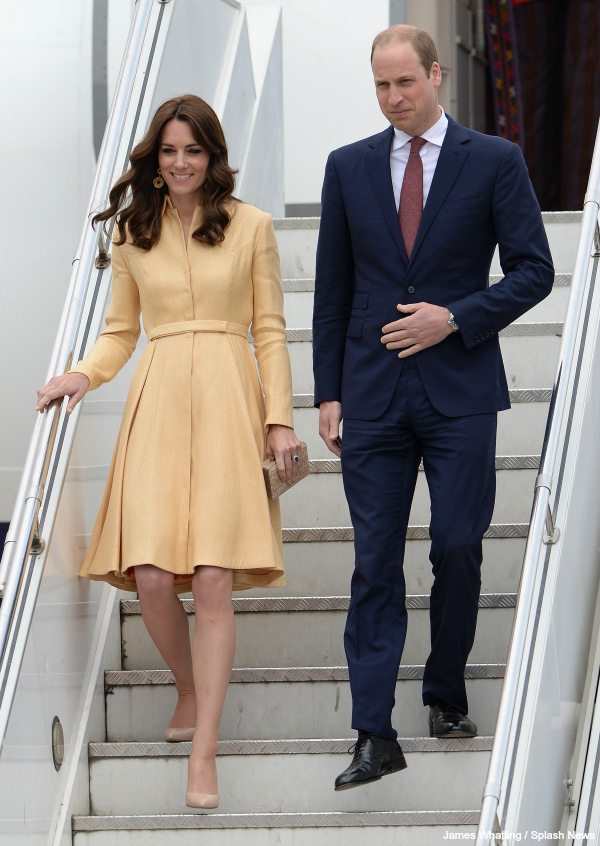 You may recognise the piece; Kate wore it back in 2012 for an "Order of the Thistle" ceremony in Scotland.  Only this time, she appears to be wearing an added belt around the middle: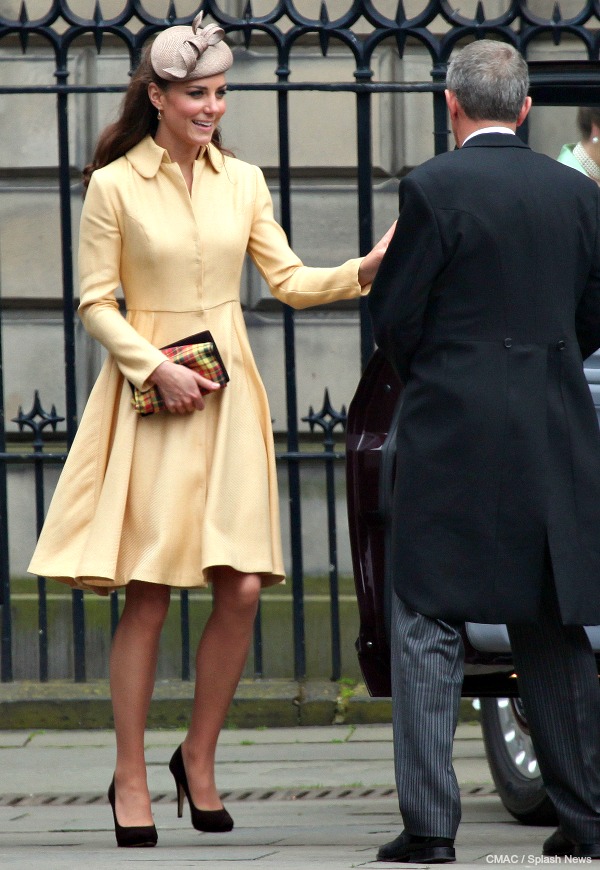 According to Hello Magazine, the coatdress was a bespoke piece made especially for Kate.  It cost £1,200 and took six weeks to complete.
Kate paired the yellow-gold coatdress with a pair of shoes that should feel familiar by now, they're the L.K. Bennett "Fern" style in "trench leather".


Kate has worn these numerous times during this tour.  She first debuted the shoes in Mumbai on Monday. The shoes cannot be purchased at this time, but you can register your interest with L.K. Bennett by clicking here.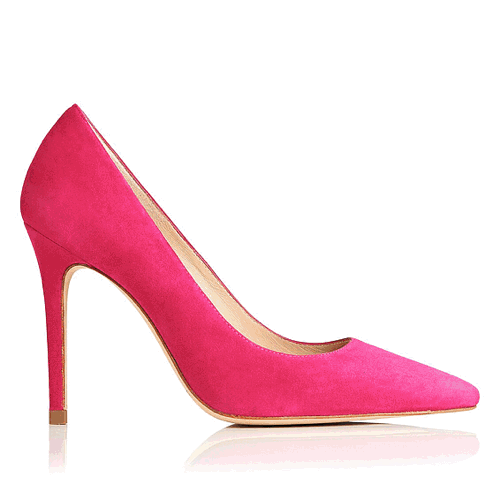 The Fern shoe is a staple style for L.K. Bennett, they regularly update it in new colours and styles.  See them all here.
Kate carried her L.K. Bennett Natalie clutch bag.


This piece is no longer stocked by L.K. Bennett, though sometimes they reissue it for the spring/summer season.  I have asked on Twitter if they plan to release it this year – I'll update if they reply.
If you're looking for something similar, L.K. Bennett do stock the "Nina" box clutch, which is pretty much identical in shape.  The company once stated on their website that the Nina bag is  modelled on the "ever popular Natalie clutch."  It comes in a number of different colours and styles.  Click here to view.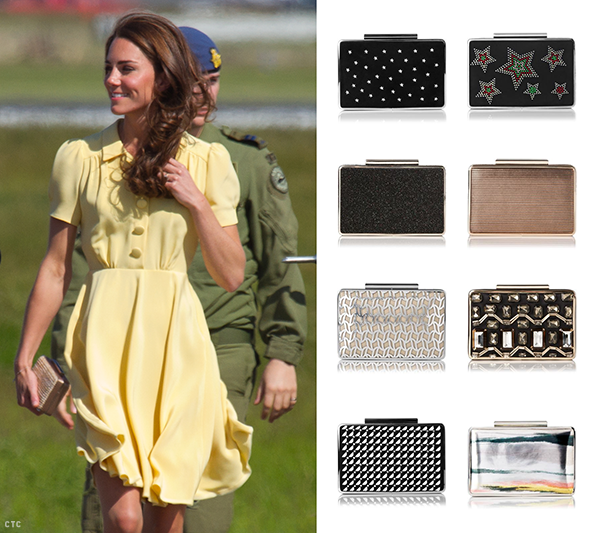 Kate wore a new pair of earrings from Brora, a brand known for their fine Scottish cashmere. Kate's wearing the company's "Gold Charm earrings" They're described as "eye-catching, yet not overwhelming".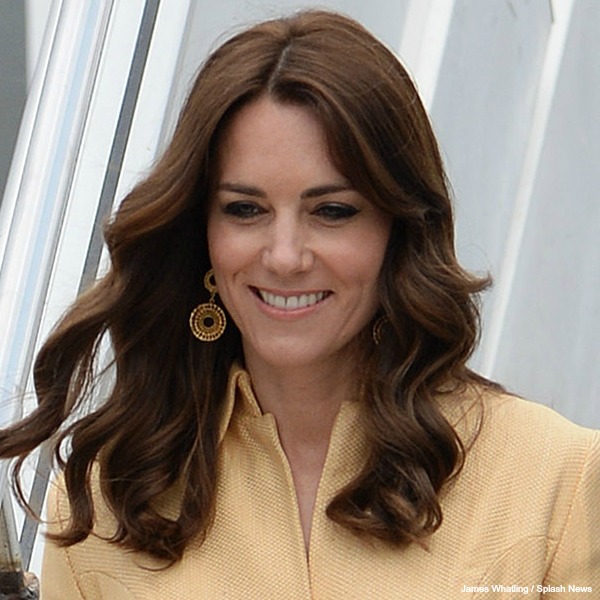 They're made from 22 ct gold plated brass with gold plated sterling silver hooks. Sadly, the earrings are sold out (I think they were sold out before Kate wore them).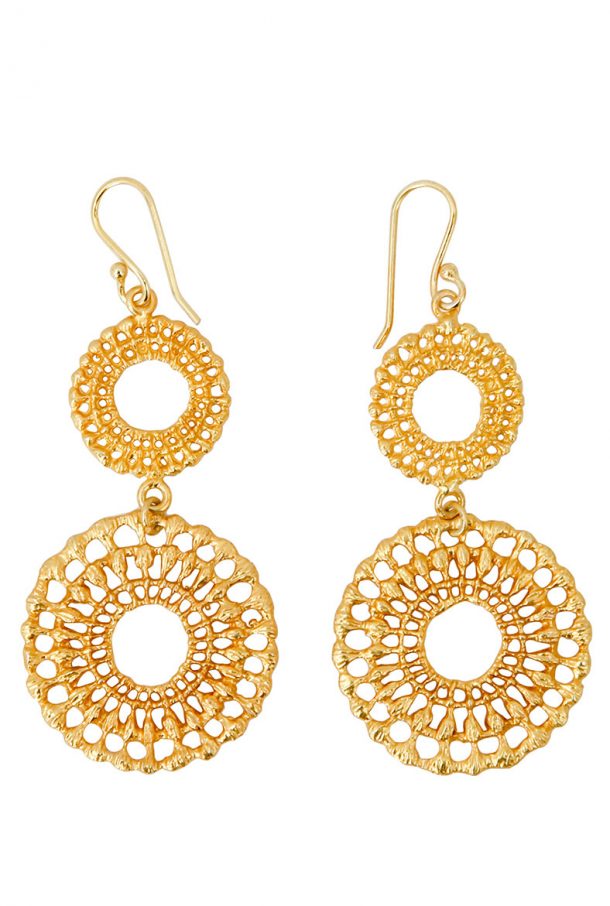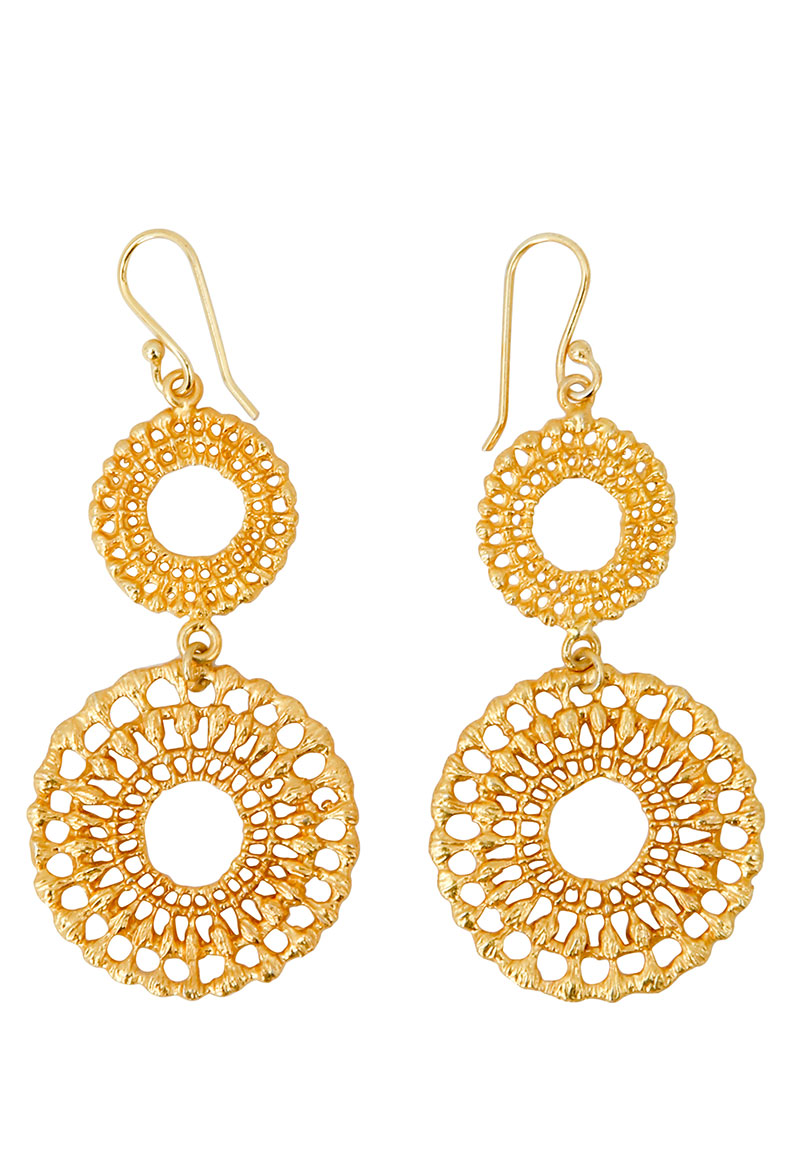 Brora has 14 shops around the United Kingdom and one shop in New York, USA. Both Neiman Marcus and Bergdorf Goodman carry some accessories too (not Kate's earrings though).  Thanks to Jane (a reader of HRH Duchess Kate Blog) who submitted this new ID!