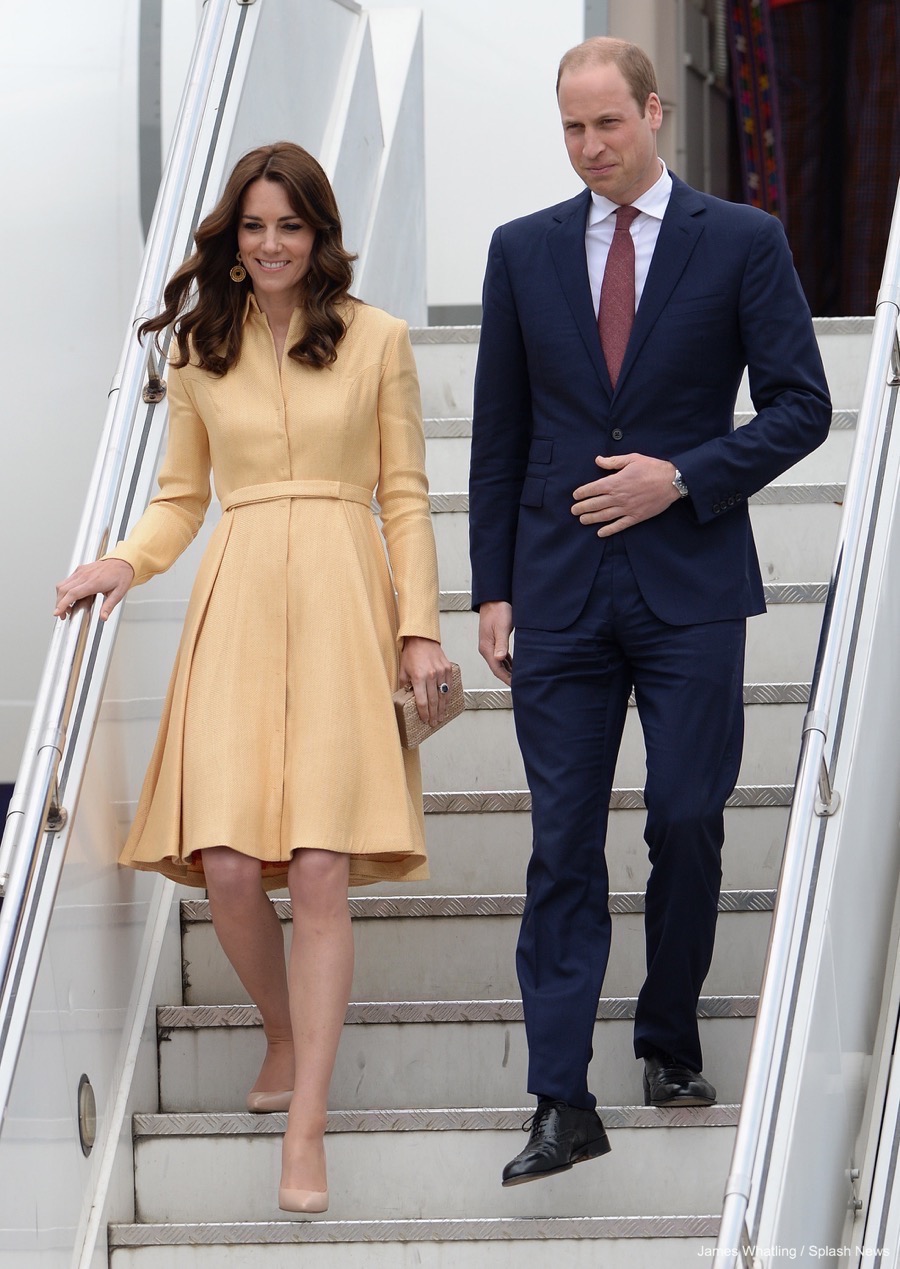 On the 14th of April 2016, William and Kate travelled over to Bhutan for the second leg of the Royal Tour.
A few hours earlier, the couple left Guwahati airport in Assam, India. We have a photo with thanks to Victoria Murphy:
Kate wore the Chrissy dress by Tory Burch. It is a jersey dress made from multicoloured printed jersey fabric. It features a detachable buckle fastening waist belt and button fastenings at front.
Kate also wore the dress in June 2014 for a conference with charity Place2Be.
In Bhutan, Her Royal Highness Princess, Chimi Yangzom Wangchuck (the King of Bhutan's sister) and her husband Dasho Sangay Wangchuck met William and Kate off the plane. Here's a short video of that moment:
The royal couple stepped out onto a red carpet decorated with really beautiful patterns made from multi-coloured rice.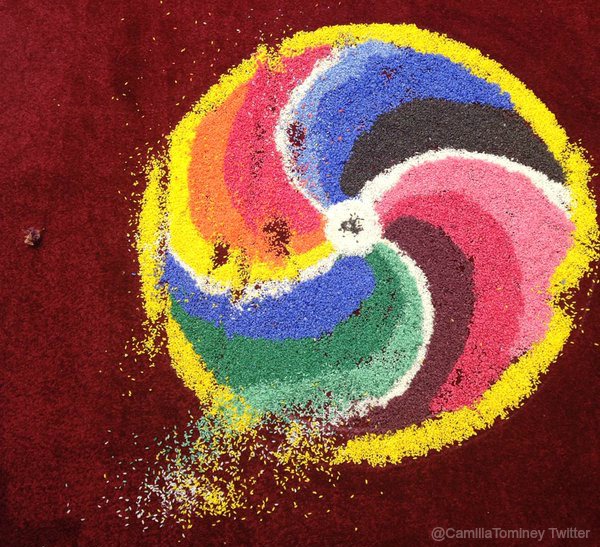 William and Kate then departed for the country's capital city of Thimphu. According to the press release sent ahead of the tour, it was a very scenic journey. Kensington Palace published the following short video showcasing the stunning views:
At the end of the video, you can see William and Kate meeting with local schoolchildren lining the road to Thimphu.
Kate's outfit:
Kate wore a yellow-gold coat dress by British-born Emilia Wickstead.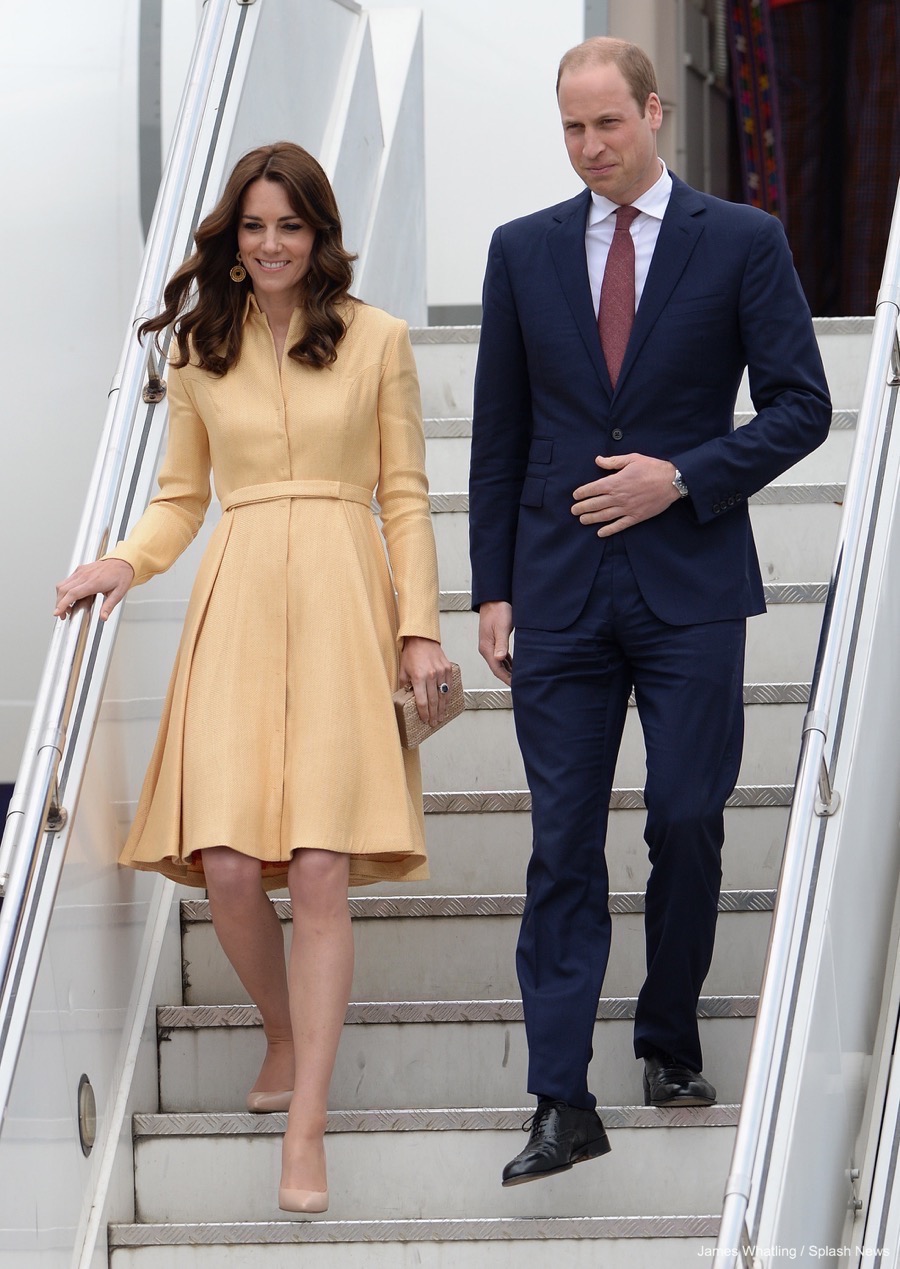 You may recognise the piece, Kate wore it back in 2012 for an 'Order of the Thistle' ceremony in Scotland. However, in Bhutan, she's added a belt.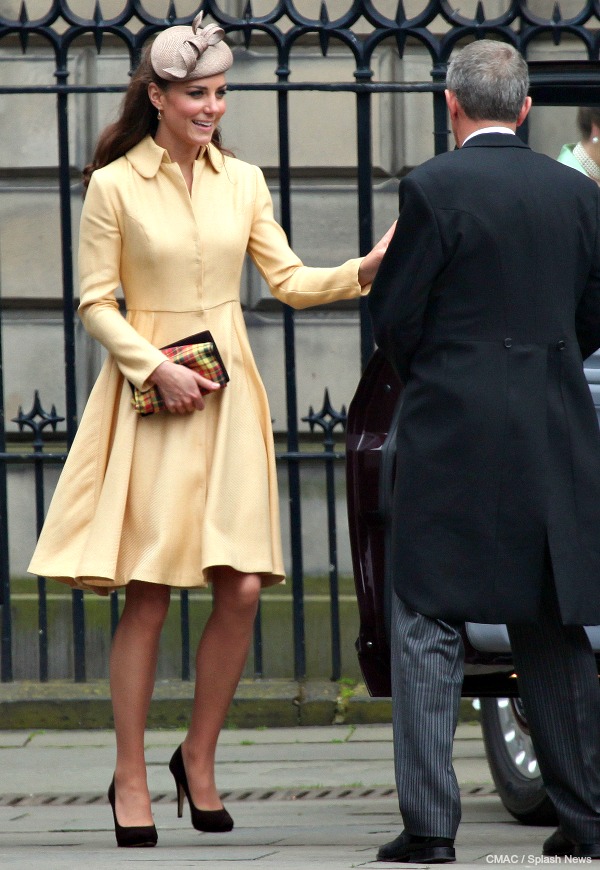 According to Hello Magazine, the coatdress was a bespoke piece made especially for Kate. It cost £1,200 and took six weeks to complete.
Kate paired the yellow-gold coatdress with a pair of shoes that should feel familiar by now, they're the L.K. Bennett "Fern" style in "trench leather".
Kate has worn these numerous times during this tour. She first debuted the shoes in Mumbai on Monday.
Kate carried her L.K. Bennett Natalie clutch bag.
This piece is no longer stocked by L.K. Bennett. You can find it on eBay from time to time.
Kate wore a new pair of earrings from Brora, a brand known for their fine Scottish cashmere. Kate's wearing the company's "Gold Charm earrings" They're described as "eye-catching, yet not overwhelming".
They're made from 22 ct gold plated brass with gold plated sterling silver hooks. Sadly, the earrings are sold out (I think they were sold out before Kate wore them).
Brora has 14 shops around the United Kingdom and one shop in New York, USA. Both Neiman Marcus and Bergdorf Goodman carry some accessories too (not Kate's earrings though).