Kate Middleton owns two pairs of Pied A Terre Imperia wedges, one pair in black and a second pair in off-white.  The wedges are a staple in Kate's closet, she wears them regularly.  You might remember that she wore them during the tour of India in 2016 –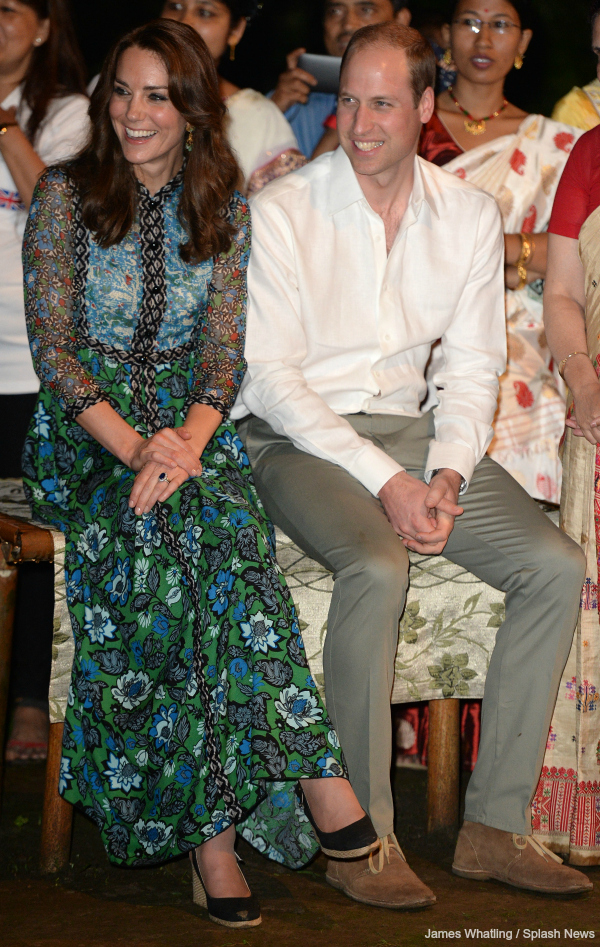 And, here's a picture of her wearing the shoe during a visit to Slave Lake in Alberta during the Canada Tour in 2011: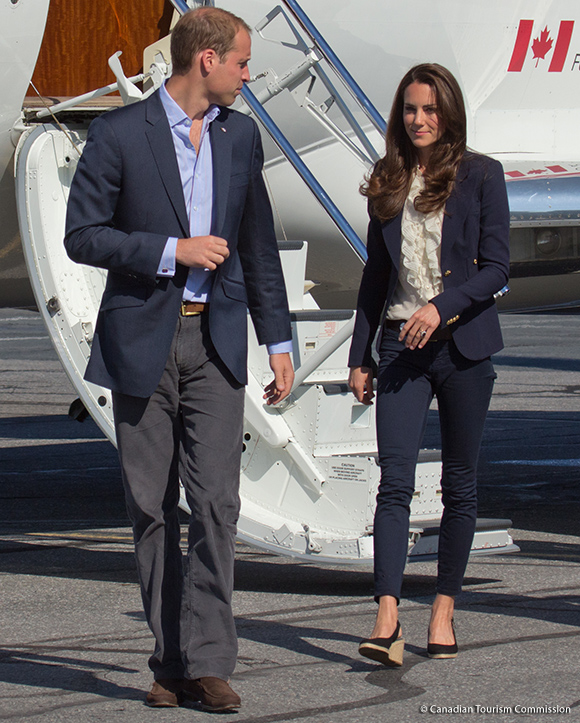 Of course, who could forget this famous photocall?  Kate wore the wedges in 2013 after Prince George's birth.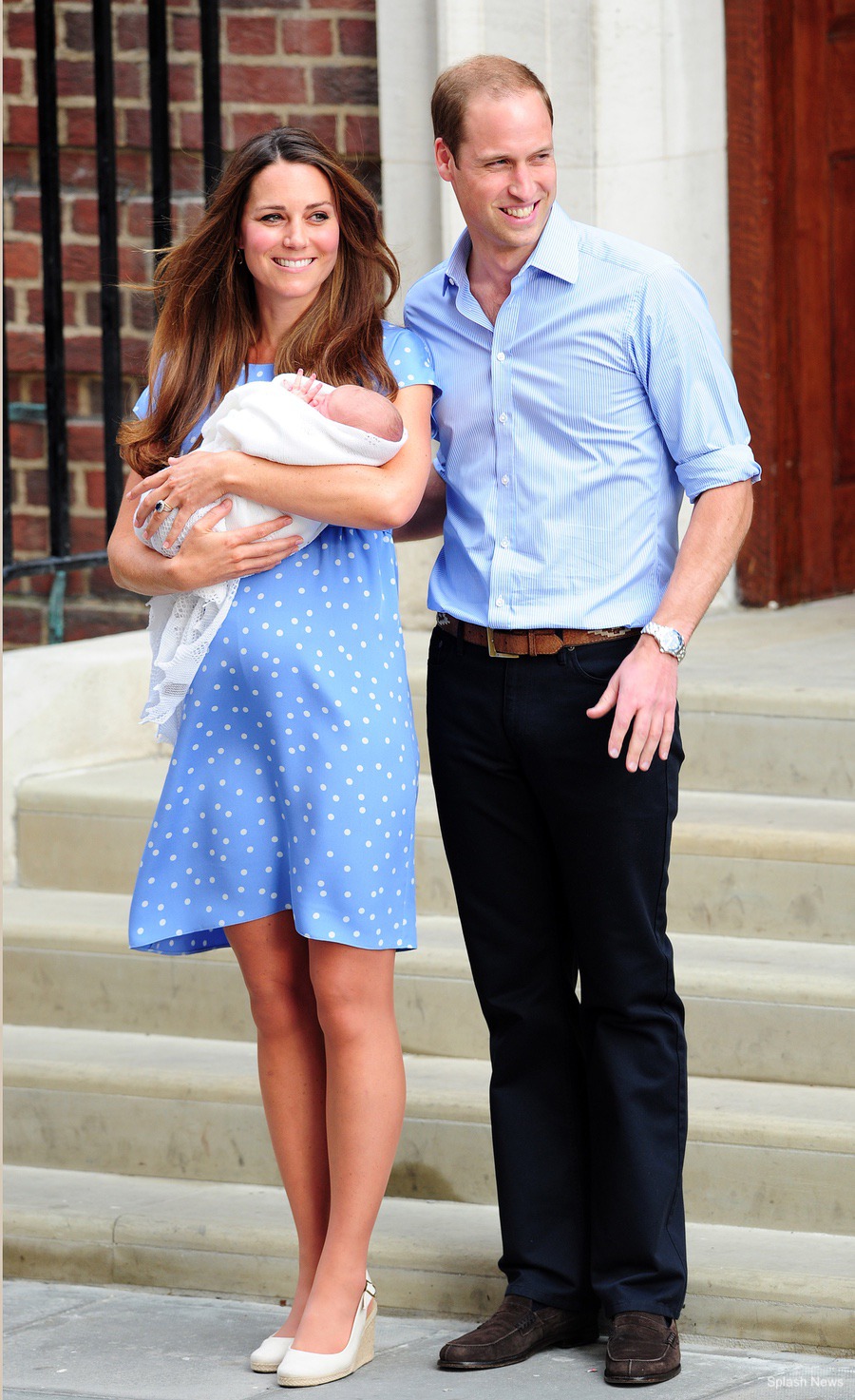 About the Pied A Terre Imperia wedges: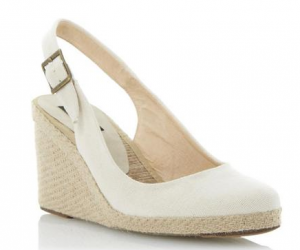 Pied A Terre's wedges feature a canvas upper with closed toe and buckle slingback.  The raffia-style espadrille wedge is comfortable, ensuring you can wear this shoe all day long without aching feet!
The original Pied A Terre Imperia wedges had a heel height of 80 mm and they were made with a canvas upper and lined with leather.
Change of name:
The 'Pied A Terre' company no longer exists; they were absorbed by their parent company Dune London several years ago.  Dune London went on to release the Imperia wedges as "Imperia D", then "Karley" and now "Kanvas".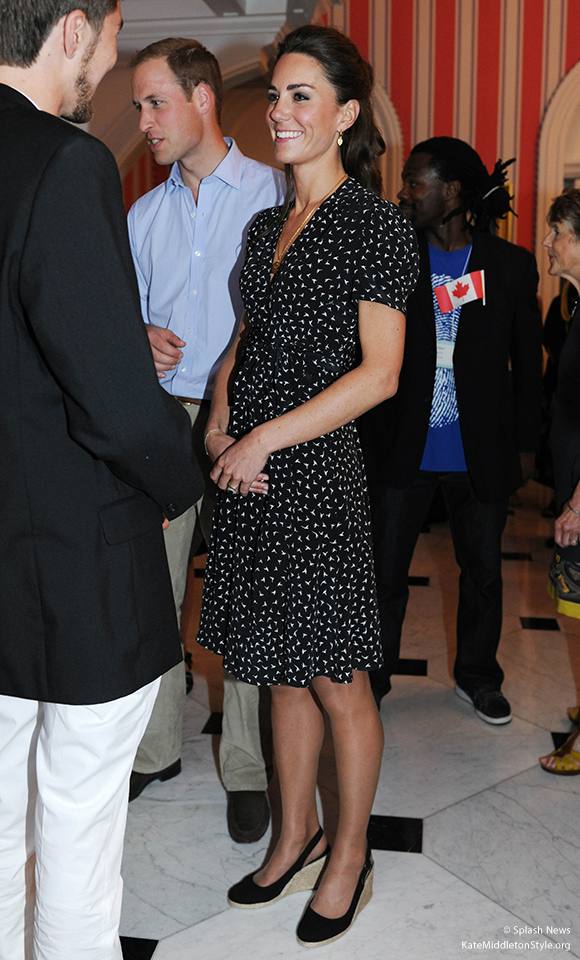 In 2016, Dune London wrote a blog post about Kate wearing their wedges. Here's what they had to say:
Formerly branded as Pied a Terre 'Imperia', the same style is now available as the updated KARLEY by Dune London. And don't worry folks it really is identical – so you can easily step out in the footsteps of a princess.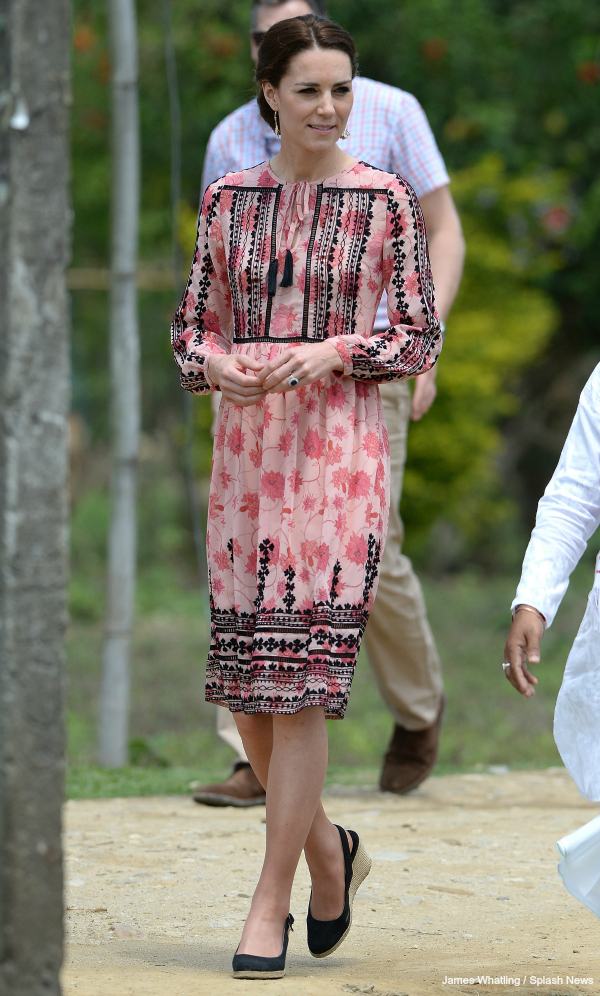 Where to buy Kate's wedges today:
At the time of writing (May 2017) the wedges can be purchased from:
Which colour wedges does Kate wear?
Kate owns the Pied-A-Terre wedges two different colours: off-white and black.  As Pied-A-Terre and Dune London, both stocked several "off-white" colours, the exact shade Kate wore is subject to debate.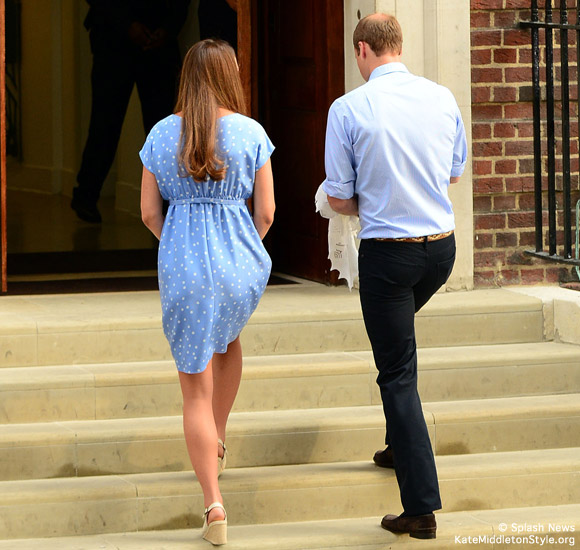 It's believed that Kate wears Pied A Terre's 'Neutral' colour, though, it is worth knowing that the brand also issued a "Linen" white colour several years previous too.  Some say Kate could be wearing the Linen colour, not the Neutral.  However, in reality, the fabrics are practically the same!
Here's a look at Kate wearing her Pied A Terre Imperia wedges in both colours, black and neutral/linen: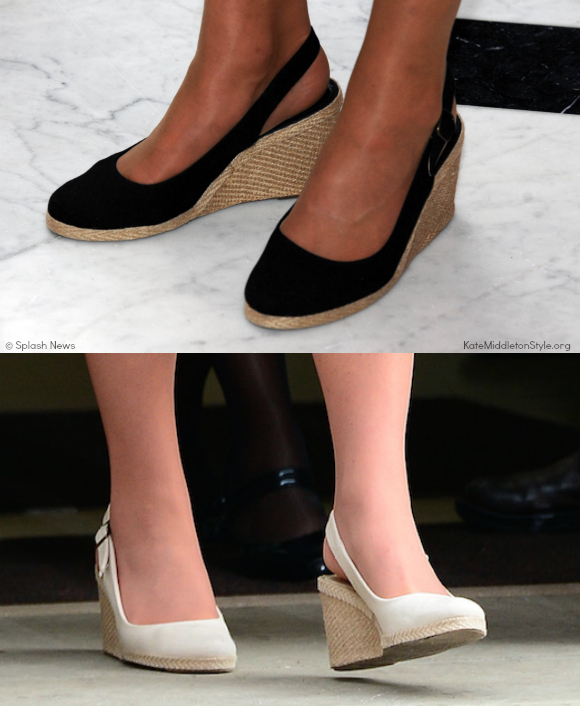 Pied A Terre Imperia / Dune Karley reviews:
I asked Kate fans on my Facebook page to review these wedges.
Sophia has them in the natural colour.  She says the wedges are "very comfortable".  She says they have "an interesting combination of looking both casual and chic."
Tam reviewed the wedges too.  She owns THREE PAIRS. She has the original Pied-A-Terre Imperia wedges in cream and the Dune Karley in both black and navy.  She tells me they're a staple in her closet and says they're comfortable too.
Does Kate wear the Pied A Terre Imperia wedges or the Ivy P?
When Kate first wore the slingback wedges, fans were unsure if she wore Pied A Terre's Imperia or Ivy P style.  Pied A Terre did confirm Kate wore their wedges, but they would not confirm which of the two styles she bought.   They do however say that the shoes are "nearly identical."  Luckily, with a bit of sleuth work, we have solved the mystery…!
Fellow Kate fan and good friend Kellie owns both the Ivy P and the Imperia wedges and kindly provided me with photographs of each, so we can compare both shoes.  She says the Ivy P style has a more distinctive raffia – it is "thicker, and more rope-like than the Imperia."  See below: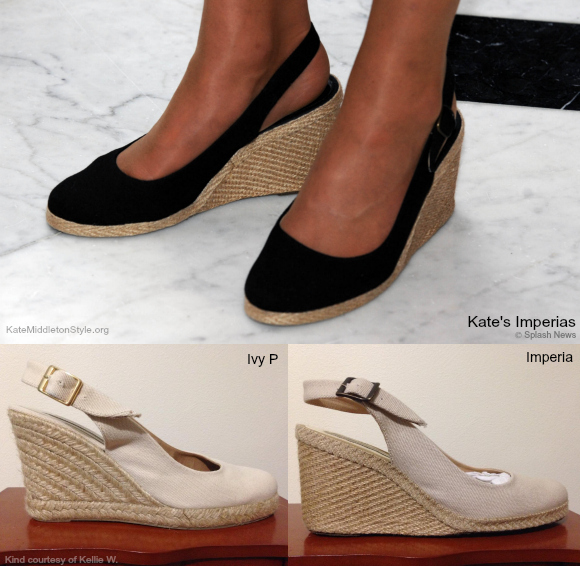 Compare the raffia wedge heel with Kate's and you can clearly see Kate wears the Imperia, not the Ivy P wedges.
About Dune and Pied A Terre:
Dune and Pied A Terre are both part of the same company, The Dune Group.  Interestingly, The Dune Group also create Episode shoes for House of Fraser (another brand of footwear Kate's worn in the past).
Previously, Pied A Terre had its own website where I viewed the Imperia and Ivy P wedges many times.   The brand closed the Pied A Terre website and amalgamated their brands together on the one Dune London website some years ago.