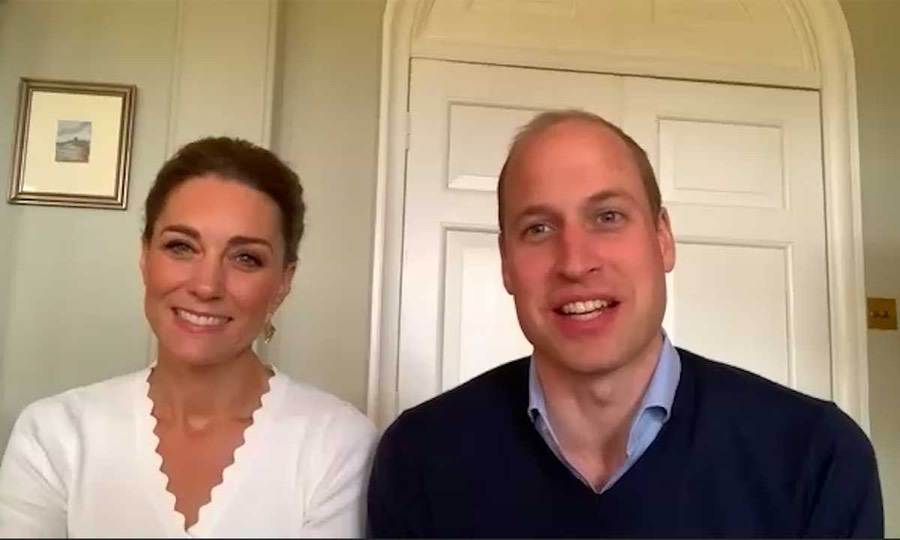 On Wednesday the 13th May 2020, William and Kate spoke with five volunteers from the charity 'Shout' via video conferencing tool Zoom. Shout is a 24/7 UK crisis text service available for times when people feel they need immediate support.
By texting 'SHOUT' to '85258' a Texter will be put in touch with a trained Crisis Volunteer (CV) who will chat to them using trained techniques via text. The service is designed to help individuals to think more clearly and to take their next steps to feeling better. GIVEUSASHOUT.ORG
Kensington Palace released a video of the conversation last night (Friday, 15th May) to mark the charity celebrating its first anniversary.
During the chat, the royal couple spoke to volunteers about the public's use of the texting service during lockdown. The charity's CEO spoke about the growth of the service over the last twelve months and William praised the charity's volunteers:
You guys are the trailblazers, you have been doing a fantastic job keeping Shout moving forward, so well done and thank you for all your hard work; we really appreciate it. – PRINCE WILLIAM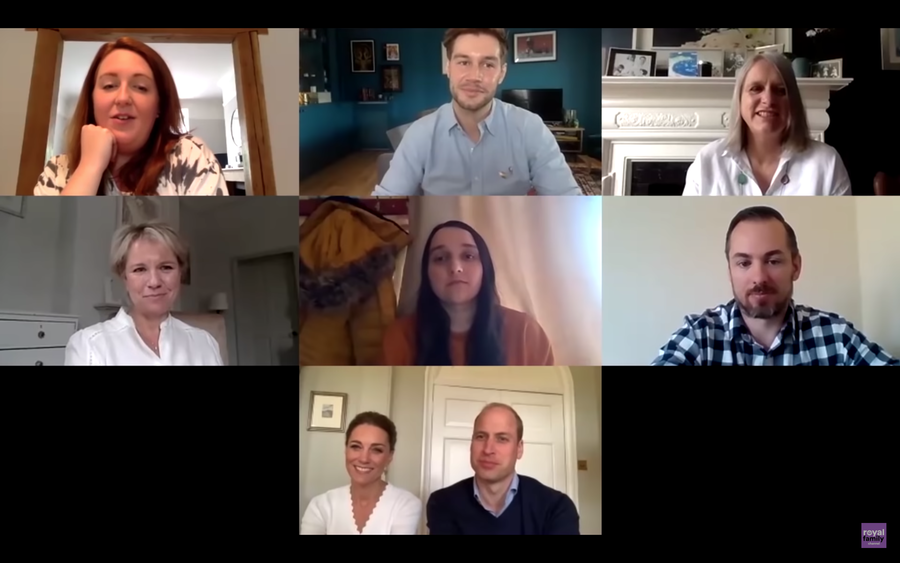 Today (May 15th), Shout is 'taking over' William and Kate's official Instagram account, @KensingtonRoyal. A volunteer from the charity is answering questions and sharing video clips using the platform's 'Stories' feature. On a clip posted to Instagram, William quipped that they've never let anybody take over their stories before and asked volunteer Alexis "not to mess it up."
William, Kate, Harry and Meghan launched Shout together in May 2019 following a £3 million investment by The Royal Foundation.
Last November, William and Kate attended a celebration held for Shout Crisis Volunteers at the Troubadour White City Theatre, London.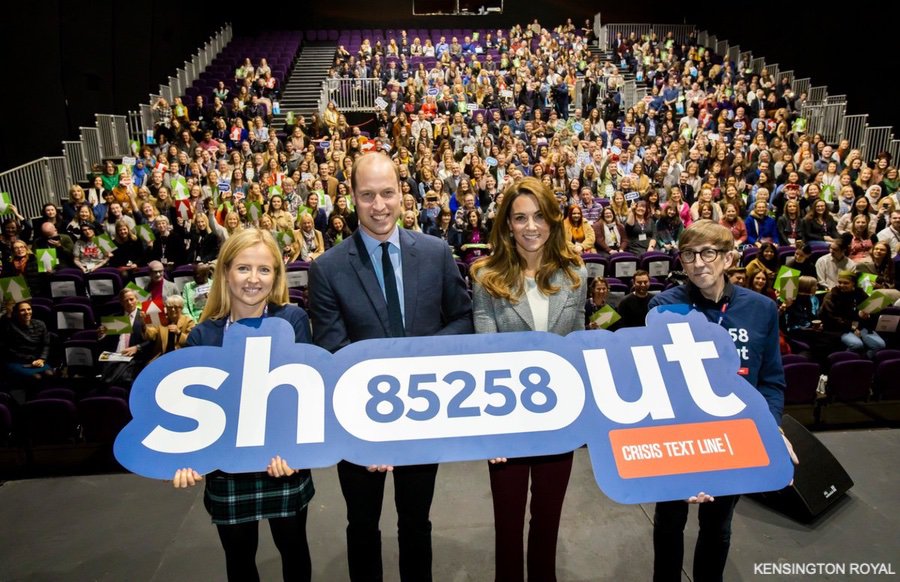 Like many of us, William and Kate are both 'working from home' at the moment due to the Coronavirus pandemic. The Duchess has undertaken a number of royal duties via video link over the last eight weeks. (View our archive here.)
Kate's outfit:
Kate wore a white cardigan with scalloped detail around the neckline. It's from French label Sandro Paris. (Many thanks to Heaven on Twitter for finding the piece).
The scalloped-trim cardigan is made from a fine knit viscose/polyester mix fabric. The cropped design features three-quarter length sleeves, a v-neckline and copper-toned buttons. The cardigan comes in both black and white. It retails for £155 / $220. You can purchase it from the following stores:
Kate's worn Sandro a couple of times during public engagements. You might remember her in this green short-sleeved printed dress from the label last year.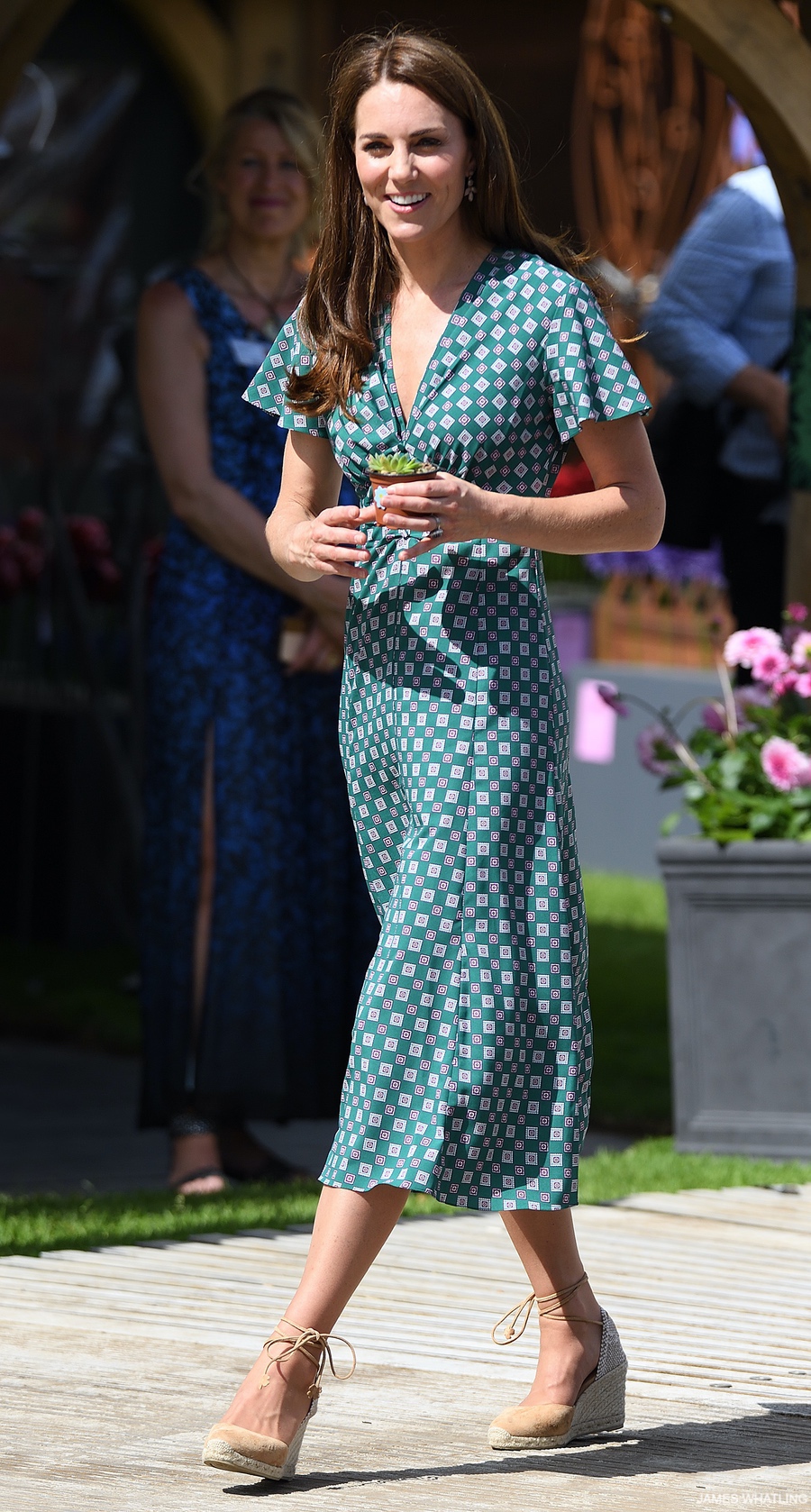 Kate tied her hair back for the video conference call, which meant we could see her earrings. They're the gold Fern Drop earrings by Catherine Zoraida. (Pictured below in Feb 2019).
The earrings feature 3cm fern leaves made from 18ct gold plated silver. They can be purchased from the designer for £165 (around $200). Kate's worn the earrings several times this year.