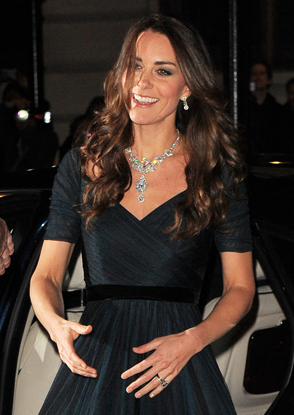 This evening Kate attended the National Portrait Gallery's annual Portrait Gala in central London.  As you may recall, Kate is patron to the NPG.
Kate arrived shortly before 8pm wearing her ink blue Jenny Packham gown, which we previously saw her wear to the 100 Women in Hedge Funds Gala back in October 2013.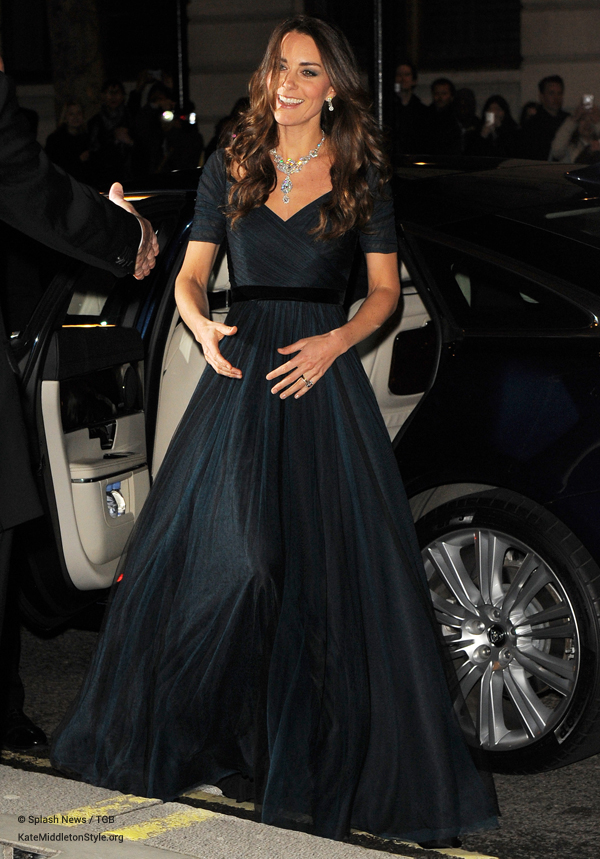 Kate's silk tulle evening gown formed part of the Jenny Packham's Autumn Winter 2013 collection. The dress is currently available at Stylebop for $5655 / 3,586.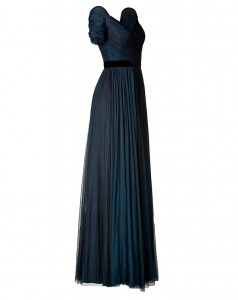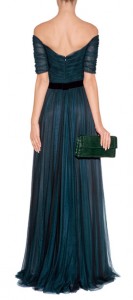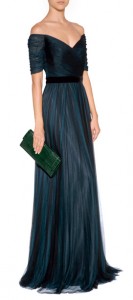 The dress is described on Stylebop as "simply stunning", in "ink-tinged silk" and the "ultimate in evening elegance."  The dress features a wrapped front, a V-neckline and gathered short sleeves.  It also features a black velvet sash, tailored bodice and full skirt.
Shop Jenny Packham Dresses:
Kate paired the dress with her Jimmy Choo Cosmic pumps (which happen to be one of my favourites) and a blingy diamond necklace that was on loan from the Queen.  Kate also wore her mystery diamond earrings, which you will recall we first saw at the Canada Day concert in July 2011.
Shop Jimmy Choo Cosmic Pumps:
It is reported that the necklace was a wedding gift to the Queen from the Nizam of Hyderabad, then King of a state in India. The necklace was gifted to the then Princess Elizabeth with a tiara. Here we share a close-up, bilgy: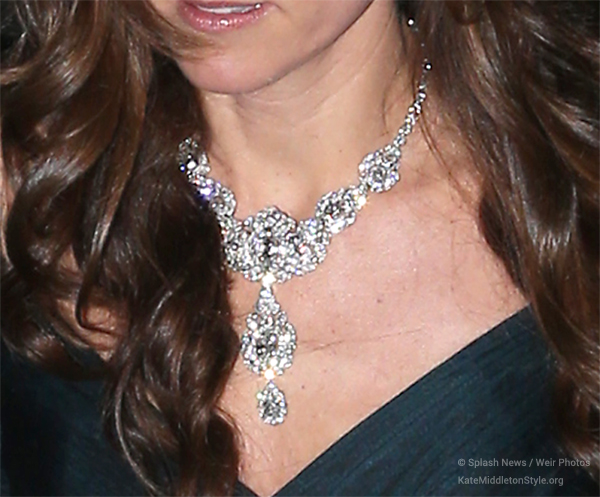 During tonight's event, Kate rubbed shoulders with a range of celebrities including Liz Hurley, David Bailey and Grayson Perry. Once inside the event, Kate gave a short speech, which she stumbled near to the end. With thanks to The Mirror we can reproduce Kate's speech:
"I just wanted to say how delighted I am to be here this evening to celebrate the fantastic work of The National Portrait Gallery.

"The Gallery's achievements are exceptional.

"They hold the most extensive collection of portraits in the world, and their unique and brilliant exhibitions never fail to inspire us all.

"But, it is more than simply a world renowned visitor's attraction – the Gallery's outreach and research programmes makes it one of the leading
centres for the important study into Portraiture. I simply could not be more proud to be its Patron. Thank you for being here tonight and showing your support. I hope that you all have a wonderful evening."
And here's a picture from Rebecca English, a Daily Mail reporter at the event: