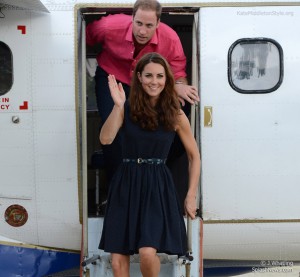 St. James' Palace has today confirmed that the Duchess of Cambridge, also still known by her maiden name Kate Middleton, is pregnant!
Yep, our favourite Duchess is expecting a baby, how exciting!
Kate was staying with her parents in Buckleberry before travelling by car (not ambulance) to the King Edward VII Hospital in Central London.  The Duchess was admitted with Hyperemesis Gravidarum, a server form of nausea and vomiting, differing from morning sickness.  Treatment will require that Kate takes supplementary hydration and additional nutrients.
Kate (and baby!) will stay in hospital for several days and will require a few days of rest after too.  Therefore, it is likely she will miss the upcoming engagements this week, including: the ICAP Charity Day on Wednesday 5th Dec, the Winter Whites Gala on Sat 8th Dec and the British Military Tournament on Sun 9th Dec. although this has yet to be officially confirmed.  I think it has been confirmed now:
The Duchess of Cambridge has cancelled her next three royal engagements due to the need to rest after several days in hospital.

— Richard Palmer (@RoyalReporter) December 3, 2012
St. James' Palace did confirm that Kate's pregnancy is still in the very early stages, and most journalists are saying she's less than 12 weeks pregnant.  I suspect it was the hospital visit that forced the royal couple to announce the news, despite how early it is into the pregnancy, a suspicion aides have now confirmed:
Aides say the Duchess's need to go to hospital forced the couple's hand in announcing the pregnancy.

— Richard Palmer (@RoyalReporter) December 3, 2012
News of a royal baby knocked out the official website:
The news that Kate is expecting a royal baby knocked The Duke and Duchess' official website out of service today, as you may expect.  Here's what the front page looked like at 17:15 this evening: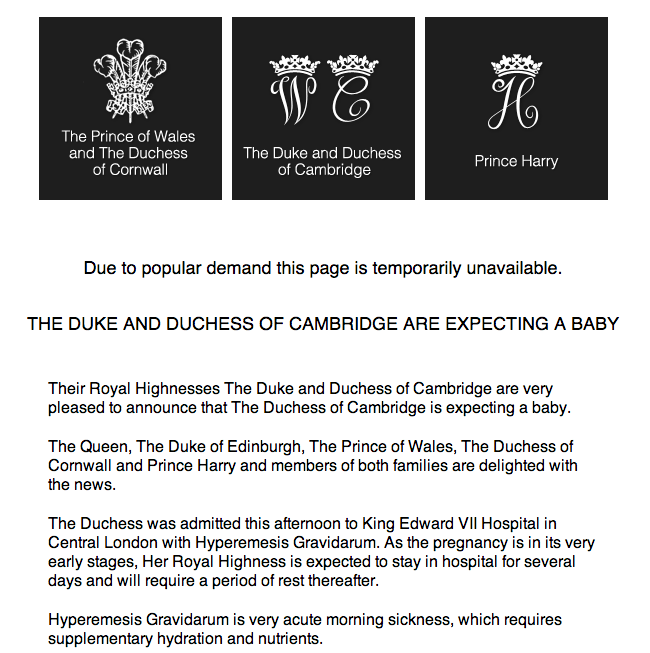 The Queen and Prince Philip send their congratulations (as do we!) and they're very excited about the baby news (as are we!!)
Update – Twitter is excited too!  #RoyalBaby is now trending!
#royalbaby is trending

— JB (@Royal_beans) December 3, 2012
Baby name game:
Of course, we're all now speculating what Kate and Will's new baby will be named…..  Feel free to speculate in the comments below and if you miraculously guess first & middle name correctly once the royal baby is born, I'll send out a prize!!!
According to Twitter's @RoyalCentral, when born, Will and Kate's baby will be styled as "His/Her Royal Highness Prince/Princess <NAME> Of Cambridge.