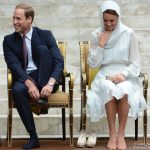 Today's post will pull together several fun tidbits I'd like to share with you. First I will review a company called
Box Delux
, who have kindly sent me a box of goodies, which includes an
Illuminum
perfume sample (as worn by Kate!). The company have also been kind enough to sponsor prizes for our
Baby Cambridge Fundraiser
. SPEAKING OF WHICH! I'll also give you all the info about the latest contest and I'll share lots of little fashion-related tidbits. Lastly, I'll share a couple of interesting links from the media too. Right, let's begin:
Box Delux & Illuminum Perfume Review
Box Delux is a luxury box subscription service.  So, each month they'll deliver you a package full of fabulous and exciting new things to try.  Each box is designed to be luxurious, and to excite all of your senses: you'll find scrummy foods to try, lovely perfumes to sample, and so on!  It's almost like receiving a little gift each month – such a fun idea!
The company first contacted me a couple of months ago to tell me about their new business, which only launched at the end of last month, on Will and Kate's 2nd wedding anniversary!  I immediately was cheeky and asked if I could review their May box, themed around the "Best of British."  The May box contains an Illuminum perfume sample – as worn by Kate. I knew this would interest my readers – they said yes!
My box arrived earlier this week and I opened it immediately, like an excited little kid at Christmas! Before ripping any paper though, I was restrained enough to grab my phone and take some photographs:
As you can see, the box is well packaged and really DOES scream luxury. I must admit, it SMELLED DIVINE TOO!  I'm not sure if that was the goodies inside (like the perfume sample), or if the company had used some kind of scented paper?  But it was lush!
Inside the box was:
A vanilla shortbread shaped as a teapot from Blueberry Hill Cakes.  Tasty treat…!  And I LOVE this company, they deliver afternoon tea to your door.  The best bit: they do gift vouchers!  So you can treat a special friend or family member to a unique present on their birthday.  What a fab idea!!  (There's also an offer code, so that helps too!) The only drawback is that I *think* this company only deliver their afternoon teas in London 🙁  I will need to double check on that!  Either way, check out their website because it's actually amazing.
Buddy Fruits pure fruity sweets.  OK I'll admit.  These didn't last long!  I'm a bit of a fussy eater and these played right into my love of eating as natural as possible.  There's nothing nasty in the ingredients list.  They tasted great too.A £50 voucher to be redeemed in NuYu London Aesthetics Clinic, for any treatment.  They do all kinds of fabulous things like Derma Rolling and chemical peels.  This voucher totally offsets the cost of the box if you're planning on getting a treatment done anyway!  Only can be redeemed in London.
A TeaPigs sample.  I can't wait to try the "biodegradable temple" teabag, I've been longing to try TeaPigs for a while as I've heard so much good press about them.  I'm a tea addict so I'm surprised the sample has lasted this long!  I will have to go and pop the kettle on and remedy that now…
Illuminum Floral Collection.   Four amazing smelling perfume samples in a cute little presentation box:   Ginger Pear, White Gardenia Petals, Skin Petals, White Datura. They smell so fab.  And I'm not even just saying that – I am actually very picky too!  I don't really know the right terms to describe perfumes with, but I think the Ginger Pear is my favourite.  It seems a bit more delicate, or lighter than the others?  If I was being honest, The White Gardenia Petals smells a touch too musky for me.  I am fickle though, ask me my favourite again next week and I'll probably have changed my mind!
A full sized pot of Dermasalve Body Cream for dry and sensitive skin.  It's purported as the first ever moisturising cream with "no known irritants" in the mixture.   It's lovely on and I'll certainly be buying this again!  I really like it.  I've been slathering it on each morning since my box arrived.
£20 voucher redeemable in the Box Delux online shop.  So you get £20 off the full sized bottles of Illuminum perfumes, NuYu treatments, BuddyFruits packs and TeaPigs packs.
Pricing, Discount & Competition:  
There are several subscription levels, starting with a one off box for £35.  KateMiddletonStyle.org readers get 10% off of their first BoxDelux order with the code KMB10 – so you can make a significant saving if you'd like to order!
Box Delux are also pleased to offer KMSB readers another unique opportunity:  Everyone ordering with the discount code above will automatically be entered to win a bottle of Illuminum's White Gardenia Petals too – the fragrance that Kate wore on her wedding day!
Box Delux is UK only at the moment, but don't worry if you're from the USA or Europe – I'll keep you updated when they launch their service further afield!
New Baby Cambridge Fundraiser Contest:
The next activity in our Baby Cambridge Fundraiser started earlier this week, you can enter the contest on Charlotte's blog: HRH Duchess Kate.
There are two wonderful prizes to be won.  The First Prize winner will receive a Vix Cayman Bikini in a Small, a Pipa Kaftan in a Small, and a pair of the brand's gold Flip Flops in European size 39/US size 8. (The retail value for this prize is £327, roughly $500 at today's exchange rate.)  The Second Prize winner will receive a Vix Cayman Bikini in a Small and a pair of the Flip Flops in a 39/8.
Charlotte's post also has some interesting insight from Biondi Couture, a Chelsea boutique, on swimwear fit too.
This contest is open worldwide.  Do feel free to enter even if you entered the WKW contest last week.  We only have one request: if you haven't already donated to the Baby Cambridge Fundraiser, please think about sparing a pound, a dollar or a euro – whatever you can spare.  In total, it will all make an enormous difference for EACH.  Donate here!
Fashion Tidbits:
Libelula's Rebecca dress is currently on sale on the Zalando website for £130. Very reasonable considering it originally retailed for £335.  It's a similar colour to Kates, but is not printed. (See Kate in the dress below, right.)
The Great Plains Cezanne dress (worn by Kate back in March) is back in stock on the company's website in Winter Pink and Destiny Blue.  It's on sale in a range of sizes for £48.  However, for those of you in the UK, daily discount site Brand Alley have the dress in a range of sizes too, slightly cheaper at only £27.50.  Once you've signed up, just type in "Great Plains Dress" and you'll see it down the page.  PS. I've personally ordered a number of things from Brand Alley now (a French Connection blazer, a Joules jacket and my Cezanne dress) and I've never had any trouble with the site – just in case you've never heard of it before!
Darling Clothing have put together a graphic featuring  some great "RepliKates".  Click here to view.
Interesting Media Links:
Naomi House released this lovely video of Kate from her visit earlier this month:
httpv://youtu.be/BFvJr41uWRk
Here's a picture of Kate on the cover of "Progress" magazine.  I'd not seen the picture before.  It's from her Royal Marsdon visit in 2011.
Kate is apparently relaxing at home in Anglesey.
Royal Wedding composer has apparently written a lullaby for Baby Cambridge.
A source has told a newspaper that Kate has chosen a new housekeeper to help her in the future.  Not any old housekeepers – one of the Queen's apparently!