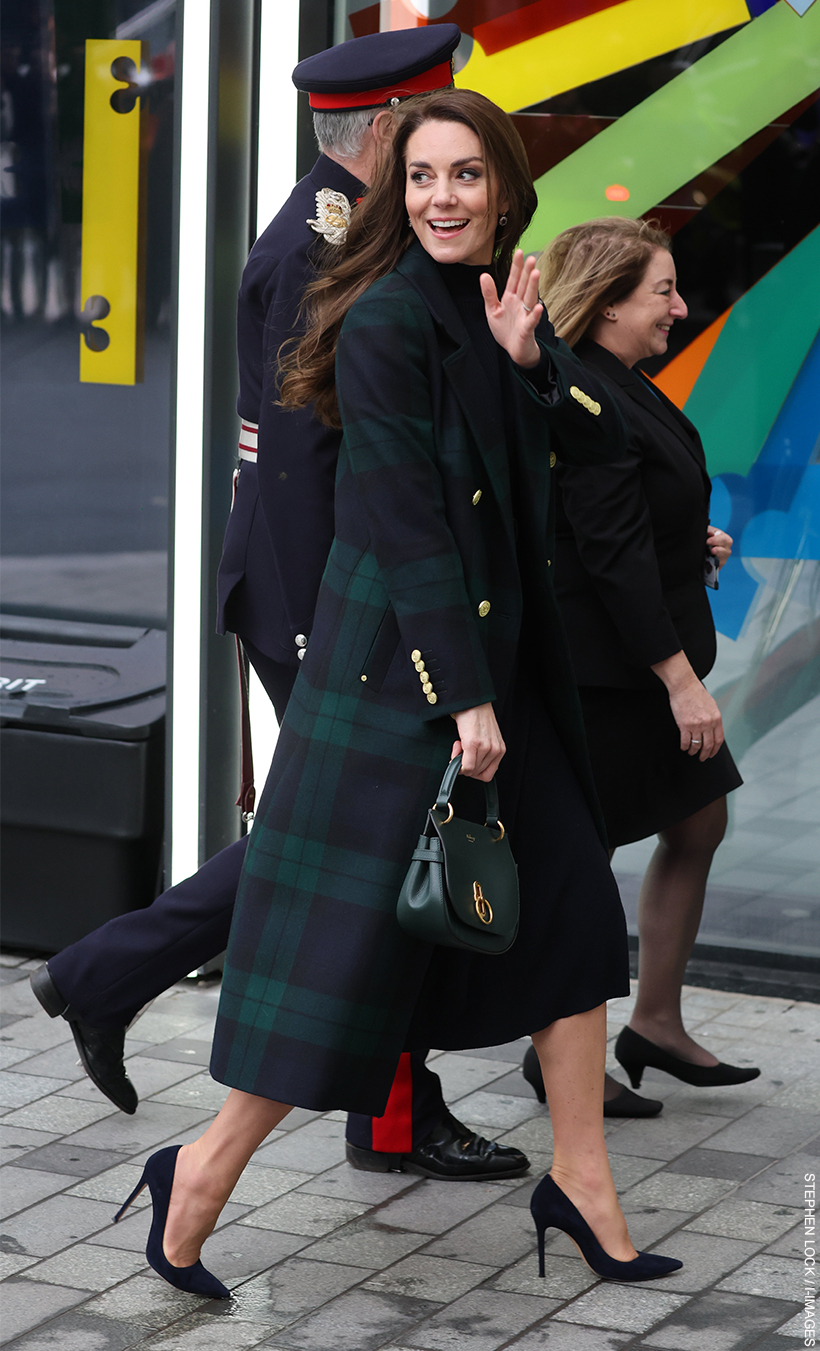 Kate Middleton kicked off a new year of engagements in style on Thursday (12th January 2023). The Princess of Wales returned to work after the Christmas break wearing a host of British brands as she visited a hospital and a mental health organisation in Merseyside.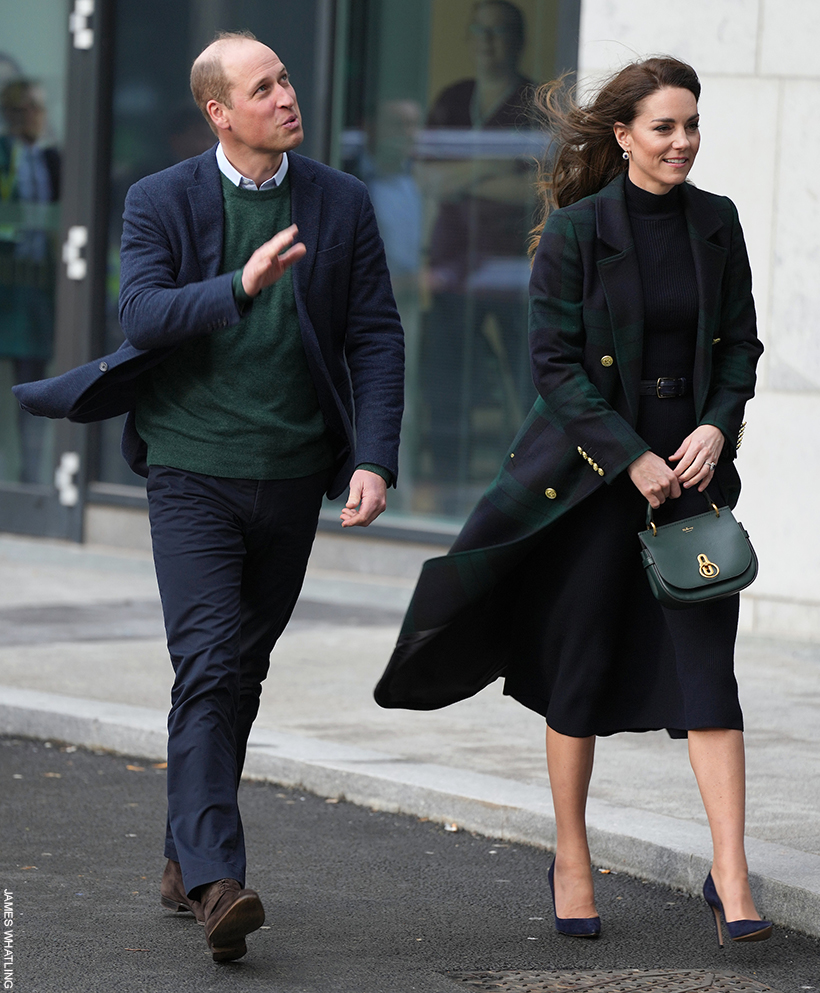 She dressed in a chic tartan coat by Holland Cooper, a blue knit dress by Cefinn and a green handbag from Mulberry as she thanked healthcare workers and charity staff who have spent the notoriously difficult winter months helping those in need.
The first of the day's visits took place at the Royal Liverpool University Hospital, a new state-of-the-art facility that opened its doors in October 2022.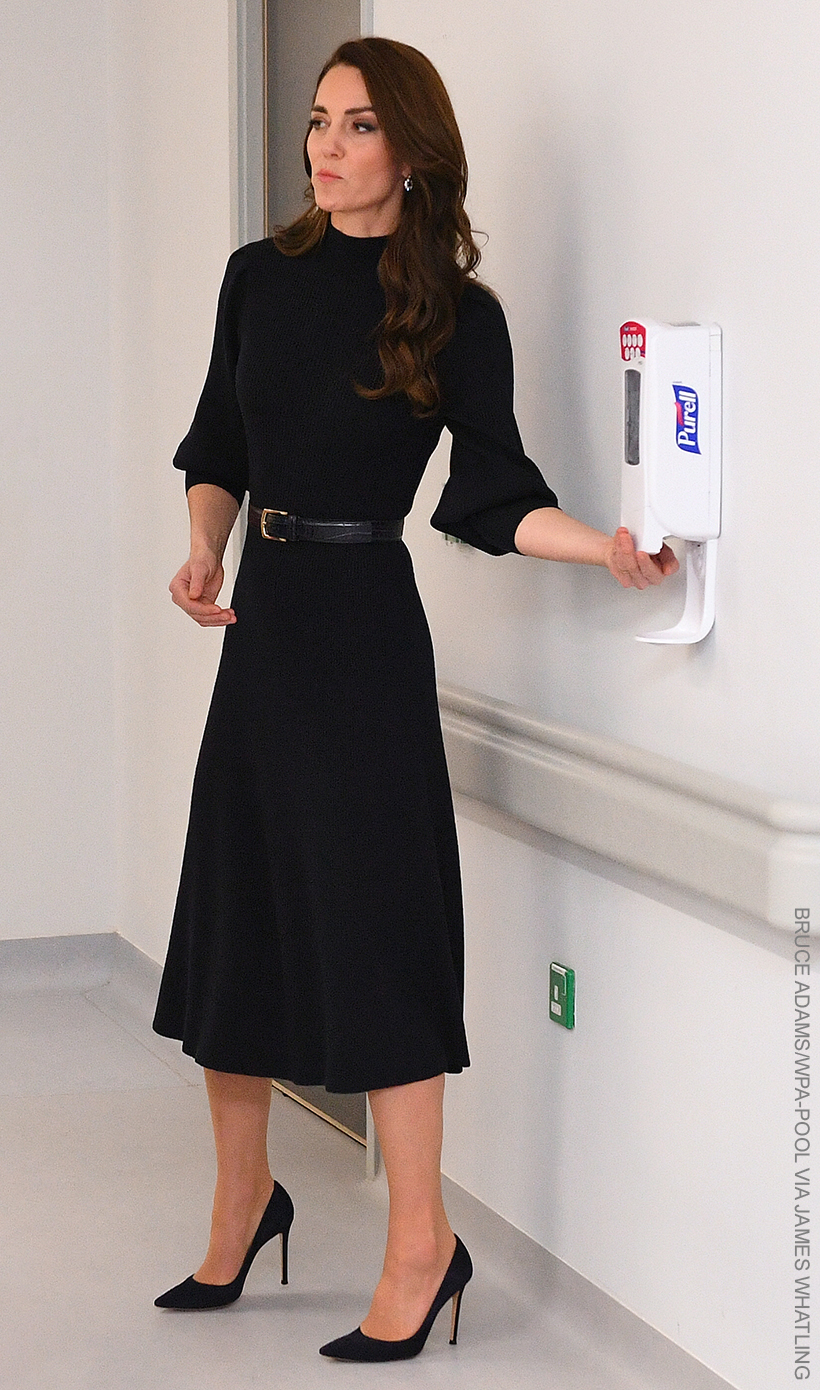 Kate joined her husband William for a tour of the hospital, they also spoke with healthcare workers and support staff, met patients, petted a therapy dog and posed for one or two selfies.
During the visit, the pair spoke with staff and asked plenty of questions—if the new layout helped with patient care and logistics, are the staff finding time to look after themselves, etc. William also met some of the critical care team he spoke with on Zoom during lockdown in early 2020.
Next, William and Kate travelled to the Open Door Charity's Bloom Building in Birkenhead, Wirral. Open Door is a mental healthy charity run for and by young adults that provides members with free, immediate access to an innovative range of creative therapeutic support options if they are feeling down, depressed, anxious or having panic attacks.
One programme combines elements of cognitive behavioural therapy and mindfulness to help 17-35 year olds to navigate life's ups and downs. The charity also provides activities and outings for care experienced young people, plus VR mindfulness meditation and sessions to support and guide people with building resilience.
During their visit, William and Kate met volunteers, mentors and staff and heard about the support the charity offers to young people across their various programmes.
Let's take a look at Kate's outfit in more detail now.
Kate Middleton's Outfit in Merseyside
Kate looked polished and poised—as per usual—in her blue and green ensemble. The Blackwatch tartan coat is from Holland Cooper.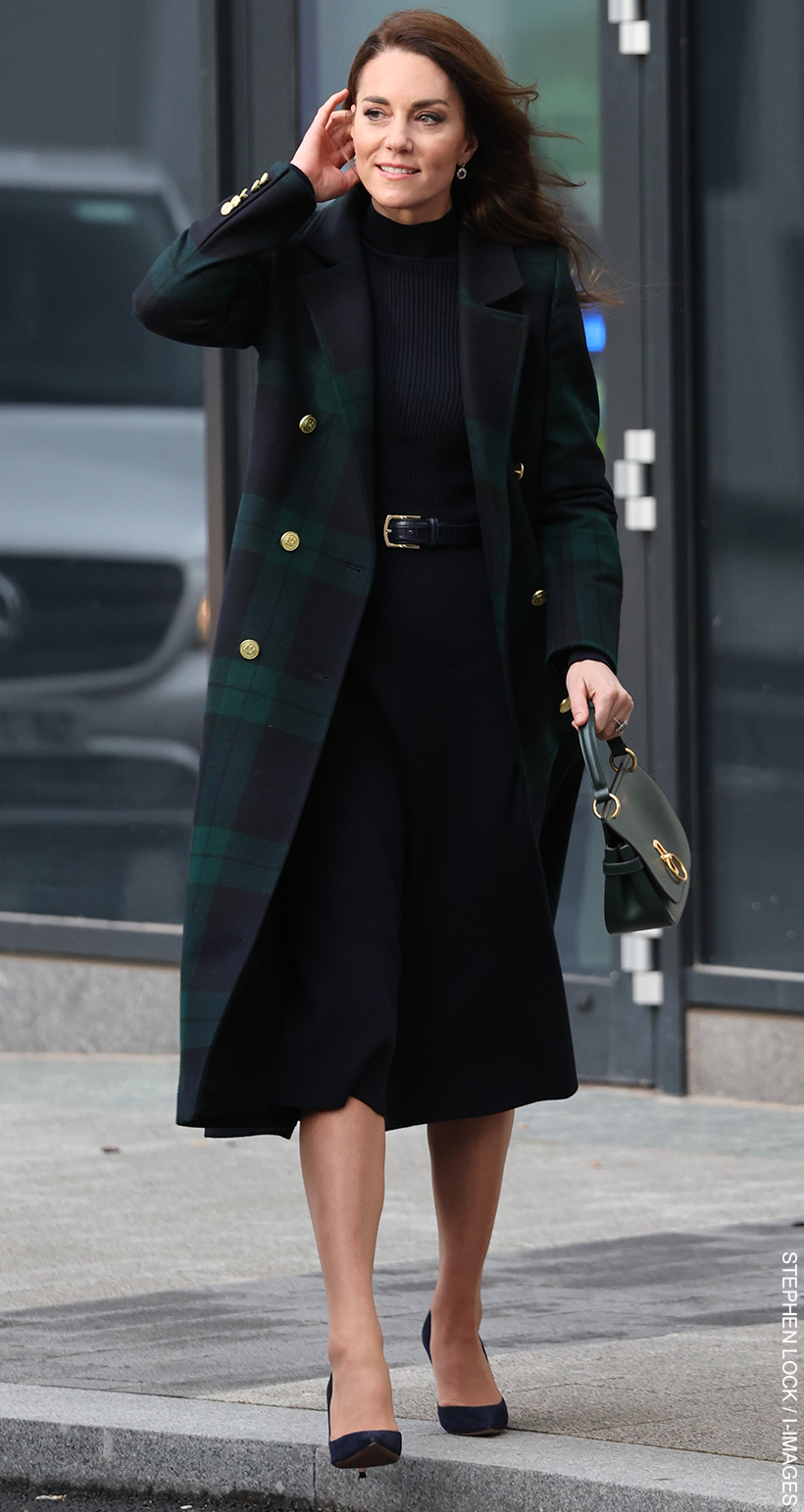 The double-breasted longline coat is cut with a slightly relaxed silhouette. It features oversized pockets, metallic buttons and is lined with satin. It's made from a mix of UK woven wools, and has been hand cut and made in England.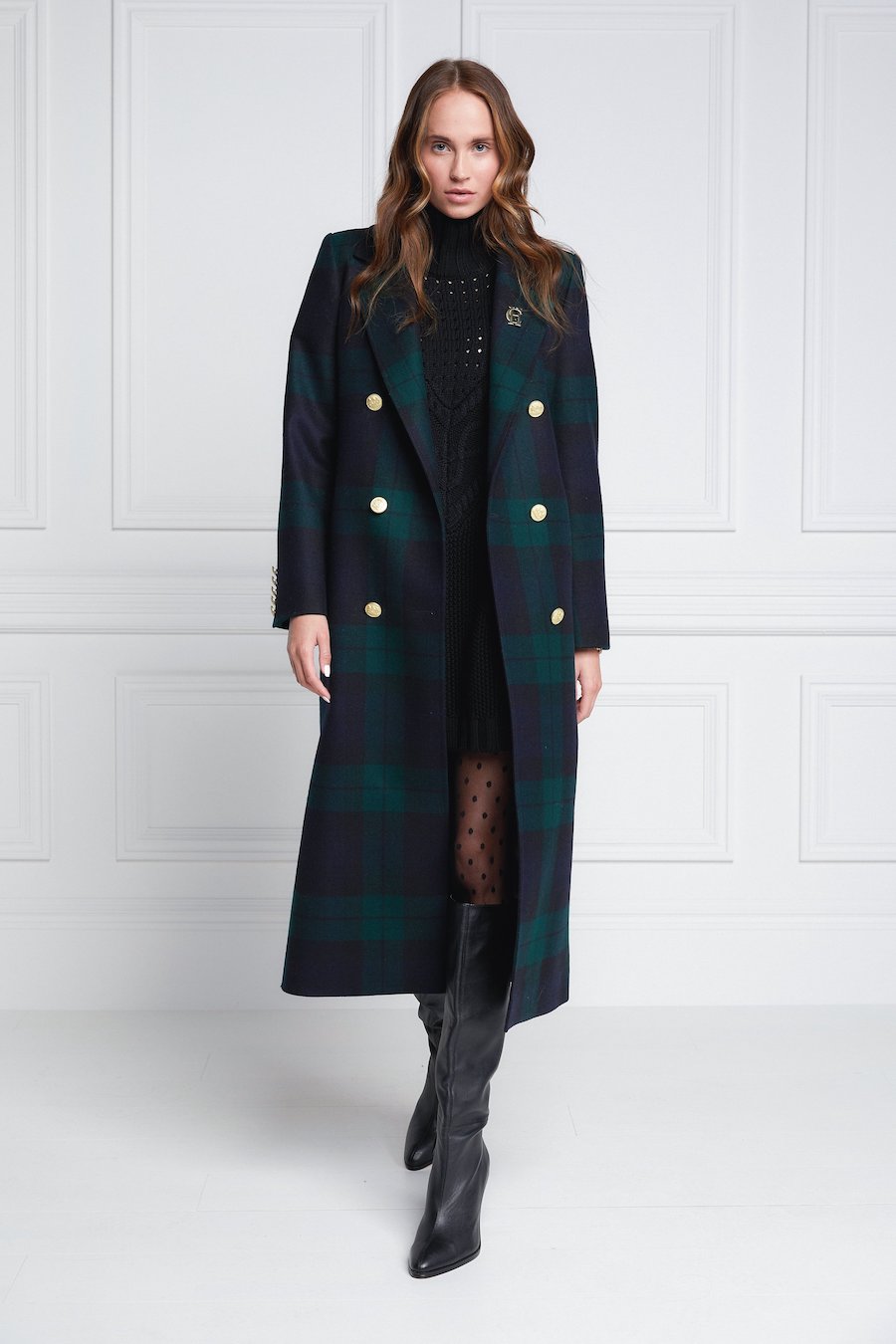 This is the third time we've seen the Princess wear the coat. She debuted it for a meeting with The Scouts and The Royal British Legion in November 2021, and wore more recently to at Westminster Abbey in December 2022 (pictured below).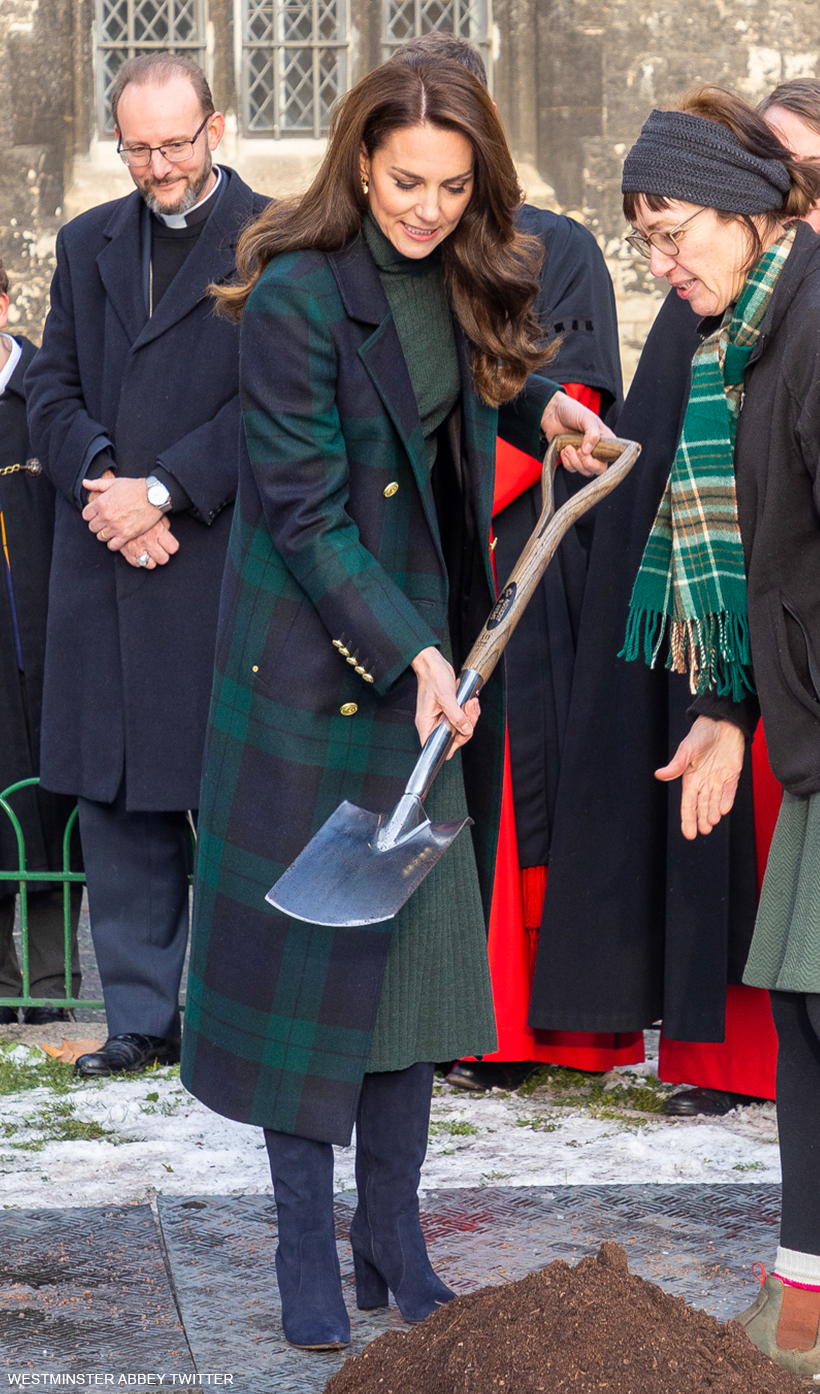 The gorgeous garment is still available to buy on the brand's website. It retails for £749. Allow up to 21 days for delivery.
Kate's started wearing Holland Cooper clothing quite frequently in recent years, we know she has at least six or seven of their items in her wardrobe.
Fashion designer Jade Holland Cooper founded the brand in 2008. It's known for its high-quality, classic pieces with a strong focus on traditional British style, plus for its use of luxurious materials like cashmere, wool, and leather.
Under the coat, she wore a dark blue ribbed knit dress from Cefinn, the London-based label launched by Samantha Cameron, the wife of former British Prime Minister, David Cameron. (Identified by Bojana.)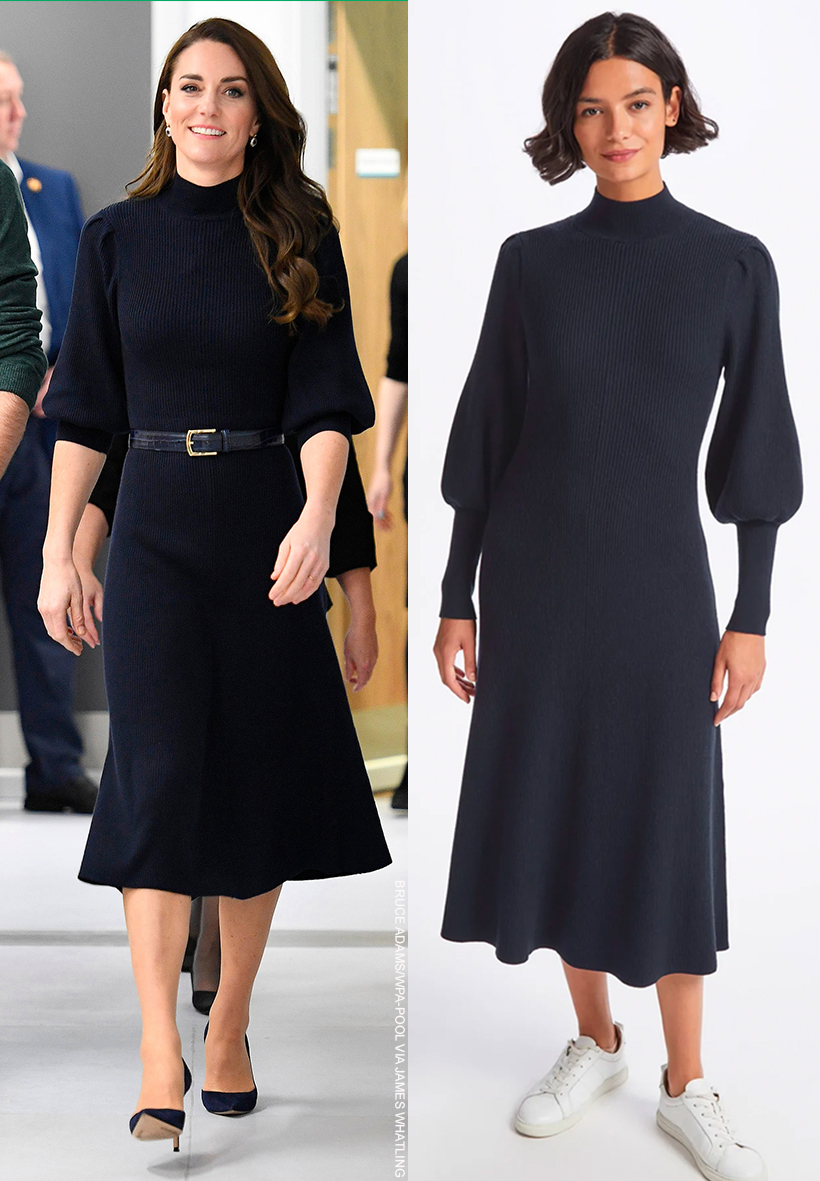 It's the Eva dress, which features a funnel neck, blouson sleeves and a pleated shoulder detail. The garment is crafted from a merino-wool blend fabric. Cefinn call a "hero shape" and say it'll be your "one-stop daywear staple."
It looks like Kate pushed the cuff of her sleeves up to her elbow.
We're pretty certain the Princess owns the dress in black too. It looks like she wore it following the news of Queen Elizabeth's passing back in September.
Kate isn't new to Cefinn. She wore one of the brand's blouses in Scotland last year, pictured below: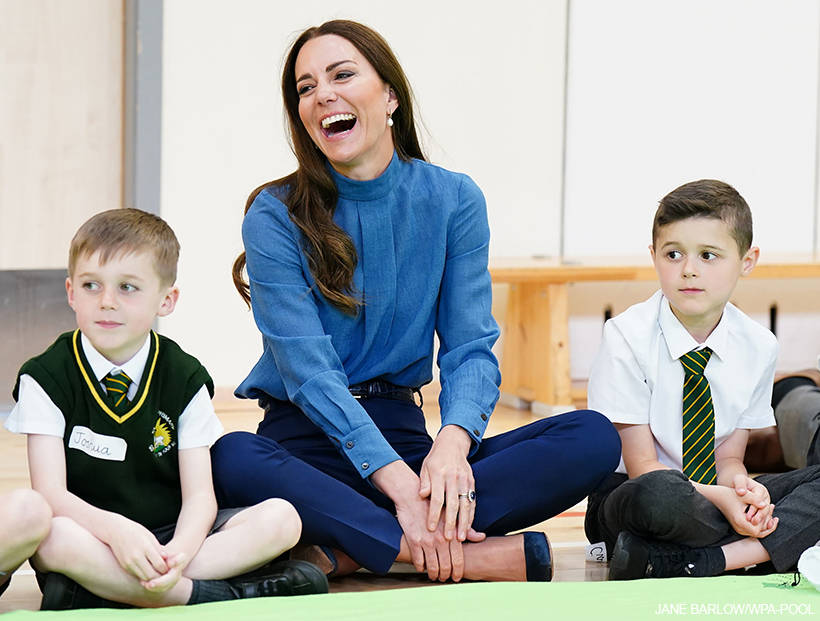 In Merseyside, Kate carried a custom version of the Mulberry Amberley satchel in green leather. The British brand have created her a custom design with a top handle—they sell the bag with a crossbody strap in their main collection.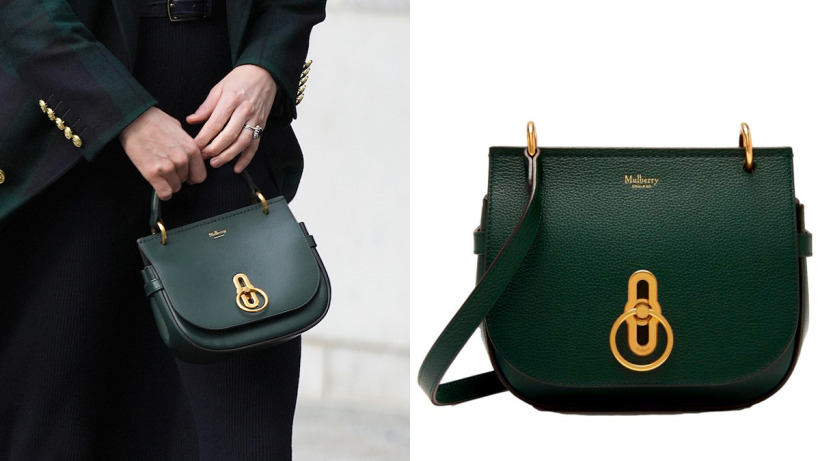 The bag is inspired by British countryside pursuits, featuring a design that is perfect for wearing on the shoulder or across the body. Its shape and hardware are borrowed from equestrian styling, lending a sophisticated touch to the overall look. The bag also boasts a geometrical Rider's Lock closure, a reinterpretation of Mulberry's iconic Postman's Lock, giving it a bold and modern signature for this new collection.
The bag can be purchased (with the crossbody strap, not the top handle) at Mulberry.com.
We've only spotted the Duchess carry the bag on one other occasion to date, during a visit to Boston in last November.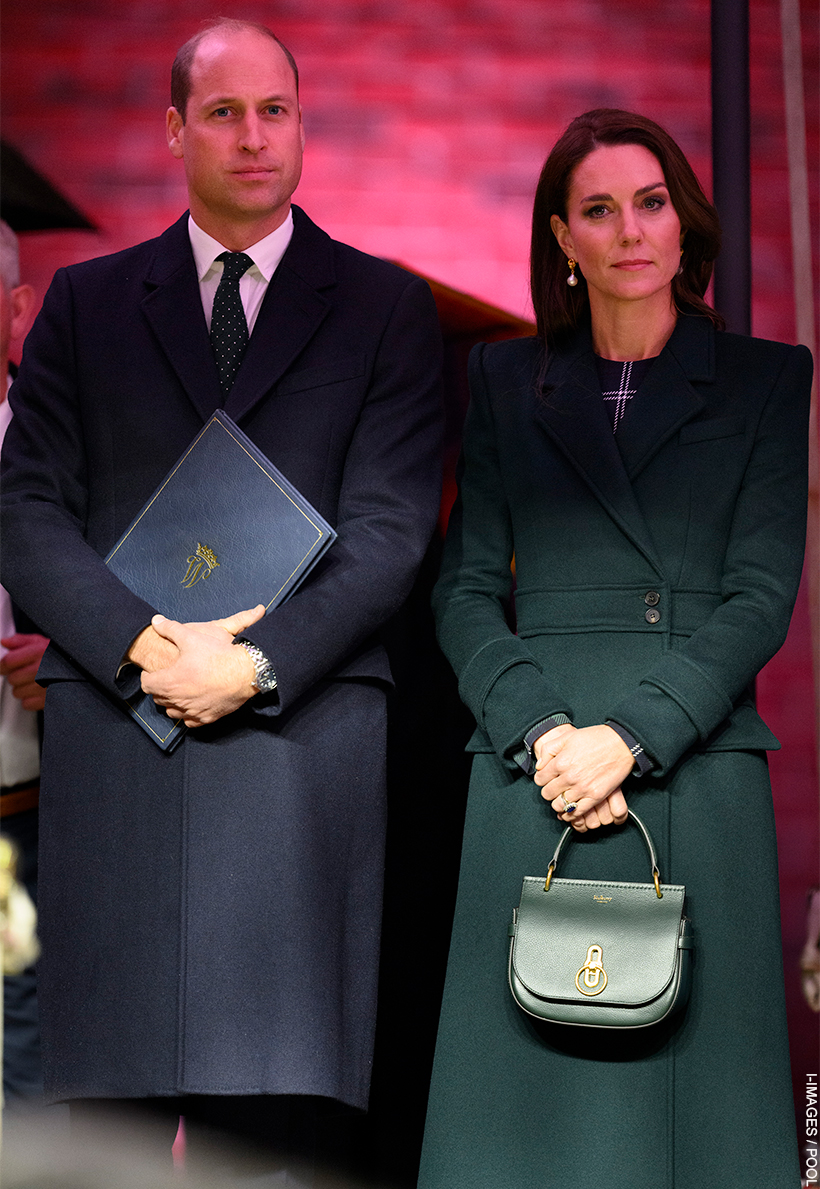 Kate clearly has a love for Mulberry's high-quality and stylish accessories. She has amassed quite the collection, carrying 11 of their designs in public since marrying William. The Princess's preference for the brand is not just limited to her engagements and events, she has also been spotted carrying them during casual outings too. Plus, we've spotted in a couple of the company's coats and dresses too!
Mulberry is a luxury British brand known for its traditional craftsmanship and modern designs, synonymous with luxury and style.
Let's take a look at Kate's earrings now. She wore her sapphire and diamond drops. They're one of her most publicly worn styles.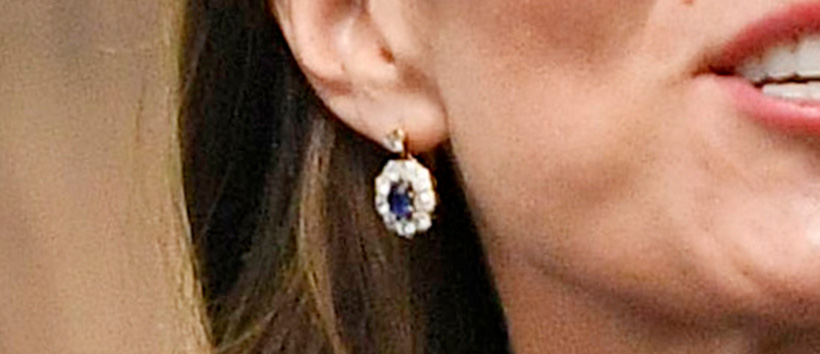 She's owned them since at least 2011. Perhaps they were an engagement gift, to coordinate with her ring? They've never been identified or attributed to any particular jeweller.
(We mistakenly thought they were refashioned from a pair of earrings worn by Diana for a number of years. But this was later proven not to be the case). Shown below on three other occasions:

Kate's shoes are from Gianvito Rossi. They're the 105 pumps in navy suede.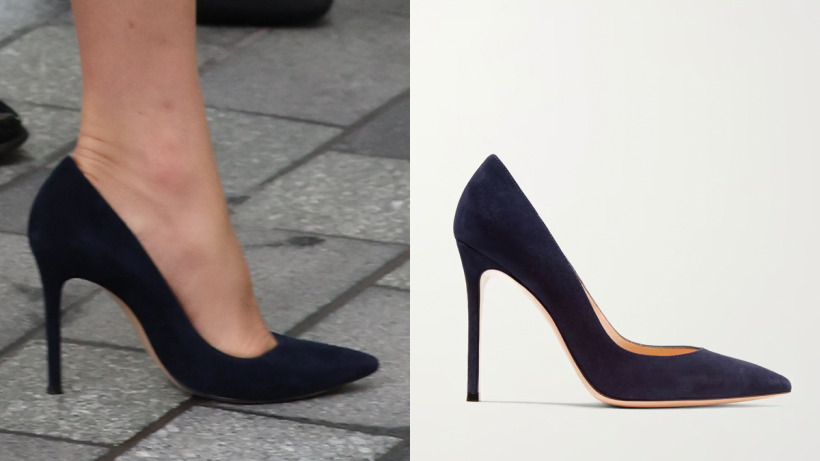 The fine suede shoes feature a pointed toe and a 105mm stiletto heel. Gianvito Rossi calls this style his "iconic signature pump" and believes the shoe's shape makes it "timeless".
If you'd like to buy the blue heels, you'll find most sizes in stock at MyTheresa.com.
This is the sixth time we've spotted the Princess wearing the 105 pump in this particular shade. She does own the style in seven other colours that she's worn on repeat since 2016.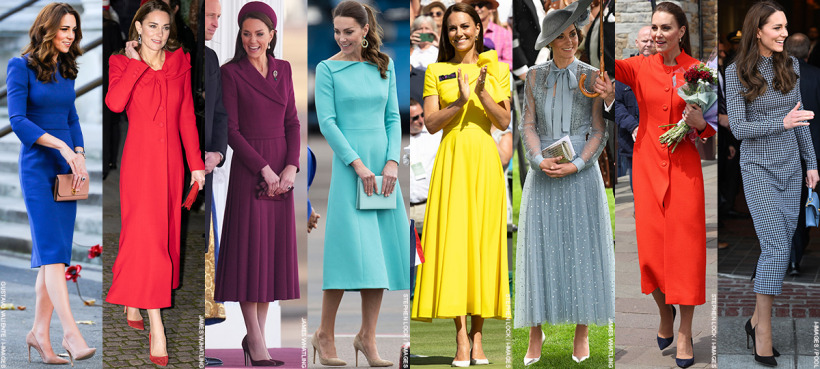 Pictured above: Kate wearing the 105 pumps in praline suede, red suede, burgundy suede, bisque suede, white leather, metallic silver patent leather, midnight blue suede and black suede.
I'd go so far as to say Gianvito Rossi is one of Kate's favourite footwear designers. We know she has at least 18 of his designs in her collection: 14 pairs of heels, two pairs of sandals and two pairs of boots.
Let's finish by taking a brief look at Kate's blue belt. It features a croc print and gold buckle.

The Princess has worn it to more than 20 public events. We have no information about the item, sadly!