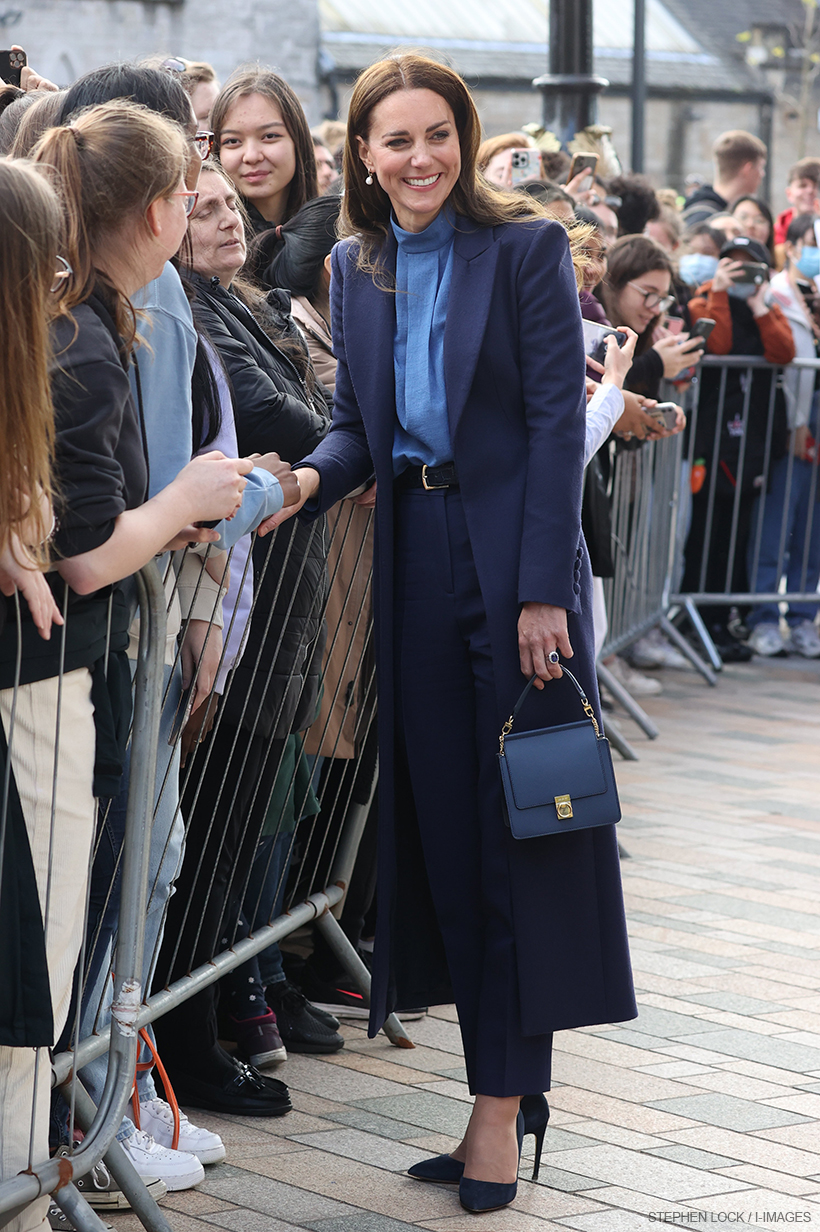 11th May 2022—Kate Middleton used her blue outfit to honour her host country, Scotland. The Duchess, who was in Glasgow for a series of engagements concerning early childhood, homelessness and mental health, wore a blue blouse tucked into trousers in a similar shade. She layered the look with a navy overcoat—as usual, full outfit details below.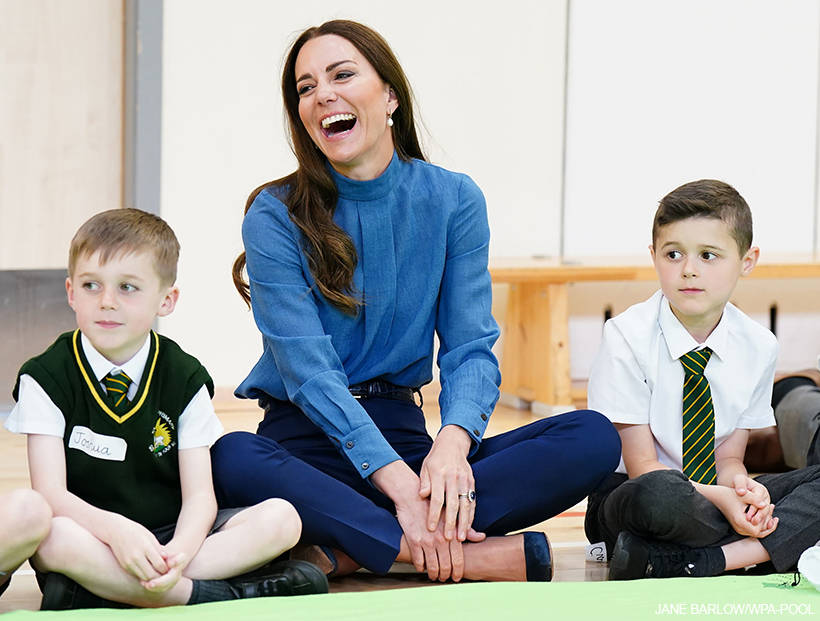 William and Kate started the day at St John's Primary School in Port Glasgow. Here, they sat in on a Roots of Empathy Session run by Action for Children. This interesting and unique programme has been developed to help children aged 5-13 build empathy, a skill vital for forming connections and navigating relationships. It will also help the leaders of tomorrow identify and solve society's problems.
"We believe if children have empathy, they can change the world"

Roots of Empathy
Roots of Empathy coach children to recognise and connect with babies who visit their classroom throughout the school year with their parent(s). The charity says the programme links with the curriculum and "educates the mind and the heart". The initiative began in Canada but runs worldwide now.
William and Kate enjoyed the session before speaking to older students and hearing their reflections on the programme.
As the visit drew to a close, William joked "can you get my wife out of here before she gets broody?"
The Roots of Empathy programme aligns with Kate's long-term work in the area of early childhood.
Next, the couple travelled to Kennishead for a series of engagements with the Wheatley Group, Scotland's leading housing, care and property-management group.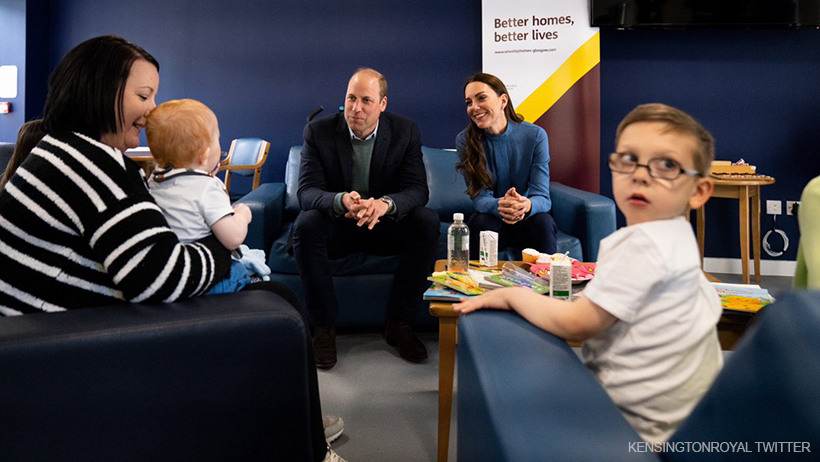 The Wheatley Group owns and manages over 93,700 homes and delivers award-winning services to more than 210,000 people across Scotland. Wheatley is one of the biggest developers of social rented homes in the UK.
William and Kate visited Wheatley Group sites and new-build houses to see first-hand how they are transforming the lives of disadvantage and vulnerable people, including those at risk of homelessness—a topic that has long been an important focus for William.
Later in the day, William and Kate visited the University of Glasgow. Here, the couple spoke with students, academics and recent alumni about the topics of mental health and wellbeing.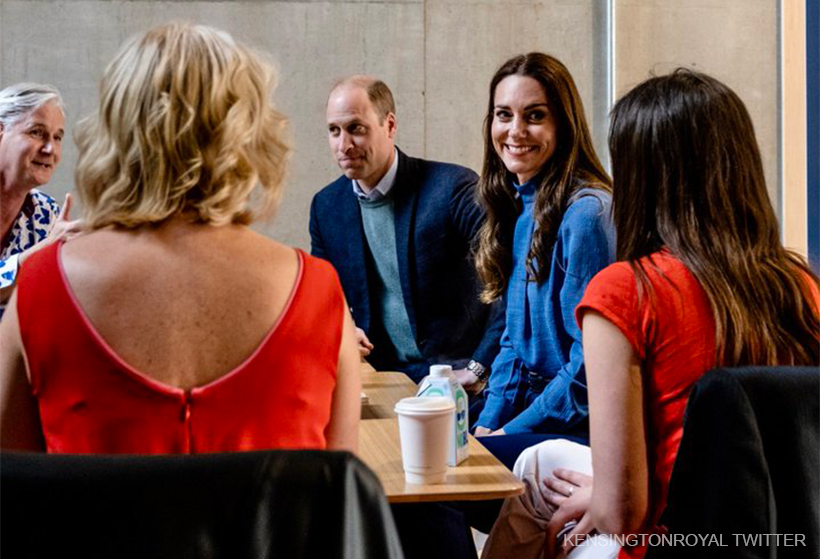 They learned more about the research currently being undertaken in the university's School of Psychology and Neuroscience and heard about peer support initiatives and student-led projects designed to support student mental health at the university.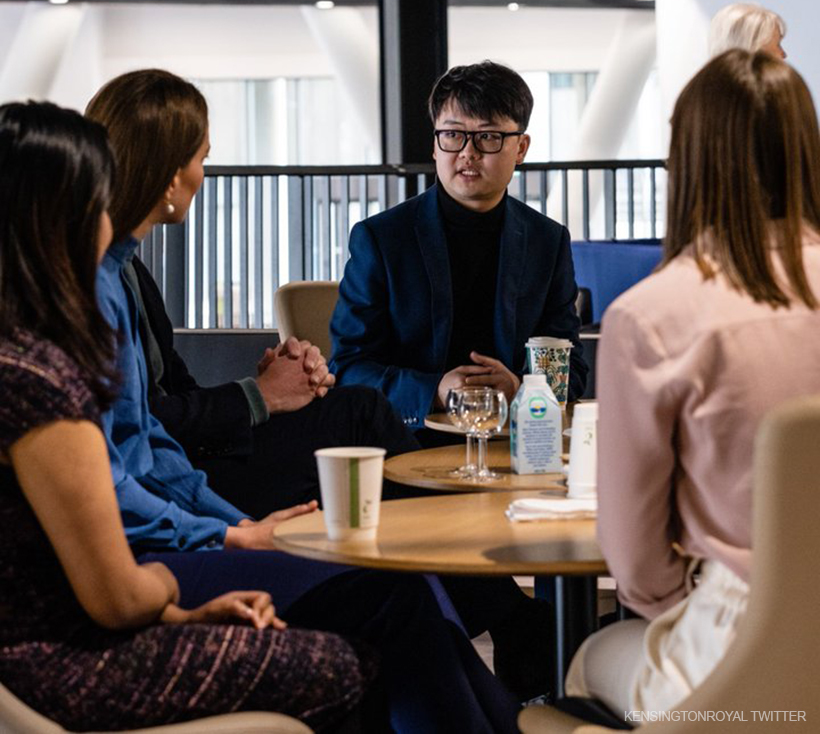 Before heading home, William and Kate conducted a walkabout and met with both students and members of the public.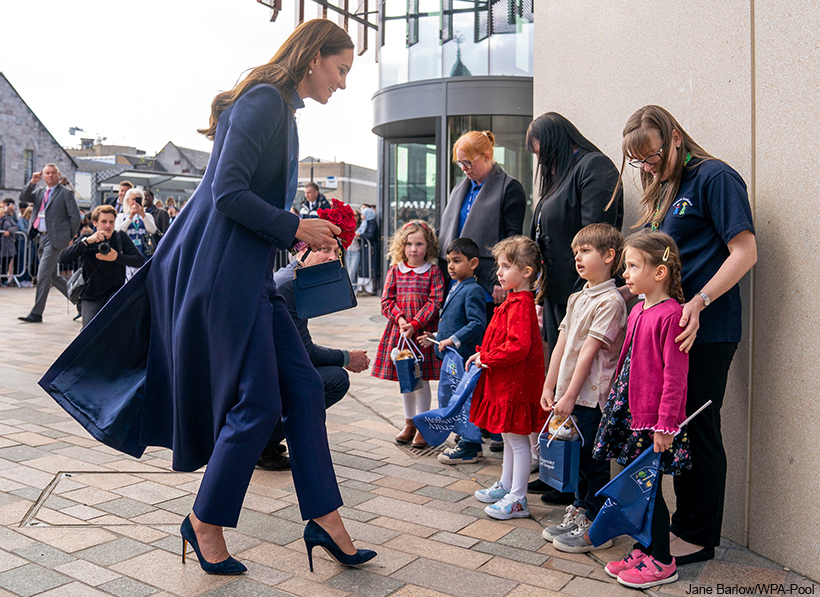 Kate's outfit:
Coat – Catherine Walker. Kate's worn it twice (in public) before. Contact Catherine Walker to enquire.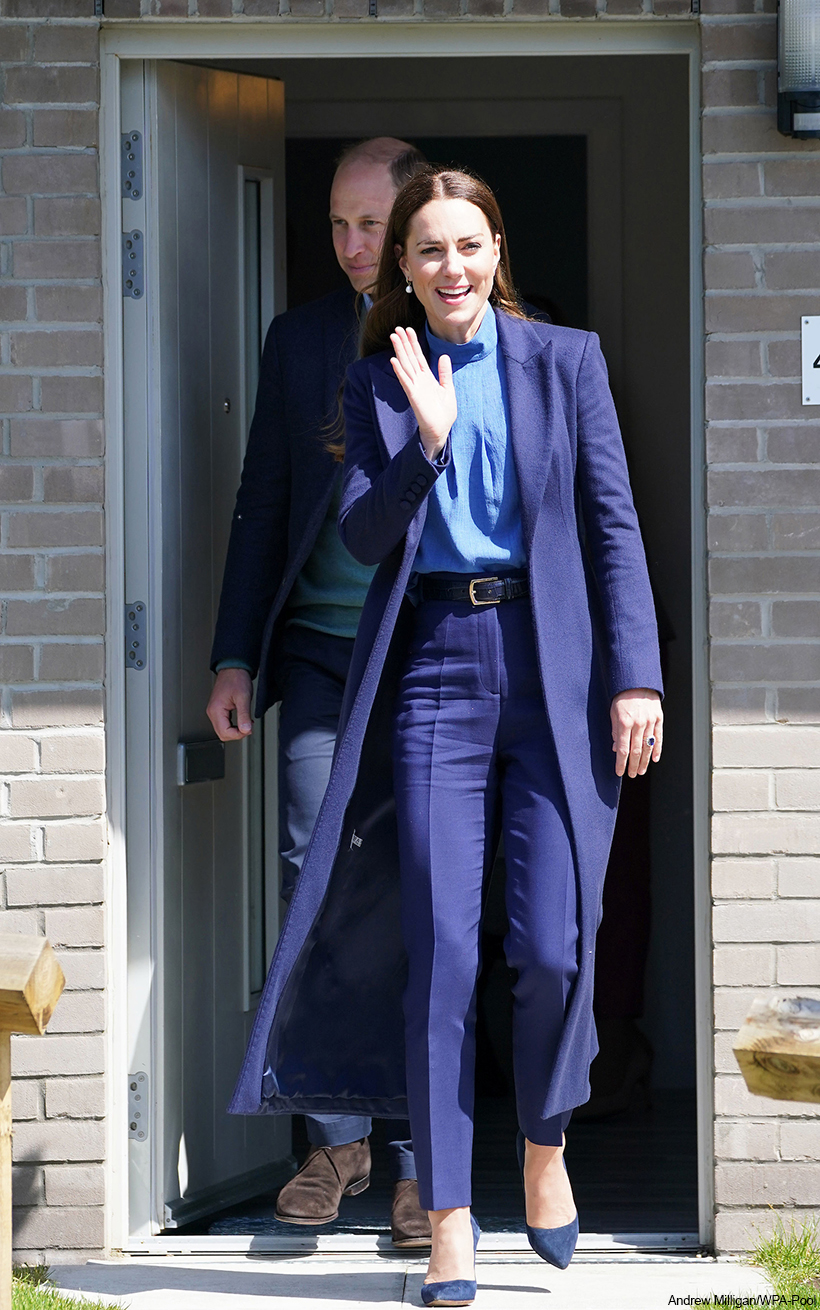 Blouse – Cefinn Riley Blouse in Cornflower Blue. First time we've seen the Duchess wear this blouse, it's the perfect colour to honour Scotland as it is close to the shade of blue used in the country's flag! It is still available to purchase and comes in a total of 8 different colours.
Trousers – slim-leg "cigarette" style trousers in blue. No ID at present.
Belt – Unknown. Kate's worn it on 18 public occasions to date (thanks to Data Duchess for sharing this) but unfortunately, we don't know where it's from.
Bag – Polène Paris Numéro Sept Mini Bleu Graine. Blue leather with gold hardware. Still available.
Heels – Rupert Sanderson Malory in Navy Suede. Kate's worn the blue heels many times. Available to buy on the designer's website.
Earrings – Annoushka Baroque Pearl Drop Earrings. Still available to buy, click here. Kate wears them on a pair of Kiki McDonough hoops.