No, I'm not talking about a daily workout involving excruciating exercises, expensive skin treatments and lavish moisturisers.  I'm talking tights, hosiery, hose… whatever you like to call it!
Love it or hate it, thanks to Kate and Pippa hosiery is now a hot topic in fashion.  Both girls are known for their love of sheer tights, which has led to debates across the world – some people are totally against hosiery, believing it's old fashioned and ages the wearer, while others (me included!) love it and are pleased the Middleton sisters have brought them back into the forefront of fashion!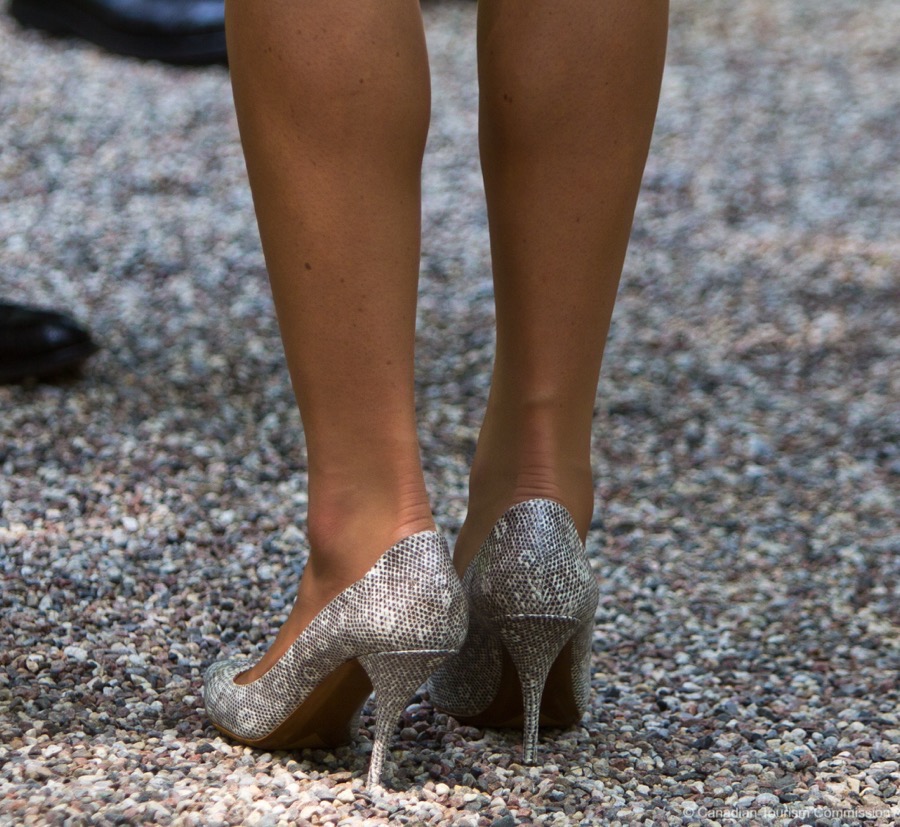 Images: Kate during her tour of Canada, where she regularly wore tights under her dresses.
The brand of tights Kate wears: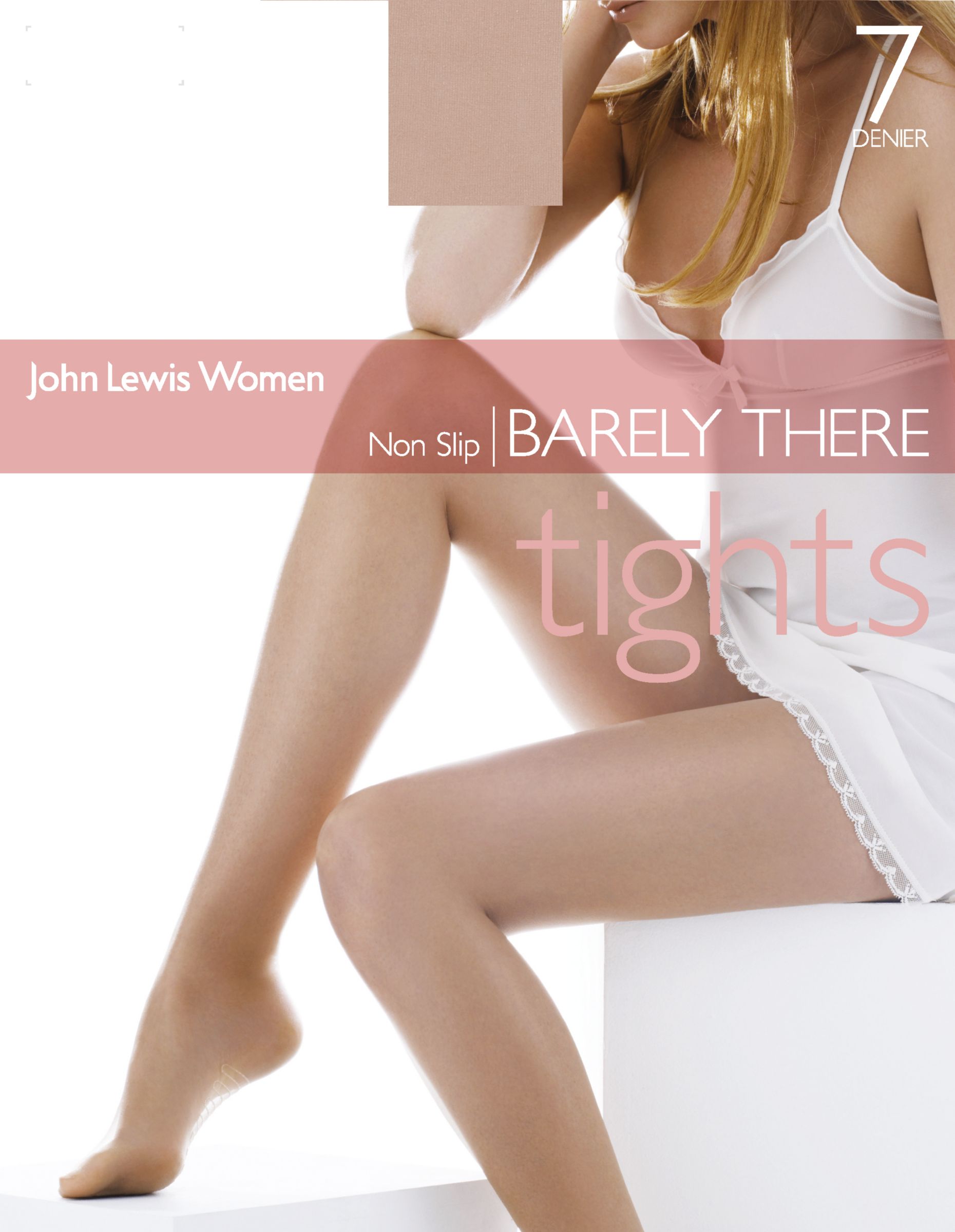 It's well documented that Kate wears John Lewis 'Barely There 'non-slip tights (we've seen the gell cushion on a picture of Kate's feet and they look identical to the John Lewis tights – click here to see the image for yourself) which cost £5 a pair (not cheap for tights, but certainly won't break the bank either.)
I purchased a pair of these a few weeks ago for a special occasion and they're so thin that they snagged the first time I pulled them on.   Luckily for me, they were still wearable for that one day.  If I choose to get them again, I will buy them one size up (I think I must have been in denial about how short/fat I am!) and be much more careful.
The tone of the tights, coupled with my nude shoes and pencil dress, made me felt every inch the princess!  Especially because I have long, dark curly hair.  I totally channelled my inner Kate!  If you want to buy these, be REALLY careful putting them on and don't be afraid to get a size up!  Click here to view these tights in more detail.
Debenhams launch their own range:
As you'll notice in most newspapers today, Debenhams have also jumped on the tights bandwagon.  However, the have noticed a gap in the market: Take  John Lewis' Barely There tights as an example, they only come in three colours (nude, tan and nearly black) so they won't suit all skin tones.   None of the colours are designed to work specifically with olive, Indian, mixed race or black skin.   Because of this, Debenhams have now released their own range of leg-wear in an array of colours, including, olive, bronze, coffee, beige and honey.  The tights have a barely there look and are designed to be invisible when worn, no matter what colour your skin is.  They retail at £3.50 per pair.  Click here to see some of them on Debenhams.com.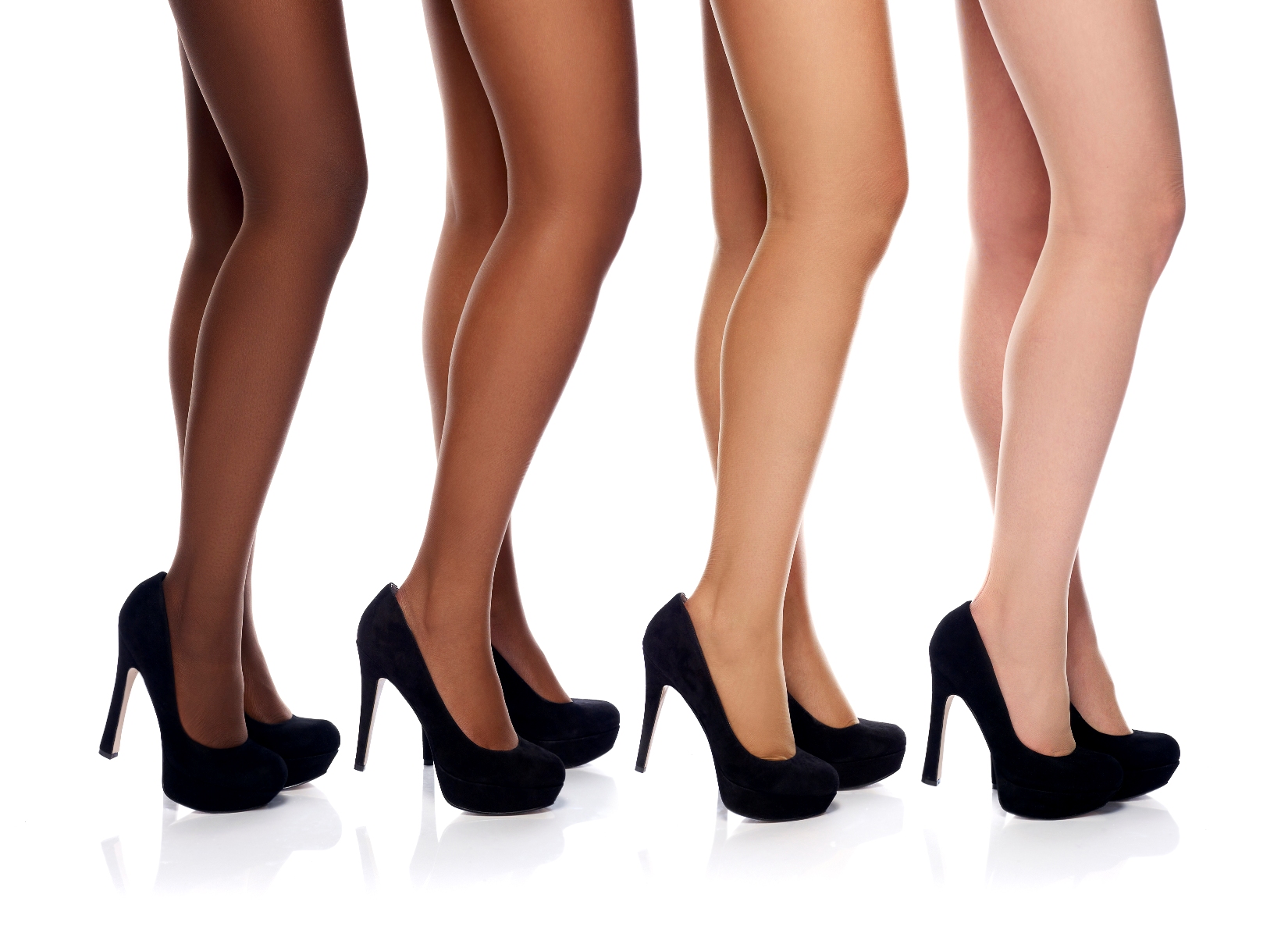 Image: Ladies wearing Debenhams' tights natural to their skin tone.
This is great news for Kate fans who wanted to try the John Lewis hosiery but do not have a light skin tone like Kate.
I love tights (seriously, I don't wear a dress without them) so I'm probably going to give these new ones a try at some point in the future – let me know if you get some first!
Has Kate convinced you to turn to hosiery? Have you tried the John Lewis tights too?  Let us know in the comments!