Yesterday, on her second wedding anniversary, Kate visited Naomi House, a hospice for children and young adults located in Hampshire. Her visit was timed to coincide with Children's Hospice Week. We also learned that Kate privately visited the hospice back in 2008.
During her visit to Naomi House, Kate met with 850 volunteers and enjoyed a tea party with some of the families at the hospice. She also listened to a song called "Free", composed and performed by Ollie Wade, whose brother spent time at Naomi House before he died, aged just 19 years old. Ollie first performed the song at his brother's funeral in tribute. The song is available to download from iTunes and costs just 79p, with all profits going to the hospice.
You can read some of the lovely stories on The Mirror's live blog, including Kate being invited into the hydrotherapy pool by the children, how she was presented with a handmade "cotton" themed anniversary gift and that she's been invited to learn how to make cakes by a 84-year-old volunteer at the hospice.
Kate's Outfit:
Kate wore peachy coral tones for the visit, which suited her complexion and made her look even more radiant!
Kate's coat was by a designer I've not heard of before, Tara Jarmon. It cost £380 and was available for purchase at Harvey Nichols.
Shop Tara Jarmon:
Under the coat, Kate wore a bespoke dress from her "independent dressmaker" in a light peach colour.
She paired the outfit with her L.K. Bennett Sledge shoes and L.K. Bennett Avona clutch bag. Below we show the Sledge & Avona in four different matching colourways (click the arrow across to see more, click the image to be taken to the shop.)
The Couple's Wedding Anniversary:
Although it was exactly two years since Will and Kate married in Westminster Abbey, we learned that the couple didn't have a romantic anniversary dinner planned to mark the special day.
Kate revealed that William was "on shift" with the RAF, as a search and rescue helicopter pilot back in wales, around 300 miles away.
However, at the weekend, there were mutterings on Twitter about William and Kate being sighted after having dinner together at a restaurant.
About Children's Hospice Week & How You Can Help:
Children's Hospice Week runs from Friday April 20th – Friday May 3rd. It is run by Together for Short Lives, a UK palliative care charity. Kate has recently made a video to give support to the cause:
If you would like to help a hospice this week, we invite you to donate to Kate's charity EACH. In case you missed our announcement, we're running a big initiative at the moment, called "The Baby Cambridge Fundraiser." To celebrate the forthcoming royal bundle of joy, we're asking people to donate a small amount to EACH. Here's how:
Click the button below to be taken to Just Giving, where you can donate in many different currencies: British pounds, US dollars, euros, Hong Kong dollars, Singapore dollars, Canadian dollars, United Arab Emirates dirham and Australian dollars. Just Giving is very secure – it's a popular site used worldwide and I've personally used it to raise money and donated funds through it on many, many occasions. You can donate via credit or debit card, or just PayPal to donate. Even £1, $1 or €1 would be appreciated!
UK residents can also text: RBCF61 (£ amount, £2 minimum) and send it to 70070, and the funds will automatically go to the fundraiser.
To help get the word out to as many people as possible, and to give you something fun to participate in, we're running a number of exciting giveaways with some brands you might have heard of! In the first giveaway, Links of London have kindly sponsored three amazing prizes. We can't legally ask you to donate to enter, but we'd really appreciate it if you would consider giving EACH just a couple of dollars, pounds or euros if you enjoy participating in the contest. Click the banner below to enter:
—–
If you're based in London, you might be excited to hear that Reiss are having a sample sale over the next couple of days. With prices starting from a very low £10, you're sure to grab a bargain!!
All the details: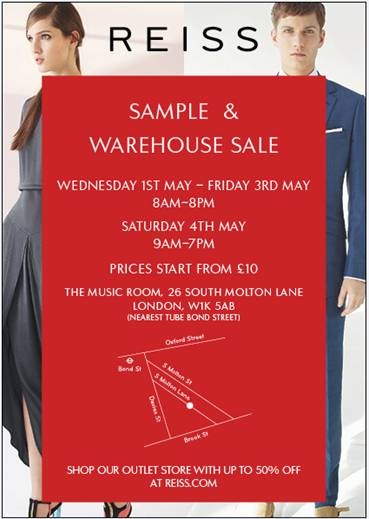 —–
Lastly, I just wanted to give a shout out to Box Delux, a company that launched yesterday on Will & Kate's wedding anniversary. Box Delux are a luxury monthly subscription box service. They decided to celebrate our favourite royal couple by filling their first box with a range of "Best of British" products, including a sample of Kate's Illuminum perfume. It's currently a UK-only service, but the company are hoping to expand overseas in the future.
Box Delux deserve a special shout out today, because they are not only sponsoring a load of prizes for our Baby Cambridge Fundraiser, but they're sending me a box to road test too, which means I can also review Kate's perfume here on the blog! Watch out for that later this week!
Good luck Box Delux – I hope your launch party was fun, and there weren't too many headaches in the office today!