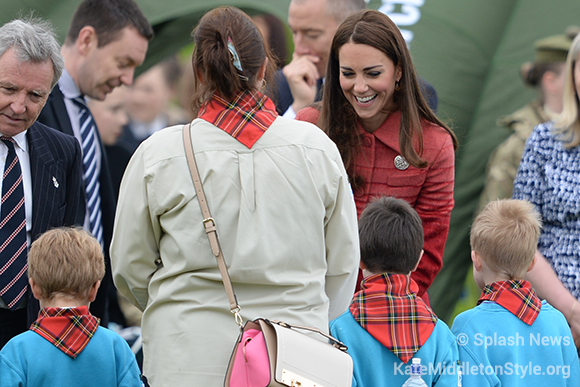 Today, William and Kate visited Scotland for a number of public engagements, their first together since they returned from their tour of Australia and New Zealand in late April.  It was also the first time the couple have visited Scotland in just over a year.  Prince George didn't join the couple, he was back in London being looked after by his nanny.
Did you know: Although more commonly known as The Duchess of Cambridge, while in Scotland Kate's primary title is The Countess of Strathearn (read more).  Today is the couple's first visit to region. 
The royal couple began their day in Scotland at the Strathearn Community Campus in Crieff.  The Campus is a sports centre that is run by Live Active Leisure, a 'not for profit' company.  The Campus provides sports and leisure facilities for school children and the Strathearn community.   The royals toured facilities and met with young carers, Scouts, Cadets and Brownies.
From The Mirror Live Blog:
They were greeted at Strathearn Community Campus by crowds of hundreds of excited locals, including many schoolchildren, who waved Saltires and Union flags.
Next, the couple headed over to MacRosty Park, which was awarded with the prestigious "Queen Elizabeth II Field" accolade in 2012.  Fields in Trust award playing fields with the QEII status through their programme aimed to protect outdoor recreational spaces across the UK.  At the park, the royal duo unveiled a commemorative plaque.  Simon Perry from People Magazine posted the following photograph from the park:
https://twitter.com/SPerryPeoplemag/status/471962276405456896
Hundreds of people turned up to meet the royals, including many children from local primary schools. Here's Kate chatting with some young musicians:
During the visit to the park, schoolgirl Louisa Leckie presented Kate with a giant teddy bear dressed in a Strathearn tartan kilt:
Louisa's father Stephen told The Mirror that "she was so nervous about giving it to them and was worried about being told where to stand and if she would miss them before they left. But they were delighted with it so she's chuffed to bits. It's a present for George and they said he will love it."
After unveiling the plaque at the park, the royal pair visited the country's oldest distillery, which is located nearby in Crieff, Perthshire: The Famous Grouse Distillery.  The couple officially opened the new-look Famous Grouse Experience, a visitor attraction that brings more than 100,000 people to the distillery each year. Kate and William were able to bottle up some of the famous Glenturret malt, which they were given to keep as a souvenir.
After touring the facilities, the couple sampled the whiskey on offer. Famous Grouse confirmed that William opted for the Black Alpha, while Kate tried the Snow Grouse.
After, William and Kate visited the Forteviot fete and village chapel. The coupled toured the fete, appreciating the wares on offer. According to David Lang, from Strathearn Distillery, Kate visited and said "Oh, I see you have some gins here. I shouldn't really try it because I had some whisky at lunchtime, but I'm going to try it". He says they offered her a sample of the company's popular heather rose gin and she confirmed it was "absolutely delicious".
During the fete, William and Kate also watched a display of Scottish dancing by local children. As the day's events came to a close, the couple were presented with a traditional handcrafted kilt for Prince George in the ancient Strathearn tartan, by kiltmaker Marion Foster.
Kate's outfit in Scotland today:
Kate wore a red and coral striped coat by Scottish designer Jonathan Saunders.  The coat is known as the Athena Wool Jacquard Coat and Kate's wearing the Red Stripe colourway.  It is from a past season.
The coat was stocked on the Moda Operandi website, where it sold for $2,555. They describe the piece as follows:
[The] stripe wool jacquard coat from Jonathan Saunders features a notched collar, single breast pocket, full-length sleeves, flap front pockets, and a single vent at back.
 The coat was also available in green stripe from a number of retailers, including Net-A-Porter. 
Kate has worn pieces by Jonathan Saunders to public engagements several times previously.  She wore the "Oval Sweater" by the label only last month during day seven of the Royal Tour of Australia and New Zealand. Back in September 2012, Kate wore a dress by Saunders for a visit to the Solomon Islands during the Jubilee Tour.
Jonathan Saunders is known for his traditional silk screening techniques and he was named Scottish Fashion Designer of the Year back in 2005.
Under, Kate wore a coordinating coral pink dress by Goat.  Goat Fashion think Kate's wearing their Thea dress in Geranium today.  They told What Kate Wore on Twitter that they "have a feeling" so don't take that as confirmation.  (We know for certain that Kate's wearing a dress from Goat, because the palace media team have already confirmed the information.) It's more than likely Kate was wearing the Goat Scarlett dress, which she wore later in the 2014 to another event.
Goat were originally known for their high end cashmere clothing, but their ready to wear collection has expanded over the last few years and now the label produces coats, dresses and separates in a range of luxe fabrics.  You may recall Kate wore a coat by the label last year during her visit to the Child Bereavement UK charity.  Goat is a British brand that was founded in 2011 by designer Jane Lewis.
Kate's accessories:
Kate returned to her trusty L.K. Bennett Sledge pumps today, and her coordinating nude 'Avona' clutch bag by the same brand.  The nude clutch bag is out of stock, but can be still purchased in the black colourway on L.K. Bennett's UK and International website.
Finally, Kate wore a celtic design brooch which was given to Kate as a private wedding gift (confirmed by Clarence House) and her Kiki McDonough Citrine Drop earrings.