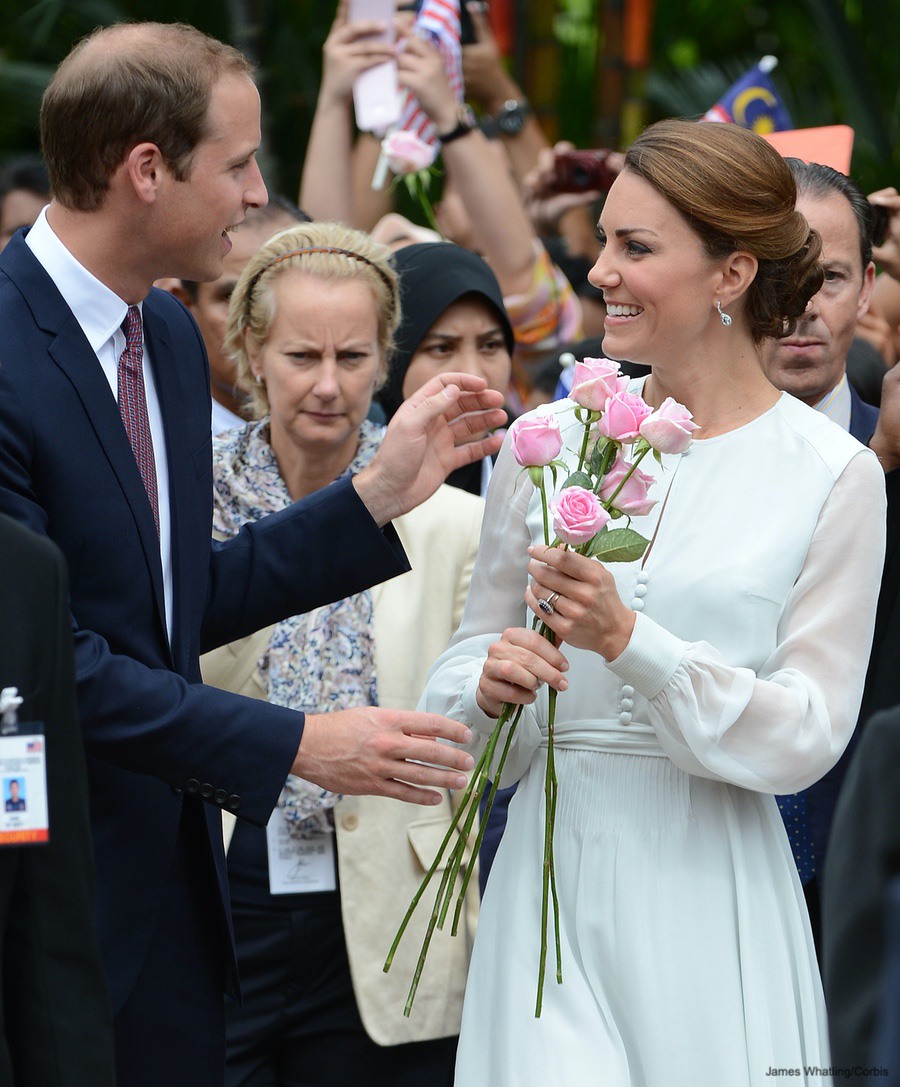 SEPT 14th 2012 – William and Kate continued their tour of Malaysia with a visit to the As Syakirin Mosque, an Islamic place of worship located in Kuala Lumpur City Centre.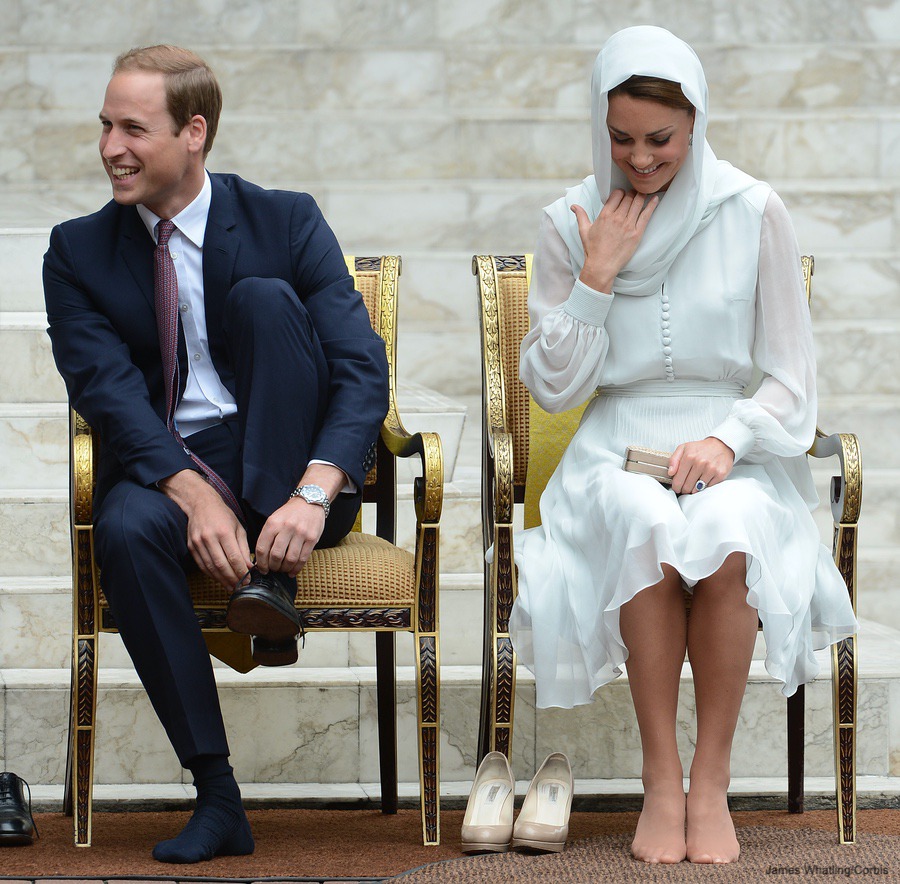 As you can see in the photo above, Kate and William removed their shoes in the mosque. Kate covered her hair with a scarf and did not wear any nail polish on her toenails, in accordance with Islamic practices.
The As Syakirin Mosque is the largest in Malaysia; the building is very modern in style, it is situated next to a large shopping centre and the two striking Petronas Towers. The mosque can hold up to 12,000 worshipers. Here is a look at the building: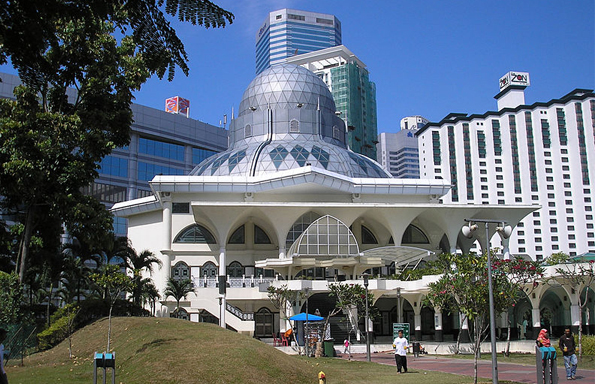 During her visit, Kate asked, "how many mosques are there in Malaysia?" Her guide told her there are "thousands". The Duchess looked surprised when informed each district in the country will have at least a large and a small mosque for worship.
After visiting the mosque, William and Kate took part in a short walkabout, chatting with locals who'd waited to meet them. You can see this in the video above.
After, the couple attended a lunch hosted by the British Malaysian Chamber of Commerce. On the menu: crabmeat timbale and goats cheese roulade appetisers, oven-roasted Black Atlantic Cod with tapenade served with Confit Spear Asparagus for the main course. Yummy.
Kate's outfit:
Kate wore the pale blue "Sabitri dress" by Beulah London. At the time, the label described the silk dress as "original, flattering and feminine in a versatile way that can be worn from day to evening."
UPDATE 14 September 2020: Although the Duchess wore the Sabitri dress eight years ago, the piece is still available to order from Beulah London today. It can be made-to-order for £1,450 and delivered (for free) within six weeks. Choose from nine different colours in sizes 6-16 (UK sizing).
Sadly, the exact shade worn by Kate is not available to order. But there are lots of other lovely colours to choose from.
The Sabitri dress is made in Britain using natural fibres. 10% of profits from your order will be donated to projects that empower women around the world.
Here' how the piece is described on Beulah.com today:
[The dress features] silk covered buttons and a sweeping skirt. Made in London from 100% silk georgette fabric.
You may recall that Beulah London is owned by Lady Natasha Rufus Isaacs, a friend of Kate and William's. Lady Natasha and co-owner Lavinia both are committed to raising awareness for human trafficking and sex trade in Delhi. Their ethical fashion label helps to provide a sustainable livelihood for those who have come out of sex trafficking. Every purchase you make from Beulah London "helps to break the chains of poverty in some of the world's most marginalised communities."
Kate paired the ice blue dress with nude accessories from L.K. Bennett.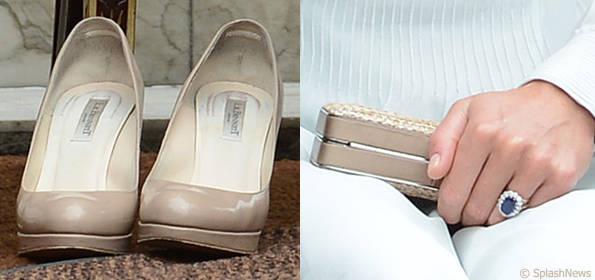 You can see the L.K. Bennett logo on the shoes (after Kate took them off in the mosque). They're the Sledge pumps and the Natalie clutch.
Kate wore the Sledge pumps regularly between 2011 and 2014. The patent leather shoes feature an almond toe, sleek platform and a 10cm high heel.
If you'd like to buy the Sledge today, you're in luck. In 2017, L.K. Bennett re-released the Sledge pump. The company updated the iconic shoe with a modernised platform, softened toe and enhanced curve heel. They also updated the nude shade. See the differences below:
The slight changes create a more streamlined silhouette in keeping with current trends. You can still purchase the shoe on L.K. Bennett's website for £195 in black, navy and 'trench' nude. (The company offer worldwide shipping).
Sadly, L.K. Bennett no longer stocks the Natalie clutch. However, you can usually find them new and used on eBay. L.K. Bennett released an updated version of the clutch bag in a nude leather finish, known as 'Nina'. (Kate actually owns and carries this bag too.)
Here's how L.K. Bennett describe the bag on their website:
Nina is a must-have evening clutch. Structured, with a boxy shape and simple snap clasp, this classic clutch is crafted from the finest quality printed leather. A great addition to any wardrobe, this will carry you through so many events.
Finally, Kate wore her hair tied up in a pretty chignon. We're sure the up-do will have helped to keep her cool.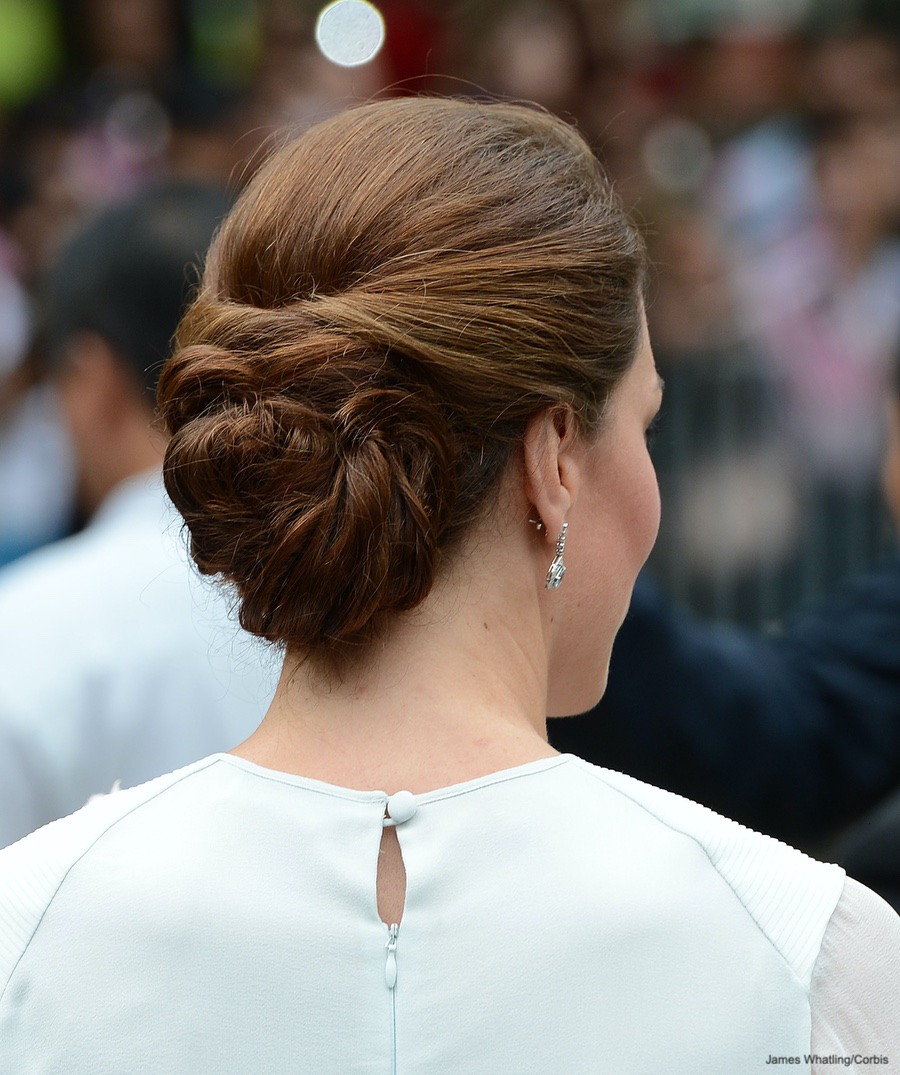 Kate's earrings remain a mystery. The Duchess first debuted them during this tour. They feature a blue coloured stone set in diamonds in a dangle teardrop shape, set in white metal (likely to be white gold).