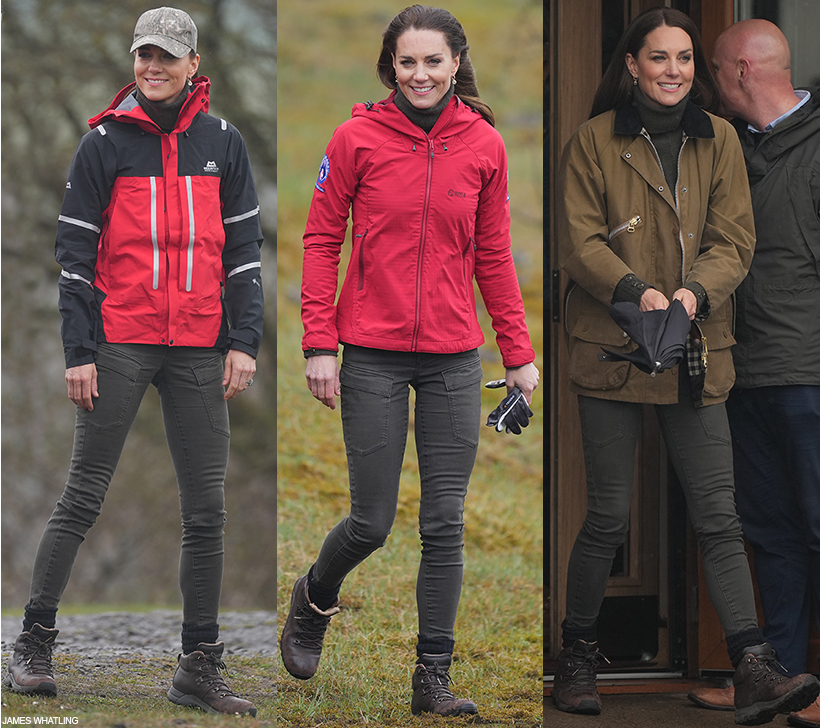 William and Kate are visiting Wales for two days ahead of the Coronation next week.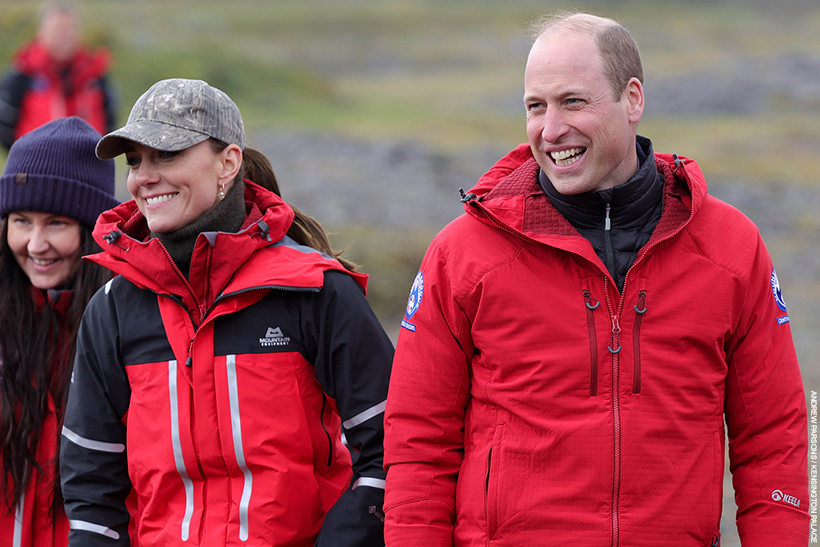 On the first day, The Princess of Wales showcased a few different outdoors looks as she took part in activities with the Central Beacons Mountain Rescue Team in Merthyr Tydfil. (As always, I give a full fashion rundown at the bottom of the page, and write about the engagement first)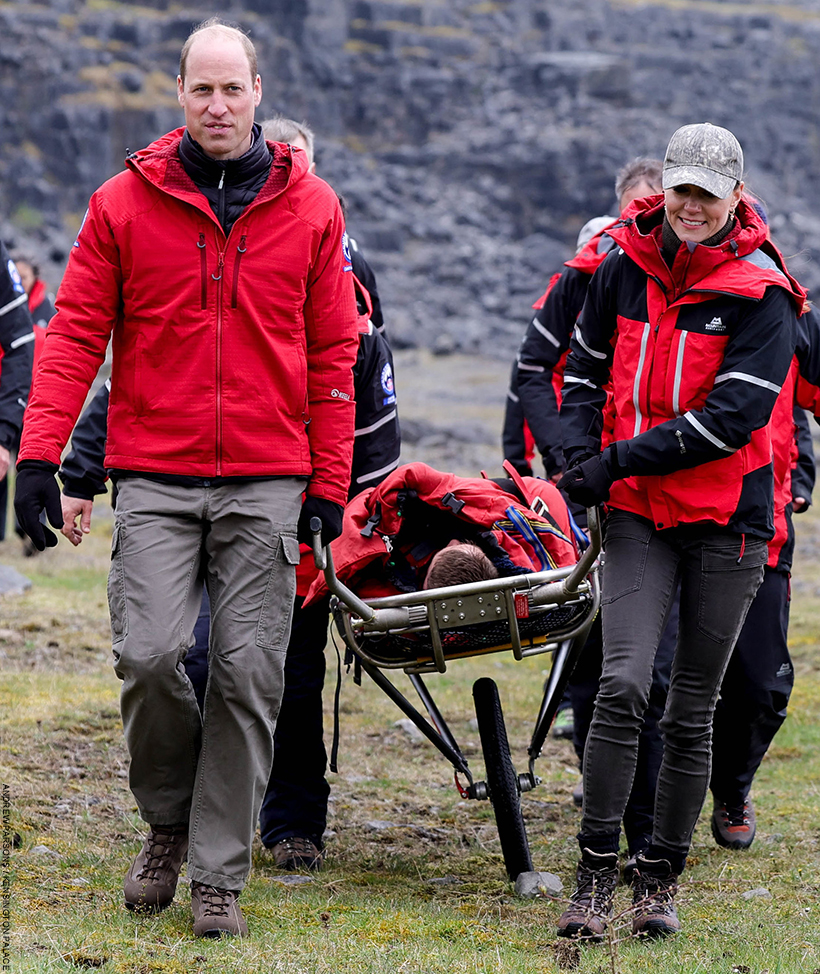 The mountain rescue team—staffed entirely by volunteers—operates in the Brecon Beacons National Park and surrounding areas of Mid Wales and South Wales, including Pen Y Fan, the highest point in southern Britain as well as the beautiful waterfalls of Ystradfellte, and Cardiff, Caerphilly and Newport.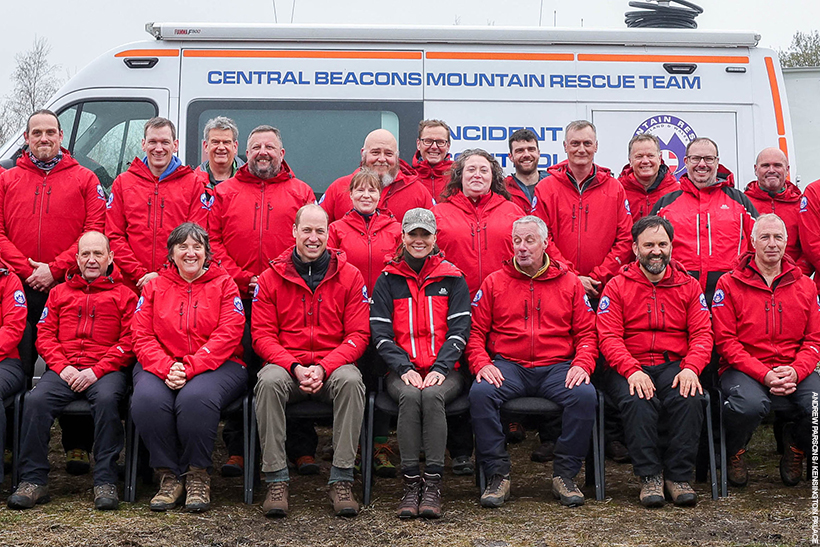 The team is celebrating its 60th anniversary this year.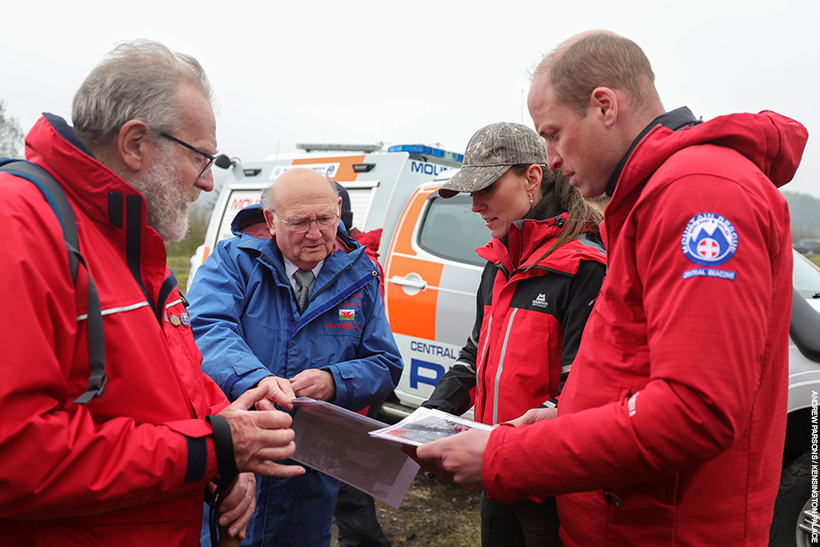 All members are all unpaid and respond to 999 emergencies 24 hours a day, 365 days a year in any weather.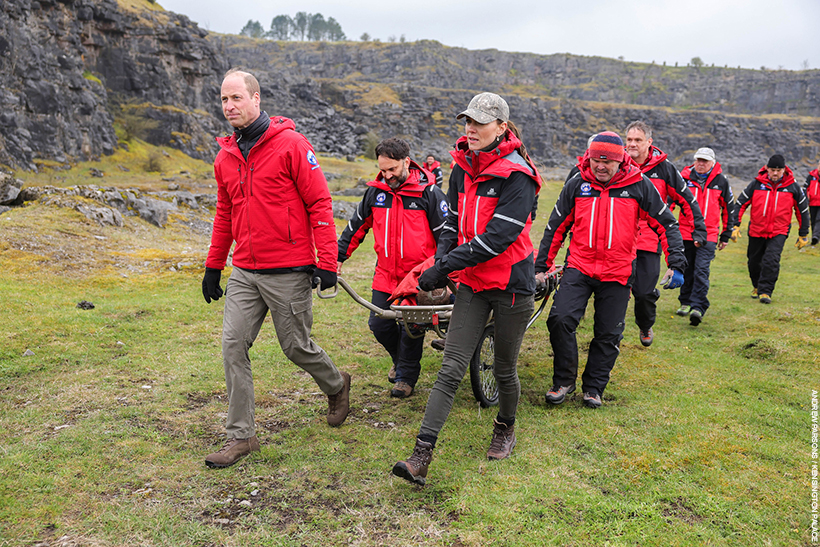 The team relies on donations from members of the public to carry out the essential life-saving rescue service.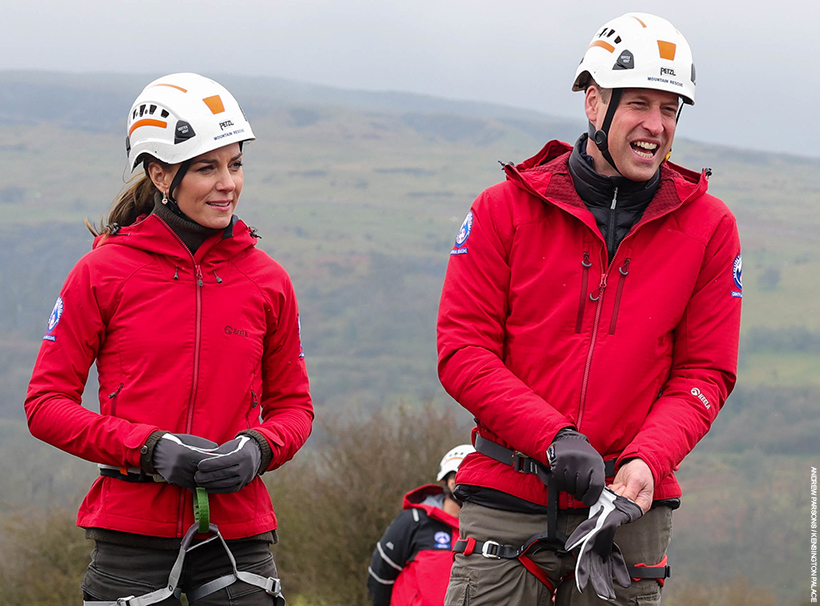 During the visit, the pair took part in an abseiling activity and a training exercise with the volunteers.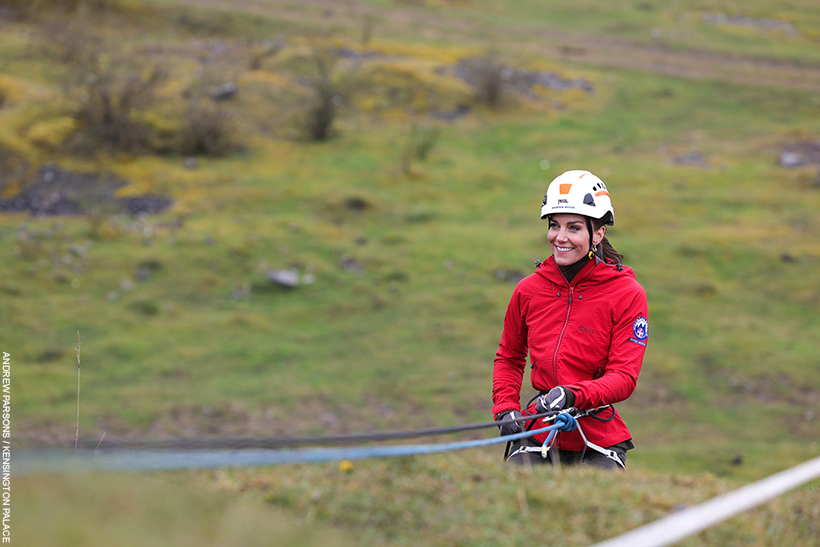 Kate, in action: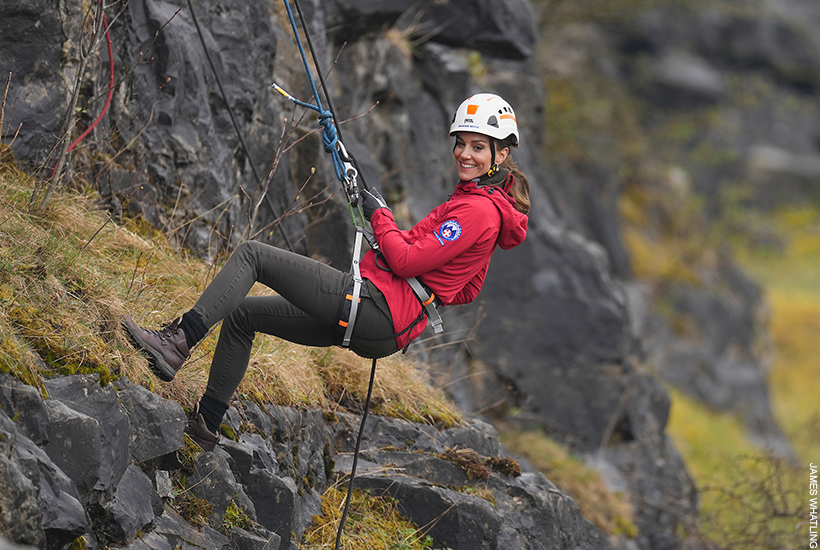 Laughing, the Princess warned William that they weren't racing after he teased her about standing around talking.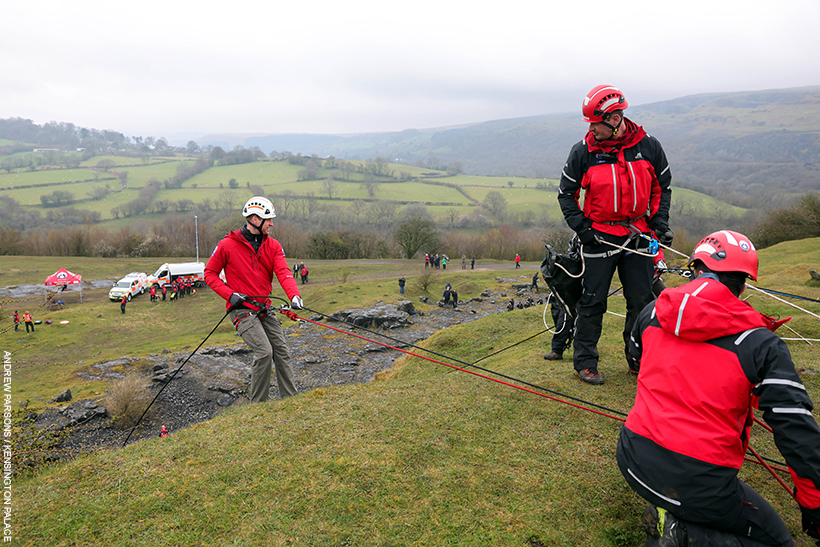 On Twitter, one royal fan reminded us that this is the fourth time we've seen the Princess turn her hand to abseiling during an engagement since she joined the Royal Family in 2011.
I love how Kate's up for anything!
Watch the pair abseil down the cliff:
The royal pair also met a 'Search Dog'.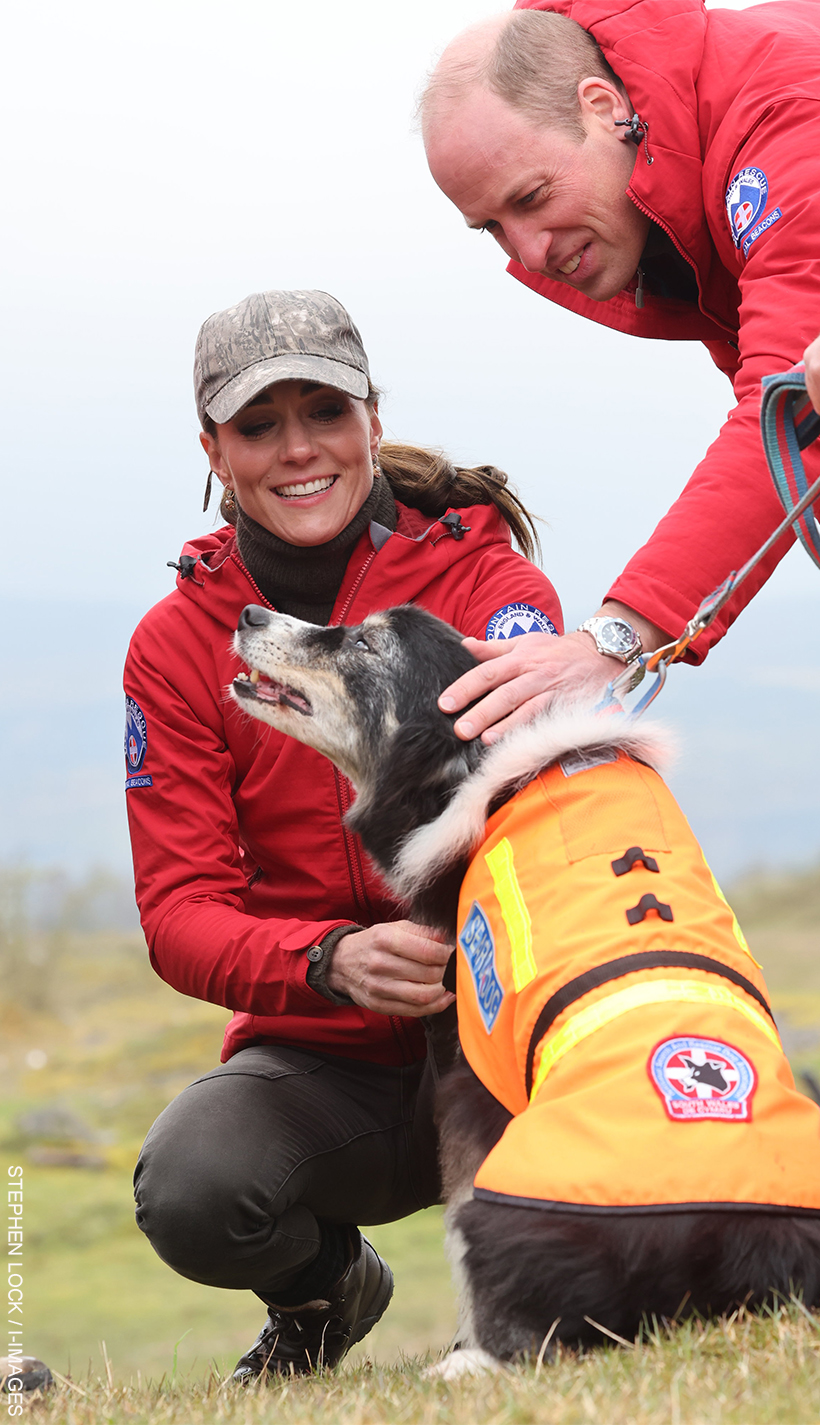 Such a good boy.
Next, William and Kate headed to the nearby Dowlais Rugby Club with the Mountain Rescue team.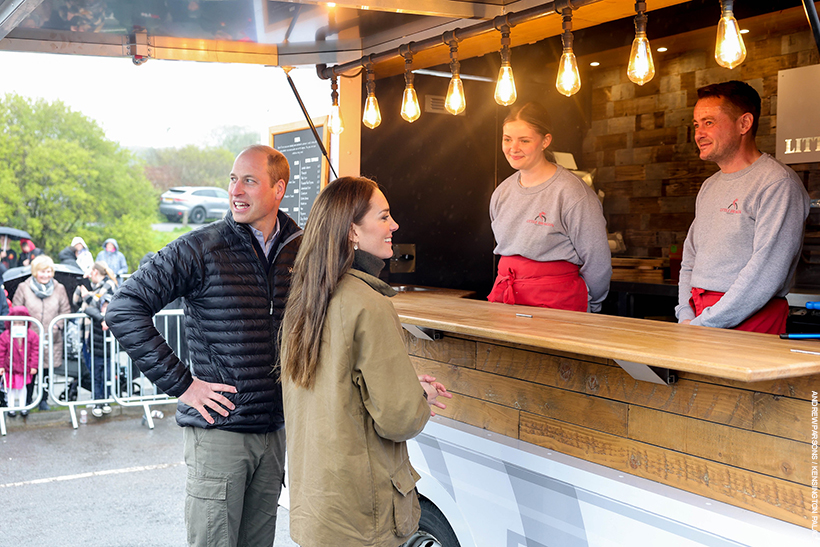 The pair ordered pizzas to thank the volunteers for their efforts.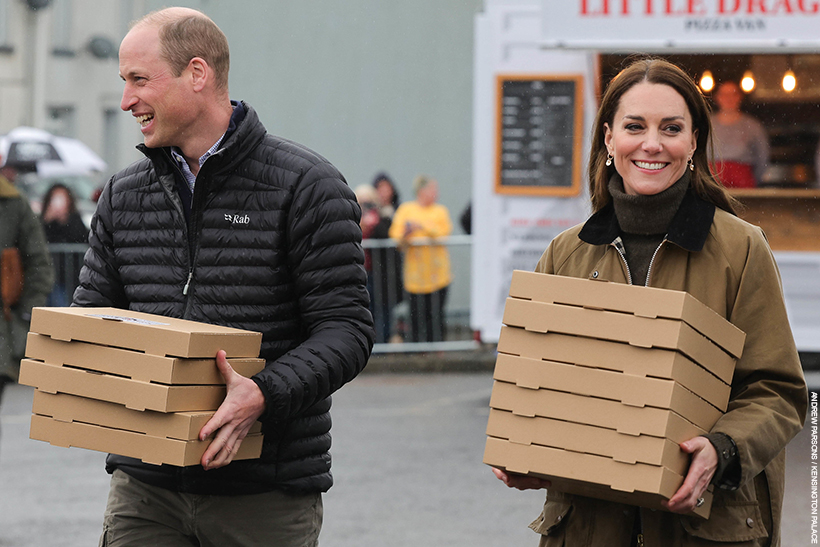 Apparently, they spent £120 on the tasty treat.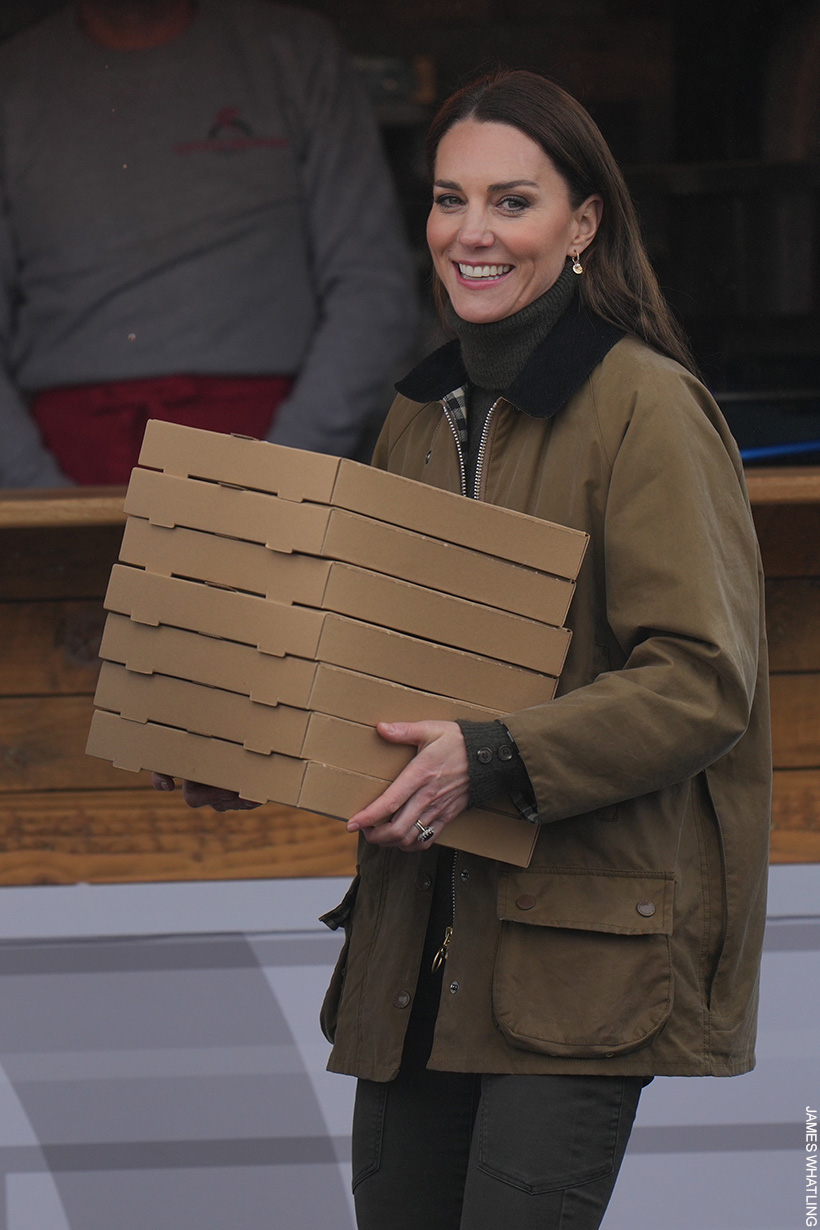 Watch the pair deliver the pizza at around 45 seconds:
Members of the Central Beacons Mountain Rescue Team visit the rugby club to socialise outside of work—something that I'm sure William will understand. The Prince's background as a helicopter pilot will provide him with an insight of the work conducted by the mountain rescue volunteers and how much they'll need to relax and unwind following their rescue missions and training.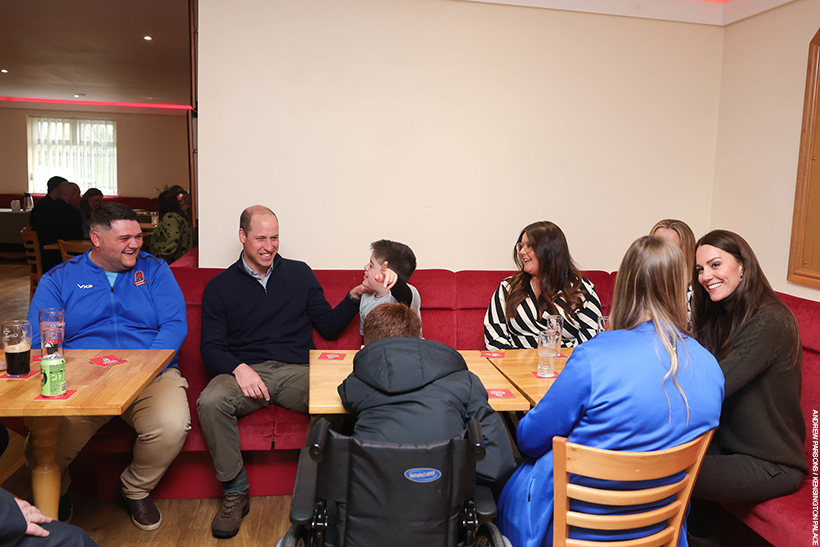 Most royal fans will remember the Prince worked as an an RAF Search and Rescue Pilot from 2010 to 2013 and as an Air Ambulance pilot from 2015 to 2017. He famously assisted with two mountain rescue missions in the week after his wedding in 2011.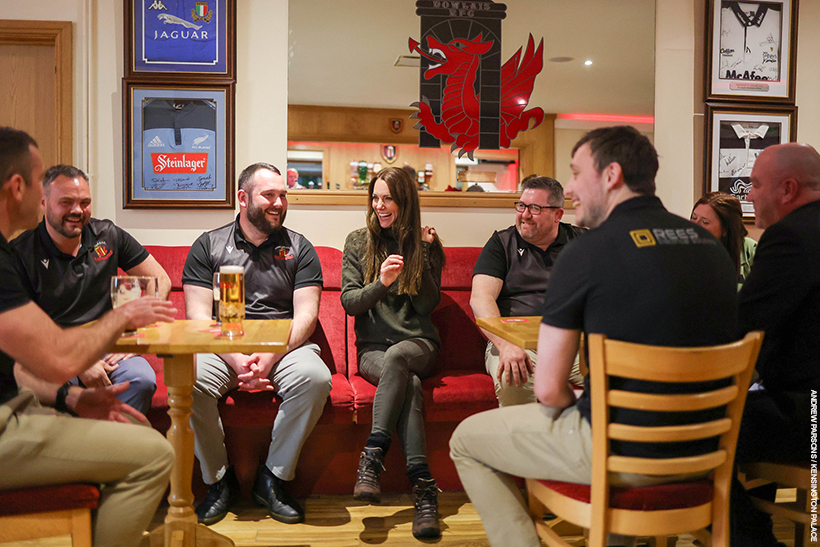 At the Rugby Club, the royals spent time with the volunteers, their families, the organisation's supporters, and members of the local community.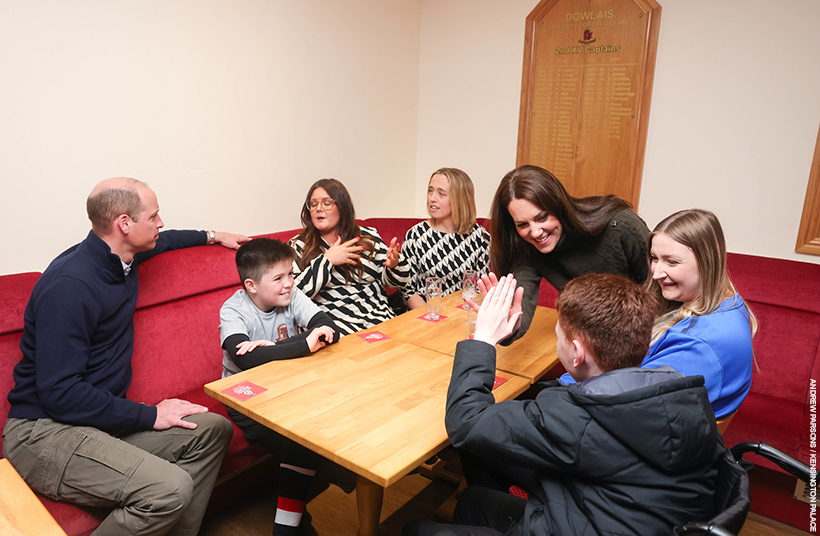 It looks like there was a lot of laughing—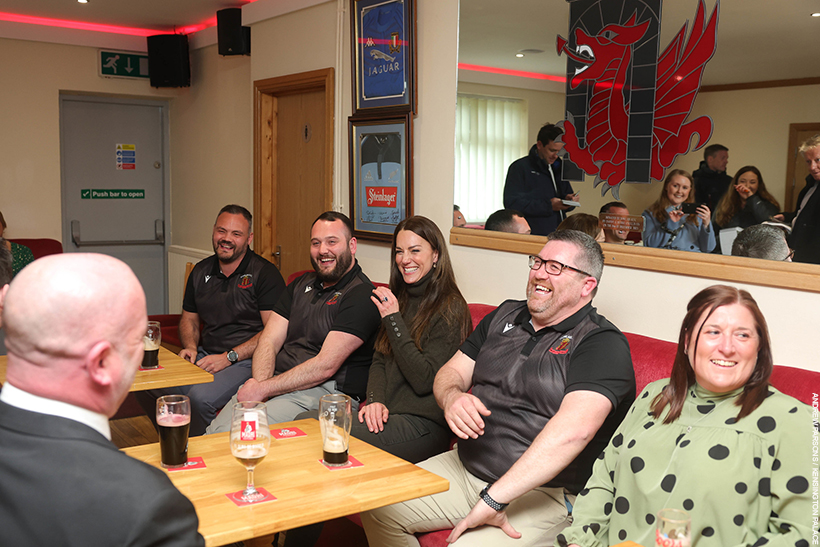 After leaving the rugby club, the couple met with members of the public before heading back to their B&B.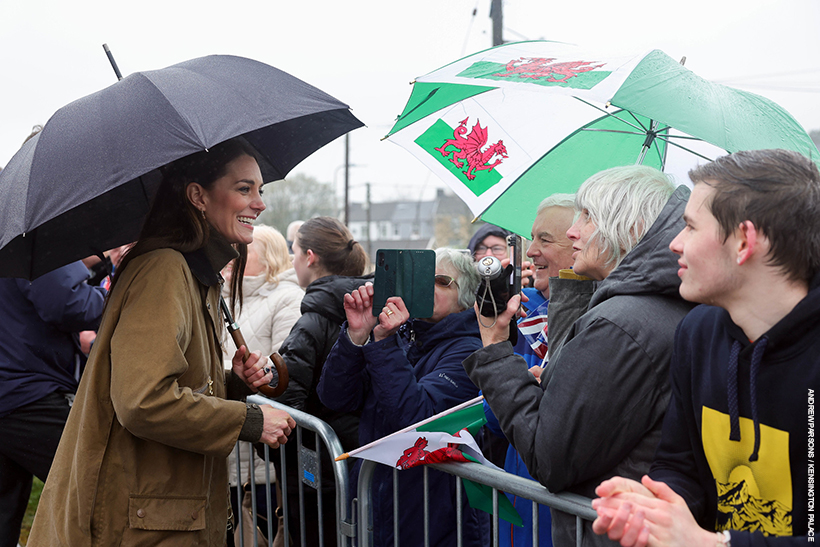 During the short walkabout, the pair spoke with well-wishers who'd braved the rain to meet them.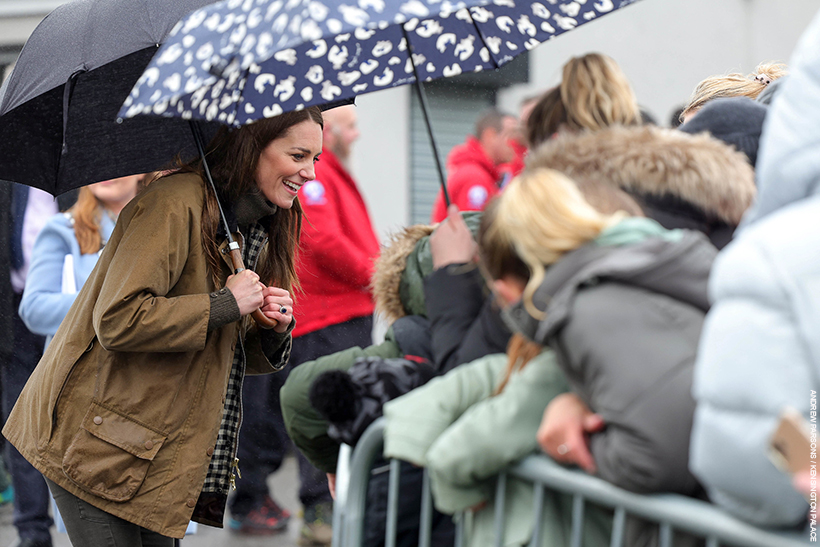 And posed for a few selfies!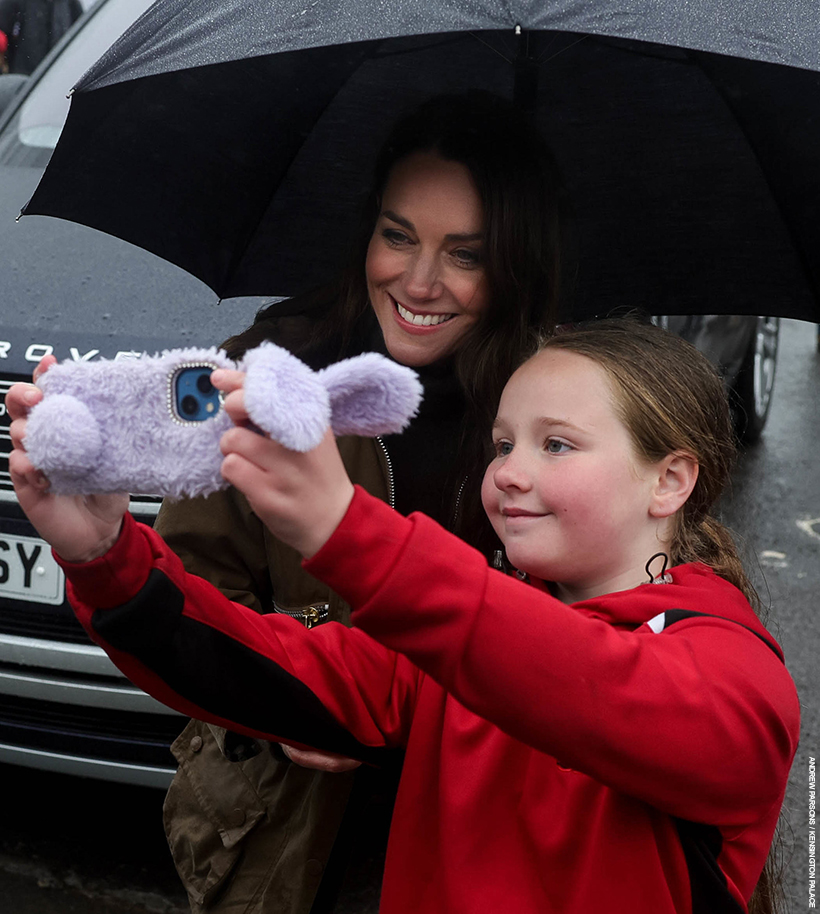 On Friday, the pair will embark upon a second day of engagements in Wales. Unfortunately, the engagements are still under embargo so I am unsure of where the couple are planning to visit or what charities they're supporting.
This is William and Kate's fourth visit to Wales since receiving their titles following the 'royal reshuffle' following the passing of Queen Elizabeth last September.
The Prince and Princess last visited the country two months ago, to mark St David's Day and watch a Rugby match. The pair watched England battle Wales in a Six Nations match at The Principality Stadium in Cardiff on the 25th of February.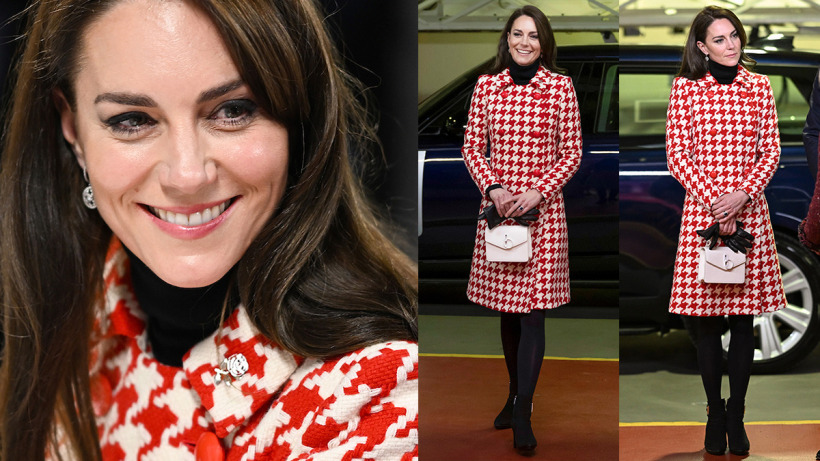 The Princess recycled one of her maternity coats from her third pregnancy—a red and white houndstooth print design from Catherine Walker—as she watched her team win.
A few days later, the Princess wore a cream and white ensemble during a 'Community Impact Day' in South Wales. William and Kate visited local communities, championed mental health initiatives and showed support to emergency services workers during the visit.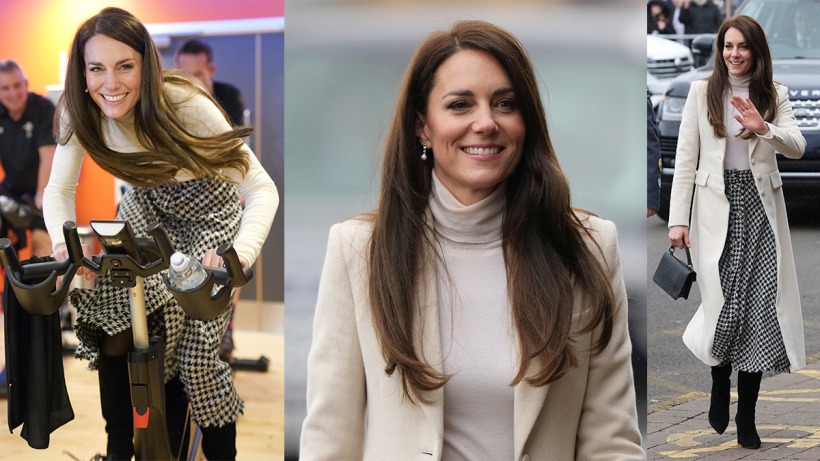 Prior, William and Kate visited Wales in September 2022, two weeks after Queen Elizabeth passed away. You'll remember it was the couple's first engagement following the official royal mourning period. I suspect the pair wanted to hit the ground running and visit Wales immediately after receiving their titles, to show their commitment to the country. The day began with a visit to north Wales, at the Anglesey Lifeboat Station where they conducted their first 'official' joint engagement in February 2011, a few months before they were due to get wed. They also visited a church and community hub in Swansea, in the south of the country on the same day. Kate wore a red L.K. Bennett coat over black separates.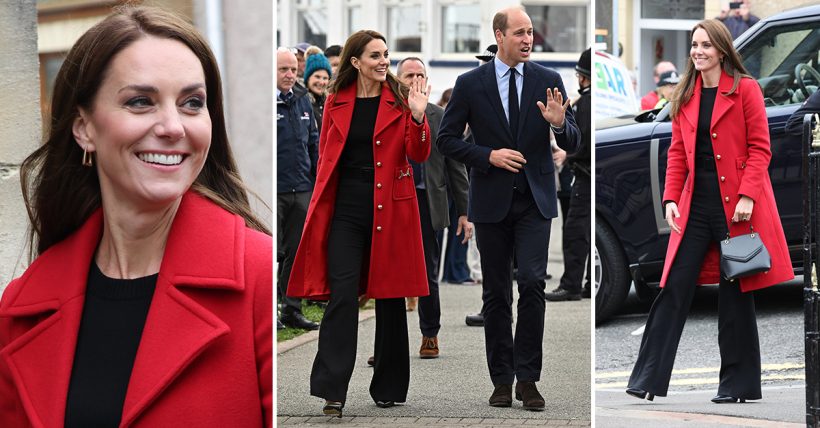 The couple also visited Wales to celebrate St David's Day in March last year. The pair toured a goat farm, visited a local market and took part in a cooking activity at a community hub before planting a tree in South Wales.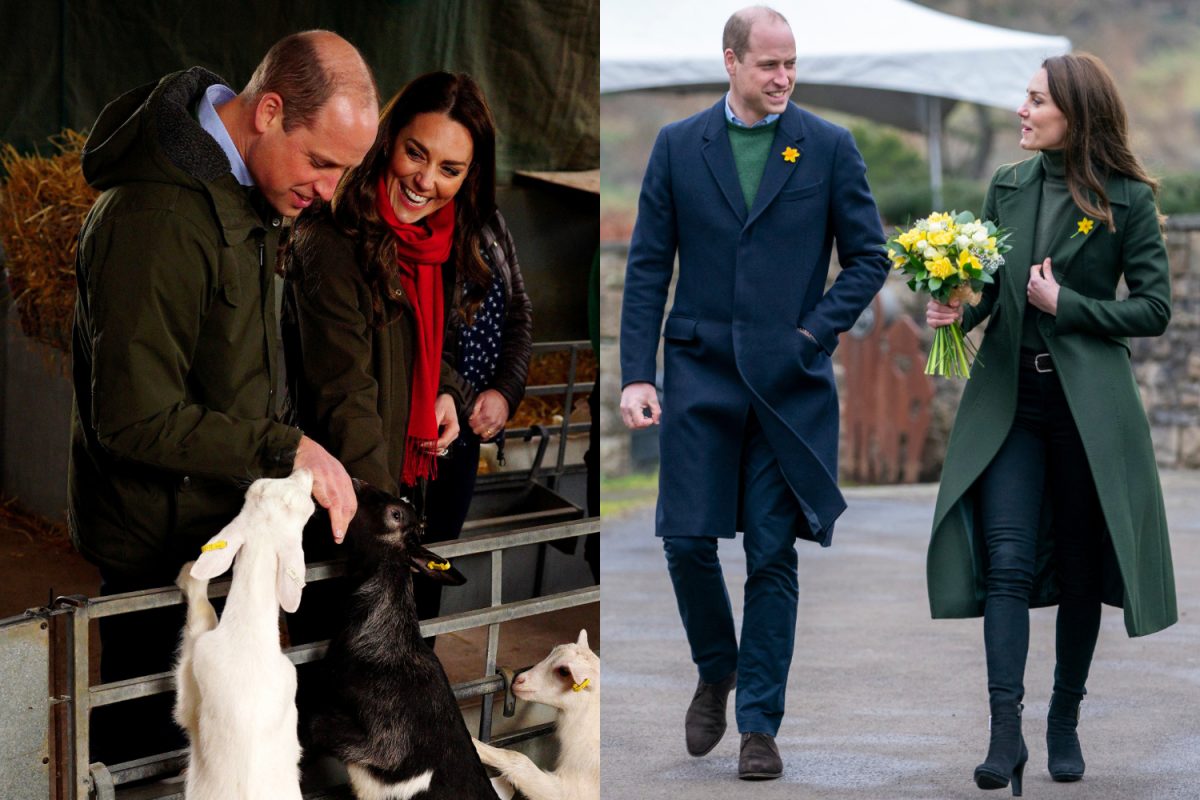 Let's move on to the portion of the post you're all here for—the fashion!
Kate's outfit in Wales today:
The Princess opted for a casual-but-cosy ensemble in Wales today. Her basic look consisted of cargo trousers and a warm roll-neck knit sweater worn with her trusty walking boots. She layered three different coats over her outfit during the course of the afternoon. And at one point, she wore a cap.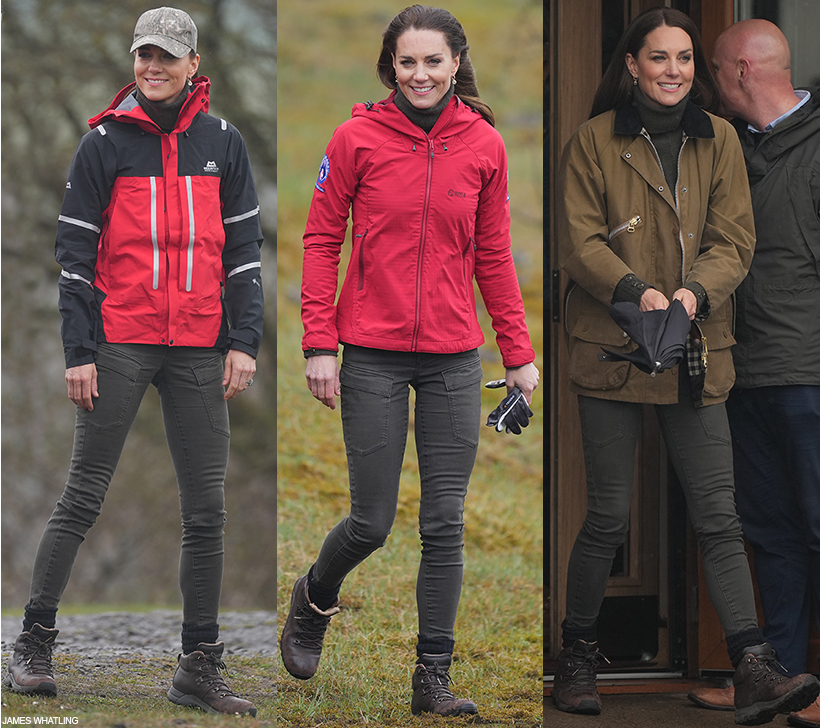 Let's look at each piece in turn now.
The first jacket Kate wore during the training exercises is from Mountain Equipment. As you've probably guessed, the piece is specially designed for the women members of the Mountain Rescue Team. The coat looks like it's a serious bit of kit, designed to withstand the elements and offer a high degree of weather protection.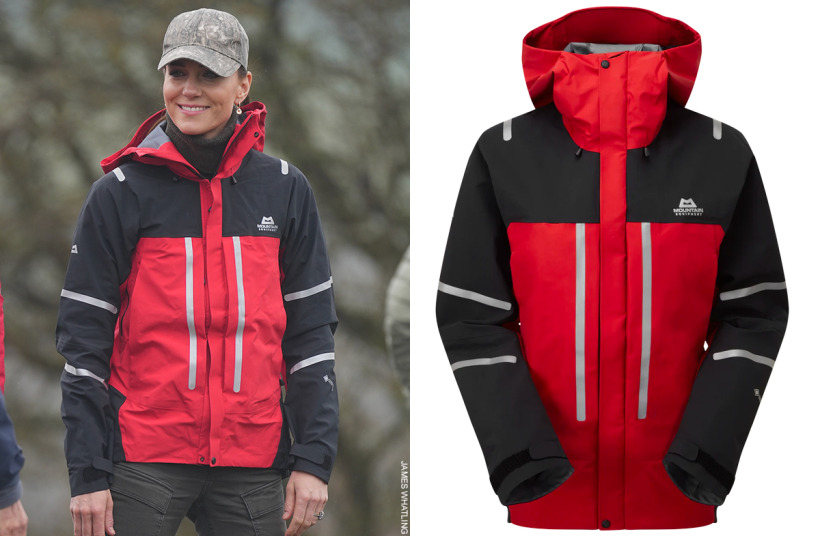 The red and black coat is crafted from 3 layers of GORE-TEX Pro 100D fabric, has a Super Alpine HC hood, a 'Mountain' fit with long body length and lots of reflective detailing for added visibility.
It also has a bunch of other features, which are probably useful if you're clambering up mountains and so on.
If you're into your outdoor pursuits, it might interest you to learn the jacket can be purchased for £600 from the company's website, mountainequipment.com. There's also a men's version for the same price.
Kate's second jacket, a softshell, is by Keela. Either Kate wore it under the other jacket or changed into it when she started abseiling. I'm not too sure.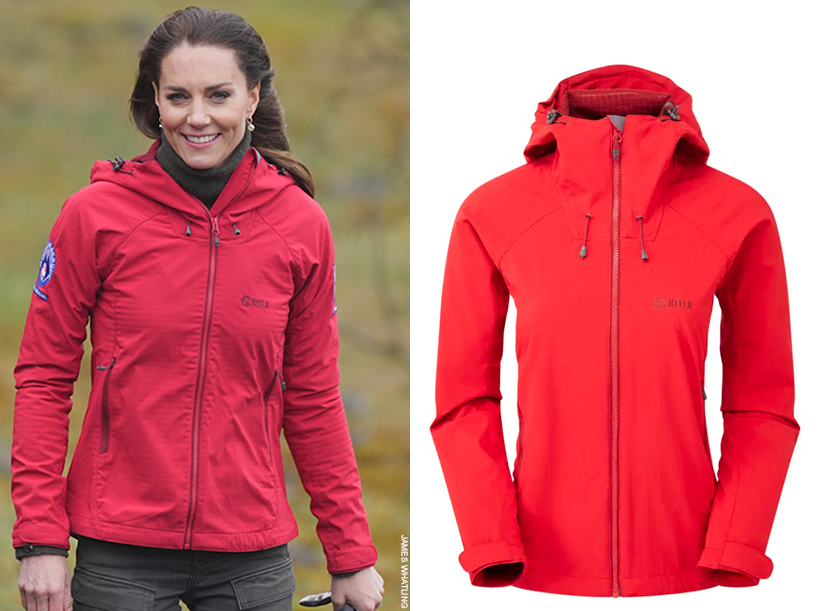 Again, Keela make the jackets for the Mountain Rescue team. I can't find the exact piece online, but it looks similar to the Hydron Softshell Jacket listed on the company's website (thanks Susan for the tip).
This is a technical jacket that's water resistant, windproof and highly breathable. It retails for £149.95.
Kate changed into a third jacket before heading into the rugby club. It'll feel more familiar to some of our regular readers. It's from Barbour, part of model Alexa Chung's collaboration with the iconic British brand.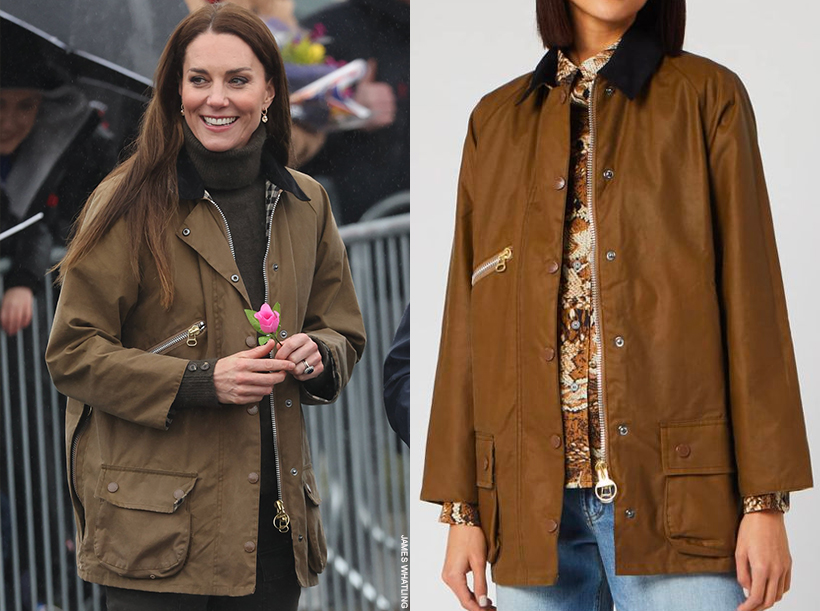 The piece is known as the 'Edith' Jacket. It came in a couple of different colours, Kate wears it in beige sandNorthumberland".
It's made from 100% waxed cotton, lined with a check print cotton and is finished with a black corduroy collar. It's designed to look oversized.
We first spotted Kate wearing the coat in 2020. She wore it for a video filmed for her 5 Big Questions Survey project.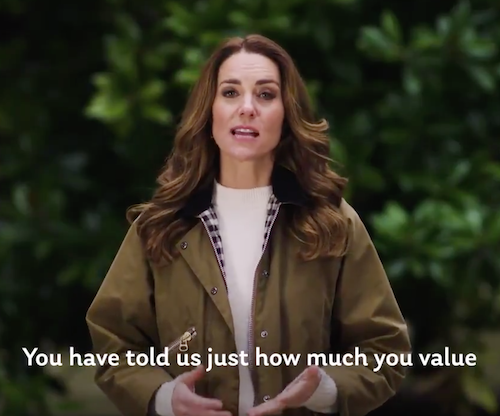 The piece is long sold out unfortunately. This jacket from Barbour's most recent collab with House of Hackney is a great alternative if you don't mind a floral lining.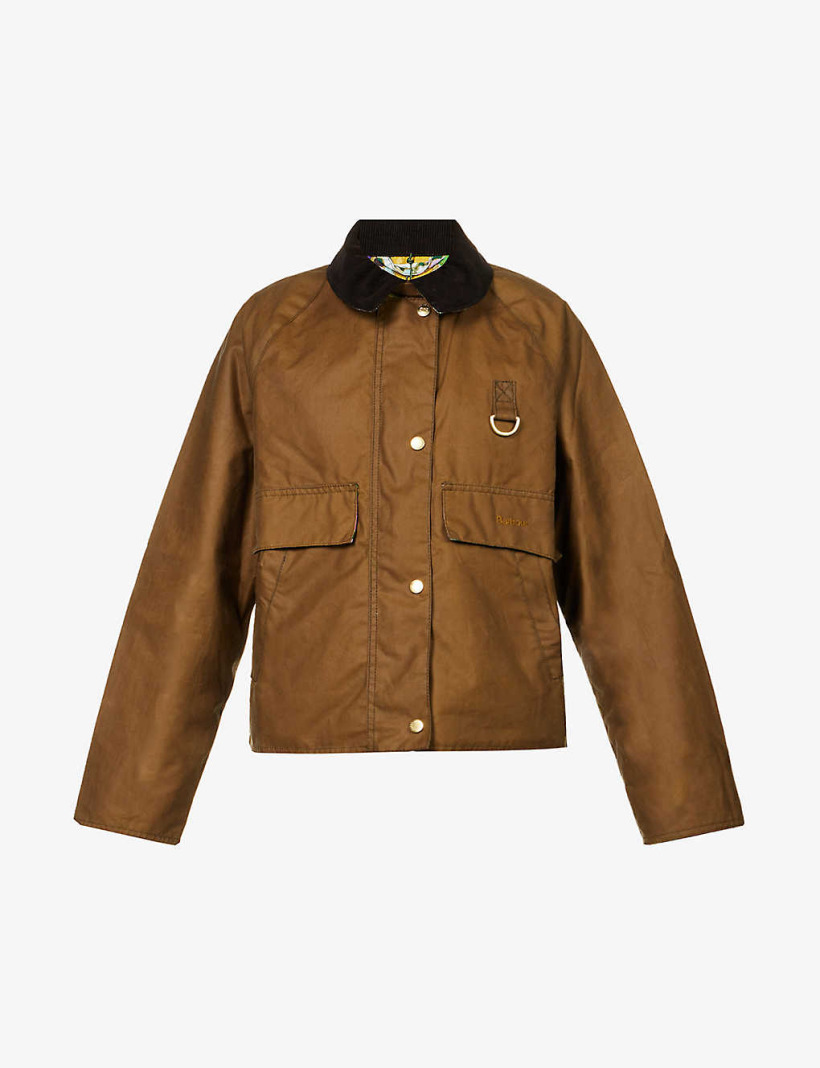 BARBOUR x HOUSE OF HACKNEY JACKET
Kate's jacket is sold out but this wax jacket from Barbour's recent collab with House of Hackney is a pretty good dupe. I love the floral lining.
Kate's a fan of Barbour, we've seen her wear three of the company's jackets to date. She's owned her Defence Wax Jacket for over a decade now.
I don't think Barbour needs much in the way of introduction. The company is 100+ years old and holds three Royal warrants. It's an iconic British brand. To this day, the company produces its wax jackets at it's factory in the North of England.
Under the three jackets, the Princess wore a dark green roll-neck sweater with a cable knit design. It's from Holland Cooper, Astoria Roll Neck in Fern.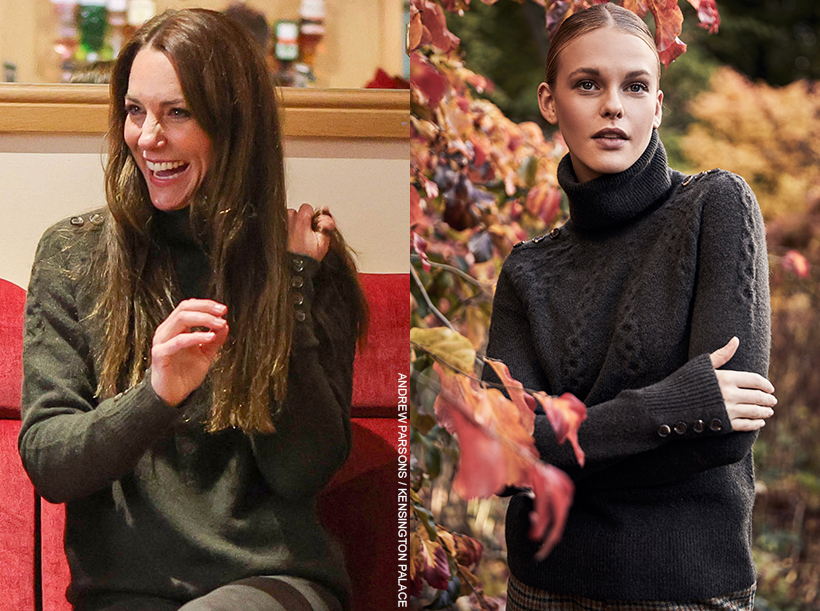 The cosy sweater is crafted from a premium blend of alpaca yarns, which makes it super soft. The garment is designed with a relaxed fit, it features raglan sleeves with ribbed cuffs and is finished with a delicate cable knit pattern to the upper body. The brand's signature horn buttons on the sleeves and shoulders provide the final finishing touch.
The Princess has worn the sweater in public on one other occasion, during a cold and snowy visit with the Irish Guards last month.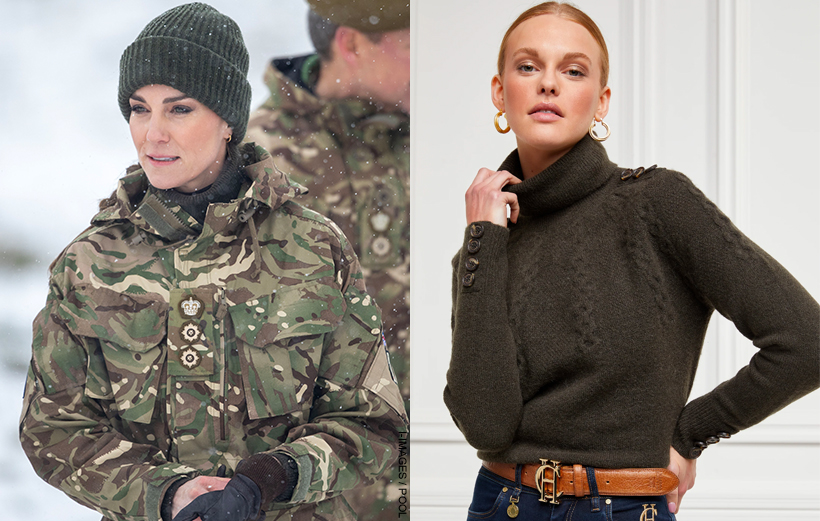 We know Kate is a fan of Holland Cooper clothing, she owns a pair of shorts, a bodysuit, a couple of sweaters and a few coats and jackets from the brand.
Holland Cooper is a British luxury fashion brand founded in 2008 by designer Jade Holland Cooper. The company is known for designing 'heritage' clothing with a modern twist.
Kate's trousers looked immediately familiar. The pockets made them easy to identify, they're from G-Star Raw, I am fairly confident they're the G-Star High G-Shape Skinny Cargo in the colour Raven, a dark shade of grey (but I could be mistaken).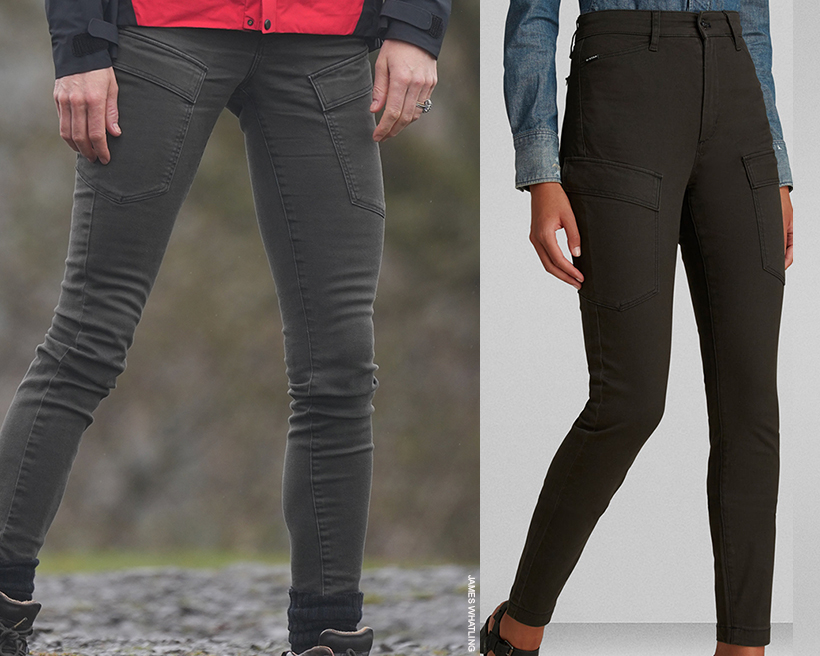 Kate owns the same trousers in khaki, of course. They feature the same distinctive pointed pockets and slanted flaps.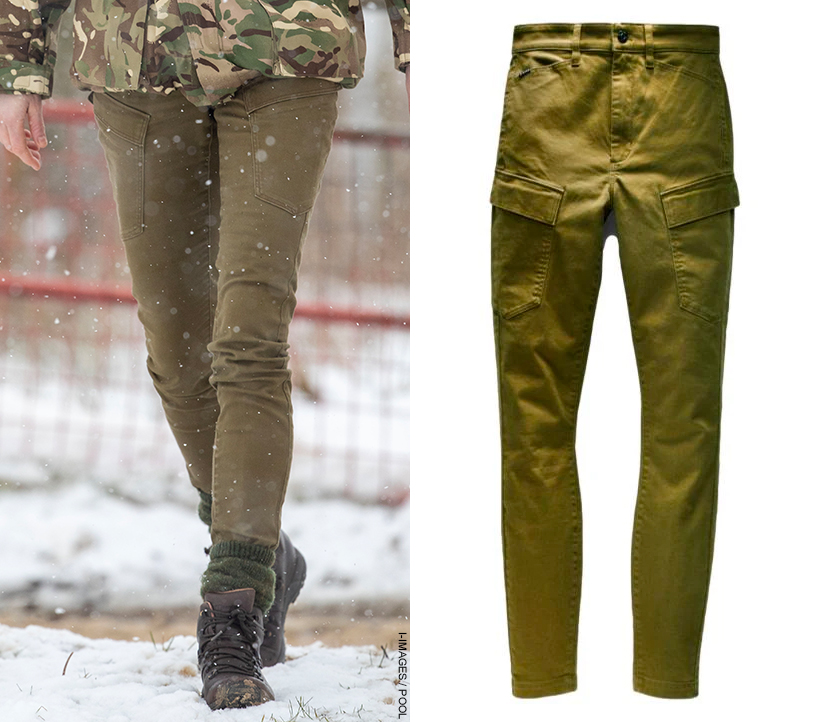 The trousers feature a high waistline and a skinny fit on the leg, plus they are cleverly designed with a shaped waistband to eliminate gaps. In addition to the deep pockets on the thigh, there are additional inset front pockets and a single zipper pocket at the rear.
The pants are made from G-Star Raw's Bracket Superstretch Twill, a stretch woven fabric that offers added ease of movement. It's a cotton-elastane mix, which makes it comfortable and stretchy.
Unfortunately, the exact style Kate's wearing appears to be out of stock. Want a similar style? Try the Kafey style from G-Star's recent collection instead.
I asked a customer service representative about the differences between the two similar-looking trousers:
So the High shape cargo skinny pants and the Kafey cargo ultra high skinny jeans are two different styles but they indeed do look alike.

They both are skinny fitted and some features are different in the G-shape has inset pockets at the front, a zipper pocket at the back, and thigh pockets- hidden snap closures and the Kafey has inset pockets, thigh pockets with flap: hidden snap button closure, zip pocket at the back and shaped seams at the back of the hip.

But the "biggest" difference is the height of the waist, as the G-Shape regular high waist, approximately 4.72 inches, and the Kafey has an ultra-high waist, approximately 6.30 inches, those are the measurements that go from underneath the button to the end of the zipper.

G-Star Raw
So, the newer Kafey trousers have an ultra-high waist fit.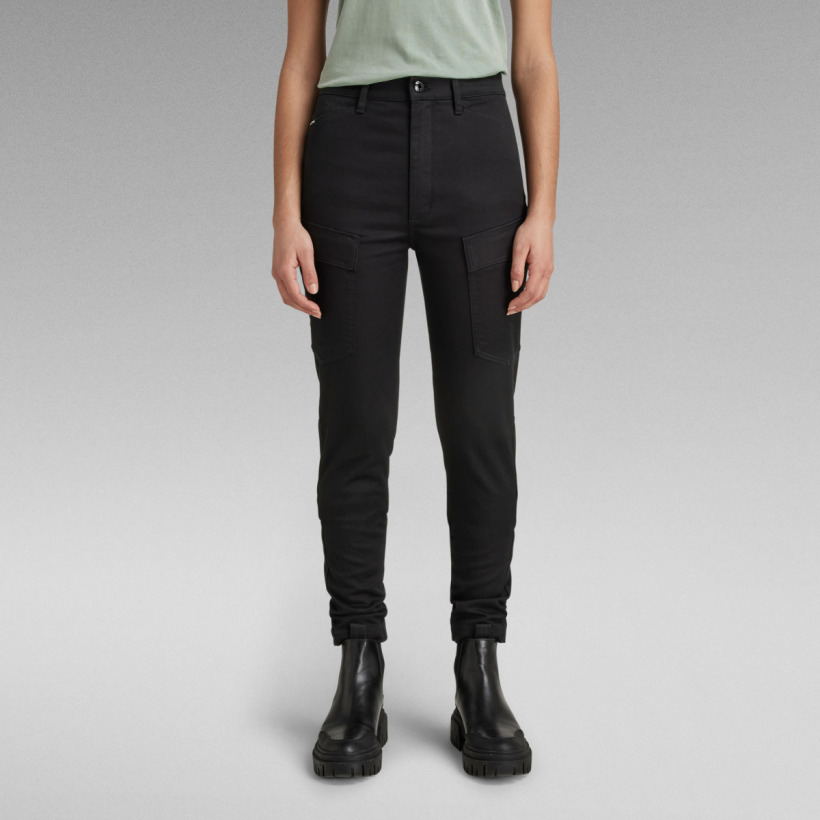 G-STAR RAW KAFEY TROUSERS
Want to copy Kate's elegant outdoors style? Get the look with these cargo trousers from G-Star Raw. CURRENTLY 50% OFF
G-Star Raw are dedicated to sustainable manufacturing and are committed to reducing their environmental impact. I expect Kate chose the brand for this reason. It's clear the Princess is an advocate for sustainable fashion practices; in recent years we've noticed she's gravitated towards slow fashion brands. Today, a lot of her pieces are from environmentally conscious companies and collections.
G-Star Raw are one of the most transparent companies I've seen in the fashion space. They openly provide the names and locations of the factories that manufacture their products. They commit to paying their workers fairly throughout the supply chain, and ensure their employees work in a safe environment under healthy conditions, while protecting their human rights. I think it's fantastic that Kate uses her influence as a fashion icon to support companies with good ethical practices.
Next up, Kate's boots. Anybody who follows Kate's style will know she's wearing the Berghaus Supalite II boots in brown.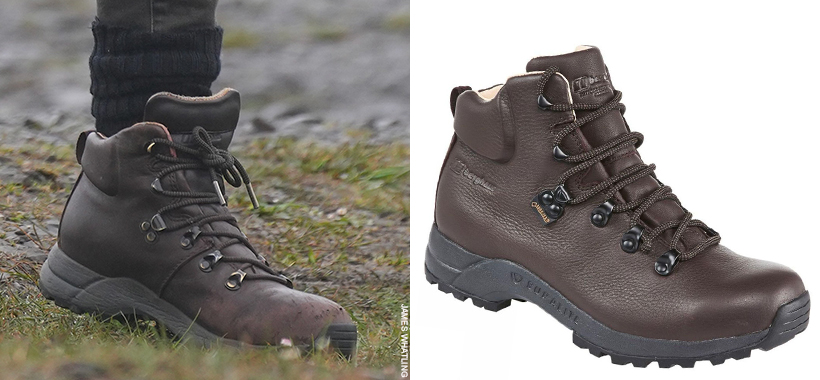 Kate's owned the leather boots since at least 2019. She's worn them on 5-6 public engagements since that time.
If you want to buy the boots, you're in luck. Berghaus still sell the style today.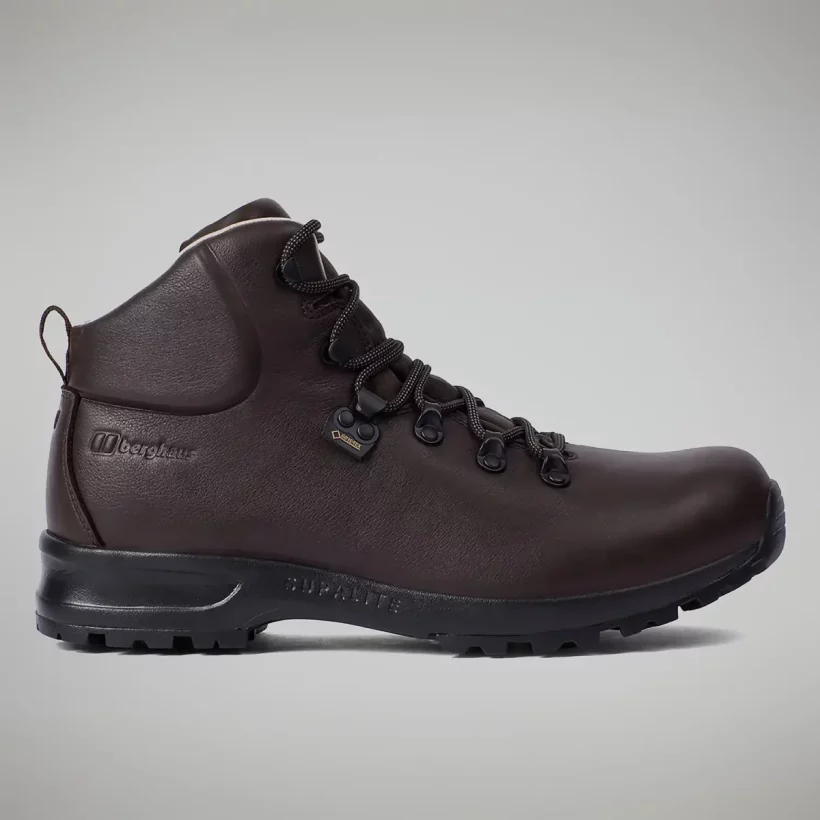 Berghaus Supalite II Goretex Hiking Boots in Brown
Step into your next adventure with the Berghaus Supalites. Discover the ultimate combination of comfort and durability—crafted from water-resistant leather, they keep your feet dry and breathable while the specially designed tread keeps you steady. Plus, Berghaus offers a free repairs service, so you can keep them for as long as possible and fight climate change. Join Kate in making conscious choices – start with Berghaus.
The boots are made from water-resistant leather, feature GORE-TEX performance technology for breathability and waterproofing, have a cushioned memory foam footbed for added comfort, and a specially designed outsole for traction on different terrains.
Berghaus want to tackle climate change and stop their products from ending up in landfill, so they offer a free repairs service, which I think is pretty great.
Berghaus is a British brand (although you'd think it was German from the name) that specialises in outdoor clothing and equipment. It was founded in 1966 by climbers Peter Lockey and Gordon Davison. The brand's mission is to create innovative and high-performance gear for outdoor enthusiasts and adventurers.
I know some of you will be wondering about Kate's baseball cap. A few bloggers are reporting it's this past season piece by ASOS, but I'm not so sure. The colour doesn't match.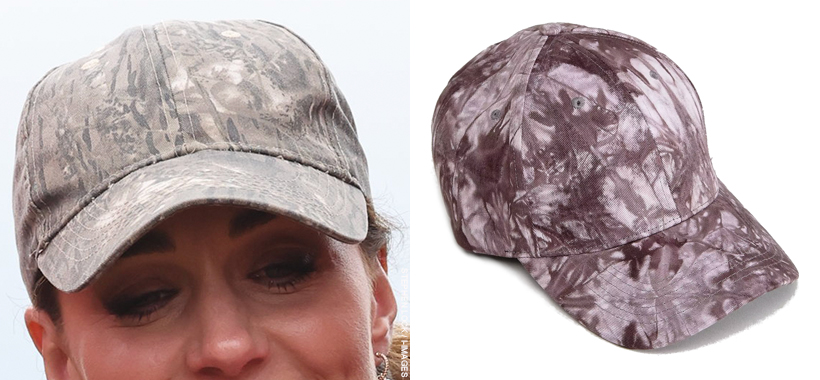 What I will say is that while looking for the exact hat, I've found LOTS that are identical in shape and design but do not have the exact same tie dye print. They all feature the same stitching detail along the peak, the eyelets on the front, the seams down the front, etc. I think the same baseball cap manufacturer must supply a lot of different brands. See the same hat, different tie dye at: M&M Direct, Amazon.
Let's finish up by looking at Kate's earrings. They're from British high street brand, Accessorize. The affordable earrings (RRP £8) feature a faux pearl that sits in front of a hammered gold disk, suspended from a twisted huggie hoop post.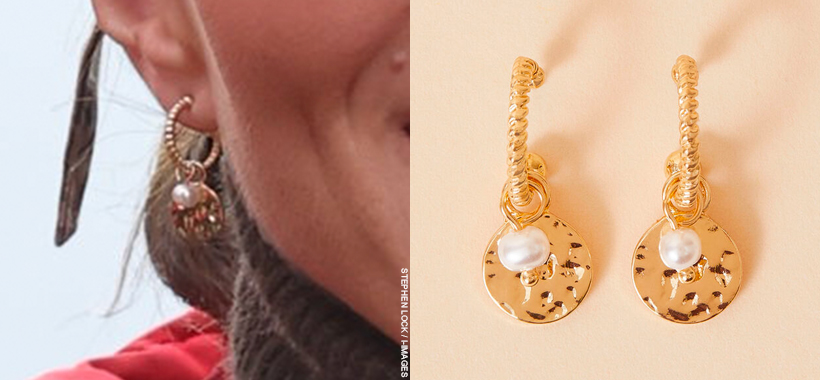 I believe this is the third time we've spotted the Princess wearing the earrings to date. She debuted them during a visit to Derby earlier this year.
Sadly, the earrings are sold out at Accessorize. I just went to look and see if they had a similar style to offer you as an alternative, but got far too distracted by these beauties. A must have for the Coronation, I think.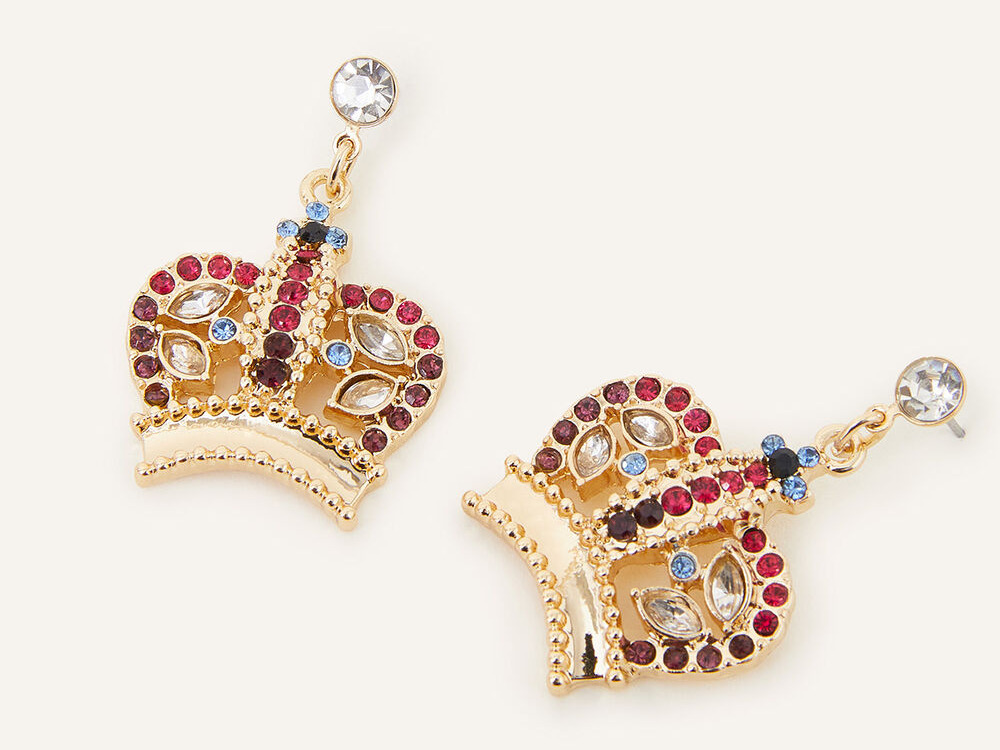 To date, I've counted 7 pairs of Accessorize earrings in Kate's jewellery collection (that she's worn in public since 2011).
Accessorize is a British company known for its affordable accessories. Originally London-based, the retail chain now has stores worldwide.
I'll be back with full coverage of the second day tomorrow.