According to the Daily Mail, William and Kate attended a wedding in Thurlestone, Devon yesterday:
"The Duke and Duchess of Cambridge attended the most discreetly arranged of high society weddings in the beautiful village of Thurlestone in Devon, the guest list included many of their closest circle."

"Pippa Middleton, Kate's sister, was there to see upmarket estate agent and amateur boxer Bear Maclaine marry pretty socialite Daisy Dickson, and so was TV presenter Natalie Pinkham. Indeed the guest list included many of the friends who gathered for William and Kate's own marriage at Westminster Abbey four years ago."
UPDATE:  Rebecca English from the Daily Mail reports that Kate "definitely" did not attend the wedding this weekend, as first reported by the same newspaper.   William did attend. 
Little information is known about the wedding and at the time of writing, there are no photographs of the royal couple at the event.
The rest of the Daily Mail article focusses on how few social engagements Kate attends since marrying William and it is pure rubbish in my opinion.  (Erm, hello… how many new mothers want to go out to "hunt balls" etc?)  Apparently, Kate is also "determined that any spare time the couple have should be spent with their children" so has stopped William from having fun with his friends too.  *rolls eyes*  The article is very inaccurate and says that the Duchess has only been to two friends' weddings since marrying into the royal family, which is clearly rubbish.  She's been to 8 according to some on Twitter.  I haven't verified this figure myself, but a quick Google images search suggests it is about right.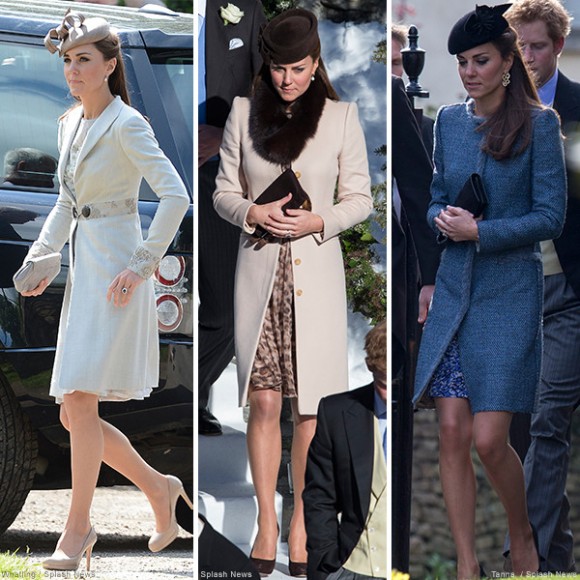 From left to right – Kate attends the weddings of:
Emily McCorquodale and James Hutt in June 2012
Laura Bechtolsheimer and Mark Tomlinson in March 2013
Lucy Meade and Charlie Budgett in March 2014.
~~~
Is this a hint that there'll be a royal tour in 2016?
According to the Daily Mail, Kate, sister Pippa and mother Carole have organised a trip to the private island of Mustique in November.  You may recall the Duke and Duchess and the Middleton family have visited the island a number of times previously, usually in late January, tying in with Carole's birthday on the 31st.
Sarah from The Royal Record speculates that if the story is true, the family might have moved the holiday back a couple of months to accommodate plans in early 2016, such as a royal tour!   Obviously this is pure speculation – it could be to do with William's work schedule, other family commitments or something completely random.  But, fingers crossed!
~~~
William and Kate to attend a state banquet?
The Sunday Times reports that William and Kate will attend a state banquet in October, to be held in honour of the Chinese presidential visit.   This is exciting because a state banquet means we'll likely see Kate wear a tiara – YAY!  The information is yet to be confirmed by Kensington Palace, so don't be disappointed if it turns out to be untrue!  The information does come from a reputable royal reporter though, so fingers crossed!
Here's a quote from the newspaper –
"The Duke and Duchess of Cambridge will attend the banquet with the Queen and Prince Philip. The duke visited China earlier this year, a trip which was widely concluded to have improved relations between the country and the royal family."
If you have an online subscription to the Times, you can read the full article here.
~~~
Palace publish letter about unauthorised pictures of Prince George
Earlier this week, Kensington Palace published a letter regarding the paparazzi and their attempts to take unauthorised photographs of Prince George:
"In recent months, there have been an increasing number of incidents of paparazzi harassment of Prince George. And the tactics being used are increasingly dangerous."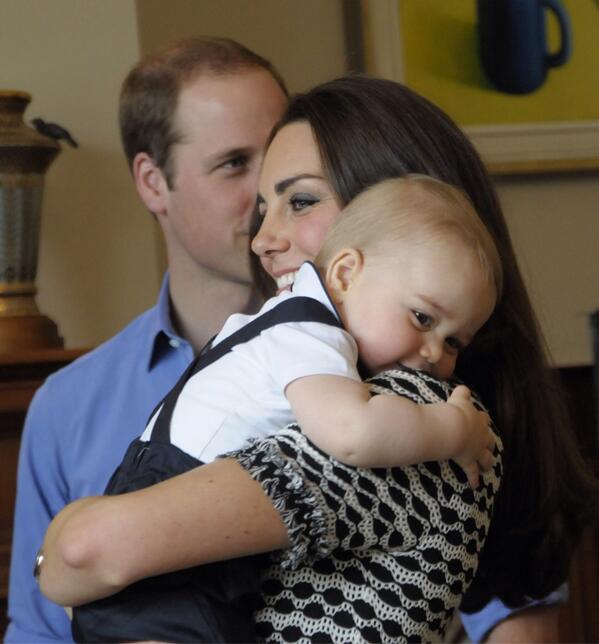 It also asks the media to stop fuelling the market for pictures of Prince George –
"It is hoped that those who pay paparazzi photographers for their images of children will be able to better understand the distressing activity around a two-year old boy that their money is fuelling."
The article highlights some alarming intrusions to the family's privacy –
"One recent incident – just last week – was disturbing, but not at all uncommon.  A photographer rented a car and parked in a discreet location outside a children's play area.  Already concealed by darkened windows, he took the added step of hanging sheets inside the vehicle and created a hide stocked with food and drinks to get him through a full day of surveillance, waiting in hope to capture images of Prince George. Police discovered him lying down in the boot of the vehicle attempting to shoot photos with a long lens through a small gap in his hide."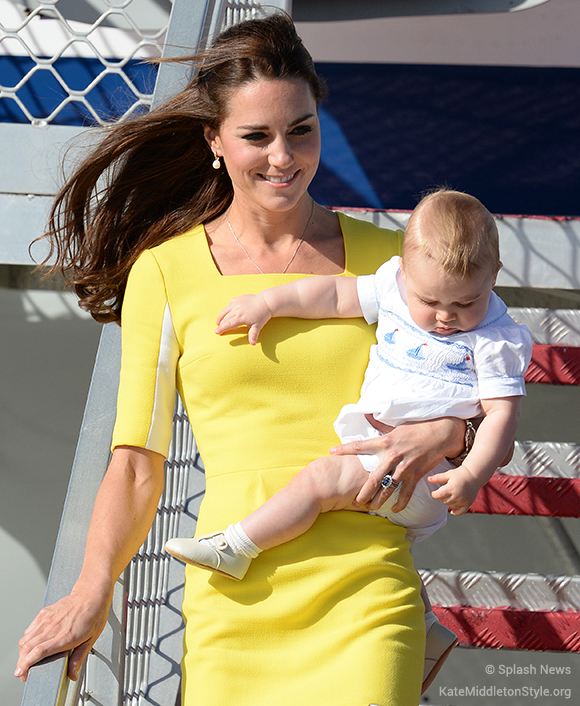 This wasn't an isolated incident, Kensington Palace list the following actions by photographers –
"on multiple occasions used long range lenses to capture images of The Duchess playing with Prince George in a number of private parks;
monitored the movements of Prince George and his nanny around London parks and monitored the movements of other household staff;
photographed the children of private individuals visiting The Duke and Duchess's home;
pursued cars leaving family homes;
used other children to draw Prince George into view around playgrounds;
been found hiding on private property in fields and woodland locations around The Duke and Duchess's home in Norfolk;
obscured themselves in sand dunes on a rural beach to take photos of Prince George playing with his grandmother;
placed locations near the Middleton family home in Berkshire under steady surveillance".
Of course, the letter from Kensington Palace divides opinion with many criticising the couple for not releasing more photos of the royal children, or for restricting access to photographers at official events, such as Charlotte's christening.  Here's a selection of interesting Tweets from journalists and photographers I follow –
The palace's control freakery has exacerbated the problem. eg Most regular royal photographers were banned from Charlotte's christening.

— Richard Palmer (@RoyalReporter) August 14, 2015
https://twitter.com/IkonPictures/status/632234075978383360
@emynash what about praise for the official photographers who play the game and yet are the only people excluded from the christening ?

— Mark Cuthbert (@markacuthbert) August 14, 2015
Further reading:
This article from The Guardian explains why a letter from the palace will do nothing to stop the paparazzi pursuing Prince George.
Victoria Arbiter (royal commentator for CNN) writes an interesting piece on her blog on this topic.  Also worth reading.
~~~
A few final fashion tidbits: new in stock for autumn
A number of items Kate has worn in the past have been rereleased or updated for the upcoming autumn/winter season.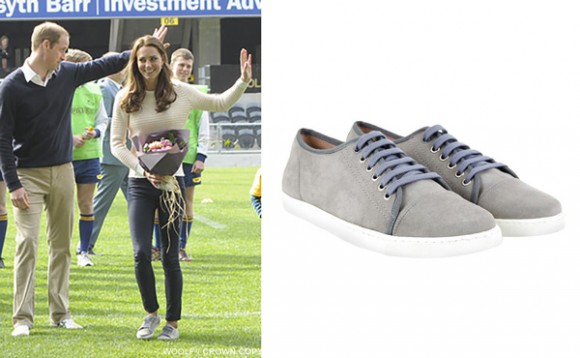 First, the perennially popular MINT VELVET BIBI plimsolls, worn by Kate during her pregnancy with Prince George and while on tour in New Zealand last year.  The company have released them under the name "BEA" for 2015, they come updated with new metallic detailing to the back and tongue.

Shop them here: Mint Velvet / John Lewis / House of Fraser
Kate's Sebago Bala deck shoes were a hit when Kate first wore them during the Canada tour in 2011.  The Duchess has continued to wear the shoes on a number of private and public engagements since.
Sebago have released a new style Bala shoe for autumn, in brown with cream polka dots.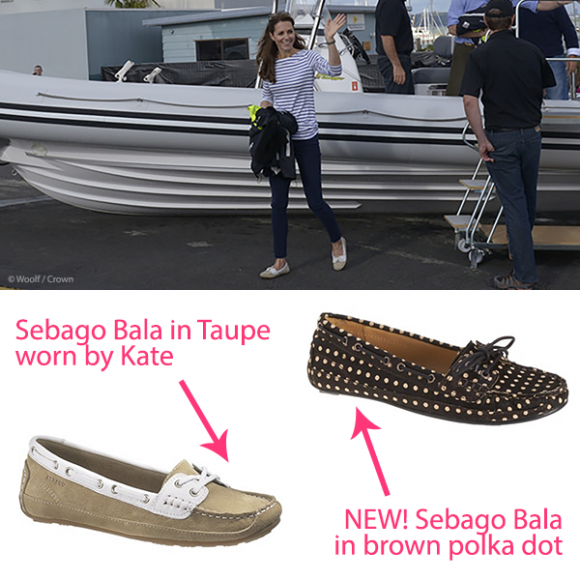 Aren't they cute?  Shop them here.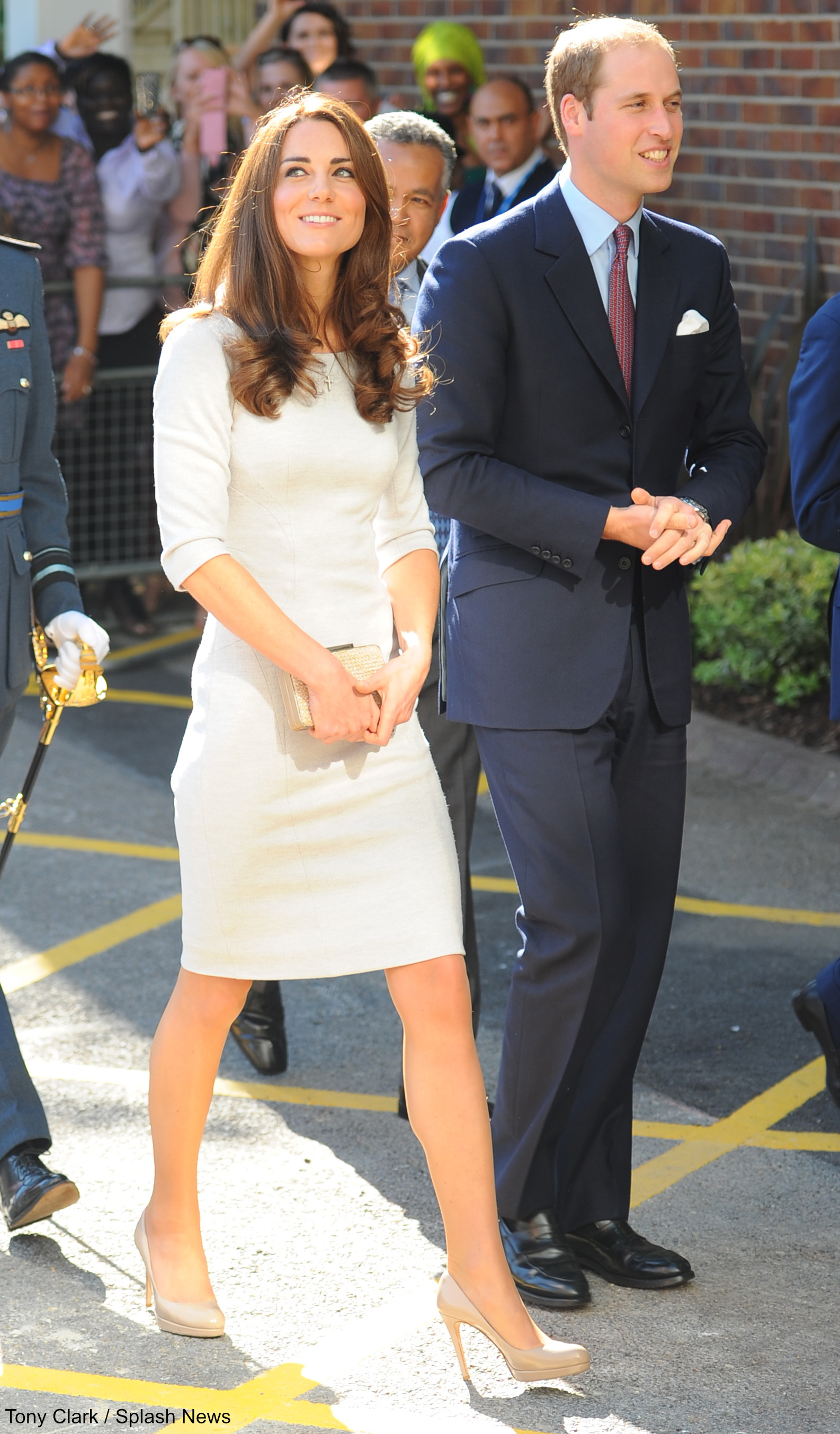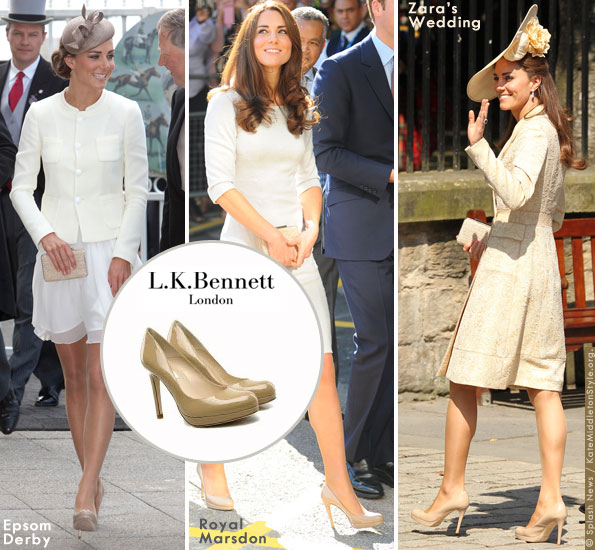 Kate's L.K. Bennett Sledges were a staple during the 2011 and 2012 tours – and during several engagements after.  As well as the trademark taupe colour, They now come in black quilted leather for the new season.  See them here.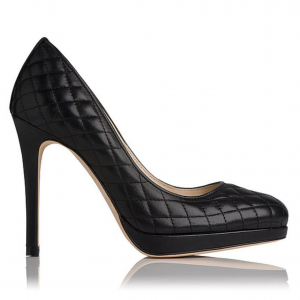 L.K. Bennett's Lasa dress sold like hotcakes due to the attention it got from celebrity fans, including Kate who wore it during the 2014 tour of Austrlia and New Zealand.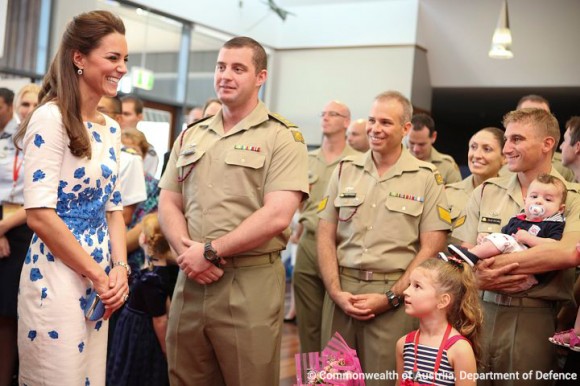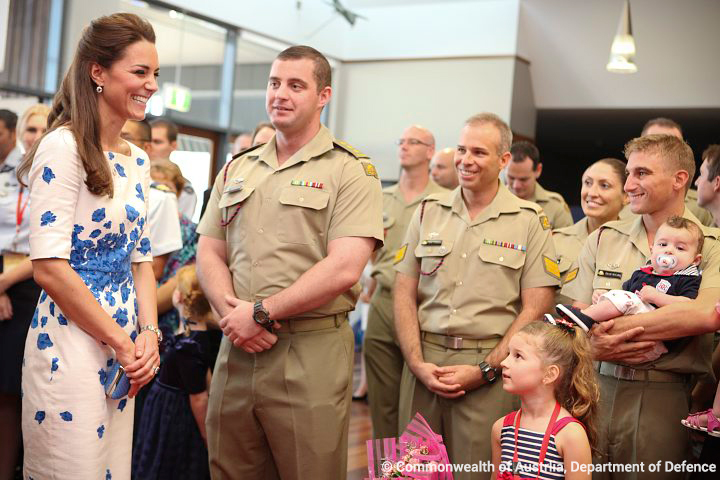 The company continually release the dress in new colours.  This season, it comes in black and hot pink – shop it here.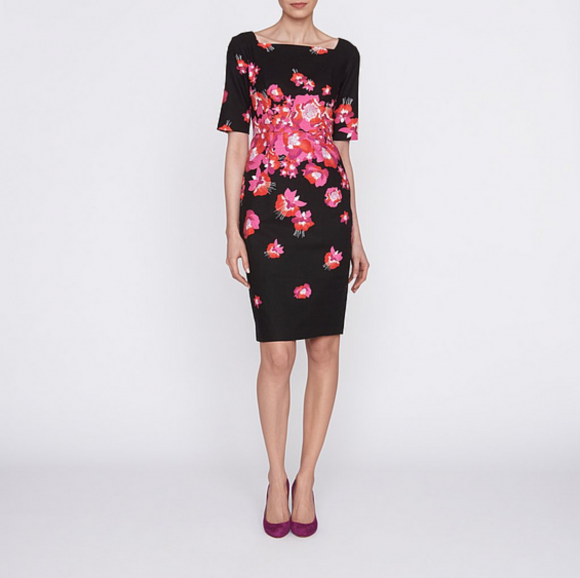 Last chance bargains!
There are a few different items worn by Kate and on sale at the moment – all in stock and correctly priced at the time of publishing, but no guarantees thereafter!
There's 42% off Dune "Karley" wedges.  Ideal if you're going on vacation this August!  These wedges were known as Pied-a-terre Imperia, Dune Imperia and Dune Imperia D too.  Learn more about the name changes here.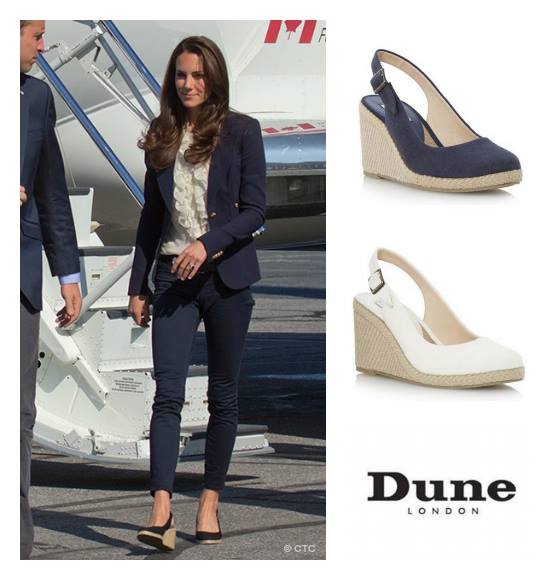 There's up to 30% off Sebago Bala shoes in select colours.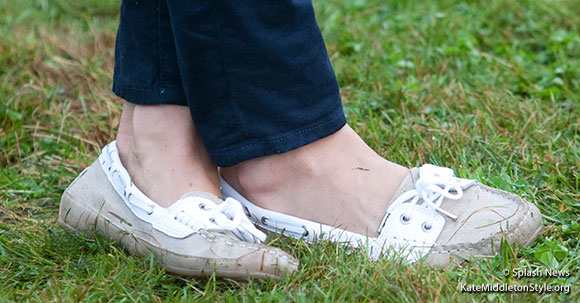 In the USA, the leopard print style is on sale.  In the UK, the blue, black & purple styles are on sale.
Get ready for autumn and winter now by grabbing Kate's Aquatalia by Marvin K. Rhumba boots in black for 40% off at 6pm.com! Limited colours and sizes remain.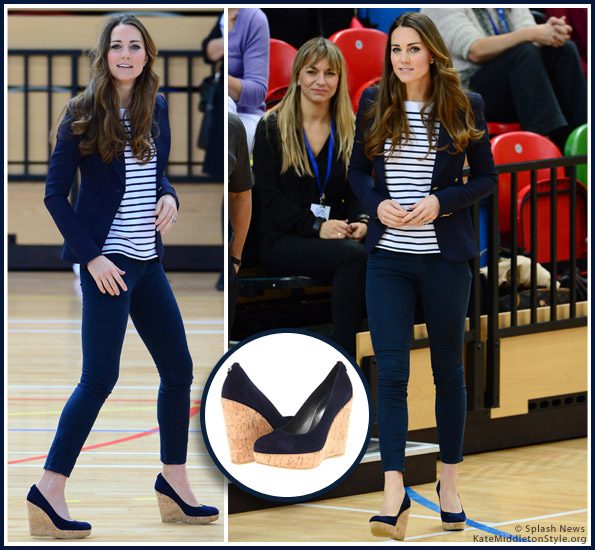 Stuart Weitzman have significant savings on the Corkswoon wedges, another one of Kate's staple shoes.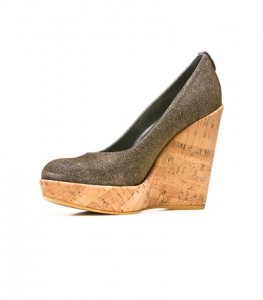 There's 50% off the Pyrite Nocturn colour on USA site (as above), and 50% off the Leopard print on both the UK/EU and USA sites.
Kate's Jaeger silk tile print shirt dress is now down from £250 to £99 (approx $391 to $154).  Shop it here, several sizes remain.
~~~
Did we miss anything?  Let us – and other readers – know in the comments section below!