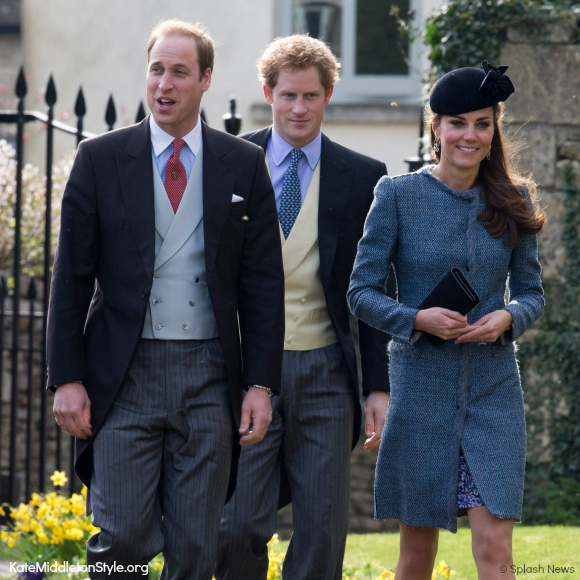 Kate, William and Harry were photographed at the wedding of the close friends Lucy Meade and Charlie Budgett in Marshfield, Gloucestershire this weekend.
Lucy Meade is the sister of James Meade, who you may recall was best man at William's wedding to Kate back in 2011. James and William are old school friends from Eton.
Here's a picture of the bride with her father Richard Meade:
Kate's outfit:
Those familiar with the Duchess's style will likely know many of the pieces she wore to attend the nuptials. Here's a recap:
Coat: Blue M Missoni tweed coat from the label's 2010 collection. Kate has worn this several times to public engagements, including the visit to Fortnum and Mason with the Queen and the Duchess of Cornwall in 2012. It's said that Kate picked this coat up at Bicester Village retail outlet.
Dress: Whistles Bella dress, notably worn to the London 2012 Olympic Games closing ceremony.
Clutch: Mulberry suede clutch
Earrings: Cassandra Goad Temple of Heaven girandole pendant earrings in yellow gold
Shoes: Episode Angel (Kate wears these frequently)
Hat: Sylvia Fletcher for Lock & Co hat in the 'Fairytale' style.
We love that one of the guests turned up to the wedding wearing exactly the same M Missoni coat as the Duchess!  They clearly share good taste in coats!
I bet this poor lady was thinking "of all the coats in her closet, why did Kate have to choose THIS one to wear today?".  I also hope the lady was able to giggle with Kate about their similar style choices during the wedding reception after!