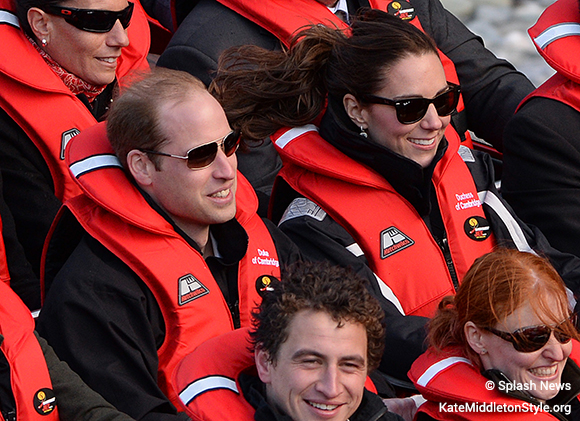 Day seven saw Duchess Kate wear not two but THREE outfits. It was a style extravaganza for us fashionistas who just love to follow Kate's clothing choices! I'll cover all three outfits in today's post.
Church service
First, the Duke and Duchess arrived at Dunedin airport, where they were greeted by bagpipes and a traditional Maori welcome from the Ngai Tahu tribe. The royal couple, who had left Prince George behind in Wellington for one night, headed off to a Palm Sunday church service.
Outfit #1:
For the morning event, Kate wore an aquamarine dress by Emilia Wickstead, a designer born in New Zealand but now located in London. Many of you will know that Kate is fond of Wickstead's designs and she has worn many pieces by the designer before, here are two of my favourite looks. Left, from an Art Room charity reception and right, from the 2012 Order of the Thistle ceremony:
Kate's teal dress was the same shape and style as the pink dress she wore twice back in 2012 to the The Queen's Sovereigns' luncheon and the Queen's annual Garden Party.
Kate teamed her dress with a Jane Taylor hat, which the designer confirmed was bespoke version of her 'Dolly' hat with the same fern detailing.
In addition, Kate wore her Emmy Shoes Natalie clutch bag and Valerie pumps in the Carbon colourway. Here we show them in brown:
Kate accessorised this outfit with the silver fern brooch borrowed from the Queen's collection, her £3,950 Mappin and Webb Fortune necklace and her £2,600 diamond and green amethyst Kiki McDonough oval drop earrings.
Rugby
Later, Kate changed out of her teal dress into something more practical for the next event, a tag rugby coaching challenge at Dunedin's Forsyth Barr Stadium. Both William and Kate had to coach their own teams for the event, which consisted of primary school aged children. The two royal 'coaches' gave their teams a pep talk, before they competed against one another in the city's stadium, where William's team claimed victory.
The two teams played a game that lasted fourteen minutes, with a half-time break for oranges. Over 10,000 spectators watched the event live at the Stadium.
Outfit #2:
For this event Kate wore her Zara skinny jeans, known as the 'Molecule Slim Fit' (now sold out), a casual top and her suede Mint Velvet plimsols.
Kate's top is new, from Jonathan Saunders: This is known as the "Oval Cotton Sweater" and retailed at Matches Fashion for £358.
The sweater came in a range of colours, including Raspberry and Green. The knit style was a theme in Jonathan Saunders' collection.
Mint Velvet frequently restock their plimsolls, and at the time of writing, they have confirmed they are due a new shipment in June 2014. The brand currently sells similar pairs in a range of different colours, including these in nude leather and metallic.
Wine tasting and rafting
Later, William and Kate took part in a tour and wine tasting session (quashing baby number two rumours!) at the Amisfield vineyard. According to Hello Magazine, Kate sampled six or seven tasters of New Zealand wine, including Aurum Pinot Gris and Remarkable Dry Riesling.
During the event, Kate remarked that she enjoyed the odd glass of wine, but it is William and Harry who are the real experts in the family! The Amisfield vineyard is located in an area dubbed as "up-and-coming" in terms of New Zealand's wine production.
Next, for the final engagement of the day, William and Kate went white water rafting on also took a ride on a 'ShotOver Jet', which looked very fun! The royal pair joined young people who work in the tourism industry as they gripped on the safety bar as they took part in the white water ride on the Shotover River.
The Jet goes up to speeds of 50 miles per hour and navigates past rocky outcrops, jutting boulders and narrow canyons. William and Kate took part in the full ride, which saw the Jet spinning 180 degrees through the canyons! Thrilling! New Zealanders are renowned for loving adrenaline sports, the bungee jump was invented here after all!
After completing all of the engagements for the day, the royal couple stopped the night at Matakauri Lodge in Queenstown, a luxury 5-star hotel and spa resort.
Outfit #3:
For the wine tasting event, Kate wore her new double-breasted military-style blazer from Zara, which is currently sold out. Zara is very good at reissuing items, so it's worth checking back if you like the style. It did retail for £79.99 (approx $134).
Kate also wore her Zara 'Molecule' slim fit jeans (older style, now sold out) and her Stuart Weitzman Corkswoon wedges.
She also debuted a new checked shirt from GAP, called the "Fitted Boyfriend Shirt." Amazingly, this is still in stock and retails at only $49.95 (approximately £30 for those in the UK). The shirt also comes in a range of other colours, some of which are on sale currently:
Kate changed things up a little for the white water rafting event. She pulled her hair back, ditched the blazer and lost the wedges, in favour of her Mint Velvet grey suede plimsolls, which she wore earlier in the day for the rugby. She also wore her Ray-Ban Folding Wayfarers again too.
Finally, Kate donned a warm sports jacket, which is by sports brand Musto, as the brand confirmed via Twitter:
http://twitter.com/mustoclothing/status/454542193907081216/
It's thought Kate wears the men's BR1 Channel jacket. Kate also wore the same jacket while racing yachts with William earlier in the week.